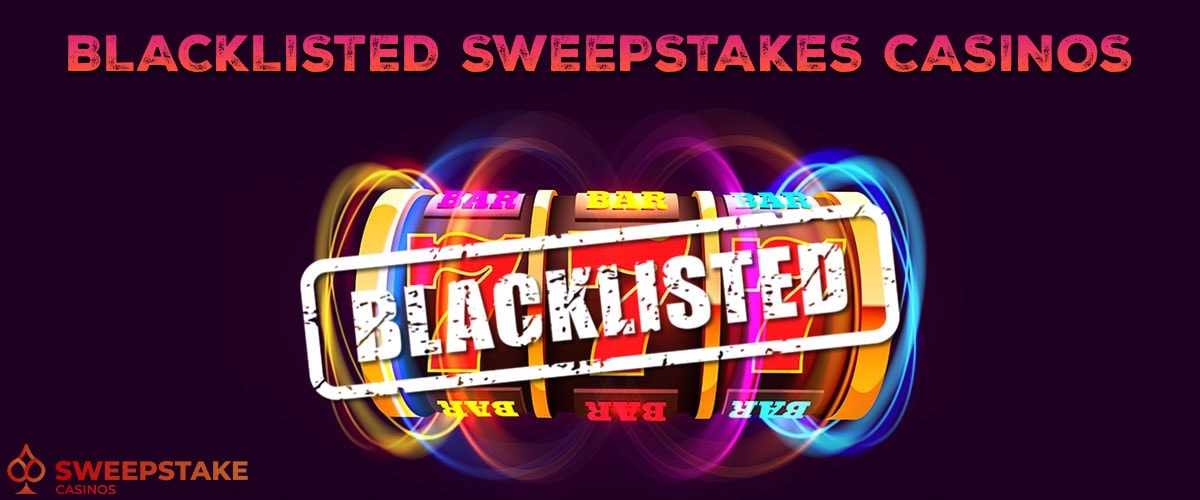 Sweepstakes online casinos are fun and an excellent alternative for players in the US. These sites run using the sweepstakes model, which means you don't need to deposit funds to start playing here. Instead, you play using virtual currencies for free or real money prizes. For this reason, sweepstakes online casino sites are legal in all parts of the US except Washington.
While these sites are fantastic, they have not prevented shady ones from cropping up to exploit unsuspecting players. They can be hard to spot without the correct information since some of them are subtle in their operations to steal your deposits.
This is where our experts can help. We extensively review online sweepstakes sites for rogue and shady operations and add any culprits to our blacklist. An online casino makes it into this list for numerous reasons, which we will share in this guide. You'll also learn about blacklisted sweeps online casinos, how to spot them, factors we consider, and how to find legit online casinos.
Keep reading to find out more.
What Are Blacklisted Online Casinos?
Blacklisted online casinos are rogue or shady sweepstakes casinos that have made it to our blacklist.
They are sweepstakes online casinos known for sharp practices and offering unfair games to bettors. These casinos are unsafe, and registering on them for sweepstakes games can result in losing your deposits or worse.
How Sweepstake Casinos Get Blacklisted?
Sweepstakes online casinos don't get blacklisted for no reason. Instead, only casinos that portray specific red flags are blacklisted after our reviews. Here are some of the attributes of sites we add to our blacklist.
Lack of Licensing/ Failure to Follow Sweepstakes Regulations
Unlike traditional real-money online casinos, sweeps casino sites don't need a license to operate in states where online gambling is legal. These include states like Pennsylvania, New Jersey, and West Virginia. However, they need to follow specific rules to operate legally. Some of the top rules include:
No real money deposit is required to register and play games
The registered address of the operator behind the sweepstakes site must be visible on the homepage
Real money can't be won directly
Players who want to play for cash prizes must complete KYC verification
Shady sweepstakes casinos don't follow these regulations, thus breaking sweepstakes rules. This makes them illegal in US states and those that do this get blacklisted.
Unfair Games
Good online casino-style games like online slots and table games from legal sweepstakes sites feature an RNG or Random Number Generator. This random number generator ensures the outcome of every game is random, ensuring neither the player nor the online casino can manipulate results.
With this, bettors can be sure of a fair gambling experience when signing up on a site. A scam or shady blacklisted online casino will never do this. Instead, they will offer games without an RNG and alter them to their advantage. You'll only realize you are constantly depositing funds and losing to the casino without getting any returns when you play these rigged games.
Payout Problems
A common issue players experience when playing at rogue casinos is online payment problems and payout delays. Under normal circumstances, sweepstakes online casinos process payouts within 24 – 48 hours.
It could be weeks, months, and sometimes years before you get your funds as a winner from shady casino sites. Sometimes, they make only partial payments to the player, and in worse cases, the payment does not show up. Online casinos with these attributes make it to our casino blacklist.
Shady Terms
Terms and conditions are common in every sweepstakes online casino. These help in guiding things like bonuses and payouts on an online site. The terms on online casinos are meant to be easy for players to understand. This is not the case with a blacklisted online casino. Their terms are usually shady and difficult to understand. Sometimes, these rogue casinos change their terms without warning to support their arguments and exploit players.
Complete lack of terms is the ultimate red flag, since the sweepstake casino can come up with any terms when you are trying to cash out your sweeps coins.
Over Blown Offers and False Advertising
Online casinos welcome players with awesome bonuses ranging from free spins to no-deposit offers. For instance, if you register on WOW Vegas using our link, you get 4.5 SC and 8,500 WC over 3 days to play your favorite games. A blacklisted sweepstakes site will offer attractive bonuses similar to these, only to attach unrealistic terms and conditions.
Other times, the bonus may be flashy from the outside, but once you register, you realize no bonus is available. If you find an offer that seems unrealistic or too good to be true, it most likely is. Instead, we suggest you sign up on legal online sweepstakes sites that we recommend.
Limited Information
Shady sweepstakes casinos have limited information regarding their owners, bonuses, or game offerings. Legit online casinos are not scared about showcasing their offerings to players. A quick search on the internet will show you everything about the online casino. You can also check out the About Us page for vital information regarding the terms and conditions. A blacklisted sweepstakes casino keeps this information hidden because the goal is to steal your hard-earned resources.
Less Known and Unregulated Payment Methods
While sweepstakes online casinos don't require a real-money deposit to begin, you can purchase virtual coin packages. You can also redeem your accumulated sweeps coins for cash, which you can withdraw. This means it is essential for sweepstakes sites to support reliable and known payment options like PayPal, Mastercard, and Visa. Once we evaluate a site and find less reliable payment options like Cash App and Zelle, we include it to our blacklist. Moreover, sweepstakes sites that offer only unregulated payment options like cryptocurrencies, get blacklisted.
False Advertising of Services
Some sites, like Isabella Sweeps Casino, are gaming systems that let you play games from various gaming platforms. Other names that fall under this category include BitBetWin, Bitplay.ag, and Sweepstake.Mobi.
The problem with these operators is that they are promoting games from unlicensed no-name casino developers. Such games used to be common at physical sweepstakes cafes, and renowned for holding 50% of all bets. You should avoid them at all costs and play at sweeps casinos with tested and fair games.
Mushrooming Sites
A shady sweepstakes casino tends to license its games to different vendors. These vendors operate through Facebook and other shady websites featuring numbers like 777 or 889. For instance, Mafia777.com is a platform that offers games from different developers and claims to be a sweepstakes site. You'll also find numerous Facebook Pages like Mafia Sweeps offering games from supposed sweeps casinos like Orion Stars, Riversweep, FireKirin, and Milkyway. This is a shady practice, and platforms like this are added to our list of blacklisted casinos.
APKs Instead of Apps
Mobile gameplay has become increasingly popular, so legit sweepstakes casinos have provided dedicated mobile apps for players. You can easily access them via the Google Play Store or App Store and see reviews from different players. This is not true with blacklisted online casinos, which offer shady APKs. You won't be able to download them via the respective stores, and they leave you prone to malware. Also, you won't find any reviews for the app, while those that feature reviews will be from bots.
Copies of Official Games
Finding copies or close names of well-known games on shady sweepstakes sites is common. This is a red flag since it is evidence that the sweepstakes casino is only trying to leverage the actual game's popularity. Players who are not aware of this practice may end up signing up thinking they are playing the original title only to find a clone. For instance, you'll find a slot game titled Book of Ra Deluxe on Riversweeps, which differs from the actual game from Novomatic with the same name – available on top online casino sites. If we find a sweeps casino doing this, we add it to our blacklist.
List of Blacklisted Online Casinos
There are many blacklisted online sweepstakes sites today, but you may be unable to tell as a newbie. Therefore, our experts have listed some shady platforms with questionable practices to avoid below.
Mafia Sweeps
Ultrapower-Games
Ice8
Fun Zone
Flamingo7
Golden Treasure
Ice7
Admiral
Gold Hunter
The list constantly expands, as many operators engage in dodgy practices like the ones we highlighted above. Bookmark this page to stay safe when searching for a new sweepstakes casino to join.
How to Recognize Legit Online Casinos?
Now, you understand how to spot a blacklisted online casino. But how do you spot legit sweepstakes sites? This is easier than you think, and you can do this with a little research before you register. Here are some things to consider:
Licensing: Check the sweepstakes casino site to ensure it is properly licensed, although that's not a requirement. A legit sweepstakes site may have a license from a top regulatory body with the seal visible on the home page. To be certain, you can head to the website of the gambling authority to see if the operator has its name listed there. If you find it there, it means it is safe to play games here. For instance, Chumba Casino holds an MGA license, but sites like Pulsz feature licensed online casino games from companies like NetEnt and Red Tiger Gaming. Any of those types of features should be enough to put you at ease.
Reliable Payment Options: One of the major signs of a legit sweepstakes casino is the availability of trustworthy deposit and withdrawal options. Can you find top brands like Mastercard, Visa and PayPal? If yes, this is a sign that the casino is legit, as these brands don't work with fraudulent operators. Shady and rogue casino sites only offer unreliable payment options with the goal of stealing your resources.
Positive Reviews:  Legit sweepstakes casinos will have positive reviews from past players on various review sites. Simply do a quick search on the internet, and if you find positive experiences from many players, it is a sign that the casino is legit. Fraudulent sweepstakes sites will either have limited information or be associated with shady owners.
Reasonable Bonuses: Every legit sweepstakes casino will offer players generous bonuses with fair wagering requirements. The terms and conditions should also be visible on the website, so you know exactly what you are in for. If the bonus and terms seem too good to be true, it is probably a scam casino.
Fair Gaming Practices: Legit sweepstakes casino sites feature a Random Number Generator to ensure that games are based on skill or luck. This indicates that the website is safe to play for free or real money prizes.
Top Providers: A legitimate sweepstakes casino will offer only casino-style games from reliable developers. Some of these developers are responsible for games in real-money online casinos like Microgaming, NetEnt, Playtech, and Red Tiger Gaming. These developers are known for quality and fair games that are not rigged, so you can expect a quality experience. A legitimate sweepstakes casino will offer games from these developers and boldly display them on their homepage.
Reliable Customer Support: Legal online casino sites don't like to leave customers without the right avenue to get help in the event of issues. Therefore, they provide an array of outlets to get support, like 24/7 live chat, email, and social media handles. The team is also readily available to address any of your problems at any time of the day.
How to Spot Shady Online Casinos?
Some sweepstakes casinos have not been blacklisted yet, but this does not mean they are safe. Few shady sweepstakes sites know how to hide their activities and stay off blacklists. Before registering on any sweepstakes site we have not reviewed yet, we recommend you do your research first. Here are a few things you can do to spot shady sweepstakes casino sites.
Look for Licenses: By now, you know the importance of a license, and this is one of the best ways to spot a shady sweepstakes casino. While sweepstakes casinos don't necessarily need a license to operate, it is still better to be safe. It is a great sign if the site or the operators have a license from a reputable authority. But if you spot a site that has had its license revoked by the authority, it is a bad sign, and we recommend you avoid it.
Check out the payment options: Another option is to check out the payment options available on the site. If you don't find reputable options like Visa, Mastercard, and PayPal, adding your financial information to the site may not be a wise choice.
Read Online Casino Reviews: Our experts have reviewed many leading sweepstakes online casinos. This is a great place to begin your search to learn if a casino is shady. If we have not reviewed a casino yet, you can quickly search the internet to see if a casino is reliable.
Do your Research: Another way to spot a rogue or shady online sweepstakes site is to conduct research. Visit the online casino and read the terms and conditions to spot any irregularities. Then, reach out to the customer support team and see if their response is fast and aligns with the information provided. If you notice a discrepancy or poor customer support, this is a bad sign. You can also try out the site by registering for free and see if you are credited your welcome bonus.
Trust your Guts: If your intuition tells you that a sweepstakes site or its offerings are too good to be true, it most likely is. Sometimes, your intuition or gut is a great way to spot a shady sweepstakes casino or trust online casinos.
If you are unsure about an operator, you can contact us for a legit response. Until then, we urge you to pick sites we recommend and promote and steer clear of any blacklisted sweepstakes casino.
FAQs
What casinos are blacklisted?

Casinos that are shady and known to be rogue due to sharp practices are blacklisted. Once we review sweepstakes sites and find out they have problems with payments, unfair games, false adverts and promotions, and other similar issues – we add them to our list of blacklisted sites.

What does a blacklisted casino mean?

A blacklisted sweepstakes casino is not to be trusted, and you should avoid it. These sweepstakes casinos are sketchy sites known for having hidden owners, unfair games, and slow payouts.

Can casinos ban you for winning?

Legit online casinos can't ban you for winning. Only shady or blacklisted sweepstakes online casinos do this intending to steal your deposits. If you don't break any rules or try to cheat the sweepstakes casino, you won't get banned for winning.