Available in 48 states to anyone over the age of 18, Fortune Coins Casino provides a new and exciting way for people to play online slots from nearly anywhere across the US. Plus, new users can get started without depositing with their welcome offer of 500 free fortune coins and 170,000 gold coins.

With the legality of online casinos in the US being so restrictive, it can be frustrating for anyone living outside of the traditional six states that offer online casinos. Illicit offshore casinos can provide an attractive solution. But talk to anyone who's deposited on one of these sites, and they'll tell you that while these casinos are all too happy to process deposits, when it comes to withdrawals — you've got little to no chance of ever seeing any of your money.
Fortunately, there is now a solution in sweepstakes casinos. And while LuckyLand and Chumba may have pioneered the idea, they are anything other than unchallenged, especially when it comes to slots where one of the newest social casinos in Fortune Coins is quickly getting the attention of observant slot players. Fortune Coins knows this as well. So rather than expanding their net to cover a variety of games, they've instead decided to double down on the game type that their player base loves.
With 41 different machines and more getting added by the month, Fortune Coins is becoming one of the kingpins when it comes to slots. Plus, new users who register via our links can get access to 500 free fortune coins simply for signing up. No promo codes are required.
Best Five Slots on Fortune Coins Casino
With such a juicy welcome bonus, you might want to jump right in without reading another word. If that's you then you can check out the table below for our five favorite slot machines at Fortune Coins Casino. You'll want to bookmark this page though. Because we'll be going in-depth for everything you need to know about how to get started, how to win — as well as our top tips for playing slots at Fortune Coins.
An important thing to note is that as a sweepstakes casino, Fortune Coins is not legally required to publish the RTP of their machines. As such, all the data below are estimates provided by our expert team. In case you go searching on the web for their statistics, you won't have any luck since the games are either proprietary or powered by less known companies like Blazesoft.
| | | | | |
| --- | --- | --- | --- | --- |
| Slot Machine | RTP | Volatility | Jackpot? | Score |
| Dia De Los Muertos | 94.9% | High | Yes | 3.5/5 |
| Luck 'N' Clovers | 95.3% | Low | No | 4/5 |
| Scorching Hot | 95.3% | Medium | No | 4/5 |
| Hope Diamonds | 95.1% | Medium-High | Yes | 4.5/5 |
| Fairy Tale | 96% | Very High | Yes | 4.5/5 |
1. Dia De Los Muertos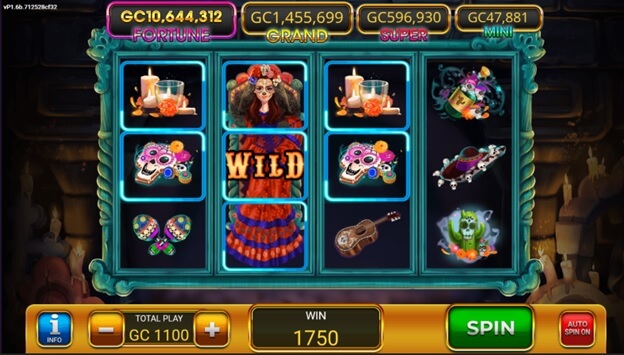 To start this list off, it is the Mexican Day of the Dead themed Dia De Los Muertos.
The progressive jackpot slot moves away from the classic 5×3 layout into a 4×3 layout. While this does increase the volatility of the machine, it does not affect the profitability, as in return, Dia De Los Muertos uses an expanding wild feature, wherein wherever a wild symbol lands, it will expand and take up the entirety of that reel.
The base game is highly volatile. However, it's definitely worth it as the bonus game, which is triggered by the player collecting three or four scatter symbols, which awards 10 and 20 free spins respectively.
2. Luck 'N' Clovers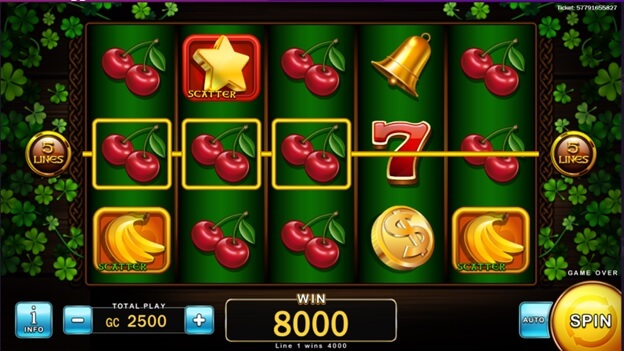 No bonus games. No jackpots. And only five pay lines. Luck 'N' Clovers may seem like a fairly unprofitable game on the surface, but once you play it — you quickly find out that while it lacks a lot of the bells and whistles that many modern slot machines have, in its place, you get a very simple and highly profitable game.
The secret to Luck 'N' Clovers is its lack of symbol type. As such, since there's less variety — desired symbols come up more frequently. With no bonuses and a very simple layout, it's probably no surprise that Luck 'N' Clover is one of the lowest volatility games available at Fortune Coins.
3. Scorching Hot
With its five pay lines and lack of bonus games, it can be very easy to dismiss Scorching Hot as a clone of Luck 'N' Clovers. However there are some key differences. A few more symbol types and fewer scatter symbols mainly. What this means is that while you'll likely win more often on a game like Luck 'N' Clover, winnings with Scorching Hot are typically a lot higher.
To say which of the two games is better is near impossible as it will depend on what you are looking for from a slot machine. Want to win often? Luck 'N' Clover is probably for you. Want to win big? Then give Scorching Hot a try.
4. Hope Diamonds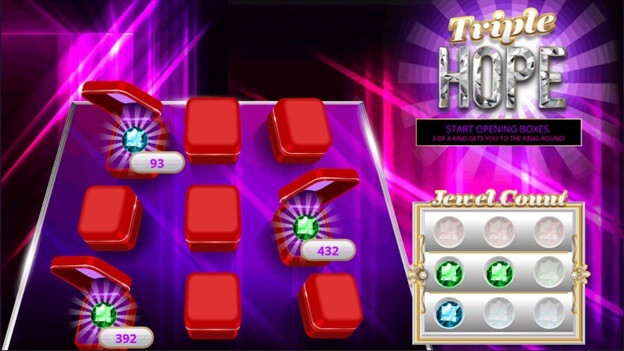 The jewelry-themed Hope Diamonds is a game with a lot of features. There's a progressive jackpot. A free spins feature wherein if the player collects three or more scatter symbols they'll win free spins. However, what separates Hope Diamonds from the plethora of other 5×3 slots games of Fortune Coins is its bonus game.
By collecting three of the ruby bonus symbols, players are taken to Hope Diamond's unique bonus game.
Here players are tasked simply with opening jewelry boxes. Each jewel comes with a sizeable payout, but the main goal is to open as many as possible before collecting either three rubies, diamonds, or emeralds — once you do that, you are taken to the final bonus game where players must open one of three boxes which either multiply your winnings by x1, x2, or x3.
Outside of the bonus game, Hope Diamonds is about as standard as it gets. Medium to high volatility with an RTP which is about average for Fortune Coins.
5. Fairy Tale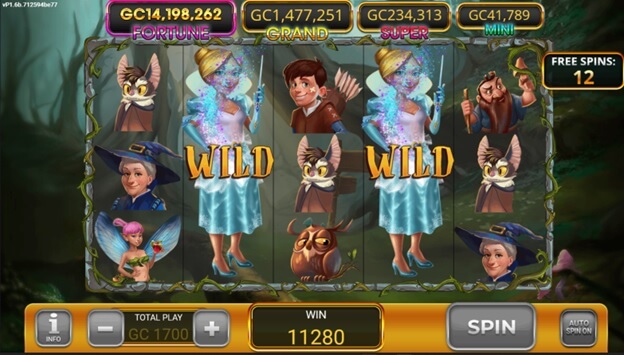 Fairy Tale is another slot that manages to stand out with its bonus rounds. The 5×3 slot has a very high volatility. As such, the base game itself can be a little underwhelming, though Fairy Tale more than makes up for it with its free spins.
Collect three or more scatter symbols to be awarded 15 free spins.
In the bonus rounds when you get a wild symbol, it'll expand and stick for the next round. This can lead to some insanely profitable payouts when you get two or more wilds in your first three reels, as it'll guarantee a payout on all 40 of its paylines. As such, even a modest three-symbol win becomes massive.
Highest Paying Slots on Fortune Coins Casino
For slot players hoping for big paydays, they're no more important metric than RTP. Short for Return to Player, RTP determines how much of their money is returned on average for each spin. In short, the higher the RTP, the more profitable the machine.
Though without any solid info regarding RTP — it can be a tall order to determine which slots are the highest paying. But from our team, we've sent multiple members to investigate the slots at Fortune Coins, and while no doubt they've come back with slightly different lists, the following five names popped up over and over again.
Pocket Aces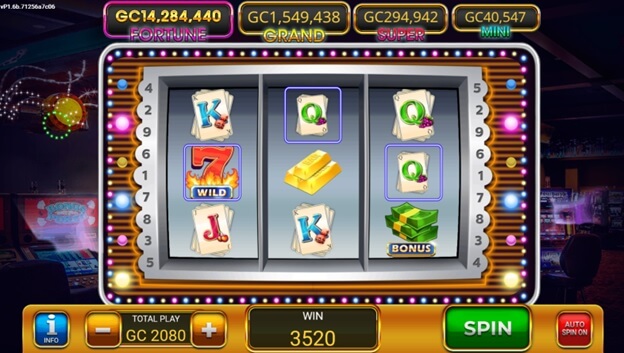 With its 3×3 layout and nine paylines, Pocket Aces is a blast from the past. Though with some cool new additions. Despite its medium volatility, Pocket Aces packs quite a punch in the RTP department with an RTP of 96.1%. While there is a bonus game that can be triggered by getting three bonus symbols, my favorite feature of Pocket Aces is the sticky aces. Collect three or more aces anywhere on the reels, and they'll stick. Plus, you'll get a free spin. Additional free spins can be won by collecting additional aces.
While Pocket Aces may not be the most exciting machine, if you're looking for something old-school, then you'll love Pocket Aces.
Lucky Panda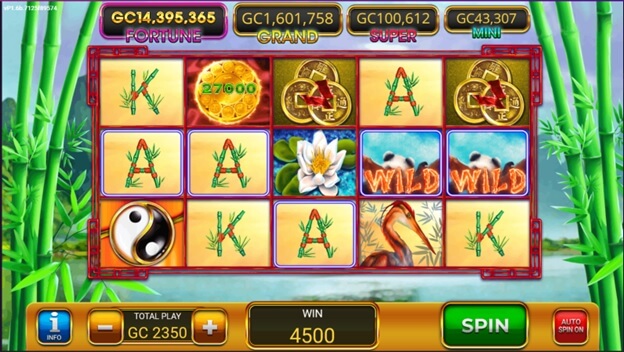 With Lucky Panda, you'll either love it or hate it. The base game itself is pretty average, though the bonus game which takes its inspiration from dragon link jackpot mechanics, is a feature that some people adore. With it, when you collect six or more of their featured coin symbols, they'll stick, and you'll get four free spins with the free spins counter resetting every time you get another coin. When the bonus round is finished, you'll get the face value of all your coins added up.
A 96.3% RTP is very good. However, this game has the highest volatility of all the slots on Fortune Coins, with our experts suggesting that it has a 10-12% hit rate.
Wild Cowboys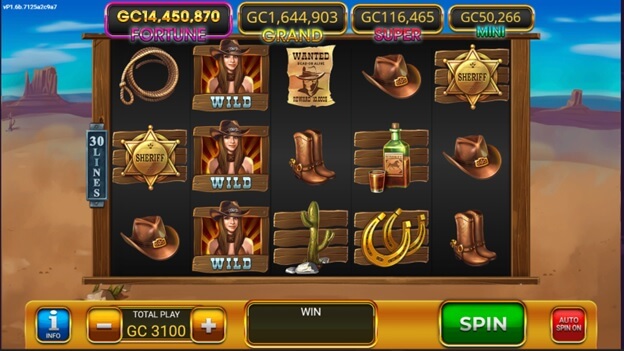 Another high volatility game, the Western-themed Wild Cowboys, is a slot that is mainly played for its three bonuses. The most basic are the two forms of bonus rounds which are collected by getting three bonus symbols, or three scatter symbols. However, even the base game is plenty profitable with its "Reverse Wilds" mechanic. Here, whenever you get a wild in the bottom row of the reel, it'll expand to take up the entire reel.
With an RTP of 96.4%, it's definitely one of the more profitable games at Fortune Coins.
Crime Scene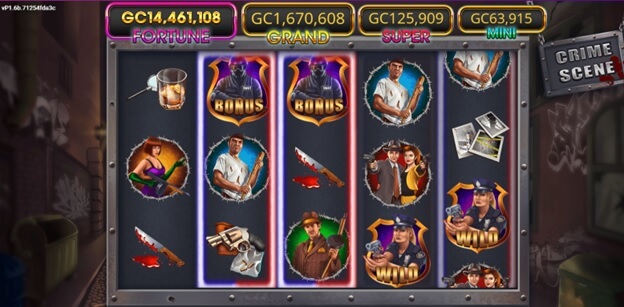 Crime Scene is a highly volatile slot with an RTP of 96.6%. Like many of the slots on this list, Crime Scene uses a five-reel, three-row layout, with its main drawing factor being its free spins feature. While the mechanics are similar to others with the three scatters being required to trigger, what gives Crime Scene the edge on so many other slots is that the scatter double down as wilds.
This is a massively welcomed change of direction as so often two scatters simply means two fewer spaces. But with Crime Scene, even getting one of the wild scatters can be massively profitable.
Pyramids of Giza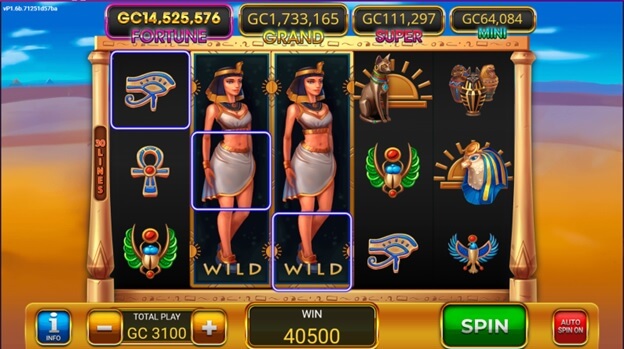 Take the expanding wilds, the multiple bonus rounds, the medium to high volatility, take everything great about the other slots on this list — package them up in that classic ancient Egyptian theme that is so popular with slots, and you have Pyramids of Giza. While the base game is good enough to top the list by itself, the bonus rounds, which are triggered by collecting three scatter symbols take it to a new level.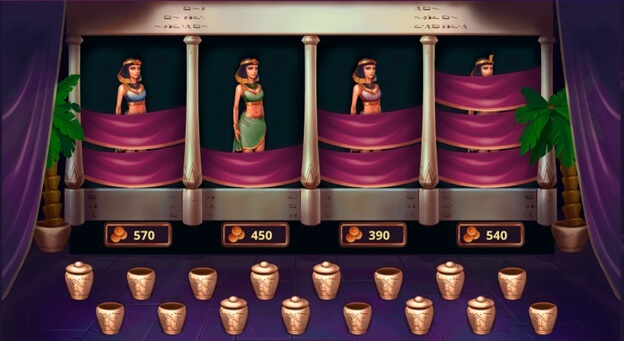 Here the player is tasked with opening pots. By opening the pots, the player will also be lowering the blinds of one of Cleopatra's chambers. Once you've lowered all four layers of one of her chambers, you collect the prize listed on the chamber. This combines with the base game to make Pyramids of Giza the most profitable game available on Fortune slots with an RTP of 96.9%.
Typically suggesting slots can be difficult. But if your chief concern is profit, then there is no other slot that comes close to Pyramids of Giza.
Fortune Coins Progressive Jackpot
All the above machines have access to a progressive jackpot. Though unlike many other progressive jackpots that are machine exclusive, at Fortune Coins — all progressive jackpot machines share the jackpot. That means multiple machines are constantly piling in money to the ever-changing jackpot. And as the jackpot increases, so does the RTP.
How to Play Online Slots at Fortune Coins Casino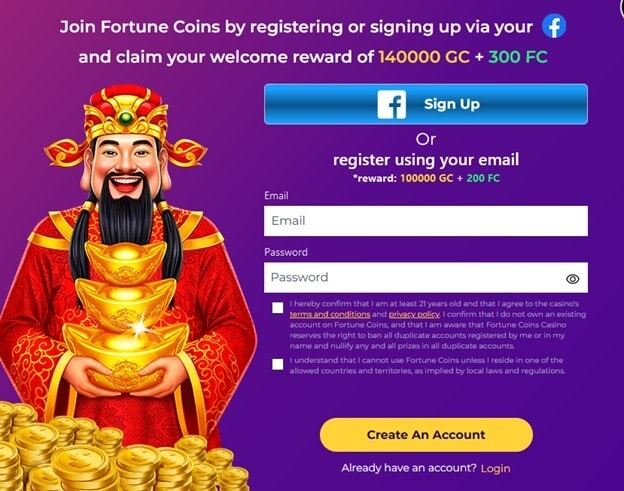 With Fortune Coins, playing slots has never been easier. Whereas previously you could only play slots in a land-based casino, now it's as simple as registering on either your computer or mobile advice. To register your account and start playing today, follow the below tips.
Using our secure links, navigate to the Fortune Coins home page.
In the middle of the screen, click the "Join Now" button.
Choose to either create your Fortune Coins account by signing up through Facebook, or by entering your email and desired password.
Go to your email and click on the registration link.
You're done. You are now ready to play online slots at Fortune Coins.
When new users register by our links, they'll be awarded 140,000 gold coins and 300 fortune coins initially — however additional coins can be earned through their daily log-in bonus, and through verifying your account, taking the grand total up to 170,000 gold coins and 500 fortune coins. With two different currencies, Fortune Coins social casino offers two types of play. You can play with their fortune coin currency for real cash prizes, or you can use gold coins for free play to try out a game first.
Where can you Legally Play Slots with Fortune Coins Online Casino?
As a sweepstakes casino, Fortune Coins doesn't have to abide by the same online gambling laws that traditionally limit online casinos to six states. Instead, residents from almost every single state across the US can play. The only exceptions to this are Washington and Idaho, which have more restrictive laws.
Plus, with their free-to-play model, they don't have the same age limits that other casinos must abide by. So instead of needing to be 21, you only need to be 18 years old to register with Fortune Coins and take advantage of their no-deposit bonus.
How to win on Fortune Coins Casino Online Slots?
Playing slots can be a lot of fun. Of course though, we want to win at the end of the day. So the question then becomes, how do you win at Fortune Coins' slots?
A great way to start is to pick one from our five highest-paying slots. Typically I'd recommend starting with whichever one interests you the most, and that is still the case — however, at Fortune Coins, there is a clear favorite, and it is Pyramids of Giza. With a high RTP and medium to high volatility, it's the number one choice for many. Of course, that doesn't mean you shouldn't play others.
With Fortune Coins following the sweepstakes casino model, they have to offer all their slots for free play. And that's where the gold coins come in. With over 100,000 gold coins awarded for free upon signing up, you can afford to experiment and try as many of the slots as you like. Then once you have found a slot that you like and have worked out the most profitable strategy, switch to fortune coins and play to win real cash prizes.
Fortune Coins Casino Slots App
Unfortunately there is not a Fortune Coins social casino app currently available. Though this isn't a problem, as the Fortune Coins website is compatible with both Androids and iOS devices. The site itself looks much like any other mobile casino website, with an easy-to-navigate layout and a simple user interface.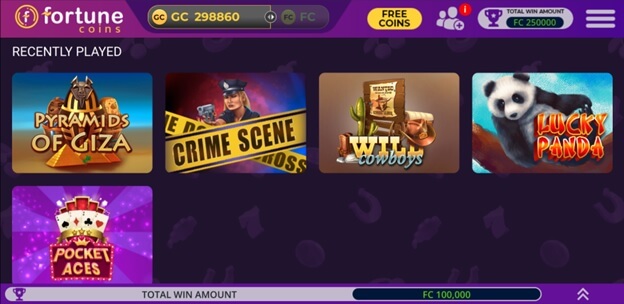 There's not a whole lot to say about it. Of course, that's not necessarily a bad thing. As when you're on your mobile, the last thing you want is an overly complex layout where you have to click through a dozen different prompts just to play one slot. Instead, you simply log in. You pick the slot you want to play, and you play. I'd call the Fortune Coins mobile website a solid B+.
Slots Promo Code at Fortune Coins Online
At Fortune Coins, there are no promo codes. Simply register using our links to get access to the no-deposit bonus of 500 fortune coins and 170,000 gold coins. However, that's not to say that Fortune Coins only has the one bonus. Upon successful verification of your email, Fortune Coins will send you a mixture of offers for your first-time deposit bonus.
In contrast to many other social casino sites, Fortune Coins doesn't force you into a "one size fits all" kind of bonus. Instead, you choose between four different amounts — and whichever you choose, you'll receive a 100% bonus on fortune coins.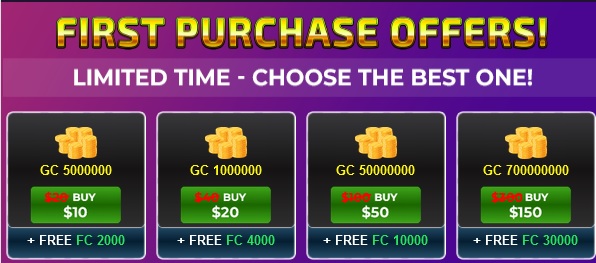 That's essentially how the bonuses at Fortune Coins work. You'll find them on either their Facebook page or sent directly to you via email, and they'll give you a few options to choose from. They're usually all 100% deposit matches, though it's always better to quickly read through their terms and conditions to know if there are any differences.
Top Tips to Play Fortune Coins Slots
There's a lot to like about Fortune Coins. However, one thing that can be frustrating for new users is the vagueness in which the rules of each slot are written. There are no volatility stats, nor are there any indications of a game's RTP. In fact, look through the rules of any individual slots, and you'll more or less see the same rules copied and pasted throughout, with just a few keywords changed here and there. Fortunately, our expert team are veterans with online slots, and together they've come up with their top five tips for playing slots at Fortune Coins.
Play max paylines — This is a tip that's relevant for all casinos. Play max paylines. Occasionally a machine may offer you the chance to reduce your overall stake by decreasing the number of paylines you want to play. This is never a good idea and will always reduce the RTP. If you want to lower your stake, pick a smaller bet size.
Play tournaments — New tournaments are always running for various slots. Plus, with Fortune Coins being a relatively new online sweepstakes casino, it means they don't have a massive player pool like other social casinos — as such, this can give you a realistic chance at either winning the tournaments or taking a high place. You'll want to do this as these tournaments regularly award over 100,000 fortune coins for their top prize.
Use gold coins — Fortune Coins is a sweepstakes casino. This means they have to offer a way to play for free, which they do with gold coins. Take advantage of this by playing new slots first with gold coins to see if you can get a feel for the ideal strategy. Then once you have, switch to fortune coins.
Take advantage of the bonuses — Bonuses at Fortune Coins award free coins and are often time-sensitive. You'll find most of them on their Facebook page, so make sure to turn your notifications on, as these bonuses will often award you a 100% match on your deposit. The best way to win is to get more bang for your buck.
Stick to your limits — It can be tempting to attempt to capitalize on a hot streak, or to salvage a poor session by doubling down. This can sometimes work in the short term, but in the long term, you'll always lose more, and this type of thinking is more likely to promote problem gambling habits. Choose your limit, and stick to it.
Fortune Coins Slots RTP
If you've got your eye on winning big — you'll need to focus on RTP. RTP is the number that indicates how profitable any given slot machine is — the higher it is, the more money you'll win on average. For example, with Pyramids of Giza's 96.9% RTP, it is expected to return 969 fortune coins for every spin of 1,000 fortune coins. Of course, volatility is another important metric, and with Pyramids of Giza's medium-high volatility, there's an excellent chance to win much more — however, in the long run, you can expect a return of 96.9%.
And while Fortune doesn't publicly list the RTP of their slot machines we can almost definitively say that the average RTP at Fortune Coins is 95-96%. Regardless of that though, one thing we can say for sure is that they are higher than nearly all land-based casinos, which have an average RTP of 90%.
This is important, as while land-based casinos can be a fun night out on occasion. If profitability is your chief concern, then online casinos should be your prime destination.
New Fortune Coins Slot Games
With only 41 slot machines, the selection at Fortune Coins can appear meager. However, it's important to remember that Fortune Coins is relatively new. As such, their current library is not indicative of how extensive their library will always be. In fact, understanding that their prime player base is slot players, Fortune Coins consistently adds new slots every month.

You can find these games at the top of Fortune Coins' homepage in their rolling banner, along with a brief description of each of these games.
The other great place to check for new slots is via the Fortune Coins Facebook page. This is a great place to regularly check for new slots, as upon release, Fortune Coins will usually celebrate by issuing a limited number of deposit bonuses exclusive to Facebook.
How Fortune Coins Casino Keeps Play Fair
If you're a long-time fan of casinos and have spent your entire life in the US, then the idea of a sweepstakes casino may seem bizarre and you may wonder, is Fortune Coins legit? However, Fortune Coins isn't the first to employ this tactic. Virtual Gaming Worlds (owners of Chumba Sister Casinos like LuckyLand Slots and Global Poker) was the first to pioneer this idea in 2012. Since then, it's picked up and has become the best way to play online slots for money for anyone outside of NJ, PA, MI, DE, CT, and WV. Furthermore, there are a few Fortune Coins sister casinos that also operate in the same manner.
Fortune Coins was founded by Social Gaming LLC in 2021. Looking online, there's not a whole lot of information floating around about this company. That's not necessarily a red flag though, and a great way to check a casino's reliability is through their reviews.
On TrustPilot, a site that is notoriously harsh when rating online casinos, Fortune Coins scores an incredible 4.6/5 from 872 reviews. With such a large sample size of reviews, this virtually guarantees that Fortune Coins is fair.

Are Fortune Coins Slots Rigged?
No.
While people unfamiliar with the idea of a sweepstakes casino may be confused by a casino like Fortune Coins, the truth is that they're becoming more and more common in the US. And while they may be relatively new, and Social Gaming LLC may not have a lot of information about itself online, the reviews are simply too good to ignore. As such, it would be idiotic for such a trustworthy casino to rig any of their slots, and if they did, people would immediately find out.
Plus, with their no-deposit bonus of 170,000 gold coins and 500 fortune coins, you don't have to risk a penny to try it. Just follow our exclusive links to take part in this offer and find out for yourself why Fortune Coins is quickly becoming one of the top social casinos in the US.
FAQs
What slot games does Fortune Coins have?
Fortune Coins has a lot of different slots to choose from. From classics like Pocket Aces to highly profitable ones like Pyramids of Giza. The best way to see what slots Fortune Coins has is to sign up through our links and see for yourself.
Can you play free online slots on Fortune Coins?
Yes. While there are many Fortune Coins casino games, Fortune Coins is primarily a slot-based social casino.
Is the Fortune Coins Casino slots app legit?
There isn't a Fortune Coins app. However, the Fortune coins mobile website is definitely legit, having a simple-to-navigate interface, and being available for Android and iOS devices. To visit it, simply enter its URL through your mobile-based web browser.
Are there progressive jackpot games at Fortune Coins Casino?
Yes. Though unlike a lot of other online casinos, at Fortune Coins, all the progressive jackpot slots are linked to the same jackpot bonus. This means they fill up and are won a lot faster than most other progressive jackpot slots. To win it, you need to play one of the eligible slots, where one of the jackpots may be awarded to you at random.
What slot games bonus codes are there for Fortune Coins?
There are no bonus codes at Fortune Coins. Instead, new users are suggested to register via our links to get access to the no-deposit bonus of 170,000 gold coins and 500 fortune coins. After you've played through your no-deposit bonus, if you want another bonus, you'll be able to find it through an email which they'll send you upon confirmation of your email address. This bonus is a 100% matched first deposit bonus where they'll give you double the number of fortune coins that you purchase. Other bonuses will occasionally be emailed directly to you, but for a more reliable source — check out the Fortune Coins Facebook page.