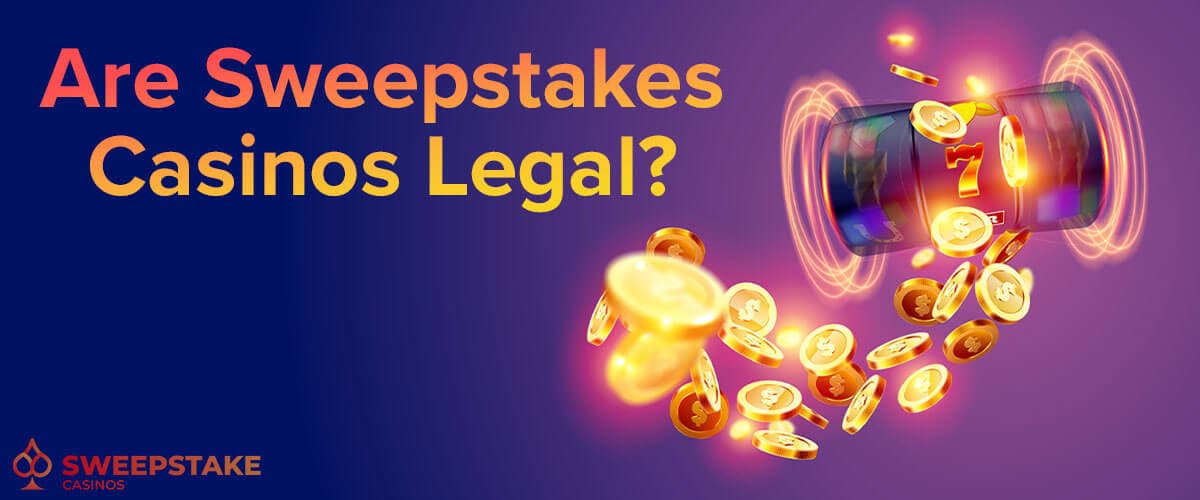 The legality of sweepstakes casinos can be a confusing subject.
States like New Jersey and West Virginia had to fight tooth and nail to get online casinos legal in their states — but now sweepstakes casinos are somehow legal across almost the entire US? With so many shady offshore casinos claiming legitimacy, it's normal to be a little skeptical. However, the truth is sweepstakes casinos are 100% legal.
It might sound too good to be true, but sweepstakes casinos are the real deal. Though if you're still feeling a little unsure about the subject, don't sweat it — because in this sweepstakes guide, we'll be giving you the rundown on what separates sweepstakes casino sites from traditional online gambling and how sweepstakes are able to offer real money online casino games 100% legally across the US.
Plus, we'll also show you how you can get started for free today.
Legal Online Sweepstakes Casinos in the US
What Are Sweepstakes Casinos?
One of the key differences that make sweepstakes casinos legal in the US is that rather than operating as a casino, they operate as a sweepstakes company. As such, they don't need to abide by the restrictive gambling laws that traditionally limit online casinos to only a handful of states, and instead only need to follow the much less stringent laws that apply to sweepstakes promotions. The result is they can offer their services to most US states.
And the good news is, while they may operate as a sweepstakes promotion, they offer many of the same services that you would find at a more traditional online casino. Sweepstakes casino games are available, featuring online slots, table games, and other casino games. There are some differences though. In the next section, we'll cover how sweepstakes casinos work.
How Sweepstakes Casinos Work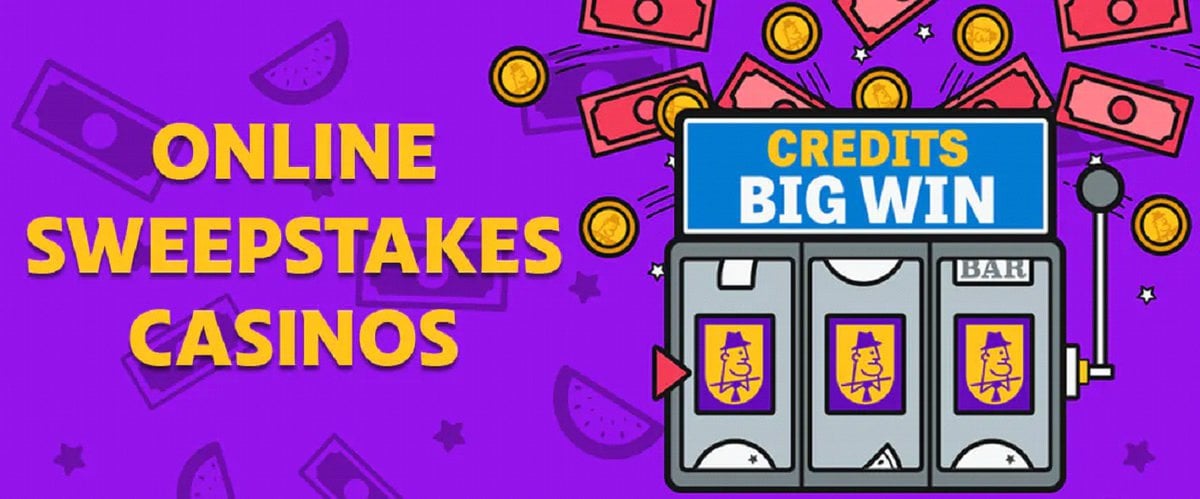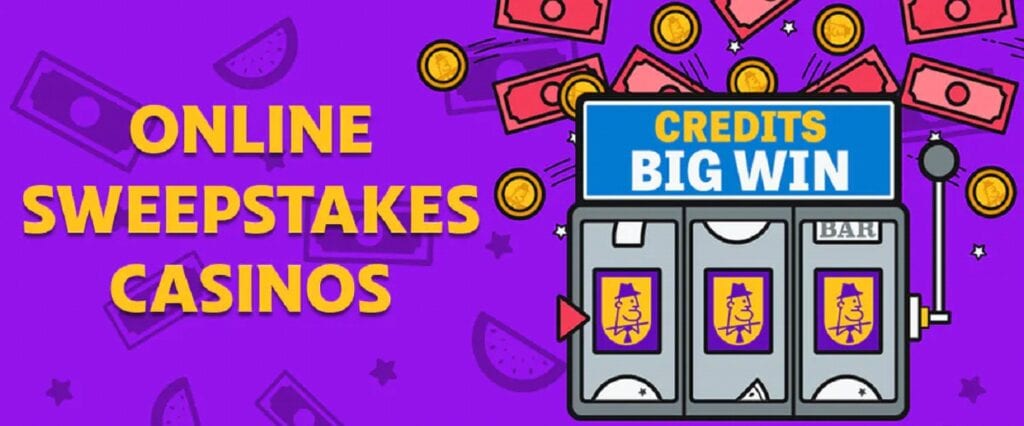 Just because sweepstakes casinos aren't classified as online casinos by the US doesn't mean they don't abide by any laws. They still are a sweepstakes promotion, and they have rules to follow.
Because of these, sweepstakes casinos tend to operate a little bit differently than traditional online casinos. In my opinion, there are three main differences.
Online Sweepstakes Casinos No Purchase Necessary Policy
All sweepstakes casinos must abide by the No Purchase Necessary policy. This is the essence of what separates a sweepstakes casino from a traditional online casino — and as you can probably gather, it means that sweepstakes casinos must always be available to be played without the user needing to make a purchase. It's a restriction for sweepstakes casinos. Though for players, this policy is an absolute blessing.
All legit sweepstakes offer no deposit welcome bonuses that give you free money just for signing up. Plus, many of the best sweepstakes casinos will also give you daily login rewards just for logging into your account at least once a day.
These are just the tip of the iceberg. No purchase necessary means that while you will have the option to make deposits, you'll also be given plenty of chances to try out some real money casino games without needing to make a deposit.
Dual Currency of Sweeps Coins & Gold Coins
Most sweepstakes casinos all operate off a dual currency system. While the names of these currencies do sometimes change based on where you're playing, they tend to be called Gold Coins and Sweepstakes Coins (abbreviated to GC & SC).

Gold Coins are the free-to-play currency. They have no monetary value, but they can be used to play casino games online — and more importantly, they also facilitate the acquisition of the real money currency Sweepstakes Coins.
Sweepstakes Coins are used for promotional play. Promotional play is the sweepstakes casino equivalent of real money gambling. Once you've collected enough Sweepstakes Coins through playing the sweepstakes games, you'll be able to trade them in to win cash prizes.
It might seem a little odd. But as we'll explain in the next section, these sorts of things are some of the ways in which sweepstakes casinos are able to separate themselves from traditional online casinos.
Specific Sweepstakes Terminology
One thing you'll notice that is different about online sweepstakes casinos is their specific terminology. You don't deposit money — instead, you purchase Gold Coins packages that include free Sweepstakes Coins that are of an equivalent value to your purchase. Similarly, you don't withdraw money. Instead, you redeem your Sweepstakes Coins to win real cash prizes.
The reason for this is that traditional online casinos use the standard terms. And since it's crucial for a sweepstakes casino to separate itself from a conventional online casino, they must use language that differentiates them. In short, it's a bit of a loophole. But rest assured — it's a 100% legal loophole.
So while real money gambling is not allowed at sweepstakes casinos, you can still purchase a $50 Gold Coins package that includes 50 Sweepstakes Coins and then use those Sweepstakes Coins for promotional sweepstakes gambling before redeeming them for a cash prize.
Are Online Sweepstakes Casinos Legal in the US?
All US gambling is legal at the federal level. However, states are permitted to restrict gambling as they see fit at a state level.
While most US states are highly restrictive on online casinos, they are much more lenient for sweepstakes promotions. With that being said, there are still some restrictions at the state level.
All sweepstakes casinos are illegal in Washington.
Idaho heavily restricts sweepstakes casinos, and most don't allow residents of Idaho to register or at the bare minimum play with sweeps coins.
All legit sweepstakes casinos abide by these regulations as well as any state-imposed restriction that a state may place on them. So while you typically will be able to play at a sweepstakes casino so long as you don't reside in Washington or Idaho, it's still a good idea to read through the terms & conditions to ensure that your state allows you to play at that specific sweepstakes casino.
Sweepstakes Casino Age Requirements
A great thing about sweepstakes casinos is that the age requirement for registering is lower than it is for joining a traditional online casino.
Instead of needing to be 21, you only need to be 18 to sign up.
Before making a redemption, you will need to provide a photo ID to verify your age and name.
Are Sweepstakes Casinos Safe?
Yes. While the laws surrounding sweepstakes promotions are much less strict than those governing traditional online casinos, sweepstakes casinos still must abide by them. With that being said, not all sweepstakes casinos are equally as safe.
Recently, some shady casinos like Golden Dragon and Orion Stars have been popping up — marketing themselves as sweepstakes casinos. These casinos follow a weird distributor model which is ripe for scams. As such, we recommend you stay clear of them. The good news is that these casinos make up the minority, and most sweepstakes casinos like WOW Vegas and Pulsz are 100% legit.
So, how do you tell the good from the bad? Well to start with, here are a couple of questions you should be asking:
How do I sign up? Registration at sweepstakes casinos should be easy. If they're making you go through a third-party distributor, that's not a good sign.
Do they have a no deposit welcome bonus? Under the No Purchase Necessary policy that governs sweepstakes casinos, all sweepstakes promotions must allow users to play for free.
Of course, this is by no means a comprehensive list. Shady casinos are constantly changing, and keeping up can be challenging. The good news is though, we've already done the hard work for you. At Sweepstake-Casinos.com, we're experts in all things sweepstakes casinos, and if you're ever unsure about a new sweepstakes casino that you've come across, just read our relevant guide.
Or, to save yourself the hassle, take a look at our List of Sweepstakes Casinos USA page for a full rundown of all the best sweepstakes casinos in the US as well as a couple of blacklisted casinos like Sky Sweeps Casino that we recommend you stick clear of.
Sweepstakes Casinos vs. Gambling
Functionally, there's not much separating a sweepstakes casino from a traditional online casino. You play games on both. You can win money on both. However, in order to market themselves as a sweepstakes promotion rather than an online casino, there are a couple of minor differences they have to make.
For ease of reading, the below table will show you the difference between the two at a glance.
| 🎰Sweepstakes Casinos | 🎰Normal Online Casinos |
| --- | --- |
| Available in all state excluding WA | Restricted to NJ, PA, MI, DE, CT, and WV |
| Legally viewed as a sweepstakes promotion | Legally viewed as an online casino |
| Use sweepstakes specific terminology: Purchases/Redemptions, Promotional Play, etc. | Use standard terminology: Deposit/Withdrawal, Real Money Gambling, etc. |
| Dual currency system of Gold Coins + Sweepstakes Coins | Use singular USD currency |
| No deposit welcome bonuses on all legitimate sweepstakes casinos | No deposit welcome bonuses are rare |
| Must be 18+ to play | Must be 21+ to play |
| Daily login & mail-in bonuses | |
Of course, the big one is that unlike traditional online casinos, sweepstakes casinos are available across almost the entire nation.
Are There Many Sweepstakes Sites in the US?
Sweepstakes casinos are plentiful in the US. This is of course good as it provides a lot of different options for where to sign up — however, for experienced players who are serious about making a profit, it can also offer a way to maintain a steady stream of Sweepstakes Coins. This is all due to the No Purchase Necessary Policy.
Because of this policy, sweepstakes must provide a way for users to play for free. While this is most commonly done through a no deposit welcome bonus, the best sweepstakes casinos also offer daily login rewards.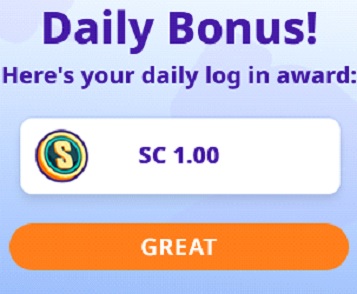 Combine a couple of these together, and you can keep up a steady stream of Sweepstakes Coins. And the kicker — anyone can do it. While we do recommend that you start off by just signing up for one sweepstakes casino, if you do enjoy it, we thoroughly recommend you sign up for a couple of others to maximize this advantage.
Finding Safe and Legal Sweepstakes Casinos
For new players, sweepstakes casinos can be a confusing subject. Unfortunately, a lot of scammers are aware of this confusion and use it to their advantage by promoting illegal offshore casinos as legitimate sweepstakes casinos when they're really scams.
It can be difficult to spot the differences between a legitimate sweepstakes casino and a scam when you're starting off. For that reason, we've created a checklist for telling whether or not a sweepstakes casino is the real deal.
Do they have a sweepstakes rules page? The sweepstakes rules page is where the No Purchase Necessary policy is listed — if they don't have one, they're no good.
Are they legal in Washington? While it's a shame that sweepstakes casinos are illegal in Washington, whether or not a casino will allow residents of Washington to sign up through them can be viewed as a litmus test. If there's no exclusion policy explicitly stating that residents of Washington aren't allowed to register, that's a pretty strong sign that they're scammers.
 What is its reputation? With sweepstakes casinos, reputation is everything. While there may be no state licensing procedure for sweepstakes casinos, there still exists sites like ours that are based on reviewing sweepstakes casinos and finding out whether or not they're legit. We play at these sites, deposit, and withdraw. If there are any problems, they won't get a thumbs-up from us, and you'll know that you should stay clear.
Do they list their company? Like online casinos, a company runs these operations. And if they are not registered in the US or just appeared out of nowhere, chances are the sweepstakes they are running are no good.
What games do they offer? Although sweepstakes casinos are allowed to feature proprietary games, the best ones source their titles from 3rd party studios you would typically find at real money casinos. A site with NetEnt, Betsoft, Pragmatic Play, and such names behind it is a sign of a legit business.
Summary
Online sweepstakes casinos work via the sweepstakes model. Thanks to this model, they're able to offer residents across almost the entire US the opportunity to play sweepstakes games for the chance to win cash prizes. It's 100% legal.
Plus, thanks to the No Purchase Necessary policy that all legitimate sweepstakes casinos must abide by, you can get started for free with a no deposit welcome bonus. Just sign up via our exclusive links to get started today.
FAQs
Why are sweepstakes casinos legal across the US?

Sweepstakes casinos are legal across the US, as rather than operating as a traditional online casino gaming establishment, they operate as a sweepstakes promotion. Because of this, they don't need to abide by restrictive gambling laws.

How old do I have to be to play at sweepstakes casinos?

To play at sweepstakes casinos, you need to be 18. This can sometimes differ though based on which sweepstakes casino you want to sign up at — because of this, we always recommend you read through the terms & conditions page before signing up.

Can you win cash prizes at sweepstakes casinos?

Yes. Real cash prizes can be won by playing with the premium Sweepstakes Coins currency.

What are the best sweepstakes casinos?

What makes a sweepstakes casino the best is a matter of personal preference. However, when talking to players, most regard WOW Vegas, Pulsz, High 5, Fortune Coins, and McLuck as being the best sweepstakes casino sites.