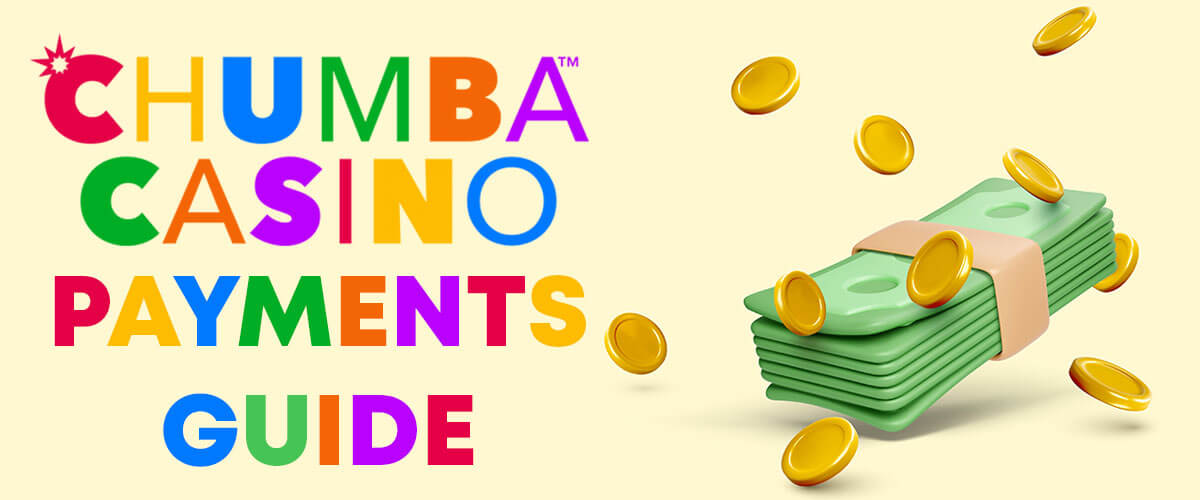 As a sweepstakes casino, depositing and withdrawing with Chumba is slightly different compared to the "traditional" online casinos. You don't deposit and withdraw. Instead, you purchase gold coin packages that include free sweeps coins, and then after playing with them, you redeem those sweeps coins for real cash prizes. It might sound confusing. But it's one of the key tenets that allow sweepstakes casinos like Chumba to operate across the nation — even in the states that don't typically allow online casinos.
Don't worry if you don't get it. Because in this guide, we'll be telling you everything you need to know about depositing, withdrawing, and the verification process that Chumba Casino employs.
Chumba Deposit and Withdrawal Methods
While Chumba does have fewer depositing and withdrawal options when compared with traditional online casinos, they do have most of the names — with only PayPal being the noticeable exemption. In the table below, you can look at all of Chumba's payment options.
💳Payment Methods at Chumba
Payment Method
Deposits?
Withdrawals?
Online Banking
✅Yes
✅Yes
Credit/Debit Cards
✅Yes
❌Must Use Bank Transfer
Skrill
✅Yes
✅Yes
Paysafecard
✅Yes
✅Yes — Via Skrill
Gift Cards
❌No
✅Yes
An important point to note is that if you want to redeem your winnings into cash, you can only do so via the method you used to deposit. So if you deposited via credit/debit card or a bank transfer, you must withdraw to your bank account. Likewise, Paysafecard or Skrill deposits can only be redeemed to your Skrill account. Though if you're not after a cash prize, you'll be able to withdraw your funds via gift cards regardless of which method you used to deposit.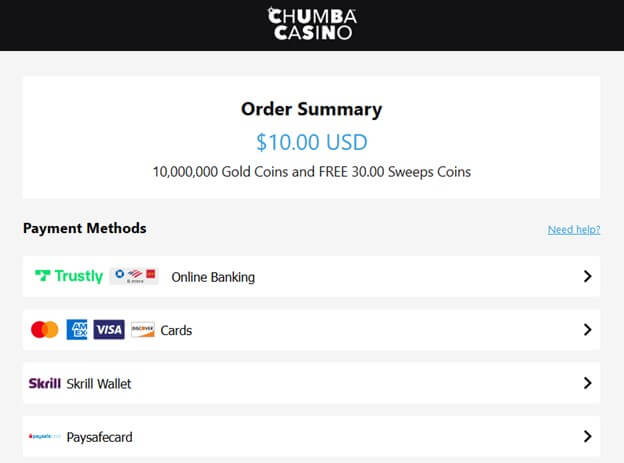 We understand that these limitations make Chumba a no-go real money sweepstakes casino for some. To that end, you can instead have a similar experience with more games in the following Chumba Casino alternatives:
Gold Coins Packages
Unlike depositing at a traditional online casino, when you purchase gold coins at Chumba, you do so for one of the fixed amounts. As of writing, there are only six packages available for purchase (seven including the welcome Chumba Casino bonus). You can find the breakdown of them all below.
| 💰Chumba Purchase Packages | 💲Cost | 🟡Gold Coins | ⭐Sweeps Coins |
| --- | --- | --- | --- |
| Welcome Bonus | $10 | 10,000,000 | 30 |
| Package 1 | $1 | 200,000 | - |
| Package 2 | $5 | 1,000,000 | 5.05 |
| Package 3 | $10 | 2,500,000 | - |
| Package 4 | $50 | 15,000,000 | 51.5 |
| Package 5 | $100 | 35,000,000 | 104 |
| Package 6 | $300 | 120,000,000 | 315 |
When choosing which gold coins package to purchase, you shouldn't really pay too much attention to how many gold coins you're getting, and instead, you should focus on the 'free" sweeps coins bonus that each package brings with it as only these sweeps coins can be redeemed for real money.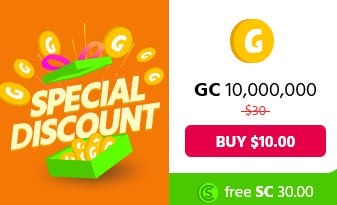 How to Add Real Money to Chumba Casino
Adding money to your Chumba casino account is easy. Just follow the below steps to fund your account and begin playing.
Navigate to the Chumba Casino homepage by clicking our secure links.
In the center of the screen, click the "Create Account" button.
Enter your full name exactly as it appears on your photo ID, and fill in your email and desired password. Alternatively, if you would like to link your Facebook account, you can do that to speed up the process. At this point, you'll want to read through the terms & conditions. After you've done that, click "Create An Account".
For security purposes, Chumba will need to confirm your mobile number, so the next step is to enter your phone number and type in the confirmation code sent to you. Likewise, you'll also need to click the link sent to your email.
Once that's done, you're in. Next up, you'll want to click the "Buy" button at the top of your screen and select your desired gold coins package. If it's your first deposit, we recommend you take advantage of the welcome bonus offer to purchase 10,000,000, and 30 sweeps coins for only $10.
Next, choose your desired payment method, and follow the relevant prompts.
You're done. Once you've completed your payment funds will be immediately accessible and you'll be able to play Chumba Casino games for real money.
Steps to Cash Out Sweeps Coins on Chumba
The process to redeem sweeps coins is just as simple. However, in my opinion, this is one area that Chumba does leave a little to be desired.
Click the drop-down menu button in the top right corner of the screen and select "Redeem".
If it's your first time withdrawing, you'll need to complete the verification process. It's a little lengthy, so we'll go into more detail for it in the next section. But once your ID has been verified, you can redeem your sweeps coins.
You'll generally have two options for withdrawal. Either convert your sweeps coins into cash prizes via bank transfer or Skrill (depending on how you deposited), or redeem them for gift cards. This is where I have a problem with Chumba, as while gift cards only need 10 sweeps coins for redemption, to redeem your sweeps coins for cash, you need to have a minimum of 100 sweeps coins. It's fairly high. And in truth, I can't see why it needs to be that high — nevertheless, it is. Select your preferred method and click 'Next".
If you're redeeming for cash, it's very straightforward, as you'll just need to provide some basic info as well as your desired withdrawal amount. Similarly, for gift cards you'll have a decent selection of brands to choose from.
Once that's done, they'll need to process it, which can take a while. Though after some time, you can expect your relevant prize of either a gift card emailed to you, or the funds to appear in your nominated account.
Verification Process
Some people have the idea that sweepstakes casinos are these rogue enterprises operating in the shadows of the law. But that couldn't be further from the truth. While they do use a legal loophole to get around traditional online gambling — they are still subject to sweepstakes laws and as such, have to comply with similar rules regarding the verification of their customers. This process is known as Know Your Customer (KYC).
And per Chumba's KYC policy, you must complete their verification process before you redeem prizes. To do this, you'll need to provide photos of three types of documents, plus a selfie.
Government Issued Photo ID — Driver's license, state/national ID, or passport.
Selfie — A clear photo of yourself.
Proof of Residential Address — Utility bills, bank statements, or any sort of formal document issued in the past three months that shows your full name and address.
Bank Statement — Documentation proving that you own the account to which you are withdrawing to.
Once you've submitted these three documents via their secure portal, they'll begin manually verifying them. The listed time-frames for this process is 24-48 hours.
Payout Processing Times
The official time-frame for withdrawals is up to 14 business days. Thankfully in my experience, it wasn't anywhere near this long. Personally, I've only withdrawn to my bank account, and for me, it takes 4-5 business days. Talking to other members of our team who use Skrill, they say it takes a day less at 3-4 business days on average. And for gift cards, it's even shorter, taking 1-2 business days.
Regardless of how you look at it, if you're withdrawing to cash, it does take a little longer than other casinos, and in truth it's not something I'm impressed with — plus, if it's your first withdrawal, you can tag on another two business days for processing times.
Chumba Customer Service and Contacts
Customer support is another area that Chumba falls short on. To get help, players need to click the "contact us" button, navigate the FAQ section, select one of the listed questions and then select "No" under the "was this article helpful" prompt, before finally being able to submit a ticket. It's a ridiculously convoluted process. Thankfully I haven't had any problems, but for someone that has, I imagine it must be frustrating.
Alternatively, with sites like this, I recommend social media. To their credit, the Chumba official Facebook page is very active, and if you submit a complaint or request help, they're very quick to help you.
Buried through a mountain of text, I was also able to find an email, support@chumbacasino.com, that users can write to.
Benefits and Drawbacks of Chumba Payments
| ✅Pros | ❌Cons |
| --- | --- |
| Welcome bonus is great | Withdrawal times excessively long |
| Regular purchases come with bonus sweeps coins | Minimum cash redemption is 100 sweeps coins |
| Only need 10 sweeps coins to redeem to gift cards | |
| Online banking is accepted | |
For all the good they do, for me, those two cons really drag them down. Especially the long withdrawal times. I think it's fair to say that the vast majority of us play at online casinos with the hopes of winning money. And when you win money, you want to be able to spend it. So to withhold all winnings for up to 14 business days is almost irredeemable, and if it wasn't for Chumba's reputation as the pioneer of sweepstakes casinos, I think many would disqualify them as a potential playing option for that reason alone.
Also, I am not really fond of their marketing strategies. They introduced impressive offers, like the Chumba $100 free play bonus, only to remove it a couple days after. Other sweepstake casinos are way better in rewarding their customers.
Alternative Sweepstake Casinos with Faster Payouts
Chumba Casino is a good site. Still, it has some drawbacks, like the lack of a Chumba referral bonus. If you're looking for something better and for a site that handles payouts faster, we recommend you pick one of the following alternatives.
Pulsz — Pulsz has a great selection of games, far trumping that of Chumba, and what's better, their processing times are significantly faster. Gift cards and cash redemption are available.
Fortune Coins — Another top alternative is Fortune Coins. At Fortune Coins, the withdrawal process averages 48-72 hours; even better, the minimum withdrawal is only $50. If you do give them a shot, make sure to try Emily's Treasure for a fish game experience unlike any of the online casino style games that you'll find at any of the other sweepstakes casinos.
Stake.us – A great social casino that accepts payments in Bitcoin, Litecoin, and Dogecoin. Payouts in the same cryptocurrencies take less than 24 hours, and you can enjoy 300+ online casino games.
Chumba Casino Payments FAQs
How does Chumba Casino payout?

Chumba Casino can payout via cash (Skrill or bank transfer) or gift cards. For cash, you'll need at least 100 sweeps coins to withdraw. Though for gift cards, you'll only need 10 sweeps coins.

What is the Chumba Casino verification process?

The Chumba Casino verification process involves the player submitting three types of documents plus a selfie to prove that you are who you say you are. On average, this process takes 24-48 hours, and until it's complete, players cannot withdraw any of their funds.

Why is Chumba redemption taking too long?

I wish I had an answer for this. Chumba redemptions just take a very long time, with Chumba Casino stating that they may take as long as 14 business days. If after 14 business days you still haven't received your withdrawal, we recommend you contact their Facebook page.

What is the Chumba Casino withdrawal time?

Officially withdrawals may take as long as 14 days. However, in my experience and from talking with other users, I've found it takes 4-5 business days for bank transfers, 3-4 business days for Skrill, and 1-2 business days for gift cards. Though if it's your first withdrawal, you can tag on an extra day or two.

How to fix issues with Chumba redemptions?

To put it simply, you can't. Chumba Casino processes redemptions manually, so unless they hire more people or change their reviewal policy, there's really no way to speed up redemptions. If this is a deal breaker for you, we recommend you give Pulsz or Fortune Coins a try.

Does Chumba Casino accept Cash App?

No. As of writing, Chumba does not accept Cash App, and we don't expect it to arrive anytime soon. Stake.us is the only legal sweepstake casino where you can play with crypto. 

What are the Chumba Casino sweeps rules?

As Chumba Casino operates under the sweepstakes model, there are certain rules they must follow. These rules include the guarantee that all their games be available to play for free, as well as that sweeps coins must be able to be won without any purchase. For a complete list of sweeps rules, click here.

Does Chumba accept PayPal?

No. While Paypal is available at many of the traditional online casinos, they don't typically allow their services for sweepstakes casinos — as such, they don't now, nor do we expect them to allow their services to be available at Chumba.

Yes. Under VGW, Chumba Casino was the pioneer of the sweepstakes casino model. First established in 2012, Chumba Casino is perhaps the most trustworthy sweepstakes casino available in the US, and we have no problem saying that they are 100% legit. They even hold a license from the MGA and some of their games are powered by Playtech.