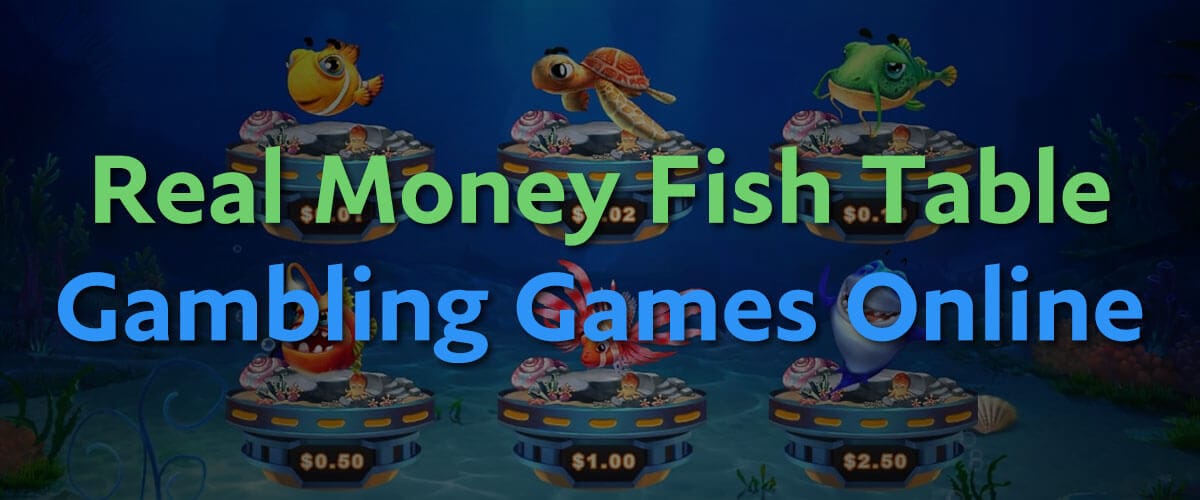 Fish table gambling games are an exciting and dynamic alternative to traditional online casino options. Popular games like Golden Dragon and Deepsea Volcamon take players to the bottom of the ocean, where an abundance of colorful fish and other creatures await. Aim and shoot to catch the underwater critters and win cash prizes.
With lucrative bonuses, colorful visuals, smooth animations, and huge jackpots, there has never been a better time to play fish table games online. These arcade-style shooting games are unlike anything else at online casinos, offering players an exhilarating online gambling option that rewards skill and quick thinking with substantial payouts.
Are you struggling to understand the concept of an online fish shooting game? We wouldn't blame you, as they are rarer and harder to find than slots or traditional casino games. Don't miss out on the wonders of online fish games, especially if you fancy yourself as an accurate underwater marksman.
Stay with us as we explore everything you need to know about real money fish table gambling games. We'll show you how to play, the best games, and how to land the most lucrative catches.
Where To Play Fish Table Games Online with Real Money
You can play fish table games for real money on several platforms nowadays. Players across the US enjoy using sweepstakes casino sites legally in all states other than Washington. Anyone over 18 can sign up to play online fish table games and other casino options for free while winning cash prizes in the process. Our favorite recommendations are:
Sweepstakes sites are legal and secure ways to play fish table games for millions of players across the US. They also offer countless ways to win free sweeps coins or gold coins. For example, first-time customers at Fortune Coins receive 140,000 gold coins and 500 Fortune Coins after completing their registration.
Sites like Orion Stars, River Monster, and the Game Vault app also offer fish arcade games, but we recommend you stay away. These sweepstakes casinos are not safe or legitimate. Cash prizes may not be paid out, or you may find your personal data has been compromised. Stick to legal alternatives like Fortune Coins to play fish shooting games.
What Are Fish Table Games?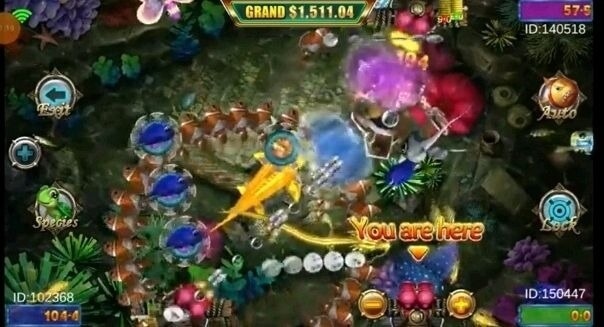 Ever wished online slots rewarded player skill a little more or resembled genuine video games? Online fish games revolutionize gambling, with far more onus on direct skill and shooting accuracy. In layman's terms, they are arcade-style shooter games where players buy bullets and use them to shoot different fish varieties. The more exotic, the bigger the payout.
Fish arcade games started appearing in the 1980s. Unlike slots, these machines rarely had a place in traditional casinos. Instead, people could shoot fish in supermarkets, arcades, or bars. Fish game gambling isn't associated as much with traditional casinos as other games like slots. This is starting to change now as more players uncover the wonders of fish table games online.
Nowadays, you have two main options. Choose a land-based fish table at a local sweeps cafe or arcade or play online fish games. Most physical fish tables are multiplayer, so you will play against others. On the other hand, online fish tables can be single-player or multiplayer. Fortune Coins is notable for offering one of the only online multiplayer fish games you can play with friends. Check out the list below to give you an idea of the best fish table games online:
Golden Dragon
Deepsea Volcamon
Fish Catch
Crab King
How to Play Fish Table Gambling Games For Money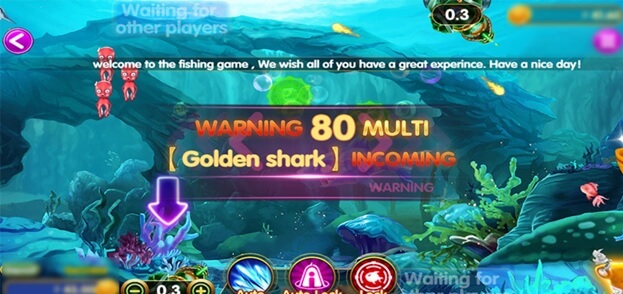 Playing fish table games is straightforward and rewarding. Win real money prizes by shooting various fish species or high-paying mythical creatures. Players can upgrade their ammunition, bombs, or cannons via higher bets. Online fish tables also feature several bonus features. These can include traps, multiplier boosts, or prize wheels.
Here is a basic rundown of how to play fish games online for real money:
Choose a site to play fish table games online. We recommend platforms like Fortune Coins the most, instead of dodgy operators like OceanKing99.net.
Select your bet denomination
Start the game and start shooting to catch fish
Once you hit a fish, you will see a health bar. Get this down to zero to catch the fish and receive a payout. More valuable creatures will take longer to capture
Swap to a more powerful cannon if your bullets are too weak for high-value fish. This will multiply your bet, so be careful of your bankroll.
Watch out for powerups and special features that can help you catch large fish and win more money.
Games like Fish Catch offer auto fish and auto aim options to help you if you're struggling. Turn these on using the icons in the bottom right.
Advanced players can use the radar in the top right of the screen to track high-value fish across the map.
At the end of the game, your score will be totaled, and the overall payout will be awarded.
Fish Tables Explained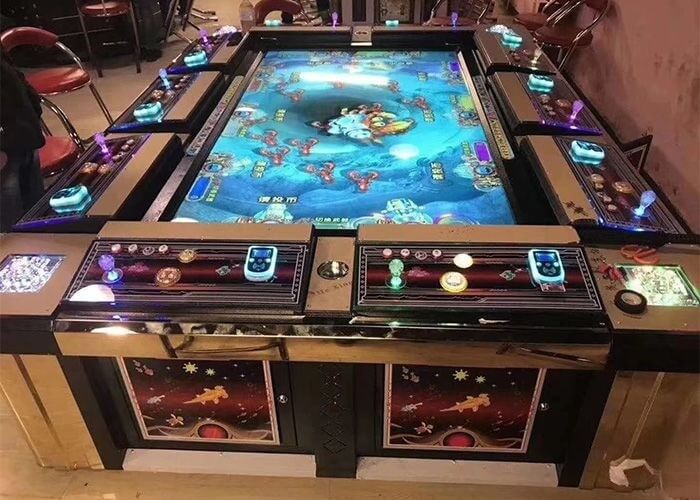 Physical fish tables use the same mechanic as the online fish games they inspired, although there are some clear differences. Fish tables are real-life arcade-style games using joysticks to aim and shoot rather than a computer mouse. The action unfolds on an LED screen in the middle of the table. It tends to be a similar size to table football or air hockey units.
Laws surrounding physical fish table games across the US are murky but they are generally treated the same as other gambling games. States like North Carolina are curious cases where gambling fish games remain neither completely legal or illegal. Tables have grown in popularity since the video poker ban in 2006, but after a 2020 raid on an arcade in Salisbury, even fish operators in the Palmetto State need to be careful
Fish tables can be found in traditional gambling hotspots like Las Vegas, but they are trickier to play at casinos than classic options like slots or blackjack. In general, it's easier to play fish arcade games at land-based sweepstakes cafes or arcades. Bear in mind that physical fish games are commonly multiplayer-only, so you will have to test your skills against other players.
Whether you choose physical fish tables or online fish games depends on personal preference. Most players find online gambling more practical, but the social aspect of real-life fish tables is also an incentive.
Are Real Money Fish Games Legal in the US?
Online United States casinos are legal in six states currently. These are:
Connecticut
Delaware
Pennsylvania
West Virginia
Michigan
New Jersey
Nevertheless, players in all states but Washington can play legal real money fish games via sweepstakes casinos. These platforms use virtual currency to navigate federal gambling laws and offer free fish table games alongside slots and other casino options. Players can win virtual currency prizes that are redeemable as real cash.
We recommend playing at legit sweeps sites like Fortune Coins or BetRivers.net. Players can find several fish table games at other sweeps casinos like River Monster or Orion Stars, but these options are not safe or secure. Stay away from these platforms as well as illegal offshore operators. It simply isn't worth the risk!
Best Online Fish Gambling Games & Their Features
🥇Fish Catch
🥈Crab King
🥉Golden Gradon
🎖️Deepsea Volcamon
🏅Fish Chopper
Playing fish table games is an exhilarating, dynamic, and lucrative way to pass the time if you choose the best options. We've done our research to present the top fish game picks currently available:
#1 Fish Catch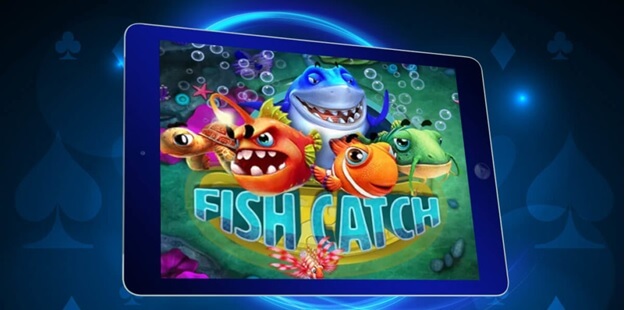 Realtime Gaming is known for popular slots like Spirit of the Inca or Caesar's Empire, but they flipped the script with Fish Catch. This multiplayer online fish shooting game offers fantastic 3D graphics and impressive gameplay. Players have plenty of targets to aim for with 20 different types of exotic fish and a high-value mermaid worth 1,000x your stake. Bet levels run from $0.01 to $2.50 in six intervals. You can choose between five types of cannons once the game begins. The weakest multiplies your bet by x1, while the most powerful has a x10 multiplier.
Fish Catch has standard features like auto aim and auto fish. There is a handy radar in the top right where you can navigate the four corners of the pond and track high-value fish. We enjoyed the health bar that appears each time you hit a target, making it easy to understand how many more times you have to hit a fish to catch it. Realtime Gaming has added a Mermaid's Luck bonus feature. This triggers randomly and gives players a spin of a multiplier prize wheel. Playable with up to three friends, Fish Catch is arguably the best online fish table available.
#2 Crab King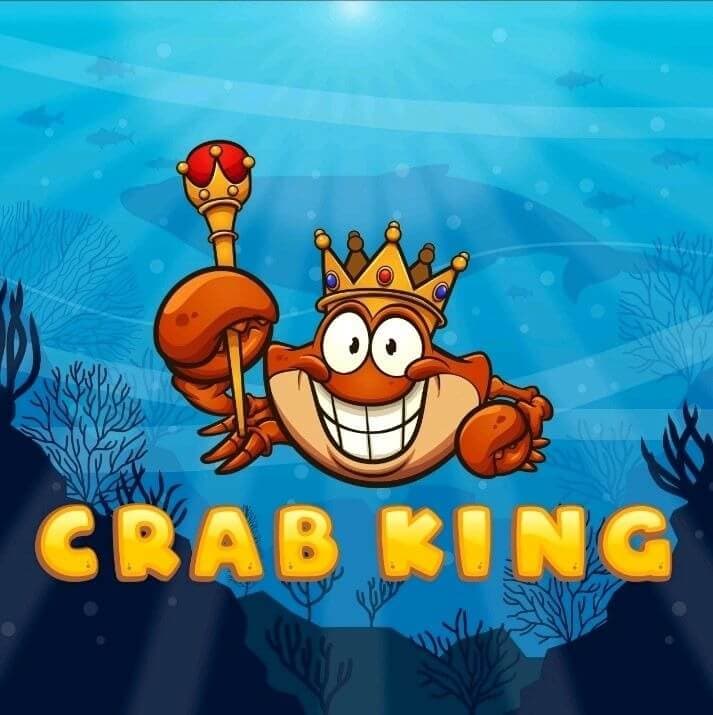 A lobster is the highest-value creature during Crab King, rewarding players with a 200x multiplier. This is smaller than other fish table games online, but catching the lobster also initiates a game-wide fish massacre, rewarding players with even more points. Crab King makes up for it with several fantastic bonus features. For example, you can use the Drill Crab feature for hunting smaller crabs with smaller missiles. Elsewhere, catching the special Missile Crab character gives players a 5x multiplier. And watch out for the Bomb Shark, as this fish explodes and awards extra points in the process.
Players will also enjoy the Golden Crab Treasure Box feature, which can result in multiplier bonuses and free coins when opened. Lastly, the Golden Crab King offers percentage-based payouts that can be incredibly effective. Bet levels range from 10 to 1000 credits, so Crab King will suit all types of players. Beginners will also find the auto aim, and auto fish features useful when starting out.
#3 Golden Dragon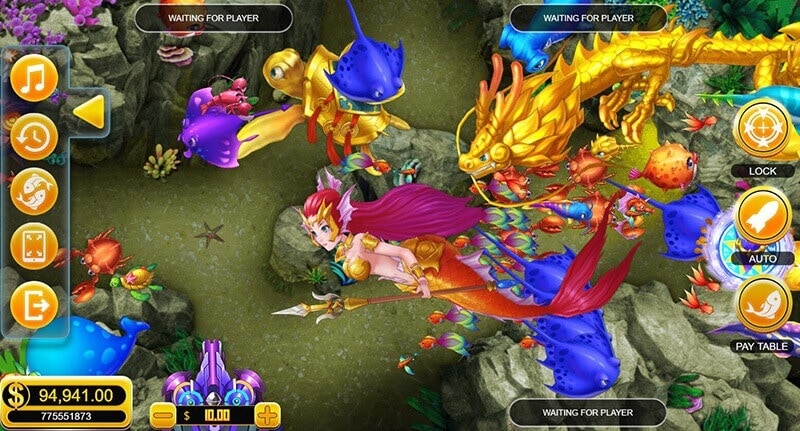 With over 30 different species of fish and other creatures in Golden Dragon, it is one of the most abundant fish table gambling games. We enjoyed the colorful visuals, perfectly merging the classic aquatic aesthetic with mythical creatures like a golden dragon, battle-ready mermaid, or majestic phoenix. Players can enjoy Golden Dragon with up to four others, although you can also play individually if you prefer. Mobile users may experience the same seamless gameplay as those on desktops or laptops.
Bet levels on Golden Dragon Sweepstakes run from $0.02 to $50.00 worth of sweeps coins. These broad bet amounts are a key reason why many players prefer this online fish table to alternatives. Additionally, two bonus features may further enhance the fish game experience. Keep an eye out for the Freeze Bomb fish. Catching it will freeze all other targets for a limited time, making it easier to rack up huge wins. Players who manage to destroy a crystal symbol will activate the Crystal Win feature. This destroys all other crystals, awarding a generous payout. You can also find the standard auto aim and auto fish on the right of the Golden Dragon screen.
#4 Deepsea Volcamon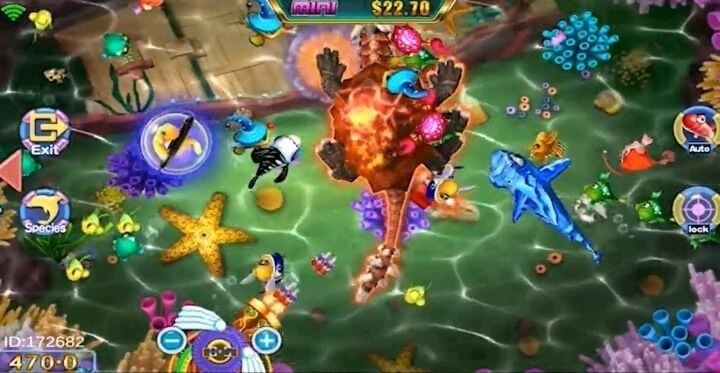 Deepsea Volcamon is another one of the best fish table games. Players are treated to a vibrant and colorful aesthetic centering around a mythical, fiery deep sea monster. The Giant Sea Turtle is the highest-paying creature, but keep an eye out for other high-value options like the mermaid and mythical dragon. Check out the entire species guide using the "Species" button on the left of the screen. It's almost impossible to get bored with over 30 to wrap your head around.
Deepsea Volcamon players can experience common bonuses like Freeze Bomb and special multiplier features. When going for high-value targets, utilize the + and – buttons on either side of the cannon to upgrade your ammunition. Another notable Deepsea Volcamon aspect is the ability to create custom fish games with your friends. Many fish table games online force you to play with random players, so this is a nice touch.
#5 Fish Chopper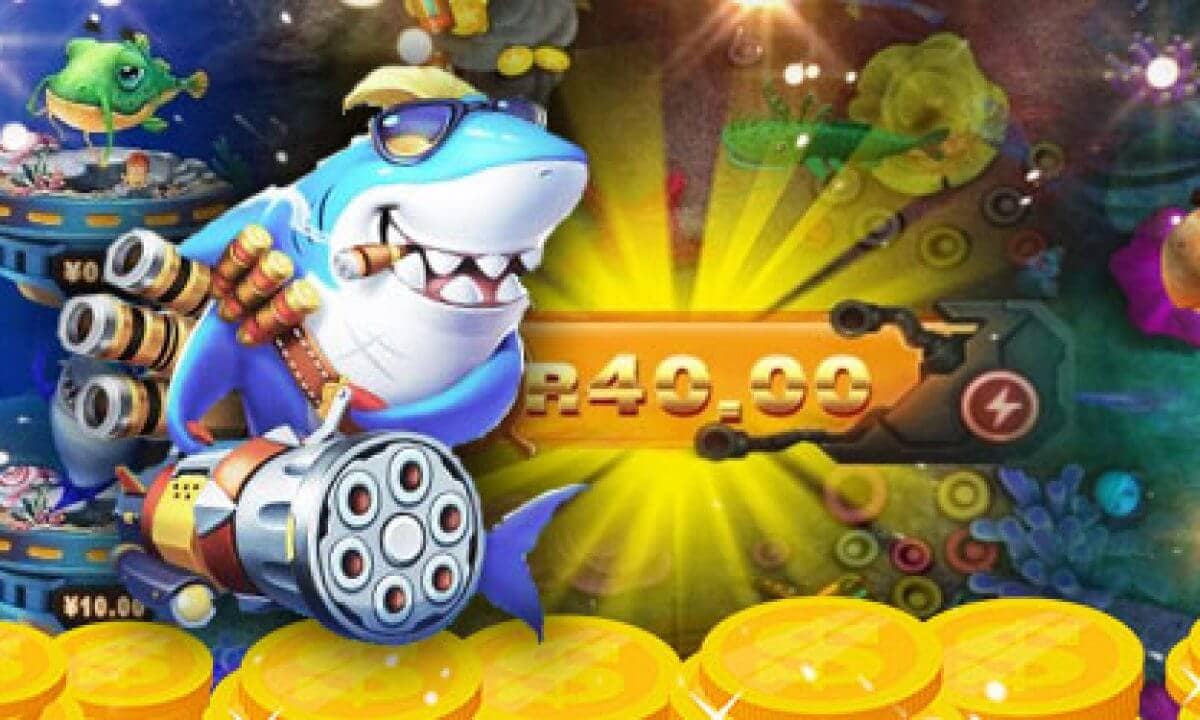 The unique thing about Fish Chopper is the several boss characters. Usually, online table fish games only have one boss character, but here players can target high-paying prey such as a Golden Shark, Li Kui, and Ne Zha. While these are the most valuable catches, they also take the longest to kill. Make sure you use high-power cannon ammunition when going after the bosses. You can change these by using the + and – buttons on either side of the gun.
Fish Chopper players can also utilize auto aim and auto fish functions to help them. Bonus features include full-screen bombs that wipe out all visible creatures if activated. Elsewhere, crab cannons can boost your firepower, particularly when going for the boss characters.
Best Sweepstakes Casinos to Play Fish Games with Real Cash Prizes
Sweepstakes casinos are legal in all US states but Washington and offer an abundance of free games with real money prizes. Playing fish games at these sweeps sites is straightforward and exceptionally fun. Look below for the best options:
Fortune Coins
Fortune Coins is a top-rated sweepstakes casino offering free games alongside real cash prizes. Players can enjoy the Emily's Treasure fish game for free in Standard Mode or for real money in Premium Mode. This multiplayer fish table has gained plaudits for its exciting visuals, large payouts, and ability to play in dedicated fish rooms with friends.
Elsewhere, Fortune Coins has a selection of exclusively designed slot games. Long John Silver and Pyramids of Giza are two favorites, offering up to 30 free spins and multipliers as valuable as 1,000x. Players can access Fortune Coins across all devices courtesy of the HTML5-optimized website. New customers are treated to 140,000 gold coins and 500 Fortune Coins after completing their registration. Additional free coin bonuses are plentiful.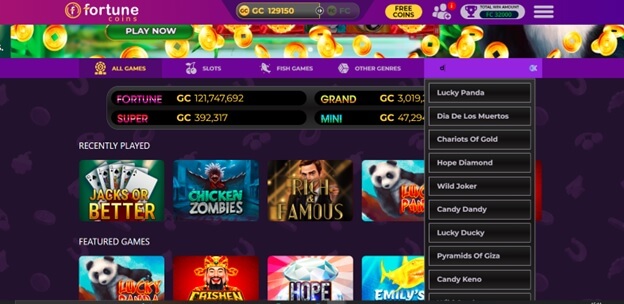 Pulsz Casino
Sweepstake casino enthusiasts love Pulsz Casino for its impressive selection of games covering popular real-money developers difficult to find on other sweeps sites. The welcome offer grants players 2.3 sweepstakes coins and 5,000 gold coins with no purchase required. Afterward, you can obtain a first purchase bonus of 38,250 gold coins and 30 sweepstakes coins.
Ongoing promotions, such as the Pulsz Casino VIP program, also give several opportunities to pick up free coins. Users also enjoy a smooth and intuitive interface alongside an excellent Android app. It has an average rating of 4.5/5 on Google Play after thousands of reviews, solid proof of its quality.
BetRivers.net
A free offshoot of the famous BetRivers casino brand, BetRivers.net offers free sweepstakes games with redeemable cash prizes. Players know they are enjoying a completely legitimate platform with decades of experience in the casino market, which is an important reason behind BetRivers.net's success.
Another reason sweepstakes fans love BetRivers.net is the countless opportunities to score free virtual credits. Players can claim free credits every four hours while logged in and spin a virtual credits prize wheel daily for even more prizes. There is no BetRivers.net app, but the site is compatible with all devices, meaning no download is required to play sweeps games for real money.
Big Fish Casino
Big Fish Casino has been around since 2009, amassing a considerable amount of sweepstakes experience in this time. Players may enjoy several fish table game options such as Farm Frenzy: Gone Fishing and Flying Fish Quest. There are thousands of other options if you fancy something different, covering everything from adventure games to classic casino alternatives.
You can easily access Big Fish Casino no matter what device you use. With a 4.5/5 Google Play rating and a 4.6/5 App Store score, it is undeniably one of the best mobile sweepstakes applications. Moreover, new players receive 100,000 free chips in exchange for registering.
Chumba Casino
A long-running sweepstakes casino owned by Virtual Gaming Worlds, Chumba Casino is a popular sweeps platform across the US. Players have enjoyed the platform since 2012, primarily due to the varied game selection and generous ongoing promotions. First-time customers receive 2,000,000 Gold Coins, and 2 Sweeps Coins on sign-up.
Payment options include Visa, Mastercard, and Bank Transfer, with plenty more to follow. The Chumba Casino website is designed to be compatible with all devices, and a Chumba Lite app is also available.
Free Fish Table Games No Deposit Bonuses
Taking advantage of no deposit bonuses when playing fish shooting games is essential. Typically, all you need to claim these offers is complete your registration. It's a great way to immediately boost your virtual bankroll before enjoying online fish table games. Check the table below for a rundown of the best offers:
| 🎰Fish Game Sweepstakes Platform | 🎁No Deposit Bonus | ✅How to Claim |
| --- | --- | --- |
| Fortune Coins | 140,000 Gold Coins + 500 Fortune Coins | Click Here! |
| BetRivers.net | 250 Free Virtual Coins | Click Here! |
| Pulsz Casino | 5,000 Gold Coins + 2.3 Sweepstakes Coins | Click Here! |
| Big Fish Casino | 100,000 Free Chips | Click Here! |
| Chumba Casino | 2,000,000 Gold Coins + 2 Sweeps Coins | Click Here! |
Getting Started with Fish Gambling Online
Playing a fish table game online is easy, but you'll need to follow a few simple steps before dropping your bait:
Choose a platform to play fish table gambling games for real money
Hit "Register" or "Sign Up" on the homepage
Check if you can register using your Facebook account
If you would prefer to sign up using your email, use this instead
You will also need to enter your date of birth
In some cases, fish table game casinos will ask for a proof of ID document
Verify your account via the email sent to your inbox
Make sure you've received your welcome offer bonus before choosing a fish table gambling game to play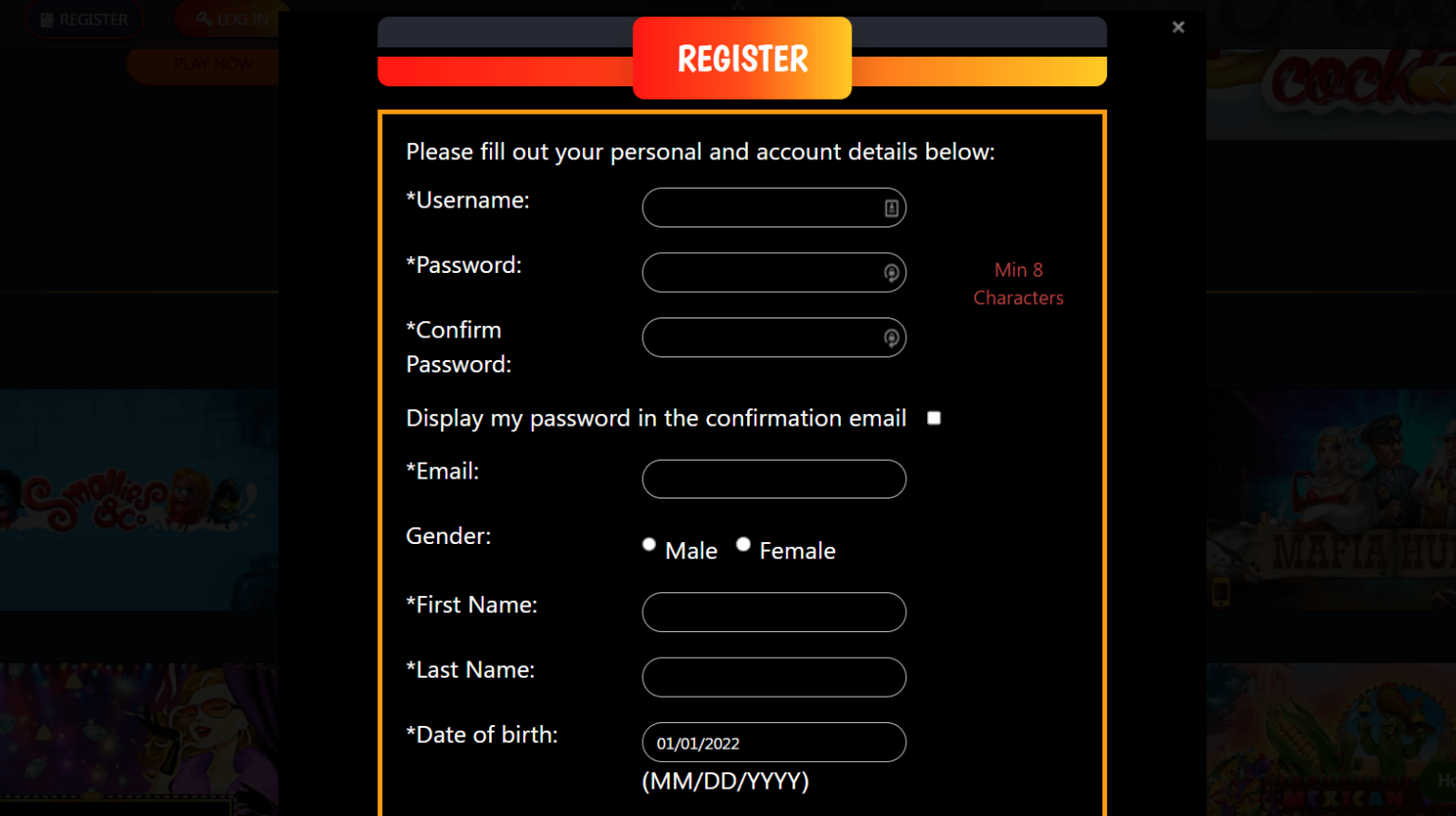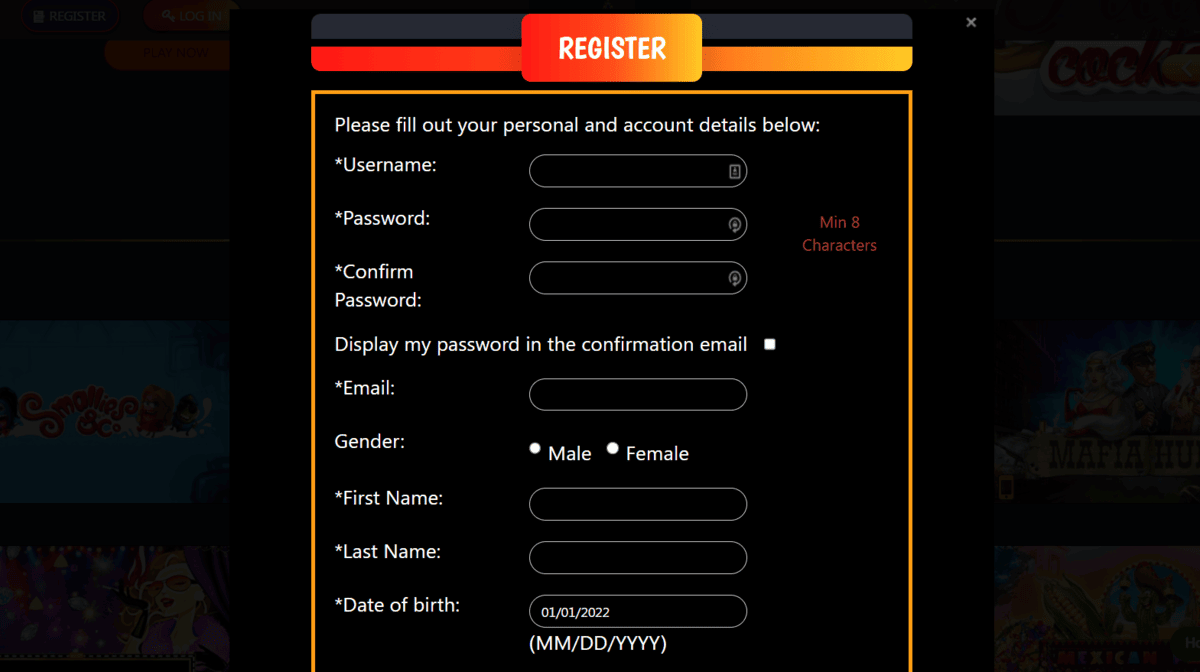 Deposits and Withdrawals at Fish Sweepstakes Sites
Deposits and withdrawals at fish sweepstakes casinos work differently to regular online casinos. Players purchase virtual gold coins instead of depositing money directly into their accounts. These are then used to wager on different fish ammunition levels. The best sweepstakes online gambling sites offer several payment methods. These can include:
Debit Cards
MasterCard
Visa
Skrill
PayPal
Bank Transfer
You must redeem sweeps coins to win real money prizes on PayPal fish tables games online. Ensure you are betting with sweeps coins rather than gold coins, as this is the only way to win redeemable currency.
Strategies and Tips to Win at Fish Shooting Gambling Games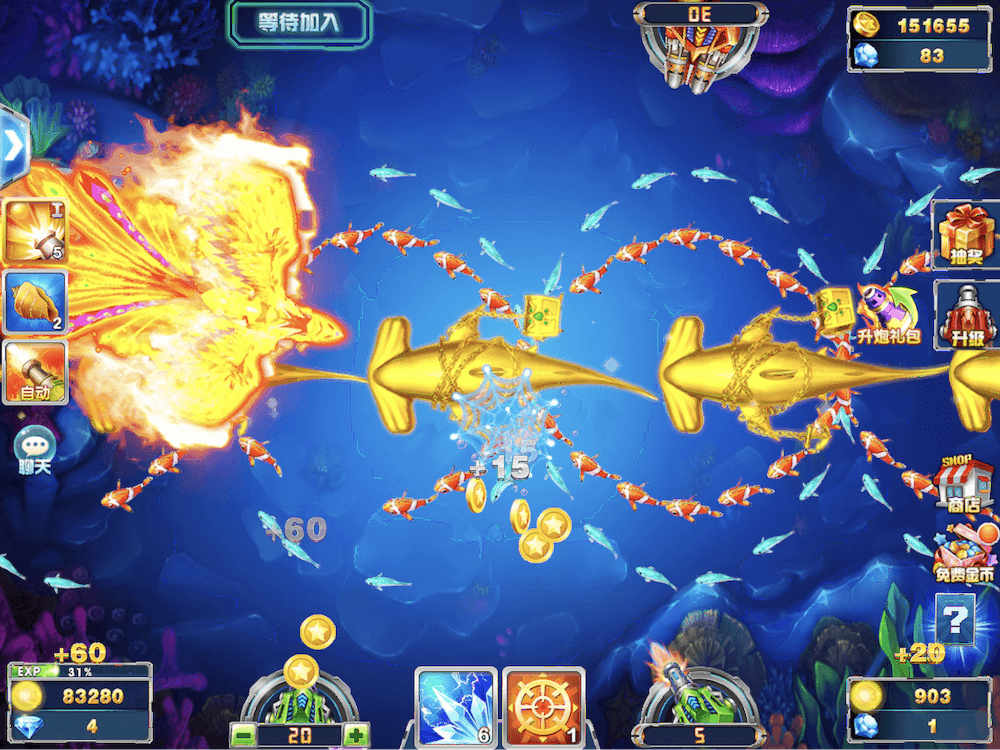 Many players prefer skill fish games because they reward tactical play far more than other casino games, relying more on luck. There are several top tips to ensure you catch the most fish at the cheapest possible price. You can find a few of the most important fish game strategies below:
Aim For The Head
It isn't enough to simply aim at the targets during online fish table games. Going for headshots is the No. 1 way to increase the efficiency of your bullets and catch fish quicker. Track the movements of your chosen fish and aim slightly ahead of it to ensure consistent headshots.
Mustache Tactics
Essentially, mustache tactics prioritize smaller and easier-to-catch fish over the big bosses or high-value creatures. This is particularly important for beginners, as it means you can keep the coins rolling in rather than wasting your bankroll going after the biggest catches.
Rapid Fire
If you're having trouble catching fish shooting one bullet at a time, try out a rapid-fire tactic. Shooting 3-4 bullets at once will be enough to catch most low-to-mid-value fish and will give you more time to catch others.
Think Rationally With The Big Fish
There will always be a time when you want to go for the bigger, high-value fish. Doing so can be extremely rewarding, but you must think rationally about how to make the catch. For example, headshots are advised, and you will need stronger bullets to take it down. Moreover, it's only worth attempting this if you have sufficient bankroll to do so.
Take Advantage of Fish Swarms
You will often find low-value fish entering the screen in swarms. This is a golden opportunity to catch several of them in the same burst of shots. Make sure you take advantage of these moments, as they can be a very fast way to increase your winnings.
Try Out Different Cannons
Most fish shooting games have at least 3-4 different cannons, so make sure you use them. Choose small cannons for low-value fish and more powerful ones for the high-value creatures to maximize your fish gambling success.
Start Small
Playing an online fish table game is not too dissimilar to other forms of gambling in the way you prepare. By that we mean that you shouldn't come out firing straight away betting huge amounts from the off. It would be wiser to take a little step back, reign in your expectations on ow much you will win straight away. Once you understand how to play fish catch online fully and you are in your stride, then consider raising the stakes a little bit. If you start out making small wagers you will improve your chances of winning in addition to enjoying the experience more.
Shoot the slower fish
Constantly trying to take down the quicker fish can add to the excitement, and there is definitely a time and a place to aim for those. However, naturally they are more difficult to hit as they are moving at such pace, which means you can be restricted on how much money you can win on the game. Instead, try going for the slower fish. Although you might not get a bigger payout, things can slowly build up. You will also be using your bullets more carefully, allowing you to have more time and improve your chances of winning.
Manage your bullets
Whether you are playing skill fish games online or at a physical casino, you will still have a certain amount of bullets. As the game progresses, you will need to carefully manage them. Adopting a strategy of shooting at will can quickly mean you are out of ammo. If you conserve your bullets it means you create more wriggle room and thus take more risks. There will be different scenarios that arise that will require you to either be more scattergun or more conservative. Asses the situation and then make an informed decision.
The Next Catch Awaits At Fish Gambling Games Online!
Fish table games online are some of the most immersive and exhilarating casino options. If you're sick and tired of the random and powerless experience of playing online slots, we cannot recommend games like Fish Catch or Golden Dragon enough.
Throughout this page, we've explored the best games to play and where to find them. Players can also find several tips to win real money prizes while shooting targets.
Fish game gambling is impossible not to enjoy – we dare you to prove us wrong!
FAQs
Where can I play online fish table games?

Fish table gambling games online real money are available at countless sweepstakes casino platforms. The safest and best option is Fortune Coins, where you can play Emily's Treasure online with friends.

Are fish gambling games legal?

Yes. If you play on sweepstakes casino platforms, fish gambling games are legal in all US states but Washington.

How do I win real money at fish games?

The objective is simple: catch as many fish as possible! There are typically over 20 species of fish, all with different payouts. High-value ones take longer to catch but offer more tantalizing rewards.

Do online fish table games pay real cash?

You can play fish table games online for real money at sweeps casinos, but the mechanic is slightly different from conventional casinos. Instead of winning real money prizes directly, players are awarded virtual currency. This can be exchanged for money at the redemption stage.

Fish game gambling is entirely legal as long as you play at licensed casinos regulated by the relevant authorities. These authorities constantly test the software and also ensure that the bonuses are legally enforced and all of the rules are clear and transparent. Consequently, you should avoid playing at offshore sites as you are not protected.