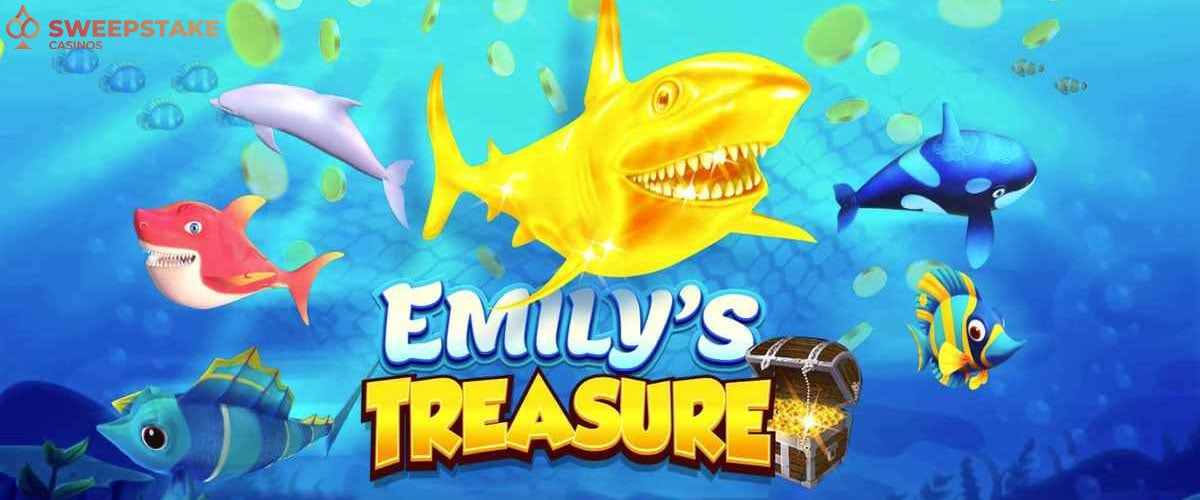 Are you prepared to dive down to the bottom of the sea and blast your way to real-world wealth? Emily's Treasure Fish game invites players to take aim and shoot fish, sharks, and other fishes to reveal rewards. You'll love this entertaining underwater adventure theme, which has no reels or paylines, but you'll find yourself firing a cannon in an underwater environment packed with marine life.
Emily's Treasure Fish is an action-packed classic arcade-style shooting game with special features and progressive jackpots. You will also enjoy fantastic graphics, exciting animations, and several possibilities to win real money. But, before you begin on your new fish game gambling journey, we believe it is essential that you grasp what this game is all about and what it has to offer its players.
So if you want to discover everything there is to know about these fish games, keep reading our detailed review below.
The Best Fish Table Game Online?
With the online Emily's Treasure Fish tables, you are instantly transported to a magnificent underwater world where millions of multicolored fishes are waiting to be shot. The game also offers a massive jackpot reward. This exciting online fish hunter game brings a new era for players as there's no reel; pick your gun and begin earning payouts immediately. Many players enjoy these games as they are easy to play, simple to join, and appropriate for a wide range of players who prefer skill-based gaming.
Online fish table games are enjoyable skill-based casino games available in sweepstakes casinos for real money. These games are not like traditional slots or table games; they need a significant skill level. Instead of reels and paylines like in a traditional slot, you receive swimming fish of all shapes and sizes that you must take down with a cannon.
Online fish games have grown in popularity since they are similar to arcade games. Instead of merely watching the reels spin, you can interact with them and perform your fishing. The player controls the online fish game, making it ideal for real money casino play. If you like skill-based gambling games, you will have a far higher chance of winning more money as your skill grows in these games.
Emily's Treasure is the best we have played so far, available with a no deposit bonus at Fortune Coins Casino. Before you start playing, you can see what to expect below.
Graphics & Sound Effects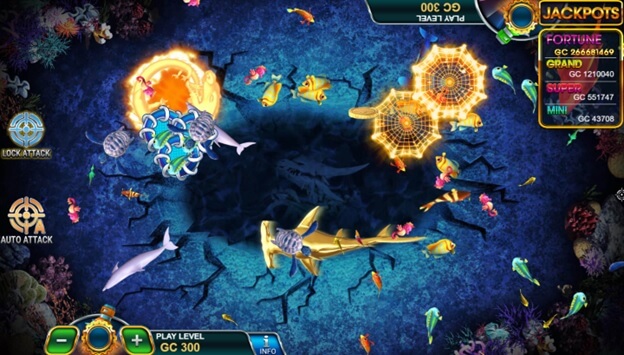 Even though Emily's Treasure Fish table games for real money aren't household favorites like Blackjack or Poker, gamblers worldwide are drawn to them because of their uniqueness, graphics, and entertainment value. The game will remind you of your favorite arcade fishing experiences. The 3D visuals and animations give players an advantage over other table games and are intended to interestingly test your fish hunting skills. If you think slots had outstanding visuals, wait till you witness the stunning effects and 3D animations in these underwater real money games.
When you initially start playing the Emily's Treasure fish game, it will take you to a deep sea where you can hunt various fish species. The undersea surface is presented with sea plants surrounding it, giving you the impression that you are in the deep sea. The fish species you're trying to catch can be found swimming in all different directions around the game display. You'll also experience an arcade-style or very realistic soundtrack that may encourage you to go fishing for additional fantastic rewards. In addition, this multiplayer fish table has received praise for its captivating graphics, generous prizes, and availability for playing with friends in special fish rooms at Fortune Coins Casino.
How to Play Emily's Treasure Fish Game Online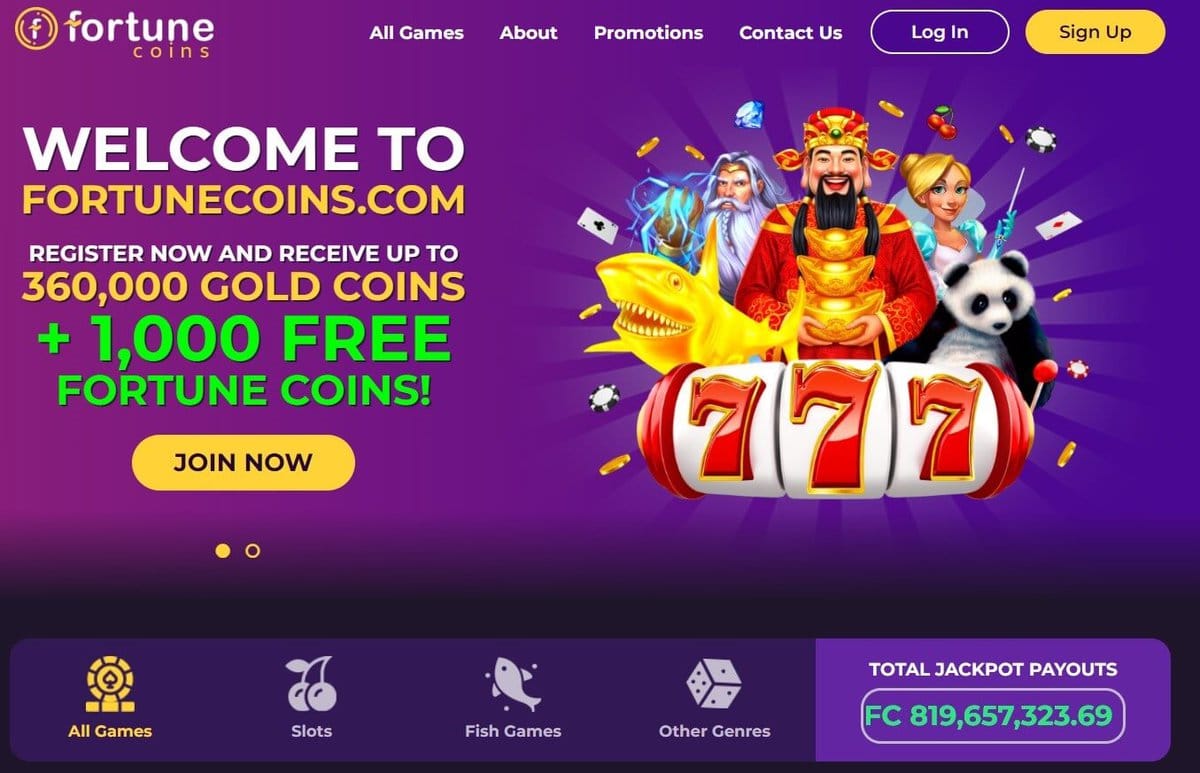 Emily's Treasure Fish table games are simple to learn and fun to play. Shooting certain fish species or high-paying legendary creatures can award you real money prizes. However, you must select a reputable sweepstakes casino that provides high-quality products and betting services. We recommend playing at Fortune Coins, a top-rated online casino offering free games and real money winnings. The Emily's Treasure Fish game is available in Standard Mode for free play and Premium Mode for real money. So you must create an account at Fortune Coins Casino, following the steps mentioned below.
When you click the "Join Now" button, the sign-up screen allows you to sign up using Facebook or
Then, you must enter your information, including your name, email address, and password.
Once you've created an account, take advantage of a no sweepstakes deposit bonus and play fish table games for free.
After registering, you can pick Emily's Treasure Fish game and begin playing with your 500 Fortune coins and Gold Coins.
You could also receive more free ones right away by verifying your email, which will give you an additional bonus.
Using one of our payment options is required if you want to buy more coins. You will also receive a first purchase bonus when you buy coins so that you can expect Fortune Coins with each payment.
Emily's Treasure Interface
Emily's Treasure Fish game is designed for players of all skill levels, with a professional and user-friendly interface. You can change your stake once the game screen opens by clicking on the plus and minus buttons at the bottom left side of the screen, next to a cannon gun. As you compete against other players displayed around the screen, the game will seem more like online poker betting than slots. The skill component comes into play at this point.
You'll also notice Play FC Level and Play GC Level because Fortune Coins casino has two different gaming modes. The first is the Standard Mode, which allows users to play for free using Gold Coins (GC) but cannot be redeemed for cash. The other is Premium Mode, which allows players to play games using Fortune Coins (FC) in exchange for a chance to win real money rewards.
You can shift and adjust the bet size for each round you fire with your gun. If you manage to shoot the fish while using higher bets, you could be able to win even bigger rewards. Additionally, there are two buttons for hunting fish—Lock Attack and Auto Attack—which we will go over in more detail below. The game's progressive jackpots, which include the Mini, Super, Grand, and Fortune jackpot awards, are also available that you can find in the upper right corner of the screen.
Emily's Treasure Gameplay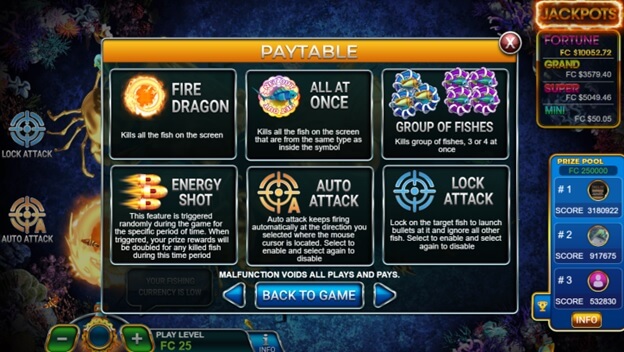 When you first launch Emily's Treasure Fish game online, you'll see that getting started with this fish shooting gambling game is simple. To hunt for different fish, place your bet and choose Lock Attack or Auto Attack. These options are located on the left side of the screen and can assist you if you are having difficulty. Lock Attack allows you to lock on to a selected fish and fire shots at it while ignoring all other fish species. It ensures that the cannon shoots strictly at the fish you desire to catch.
Auto Attack, on the other hand, continues to fire automatically in the direction you choose where the mouse cursor is situated. Regardless of your level of skill, it is a good idea to enable the Auto Attack function. You can click on these options to activate the feature, and another click will make it inactive. There are also some more unique features and special fish symbols that might help you win big:
Fire Dragon
When playing the online table game Emily's Treasure Fish, keep an eye out for the Fire Dragon because when you hunt it, all of the fish on the screen dies, awarding you a significant award. It is the best fish in this game as it could provide up to a maximum stake payout if you play with three guns and catch this fire dragon.
Group of Fishes
If a group of fish emerges on the screen, aim to shoot as soon as they disappear. A group of fish will offer you three or four fish at once. It increases your chances of catching extra fish quickly and collecting more fortune coins to redeem.
All at Once
You will also see a symbol with a single fish species swimming around. If your hunt for this symbol is successful,  you will kill all the fish of the same type, which is better than looking for a single fish.
Energy Shot
Lastly, an Energy Shot feature randomly activates for a certain amount of time throughout gameplay. It comes with a unique advantage, each fish you kill during the time the feature is active will double your prize winnings.
Emily's Treasure Fish Game Paytable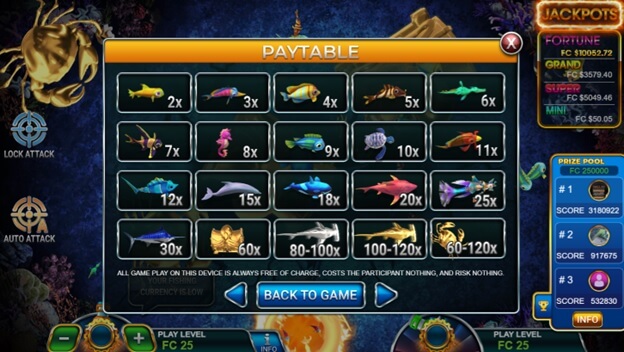 Compared to other games, Emily's Treasure Fish offers players far more playing options than simply idly spinning the reels or folding. The game's screen is covered in many different moving and 3D fish symbols swimming deep in the sea. Check out the table of payouts below to discover more about what each of these fish species has to offer:
🎣Emily's Treasure Fish Game Paytable
Yellow Puffer Fish
2x
HawkFish
3x
Yellow Tropical Fish
4x
Remora Fish
5x
Green Gharial
6x
Enoplos Fish
7x
Seahorse
8x
Blue Puffer Fish
9x
Turtles
10x
NA
11x
NA
12x
Dolphins
15x
Orca whale
18x
Shark
20x
Mermaid
25x
Sword Fish
30x
Golden Octopus
60x
Hammerhead Shark
80x - 100x
Golden Crab
60x - 120x
Golden Hammerhead Shark
100x - 120x
How to Win Emily's Treasure Fish Table Game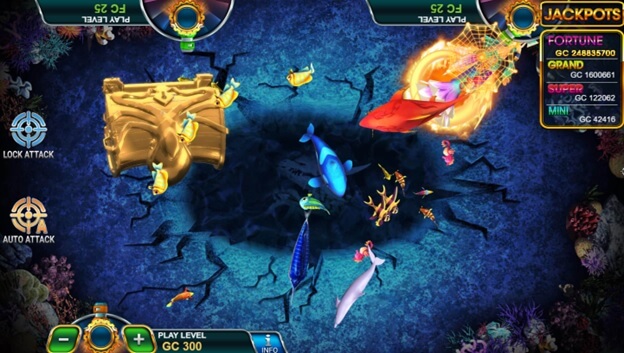 The way to win the online Emily's Treasure Fish table game is not difficult to learn because almost all games follow the same rules; players can capture many riches or not, depending on their skill level and practice. Fish table games are a form of skill-based gambling game. The player's goal in this casino fish game is to shoot as many fish as possible. The player will receive awards based on the quality and rarity of the shot fish.
Remember that each shot you fire is a bet, so avoiding wasting your bullets is critical. If your goal is to land every single giant fish, your bank account will quickly run dry. You should enter the game with a plan in mind, one that is tailored to your budget limitations. You should concentrate on capturing smaller fish if you have a restricted budget. Every fish caught will provide you with the matching payout odds, but the more significant the catch, the larger the payout.
Fish Game Progressive Jackpots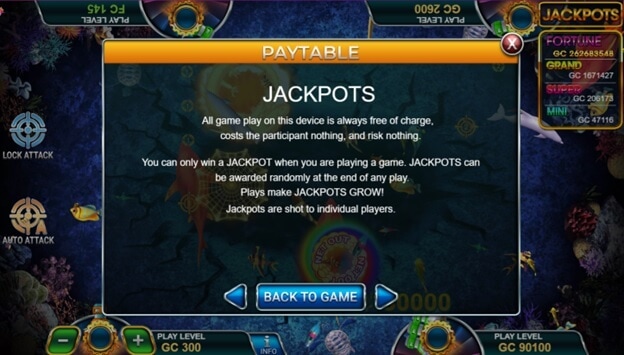 Emily's Treasure Fish table games are linked to progressive jackpots, providing you with the opportunity to win thousands of Fortune Coins (FCs). You can win a progressive jackpot reward while playing the game, granted randomly at the end of any session. Jackpot prizes improve as more games are played and are awarded to specific individuals. In this online fish table game, you can win one of four jackpot prizes: Mini, Super, Grand, or Fortune, shown in the corner of the playing area. As previously explained, the connected progressive jackpots reward GC and FC awards depending on your playing mode.
Play Emily's Treasure for Free & Win Real Money
When playing at Fortune Coins Casino, you can shift between using gold coins for free play and free sweeps coins for a chance to win cash rewards. These two coins are necessary to play casino games at sweeps casinos because real money wagers are not allowed; instead, you must use gold or free sweeps coins. You can also purchase gold coins with free sweeps coins as a bonus.
The Fortune Coins can be redeemed when they have been played through at least once. You can obtain an idea of the redeemable values of FCs if earned by knowing that 100 FC can be redeemed for $1. You can then convert these coins for cash rewards, which you can withdraw using an approved payment method. You can switch between GC and FC modes using a simple toggle at the top of the site.
Go Hunting For Emily's Treasure!
Emily's Treasure Fish table games are among the most popular and enjoyable online casino gaming alternatives. In this game, you are quickly transported to a gorgeous underwater environment filled with various fish species.
In fish tables, your goal is to use cannons to hunt as many fish as you can, the same as in shooting video games. Each fish is worth a different payout, and it is a fun, skill-based casino game you can play for real money. Great visuals, fantastic gameplay, and massive Fish Catch bonuses place it in a class by itself.
While playing Emily's Treasure at Fortune Coins Casino, you can gamble from the comfort of your own home using any device. Anyone from the US over 18 can play Emily's Treasure Fish game to discover the natural environment of the underwater world and win cash prizes in the process!