Ding Ding Ding is a sweepstakes casino by Living Pixels Studio LLC that officially launched its services in 2022. The casino offers a no-deposit welcome bonus of 500,000 GC and 5 SC to new players, giving free play access to the slots and bingo games it hosts.
Pros
Massive no deposit welcome bonus
Real cash prizes up for grabs
Access to a Bingo game room
Large amount of free coins through daily login rewards, challenges, and discount offers
Support via phone, email, and social media
Cons
Limited payment and redemption options
Support services aren't available on Saturday and Sunday
You need to level up to unlock most of the games on the casino
You need to play slot games to get balls to unlock the Bingo game
No live chat option
The bingo game requires you to manually daub the called numbers
The casino uses Gold Coins and Sweepstakes Coins as virtual currencies to eliminate the need for real money and stay within US sweeps casinos' operating guidelines. Thanks to the inclusion of sweepstakes coins, you can win real cash prizes from playing the games available.
In addition to the bonuses on Ding Ding Ding, other excellent reasons why it's a great casino include the availability of bingo games, a level progression feature, responsive mobile design, use of RNG on its games, and transparency.
You should go through this review to get a detailed summary of how the casino operates, what you stand to gain as a member, features that make it a contender for top sweepstakes casino, and how to claim the 500,000 GC and 5 SC no deposit welcome bonus.
Ding Ding Ding Casino Bonuses
🎰Ding Ding Ding Casino Bonuses
✍️No Deposit Sign Up Bonus
500,000 GC and 5 SC
💵Purchase Bonus
100% - 200% Extra Coins depending on package
🤑Existing Player Bonuses
Daily Login Bonus, Daily Challenge, Level Progression Bonus
🎁Discount Bonus
Up to 150,000,000 GC and 100 SC for $89.99
Ding Ding Ding No Deposit Bonus Code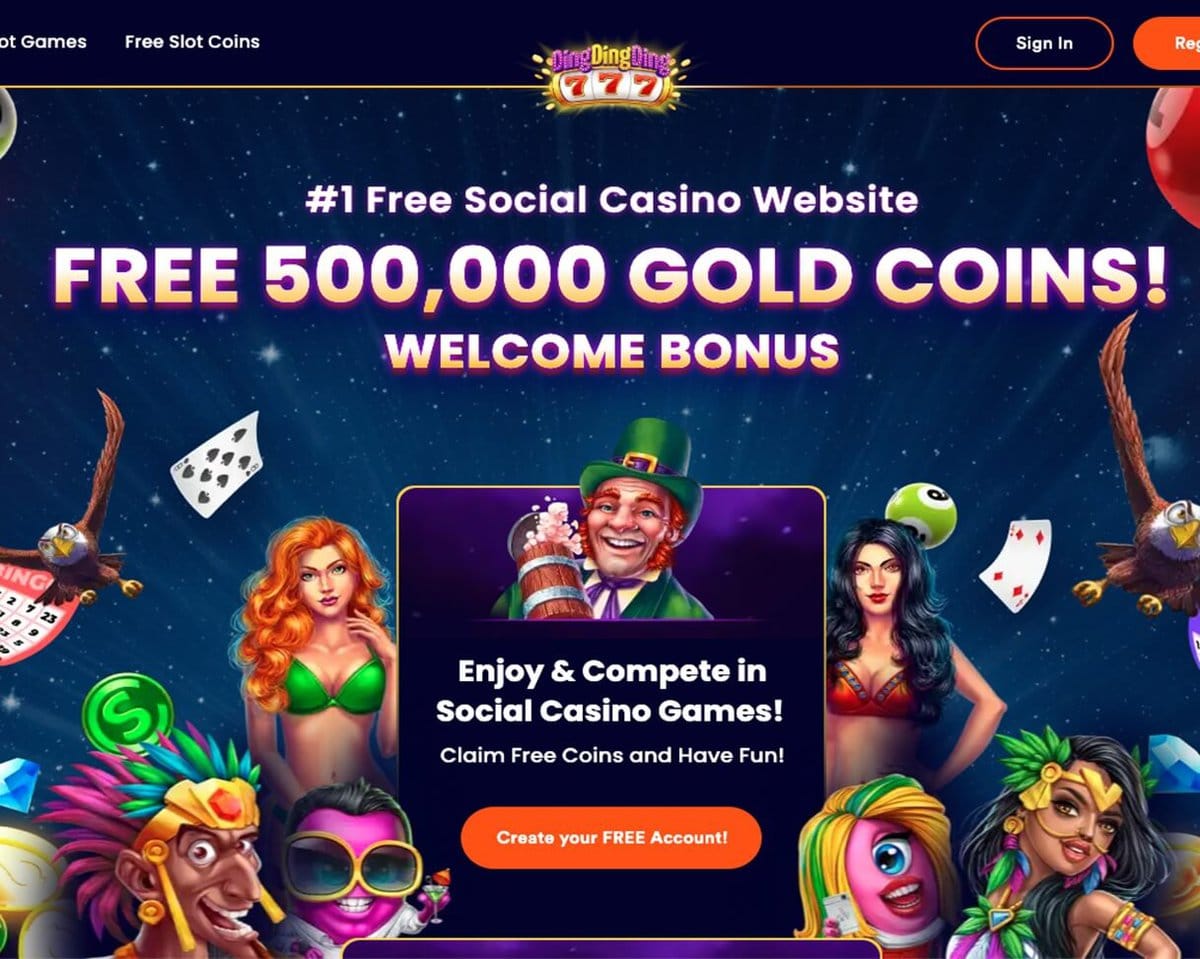 There are no Ding Ding Ding no-deposit bonus codes available. However, you still get to claim many exciting Ding Ding Ding no-deposit offers from the casino thanks to the no-purchase necessary feature of sweepstakes casinos.
The Ding Ding Ding casino no-deposit welcome bonus is a 500,000 Gold Coins and 5 Sweepstakes Coins bonus to play the various games on the casino.
Other no-deposit bonuses on Ding Ding Ding casino include its daily login rewards and other ongoing player promotions you can find.
Welcome Bonus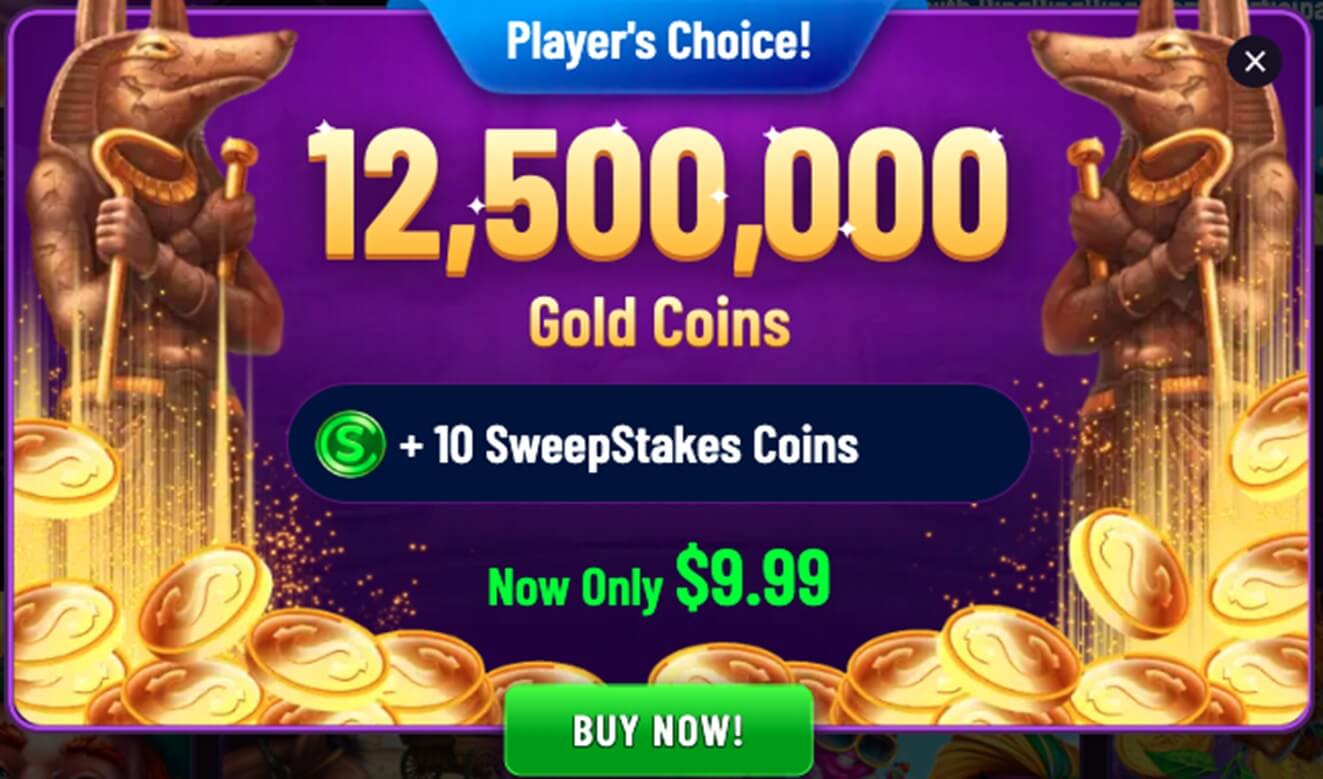 When making your first purchase on the site, you notice you get up to 200% extra on your Gold Coins, depending on the package you purchase. This is the Welcome Deposit Match bonus, and it's a limited-time purchase offer.
You can find information on the original amount you should get, so you can get a clear picture of the extra coins you're receiving.
How Ding Ding Ding Casino Works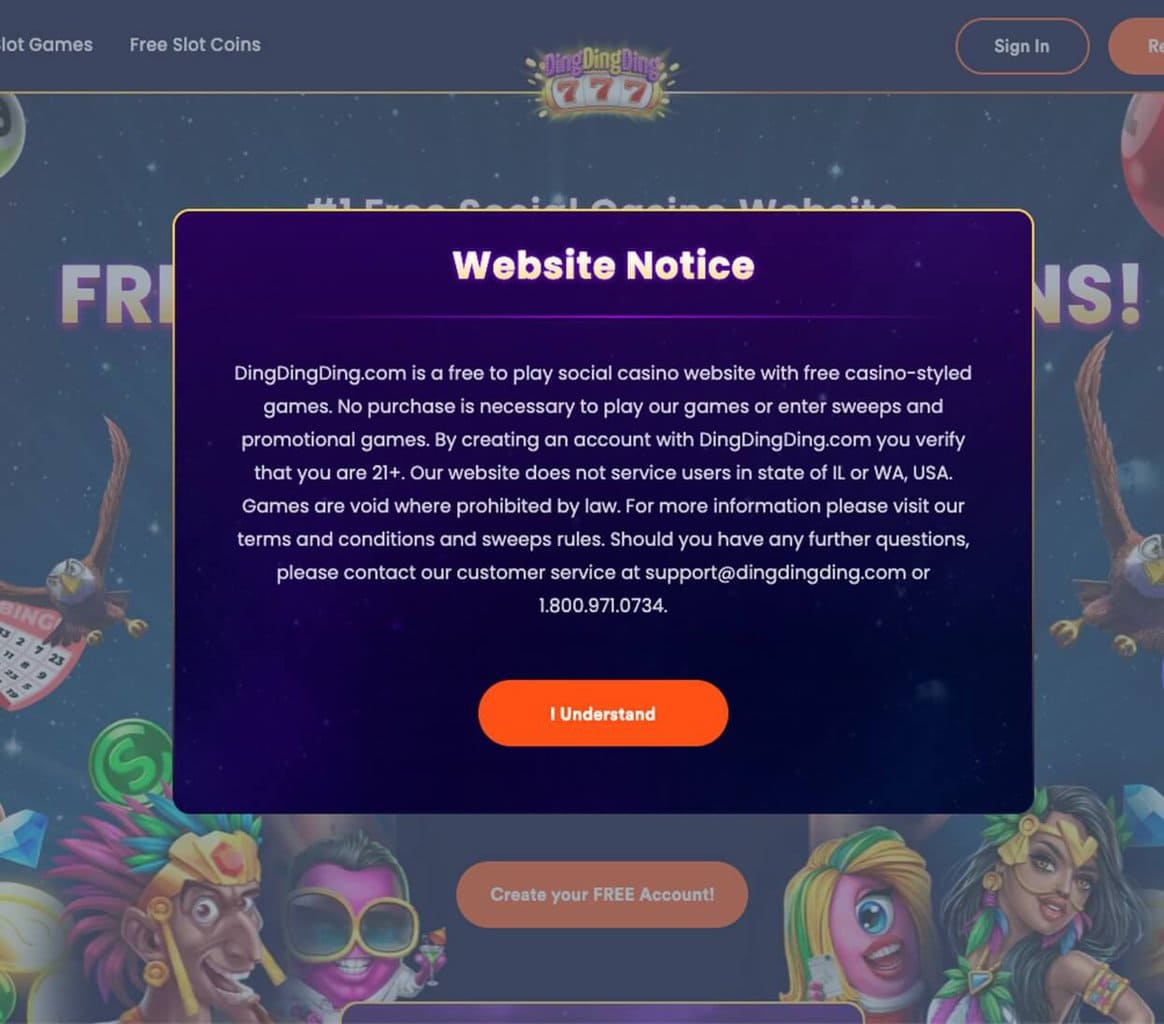 Ding Ding Ding Casino is a sweepstakes casino, offering two virtual currencies that function as follows:
Gold Coins: These coins allow you to play games in free mode. You don't have the option to redeem winnings in this mode, and you can purchase additional Gold Coins for a fixed price, or wait to claim free coins through various promotions.
Sweepstakes Coins: These let you access the premium game mode, where you have a chance to win real cash prizes, and unlike Gold coins, sweepstakes coins aren't purchasable.
The use of these virtual currencies is what makes sweepstakes casinos different from real money gambling and legal in various US states.
How to Get More Gold and Sweepstakes Coins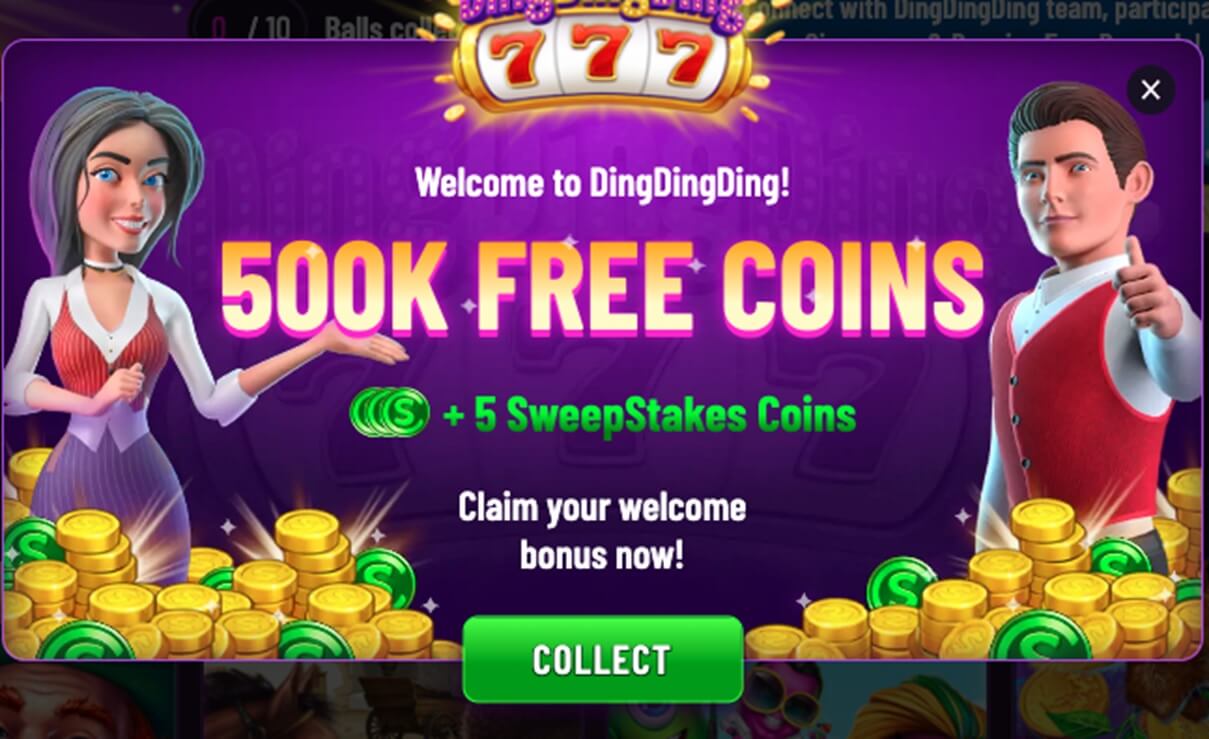 As an existing player on Ding Ding Ding, you can collect free coins through other offers on the casino. These offers include the following:
Daily Login Bonus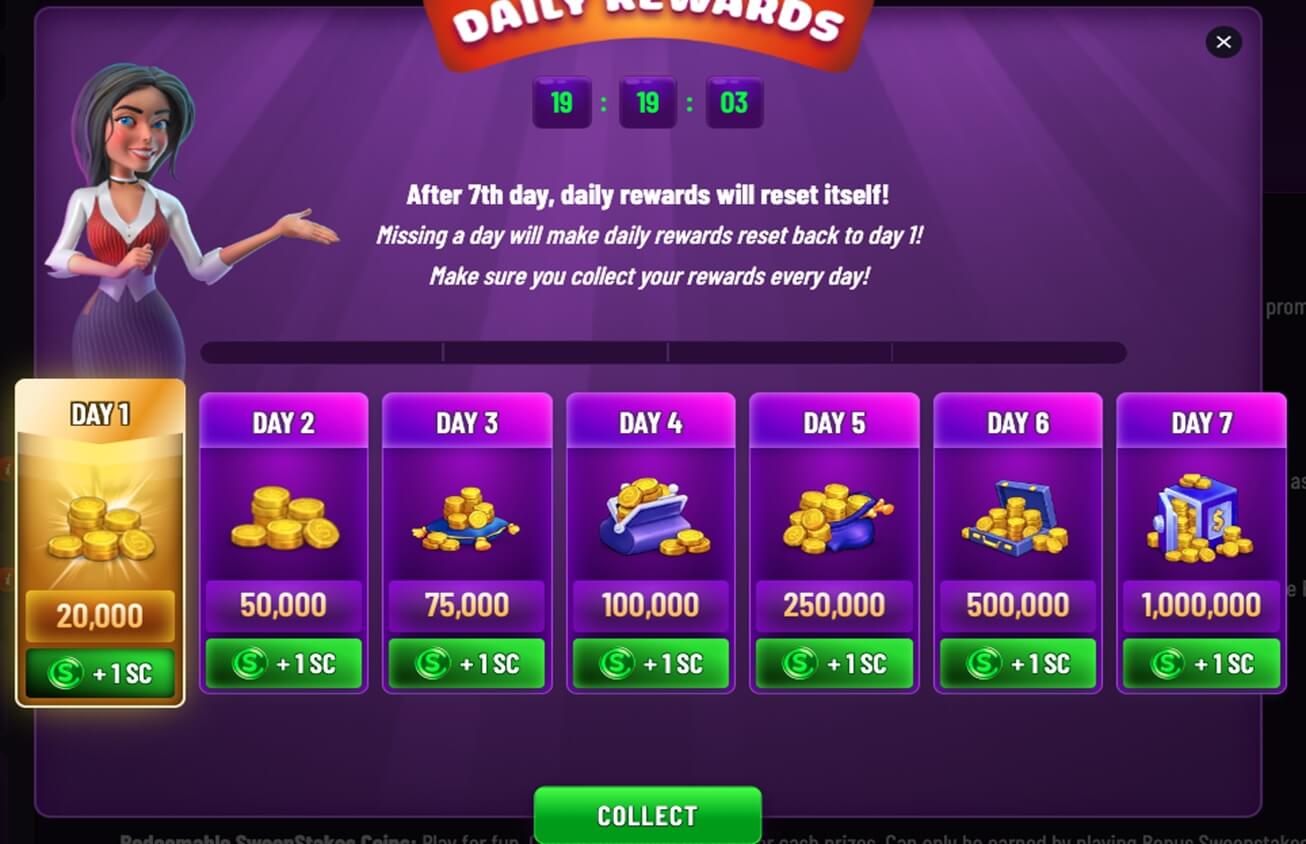 The login bonus starts from a 20,000 GC and 1 SC bonus on the first day and increases to a massive 1,000,000 GC and 1 SC offer on the seventh day if you log in regularly. After the seventh day, the offer resets, but it will also reset if you fail to log in on any day.
| 📅Day | 🎁Rewards for the Day |
| --- | --- |
| Day 1 | 20,000 GC + 1 SC |
| Day 2 | 50,000 GC + 1 SC |
| Day 3 | 75,000 GC + 1 SC |
| Day 4 | 100,000 GC + 1 SC |
| Day 5 | 250,000 GC + 1 SC |
| Day 6 | 500,000 GC + 1 SC |
| Day 7 | 1,000,000 GC + 1 SC |
Daily Challenge
Challenges are exciting ways to keep you invested in the Ding Ding Ding platform, and they also offer you rewards when you complete them. These rewards include GC and SC, but the amount you get varies depending on the challenge and difficulty.
You get a new one every two hours, resulting in a total of 12 challenges daily. From our estimates, you can claim over 240,000 GC and 3 SC every day (assuming each challenge rewards 20,000 GC and 0.25 SC).
Level Progression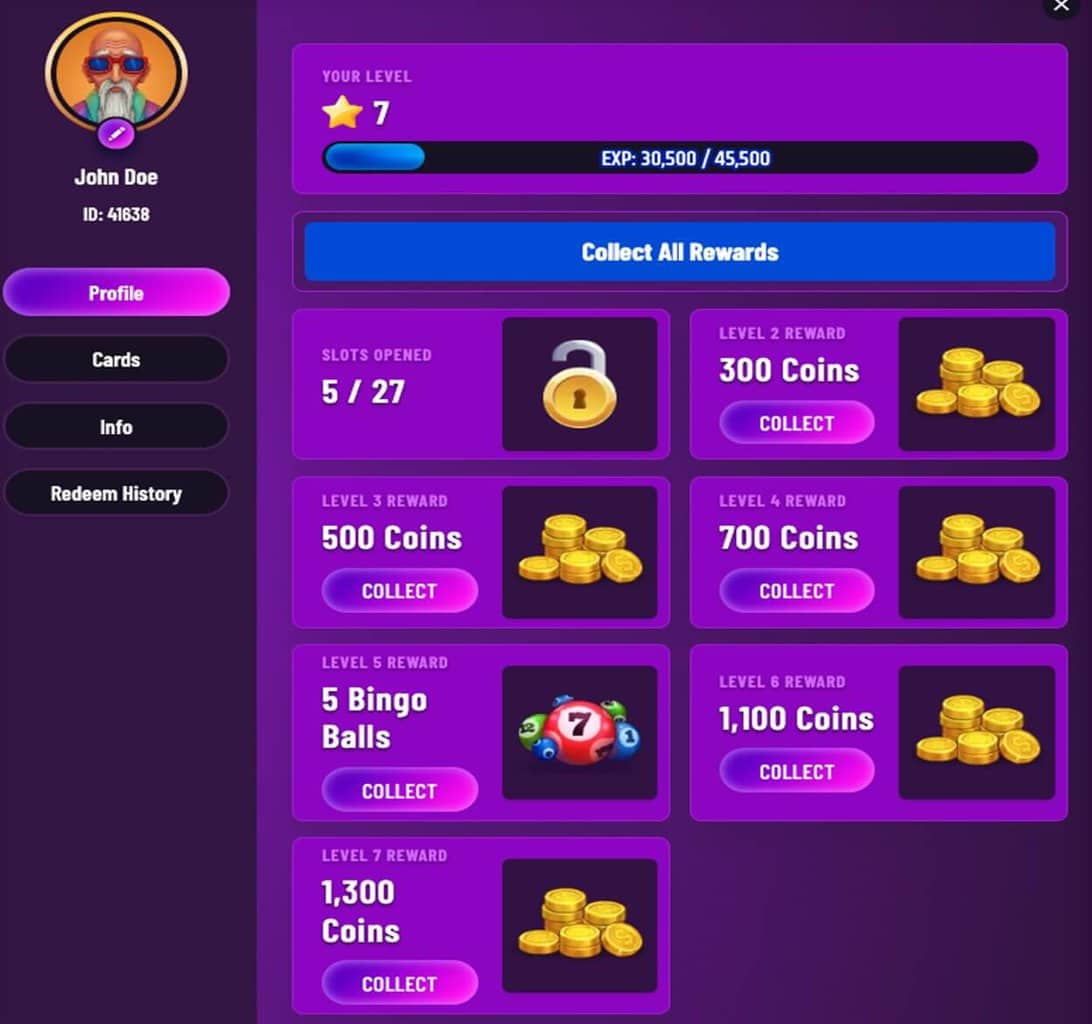 The Level Progression is a feature that lets you unlock the various slot games on the casino. However, as a benefit to players, Ding Ding Ding Casino offers a reward each time you level up. For example, hitting level 2 earns you 300 GC, and level 3 earns you 500 GC, and so on.
Discount Offers
The Discount Offers are available on the 'Deals' tab, and while these offers require a purchase, they reward you with more coins than you get with a regular purchase at the same price. The offers on the app include the following:
Beginner's Choice: 3,000,000 GC and 3 SC for $2.99
Player's Choice: 12,500,000 GC and 10 SC for $9.99
Winner's Choice: 35,000,000 GC and 25 SC for $24.99
Ultimate Deal: 150,000,000 GC and 100 SC for $89.99
Social Media Giveaway
Following the casino on its social media pages (Facebook or Instagram) gives you access to unique promotions that you can participate in to claim free SC and GC.
Ding Ding Ding is a new addition to the sweepstakes casino list, so it's still missing some crucial sweepstakes promotions like the referral bonus and VIP program that you'll find on other established sites. However, we believe that these offers will become available in the future.
Ding Ding Ding Software and Casino Games
Ding Ding Ding operates on proprietary software, giving you a chance to play fun, unique casino games. After creating your account, you can access a limited number of games (about five titles) and need to level up to unlock more titles. If you want to level up quickly, we recommend you play with gold coins at max bet (if you can afford it), and also use the XP boost if you have one.
Slots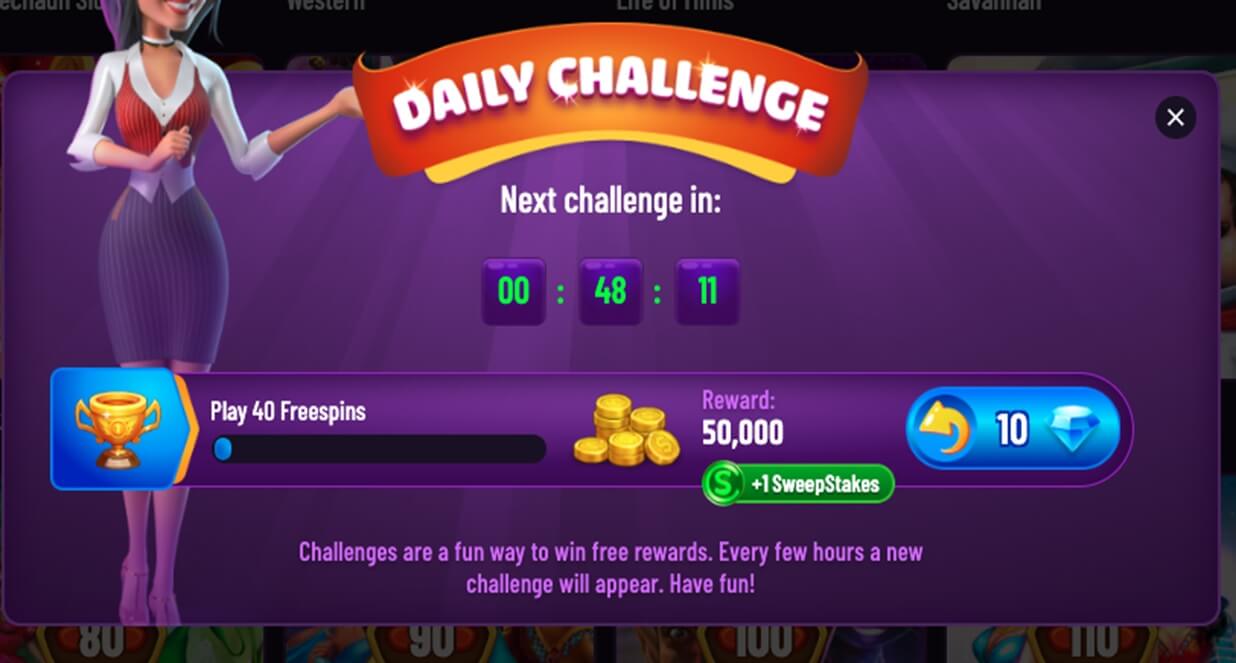 There are 27 slot games on Ding Ding Ding, and you initially have access to five. However, playing games grants you level progression, unlocking more slots to play.
You can play popular slot games with your GC or SC, and max bets are set at 5 SC for premium play. If you're playing with GC, you start with 5,000 GC max bets, which increases as you level up.
Leprechaun Slot is a popular slot game on the casino, and other fun slot machines you can access include:
Western
Savannah
Mayan Mysteries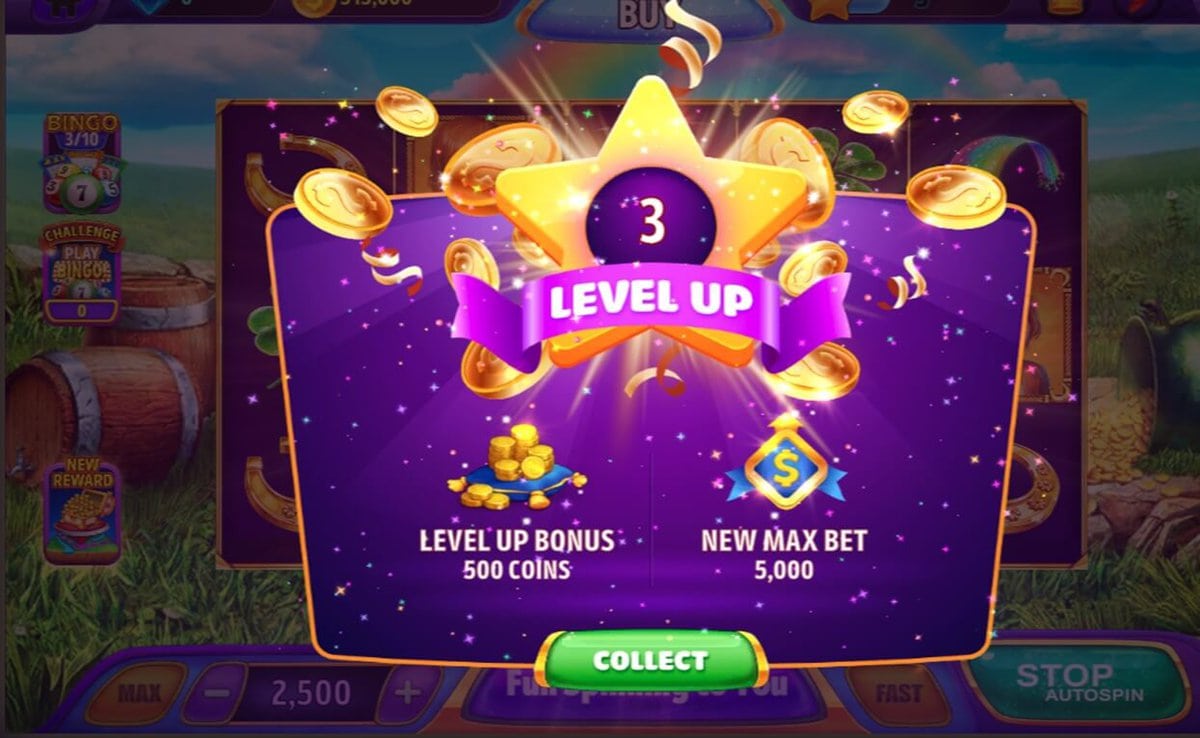 Bingo
To access the bingo room on Ding Ding Ding, you need to accumulate bingo balls by playing free slots. Once you acquire enough bingo balls, you can start the bingo game.
You get three tickets, and the AI will then call out Bingo Letters and numbers that you must manually cover on your ticket. There is a countdown timer, so you've to be fast if you want to get a win.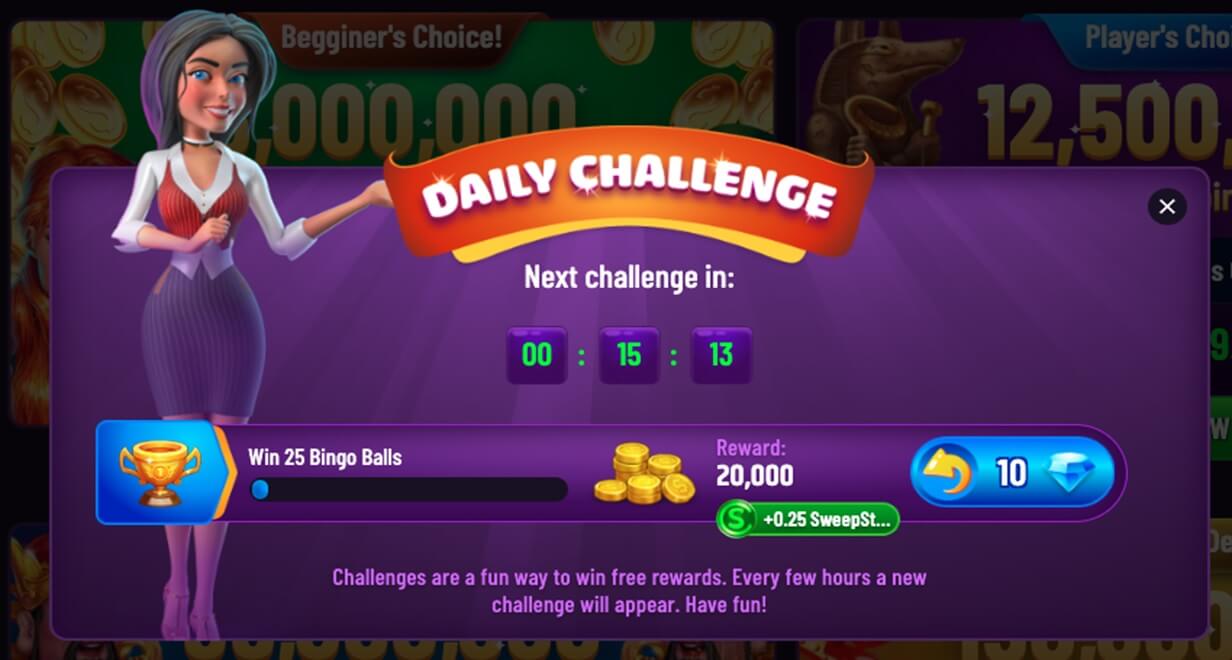 Account Registration
Ding Ding Ding is one of the legal sweeps casinos that allows players to register directly on its platform, and you can set up an account by taking these steps:
Visit dingdingding.com and click the Register button on the screen.
Complete the registration form by providing your first name, last name, email, phone number, and password.
Accept the terms and conditions by checking the boxes on the form.
Click on the "Verify and Register" button to continue.
The casino will automatically sign you into your account, and you can claim your welcome bonus of 500,000 Gold Coins and 5 Sweepstakes Coins.
Now, you should get a notification to confirm your email address which you can do by clicking on the link sent by the operator.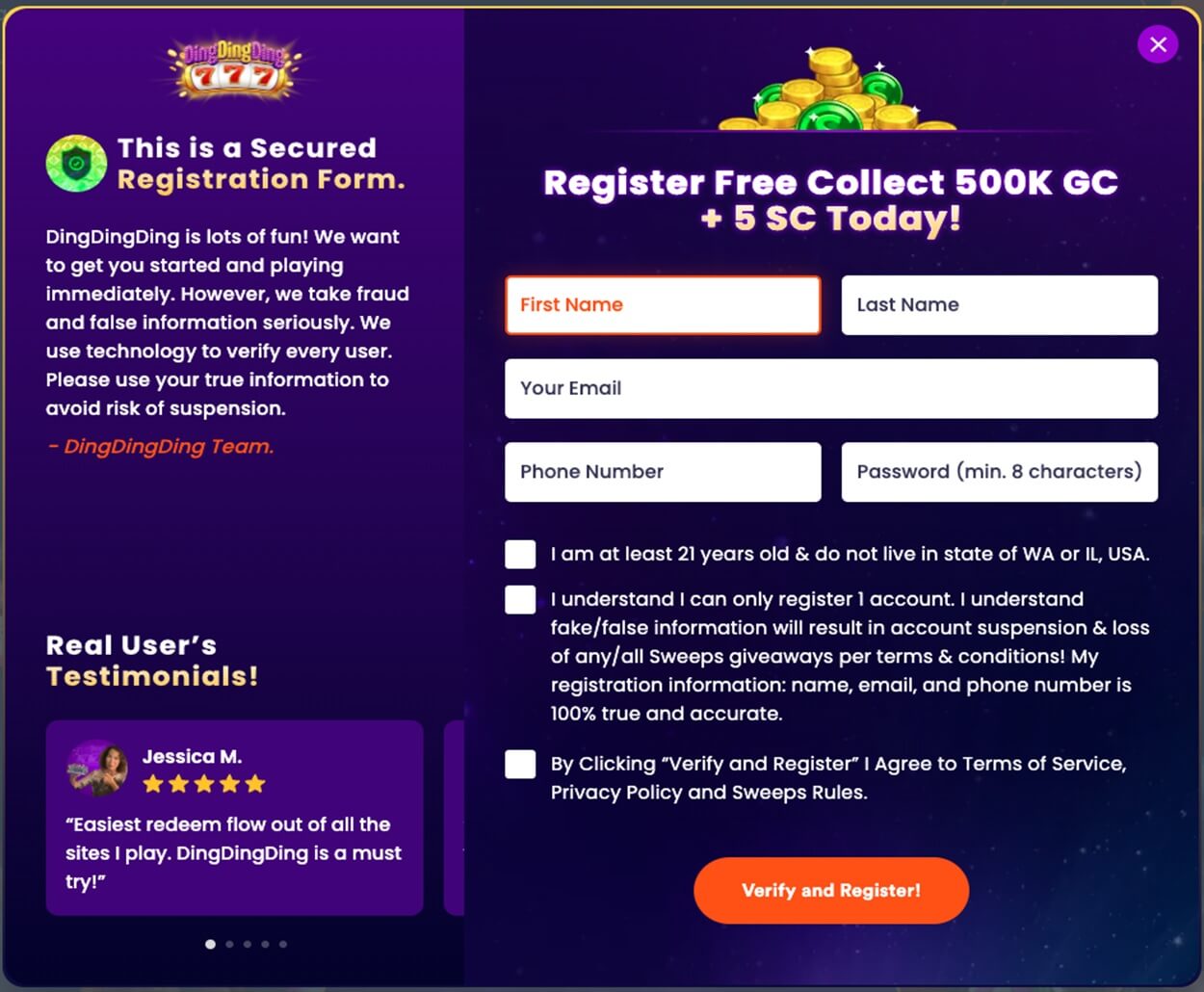 To complete your Ding Ding Ding Casino registration, you must be 21 or above and residing in a state where its services aren't prohibited by law. The US states where Ding Ding Ding doesn't operate include Washington, Idaho, Illinois, and Nevada. So, if you reside in any of these states, you can check out other sweepstakes sites like Pulsz Casino, WOW Vegas, or Stake.us to find one that offers its services in your location.
Mobile Casino and App
Ding Ding Ding has a mobile-optimized website with a responsive design that functions perfectly on various mobile devices. There is no Ding Ding Ding mobile app available, so you're restricted to online access.
As a mobile site, Ding Ding Ding has an excellent load time, and you should get optimal performance on different devices. Logging in to the mobile casino will provide a similar experience to what you get on the desktop site, with a view of the casino lobby on a smaller screen and access to free games.
Ding Ding Ding Purchase and Redemption Methods

Ding Ding Ding allows players to purchase Gold Coins via supported payment methods, in addition to the free coins you receive while playing on the app, and you can do so using only bank cards (Visa and Mastercard) for now.  There are various coin packages with fixed prices, and the table below has a breakdown of the various packages offered:
| 💵Package Price | 🟡Gold Coins Amount | 💰Gold Coins with Extra | 💲Sweepstakes Coins | ⏱️XP Boost | ⌚Level Boost |
| --- | --- | --- | --- | --- | --- |
| $1.99 | 1,000,000 | 2,000,000 (100%) | 2 SC | 1 Hour | 1 Hour |
| $4.99 | 2,500,000 | 5,500,000 (120%) | 5 SC | 1 Hour | 1 Hour |
| $9.99 | 5,000,000 | 11,500,000 (140%) | 10 SC | 1 Hour | 1 Hour |
| $19.99 | 10,000,000 | 26,000,000 (160%) | 20 SC | 3 Hours | 3 Hours |
| $49.99 | 25,000,000 | 70,000,000 (180%) | 50 SC | 6 Hours | 6 Hours |
| $99.99 | 50,000,000 | 150,000,000 (200%) | 100 SC | 12 Hours | 12 Hours |
Redeeming Cash Prizes
Redemptions on Ding Ding Ding Casino is a straightforward process, but you must first verify your account. This verification requires a valid ID (passport, driver's license, or government-issued ID), proof of address, and the minimum SC for a withdrawal.
Only coins you win from playing with your SC are eligible for redemptions, and you can find these coins as "Available to redeem" when you click on the Redeem button on your account. At the time of writing, Ding Ding Ding Casino states that 1 SC on its platform is equivalent to $1.
A minimum of 50 SC is necessary to trigger a redemption, and the casino forces players to redeem their SC once they accumulate 2,000 SC. This is great for players in Florida and New York, whose state laws already prevent redemptions above $5,000.
You can claim your redemptions as gift cards or get the USD equivalent in your bank account through an ACH bank transfer.
Support Channels
Ding Ding Ding Casino offers support through several channels, including an FAQ section with information on several useful topics. Other channels include:
Email Support: support@dingdingding.com
Phone Support: (800) 971-0734
Facebook
Instagram
Online contact form
An issue with the support service is that service hours are Monday to Friday, from 9 a.m. to 6 p.m. EST.
Ding Ding Ding Casino Overview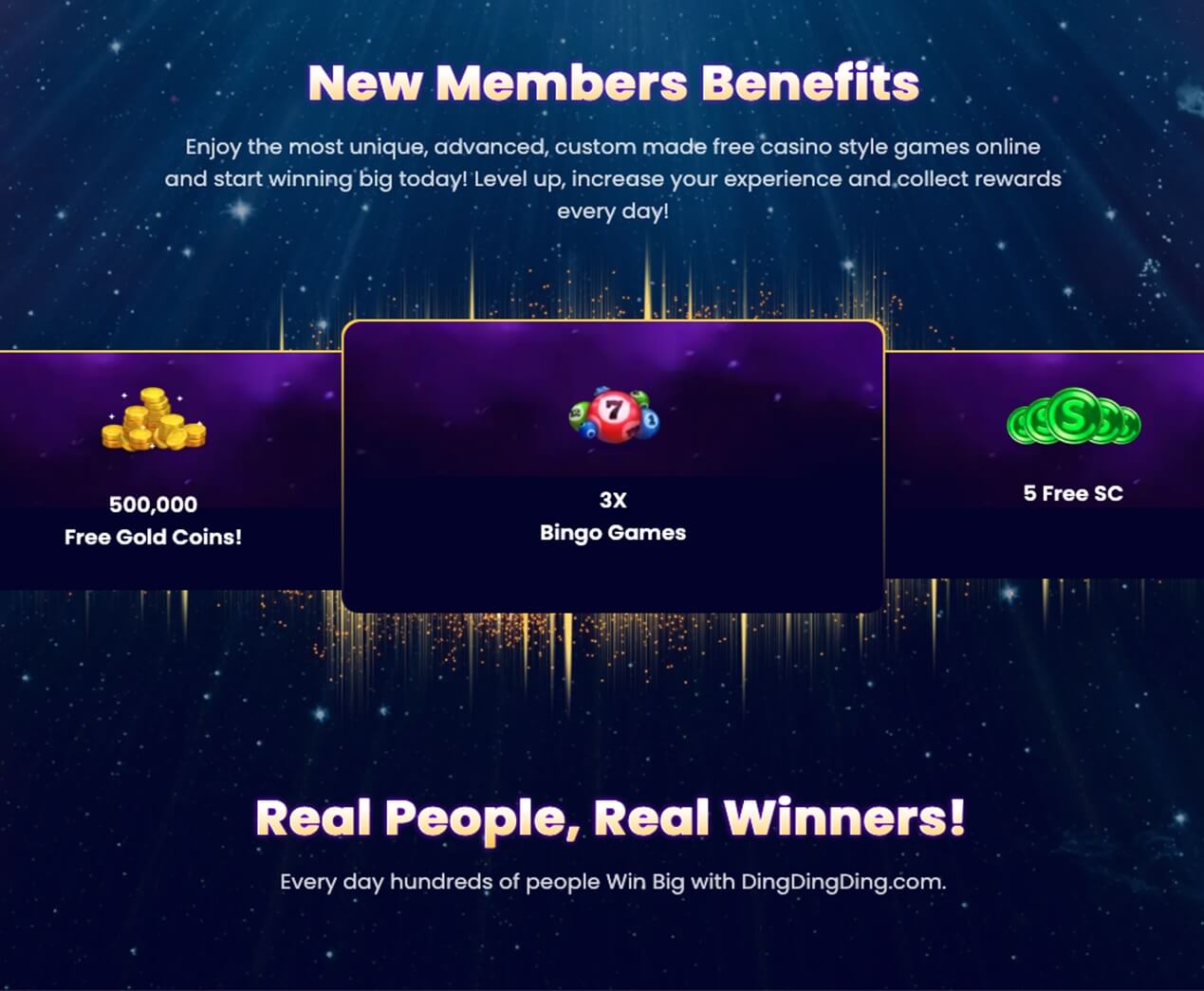 With Pulsz, Stake.us, WOW Vegas, and a few others dominating the US sweepstakes scene, Ding Ding Ding Casino has done a great job in getting noticed by the sweeps community thanks to its excellent bonuses, game selection, special features, and unique challenges to keep you invested.
When it comes to bonuses, Ding Ding Ding is a 5-star destination that offers a whopping 500,000 GC and 5 SC no deposit bonus, along with a deposit match on your first purchase. Also, you have a chance to claim up to 1,000,000 GC and 1 SC per day through the daily login bonus on the app.
In terms of design and features, we rate the casino a 4 out of 5 due to the absence of some important features like the live chat, and limited payment options.
Looking beyond it's shortcomings, Ding Ding Ding is one of the best additions to your sweepstakes list, offering an excellent opportunity to win real prizes at no monetary cost.
For direct access to 300+ games powered by independent studios, we recommend these alternatives to Ding Ding Ding Casino:
FAQ's
Is Ding Ding Ding casino legal in the USA?

Ding Ding Ding is legal in the USA, but it doesn't operate in Washington, Idaho, Illinois, and Nevada.

Can I win real money playing at Ding Ding Ding Casino?

You can win real money playing at Ding Ding Ding using its sweepstakes coins. The SC you win on the casino can be redeemed as gift cards or through bank transfers at $1 to 1 SC.

What games can I play at Ding Ding Ding Casino?

Ding Ding Ding casino offers slots and bingo games. There are 27 slot games that you can play, and you need to gather ten bingo balls while playing slots to unlock the bingo game.

Do I need a Ding Ding Ding Casino bonus code?

You don't need a Ding Ding Ding bonus code to claim the no deposit bonus, welcome bonus, or other existing player bonuses on the Ding Ding Ding app. Simply sign-up and you'll instantly receive $5 no deposit.

Is Ding Ding Ding Casino legit?

As a sweepstakes casino, Ding Ding Ding doesn't require a license to operate. However, to show that it's legit, the operator provides all the necessary information you need such as its details of its owner and contact address.