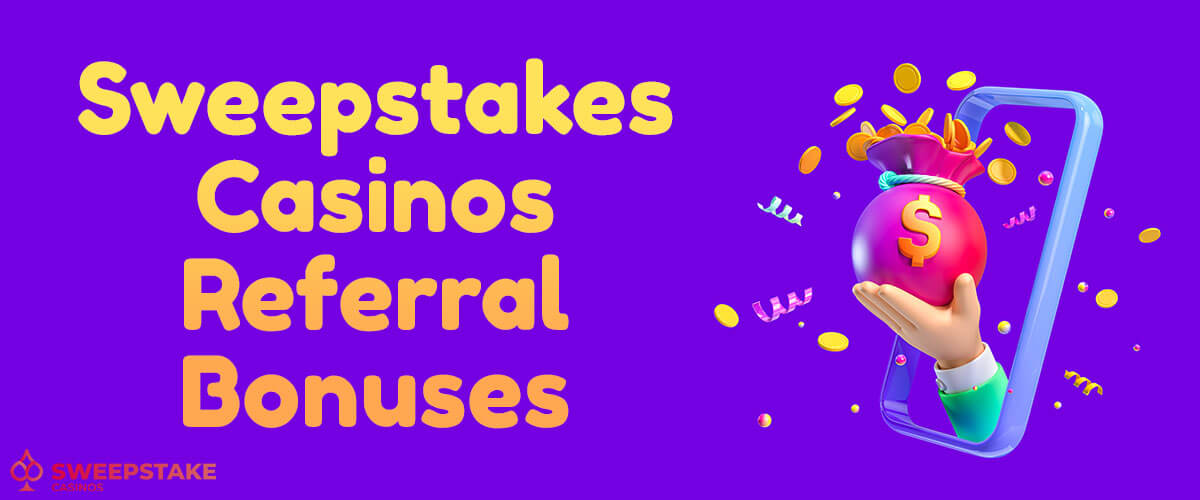 Want to win free coins to play slots and other casino games by just getting your friends to sign up? The sweepstakes sites' referral bonus rewards players and invited friends with free sweeps coins and gold coins when they sign up and make a purchase.
Sweeps cash casinos are sites that offer risk-free play on online casino games while also allowing players to win real cash prizes. Unlike real money online casinos that are only legal in CT, DE, MI, NJ, PA, and WV, sweepstakes casinos are legal in all US states.
With the referral bonus, existing players only need to send their referral link to friends and family, and every time someone signs up with their bonus code, both of you get free bonus money to play slots, table games, and other casino-style games. What makes this bonus more interesting is that you can use the free sweepstakes coins to play games and win real money.
On this page, we will be showing you the free sweeps cash casinos with the best referral promotions and how you can claim them. Also, as a bonus, we will let you know how to take advantage of the free signup bonus offered by these sweepstakes casinos to win even more cash prizes.
Top Sweepstakes Referral Bonuses and Codes
A referral bonus is one of the exciting ways free sweeps coins and gold coins are given to players by social casinos. Despite how lucrative it is for players and free casinos, this type of bonus isn't common among online sweepstakes casinos.
Regardless, if you want to earn anytime you invite a friend to play casino-style games at an alternative online gambling site, here are the top sweeps cash casinos with amazing referral bonus offers.
Pulsz Casino Referral Bonus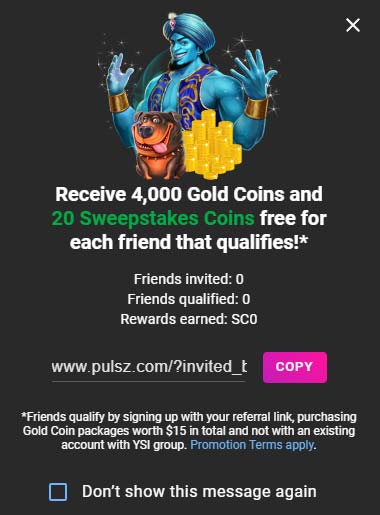 Pulsz is a US sweepstakes casino owned and operated by Yellow Social Interactive. Being one of the best US sweepstakes casinos, players are offered free play on over 500+ casino games that cover known categories like online slots, progressive jackpots, card games, table games, and scratchcards. Even though Pulsz Casino games are free to play, much effort is made to ensure players have the same experience as they would in a legal online gambling site as you'd be playing casino games from iGaming studios like Habanero, Pragmatic Play, and NetEnt. Also, in the premium mode – sweeps coins – players can convert their winnings into real money.
In addition to offering players world-class casino games for free, Pulsz casino has one of the best referral bonuses of all sweep cash casinos. Players are offered 20 sweepstakes coins for each friend they invite through their referral link. Invited friends are not left out, as they get the free 20 sweeps coins if they sign up through the link. For you and your friend to be eligible for this bonus, your referral must make a purchase, after which the sweeps coins will be credited to your account.
One exciting thing about the Pulsz casino referral bonus is that there is no limit to who you can invite. So, let's say you can invite 20 friends, and they all make a purchase; you'd be credited with a sum of 400 sweeps coins which you can then use in playing casino games to win real cash prizes. Don't have an account yet? Why not create one now and claim 5,000 gold coins and a 2.3 SC signup bonus on us?
Fortune Coins Casino Referral Bonus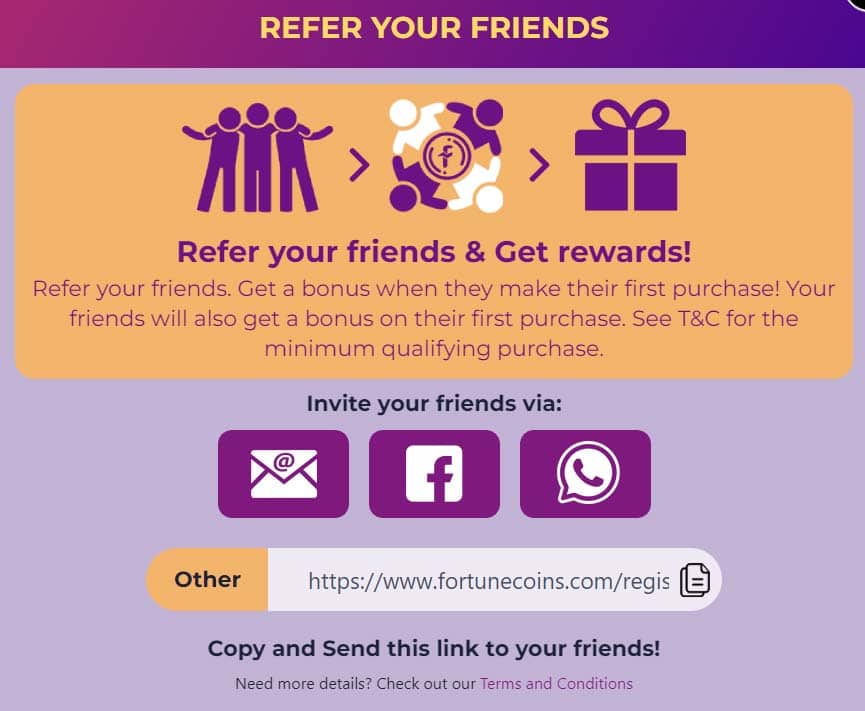 Fortune Coins is a free sweepstakes casino site with over 60+ online slots, progressive jackpot slots, and multiplayer fish games. Aside from the exclusive free no-deposit bonus of 360,000 gold coins and 1200 fortune coins welcome bonus awarded to new players, Fortune Coins sweepstakes casino has a referral program that offers players and their referrals free coins when a friend joins using their referral link.
Being a sweepstakes casino, you do not need to deposit real money or purchase gold coins to play available casino games. However, for you and your invited friend to qualify for the referral bonus, your friend needs to make a minimum first purchase. Unlike the Pulsz Casino referral bonus, the fortune coins and gold coins awarded to you and your friends are determined by the value of the gold coin package they purchase.
Furthermore, Since you get fortune coins through the referral bonus too, players can use them as free spins to have an opportunity to win real money easily if leveraged well. Also, if you are lucky, you can trigger one of the Fortune Coins slots progressive jackpots with up to $11,000.
Funrize Casino Referral Bonus

Funrize is a fairly new sweepstakes casino in the US, but that hasn't stopped them from launching a fully functioning and rewarding player referral scheme. From the moment you have your account created and verified, you can start sharing links with friends and track their activity to see whether they have signed up and deposited money. YOu can refer players with a regular hyperlink or unique promo code, or even use their unique QR code, making it super easy for friends on mobile to scan and sign up.
The rewards from this scheme are for both players,  with a Tournament Coin package worth $19.99 in total required to trigger the rewards. Both players are rewarded; you receive 500,000 Coins and 2,000 Free Entries, and your friend gets 400,000 Coins and 500 Free Entries. This is on top of the regular welcome offers!
If you want to extend the sharing further, then very similar referral schemes are also available at both of the sister sites, NoLimitCoins Casino and Tao Fortune Casino, and operate in a very similar fashion.
Chumba Casino Referral Bonus
Chumba is one of the free sweeps cash casinos where players can play free online slots and win cash prizes. Owned by one of the best social casino operators – VGW – there are 100+ casino games that cover online slots, roulette, video poker, and blackjack. While there is no referral bonus at the Chumba Casino at the moment, new players can claim a no-deposit bonus of 2 million gold coins, + 2 sweeps coins when they sign up and a first purchase bonus of $30 worth of gold coins for just $10.
With the diverse welcome bonus and other purchase bonuses, Chumba is one of the sweeps casinos where you and your friend can get a free online gambling experience and win cash prizes, especially if real money online casinos are illegal in your state.
Global Poker Referral Bonus
Global Poker is a sweepstakes poker by Virtual Gaming World, the same company behind sister sites like Chumba Casino. Unlike other sweepstakes casinos that offer mostly online slots, Global Poker game catalog comprises mainly poker games like Omaha, Sit N' Go, and online slots, but this is barely the difference between this free poker site and other sweepstakes casinos we've discussed. Global Poker does not have a referral bonus. Instead, new players are offered 5,000 gold coins free signup bonus and a purchase bonus of 200,000 gold coins + 40 free sweeps coins deposit bonus for just $20.
Even without the referral bonus, Global Poker has one of the best casino bonuses in the industry. It allows players to enter paid tournaments with prizes of up to 2 million sweepstakes coins or play casino games in promotional mode to win real cash prizes with the free sweeps coins.
LuckyLand Slots Referral Bonus
As its name alludes, LuckyLand Slots is a sweepstakes casino where players can play free online slots, instant win and table games. Even though there are fewer online casino games to choose from, players can still win cash prizes when playing with sweepstakes coins. LuckyLand Slots is owned by Virtual Gaming Worlds and is legal to play in all US states besides Washington. While there are several promotions at this sweepstakes online casino, you wouldn't find a refer-a-friend bonus. However, new players are offered a free signup bonus of 7,777 gold coins and 10 free sweeps coins they can use when playing games. So, in reality, you have nothing to lose getting your friends to sign up.
Furthermore, you and your friends can win up to 20,000 sweepstakes coins when you play games in the instant win category. With a real money conversion rate of 1sc to $1, you can earn more than you can make from a game in real money online casinos.
How Do Referral Bonuses Work at Sweepstakes Casinos?
A referral bonus is a special promotion that provides players and their invited friends with free coins. Unlike the welcome bonus that players get when they signup with a sweepstakes promo code or affiliate link, referral bonuses are exclusive to users who are invited through a link by an already existing player.
After signing up with a referral link and making the first qualifying purchase, you and your referee would be credited with free sweeps or gold coins. Among all promotions you'd find in legally free casinos, referral bonuses are the only promotion that favors players and the casino. In essence, you are providing them with new players, but as a result, both you and the new player will be some free coins!
How to Refer Your Friends to a Sweepstake Casino
Referring a friend to sweeps casinos is relatively easy and similar to how it's done in traditional online casinos.
The bonus is only available to existing players, so if you don't have an account, you need to hurry and open one.
Before signing with one, we suggest doing your due diligence. This will help you and your friends to play on top platforms.
After signing up, the fun is just half started as you now have to send your unique link to friends and get them to open an account and make a deposit for the two of you to get the free money.
Referral links or codes are usually generated through the referral bonuses tab or the promotional section. If you cannot find this, contact the social casino's support team.
Referral Codes and Links
For players to invite friends, sweepstakes casinos provide unique referral codes or links to players that they can send to potential referees. To make referring accessible, some social casinos allow players to use their usernames as referral bonus codes. With this, you can easily add your referral code to any conversation without pushing too hard.

Referral links also have their perks, as most sweepstakes casinos like Fortune Coins go out of their way to provide sharing options. So even though you can't memorize a link, you can forward it to your contact with a single click.
Required Steps to Get Your Referral Bonus
Unlike purchase bonuses or other sweepstakes promotions you can claim by visiting the sweep casinos' promotion page, the referral bonus isn't as straightforward. So, if you want to start inviting friends and earning, you need to take the following steps.
Step 1: Signup at a Sweepstakes Casino with a referral bonus scheme
If you don't already have an account with a sweepstakes casino, you should consider signing up with any of the ones mentioned above. Registration only takes a few minutes, and you'd only be required to fill in your name, mail, username, and password. While you might still need to provide more information when verifying your account, you can do it later.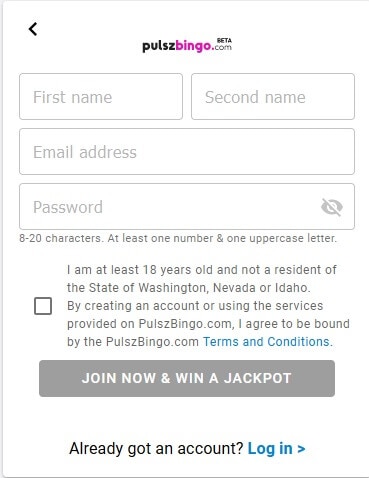 Step 2: Play Free Casino Games
After signing up, you'd need to play online casino games with the free gold coins or sweepstakes coins you are awarded as a welcome bonus. Since the referral bonus can only be claimed by existing players, it is essential to play slots or other available games at least once to unlock your referral link. After doing this, you will be recognized as an existing player and can then move on to the next step.
Step 3: Get your Referral Link or Code
While some sweepstakes casinos use players' usernames as the referral code, others don't. If the online sweepstakes casino you've signed up at uses a referral bonus code, then you only need to send it to your friends or referee to use when necessary. On the other hand, referral links are the most popular way most sweepstakes casinos adopt. To get yours, head to your account and click on the "refer-a-friend" or "invite" tab. Copy the link and share it to your friends.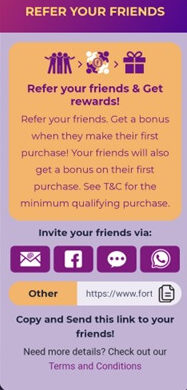 Step 4: Have your friend signup make their first purchase with your Code
After sending the link or referral bonus code to your friends, they need to use it during signup for the two of you to be eligible for the bonus. Although some sweepstakes casinos offer free sweeps and gold coins to both parties immediately after the referee signs up, most would require that your friend make a minimum purchase before the bonus is released. In cases like this, you, as the referrer, would get a referrer bonus, while your friends would get a purchase bonus.
NB: If there is already a first purchase bonus offer at the sweepstakes casino, both bonuses will be awarded concurrently.
Step 5: Claim Free Coins to play more Casino Style Games
Once all requirements for claiming the bonus are met, your account will be credited with the free coins in a couple of days. When received, users are given the freedom to play free online slots, table games or any casino games of their choice. If used to play slots, the bonus will be used as free spins. You can also claim other promotions to make things more interesting while still using the referral bonus.
Bonus Step: How to Maximize Referral Rewards
Unlike traditional online casinos, sweepstakes casinos are free to play and legal in most parts of the United States, which makes it very easy to persuade your friends and family to sign up through your link.
If, after exhausting your friend list, you still want some free money, then you should consider posting it on Facebook pages and subreddits frequented by online gamblers. Remember, the more people you invite, the more free sweeps coins and gold coins you get.
Sweeps and Gold Coins Prizes for Referring Your Friends
As we've said before, of all the no-deposit and purchase bonuses offered by sweepstakes online casinos, the refer-a-friend promotion is the only one beneficial to all parties involved – the referrer, referee and sweeps casinos. This bonus also raises the bar as it offers sweepstakes coins in addition to gold coins.
The gold coins allow players to play sweepstakes slots and table games for fun, and although they might not have any other use, they could go a long way in enhancing your online gambling experience.
On the other hand, the free sweeps coins awarded to you and your invited friends is a virtual free money that sets the stage to win cash prizes. Although it cannot be withdrawn directly, you can play casino games at sweeps cash casinos and convert them to real money after making the required minimum.
Speaking of requirements, the free bonus money comes with a wagering requirement, which needs to be cleared for you to withdraw cash prizes.
Free money offered by referral bonuses provides great leverage when playing online casino games. When used right, it can yield enough sweeps coins you can convert to real money. To maximize your bonus, here are a few tips to follow:
Play games that are high-paying
Manage your bankroll well
Understand the game's mechanics before playing with sweepstakes coins
Play games with high RTP
Use referral bonuses with other no-deposit or deposit bonus offers
Make sure you get your friends to sign-up with your unique link or code
Refer Your Friends for Free Sweeps Coins Today!
With the referral bonus, you have nothing to lose and everything to gain when you refer your friends to play games at a sweepstakes casino.
Since there is no limit to how many people you can invite, you are the only person stopping you from getting unlimited free gold and sweepstakes coins. There is no better time to start than now, so why not sign up and start referring your friends?
When you use our links to sign-up at the best social casinos with referral bonuses you'll receive free sweeps coins, so get on board without spending a dime!