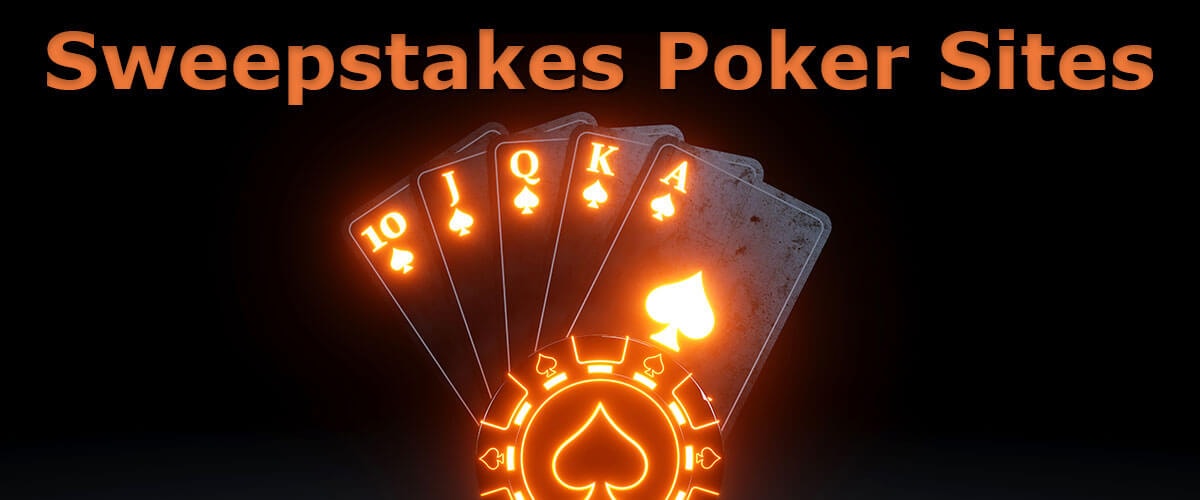 Online poker is one of the most enjoyable online gambling activities nowadays, but millions of players across the US cannot play real money online poker due to legal restrictions. Fortunately, a new breed of sweepstakes poker sites offer free Multi-Table Tournaments, Texas Hold'em ring games, and more to players in all states but Washington.
Sweepstakes poker sites like Global Poker use free sweeps coins to get around strict gambling laws. The best platforms also allow players to redeem sweeps coins for real money prizes. Although winnings are generally much lower than traditional poker sites, sweepstakes sites offer a free way to play online poker with real people worldwide.
All the most common poker games are available at sweepstakes sites alongside several tournament variations. The rules don't differ much from traditional online poker, with the main difference being the use of virtual currency rather than real money.
Sites like Global Poker are the frontrunners in the sweepstakes poker world, but there are other platforms to check out. Stay with us for a comprehensive look at the best free online poker sites and a guide on how they work.
Best Sweepstakes Poker Sites Open To US Players in 2023
While legal online poker is available in states like Pennsylvania with progressive gambling laws, many US players cannot legally access famous platforms like PokerStars. Luckily, several top-tier sweepstakes poker sites are open to all US players. These include:
Global Poker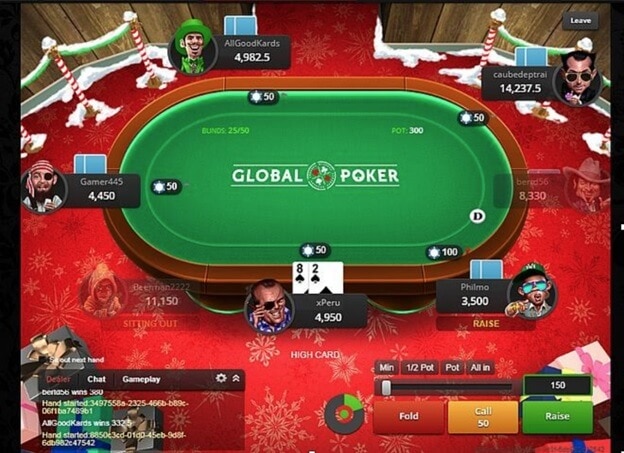 Global Poker is arguably the best sweepstakes poker platform, mainly because of the potential for real money prizes. Part of the Virtual Gaming Worlds brand that also powers popular sweeps casinos like Chumba Casino, players can enjoy poker on all devices. Global Poker offers live and video poker, easily accessible on the mobile-friendly HTML5 website. The platform has high traffic for a sweepstakes poker site, and users may choose from Texas Hold'em, Omaha, and Pineapple game varieties, among others.
New customers are treated to a $20 no-purchase gold coin package and 30 free sweeps coins after registration. Beginners will love this generous welcome offer, granting a perfect amount of free credits to get started with. If you happen to run out of coins, you can easily obtain them by making a Global Poker deposit. Poker tournaments include Sit & Go and freeroll competitions, so there is something for everybody here. Global Poker ticks all the boxes with generous offers, high user traffic, fantastic game selection, and a mobile-optimized site hosting live and video poker.
Fortune Coins

Fortune Coins is a sweepstakes poker site best known for its multiplayer fish game. Players also have access to video poker options and a selection of exclusively designed sweepstakes slots. Fortune Coins has one of the most generous welcome offers out of all the sweepstakes poker sites, offering new players 140,000 free sweeps coins and 500 free Fortune Coins. Ongoing promotions include purchase bonuses, prize wheels, raffles, daily login bonuses, and more.
Mobile players must use the Fortune Coins website to play sweepstakes poker games. It is perfectly optimized for all devices, so there is no need to go through the hassle of downloading an app to play. Some of the poker variants at Fortune Coins include Joker Poker and Jacks or Better.
Pulsz Casino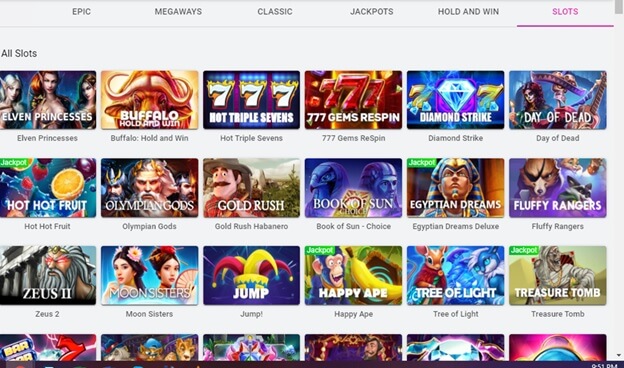 Pulsz Casino is one of the newest sweepstakes poker sites on offer, also specializing in online slots, roulette, and baccarat. The platform has a fantastic range of online slots like Chili Heat Megaways from highly respected developers like Pragmatic Play. It also has a few video poker options for sweepstakes poker fans to enjoy. Android users have access to a Pulsz Casino app with a 4.5 out of 5 average rating. It's arguably the best sweepstakes poker app around, offering video poker games like Texas Holdem Poker
First-time Pulsz Casino customers get 2.3 free sweepstakes coins and 5,000 gold coins after registration, with no purchase required. The platform also offers a daily login bonus, referral scheme, and various social media competitions. Real money prize redemptions are straightforward to complete, so you can play sweepstakes poker and win real cash prizes if you're good enough.
Rush Casino 4Fun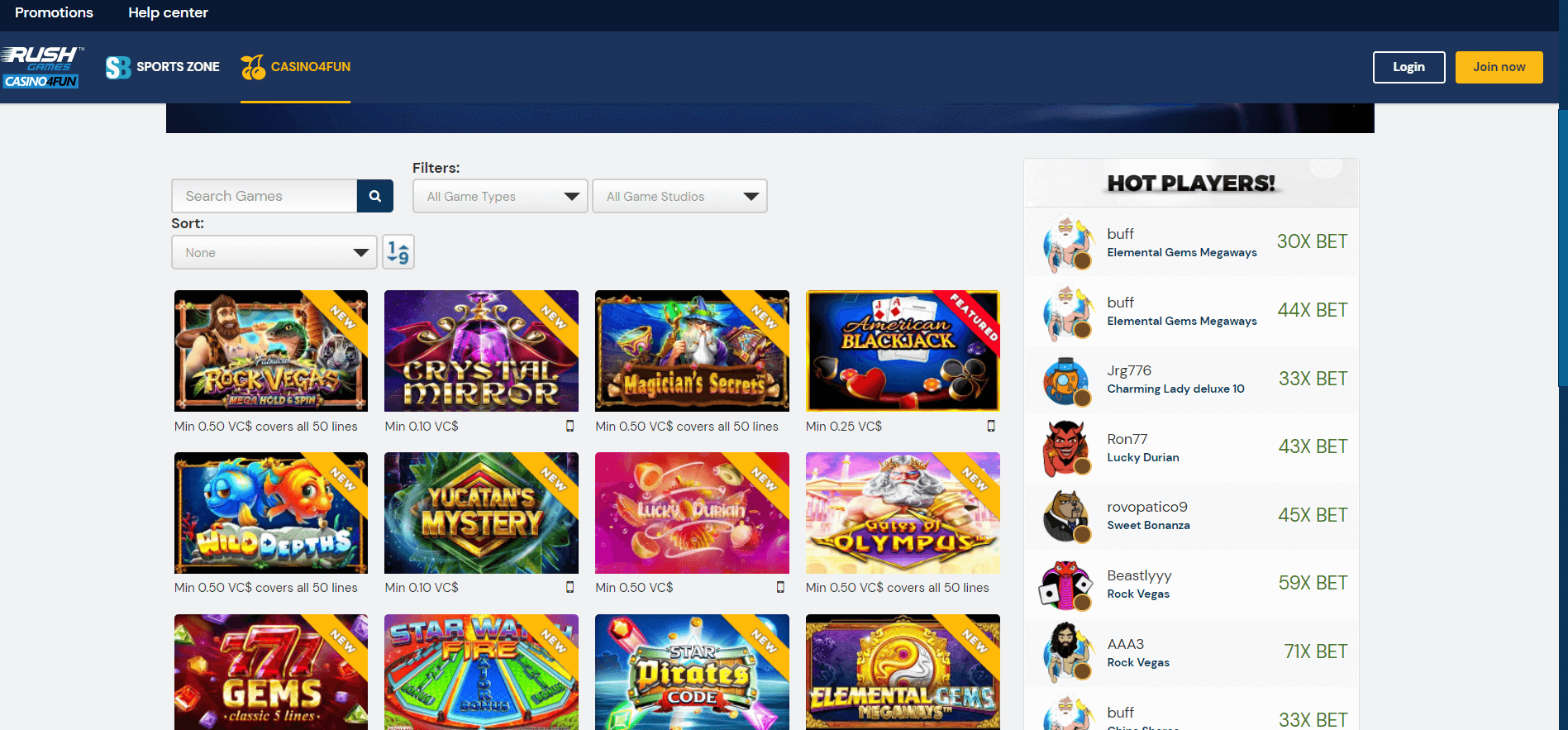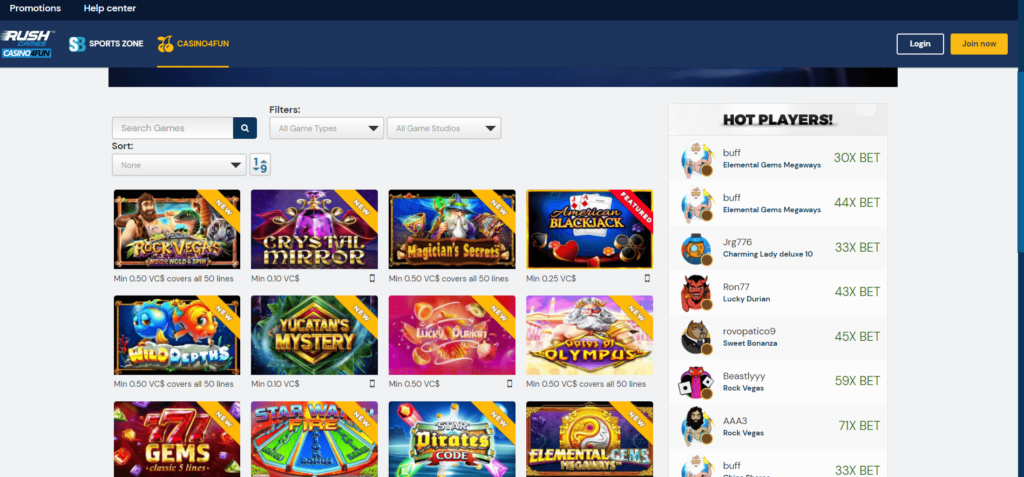 Rush Games Free Casino is a popular sweepstakes site offering live poker alongside a varied selection of online casino games. New players enjoy a 500 virtual free credits no-deposit welcome offer, with a further 200 free virtual free credits awarded after making a first deposit. There are also tons of ongoing promotions. For example, players can gain 30 virtual free credits every two hours just by staying logged in.
Rush Casino offers video poker, but the main USP is the sweepstakes casino's live poker section. Many sweepstakes casinos only offer video poker, so the inclusion of a live dealer option is impressive. Mobile users must play on the HTM5-optimized website, as there is currently no app available. While this can be a drawback for some people, it means no download is required to play video poker and live dealer poker games. If you sign up here, you can enjoy video poker games like Double Bonus Poker and live games like Poker Party from Evolution.
BetRivers Social Casino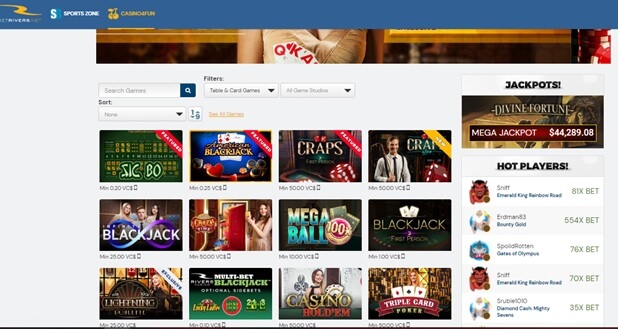 BetRivers.net is a free sweepstakes casino offering a top-tier selection of online casino and live dealer poker options. Users benefit from a well-designed site, accessible on all devices. New players are granted 250 free virtual coins on registration, and there are numerous ongoing promotions to take advantage of. Most players at BetRivers.net report never having to make a real money coin purchase as a result.
Although BetRivers.net offers video poker, the highlight of this sweepstakes poker casino are the live dealer poker options. The platform has options from market-leaders like Evolution Gaming, so you know you're in good hands. As part of the respected BetRivers casino brand, sweepstakes poker players at BetRivers.net benefit from high player traffic and a 100% trustworthy service. Some of the games you can play at BetRivers social casino include Jacks or Better Double Up, Regal Poker, Double Double Bonus Poker, and Deuces Wild. Casino Hold'em, Triple Card Poker, Extreme Texas Hold'em, and more are available with a live dealer.
LuckyBird.io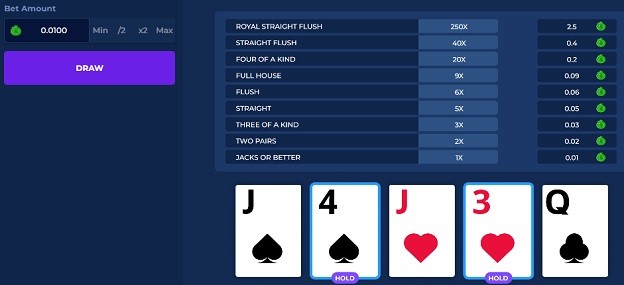 LuckyBird.io, a top sweepstakes casino, provides a welcome package of 1000.0000 Gold Coins and 0.2100 Sweepstake Cash for new players from the US. These LuckyBird.io no deposit package can be used to enjoy various casino-style games without any charge. Additionally, LuckyBird.io is continually expanding its offerings, and we regularly update this review to provide the most up-to-date information on the casino.
Furthermore, LuckyBird.io features a broad selection of casino games for players to enjoy, including its own LuckyBird Original video poker. This version of poker is fairly simplified, making it ideal for newcomers to jump right into. With its diverse array of games and a generous welcome bonus, LuckyBird.io is a fantastic option for players of all stripes.
How do Sweepstakes Poker Sites Work?
The main difference between real money poker platforms and sweepstakes poker sites is that the latter uses virtual currency in place of real money. Sites like Global Poker operate using the same mechanic as popular sweepstakes games.
Understanding the difference between sweeps coins and gold coins is fundamental to learning how sweepstakes poker sites work:
Gold Coins: Gold coins are used for 100% free poker play. Players will receive them through various ongoing promotions or purchasable gold coin packages. You cannot redeem gold coins for real money.
Sweeps Coins: If you want to win real money at sweepstakes poker sites, you must play with sweeps coins. These can be redeemed for cash prizes. However, players are less likely to acquire them for free.
Are They Legal in All States?
Sweepstakes poker sites are legal in all states but Washington. Because sweepstakes casino games don't revolve around real money, they are not classed as real online gambling games. As a result, residents of all US states but Washington who are over 18 can play free sweepstakes poker games and win cash prizes in the process.
Can I Play Free Online Poker?
An essential part of the sweepstakes poker mechanic is the ability to play for free. While a traditional online poker site will require cash deposits to buy chips, at sweepstakes poker sites, players may obtain virtual currency for free via various methods. It's great news for beginners, those on a tight budget, and residents in over 40 US states where real money online gambling is illegal.
Can I Win Cash Prizes Playing Social Poker?
The best sweepstakes poker sites also offer redeemable cash prizes. Players will need to win over a certain amount in most cases, but cash redemptions are simple and straightforward. Global Poker, Pulsz Casino, and Fortune Coins offer cash poker games, while Rush Games and BetRivers.net are play4fun only.
Remember, to win cash prizes playing sweepstakes poker, you must play with sweeps coins. Gold coins hold no real-world value and, therefore, cannot be exchanged for real money.
Sweepstakes Poker Bonuses & Offers

Players at sweepstakes poker sites can generally enjoy a wide variety of bonuses. There are numerous ways to obtain free chips, sweeps coins, or gold coins. Welcome offers tend to be the most generous. You can find a roundup of the best ones below:
| 🃏Sweepstakes Poker Site | 🎁Welcome Bonus | ❓How To Claim |
| --- | --- | --- |
| Global Poker | $20 no-purchase Gold Coin package + 30 free sweeps coins | Click here! |
| Pulsz Casino | 2.3 SC and 5,000 GC | Click here! |
| Fortune Coins | 140,000 GC and 500 FC | Click here! |
| BetRivers.net | $250 no deposit virtual credits | Click here + Enter code PLAY200 |
| Rush Games 4Fun | $500 VC | Click here + Enter code PLAY200 + Enter code PLAY200 |
| LuckyBird.io | 1,000,000 GC + 0.2100 SC | Click here! |
| Coins Game | Up to 1 BTC | Click here! |
Welcome offers are just the tip of the iceberg regarding sweepstakes poker sites bonuses. These platforms offer a variety of ongoing promotions like:
Welcome offers
No deposit bonuses
Daily login bonuses
Friend referrals
Prize wheels
Tournament wins
Daily free sweeps coins
Bonus sweeps coins raffles
Signing Up For Sweepstakes Poker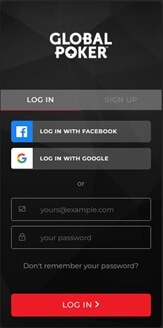 Registering at sweepstakes poker sites is straightforward. Some even allow players to use their Facebook logins to sign-up instantly. Follow the steps below to get started:
Choose a sweepstakes poker site like Global Poker
Download the app if playing on mobile
Enter your email address, name, and age
Verify your account by supplying a valid photo ID and proof of address
Start playing!
Banking Options & Cash Redemptions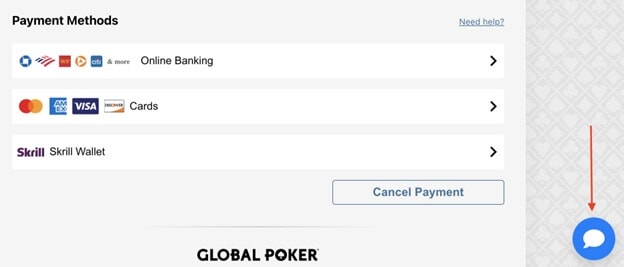 Playing poker at sweepstakes platforms requires a lot less financial outlay, but you may still need to buy more coins. And don't forget about the potential for cash redemptions, another area where players will need to choose a payment method.
Banking options at the best sweepstakes sites are varied. Here are your options at Global Poker:
Visa
Mastercard
Discover
Diners Club
American Express
Skrill
ACH
Online Banking
How to Redeem Sweeps Coins as Cash at Sweepstakes Poker Sites
Skilled poker players will quickly accrue enough sweeps coins to redeem their balance as real money. This isn't available on all social poker sites, but players at Global Poker won't have any issues redeeming their winnings. Currently, the options are bank transfer or Skrill. Follow the steps below to make a redemption:
Wait until you have won at least $50 worth of sweeps coins
Make sure you have verified your personal ID
Head to "My Account" and choose an amount to redeem
Provide your banking or Skrill details
Press "Redeem" and wait 3-5 working days for the money to arrive
Sites like Pulsz Casino and Fortune Coins support additional redemption methods, so take your pick as suited best for your needs.
Best Sweepstakes Poker Games
There are countless sweepstakes poker game options nowadays. Sites try to cater to all kinds of poker players, regardless of whether they prefer classic choices like Texas Hold'em or more niche ones like Pineapple. Some of our favorites include: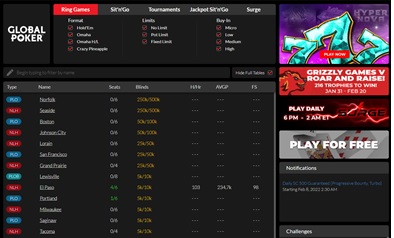 Texas Hold'em
Texas Hold'em poker is the most famous and popular variant worldwide by quite some distance. It's the default option at online poker sites, so most players end up learning Texas Hold'em first. Beginners enjoy its simplicity, while more experienced poker enthusiasts love the substantial number of potential outcomes.
Texas Hold'em centers on five community cards dealt on the table in three stages and two cards dealt to each player. The aim is to create the highest-scoring combination out of the community cards and your hand. There is a round of betting between each round, where more community cards are turned face-up. We've listed the order and value of Texas Hold'em hands below. The same information is applicable to games like Omaha or video poker.
🃏Texas Hold'em
Royal Flush
Ace King Queen Jack 10 (Same suit)
Straight Flush
Five cards of the same suit in order up to king
Three of a Kind
Three cards of the same kind
Four of a Kind
Four cards of the same kind
Full House
Three of a kind and one pair
Flush
Any five cards of the same suit
Straight
Five consecutive cards. Suits don't apply
Two Pair
Two sets of two of a kinds
Jacks or Better
Any single pair that is jacks or higher
Video Poker
Video poker is a popular option at sweepstakes poker platforms, especially on sites where live poker is unavailable. The main difference between video poker and other varieties is that it involves playing against a Random Number Generator and a computer.
Generally, video poker follows Five Card Draw rules. You will receive five cards at the start of the game and must choose whether to trade some cards or the whole hand. After any traded cards are replaced, you will have your final hand. Video poker hands are the same as the Texas Hold'em ones we listed above. Knowing the different options is an essential part of video poker strategy.
Omaha Poker
One perk that Global Poker has over other sweepstakes poker sites is the ability to play Omaha poker straight off the bat without having to unlock anything. Many players are turning to this poker variety nowadays as they tire of Texas Hold'em. It's the perfect option if you're looking for something different, especially since the rules are still relatively similar.
For example, players are dealt four cards at the beginning of the round instead of two. Additionally, the final hands must be made of three community cards and two of the players' hand cards.
Live Dealer Poker Games
While video poker is played against a computer, you play against fellow humans in live poker rooms. Many people prefer this as it means common tactics like bluffing can be used. Live poker also stays exciting for a lot longer, especially if you are playing with friends or advancing quite far in a tournament.
Most sweepstakes poker sites offer Texas Hold 'em live poker as standard. Other common options include Omaha or Five Card Draw, although you may have to unlock these by playing Texas Hold'em first.
Sit & Go
The Sit & Go option is generally the most popular choice for sweepstakes poker players. These tournaments are quick to play and relatively straightforward. Participants are limited, and depending on the specific Sit & Go rules you're playing, games can be over in 20 minutes.
Texas Hold'em is the standard poker variant at Sit & Go tournaments. Some sweepstakes poker sites will offer more options, although it's not a guarantee. Ensure you're playing with sweeps coins if you're looking to win real cash prizes.
Multi-Table Tournaments
Sweepstakes poker experts tend to prefer Multi-Table Tournaments due to their increased longevity and bigger prize pots. Games can last several hours at least, with some going on for days. Players must be committed to Multi-Table Tournaments, but the rewards can be extreme.
Again, Texas Hold'em is the most common option at Multi-Table Tournaments, although sweepstakes poker platforms are increasingly offering other options like Omaha and No Limit Poker Games. These games involve many players over several players that are eventually whittled down to one.
Satellite Tournaments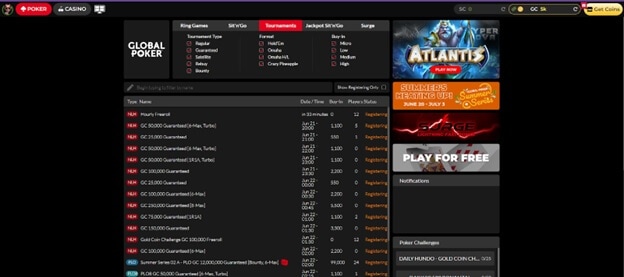 Satellite poker tournaments can be slightly harder to find at sweepstakes or social poker sites. Global Poker offers a variety of Satellite Tournaments, so this is your best bet. Although Satellite Tournaments can come in different forms, the main aim is the same: win your place in a larger tournament with more experienced players and a higher prize pool.
Generally, you can choose between Sit & Go or Multi-Table Satellite tournaments. Other ones like Turbo Poker tournaments are also common.
How The Rake Works in Sweepstakes Poker Games
When online poker players enjoy real money games, they must pay a rake. This is basically payment that the platform or casino takes in exchange for its service. While games like blackjack or slots are played against the house, poker is typically played between separate players. As a result, the casino doesn't actually earn anything from a player loss.
This is why the rake exists in poker. Sweepstakes poker sites also have a rake for individual poker games, although it's typically a lot less. Here are the rake percentages at Global Poker:
| Stake | Rake | 2 Player Cap | 3-4 Player Cap | 5+ Player Cap |
| --- | --- | --- | --- | --- |
| 0.05-0.10 Sweeps Coins | 5% | 0.75 SC | 1 SC | 1.5 SC |
| 0.10-0.20 Sweeps Coins | 5% | 1 SC | 1.5 SC | 2 SC |
| 0.20-0.40 Sweeps Coins | 5% | 1 SC | 2 SC | 2 SC |
| 0.25-0.50 Sweeps Coins | 5% | 1 SC | 2 SC | 3 SC |
| 0.50-1 Sweeps Coins | 5% | 1 SC | 2 SC | 3 SC |
| 1-2 Sweeps Coins | 5% | 1 SC | 2 SC | 3 SC |
| 2-5 Sweeps Coins | 5% | 1 SC | 2.25 SC | 3.5 SC |
| 5-8 Sweeps Coins | 5% | 1 SC | 2.25 SC | 3.5 SC |
| 8-10 Sweeps Coins | 5% | 1.5 SC | 2.5 SC | 3.5 SC |
| 10-20 Sweeps Coins | 5% | 1.5 SC | 2.5 SC | 3.5 SC |
Sweepstakes Video Poker vs. Live Games
Sweepstakes games can be split into two broad categories: video poker and live games. Video poker is played against a computer, typically with Five Card Draw rules. On the other hand, live poker games are played against real people in various types of tournaments or friendly games. Live poker also tends to have more potential options regarding game rules. The most popular type is Texas Hold'em.
Choosing between video poker and live poker games at a sweepstakes poker site depends on what you're after as a player. The main difference is playing on your own versus with real people. There is more to it than that, though. Look below for a few pros and cons of both:
Live Poker Pros & Cons
| ✅Pros | ❌Cons |
| --- | --- |
| Play against real people | Can be harder for beginners |
| More potential to use poker tactics | More sweeps coins used |
| RNGs don't dictate your winnings | Takes longer to finish |
| Rewards player skill | |
Video Poker Pros & Cons
| ✅Pros | ❌Cons |
| --- | --- |
| Easy to memorize strategy guides | No real players |
| Single-player | Smaller jackpots |
| RTP can be better | Quickly gets boring |
| Very easy rules | |
FAQs
What is a sweepstakes poker site?

A sweepstakes site is a legal online gambling platform that uses virtual currency instead of real money. Sweepstakes sites are legal in all US states but Washington. Most casino games are available, although you must head to dedicated sweepstakes poker sites like Global Poker to play live poker in most instances.

Can I win real cash at sweepstakes poker?

Yes. At sites like Pulsz Casino, Chumba, and Global Poker players can win real cash prizes via redeemable sweeps coins. Bear in mind, most sweepstakes poker sites have a minimum withdrawal amount. Players must win more than this to be eligible for cash redemptions.

Are sweepstakes poker sites legal in the USA?

Yes. Sweepstakes poker sites are legal across the US other than in Washington. Social poker sites are more widely accessible.

Which are the best sweepstakes poker apps?

Global Poker is arguably the best sweepstakes poker app, mainly because it's the only one that is dedicated to live poker and video poker. Other popular options are Pulsz Casino and BetRivers.net, offering video and live dealer poker games.

Is sweepstakes poker legal in Texas?

Yes. Online sweepstakes casinos and poker sites are legal in Texas, California, Florida, and all other states except Washington D.C.