NoLimitCoins online casino is one of the newest US sweepstakes sites with over 50 online slots and fish games. The social casino offers free games using gold and super coins to casino gamers living outside Wyoming, Idaho, Washington D.C., Utah, and Michigan. In addition to offering free play on games, players can also win cash prizes.
Pros
Lots of online slots
Fish table games are available
Plethora of promotions for new and existing players
Large number of networked jackpot games
Players can win cash prizes
Responsive customer support and live chat
Cons
Doesn't have table or live dealer games
No native app for Android and iOS devices
No FAQ section
Have to make a purchase before you can verify or redeem cash prizes
With 100,000 gold coins no deposit bonus, and promotions like the lucky wheel, daily tournaments, and more, players can start playing for fun and even winning real money without purchasing. In this NoLimitCoins review, we will be showing you the following:
Who Owns NoLimitCoins Casino
Who can play at NoLimitCoins
How to play NoLimitCoins free games legally
How to win real money from your gameplay
Available promotions
Site features and so much more
Our Expert Findings on NoLimitCoins
NoLimitCoins is the poster child for how to make a perfect sweepstakes site. The social casino allows users to play slots and other games using gold and super coins, which are offered through several promotions.
Although you won't find a mobile app, the website is mobile-optimized, making it easy to access games offered anywhere you are.
What is NoLimitCoins?
NoLimitCoins is owned by A1 Development. The social casino uses the sweepstakes model to provide free casino games like online slots and fish games to players in all US except Wyoming, Idaho, Washington D.C., Utah, and Michigan.
Being a free casino site, players use virtual currencies – gold and super coins – to play games instead of real money.
How to Play at NoLimitCoins Casino
To ensure users can enjoy playing games without breaking any online gambling laws, NoLimitCoins provides two entry modes.
The first is the gold coin mode, similar to traditional online casino demo play, which allows you to play slots and other games purely for fun without the chance of winning any real-life rewards.
The second is the super coin mode, which requires players to use super coins to enter games. While this mode is still play-for-fun, it also allows you to win real money.
Players receive gold and super coins through no deposit bonuses, and they can also purchase gold coins for extended play or to earn free super coins.
Who can Play at NoLimitCoins?
NoLimitCoins casino is legal in all US states except Wyoming, Idaho, Washington D.C., Utah, and Michigan for 18+ players. You can access the website through any phone browser and operating system, including Mac, iOS, Windows, and Android.
Is NoLimitCoins Casino Legit?
🎰NoLimitCoins Casino
🌐Website
https://nolimitcoins.com
📱Accessibility
Instant Play Website on all Devices
🏛️Operating Company
A1 Development
🧑‍💻Software
NetGame
💳Purchase & Redemption Methods
Online banking, credit/debit card, skrill, and eGiftcard
The short is yes – NoLimitCoins Casino has been operating since 2021 and has quickly risen to prominence by offering a wide selection of casino games. With over 50 games to choose from, including popular online slots and the fish game Thunder Fishing, there's plenty of entertainment to be found at this social casino.
Owned by A1 Development, the same company behind sister sites Funrize and Tao Fortune Casino, NoLimitCoins Casino has quickly established itself as a reputable player in the online gambling space. In fact, it boasts one of the best structures of any social casino we've seen.
One of the standout features of NoLimitCoins is that all of its games are sourced from an actual iGaming studio – NetGames Entertainment NV – and have been Gaming Labs certified for fairness and compliance with industry standards. This attention to detail ensures players enjoy a safe and secure gaming experience.
NoLimitCoins Casino is available in all US states except Wyoming, Idaho, Washington D.C., Utah, and Michigan, making it a popular choice for players across America. With an impressive 4.2 rating on Trustpilot and 3.9 on Facebook, it's clear that many players have had positive experiences with this sweepstakes site.
NoLimitCoins Welcome Bonus
🎰NoLimitCoins Casino
📜NoLimitCoins Casino Promo Code
Click to claim
🎁No Deposit Bonus
100,000 gold coins
💵First Purchase Bonus
33% more on gold coin package
🇺🇸 Availability
18+ players living outside Idaho, Washington and Wyoming.
🤑Other Promotions
Lucky Wheel, referral bonus, mail-in bonus, daily tournaments, build your own offer, email prize draw
If you are just signing up, NoLimitCoins casino will add 100,000 gold coins to your account to start playing any game you choose.
You also get 33% more when you buy gold coins for the first time. So with just $29.50, you get 885,000 gold coins and free 39,000 super coins worth over $40 in regular purchases.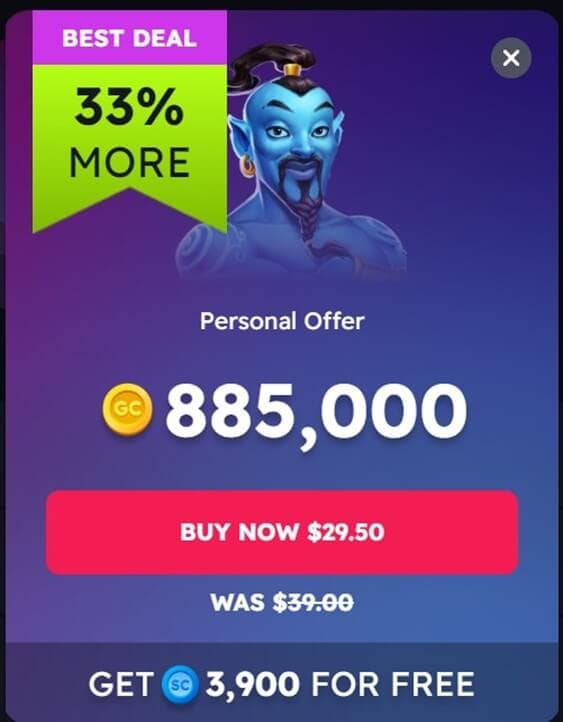 NoLimitCoins Free Daily Rewards and Promotions
New players aren't the only ones who enjoy attractive promotions; there are several ways to get free coins to extend your free play. These bonuses for existing players do not require a NoLimitCoins bonus code, making them readily accessible to eligible players.
Lucky Wheel: Win up to 250,000 gold and 300 super coins by spinning the lucky wheel twice daily. To be able to spin the bonus wheel, you need to verify your number.
Referral Bonus: Invite your friends to join NoLimitCoins casino and get 900,000 gold coins and 2,500 super coins when they make their first purchase.
Email Prize Draw: Get up to 25,000 gold coins for answering the question sent to your email address.
Daily Tournament: Win a share of the 5 million gold coins pot prize in the daily tournament. To participate, play the qualifying games and become one of the top 3 with the highest payout.
Build Your Own Offer: Customize your own bonus offer to the amount you can afford. Instead of spending $29.50 on the first purchase bonus, you can build an offer between $5 to $100 to get free coins ranging from 60,000 gold coins to 1.2 million gold coins and 500 to 10,000 super coins.
Special Personal Offer: Get 1,698 super coins for free when you update your name, address, and phone number. This one-off promotion paves the way for personal offers where you get frequent discounts and matchup bonuses on gold coin packages.
Mail-in Bonus: Claim 100 super coins by sending a mail-in request to NoLimitCoins Casino headquarters. This bonus can be claimed countless times if you fulfill all requirements.
NoLimitCoins Site Layout & Features
The NoLimitCoins casino has an exceptionally user-friendly website design that prioritizes its games and features against a sleek dark background. The homepage features an intuitive navigation menu with clearly labeled buttons such as "Best Deal," "Collections," "Invite a Friend," "Account," "How it Works," and "Support." Additionally, you can easily access games, promotions, the lucky wheel, your balance, and the buy button in the header.
While there is no search feature to find games of your choice, the website provides helpful buttons like "New," "Top," "Fishing," "Jackpot," "Hot," and "Favorite" to aid in browsing.
NoLimitCoins has ensured that its website is responsive and adjusts to different device orientations and screen sizes, making it a breeze to use across all gadgets. Furthermore, page-to-page loading is impressively fast, allowing seamless browsing without annoying lag or delays.
NoLimitCoins Casino Games Lobby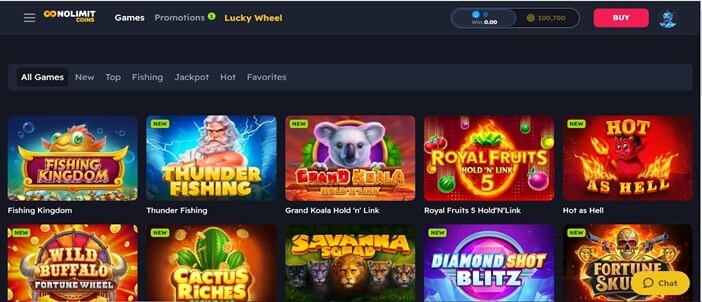 NoLimitsCoins Casino offers a combined 50+ slots and one fish game. Most social casinos are fond of having proprietary games but not NoLimitsCoins. Its casino games are powered by NetGame Entertainment, the game studio known to power real-money online casinos. The games are divided into different categories, making it easy to find games that interest you.
Online Slots
There are 50+ impressive slot titles at NoLimitCoins. The games cover a wide range of features, including different reels, themes, bonus features, and paylines. You'd also find a good selection of networked progressive jackpots, but more on that later.
You can play your preferred online slot using the two modes – gold coins or super coin mode – as long as you have enough balance in your account. What makes the online slots at NoLimitsCoins games unique is the low bet levels. You can enter any game for as low as 100 gold coins or 0.1SC, making it perfect for beginners and pros.
There is little information on the slot games at NoLimitsCoins casino, but being powered by a well-known software provider has its perks. Quick research shows that the online slots have different volatilities and RTPs, with many having above the 96% industry standard, which means players are captains of their ships regarding how frequently they want a payout.
Low volatility slots provide little winnings frequently at low risk. The high volatility is far riskier but has a better chance of getting big wins. The mid-variance slots provide average risk and slightly better payouts than low-volatility slots. Here are some available free slots according to their volatility.
Low Volatility – Savanna Squad, Diamond Shot Blitz, Crazy Scientist, Cleo's Heart
Medium Volatility – Mighty Horses: Cash Connect, Frosty Fruits, African King
High Volatility – Fortune Skulls, Hot Cash Hold N' Link, Royal Fruits 5 Hold N' Link, Fruit Burst, Magic Tree
Aside from the regular slots, it's nearly impossible to come by a sweepstakes casino that does progressive jackpots better than NoLimitCoins. Rapid Link and  Hold N' Link are the two main networked jackpots at this sweepstakes casino. These jackpots are connected with 3 and 13 slots, respectively, making the pot prize grow faster than you'd find in any social casino.
Fish Games
There isn't much to find after online slots at NoLimitCoins casino. But luckily a few fish games such as Candy Heroes and  Fishing Kingdom – available can provide players with unique and exciting gameplay.
Fishing Kingdom is a shooting game where you shoot sea creatures with cannon balls and lasers. This casino game is one of the most interactive after live dealer games, as you can play with up to 4 live players.
You can enter the Fishing Kingdom at NoLimitCoins sweepstakes site with gold coins and even win real money playing with super coins. You can check out our Fishing Kingdom review to learn more about this game and fish game cheats and tricks that could let you earn real money faster.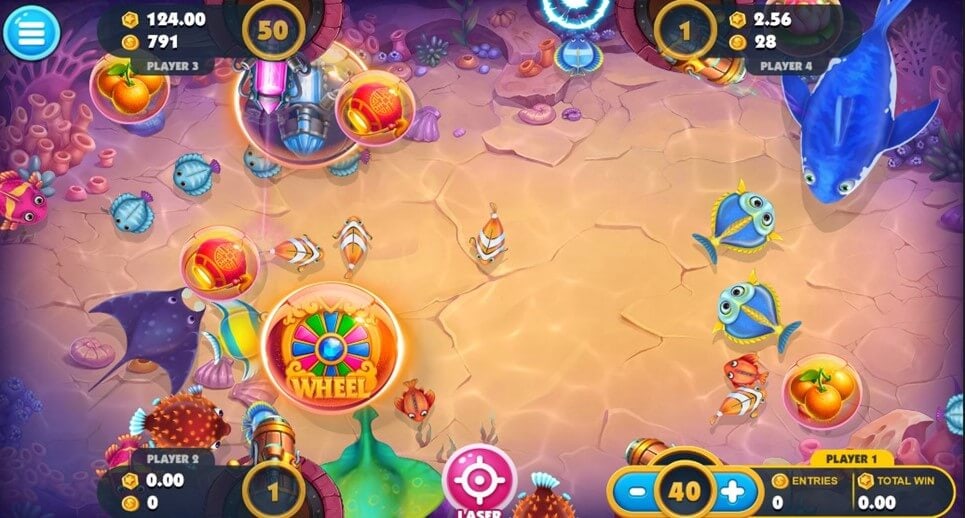 Are NoLimitCoins Casino Games Fair?
NoLimitCoins casino games are fair, and there is no evidence to suggest otherwise. All the games are powered by NetGame Entertainment, a game provider with 10+ years of experience.
The software provider's games are Gaming Labs certified, meaning that the games you'd find at NoLimitCoins casino are fair and conform to the highest standard required in the iGaming industry.
In-App Purchase Methods
NoLimitCoins not only offers free games and numerous promotions with free coins, but it also allows players to purchase gold coins. Unlike making a real money deposit, purchasing gold coins involves buying an in-app virtual currency with no real-life value. With NoLimitCoins' gold coin packages ranging from $5.50 to $150, every purchase includes free super coins. For example, buying gold coins worth $5.50 will give you 66,000 gold coins and 550 free super coins. As you can guess, 100 SC = $1.
Super coins allow entry into any game or daily tournament, providing a chance to earn winnings that can be used to redeem prizes. Payment methods accepted by NoLimitCoins include Discover, Visa, MasterCard, and online banking. Online banking is the most preferred payment method, as every purchase made through it receives an additional 5% bonus, making it the most advantageous option at the social casino.
Purchasing gold coins not only allows entry into games, but it is also necessary to redeem cash prizes. After accumulating at least $100 winnings, you can use online banking to redeem them by clicking the redeem button, filling in your bank details, and following the necessary steps.
Alternatively, $25 winnings can be redeemed for Target, DSW, or Amazon eGiftcards.
Redemptions at NoLimitCoins Casino
NoLimitCoins Casino offers two exciting ways to enjoy their games – playing for free and winning real cash prizes. To win cash prizes, players must play in the super coins mode and reach the minimum winnings required for redemption.
If you want to withdraw cash prizes to your bank account, you need to reach a minimum threshold of $100 worth of SC. Alternatively, you can redeem your winnings for an Amazon gift card, which requires only $25 in SC.
Redeeming cash prizes at NoLimitCoins is completely free, but you'll need to verify your account first. To do this, you'll need to make a gold coin purchase. However, there are two ways to make the most of this requirement.
You can take advantage of the 33% first purchase bonus of $29.50, which will give you 885,000 gold coins and 3,900 super coins. If that option is too expensive, you can choose the build-your-own-offer promo and get 60,000 gold coins and 500 super coins for just $5.
Customer Support & Contacts
A broad and effective support channel could make a difference between an excellent and mediocre sweepstakes casino. NoLimitCoins casino passed the quantity and quality check in this regard with its multiple support options.
Email support is the most typical form of support at NoLimitCoins casino. The option works round the clock and has a response time of 12-24 hours, making it one of the fastest in the industry.
For a quicker response, you can opt-in for the live chat. This option connects you to an actual support team member and works perfectly for players looking for a fast real-time response to any queries they have.
There is also a dedicated toll-free phone number that is available 24/7 if you have payment issues. NoLimitCoins could take a cue from similar sweepstakes casinos with a FAQ section, as we couldn't find any on the site.
Verdict on NoLimitCoins Casino
What's not to like in NoLimitCoins casino? The sweepstakes site offers a vast number of popular games with the inclusion of the often overlooked fish game. The online casino is mobile-friendly, so you wouldn't have issues accessing your preferred game and winning cash prizes.
Yes, there are some negative reviews about verification and slow payout, which is typical for a social casino but NoLimitCoins has received overwhelmingly positive reviews from players who attest to having one of the best gaming experiences on the site.
FAQs
Can I win real cash prizes for playing at NoLimitCoins?

Yes, you can win cash prizes by playing at NoLimitsCoins casino. You'd need to play in the super coins mode and earn winnings from your gameplay. The winnings can then be redeemed for real money.

Are NoLimitCoins Casino games rigged?

No. All NoLimitCoins online casino games are powered by NetGame and have been tested and certified by independent audit companies to have true RNG. The games are also Gaming Labs certified.

What is the current NoLimitCoins Casino promo code?

There isn't any NoLimitCoins promo code at the moment. Instead, you get free coins by following through with the instruction attached to each promotion — for example, the Lucky Wheel for spinning every 12 hours.

Is NoLimitCoins Casino free play?

Yes. NoLimitCoins uses the sweepstakes model, which makes all games free-play. You can play using gold or super coins awarded through several promotions like a no deposit Bonus, the lucky wheel, mail-in bonuses, etc.

Where is NoLimitCoins Casino legal?

NoLimitCoins is one of the legal sweepstakes sites in the US where players from outside Washington, Idaho, and Wyoming can play for free and earn actual money.

What casino games can I play at NoLimitCoins?

NoLimitCoins only offer 50+ online slots and 1 fish game. You'd find different varieties of slots like the regular, classic, and jackpot games at the sweepstakes casino, which makes gaming more exciting and less repetitive.

How long do redemptions take at NoLimitCoins?

Depending on your payment option, real money redemption can take up to 5 business days if you use online banking. Alternatively, you can redeem egiftcards within 24-48 hours.

Can I play NoLimitCoins games with my phone?

Definitely, since the NoLimitCoins website is mobile-friendly and allows you to play games straight from your phone browser without downloading a plugin or app. The games also auto-resize to fit your device's screen for optimal performance.

Is NoLimitCoins Casino safe?

Yes, NoLimitCoins uses high-end cybersecurity to protect players' data. All the available games are also from a real game studio whose games have been tested to be fair by several game auditing companies.

Are there better free casino apps than NoLimitCoins?

NoLimitCoins isn't the only free casino site with fantastic gaming options and the opportunity to play for free and win real money. Other similar casinos are:

Pulsz Casino – 300+ games, including slots, table games, and scratch cards.

Fortune Coins – over 100 online slots with mostly jackpot games and fish table games.

BetRivers.net – 400+ games from over a dozen game studios. Gaming options include slots, roulette, baccarat, bingo, and live dealer games.

The NoLimitCoins sister casinos provide unique Funrize promo codes and Tao Fortune no deposit bonuses; these are identical and great if you are sweeps coins hunting.