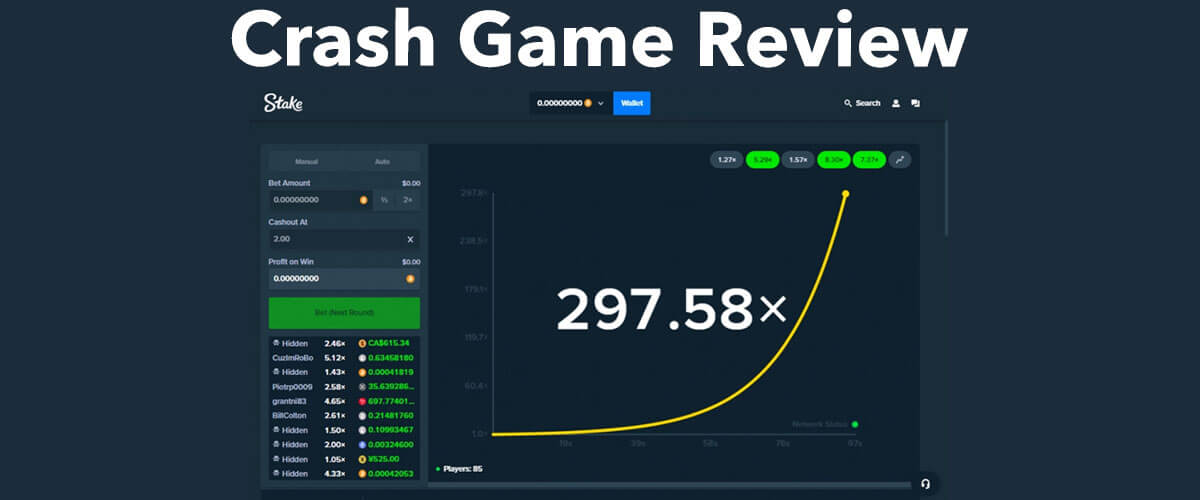 How does winning up to 1 million times your stake in a matter of seconds sound? Great, right? Crash is a luck-based casino game where players predict how high a multiplier will grow as they try to cashout before the uptrend crashes. Crash game is fast-paced, only taking about 24 seconds per round, with players trying to get the best multiplier to increase their payout while avoiding the round crashing before they do.
If online slots are too unpredictable for you and table or live games are too complicated, crash game is the best alternative. Despite being high-paying, it doesn't require any skill to play. In this crash game review, we will show you where you can play it for free and win cash prizes, how to play it, and tips to help you win each game round.
Play Crash Game at Stake.us for Free or Real Money!
Crash is a relatively new game popularized by cryptocurrency enthusiasts. But, as exciting and potentially high paying as it is compared to other classic casino games, there aren't many real money or crypto casinos that offer crash games. Thankfully, there is a legit crash gambling site in the US called Stake.us.
Stake.us is a sweepstakes casino with over 350 online casino games, including unique Stake.us online slots, tables, and live dealer games. The free gaming site also doubles as the only legit crypto casino allowing free crash betting. Stake.us allows players to play crash gambling for free using gold coins and stake cash. Gold coins can be used to play crash games for fun, while the stake cash can earn players real money rewards, just like when playing on a real money gambling site. Despite looking very similar to the traditional online crash websites, playing at Stake.us isn't considered gambling. This makes it possible for players 21 and above living outside New York, Nevada, Idaho, and Washington to sign up legally and play there.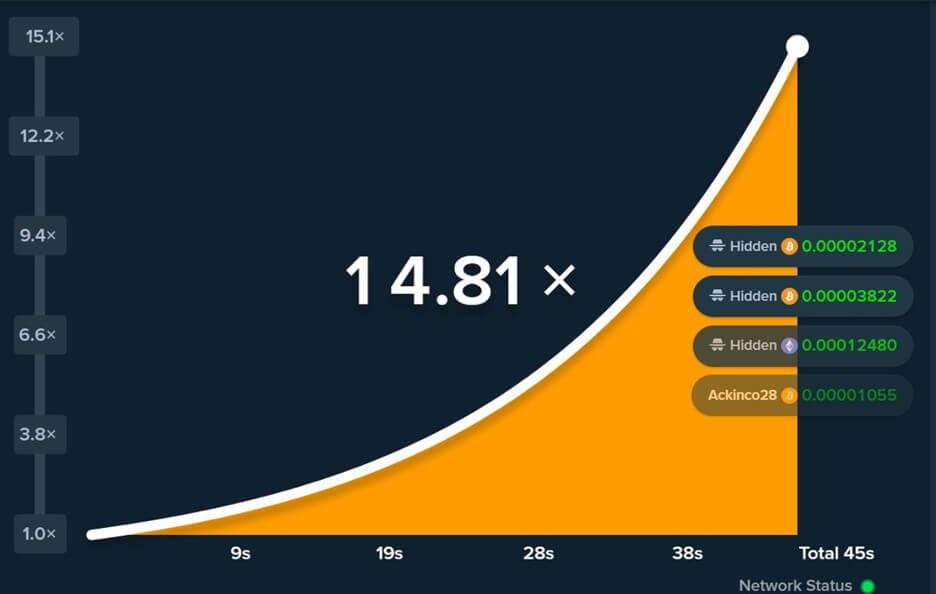 New players are awarded 10,000GC and 1 stake cash no deposit Stake.us welcome bonus to start playing crash, slots, Plinko and other popular table games at Stake.us. When you run out of virtual cash, you can claim up to 10,000 stake cash through other promotions like the daily race, stake cash giveaway, and much more. Aside from allowing users to play the original crash game for free, Stake.us is a crypto casino. Players can purchase coins and redeem cash prizes anonymously through cryptocurrencies like bitcoin, Ethereum, and Litecoin.
The only other viable crash gambling site alternative is DraftKings, with the Rocket Game being legal in the US. But it pales when compared to the Stake Original crash game!
Crash Gambling Overview and Information
🎰Crash Gambling Overview
ℹ Game Name
Crash by Stake Originals
📅Release Date
2014
💲Bet Range
10GC-1,000,000GC or 0.01SC - 2,000SC
💰Max Win
1,000,000x your stake
🤑In-game bonus
Nil
👨Number of Players per Round
Infinite
🌐Legit Crash Site
Stake.us
🎁Crash Gambling Bonus
1 SC + 5,000 GC No Deposit on Sign-up
💯RTP
99%
📈Volatility
Depends on Gameplay
🇺🇸 Legal States
All except NY, WA, NV, ID
🎲Similar Games
Plinko, Rocket, Dice, Aviator
Crash games are crypto casino games played using cryptocurrencies, USD, or virtual in-game coins. The game is a straightforward and fast-paced one which involves a graph that shows an increasing multiplier. Players make a bet and try to cash out before the game crashes. Let's say you place a $2 bet, and the multiplier starts at 1.01x and crashes at 4.21x. Cashing out anytime below 4.21x will result in getting a win of your original bet multiplied by when you cashed out. If you didn't cash out before the game crashed, you've lost that round; it's that simple.
So, with the example above, here is how the game would go.
Bet size = $2
Cashout at = 3.50x
Game crashed = 4.21x
Winning = bet  X cashed out multiplier
Amount Won = $7
Crash games don't use a random number generator like online slots to generate results; instead, they use blockchain technology to crash each round. This makes them provably fair games that can be independently verifiable by players.
Crash Gambling Game RTP and Data
The Crash gambling game isn't like traditional casino games, where a title is owned by a software developer and has the same RTP and data across all online casinos. Crash games are independently owned by crash websites, meaning even though the gameplay is the same, the RTP, in-game bonuses, and some features will be different.
The standard Return to Play on crash games is 96%, leaving a 4% house edge. However, some crash sites like Stake.us have a 1% house edge and 99% RTP making them one of the best crash gambling websites.
Another remarkable fact about Crash is that the game's volatility depends on the players. As you know, casino games have three volatilities – low, medium, and high. The low provides small winning consistently with little risk, while volatility games give massive returns less frequently. The medium volatility is the best of both worlds, as you can have small winnings from time to time and huge wins once in a while. For Crash, the volatility is determined by individual players since they decide how long they stay in the game or when to cashout. So, the longer you stay in a round, the higher the volatility becomes.
How to Play Crash Games Online
There are two steps to playing crash games. The first and the most essential is to get a crypto casino that offers the game, and the second is to actually play. In this section, we will take it from how to get started in one of the best crash betting sites and how to play for free. You can create an account at State.us by taking the following steps:
Head to a legal crash game site.
Click on register.
Fill in your email address, username, state, DOB, and password.
Click "Play Now" to complete your registration.
Press the "Verify Email" button.
Alternatively, you can signup with your Facebook account, Gmail, or Twitch for quick account setup.
While most crash gambling sites allow players to start playing right away, Stake.us is slightly different. After signing up, you'd be required to verify your account immediately. To do this, click "Get Verified" and take a selfie with your government-issued ID. Verification takes only a couple of minutes, after which you can start playing online or mobile.
Getting Started with Crash Game
You do not need to make a deposit or purchase to play bitcoin crash games at Stake.us since it's a social gaming site. Also, you can start playing crash games right away with the offered 10,000 gold coins and 1 complimentary stake cash no deposit bonus. To do this, take the following steps.
Click the Crash game from the casino's lobby.
Choose between manual or auto bet.
Input your preferred stake amount and other necessary settings according to your strategy.
Click on "Play" to enter the next round of the game.
Unlike most real money crash sites, you can play for the fun of it or win real money at Stake.us. If you are in it for what you can earn, you'd need to play with stake cash.
Crash Game Special Features
When playing crash, below are some of the features that could make your playing more exciting and fun-filled.
Manual Bet: This is the standard way of playing the Crash Game online. The manual play lets you set your bet amount and the multiplier at which you want to cash out. There is also an option to cash out manually before the game crashes. Manual play is perfect for beginners looking to start small and simple.
Auto Bet: This feature provides a much more extensive and dynamic game, and it's best used by players with a good idea of how the game works. Given how fast-paced the crash game is, this feature allows players to put their betting amount, number of bets, when to take profit, and so much more on autopilot for each round. Another perk of the auto bet is that it allows players to use complex gaming strategies like Martingale and Fibonacci.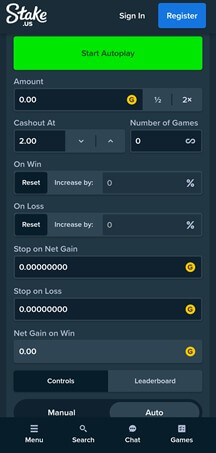 HotKeys: The interval between crash games is often 5 seconds or less, making it hard for players using manual play to modify their bets. However, players can make these decisions with the hotkeys feature by pressing a specialized single-key shortcut. If, after one round, you want to double your bet, half it, cash out, or place the same bet, you can do it with a single strike of a key. To use hotkeys, you'd first need to activate them on the crash game site and learn the keys for the different commands.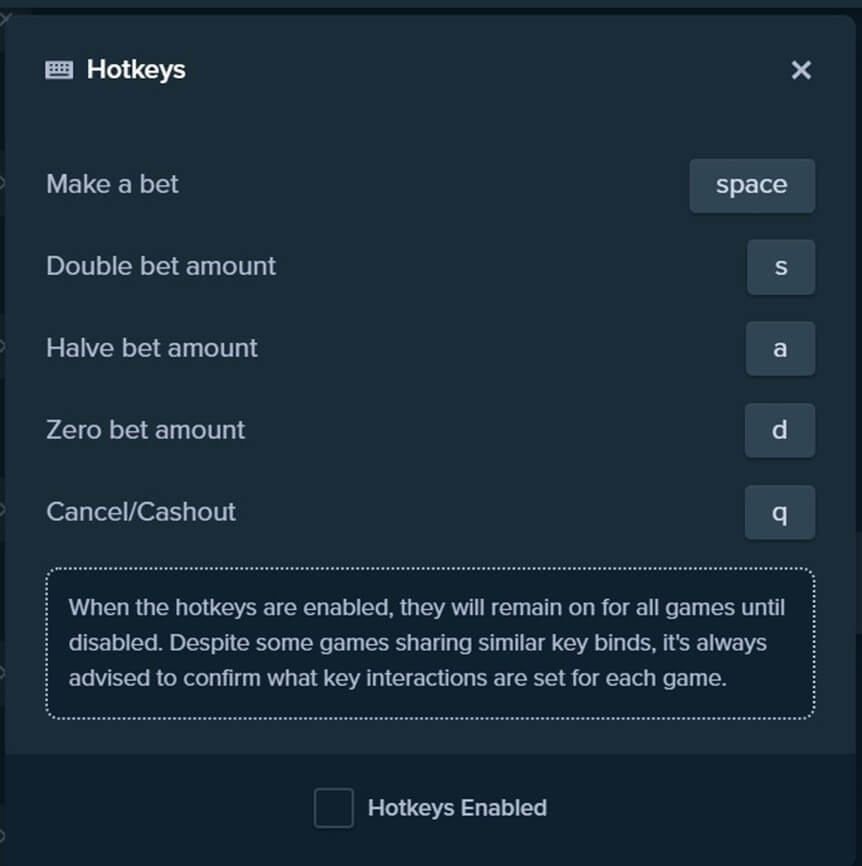 Chat Room: Since the crash games are played live, there is a chat room where you can discuss with other live players. This chat room is great for players looking for insights or fun, as there is no limit to the number of players that can be active at a time.
Stake.us also allows crash gamblers to see how much is being won by every player through announcements, adding to the overall excitement!
Crash Game Strategies & Tips
The Crash gambling game is super exciting, and like many fast-paced games, players can get carried away due to the adrenaline rush causing them to lose most if not all of their bankroll. To prevent this from happening, there are several strategies you can use that promise consistent wins. Note that crash is a luck-based game, so unlike in fish games, your skill or speed is not required. Here are some of the best crash gambling strategies to enhance your winnings when playing.
Play Crash on Crypto Websites with high RTP
Return to Player refers to how well players can win when playing a casino game long term, and the higher the percentage, the better the payout. Like many casino games, Crash also has an RTP ranging from 96%-99%, depending on the website you are playing.
The key factor to this crash game gambling strategy is only playing in crash casinos with high RTP. Take Stake.us, for example; the crash games have a 1% house edge, meaning players have a 99% RTP.
Have a Playing Style
Finding a crash casino with high RTP is excellent, but you must always watch out for the house edge if you want to be a profitable player, hence the need to know the kind of player you are.
Cautious players cash out at low multipliers to ensure consistent winnings, while risk-takers aim higher and would cash out until a huge multiplier provides massive wins. Knowing the type of player you are would better prepare you for when you cash out on every round.
Bet with Your Winnings
This strategy is perfect for newbies who want to test the waters without risking much. The strategy is just as it sounds, as you would only bet with your winnings to prevent your bankroll from running dry. You can switch things up every once in a while, but it's best to stick with this strategy till you are more comfortable in the game.
Play According to your Budget
This isn't crash-game specific, but it's essential if you want to play longer and win more. Whether you are playing to win real money or for entertainment, you should set aside a percentage of your balance that you are comfortable playing with. This amount can be increased or decreased depending on your wins or losses.
Know When and When Not to Play
Crash games have a multiplier that ranges from 1.01 to 1 million. So, statistically, if there have been many high multiplier wins, you should expect low crashes. Due to this, you should always check the game history to see when each round crashed to know if you should play or sit it out till the game is less volatile.
Use Advance Betting Options
Setting manual or auto cashout is excellent, but to win better when playing crash, using betting strategies like the Martingale or Fibonacci strategy will give you an excellent edge. So, learn one or more advanced strategies, test them out with gold coins, and you can play with stake cash to win real money when you've mastered them.
Crash Game Compatibility
Of all existing casino games, crash games have the most simplistic design, which makes them accessible and compatible across a broader range of devices. With an average internet connection, you can play crash games on any up-to-date mobile or PC browser.
Play the Crash Game on PC
If you'd like to access the game via your PC, you only need to sign into a legit crash gambling site (in this case, Stake.us). Once in your account, select the game from the list of casino games. Set your stake amount and "cashout at" to start playing. Playing on PC provides a wider and more accessible view of all the unique features when crash gambling online, but it doesn't offer any significant advantage to mobile gameplay.
Download the Crash Game
Here is the downside: no native app is available to play crash gambling. The only option on-the-go players have when playing crash gambling is through the mobile browser. Interested on-the-go players have nothing to worry about though, as the game is mobile-optimized and has an auto-orientation that fits perfectly to any screen size. With the lack of a mobile app, you don't need to create space on your phone to download the app or spend the time you can use to win money updating the app.
Should I Play Crash at Online Casinos?
Yes, you definitely should. No game gives players the autonomy to determine the volatility and wins of a game like Crash. There is also a potential win of up to 1,000,000x, which is far more than you'd get in any other casino game.
Don't let the game's simplicity fool you; Crash is the most modern and lucrative casino game there is. Aside from the huge pay, the inclusion of cryptocurrency provides players with 100% privacy in their gaming activities.
You can start playing this luck-based game for free right away on Stake.us right after claiming the juicy welcome bonus. Luck is not on your side? Why not try playing fish games like Emily's Treasure or Fishing Kingdom for free for an equally rewarding casino gaming experience?
FAQ's
What is the Crash game RTP?

The industry standard for crash games is 96%, but depending on the crash website, this can go as high as 99%, just as you will find at Stake.us.

Is Stake the only Crash gambling site?

No. There are several bitcoin crash sites that offer crash gambling games, but the most legit and best crash gambling site in the US is Stake.us. Stake can be legally accessed in America, except five states, due to its status as a real money sweepstake casino. Other crypto gambling sites that feature the Crash game are not licensed and can manipulate the game's outcomes!

What is the volatility of the Crash game?

Crash game's volatility is determined by players and the type of winnings they are willing to make. The game will have low volatility if you cash out at low multipliers, and the higher you let the trend rise, the higher the volatility.

Who is the company behind the Crash gambling game?

Crash was initially invented in 2014 but has since become an in-house game offered by different crypto sites. The crash game at Stake.us is powered by Stake Originals

How much can I win playing Crash?

There is no fixed amount you can win in crash gambling. However, a multiplier of 1.01 to 1 million makes it the highest-paying casino game.

Is Crash gambling game available on mobile?

Yes. The Stake Crash game is mobile optimized. It works perfectly on all mobile devices that can be connected to the internet.

Is the Crash game rigged?

No. Crash casino game is one of the fairest games you'd ever play. Although the game doesn't use RNG like casino games like slots, and baccarat, it uses blockchain technology to crash each round. Each result can also be independently verified by you or any player making it one of the provably fair games you'd find at a crypto casino.

Where can I play Crash game?

The best crash gambling site where you can play for free and win real money is Stake.us. The gambling site features one of the most extensive bonuses you'd find at any crash casino. The algorithm used is also very transparent and cannot be changed by the crypto casino or players, making its crash provably fair games.

How do you play Crash games?

You can start playing crash by signing up at a legit crash gambling site, making a deposit, and placing a bet. Alternatively, you can play at Stake.us for free and even win real money from our exclusive no deposit bonus links!

Crash is a crypto-based casino game where players try to predict when an increasing graph multiplier will stop (crash or burst) and try to cash out before it happens. The game is relatively straightforward, as it involves placing a bet and trying to cash out with a profitable multiplier before it crashes.

Can you play Crash for free?

Yes! Stake.us is a legit social gaming site where you can play bitcoin crash games for free. Players can enter each round of crash with gold coins or stake cash. If you enter with the latter, you can redeem it for real money after making enough.