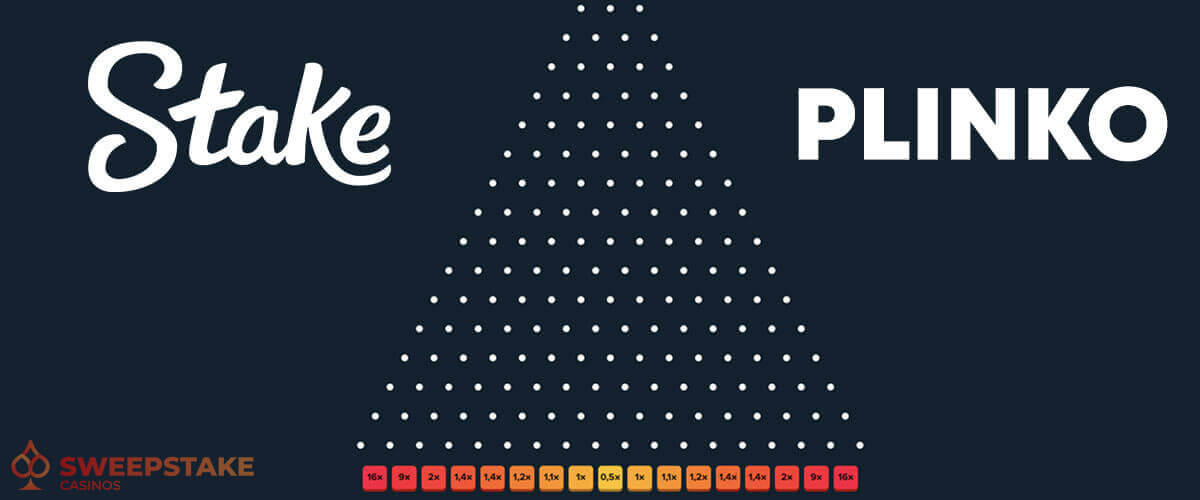 Many online casino gamers love luck-based games, so online slots are top-rated in popularity. However, Plinko is a straightforward luck-based casino game that goes under the radar of most players.
The Plinko online game adopts many design features from the Plinko The Price is Right version, with a few additions. Both versions involve a ball being dropped from the top and making its way to the bottom, with pins influencing its direction as it drops down the board.
The online Plinko game is a simple game usually available on crypto casinos. Being available only on crypto casinos gives developers a chance to implement a Provably Fair gambling feature that lets players verify the fairness of each game round.
In this guide, we provide details on how to play Plinko online, a review of the Stake Plinko game, payouts on Plinko, special features, and where to play Plinko in the US.
Stake.us is one of the safe and legal sites offering Plinko in the US. The site is available in most US states, except Washington, New York, Nevada, Idaho, and Kentucky, with 10,000 gold coins and one SC bonus. Register on the site today to enjoy Plinko for free and win real money.
Plinko Gambling Game by Stake Overview
🎰Plinko Game Overview
📅Stake Plinko Release Date
August 2022
💵Stakes
From 0.10 SC
📈Volatility
Adjustable (Low, Medium, and High)
📱Availability
Online version and mobile browser application
⭐Features
Provably fair, live stats, Autoplay, row selection, risk level adjustment
🇺🇸 Supported States
US States except from Washington, New York, Nevada, Idaho, and Kentucky
Plinko is a luck-based game played by dropping a chip into a board with several pins that adjusts its direction as it falls to the bottom. The Plinko online version automatically drops the ball in the center of a triangular board with pins.

The game is simple to play and offers a chance to get massive payouts. We recommend this game for players who're new to online casinos. It's also a suitable alternative for online slots since it doesn't require complex slot strategies or skills.
How to Play Plinko Game Online
How to play Plinko? Click the play button and watch as the ball rolls through the board while hitting pins.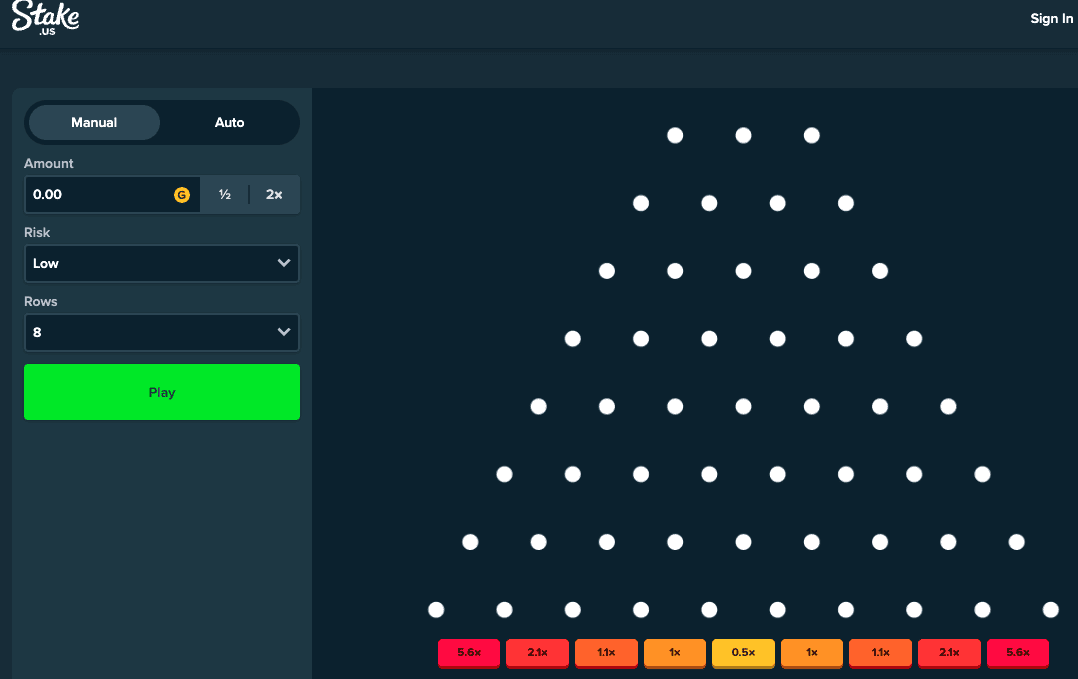 It's that easy to play Plinko Bitcoin games, but you must take some crucial steps for the best results. To get the best Plinko online experience, follow these steps:
Find an excellent site to play Plinko: Stake.us is our preferred option, and it has its Plinko title from Stake Originals. You can switch between the GC and SC betting options on this site.
Pick your bet amount: The bet size for Plinko on Stake.us starts from 0.01 GC/0.10 SC, making it suitable for low rollers.
Choose your risk level: Plinko lets you adjust the game's volatility, and Stake.us lets you pick a low, medium, or high-risk game. This may differ from other Plinko games, with titles like Plinko Spribe associating the volatility to the ball color you pick.
Adjust the number of rows/pins: The number of rows also influences the volatility, and fewer rows mean a higher chance of hitting the max potential payout. On Stake Plinko, you have a 0.0015% chance of hitting the 16x multiplier on a low-risk, 16 rows game, but a 0.3906% chance of hitting the 5.6x multiplier on a low-risk, eight-rows game. For context, both multipliers are the highest on each game combination.
Choose Between Autoplay for multiple rounds or Manual Play for a single round.
Click the Play Button.
Use the Provability Fairness Feature: On Stake.us, you can click a 'Fairness' button to use this feature. We will provide more information on how this feature helps secure your gameplay later in this guide.
Plinko Bet Payouts and Winning Odds
The Plinko bet payouts vary depending on the developer. For instance, Plinko Spribe has payouts up to 555x your bet when you play its Red balls with 16 rows/pins.
In this guide, we focus on the payouts for Stake Plinko since this is the online Plinko title readily available to US players. On Stake Plinko, the bet payouts vary depending on the number of rows and risk level you select.
Undoubtedly, the best bet payouts come from the high-risk level with 16 rows. The table below has all the multipliers, the payouts for a wager of 100 GC, and the odds of landing each multiplier:
| 🔟Multipliers (High Risk, 16 rows) | 💵Payout according to Stake | 📈Net Gain or Loss | 💰Winning Odds |
| --- | --- | --- | --- |
| 0.2x (center) | 20 GC | -80 GC | 19.6381% |
| 0.2x (one step from center) | 20 GC | -80 GC | 17.4561% |
| 0.2x (two steps from center) | 20 GC | -80 GC | 12.2192% |
| 2x | 200 GC | 100 GC | 6.6650% |
| 4x | 400 GC | 300 GC | 2.7771% |
| 9x | 900 GC | 800 GC | 0.8545% |
| 26x | 2,600 GC | 2,500 GC | 0.1831% |
| 130x | 13,000 GC | 12,900 GC | 0.0244% |
| 1000x | 100,000 GC | 99,900 GC | 0.0015% |
Although these values change with respect to the risk and rows of the game, Stake Plinko has a cool feature that displays your net gain or loss and winning odds for each multiplier if you hover over it with your mouse. The feature to see the winning odds or chance of landing a multiplier is one thing we appreciate on the Stake platform.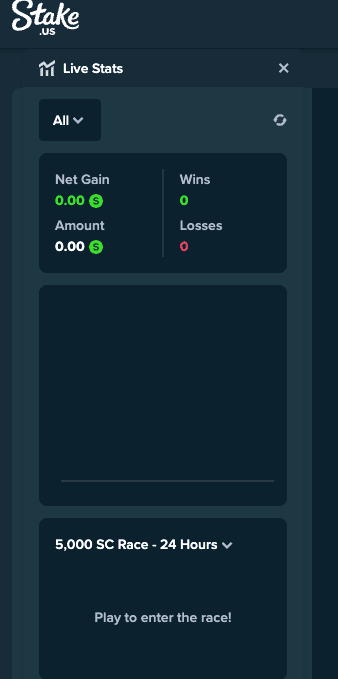 If you decide to calculate the winning odds manually, it gets complicated quickly. Some of the best calculations we've seen online model the Plinko game board after Pascal's Triangle, but the calculation is a different ball game.
Plinko Special Features
For most Plinko online games, you can find certain unique features. Since Stake.us is the preferred site for US players, we focus on the Stake Plinko game features. These features include:
Risk Level Control
The Stake Plinko game allows you to adjust the game's volatility to suit your preference. You can select a high, medium, or low-risk Plinko gaming session on the site. Depending on the risk level you select, the multipliers change. These are the highest multipliers for each risk level when playing a 16-row Stake Plinko:
High Risk – 1,000x max payout
Medium Risk – 110x max payout
Low Risk – 16x max payout
Row Selection
Like Plinko Spribe, you can adjust the number of rows/pins on Plinko Stake. However, Plinko Stake allows you to select 8, 9, 10, 11, 12, 13, 14, 15, or 16 rows. The more rows you choose, the higher the risk and the better the rewards.
You should set the Stake Plinko to a low-risk level with eight rows if you want consistent payouts, regardless of how small it is.
Provably Fair Title
The Stake Plinko game is provably fair, allowing users to verify its fairness manually. The provably fair algorithm functions with the blockchain to ensure that the results of games are randomized.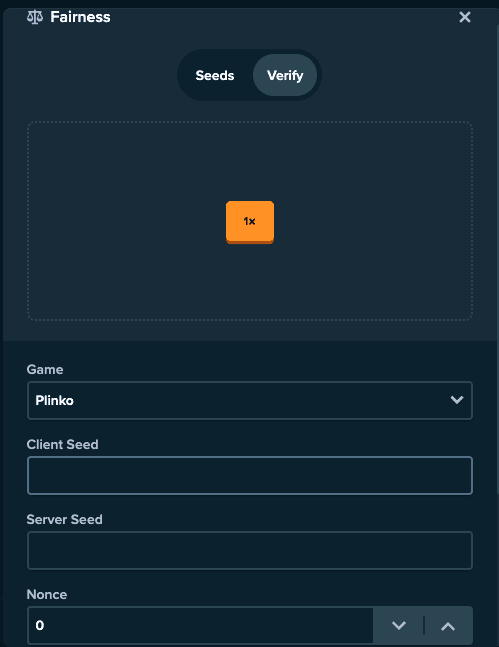 This algorithm is standard on crypto casinos, and they usually rely on a combination of random number generators (RNG), hashes, and seed generators. Another benefit of the Provably fair algorithm is that you don't need to wait for independent testers like eCOGRA or BMM Testlabs to confirm the fairness of an online casino or sweepstakes games.
Auto Play Mode
Stake Plinko's autoplay mode lets you pick the number of games you want to play and lets the AI do the work. So, instead of having to click play 100 times, you can simply set your risk level, rows, bet per click, and the number of games.
This allows you to do other things while you rack up winnings – if luck is on your side.
Live Stats
This is an underrated feature of the Stake platform that you can apply to the Stake Plinko game. When this feature is active, you can see your net gain, wins, losses, and the amount wagered during a gaming session.
These details are in real-time, and the net gain appears as a green value if you're in profit or red when you're losing. If you enter a Stake Race, you can also see your position on the leaderboard to know if you've gotten a payout position.
How to Win Real Money at Plinko
Plinko online is slightly different from the live Plinko game, so strategies like dropping the ball/chip at the center or three spaces from the center don't apply. Since Plinko online tilts more towards luck than skill, we have a few strategies that apply to this type of casino game.
In truth, there is no need for complicated strategies when playing online Plinko, and our best strategies for winning real money (or Sweepstakes coins) when playing Plinko include:
Go Low Risk If You're New
Set Your Bet Limits Based on Your Bankroll
Don't Chase Plinko Losses
Play Plinko Games for Free
Choose the Right Plinko Site
Remember, online Plinko and other casino games are solely for entertainment. If you find yourself turning to these games to make quick money, then you need to get help. Many sites provide information on responsible gaming, including Stake.us, which has a customer support team that can help.
Plinko Spribe vs Plinko Stake
There are three main online Plinko games on crypto sites from three different game software developers. Stake Originals, Spribe, and BGaming are the developers who currently offer these titles.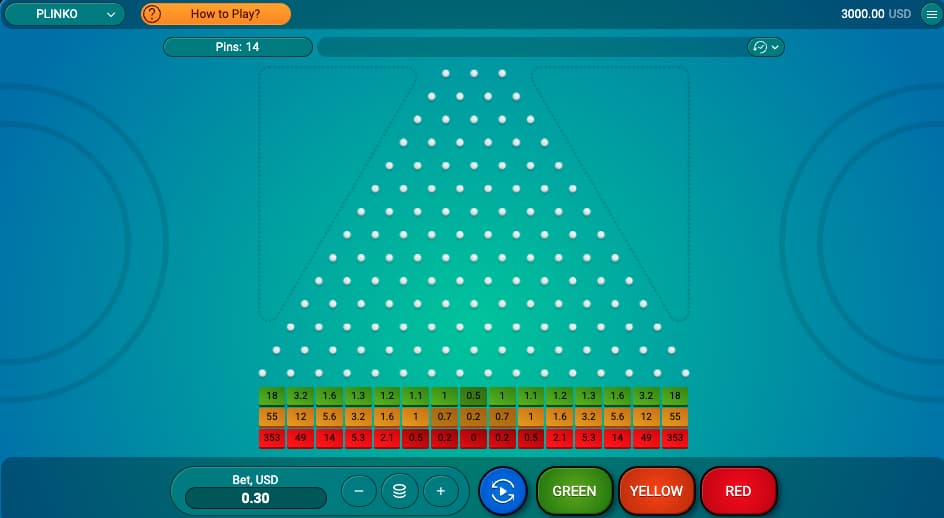 Of these Plinko games, we've pitted the Stake Originals Plinko against the Spribe Plinko to identify the differences. The Stake Plinko is important since it is legal and available in the US.
| ✅Plinko Spribe | ✅Plinko Stake |
| --- | --- |
| Available on crypto casinos (most of which are offshore sites) | Available in the US on Stake.us. |
| 97% RTP | 99% RTP |
| Risk level is associated with the color of balls (Red – High, Yellow – Medium, Green – Low). | There is a dropdown menu to select the risk level for the round |
| It offers 12, 14, and 16 pins/rows options | Offers 8, 9, 10, 11, 12, 13, 14, 15, 16 pins/rows options |
| The Max payout is 555x | It has a 1000x max payout |
| Allows you to activate autoplay with all risk levels | Autoplay is restricted to one risk level |
| Usually available for real money | US players can play this game for free using virtual coins with the option to win real money prizes |
| No live stats feature | There is a live stats feature thanks to Stake.us |
Play Plinko Real Money or Risk-Free at Stake.us
Online gambling in the US isn't legal in all states, so sweepstakes casinos cater to the needs of most casino lovers. Stake.us is a top sweepstakes site available in most US states except Washington, Nevada, Idaho, Kentucky, and New York.
The site operates using two currencies – gold coins and Stake Cash. The gold coins let you play games for free or demo mode but have no monetary value. However, you can play games with Stake Cash, which let you win the Plinko casino game real money prizes after meeting the 3x wagering requirement.
Stake.us also offers over 400 casino games, including live casino games, slots, and other games you can try if you want a break from Plinko. An option to chat with members of the Stake.us community is also present, giving you a chance to learn more tips and tricks to improve your Stake Plinko gameplay.
Register on Stake.us today to get a 10,000 GC and one SC bonus, with more free coins through daily promotions and social media contests.
Plinko Background and Relation to the Game Show
Plinko online draws inspiration from the Plinko game by Frank Wayne, played on the TV game show, The Price is Right. The game debuted on this famous American show on January 3, 1983.
The game show version allows players to win up to $50,000 (sometimes up to a million for special events) by dropping chips into the Plinko board. Each chip can land on a $0, $100, $500, $1,000, or $10,000 slot, and you need the five chips to land on the $10,000 slot for a perfect win.
Although this is the standard value for the prices on each slot, there have been instances when the $10,000 slot has been replaced with a $20,000 and $200,000 value.
In addition to the values being replaced by multipliers on the online version, the game show Plinko also lets players drop chips from any position on a square-shaped board, unlike the online version, which has a triangular shape with one entry point.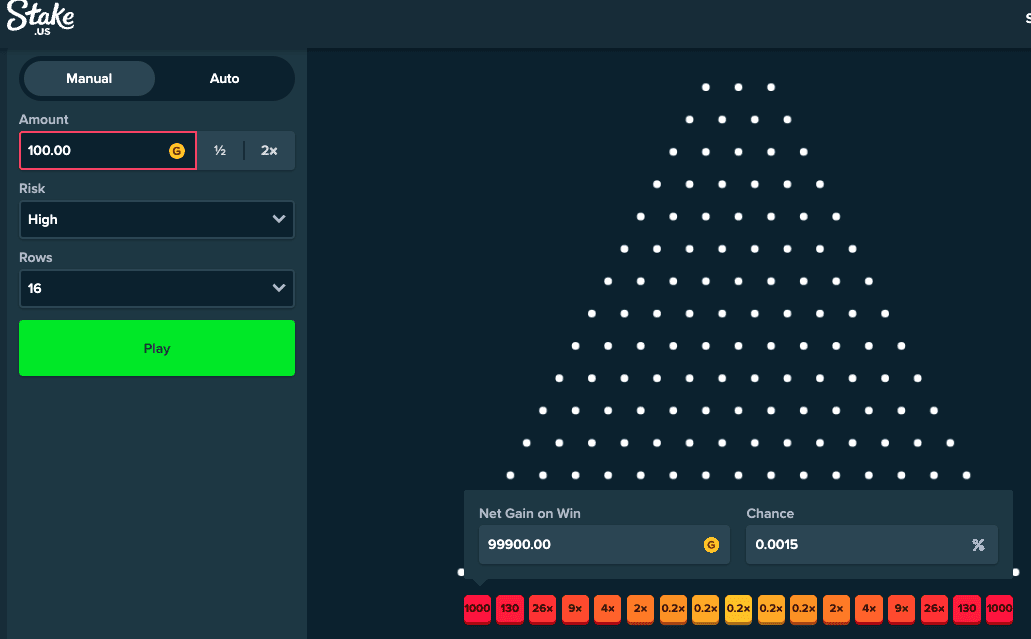 Is Plinko Provably Game Fair?
Plinko is a provably fair game, which is assured when playing on Stake.us. The term "Provable Fair" is something you will see a lot around Cash app casinos and crash gambling sites, but what exactly does it mean?
We will do our best to make this as simple as possible for you. With provably fair games, the gambling site implements random number generators, seed generators, and hashes.
The random number generators help generate random outcomes and numbers, while the hashes or hashing process cuts seed numbers or strings to shorter strings.
The gambling site and players can generate seed numbers with the seed generator.
So, what is the effect of this process?
With a provably fair game, you can add the seed number you generate to a hashed seed number you receive from the casino. Once you finish the game round, you can verify the outcome for the following results:
A complete verification if the outcome is random without any tampering from external parties.
An incomplete verification if the outcome has been tampered with.
This process is similar to verification on the blockchain, which is why it's trustworthy.
FAQ's
Where can I play Plinko online?

Plinko online games are usually available on online crypto casinos. There aren't many legal online crypto casinos in the US, but you have access to a crypto-exclusive sweepstakes site – Stake.us. Following the pattern of real money crypto casinos, Stake.us does offer an excellent Plinko online game.

Plinko online games aren't rigged, which is one benefit of being on crypto sites. These sites use a provably fair algorithm that allows players to determine the fairness of each game round.

Where can I play crypto Plinko?

To play crypto Plinko, you need to find a real money crypto casino. Since these are usually common on offshore sites, Stake.us sweepstakes casino is the closest substitute. It supports coin package purchases and real cash prizes redemptions using cryptocurrencies.

Can you play Plinko in the US?

Yes, you can play Plinko online in the US by visiting legal online casinos or sweepstakes sites like Stake to play the Stake originals games like Plinko.

What is the Plinko game called?

The Plinko casino game generally retains its name while adding the name of its developer as a prefix or suffix. Popular titles include the Plinko Spribe, BGaming Plinko, and Stake Plinko, which are all online versions. Plinko The Price is Right is the TV version.

Is there a trick to winning Plinko?

Plinko is a luck-based game; there is no trick to winning the game. This is why sites like Stake.us can offer Plinko games with a 99% RTP.

What is Plinko The Price is Right?

The Plinko The Price is Right is the original game show version of Plinko that is played on The Price is Right. This version is played on a square-shaped board and lets players drop five chips from the top for a chance to win up to $50,000.