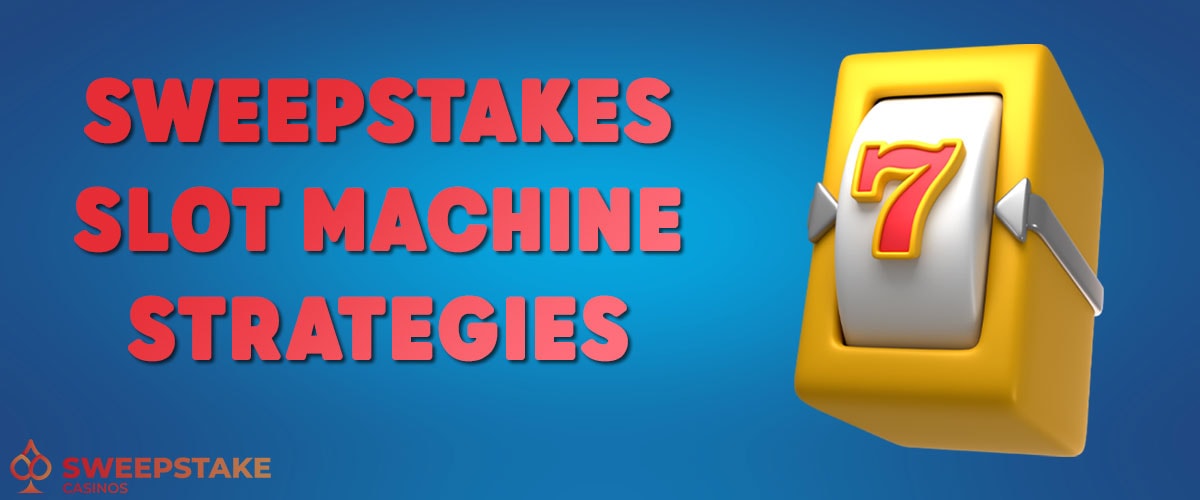 Sweepstakes casinos are all the rage. Working around the traditionally limiting online gambling laws of the US, they are a great alternative for players who don't live in a state where traditional online casinos are allowed, but still want to play casino games and online slots for real money.
However, different types of casinos mean different types of slots. Some of these differences are benefits and can be used by skilled players to maximize profitability. Though others are drawbacks. And if you want to walk away with your pockets full, you'll need to know how to play around them.
It can be a head spin for new players trying to go at it alone. So that's why we've made this guide to give you a crash course on the differences of sweepstakes slots, as well as provide you with 7 things you can do today to make more money playing sweepstakes slots.
Insights Into How Sweepstakes Online Casinos Work
To understand what makes sweepstakes casino slots different, you first need to know how sweepstakes casinos work. If you're familiar with sweepstakes casinos and just need a quick refresher, the below table will tell you everything you need to know. Otherwise, we'll be going into more detail afterward.
Basics of Sweepstakes Casinos
Operate Off A Dual Currency System
Available in Most US States (Washington & Idaho Usually Excluded)
Daily Login Bonuses Give Users Free Money
100% Legal
The dual currency system of sweepstakes is probably the most noticeable difference, but it's very simple to understand. Due to the sweepstakes model that these casinos operate under, you can't just deposit money, and instead, you need to purchase a monetarily worthless product that can only be used for fun (usually called gold coins). However when you buy this currency, you're given the secondary currency as a "free" bonus. With this secondary currency (usually called sweeps coins), being able to be played with and eventually exchanged for cash prizes. In short — it's a legal loophole.

The second big difference you'll notice is the daily bonuses. As the name suggests, these bonuses are awarded daily just for logging in — and they're one of my favorite things about sweepstakes casinos. No cheats, tricks, or complex strategy required — just log in daily to get free money.
With these two differences, sweepstakes casinos can offer their third and arguably most important difference. Availability. Because unlike traditional online casinos, sweepstakes casinos are available across almost the entire nation.
Sweepstakes Slot Machines Strategy
Sweepstakes slots are the most common game you will find at social casinos. That's why we first provide you with tips and tricks to help you make the most of them!
7 Ways to Win at Sweepstakes Slots
Play at Multiple Sweepstakes Casinos — The more sweepstakes casinos you sign up to, the more bonuses you get.
Practice with Gold Coins — The monetarily worthless gold coins should always be the currency you use to test out new sweepstakes online casino slots.
Play for Real with Sweeps Coins Bonuses — Sweeps coins bonuses give you free additional sweeps coins — thereby giving you more bang for your buck.
Stick to High RTP Slots — The higher the RTP, the more profitable a machine will be in the long run.
Be Mindful of In-House Slots — Most in-house developed slots don't provide metrics like RTP. As such, you should always be cautious when trying one out.
Understand Volatility — Understanding volatility is crucial to finding a machine that matches your play style.
Play at Casinos with Networked Progressive Jackpots — Networked progressive jackpots allow for regular big wins on all networked slot machines.
Play at Different Sweepstakes Slots Sites
Sweepstakes casinos all operate under a "free to play" policy. What this means is that all sweepstakes casinos must offer players a chance to win cash prizes without them needing to spend a penny. They mainly do this with no deposit welcome bonuses and daily login bonuses. The great thing is though, there's nothing stopping you from signing up to five or six of these sites to claim all of their free money welcome bonuses at once and then logging in daily to collect even more money.
While none of these bonuses are mouth-watering on their own — when you combine them, they're a nice way to make a consistent profit — and that's not even to mention the social media contests and first deposit bonuses that all these sites offer. Add all these together, and it's pretty much a cheat code for free money.
The best thing is, there's no skill required. Whether you're an industry veteran or completely new to the world of sweepstakes casinos — you can just as easily make free money.
Practice with Gold Coins
A common mistake I see new players make is dismissing the gold coins currency as worthless. This couldn't be more untrue. Because while it is true that these gold coins have no monetary value, it's this very lack of monetary value that makes them the perfect tool for testing new sweepstakes games.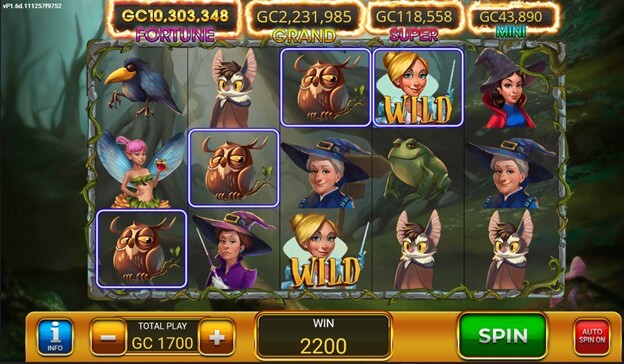 As we'll explain in later points, sweepstakes casinos commonly use in-house developed slots that don't advertise metrics like RTP and volatility. What this means is that you can't know if a machine will be any good until you play it. It's here that gold coins gain their value as with them, you can try out multiple machines risk-free until you find the one you like and get its strategy down pat.
Once you have, you can move to our next tip.
Play with Sweeps Coins Bonuses
After mastering the strategy of a particular slot with gold coins, the next step is playing it with your bonus sweeps coins. The premium currency of sweepstakes casinos (usually sweeps coins) is the currency that can be traded in to win cash prizes, and by using your regular sweeps coins balance along with your bonuses, you'll be able to play more — and in turn, win more.
No deposit welcome bonuses and daily login bonuses are especially important here as they can be the perfect bridge from playing with gold coins to playing with sweeps coins.
Pick Sweepstakes Slots with High RTP
When it comes to profitability, RTP is king. The RTP (Return to Player) of a slot determines how much of the player's stake is returned to them on average. It's very simple to understand. For example, Madame Destiny Megaways Vegas has an RTP of 96.67%. That means on average, for every $1 the player stakes, they'll get 96.67 cents back. Of course actual returns on any given spin will usually be different — however in the long run, RTP will determine how much you'll make.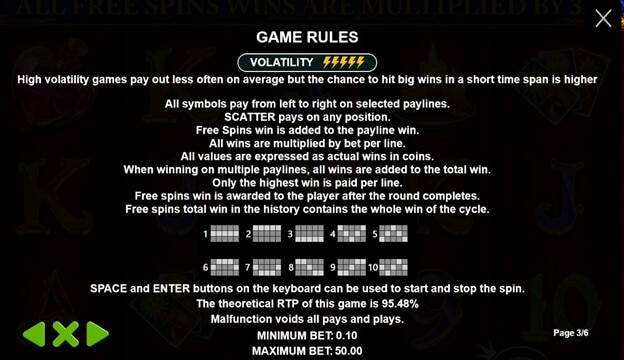 You'll usually need to read through the rules to find the RTP of a slot, or if it's a mainstream slot, you can find it with a Google search. The only exception is with some in-house developed slots. In the next section, we'll be covering those.
Be Cautious of In-House Developed Sweepstakes Slots
A lot of sweepstakes casinos may choose to develop their slots in-house. This can present a problem for players, as under the laws that govern sweepstakes casinos, they are not legally required to release information about the RTP of their slots. Experienced players can get around this by estimating RTP with gold coins. But for less experienced players, you've got no way to differentiate between a moneymaker like Cleopatra's Ancient Treasure at Sweepslots (but be careful since we are no longer sure if SweepSlots is legit) or one of the lower RTP slots available at sites like Golden Dragon.
That's not to say you should never play them. Just that if you're new to sweepstakes casinos, be careful and only play in-house developed slots at trusted casinos like Fortune Coins and WOW Vegas.
Assess the Risk of Sweepstakes Slot Machines
The second most important factor to consider when determining the profitability of a slot is its volatility. Volatility isn't as black and white as RTP — as the ideal amount of volatility will depend on your preferred play style. If you want to win often, go for low volatility. Meanwhile, if you're the sort that wants to chase the big wins and aren't deterred by lengthy dry streaks, go for high volatility.
The best way to test for volatility is to play with gold coins and see how often a machine pays out. If it's paying out 30-50% of the time, it's low volatility. Meanwhile, anything less than 10% would be considered fairly high volatility.
Play at Sites with Networked Progressive Jackpots
Progressive jackpots give you the chance to win massive amounts of cash with any spin. The difference between networked progressive jackpots and normal progressive jackpots is that networked progressive jackpots are tied to multiple machines meaning that jackpots get bigger faster and are won more frequently.

One thing to keep in mind is that networked progressive jackpots tend to increase the game's volatility. So only play them if you like high volatility. The best sweepstakes sites with networked progressive jackpots are Chumba and LuckyLand Slots.
Best Online Sweepstakes Slot Machines
It's well-known that US gambling laws are incredibly restrictive for both players and casinos alike, but less-known is how restrictive they are to slot machine developers. Rigorous licensing requirements mean that many of the biggest slot machine developers don't even bother with the US market. However with sweepstakes casinos, these restrictions don't exist. This means US players can finally see what makes developers like Pragmatic Play and Betsoft so great. And let me tell you, we've been missing out.
There were about 20 slot games that made my shortlist, but with some help from the rest of the team, we were able to narrow it down to the seven best slot machines exclusive to sweepstakes casinos.
Good Girl Bad Girl — Good Girl Bad Girl is a game of choices. Choose to play left to right, or right to left. Low volatility or high volatility. Or if you want to double your bet, you can have a medium volatility game that matches symbols from left to right and right to left.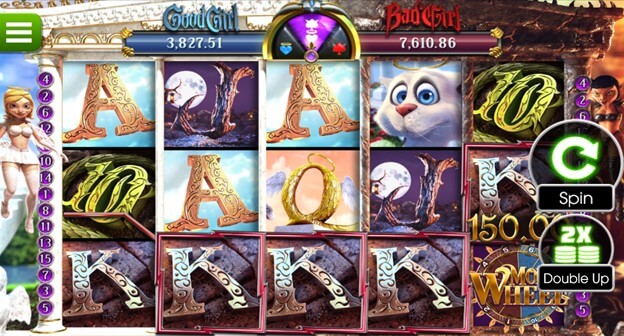 Blue Samurai — The simplistic aesthetic of Blue Samurai contrasts heavily with its unique layout of a 5×3 slot that has an extra row attached to its middle three reels. With multipliers attached to every win, the Stake Original Blue Samurai is a game unlike many others.
Gates of Olympus — 2021 Game of the Year in Latin America, Gates of Olympus' reputation precedes it. No paylines are used, with the game instead relying on cascading scatter-based mechanics where if a symbol appears eight times anywhere on the reels, it'll pay out before disappearing and allowing new symbols to cascade down.
Cleopatra's Ancient Treasure — 9% RTP. When it comes to profitability, Sweepslots' Cleopatra's Ancient Treasure is in a league of its own. There's nothing too revolutionary about its gameplay, but there doesn't have to be. A 98.9% RTP is the only selling point it needs.
Madame Destiny Megaways — Madame Destiny Megaways is a game for people who love bonus features. You've got three options to get into them. You can play normally, you can pay an extra 25% of your stake to double your chance of getting the bonus symbols — or for x100 your stake, you can buy straight in. Once there, spin two wheels. One for the number of free spins, and another for the multiplier attached to each win.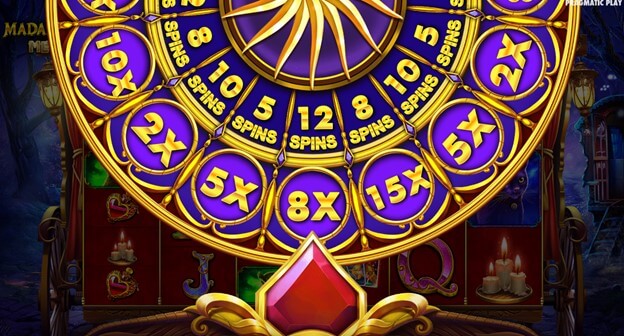 Money Train 2 — Arguably one of the most complicated slots around, it's impossible to summarize Money Train 2 accurately. So I'll just give you the stats. Very high volatility. 98% RTP when using the bonus features. 11 different bonus symbols — each with their own unique effect. And a max win of x50,000 your stake. If you're after an adrenaline rush, Money Train 2 is a game you have to try.
After Night Falls — Inspired by The Pink Panther films, After Night Falls is a Betsoft masterpiece that appeals to all players. With medium volatility and an RTP of 97.7% — the game is plenty profitable on its own, but what really sets After Night Falls apart is its three unique bonus games.
You can check out the table below for a head-to-head comparison of all these games.
🎰Slot
💯RTP
📈Volatility
🧑‍💻Developer
✅Available At
Good Girl Bad Girl
97.79%
Low- Medium - High
Betsoft
WOW Vegas
Blue Samurai
95%
Medium
Stake Original
Stake.us
Gates of Olympus
96.5%
High
Pragmatic Play
WOW Vegas
Stake.us
Pulsz
Cleopatra's Ancient Treasure
98.9%
Low
Sweepslots
Sweepslots
Madame Destiny Megaways
96.67%
High
Pragmatic Play
Stake.us
Pulsz
Money Train 2
96.4%
Bonus Buy Feature: 98%
Very High
Relax Gaming
Pulsz
After Night Falls
97.7%
Medium
Betsoft
WOW Vegas
Sweepstakes Casino Tips to Win Real Cash Prizes
If slots are not your thing, you can read below for a selection of strategies and tips that extend to all sweepstake casino games you will encounter.
Use Sweepstake Casino Promo Codes
Sweepstakes promo codes are like cheat codes. They give you free money for typing in the right code or clicking the right link. Typically, promo codes come in three forms:
No Deposit Promo Codes — No deposit promo codes are generally considered the best promos. Usually awarded on sign-up, they give you free sweeps coins just for completing registration. A great example of no deposit promos is the Fortune Coins welcome bonus of 140,000 gold coins and 500 fortune coins (their version of sweeps coins).
First Purchase Bonuses — While these bonuses do require a purchase, when it's all said and done, they can be the most profitable bonus offered as they'll usually give you an extra 50% or even 100% sweeps coins on your first purchase. In the case of WOW Vegas, it's even better though. A 200% first purchase bonus of 30 sweeps coins for only $9.99.
Reload Bonuses — You can think of reload bonuses as similar to first purchase bonuses, but smaller. While not as lucrative as other bonuses, they do come around fairly often and can be used by existing customers. They're good. Though as we'll explain in the next section, it's usually better to sign up at multiple online sweepstakes casinos.
Sign-up at Different Sweepstakes Casinos
The more money you have, the more you can play, the more you can win. It's obvious. And while there are plenty of ways existing players can get free money, like via social media contests and referring friends — the best bonuses are kept for new players. That's why we always recommend you sign up for multiple sites at once.
If that sounds like a lot of work though, don't sweat it. Because signing up with sweepstakes casinos is nothing like signing up at the more traditional online casinos, with sweepstakes casinos usually only requiring basic info like your email, desired password, and maybe your name. Another benefit of signing up with multiple sites is that you can claim numerous daily rewards.
Redeem Daily Sweeps Coins
The daily login bonus is undoubtedly the best way for existing players to get free sweeps coins. As the name suggests, you get daily free sweeps coins just for logging in at sweepstakes casinos. Typically these bonuses are valued at $1, which might not sound too impressive — but if you followed our previous step and signed up for five sites — that's $5 a day, $35 a week, $150 a month, and $1,825 a year — just for spending a couple of minutes a day logging in.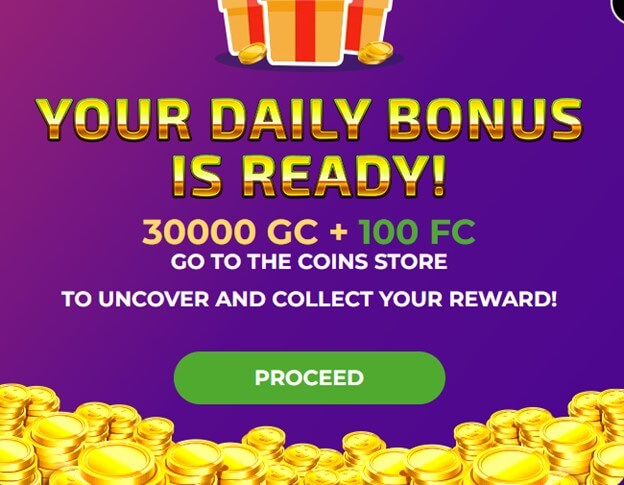 Need I say more?
Verify Your Sweepstakes Casino Account
While registering with sweepstakes casinos is significantly faster than registering with traditional online casinos, you will still need to eventually verify your ID if you want to redeem any of your prizes. It isn't too difficult to perform. Though if the casino does manual verification, it may take a couple of days. The good news is that many casinos will reward you for verifying your ID by giving you even more bonuses — like Funrize, who'll start allowing you to spin their daily rewards wheel for a grand prize of 500 promotional entries.
Verifying your sweepstakes account might not be the most exciting thing in the world, but it's something that has to be done if you want to play with them and win cash prizes.
Stick to Sweepstakes Casino Rules
The rules at sweepstakes casinos are pretty easy to follow. Don't make multiple accounts. Make sure you live in an eligible state. Don't misrepresent who you are.
However, some rules can trip you up if you're not prepared, which is why we always recommend you go through the terms & conditions of each site before signing up. Some common rules that you should keep in mind are:
Don't Play from a Restricted State or Use a VPN — Even if you're just visiting a restricted state, you can't play. Don't try to get around it with a VPN either, as those IP addresses are already flagged. There's been a lot of people who have tried to get around this rule in one way or another, but the result is always the same. Their account gets suspended.
All Bonuses Must Pass Playthrough Requirements Before Withdrawing — This isn't a bannable offense, though one thing that occasionally takes users by surprise is the playthrough requirements of bonuses. These requirements are much lower than the ones you'll find at traditional online casinos, but they usually still exist. Generally, you'll need to playthrough all funds at least once before withdrawing. However certain bonuses may differ, and you should always read the terms & conditions.
Deposits & Withdrawals Must Be Made From & To An Account in Your Name — This is a big one. If the sweepstakes account is in your name, you can't deposit or withdraw via a banking method linked to anyone else. Some sites will give you a firm warning for this, while others will ban you.
If you have any questions regarding the rules of a particular site, you can usually contact customer support via the "Help" section, or through their social media pages.
Only Play at Legit and Safe Sweepstakes Casino Sites
Since sweepstakes casinos operate in a kind of legal gray area — it's not uncommon to see some dodgy sites. Some are downright illegal, while others are just downright shady. If you're new to sweepstakes casinos, it might be hard to tell them apart. So here are a couple of questions you should ask yourself before signing up.
Is Their Site Well Designed? — They say you shouldn't judge a book by its cover. But if a site is littered with broken links, has a lack of information, and is just generally poorly designed — you might want to give them a miss.
Do They Require You to Sign Up Through a Vendor or Third Party? Registration at sweepstakes casinos should be easy. Click the "Register" button, fill in a page or two of information, and you should be ready to go. Unfortunately, there's this new breed of sweepstakes internet cafe casino that's starting to pop up that requires you to scan all sorts of information and send it to a third party via Facebook or Whatsapp for manual review. It's weird. It's convoluted. And it stinks of a scam. As a general rule, registration should be easy, only taking a couple of minutes at the most.
Do They Have A Responsible Gambling Policy? — Sweepstakes casinos aren't required by law to have a responsible gambling policy. However, in my years of reviewing sweepstakes casinos, I've noticed that the casinos that do, are usually very trustworthy. And the ones that don't typically have a lot of other issues. The correlation isn't 100%. But whenever you're checking out a new sweepstakes casino, it's always a good idea to scroll down to the bottom and see if you can find any mention of "Responsible Gaming", "Player Safety", or anything of that nature.
If you're looking for some trusted sweepstakes casinos to start with, check out our Complete List of Legal Sweepstakes Casinos.
Play and Win Real Cash with These Tested Sweepstakes Casino Strategies!
That wraps this guide up. As you can see, there's a whole host of ways to win real money with sweepstakes casinos, with some being as simple as signing up and logging in daily. Better yet, with the no deposit bonuses these casinos offer, you can try them out for free.
You can use our links on this page and sign-up on 10+ online sweepstake casinos to put our strategies into practice. Doing so will automatically enroll you to their sign-up bonus, daily login bonus, and any other supported promotion.