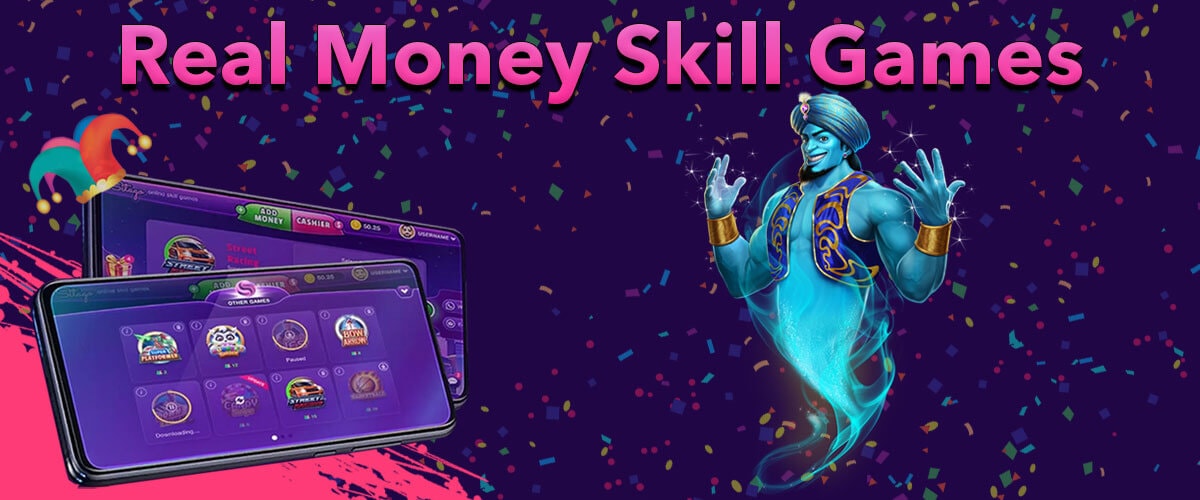 Since its emergence in the late 90s and early 2000s, the online gaming industry is one sector that has experienced significant growth. Today, it is a multi-billion-dollar industry, and the sky remains the limit as it continues experiencing exponential growth.
For starters, online gaming is broad, and you will likely come across 'games of chance' and 'games of skill.' Games of chance are primarily determined by chance, making them illegal in most states. On the other hand, skill games, also called cash games, have outcomes dependent on your skills, making them legal in many states.
Today, you will come across several skill games online or on your mobile, with the highlight being that apart from fun, these games provide you a window to enjoy real-money prizes. You will have these games in different types, as our guide will show but before that, we take a quick look at the already famous games and the formats they fall into:
| 🎲Game | 🤠Format |
| --- | --- |
| Tetris | Arcade |
| Spades, Rummy | Card |
| Wheel of Fortune | Game Shows |
| Scrabble | Word |
| Chess, Checkers | Board |
It gets better with the continued growth, where playing a Bitcoin game of skill is now possible!
But even with the striking difference between chance and cash games, there are loads of similarities between them, including:
Playable for fun and real money
Multiple cash prizes and rewards are available
Tournament style involved in some games
Involve playing against friends
Convenient: Playable anywhere at any time via multiple devices, including mobile phones
Our guide focuses on the differences between these games, the types and formats of skill games you can play for real money, how they work, and the top apps that pay real money for playing these games. Finally, we look at the US states where you can legally play skill games and why the same states might restrict you from playing some specific games requiring skills.
So, where does your favorite cash game fall into? Find out below!
Chance vs. Skill Games
There is a big difference between chance games and cash games. The former will primarily have unpredictable outcomes determined by luck, with negligible to no amount of game expertise needed. They have existed since the early gambling days, and one such example is a dice game like snakes and ladders, where the movements depend on the number pulled by the dice after being tossed. Here, skills are not integral in the game, and the winner will credit their victory to luck. It simply means that any person can win a chance game, whether a newbie or an experienced player.
The same cannot be said of skill games. Firstly, they do not follow the traditional gambling approach, where outcomes depend on luck. They take a principled approach to the game where the outcome predominantly depends on your mental ability, knowledge, expertise, training, or experience. There is a learning curve involved in skill games, explaining why it may take a lot of time to understand the game's knowledge base and all its strategies and rules, develop skills, and know when to execute them properly, depending on the scenario. The skills will also involve several tips and tricks that you can employ to help you boss the game.
In a nutshell, they depend on your skills gained from consistent and sufficient practice, with luck not being the main factor in achieving success.
The Debate
But while at it, some chance games would also require an amount of skill to improve the chances of winning. While the outcome depends on luck in the extended period, a hint of skill in games like Roulette, Blackjack, and Craps would give you better odds of winning.
There is also a raging debate about where Poker stands. States illegalizing chance games gambling do not seem to accept Poker as a skill game, even though a level of skill is required to win the games, especially at the highest level. A shared amount of luck and skill is required for success in Poker, which may explain their decisions to classify it or some of its variants as a gambling game. But why the debate? Whether you are dealt with the best cards is down to chance and luck, but whether you bluff the cards well to achieve success is down to skill. Thus, in Poker's case, we let the state law have the final say.
But how do the legislators determine a game of chance or skill? The answer lies in who the opponent is. If the player is playing against the house, they consider it a game of chance, but when the player plays against another opponent/friend, they consider it a game of skill. On the other hand, games involving lucky numbers are categorized as games of chance, but games involving strategies or mathematical skills fall under the skills games category.
Sports Betting and Fantasy Sports
A debate on sports betting is yet another that has bred some confusion. Some states still declare sports betting illegal within their jurisdiction, even though many experts consider it a skill-based activity. However, fantasy sports betting falls under the skill-game category, with knowledgeable players having the upper hand compared to amateurs. A knowledgeable player will create a valuable team based on the salary cap and stand a higher chance than the player who randomly picks a team. But as it would be, a bit of luck is also needed, with upsets experienced regularly in the sporting world.
Arcade Skill Games
Arcade skill games let you relish the old memories when you would access games like pinball machines, among other video games. While we are past their dominant years, you can still access them in the present age, thanks to mobile and online-based gaming and the existence of the internet. You can access the real-money gambling market and some popular arcade games. The list includes adrenaline boosters like Pac-Man, fighting games like Street Fighter, and other titles like Swap It, Bejeweled, Coin Dozer, etc.
Tetris Burst, based on the classic Tetris, is one of the new skill games playable in the same way but boasts 'power-ups' as the new features. For example, a 'Mino Shower' is a power-up feature allowing you to fill Minos on the matrix to the brim. A Double Up feature will see your points doubled over 15 seconds.
Skill Card Games
Familiar with popular classics like Bridge, Cribbage, and Rummy? These are some of the most popular skill games falling under the card games format. There is a great belief that card games also require luck, which would categorize them as part chance games. They are a hybrid of the two, but a more precise answer to classify your specific game would depend on how the games are played or how the cards are dealt.
For example, some games are playable in a tournament style, while others take a solitaire style. An example is the Spades game, where the score determines the winner after you and your opponent have been dealt with spades. Poker and Blackjack games are other names that prove that card games may require a blend of skills and luck to achieve a score. For example, in Blackjack, you need the skill to understand the odds and know when to hit or stand.
Live Skill Games
Live skill games are the game shows you find across many online or offline gaming sites. Does Wheel of Fortune sound familiar? It is one of the skill-based game shows in a land-based casino. Jeopardy is another popular game falling under the live skill games category but involves trivia contests/tests. While trivial contests happened in locations like bars in the 90s, the evolution in gaming has seen these games accessible online, where you can play them for real money.
Gaming sites with live skill games may operate slightly differently, but the basic premise remains: After playing against your online opponent, your score will be placed in a point system organized by the site. You can later convert your points to purchase tickets for future cash drawings.
One distinction is that playing a slot machine based on a game show differs from playing a live skill game on a skill game site. The former will have you betting for real money directly, while the latter will have you playing the game to earn points and redeem a future prize.
Word Games
Does Scrabble ring a bell? It is a popular card game you can play on an online gaming site for real money. Word games, like Arcade games, have existed for a long time, with the use of anagrams being some of the pointers. Most gaming sites with word games for real-money prizes offer them via a tournament system similar to those offered in slots and poker games. Using a tournament format, the overall outcome and subsequent prizes largely depend on your skills in games like Scrabble and Boggle. Like every other tournament, you have to opt in by paying an entry fee. You will receive a percentage of the overall prize pool, depending on the position, points, or what the tournament rubric provides.
Other gaming sites with word games take a different format to pay prizes per session. They can either award points or tokens based on your score, allowing you to later exchange for entry fees, prizes, or raffle tickets if you have accumulated enough.
Other game types include board games like Chess and puzzle games like the Sudoku game or a Rubik's Cube, where your intelligence levels and skills help unlock the situation.
Top Skill Games Apps That Pay Money
Wish to test your skills further by playing popular skill games for money? The gambling world features many sites, but few would top the charts for reliability. Below are the top skill games apps that pay money, including cash rewards and sizeable jackpots in most US states:
Skillz.com
Looking for one central portal with top-notch and vast entertainment opportunities? The app is available for iOS and Android users and lets you download the games you wish to play.  You can create an account, fund your account, play the games, and pay real money. The highlight is that it hosts a network of games, and your account gets linked to other Skillz partners, allowing you to access rewards earned from the various games hosted at Skillz or by its partners. Besides numerous Skillz promo codes, the gaming site offers a monthly competition hosting 30+ million players with prizes above $60 million.
Plenty of cash games you can choose from range from card games, solitaire, puzzle games, word games, bingo games, action-filled games, and many more. You can play some games in a tournament style, where the minimum buy-in rate goes for as low as $0.60, but the earning potential is high.
Popular picks at Skillz app include:
Bingo Cash: Whoever plays the fastest while combining the best strategy wins. A $50 per win contributes highly to making you realize great wins.
Solitaire Cash: The winner can grab up to $83 per win.
Blackout Bingo: Get to win up to $100 daily, with better chances when using our Blackout Bingo promo codes.
Other skill games on the Skillz app include Tetris Clash, Bingo Blitz, and Dominoes Gold.
Pulsz Bingo
Test your skills by interacting with the best social bingo games, including 75-ball, 80-ball, and 90-ball bingo. Get awarded 5,000 Gold Coins after signing up to try the games. While you cannot redeem the gold coins for cash prizes, any purchase you make of the gold coins or during promotions, you can grab sweeps coins that you can use to redeem for cash prizes at Pulsz Bingo. Bingo games are a hybrid of skill and chance and are the only games you can put down your skills at Pulsz. The available slots and jackpot games are purely games of chance, with no amount of skill determining the outcome.
The bingo games you can try to horn your skills on for real-money prizes when using sweeps coins include:
Route 66: Are you into road trips? Then Route 66 is your perfect bet on Pulsz Bingo with its inspiration from the 2,448-mile highway connecting two cities (Chicago and LA). While on it, great rewards await. The ticket fee goes for as low as 1 Gold Coin.
Golden Gate: Join the journey to San Francisco on this 75-ball bingo game, with an avenue to win prizes totaling 28,000,000 Gold Coins and features like a progressive jackpot.
Bingo Blast: The quickest bingo (3x-4x faster than 90-ball bingo) with a ticket going for as low as $0.05.
Other free online skill games at Pulsz Bingo include:
Unfortunately, there is currently no standalone Pulsz Bingo app, with only a website version available.
Fortune Coins
Like online casinos, sweepstakes like Fortune Coins have prioritized mobile access, with Android and iOS players able to access the site on mobile and play some of the best skill games available. The platform features 50 casino games, but the fish games category captures the attention of those looking to enjoy skill-game gambling. The setting of these games is underwater, where you gain control of a water cannon, and your quick reactions to aim at the maritime ecosystem determine your success.
Registration at Fortune Coins is quick and straightforward, with newbies offered 140,000 gold coins and 500 fortune coins. Fortune coins are the equivalent of sweeps coins that can be redeemed for real-money prizes. However, gold coins are the in-game currency available to play the games.
Emily Treasure is one of the best fish games online, allowing you to dive into the sea and capture as many sea creatures as possible. For each exotic creature, there will be a lucrative prize. Unfortunately, it is the only fish game present, which is a major turnoff.
Pulsz Casino
Pulsz Casino passes as one of the top social casinos, with hundreds of casino-style games accessible on the browser or a dedicated app available for iOS and Android users. Newbies will have 5,000 gold coins awaiting after account creation and 2.3 sweeps coins after consecutive three-day logins. There are other ways to collect sweeps coins at Pulsz Casino. They include logging into your account daily, entering regular competitions from the official Facebook, Instagram, or Twitter page, participating in weekly random draws, sharing the 'Refer a Friend' link, etc. Only sweeps coins are redeemable for cash after accumulating the required amount, as we shall see later in our guide.
On to the game selection, you will have plenty of chance games in slots, with the skill-based players welcome to try their expertise on the hosted Blackjack and Texas Hold'em Poker games. As earlier established in our article, these games are a hybrid of chance and skill.
Blackjack: The single-hand Blackjack pits you against the dealer with all the classic features available. Employ your strategy to know when to hit, stand, double down, or split after the cards are dealt. The play values on the game go for as low as 10 gold coins and as high as 10,000 gold coins, with 40,000 gold coins being the top prize for those playing for fun. It is also a low volatile game, where you enjoy smaller but frequent wins.
Texas Hold'em Poker: Enjoy the wild wild west atmosphere on this medium-volatile game where you play to beat the dealer. The game features multiple camera angles to make it as immersive as possible. Its betting value starts at a minimum of 50 gold coins to a maximum value of 500,000 gold coins, with its total prize set at 1,000,000 gold coins for those playing for fun.
Remember, only wins from playing with SCs guarantee a cash prize redemption.
How Real Money Skill Games Online Work
The question of how real-money skill games work online is simple. As we always insist, you will need to find a legal platform to start. Below is a look at how these games work to earn you real money
Free Registration
The first step is creating an account at an online skill-gaming platform. You can set your account on any of the listed operators in our article. It is free to register for an account, with just a few details required, unlike the usual online casinos that require loads of details. You might opt to sign up via email, google, or social media pages like Facebook. Only your name, address, and password will be required if you take the email option.
Sweeps Coins and Gold Coins
Like usual casinos that welcome players with no-deposit/deposit bonuses, social casinos with skill games will have their set of offers for new players since they do not accept real-money deposits. After successful registration, a casino might offer gold and sweeps coins, or in other cases, just gold coins. These are the purchasable virtual currencies used to play the games for fun and for the wins you add to your gold coins package. On the other hand, sweeps coins are non-purchasable free tokens that can be awarded through various means like being a part package after purchasing gold coins, participating in competitions or winning promotions, logging into the account, requesting via mail, etc. Unlike gold coins, these are used to play for real money, where after accumulating a set number of sweeps coins, you can redeem them for cash prizes. For example, Pulsz Casino sets a value of each qualifying coin after accumulating 100+ sweeps coins at $1.
Optional Purchases
Most skill-gaming websites will provide an inbuilt payment option on their games to make easy, speedy, and secure deposits for purchases. After selecting your preferred game, you will select the amount to add to your cash reserve and confirm the transaction. These can be done through various payment options like PayPal, Visa/MasterCard/Maestro, American Express, Discover, bank transfer, or options linked to your Apple or Google Pay accounts. For example, at Skillz, the purchases can go for as low as $2, with others going for $5, $10, $15, $20, or $30.
At Pulsz Casino, after getting the 2.3 sweeps coins and 5,000 gold coins on sign-up, the casino provides optional purchases where you can get 15 sweeps coins at $9.99 and 30 sweeps coins at $19.99. You only need to log into your account and head to the 'Get Coins' option to purchase the sweeps coins redeemable for cash prizes.
Coin Redemptions
Winnings made from sweeps coins can be exchanged for real money on the platforms. Many sites require you to accumulate an equal value or more than 100 sweeps coins to redeem for cash.
For example, Pulsz Casino will let you redeem the coins by clicking the 'Redeem' button. If you opt for a cash prize and have accumulated 100 or more sweeps coins will receive a prize corresponding to $1 for each qualifying coin. Consequently, if you opt for a gift card prize, Pulsz Casino requires that you accumulate and maintain 25+ sweeps coins to redeem a gift card prize corresponding to $1 for each qualifying coin.
At Fortune Coins, each 100 fortune coins accumulated from eligible gameplay translates to $1. But, the minimum number of redeemable coins is 5,000 fortune coins, and only successfully verified players can redeem. The maximum number of redeemable coins per day sits at 500,000 fortune coins.
Legal Requirements
Since US gambling is guided under state laws, some legal requirements are set before enjoying real-money skill games. Firstly, one must be at least 18 years of age to create an account. Secondly, one must be within the physical boundaries of a legal state to play for real money. If you are in an illegal state, you can still play for fun and entertainment but not for real money.
US States with Legal Skill Games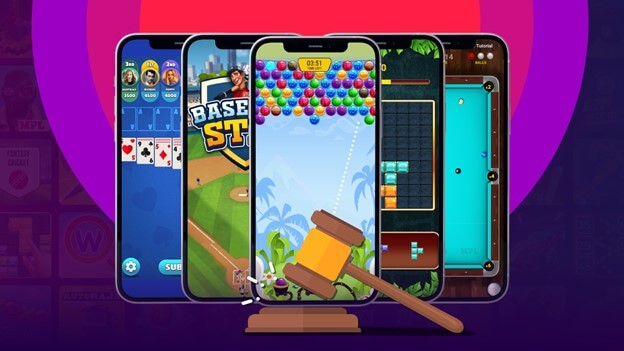 So, in what states can you play skill games for real money? We look at it from three angles; whether it is legal to play cash games in the US, states the cash games are legal, and states with legal skill games.
Are skill games legal in the US?
Games of skill are not expressly prohibited by statute since they are not viewed to follow the traditional forms of gambling approach like slots, which are illegal in many states. As a result, they are widely accepted across many states. You can walk across many convenience stores, gas stations, or other social locations and find skill machines to play with. The ability to use your skill makes the games legal and available for real money, unlike games of chance that are prohibited in many states due to the luck and chance aspects. But, there is a gray area depending on the states, especially games that feature a hybrid of skill and chance like Poker. While many would consider Poker a skill game, most states consider the element of chance in the game, thus regulating it.
What states allow skill games?
Most state gambling laws are not against playing skill games for real money. And unlike online casino gambling with clear laws that ban the activity in many states, most states have no existing law prohibiting you from playing real-money skill games online or offline. But, some states are clear on what games you can play and those you are prohibited from playing. The hack is to check what your state provides regarding gambling.
A platform like Skillz is available in 45 US states, except for a few states like Connecticut, South Dakota, Arkansas, and Delaware. Additionally, you cannot play for real prizes in Maine and Indiana if card play is involved or in New Jersey for domino-based games.
Sites like Pulsz Casino, Golden Hearts Games, and Fortune Coins fall under sweepstakes laws and are legal across the country. A far and few restrictions apply, with Washington D.C. being the most commonly excluded.
What states have skill games?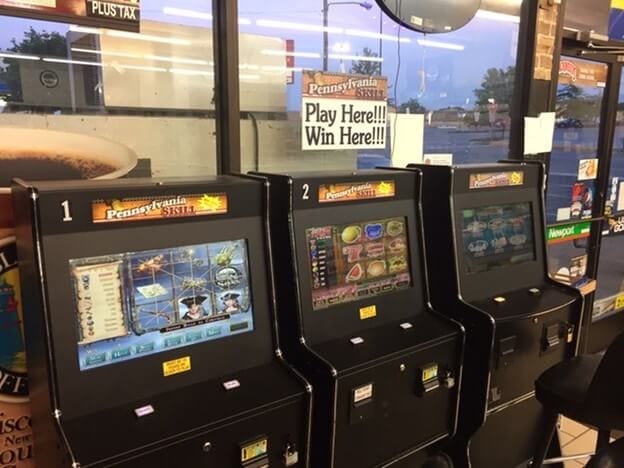 While there might be the talk of these states considering outlawing the skill machines or confiscating them, Virginia and Pennsylvania residents have been lucky to enjoy skill games within their states. Thousands of PA skill game machines, some resembling slot machines, have been spread across the states for convenience, and with the right skills, one can try the games for real-money returns. However, while they resemble slot machines, the style of play is entirely different, with skills required and not luck.
Key Takeaways
With every possible information about cash games covered in our article, a little recap would come in handy:
Skill games differ from chance games, with the former not taking the traditional gambling approach. In cash games, the level of expertise and mental ability to study the game and possible strategies and tips to apply in the session play a key role in getting rewards. For games of chance, the amount of luck plays a critical role, with little to no skills needed.
Cash games are challenging, but some bettors prefer them because the results will be purely down to them.
Most states do not expressly prohibit cash games by statute. For example, you can play Skillz games in 45 US states, except for a few states like Connecticut, Delaware, Arkansas, and South Dakota.
Cash games are playable for fun and entertainment in most states, even those that declare gambling illegal, but can only be played for real money in the states that do not class them as gambling.
Our recommended skill games apps pay out real money and are available to play in most states. That's because they are classed as promotional sweepstake casinos and can offer free and real money online slots, table, and skill games across the USA.
FAQs
Can I play online skill games for money?

Skill games are also called cash games. In a nutshell, they are games that you can play online for real money prizes. However, this is only possible in states that exempt them from online gambling laws and do not class them as forms of gambling.

What skill game types are there?

You will find the best skill games like Backgammon, Rummy, Chess, Dominoes, and Spades on popular skill-gaming websites. But these and more cash games are classified into puzzle games, arcade games, live skill games, card games, word games, trivia games, board games, and fantasy sports.

Do skill games require luck?

Just like some chance games would require a bit of skill to improve the odds of winning, skill games would also require some luck besides your skill set. However, luck does not play any significant role in these games as skills do.

How to play online skill games for free?

Playing free online skill games would require you to identify one of the top skill game apps on our guide, create an account, and proceed to play the games with no real-cash deposits needed. You might find social casinos with gold coins (virtual currency) awarded for registration to help you play for free in almost every state.

Is Skill gaming classed as gambling?

Skill gaming remains a gray area and depends on the state one is playing from. Many states exempt skill games from online gambling laws. However, some states allow some specific games as skill games, while they heavily regulate others, like Poker, for being a hybrid game of skill and chance. Therefore, the buck stops at the state laws, where each state is independent in defining what is and not gambling.