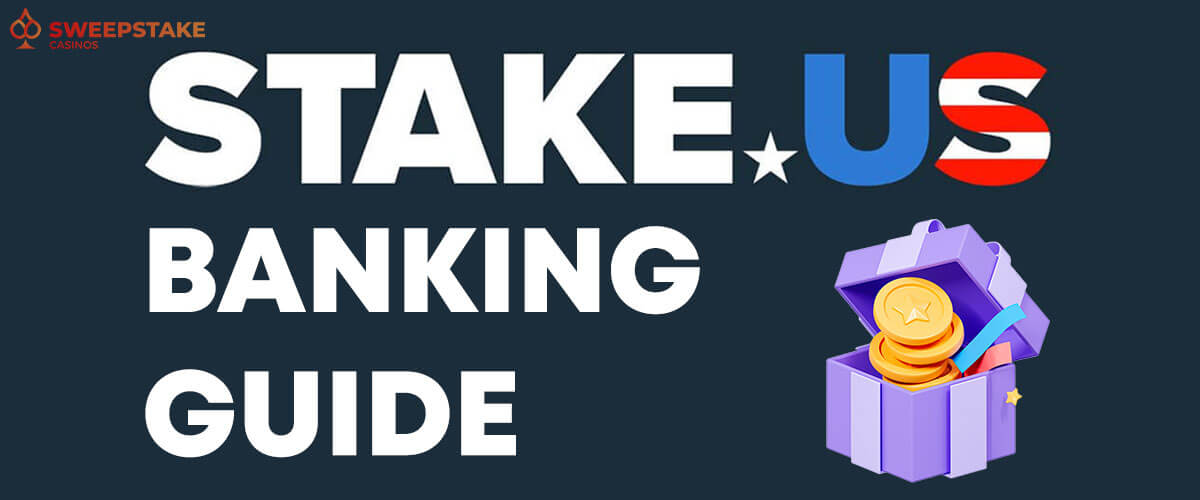 Stake.us is the casino of the future. First founded in 2017, Stake was an instant hit thanks to its extensive gaming library and desire to support most popular crypto banking methods, and in 2022 they finally launched in the US with Stake.us.
For crypto lovers, Stake.us is a dream come true. But for those not involved in the world of crypto, there's been a lot of questions about Stake.us — mainly concerned with their available banking methods.
In this payment guide, we'll answer all those questions on how to deposit and withdraw money with Stake.us — plus, we'll also be looking at the strengths and weaknesses of the payment methods of Stake.us.
Stake.us Deposit and Withdrawal Methods
One of the most significant differences between Stake.us compared to other sweepstakes casinos is that Stake.us banking is crypto exclusive. Usually when people hear crypto, they think Bitcoin. But this crypto sweepstakes site accepts 20 different altcoins and counting.
For a snapshot of which cryptos are used as Stake.us — check out the below table.
| 💳Banking Method | Deposits❓ | Withdrawals❓ |
| --- | --- | --- |
| Bitcoin | ✅Yes | ✅Yes |
| Litecoin | ✅Yes | ✅Yes |
| Ethereum | ✅Yes | ✅Yes |
| Tron | ✅Yes | ✅Yes |
| Ripple | ✅Yes | ✅Yes |
| Dogecoin | ✅Yes | ✅Yes |
| Bitcoin Cash | ✅Yes | ✅Yes |
| Tether | ✅Yes | ✅Yes |
| EOS.IO | ✅Yes | ✅Yes |
| Binance | ✅Yes | ✅Yes |
| USDC | ✅Yes | ✅Yes |
| Ape | ✅Yes | ✅Yes |
| BUSD | ✅Yes | ✅Yes |
| Cronos | ✅Yes | ✅Yes |
| Dai | ✅Yes | ✅Yes |
| Chainlink | ✅Yes | ✅Yes |
| Sandbox | ✅Yes | ✅Yes |
| Shiba Inu | ✅Yes | ✅Yes |
| Uniswap | ✅Yes | ✅Yes |
| Polygon | ✅Yes | ✅Yes |
Since crypto is so volatile, the minimum withdrawal amounts can vary — though it's usually between 35-45 SC.
Likewise, you'll also need to pay a withdrawal fee that'll change based on how congested the network is. Depositing is a little more straightforward though, as you can only deposit in fixed amounts which are exclusively calculated in fiat (USD).
In the next section, we'll take a more comprehensive look at depositing on Stake.us.
Gold Coins & Stake Cash Packages
As a sweepstakes casino, Stake.us handles banking a little differently compared to traditional online casinos. One of the main differences is their dual currency system.
The first currency they offer is the monetarily worthless currency of gold coins which can only be used for free play, while the second currency they offer is the premium stake cash currency which can be used for real money play and can eventually be redeemed for real cash prizes.
However, you can't purchase stake cash directly. Instead, the only purchases you can make are for gold coin packages that include "free stake cash".
If you've never played at a sweepstakes casino, it might seem a little weird. But this dual currency workaround is vital to the "No Purchase Necessary" policy that separates a sweepstakes casino from a traditional online casino and allows Stake.us to be offered in states that traditionally don't allow for regular casinos.
Currently, there are six gold coin packages that you can purchase.
| 💰Package | 🟡Gold Coins | 💲Stakes Cash | 💵Cost |
| --- | --- | --- | --- |
| Package 1 | 200,000 | 20.2 | $20 |
| Package 2 | 500,000 | 50.5 | $50 |
| Package 3 | 1,000,000 | 101 | $100 |
| Package 4 | 2,000,000 | 203 | $200 |
| Package 5 | 3,000,000 | 306 | $300 |
| Package 6 | 350,000 | 0 | $30 |
With Stake.us, 1SC = $1. And as you can see, most of the packages give you a slightly better than 1:1 trade with there only being a single package where you receive gold coins only.
How to Add Real Money to Stake.us Social Casino
If you've used cryptocurrency, adding money to your account will be easy. However, if you're not familiar with how purchasing things with crypto works, we'll take you step by step through the process of adding real money to your account.
First up, you'll need to create an account with Stake.us. A little bonus tip, if you sign up using the links on our page, you'll get a Stake.us no deposit bonus of 10,000 gold coins and 1 stake cash – no Stake.us bonus code needed.
The registration process itself is simple. Just add in your email, desired username & password, the state in which you reside, and your date of birth. We always recommend that you read the terms & conditions here. Once you've done these things, hit the "Play Now" button.
Before you can deposit you'll need to verify your account and identity. If you've never done this before, it can be a little confusing, so in the next section, we'll cover this step in more detail. Once you've done that though, you're ready to deposit.
At the top of your screen click the wallet button, then select buy gold coins.
Here you'll be presented with a couple of packages to choose from. At Stake.us, the maximum package value is for $300, but there's nothing stopping you from buying multiple packages, and the only restriction is that you can only purchase $2,000 worth of packages daily.
Once you've found the package that works for you, click it.
You'll next be given a couple of options to purchase with. If you're a crypto enthusiast, you'll probably have a favorite coin. If not, Bitcoin will probably be the easiest to acquire. Once you've selected your payment method, your price will be locked in, and you'll be given a destination address to send your coins to. Copy it and move it to the next step.
Next up, go to your crypto wallet, select send, paste in the destination address and enter in the amount of coins you want to send. Once you've reviewed that all the information is correct, click send.
How long you'll have to wait for the coins to appear in your account will vary. Though once they've reached enough confirmations, your funds will appear in your account and you'll be able to play the game of your choice.
Verification Process
While Stake.us doesn't have to abide by the traditionally limiting US casino laws, they still are a legit sweepstakes casino and as such, must abide by state laws that govern sweepstakes companies. Because of this, to play the best Stake.us slots and casino games, you must be 21+ and live in a US state other than Washington, New York, Nevada, Idaho, Kentucky, or Michigan. To verify this information, potential users must follow the Stake.us KYC (Know Your Customer) verification process before depositing or playing any games.
This process can seem intimidating to players who have never dealt with it. However it's very easy, and nowadays is mostly automated. The first step is to enter their verification portal, then select whether you want which device you proceed on. It doesn't matter what device you choose, so long as it has a camera.
Once you've selected your device, you'll need to take a photo of a government-issued photo ID. Acceptable documents are ID cards, passports, driver's licenses, or residence permits. Next up, you'll need to take a selfie. After you've completed both steps, Stake.us' verification partner Veriff will use advanced biometrics technology to compare both pictures.
Assuming you took good quality pictures, this step will only take a few seconds. Once it's finished and has verified that you are who you say you are, the verification process will be complete, and you'll be ready to move on.
Stake.us Withdrawals Processing Times
So, you've made your first deposit and have come out on top. Congratulations. Next up, you'll probably want to redeem your stake cash for the crypto of your choice. Thankfully, this is an area that Stake.us really shines in as the redemption process and payout times trump most other casinos.
Just head to your wallet and select "redeem". Assuming you've met the x3 wagering requirements of your funds, you'll be able to choose your preferred redemption method and how much you want to redeem. With so many different redemption methods, payout times will of course vary. However, we've found that it'll take on average less than a day and sometimes only a few hours.
Do keep in mind though, that since withdrawals are handled manually by the Stake.us team, this can vary from day to day. For this reason, you're also capped at one withdrawal per day.
Stake.us Customer Service and Contacts
Customer service at Stake.us is good, but it's definitely not perfect. Accessibility is fantastic as by clicking the headset icon in the bottom right corner of your screen, you'll immediately be given an option to contact a live customer support agent 24/7.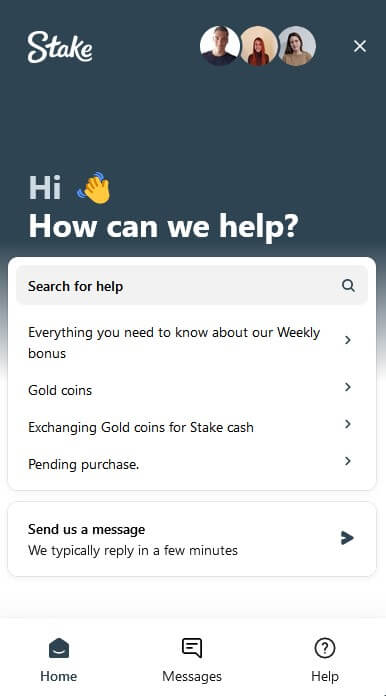 The customer support team though felt like a mixed bag. Sometimes they were very helpful, answering questions in seconds — while other times I waited ten minutes just to get a copy-and-paste response that didn't really answer my question. Of course, hang on long enough, and you will get a proper answer.
Their customer support isn't bad, but with that being said, it's undeniable that compared to some of the other top sweepstakes casinos, Stake.us does feel a little off pace. There is also an email support@stake.us, which gives more accurate answers if you don't mind waiting a little longer for a reply.
Outside of direct customer support, their FAQ is very good. Likewise, the social element of Stake.us is that they have a live chat where you can chat with hundreds of other players currently logged in and playing. Not only is it an excellent social feature, but I also found the chat very helpful with a lot of basic questions.
Overall I'd say Stake.us does a very good job with customer service — providing many different ways for players to get help. However, given that Stake.us is still under a year old, they still have a bit of ironing out to do.
Benefits and Drawbacks of Stake.us Payments
So how does Stake.us chalk up in terms of banking? Well, in the below table we'll go through the pros and cons.
| ✅Pros | ❌Cons |
| --- | --- |
| Accepts Multiple Crypto Coins | Can't Withdraw Directly To Bank Account |
| Lightning Fast Processing Times | Depositing Is Crypto Only |
| Bigger Purchases Come With Bonus Stakes Cash | No First Purchase Bonus |
| Withdrawal Fees Are Very Fair | |
| No Maximum Withdrawal | |
| 24/7 Customer Support | |
| Optional purchases thanks to the Stake.us no deposit bonus | |
Summary
If you're a crypto fan — Stake.us should be your number-one casino. Though even if you don't use crypto, you might want to consider it as with fast deposits & withdrawals, fair withdrawal fees, and a multitude of coins to choose from — once you get comfortable with crypto, Stake.us becomes an A+ option for gambling in the US. LuckyBird.io is the only real contender of Stake.us in the banking department.
If you are finding the crypto side of Stake.us to be an insurmountable barrier, I recommend you give WOW Vegas or Fortune Coins a look at due to their more conventional banking methods.
For everyone else though, Stake.us is definitely a casino you have to try — and better yet, you can get started as a VIP with 5% rakeback as well as 10,000 gold coins + 1 SC for free when you sign up today via our links.
FAQ's
How do you withdraw funds at Stake.us?

Withdrawing funds at Stake.us is easy. Once you've met the x3 playthrough requirements, just head to your wallet, select "redeem", then enter how much you want to withdraw and how you want to receive your prize.

What is the minimum amount to purchase at Stake.us?

The smallest purchase amount you can make at Stake.us is their $20 package which awards users 200,000 gold coins + 20.2 free stake cash.

Can you Convert gold coins to stake cash?

No. Conversion between the two currencies at Stake.us is not possible. Gold coins are only ever good for free play and hold no monetary value. Likewise, stake cash cannot be directly converted in any way to gold coins — though you can redeem your stake cash as a real money prize and then use those funds to purchase another package to receive even more gold coins plus an equivalent value of stake cash.

Due to the volatility of crypto, the minimum withdrawal amount varies from coin to coin and from day to day. With that being said, we've noticed that it rarely gets to above 50SC.

Does Stake.us only accept Bitcoin?

No. While Stake.us does accept Bitcoin, they also accept seven other crypto coins as both deposit and withdrawal options. These alternative coins are Litecoin, Ethereum, Tron, Ripple, Dogecoin, Bitcoin Cash, Tether, EOS.IO, Binance, USDC, Ape, BUSD, Cronos, Dai, Chainlink, Sandbox, Shiba Inu, Uniswap, and Polygon. And more are constantly getting added.