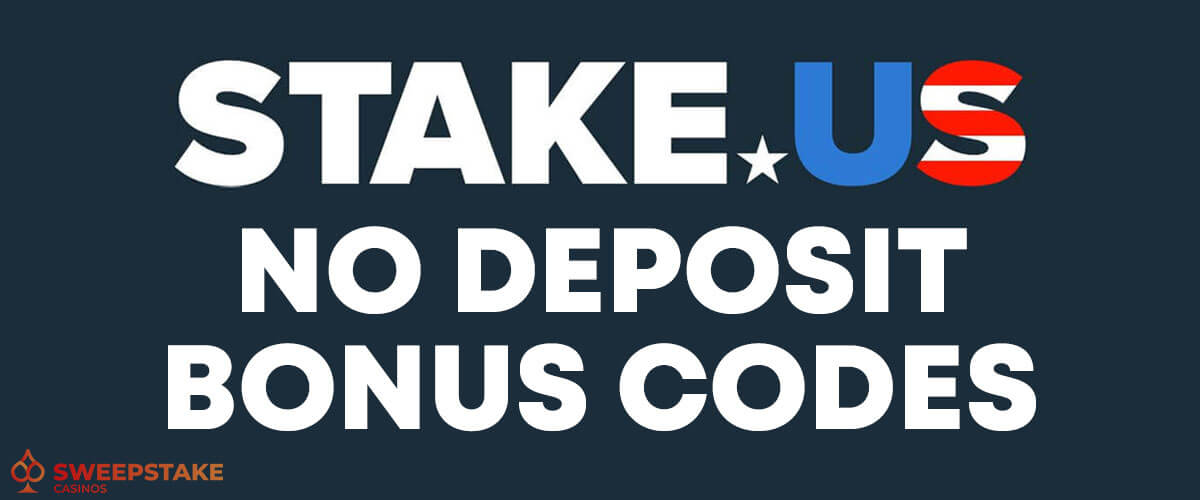 No deposit bonuses are the top offers in the gaming industry, and the 10,000 GC and 1 Stake Cash bonus from Stake.us is one of the few available from sweepstakes sites.
The Stake brand by Sweepsteaks Limited has become popular through its high-quality games, website design, and a few strategic partnerships with celebrities like Israel Adesanya and Drake. The site supports two virtual currencies – the Gold coins and Stake Cash – making it a legal sweepstakes casino in the US.
Stake.us is one of the few sweepstakes sites offering live dealer games, with titles like Baccarat, Roulette, and Blackjack on the list. Other games on the site include slots, table games, scratch cards, Plinko, Dice, and Keno games. The titles on the site are from top developers such as Kalamba, Hacksaw Gaming, Pragmatic Play, OneTouch, and Stake Originals.
Despite being a sweepstakes site with access to most US markets, the Stake.us services are unavailable in certain states, including Idaho, Michigan, Washington, New York, Nevada, and Kentucky. If you're a resident of any of these states, other sweep sites like WOW Vegas, Pulsz Casino, and Fortune Coins are available (except in Washington, where sweepstakes sites aren't legal).
In addition to its top Stake no-deposit offers, some of the best aspects of Stake.us include the following:
Its high-quality game selection.
Weekly Stake Cash giveaways.
Chat feature that lets you interact with other community members.
Regular game updates.
To be part of an exciting sweepstakes community with a steady supply of no-deposit offers, sign up on Stake.us today and claim a 10,000 GC and 1 SC bonus offer to start playing top free casino games.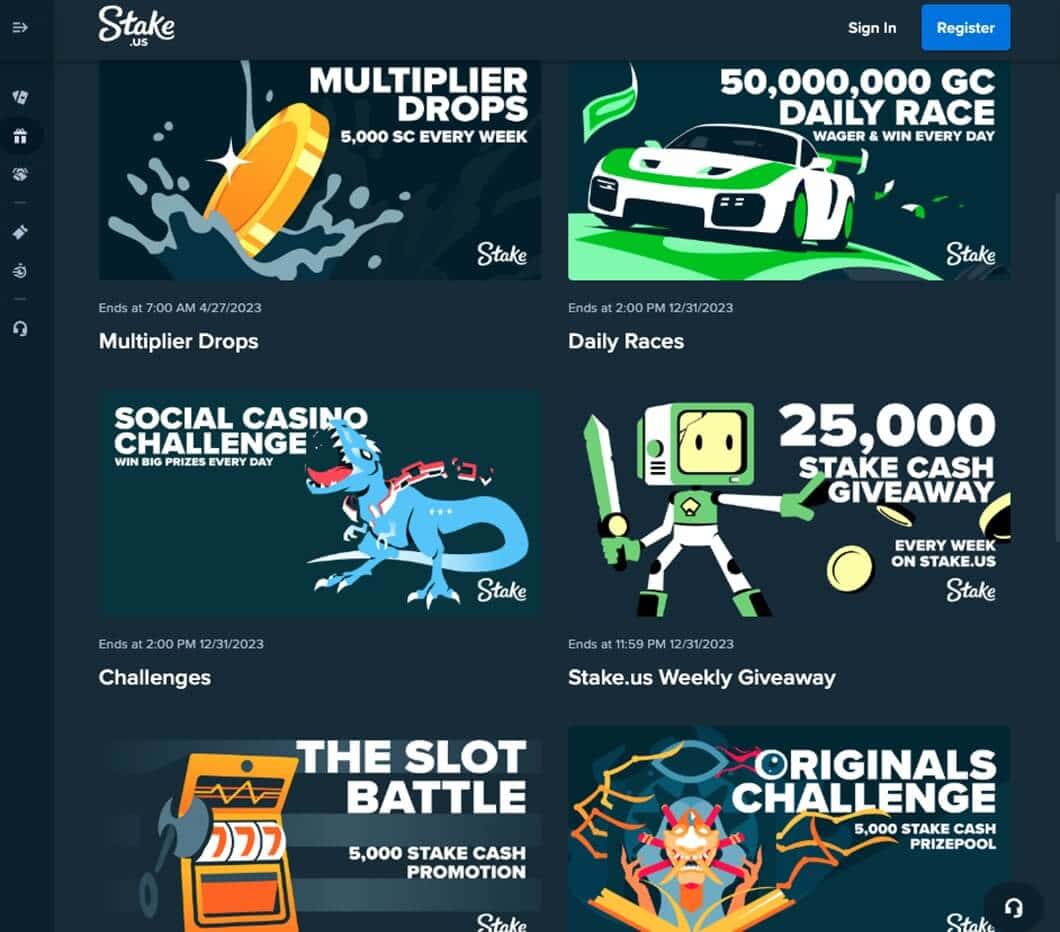 Stake.us Bonus Drop Codes in December 2023
| 🎁Bonus | ℹ Offer | How to Claim❓ |
| --- | --- | --- |
| Daily Login Bonus | 10,000 GC and 1 SC | Login every day to claim the bonus. |
| Mail-in Bonus | 5 SC | Send a handwritten request to the Stake.us official address. |
| Guess The Game | 2,000,000 GC and 200 SC | Correctly guess the game on a blurred image posted on the Stake.us Instagram page to qualify for a draw. |
| Daily Race | 50,000,000 GC shared among 100 participants | Play games on Stake.us to secure a place on the leaderboard. |
| Stake Cash Giveaway | 25,000 SC shared between five players and 250 million GC shared among five players | Get a ticket by playing with 1,000 SC. The more tickets you have, the better your chances in the live draw. |
| Slot Battle | 5,000 SC split between top 50 players. | Pick one of two slot games for the week and play to be top 50 on the leaderboard. |
| Originals Challenge | 5,000 SC split between players who meet the requirements. | Get a 100x multiplier or better on the selected game. |
| Bonus Drop Code | 50,000 GC and 5 SC | If you meet the requirements (usually 3,000 SC played in the last seven days), you can redeem the bonus code posted on the Stake.us Twitter page. |
For individuals new to sweepstakes casinos, Stake Cash is a premium coin that isn't available for purchase on sweeps casinos. These coins are only available for free or as bonuses from the operator.
Keeping this in mind, it's a good idea to consider bonuses with "x amount of SC played" as no deposit bonus offers on a sweepstake online casino.
Stake.us No Deposit Bonus on Sign-Up
Although Stake.us has many top features, it doesn't offer a unique no-deposit bonus on sign-up. Instead, new players can look forward to the daily login bonus that acts as a no-deposit welcome bonus offer on the site.
You don't need a Stake.us promo code for this offer, and you're guaranteed a 10,000 GC and 1 Stake Cash bonus automatically available in your account once you complete your registration and verification process on the site.
Stake.us Daily No Deposit Bonus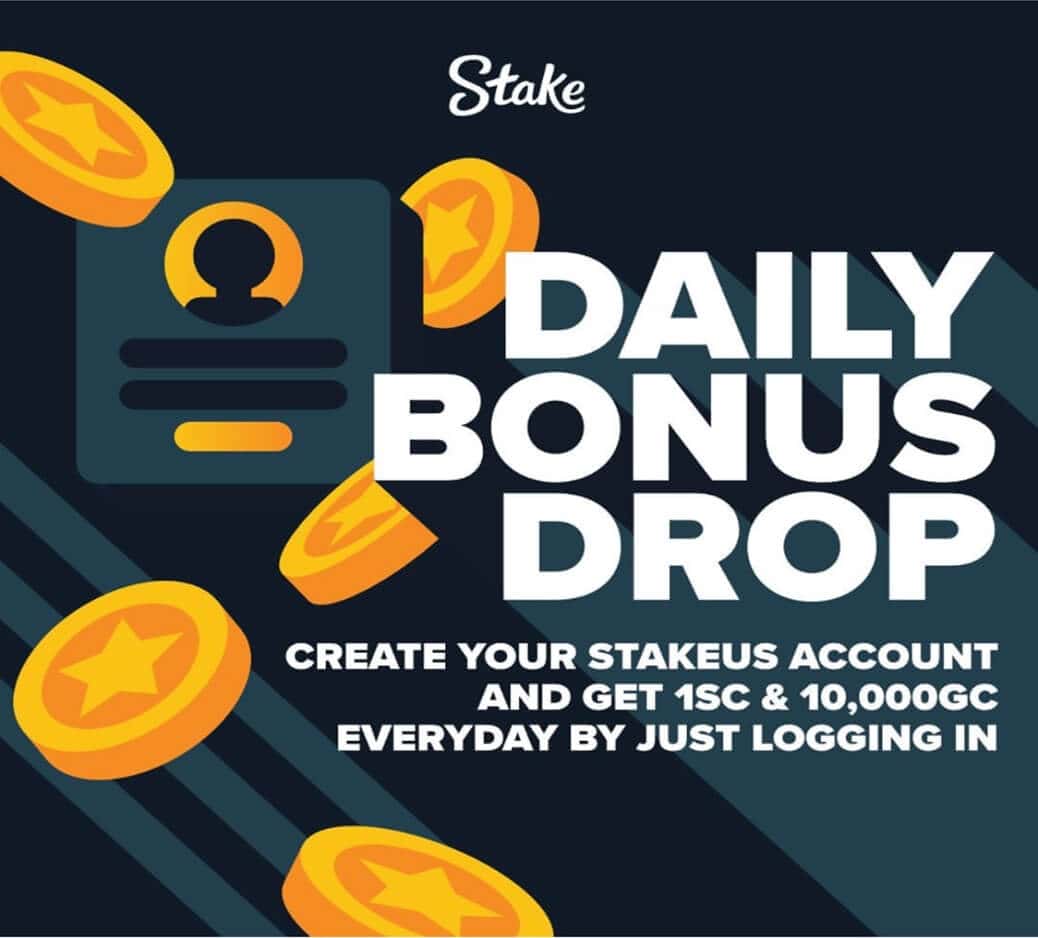 The daily no-deposit bonus on Stake.us includes the daily login bonus, Daily Race, and mail-in bonus you can claim on the site.
The daily login bonus is a 10,000 GC, and 1 SC offer you claim daily on the sweeps site. As a regular on the site, you can claim up to 300,000 GC and 30 SC monthly.
Thanks to the Daily Race offer, you can win a share of 50,000,000 GC every day when you play games on Stake.us. To participate in this offer, you must play games on Stake.us, and your position on the daily leaderboard will determine your bonus eligibility and payout for the day.
You get five free SC per day for the mail-in no-deposit offer, for a potential 150 SC per month.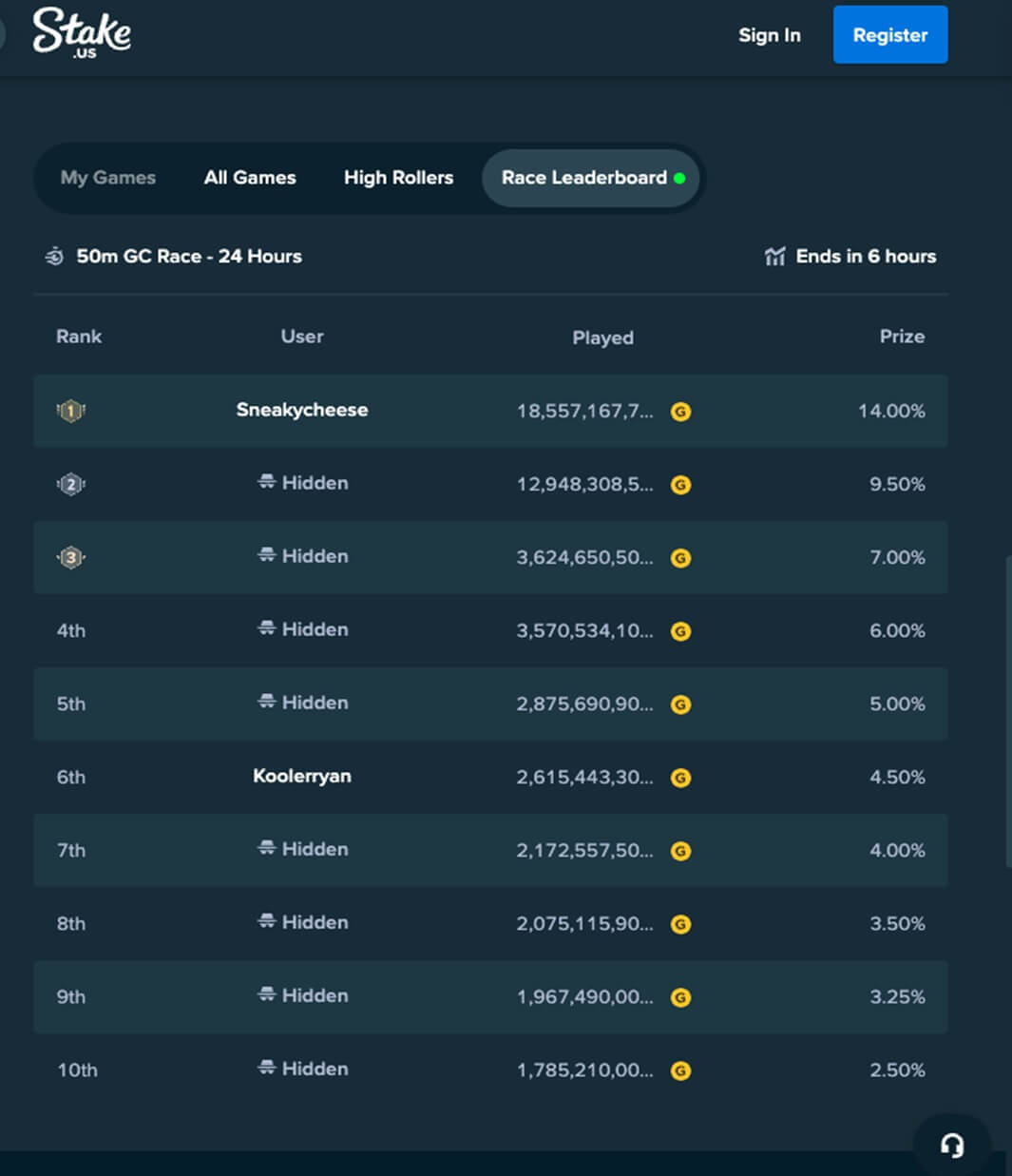 Stake.us Mail-in No Deposit Promo
The mail-in no-deposit promo is another popular offer on sweepstakes sites, including Stake.us. Participating in this offer will allow you to receive five free Stake Cash from the operator – if you follow the set rules.
To claim this no-deposit promo, you must send a stamped envelope containing a request card (a piece of white paper) or a standard postcard. On the request card, you must provide your return address, full name, Stake.us username, email address, and a postcard code generated on the site.
Stake.us only accepts one request per envelope, and you can receive one mail-in no-deposit bonus per day.
Social Media Contests and Free SC Bonuses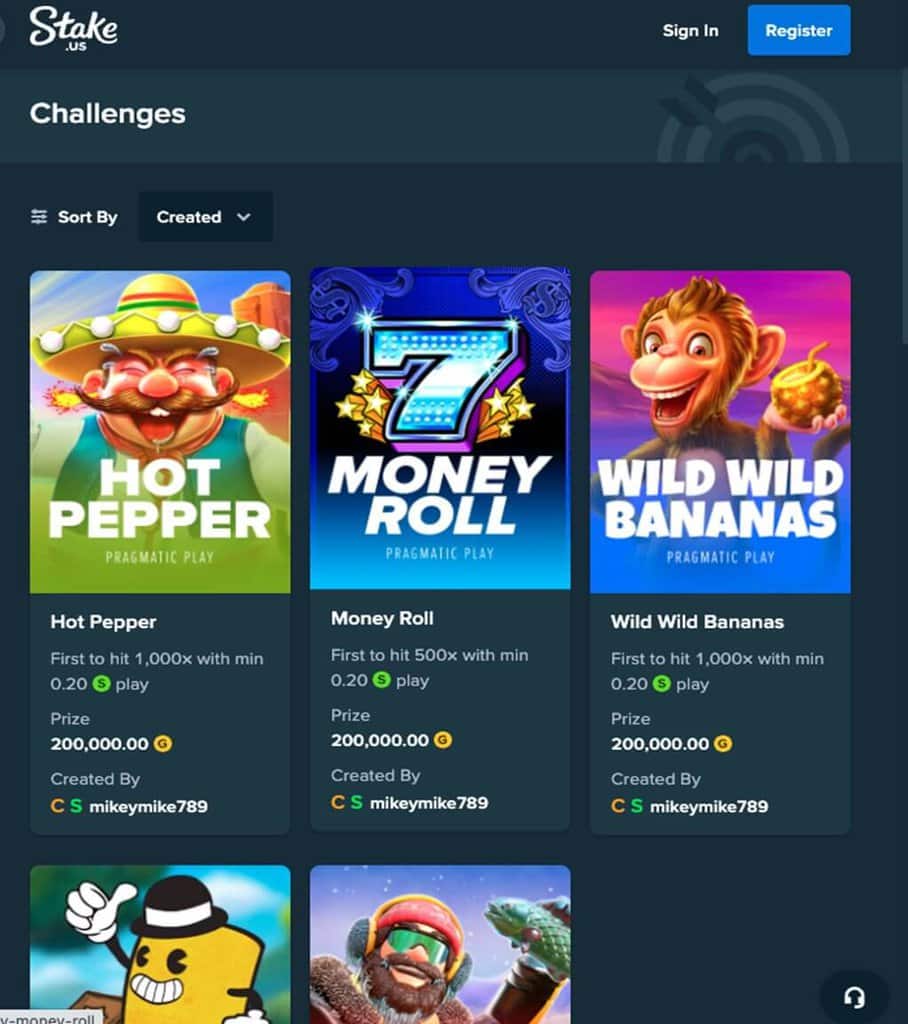 The top US sweepstakes sites and social casinos have a massive presence on social media, and Stake.us uses its social media pages to host social media contests and share no-deposit bonus codes with players.
Many of the social media contests are available as Challenges on the Stake.us platform, and some of these include:
200,000 GC for the first player to hit a 1,000x multiplier on Crash while playing with a 0.20 SC minimum stake.
25,000,000 GC for the first player to get a 9,000x multiplier on Book of Time with a 0.10 minimum wager.
If these no-deposit bonus challenges aren't your preferred option, you can look for no-deposit bonus drop codes on Twitter.
Depending on the available offer, these codes can reward you with 50,000 GC and 5 SC or more, but they come with requirements like 3,000 SC played in the last seven days.
On its Instagram page, Stake.us hosts a "Guess the Game" contest for a chance to win 2,000,000 GC and 200 SC. There is only one winner for this no-deposit bonus, and this individual is randomly selected.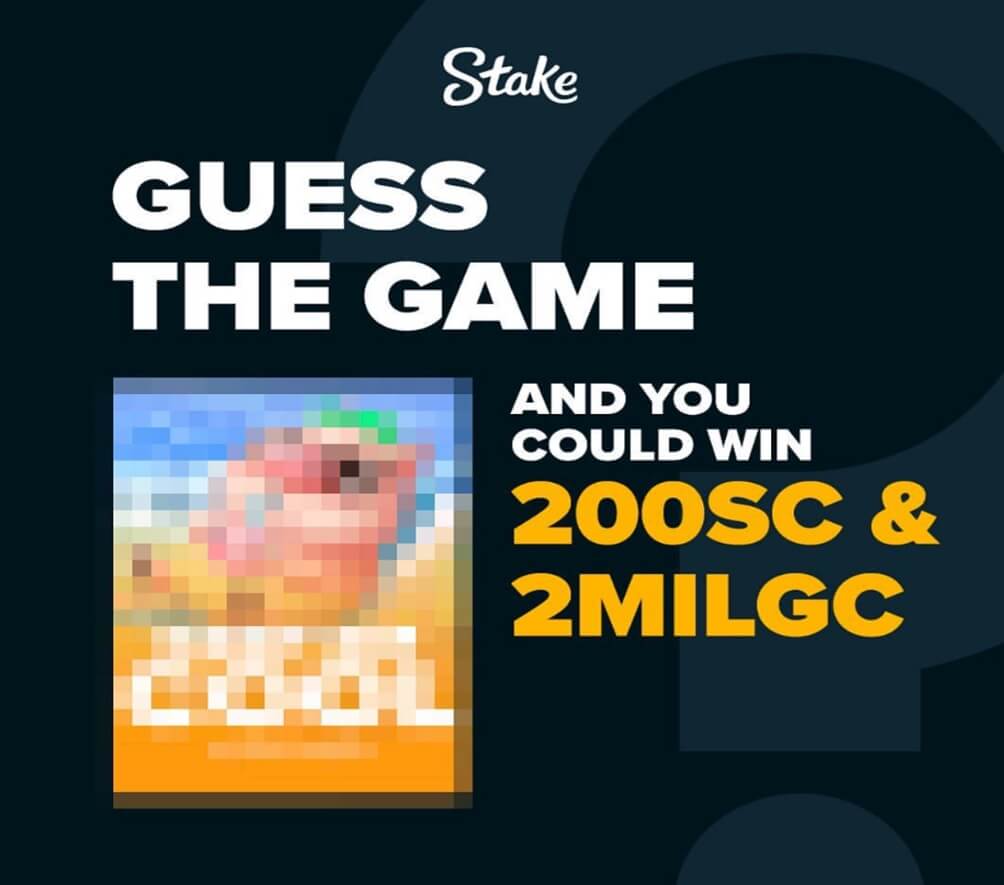 Refer a Friend No Deposit
Unfortunately, Stake.us isn't the best option for individuals looking to make the most of referral bonuses. However, several other top sweepstakes sites offer a refer a friend no deposit bonus, including sites like Fortune Coins.
The Fortune Coins referral bonus gives you 50% or more of the first deposit of your referee or a 1 Billion GC and 1 Million FC bonus (Special offer for December).
Stake.us Bonuses That Require A Deposit
In addition to its vast selection of no-deposit offers, you can also find several Stake.us deposit bonuses for returning players. Most of these offers are available through its VIP program, and you'll need to rack up points to unlock the best bonuses.
There are two main deposit bonuses available from the VIP club, and they include:
Rakeback Bonus: Available from Bronze Level (2 Billion GC or 10,000 SC play requirement)
Reload Bonuses: Available from Platinum I (50 Billion GC or 250,000 SC play requirement)
The reload bonus is a straightforward bonus only claimable by existing players who've made an initial purchase on Stake. This bonus will reward you with a specific percentage of your next deposit or purchase on the site.
The Rakeback bonus is the more complex type of bonus. With the Stake Rakeback offer, you receive 5% of the house edge on the game for every wager you place. So, if you wager 2 BTC on a game with a 4% house edge, Stake.us will reward you with 0.004 BTC as a rakeback.
Stake.us Weekly Offers
There are no daily free spins bonuses on Stake.us, but you can participate in several weekly offers for decent rewards on the site. These offers include the Multiplier Drops of 5,000 SC weekly and the 25,000 SC weekly giveaway.
With the multiplier drops, securing a spot as one of the top 50 players during the week will earn you a share of the 5,000 Stake Cash reward. However, the weekly giveaway offers a larger payout, but just for ten winners.
These winners are chosen via live stream, and the prizes include 25,000 SC for five customers and 250 million GC for five customers.
How to Qualify for these Free Stake Cash Offers
An account on the site is the basic requirement to qualify for any Stake cash offer. The registration process is easy, and you can follow these steps to set up a Stake.us account:
Visit Stake.us using the links we provide on our page.
Click on the Register button at the top of the screen.
Provide all essential details like your email, username, password, state, and DOB.
If you have a bonus code, you can use it while setting up the account.
Click the "Play Now" button to submit your registration form.
Stake.us will set up the account, but you must verify your identity to access its features.
Stake.us is only available to individuals 21 or above, and you must be a US resident in one of the legal Stake Casino states; exceptions include Michigan, Kentucky, Idaho, Nevada, New York, and Washington.
Once your Stake.us account is set up, you must meet requirements specific to the sweepstake bonus offer you want to claim.
Redeeming Free Stake Cash for Real Money at Stake.us
One of the advantages of Stake.us is the option to redeem winnings as cash prizes. The site has three unique options for players seeking to make a redemption, and these include:
Redemptions via gift cards
Claiming Stake.us merchandise
Cryptocurrency withdrawals – Best for instant withdrawals
For your Stake cash to be eligible for withdrawal, you must meet a 3x wagering requirement. So, a 3x wagering on 300 SC means 900 SC wagered. Also, there is a minimum SC33+ limit for cash outs.
Summary
Stake.us has everything you need on a top sweepstakes casino. Firstly, Stake offers one of the best game selections, including live dealer games, table games, keno, Plinko, Dice, HILO, Stake Crash, and other fun titles. There are over 400 casino games on the list, and all these are immediately available to play once you verify your account.
The icing on the cake is its selection of no-deposit offers, like the Mail-in bonus for five free SC daily, Daily Race, Bonus Drop code, and more. You don't need a no deposit bonus code for any offer on the site, so it's almost impossible to miss out on any top bonus.
To enjoy top online casino games, play at live blackjack tables, and earn Stake Cash for free, sign up on Stake.us using our links for 10,000 gold coins and 1 Stake Cash no-deposit bonus or check out Stake.us sister sites.