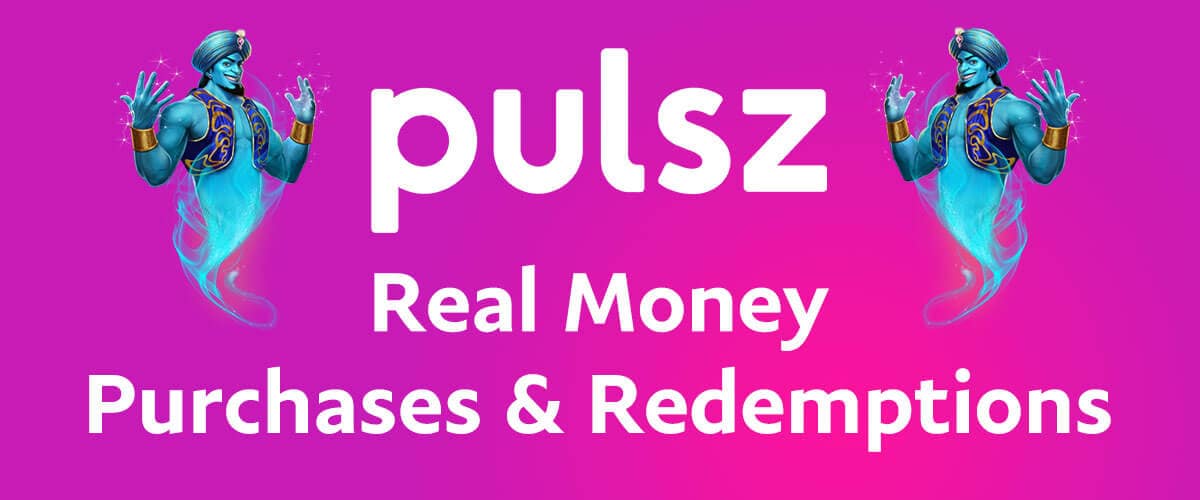 Pulsz Casino is unique in that it operates as a sweepstake online casino, meaning players do not have to deposit or withdraw real money to access the casino games.
Instead, Pulsz Casino utilizes two virtual currencies: gold coins (GC) and sweepstakes coins (SC).
GCs are used solely for gameplay and do not hold any monetary value. On the other hand, SCs can be redeemed for cash prizes.
It's important to understand the difference between the two currencies when using Pulsz Casino. More on these will be explained in detail below, including the specifics on how to buy or redeem them at Pulsz.
Pulsz Purchase and Redemption Methods
Pulsz Casino offers a 2.3 SC and 5,000 GC free bonus to new players and daily login bonuses to help top up accounts.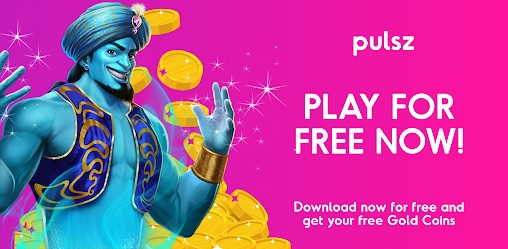 The sign-up bonus and Pulsz daily login bonuses are a great way to get started at Pulsz Casino. However, players looking to up the stakes have the option to purchase packages containing virtual currencies through various payment channels. Doing so can also help you redeem the Pulsz first purchase bonus of 15 SC for $9.99!
The payment method selection can be seen below:
💳Payment and Redemption Options Available at Pulsz Casino
Debit & Credit Card
Coins can be bought using AMEX, Visa, Mastercard, etc.
Online Bank Transfer
Purchase coins by connecting to your online bank account
Skrill
Best alternative to PayPal as an E-Wallet
ACH/E-Check
Online version of a check available for purchases and redemptions
Unfortunately, PayPal is not currently available as a payment option for Pulsz Casino players. However, owning a Skrill account is a great alternative for players to use when purchasing virtual currency at Pulsz Casino.
Gold Coin Packages
Pulsz Casino utilizes two types of virtual currency, one of which is gold coins (GC). Upon creating an account at Pulsz, players will be given a starting balance of 5,000 GCs to familiarize themselves with the online casino games.
If players wish to increase their GC balance, there is an option to purchase gold coin packages. The options for purchasing GCs are listed in the table below for reference.
There are a variety of GC packages available for purchase, with prices ranging from $4.99 to $99.99. Generally, the more expensive packages offer better value for money.
However, it is recommended that players choose a package based on their individual needs and budget.
| Value | Gold Coins | Sweepstakes Coins | VIP Points |
| --- | --- | --- | --- |
| $4.99 | 2,500 | 5.05 | 45 |
| $9.99 | 5,375 (16,125 with first purchase bonus) | 15 | 119 |
| $19.99 | 12,750 (38,250 with first purchase bonus) | 30 | 460 |
| $49.99 | 40,000 | 51 | 750 |
| $99.99 | 105,000 | 104 | 1800 |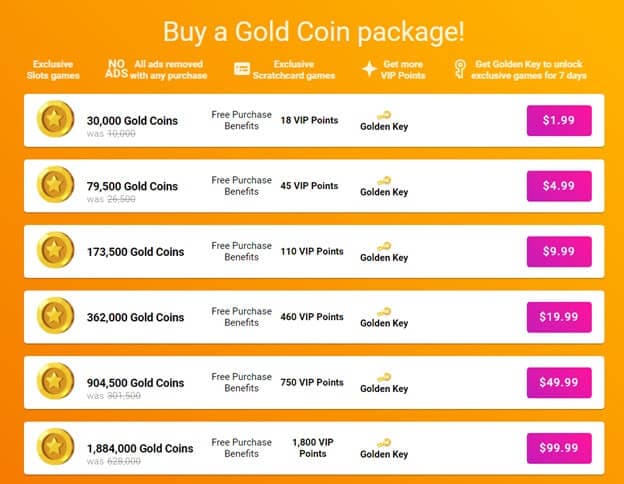 It is important to understand the reason that players mainly engage in gold coin purchases at Pulsz. As the table shows, each purchase in USD rewards the same amount of sweeps coins. This currency, unlike GC, is redeemable for real cash. Certain limits apply, which are explained below.
Sweeps Coins Redemptions
In addition to gold coins, Pulsz Casino also utilizes sweepstakes coins (SC) as a form of virtual currency.
Upon creating an account, players will be given a starting balance of 2.3 SCs which can be used immediately. Unlike GCs, SCs can be used to redeem cash prizes which makes them more valuable.
The minimum redeemable cash prize amount is $100. To cash out, players must have a minimum balance of 100 SCs in their Pulsz account, which is equivalent to $100. These funds will be transferred directly to the player's bank account. It's important to note that 1 SC is equivalent to $1.
An alternative way to exchange sweepstake coins for real money is through gift card redemption using a service called Prizeout.
This method is popular among players because it is quick, with a maximum processing time of two days, has a lower minimum redemption limit, and offers better value for money.
However, Pulsz gift cards are not cash and must be spent at specific retailers.
How to Add Real Money to Pulsz Casino
Creating an account at Pulsz casino and starting your real money experience is a straightforward process that can be completed by following these simple steps:
Register for a Pulsz Casino Account
To create an account at Pulsz Casino and add real money, first enter your personal details. Start by using your email address, Google, or Facebook account.
As Pulsz Casino is one of the best social casinos, following them on their social media accounts will help you stay informed of the latest promotions and bonuses.
Then, create a password for the site and verify your email if prompted. Make sure to use an email you have access to, as redemption information will be sent to this email.
Purchase Gold Coins
As previously mentioned, players cannot deposit real money directly into Pulsz Casino as they would with conventional casinos.
Instead, sweepstakes casinos like Pulsz sell gold coins as a substitute for real money. To purchase these coins, click on the 'get coins' button located at the top of the page in bright pink.
This will take you to a page with a list of package options, ranging from $1.99-$99.99. After choosing your preferred package, you will be directed to the payment page, where a list of payment channels will be displayed.
Simply fill out your payment details, and you are ready to play.
Important: Thanks to the Pulsz no deposit bonus and regular rewards, there is no need to make a purchase to play. That's an option, but not a requirement to access the Pulsz Casino games.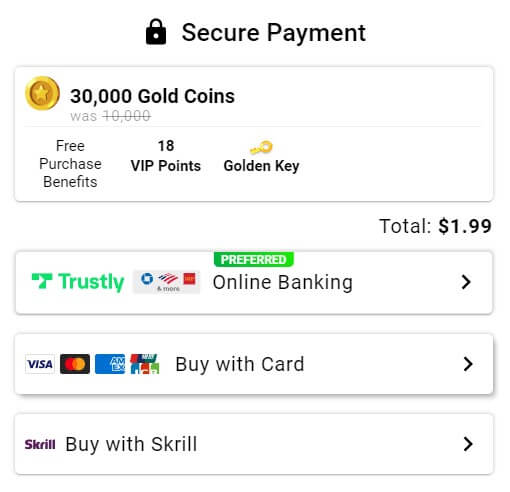 Pulsz Sweeps Coins Redemption Process
To cash out sweeps coins, players have two options. These options and the steps for each are outlined below:
Cash Prizes
Cashing out your sweepstake coins can easily be done at Pulsz Casino.
To cash out your sweeps coins, the first step is to click on the 'more' menu and find the 'redeem' section.
Next, select the amount you would like to withdraw from your account. Ensure that all verification has been properly completed to avoid any issues. You can check the verification section on this page for more information on this process.
The waiting time for the payment to be processed will vary depending on the chosen payment channel, but in no case will it take longer than seven days. Skrill payments at Pulsz provide the fastest processing times, usually less than 24 hours.
Gift Cards
An alternative way of converting sweepstakes coins into real money at Pulsz is through gift card redemption, which can be done through a service called Prizeout. This method is popular among players because it is quick, with a maximum processing time of two days.
To redeem gift cards, players will need at least 50 sweepstakes coins. Gift cards of $50 only require 40 coins SC to be redeemed, providing more funds to be used in the account, and making it a better value for money.
After requesting a gift card, an email will be sent to the address provided on the account. This email will contain a confirmation number reference which can be used to track the gift card. It should be with you in less than 48 hours.
Important: New York and Florida residents cannot cash out over $5,000 from a single playing session at Pulsz, or any other real money sweepstake casino.
Verification Process
Players must be at least 18 years of age at the time of signing up for their Pulsz account. Otherwise, it is impossible to verify your account and access sweeps coins play or redeem cash prizes.
Pulsz Casino will ask for a copy of a government-issued photo ID, such as a national ID, passport, or driver's license. Additionally, proof of address will be required, such as a credit card statement or phone bill, but it should not be older than three months.
It's important to note that sweepstakes are subject to territorial regulations, so ensure that the state you are in allows sweepstakes casinos.
Currently, 47 out of the 50 states in the US permit casino-style games at no extra charge, with the exception of the states of Nevada, Washington, and Idaho.
Processing Times
The processing time for money to arrive in your account at a sweepstake casino is typically 3 to 7 days. This will vary based on your payment method, with Skrill offering the fastest payout times at Pulsz.
Gift card redemption typically takes 24-48 hours to process, but this can vary depending on the payment channel used.
If you encounter any problems with processing payments at Pulsz, you can reach out to them at +1 (424) 371-7304 or support@pulsz.com. Their social media pages can also help you resolve your queries.
Benefits and Drawbacks of Pulsz Real Money Purchases and Redemptions
Pulsz Casino offers several advantages to players who sign up, such as a VIP program with special perks, exclusive scratchcard games, 300+ slots, and bonuses for first-time purchases.
However, it's also important to note that there are some drawbacks to consider before joining Pulsz Casino.
VIP Program
The VIP program at Pulsz Casino is a major feature that attracts players to the site. By purchasing gold coin packages, climbing the VIP ranks, and playing Pulsz casino games, players can earn VIP points.
The program is structured in a series of levels, with better rewards offered as players progress through them. Players have the option to skip certain levels by purchasing add-ons.
For example, first-time customers who purchase the $19.99 GC package will be immediately placed at the Silver level.
The highest level of the VIP program is the Royal Diamond level, where players can earn coins from multiple sources for the best rewards.

Scratchcard Titles
Your real money purchases at Pulsz will allow you to make the most of the exclusive scratchcards on offer. These are fun to play and open up another opportunity of playing at Pulsz and help build up your account.

First Purchase Bonus
Players will have the choice to make a special first purchase of a 38,250 GC package for $19.99, earning you 30 free SC as an extra bonus. The other option is to buy a 16,125 GC package for $9.99 and receive 15 SC coins as well. This bonus adds 200% of the original value you would get for the same purchases at Pulsz.
If you have not received your free coins after making a purchase, ensure that the purchase status is not still pending. If it is, contact the customer support team with the Order number, Purchase date, and Purchase amount. This contact form will be provided for you at the Pulsz website.
Drawbacks
Pulsz Casino is a popular online casino that offers real money purchases, but it does have a drawback in the form of a high minimum prize redemption of 100 sweepstakes coins. This may be off-putting for players who are not looking to deposit much or don't want to spend a lot of time building up their coins.
However, Pulsz Casino compensates for this by offering generous rewards to loyal customers. By staying loyal to Pulsz Casino, players can take advantage of these rewards and reap the benefits.
Another potential issue with Pulsz Casino is the lack of availability of PayPal as a payment option. PayPal is widely preferred by players worldwide and its absence may be a disadvantage for some players. Pulsz Casino could consider adding PayPal in the future to attract more players, by providing more convenient payment options.
Why Play At Pulsz Casino
Pulsz Casino is a mobile-friendly sweepstakes casino that offers a wide variety of games, including exclusive Pulsz casino slots, video slots, poker, and other online casino games.
The Pulsz Casino games collection is an extensive one with over 200 slot games, covering a wide range of categories and niches. With new games added on a weekly basis, players can expect to find a growing variety of online casino games and an increasing number of opportunities to win cash prizes. Progressive jackpot slots can be found here as well.
Play games like the ones seen below.

Pulsz Casino is a reputable and legitimate online sweepstakes casino that is safe and secure to use. It offers a generous signup deal that makes it accessible to all players and it is considered one of the best sweepstakes gambling sites available currently.
You can play casino games at Pulsz Casino and players can participate in weekly prize pool tournaments with attractive prizes such as currency credit, free spins, and more. This adds to the excitement and fun of playing here.
Another great aspect of Pulsz Casino is that it is accessible from all states in the US, except for NV, WA, and ID. This means that players from a wide range of locations can enjoy the games and opportunities for winning at Pulsz Casino.
FAQ's