Want to play online bingo for free with the chance of winning up to $500 per game? Bingoport is an exciting sweeps site where members can play over 12 online bingo games for free in all US states and win cool prizes.
Pros
Free 24/7 bingo games
Mobile-friendly website
Players can redeem real money, merchandise, and Amazon vouchers
Lots of exciting promotions
Cons
No native app on Google Play and App Store
There is no option to purchase more points to keep playing
No slots or table games
Unlike other sweepstakes casino sites, Bingoport, in addition to offering real money winnings, also rewards players with dining advantage cards which can be used at over 50,000 restaurants, amazon vouchers, and merchandise. There is also a chat room where like-minded players can communicate.
With a no deposit bonus of 1,000 Port Points and more rewards to be claimed daily, Bingoport is the best place to be if you love playing bingo games. In this Bingoport review, we will dive deeply into how the free bingo website operates, how you can earn free points after signing up, and how you can win over $500 in a single game.
Bingoport Bonus Information
🎰Bingoport
🌐Website
www.bingoport.com
🎁Bingoport No Deposit Bonus
1,000 Port Points upon signing up
✍️Welcome Offer
$25 Dining Advantage Card
🇺🇸 Eligible States
Legal in all 50 US states
🤑Bonus for Existing Members
Daily top-ups, tournaments, enhanced daily offers
Bingoport No Deposit Bonus Code
To begin playing for free, Bingoport provides a 1,000 Port Points no deposit bonus. Unlike sister bingo sites like Golden Hearts Games, you do not need a Bingoport no-deposit bonus code to claim.

Instead, 500pp will be automatically credited to your account upon registration, while another 500pp will be added if you verify your email address.
Welcome Bonus
If you are a new player, Bingoport has a unique welcome offer you wouldn't find in any other bingo sites. New customers who play five 12-game bingo sessions within the first 24 hours of signing up and verifying their email address are awarded a free $25 dining advantage card. This card is versatile, as you can use it in over 55,000 restaurants in the US.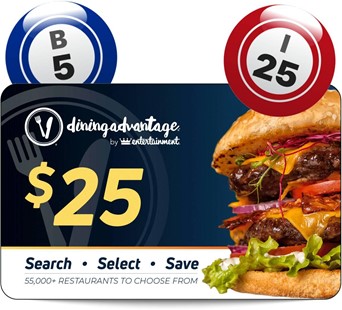 How to Play Bingoport Games
As it is with all sweepstakes sites, you do not need real money to purchase tickets to play bingo games at Bingoport. Instead, players use Port Points and Access Tokens. Forget shady apps like Fortune Bingo Master and stick to trustworthy ones like Bingoport.
Port Points are one of the currencies players use to enter and play in a bingo room. These points are offered freely as a deposit bonus, when playing bingo games and other promotions. While Port Points do not have any monetary value except for playing regular bingo games, you can exchange them for real money via PayPal, amazon vouchers, or merchandise. Another advantage that Port Points give is that you can convert them into access tokens. To redeem port points for cash or shopping vouchers, you must have 12,000, 21,000, or 50,000 points to get the equivalent of $10, $20, or $50.
Access Tokens are different from Port Points as they are only used to gain exclusive access to the featured session bingos, which have huge prizes compared to the regular sessions. So while you can convert port points to cash prizes, the access tokens give you entry to games with huge point prizes up for winning.
To get in the game, you must register a new Bingoport account. This shouldn't take over a few minutes, and you can use our page links to visit the online bingo site and sign-up by providing a few personal and address details. The free bonus will then let you begin playing bingo instantly.
Promotions for Existing Players
In addition to the exciting offers you'd get when you sign up at the Bingoport website, you can enjoy more rewards that offer Port Points through the following promotions.
Daily Top-Up: Bingoport's daily top-up bonus is quite similar to the daily login bonuses offered by most sweepstakes sites. The noticeable difference between these two is that the daily top-up is offered only to players whose Port Points balance is lesser than 250. So if you have below 250pp, you'd be awarded 1,000 automatically by 6am EST.
$100 Amazon Prize Showcase: Every Tuesday, Thursday, and Sunday, players who play the Prize Showcase room with 1 access token stand a chance to win any single item worth $100 on Amazon if they emerge victorious. If you do not win but still reach the top five spots, your account will be credited with 5,000pp.
Tournaments: There are several tournaments you can enter at Bingoport. While some require access tokens, you can enter others with Port Points. The daily tournaments can give up to 36,000pp, while the monthly tournament has a massive prize of 80,000 to be shared among the top three players.
Enhanced Offers: This is another innovative way to get free Point Points. Every once in a while, Bingoport will list some tasks on its website, and if you can complete them within the given time frame, you will earn points. These tasks range from filling out a survey, reading a review of an affiliate company, or even signing up and making a deposit at one of the new sites launched by the parent company. With such promotions, you can earn up to 30,000 points.
Bingoport Game Options

There are 15 different bingo rooms at Bingoport, and they are divided into three sessions. While all the online bingo games are timed, you can be assured of having 24/7 access to at least one or more rooms open at any time of the day. Bingoport bingo games are proprietary built, meaning all games are exclusive to the website. You can enter games with Port Points or access tokens depending on the type of session you want to play in.
Regular Bingo Sessions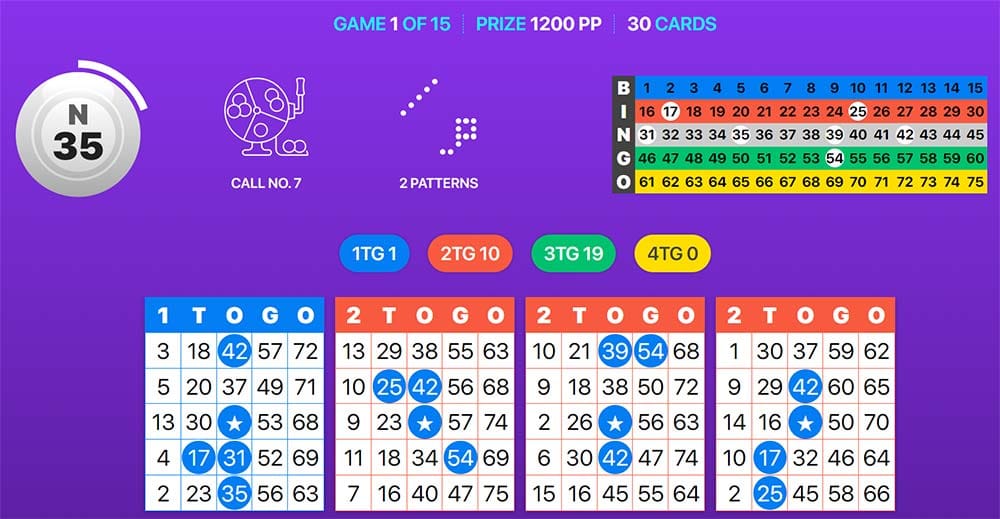 These are bingo rooms players can enter with their Port Points. There are 7 regular bingo sessions, with 5 of them being auto-daub.
As the name suggests, the auto-daub games have the called numbers automatically marked off, and they are generally played with 30 or 75-ball bingo tickets per 5-15 rounds.
The manual daub games are similar to the physical bingo games, where you must mark off the called numbers. While manual games have similar rounds as their auto counterpart, you can only play with three tickets per round. The entry fee for the regular bingo sessions ranges from 250pp to 1,000pp, and you can win up to 30,000pp in a single game.
There are also jackpot games that offer a prize of up to 18,000pp if you can hit bingo in specific moves. Below is the table that includes all the regular bingo games, their opening time, and the prizes.
| Bingo Game | Session | Prize |
| --- | --- | --- |
| Speed Bingo Session | Every 15 minutes | 1,500pp/ 300pp per round |
| Manual Daub Quickie Session | Every 15 minutes | 1,500pp/ 300pp per round |
| Manual Daub Double Pattern Session | Hourly (8am - 6pm EST) | 14,400pp in Jackpots |
| Double Pattern Session | Hourly (8am - 6pm EST) | 18,000pp in Jackpots |
| Double Pattern Session | Hourly (8am - 6pm EST) | 30,000pp/ 2,000pp per round |
| Token Tourney Session | Single Session (7pm EST) | 1 access token for the first three players |
| Bunch of Fives Tournament Session | Single Session (10pm EST) | Top 5 players win 5,000pp each |
Featured Bingo Sessions
The games under this category are similar to what you'd find in the regular session with just two distinctions – the entry fee is an access token, and each room is only available once daily. To play featured session games, you'd first need to redeem one access point with 5,000 port points.
While games under this category are limited to players with access tokens, they have massive prizes that can go as high as 500,000 port points. So, in just a single game, you can win up to $500.
Private Bingo Sessions
There are only two games under the private bingo session, and they are all exclusive to premium bulletin subscribers. The games are auto-daub with 12 rounds per game and prizes ranging from 25,000pp to $25 dining advantage cards. If you are interested in this, you should definitely read on to learn more about the Bingoport bulletin e-magazine.
How to Sign up at Bingoport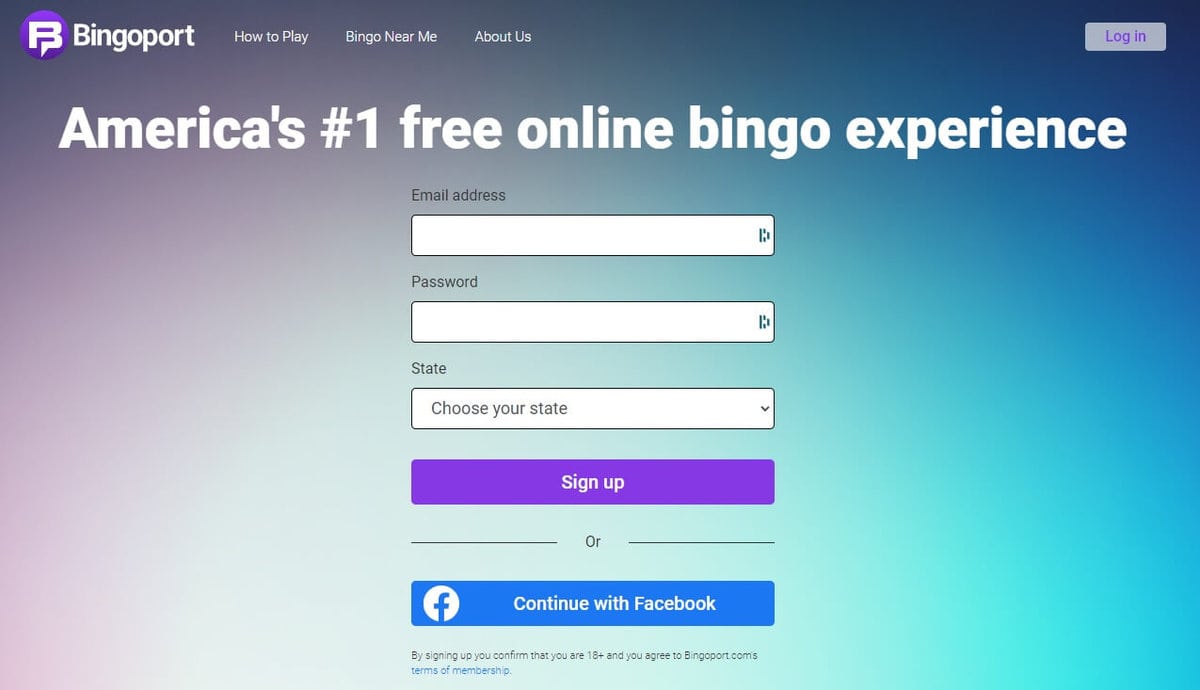 Creating an account on the Bingoport website is easy and can be done in just a few minutes. One exciting thing about registering at Bingoport is that you do not need to fill in personal information or verify your identity to play bingo, redeem cash to your PayPal, or claim shopping vouchers. To sign up, you only need to follow these steps.
Head to Bingoport
Scroll down to the signup field.
Fill in your email address, password, and current location (state).
Press the "sign up" button to create an account.
Alternatively, you can use the one-click registration option by clicking on the "continue with Facebook" option. This automatically creates an account for you using your Facebook details.
Bingoport Website & Mobile App
Bingoport is a mobile-first site that allows you to play bingo games straight from your phone. While there isn't a native mobile app yet for on-the-go players to download to their Androids or iPhones, Bingoport has a great site that is light-weighted, making the page-to-page loading one of the fastest among other sites. This feature also eradicates lagging when playing games, ensuring you have smooth and top-notch gameplay.
Unlike most bingo sites, Bingoport's simplicity makes it accessible on any device or mobile browser with a fair internet connection.
Bingoport Subscription and Redemption Methods

If you know a little about free bingo sites or have read several of our detailed sweepstakes site reviews, you'd know that even though purchasing isn't required to play or win cash prizes, there is still an option to purchase gold coins to keep playing.
While Bingoport is also free to play, you cannot purchase Port Points if you ever run out. Instead, you can subscribe to the Bingoport bulletin e-magazine, where you'd be awarded 2,500 port points anytime you run below 500 points, 30 free access tokens monthly, and exclusive access to private bingo sessions.
To become one of the premium members at Bingoport, you only need to make a monthly subscription of $19.99 or $49.99 and $180 for a quarterly or annual subscription. You can make this purchase using the following options:
Visa
America Express
Discover
MasterCard
Diners Club International
Google Pay
Apple Pay
Redeeming Cash Prizes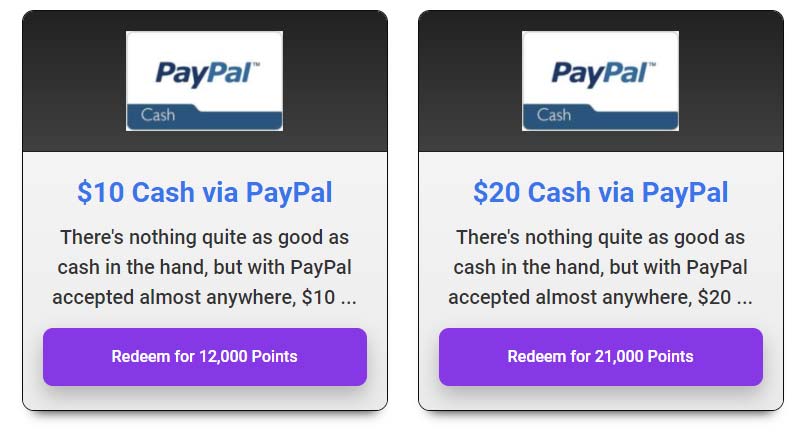 The inability to purchase might be a huge downside, but Bingoport makes up for it by offering players the ability to redeem cash prizes, shopping vouchers, or merchandise. Players who have made 12,000, 21,000, or 50,000 Port Points can redeem them for $10, $20, or $50, which can be sent to their PayPal account or Amazon vouchers.
If you'd like to exchange your points for merchandise, you can redeem 15,000 points for 4 packs of Bingoport daubers. You do not need to do any extra verification to redeem vouchers or money, which makes redemption easy and goes a long way if you want utmost privacy. Being a new bingo site, we look forward to seeing other cashout methods added in subsequent months.
Customer Support Methods
Bingoport is very lacking when it comes to customer support. While this isn't to say you wouldn't find any, the number of options is sub-par to what you'd find in some US-favorite bingo sites.
Aside from the standard FAQ section, which contains answers about account creation, bingo games, port points, and how to redeem prizes, email support at support@bingoport.com is the only other option. You can access the FAQ section by clicking the "Help" tab in the menu.
Being a new free bingo site, the inclusion of social media support and live chat would go a long way in enticing more players and even giving the existing ones a sense of community.
Bingoport Key Points
| ✅Strengths | ❌Weaknesses |
| --- | --- |
| Free 24/7 bingo games | Limited bingo room to play |
| Mobile-friendly website | No native app on Google Play and App Store |
| Players can redeem real money, merchandise, and amazon vouchers | There is no option to purchase more points to keep playing |
| Lots of exciting promotions | No slots or table games |
Bingoport Summary
Bingoport is a sweepstakes bingo site owned by 1st Leads Ltd. While little is known about the parent company, 1st Lead Ltd is listed as a marketing and advertising agency based in the UK and US, and it's also the brain behind similar sites like Bingoport.co.uk. Bingoport is a great site for US residents looking to play bingo games for free and earn real money, as over a dozen bingo rooms are available. Being a social casino, each bingo room has a chat room where you can mingle with other players you are competing with.
Games at Bingoport are proprietary built, which is the case with most online bingo sites. Bingoport is available in all 50 US states to players 18 years or older, and like other sites such as WOW Vegas, and Pulsz Bingo, you can make real money from playing there.
FAQs
Is Bingoport legal in the USA?

Yes, Bingoport is a legal sweepstakes bingo site in the US and can be played by all residents across all US states. That's because it uses a subscription model and provides free daily bingo tickets, complying with current sweepstakes rules. 

Can I win real money playing at Bingoport?

Yes, players can win cash prizes, amazon vouchers, and even merchandise at Bingoport. To do this, you have to earn enough port points to redeem for real money.

What are the available games at Bingoport?

Staying true to its name, you can only play bingo games at Bingoport. The various bingo rooms allow at least 4 live players with 3 to 30 bingo cards per round and prizes up to $500.

Do I need a Bingoport bonus code?

No Bingoport promo code is required to claim any bonus. The no deposit bonus is awarded automatically, and the same goes for the daily top-up and tournaments.

Yes. As far as sweepstakes casino sites go, Bingoport fulfilled all the criteria as it provides free bingo games to players with the chance of winning cash prizes.