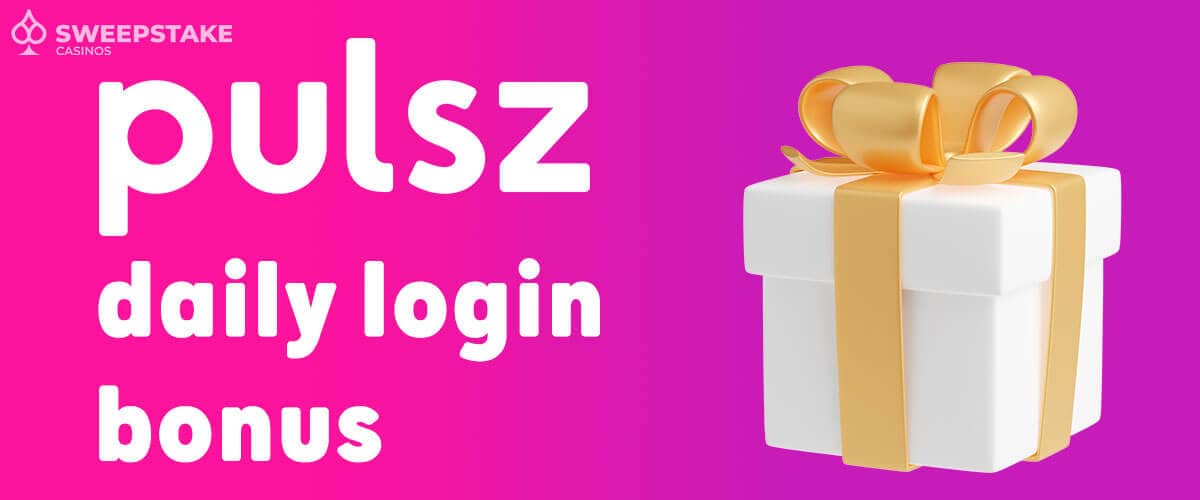 Pulsz has quickly grown to be one of the most popular sweeps casinos in the US. This is thanks to an impressive games library, fantastic bonuses, and awesome features. On top if this, they also have an exciting daily login bonus worth 0.30 – 1 sweepstakes coins each time. In this guide, we will look at what the bonus is and what you need to do to claim it each day.
Unlike conventional real-money platforms, Pulsz Casino is legal in all US states other than Nevada, Washington, and Idaho. This is due to the sweepstakes mechanic, allowing users to gamble with sweepstakes and gold coins. These virtual currencies don't hold any real-life value, although sweepstake coins can be redeemed for real money prizes.
Pulsz must offer various promotional sweepstakes offers to cut the "consideration" from its business model and remain legal. For example, new customers get 2.3 sweepstakes coins and 5,000 gold coins after completing registration and verifying their accounts. But this is just the beginning, as the operator also offers a daily login bonus granting one sweepstakes coin each time.
This allows players to enjoy casino games for free with the chance to win redeemable cash prizes at the other end. We'll tell you everything you need to know about the Pulsz daily login bonus throughout this article. Remember, daily login bonuses are widespread at all sweepstakes casinos we recommend, including on:
Free Sweeps Bonus for Logging in Daily at Pulsz Casino
Most people know about the Pulsz first purchase bonus, generating 200% extra coins. But don't forget, you can enjoy a completely free bonus each time you log in. The operator offers players 0.30 – 1 sweepstakes coins every day in exchange for logging in. You can use this to play casino games for free and win cash prizes. You can enjoy this offer on the desktop site, or on the social casino app from Pulsz.
The minimum free sweepstakes coins is 0.30, but this boosts to one if you enjoy a week-long streak of consecutive daily logins. This means you can theoretically get over 300 free sweepstakes coins throughout the year, a significant bankroll booster. Gold coins are also provided daily, but these cannot be redeemed for real money so just use them to test the waters.
Combine this with the option to play high-RTP slots at Pulsz, including Great Rhino Megaways and Kluster Krystals Megaclusters, and players have a great chance of winning redeemable cash prizes via the free sweepstakes coins daily login offer.
And the daily login bonuses are far from the only Pulsz Casino promo codes available. Keep an eye on the social media channels for regular updates on how to get free gold coins and sweepstakes coins. The "Promotions" section on the website is also stocked with regular offers, and the VIP scheme grants extra coins and loyalty points with every purchase.
How to Qualify for the Pulsz Daily Login Bonus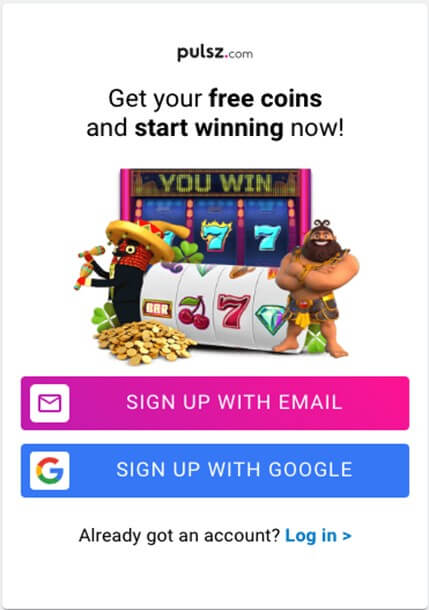 Qualifying for the Pulsz daily login bonus is very straightforward. Players must log in daily to receive 0.30 sweepstakes coins, with this number rising to one sweepstakes coin after seven consecutive days. These are credited automatically, so you can sit back and play games for free without jumping through any extra hoops. All players must complete the registration and verification process first. Check the steps below to get started:
Head to www.pulsz.com
Press "Register" in the top right-hand corner
Decide whether to sign up with your email address or via Google
Enter your full name, email address, and create a password
Press "Join Now & Win A Jackpot"
Verify your email address through the link provided
Complete KYC checks to be able to enjoy real cash prize redemptions and gain free sweeps coins
The last point is arguably the most important when taking advantage of Pulsz Casino promotions. You won't be able to access free sweepstakes coins without verifying your account, which involves sending a few documents to prove your identity and residence. Don't worry, you'll still be able to play free games with gold coins, but anything to do with sweepstakes coins and real money redemptions will be off-limits.
Pulsz Casino Login Requirements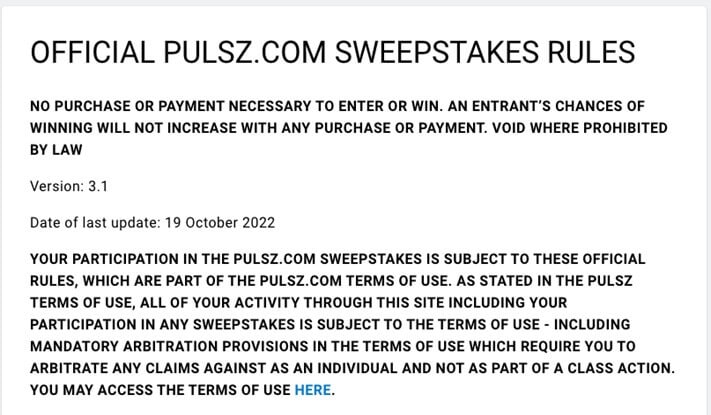 As with all promotional sweepstakes casinos, reading through the Pulsz rules is essential before getting stuck into the online slots and other games. Without doing this, you could easily be left unable to take advantage of the daily login bonus and other promotions. Additionally, you may experience an unpleasant surprise when trying to redeem cash prizes from Pulsz.
Fortunately, the Pulsz Casino login requirements are relatively straightforward and very similar to other sweepstakes sites. Make sure you satisfy the requirements below to access free coins, play casino style games for free, and enjoy other incentives, such as exclusive gold coin scratchcards:
State: Pulsz operates using promotional sweepstakes casino rules, making it legal across many US states. It's a huge advantage over real money casino platforms, which are currently only available in six states. Nevertheless, some places don't allow for sweepstakes legal online gambling. As a result, you must be able to prove you reside in any US state other than Nevada, Washington, and Idaho to access the daily login bonus.
Age: While conventional real money casinos only accept players over 21, Pulsz has a lower 18 age limit. You must be able to prove your age via official ID documentation to be able to play with sweepstakes coins and win redeemable cash prizes. This is part of the verification process we spoke about in the last section.
KYC: Similar to real-money gambling sites, Pulsz Casino requires players to complete KYC checks before they can play with sweeps coins. The verification process involves proof of address and identification documentation to validate who you say you are, where you say you live, and how old you say you are. You may have to send these things in the post, and it can take a week or two to complete. In the meantime, you can access free Pulsz casino slots and other games with gold coins.
Username/Password: It goes without saying, but you'll need to memorize your Pulsz username and password to take advantage of the daily login bonuses. We recommend writing these down in a safe location or using a secure password manager. Alternatively, use your Google or Facebook credentials to streamline the login process and reduce the number of things you need to remember. Troubleshooting Pulsz Casino is how you can retrieve these if they slip off your mind.
Set Reminders: Lastly, setting a reminder to log into your account every day and claim the Pulsz Casino daily login bonus is crucial. You may easily forget otherwise. Even if you don't feel like enjoying free casino games, logging in only takes a few seconds out of your day. Keep doing it, and the sweeps coins can easily pile up.
Winning Real Money from Pulsz Casino Login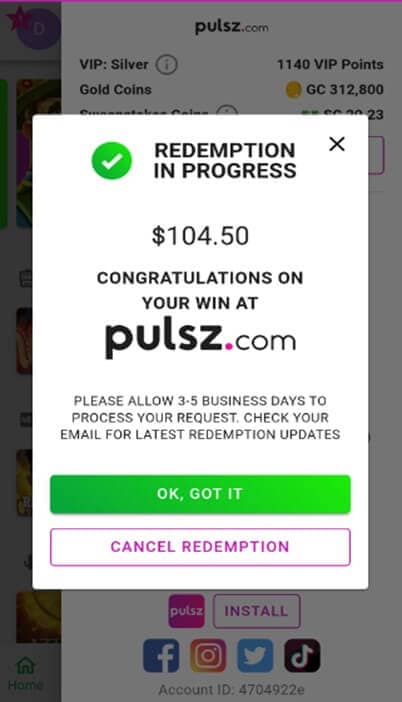 The Pulsz Casino cash prize redemption rate is one sweepstakes coin to a dollar. As a result, you can effectively earn up to a dollar each time you log into your account. But this isn't really enough to get excited about. Luckily, there are several ways to boost your redeemable sweeps coins bankroll once you have completed the necessary verification checks.
Before we explore a few golden suggestions, let's just clear up some of the other terms and conditions.
As mentioned, you must be able to verify your email and complete the KYC checks before real money prizes become available. Pulsz will notify you via email once this has been completed, so stay patient and practice using gold coins until then.
Remember that Pulsz free SCs expire, so don't let them pile forever.
All Pulsz free coins must be played on games before they become redeemable.
Lastly, you just need to wait until you acquire over the minimum 50 SC redemption amount.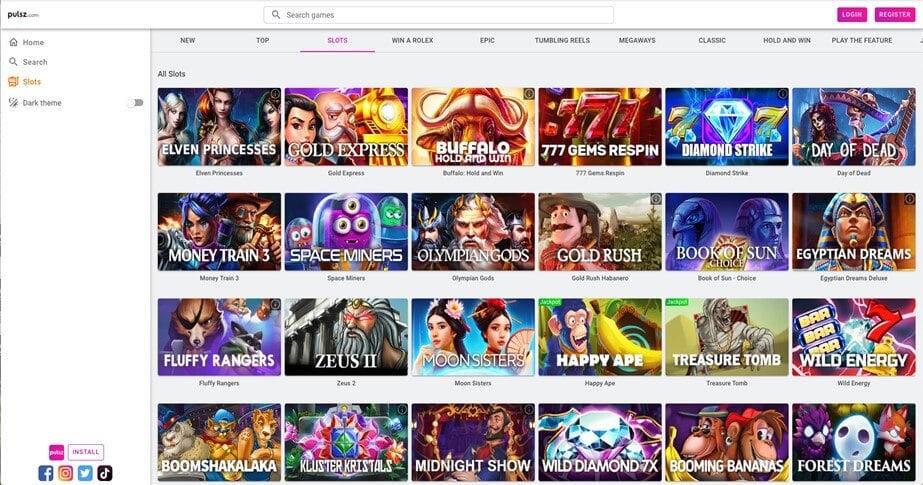 Here are some tips for doing so:
Play good slots: Unlike many competing sweepstakes casinos, Pulsz has a fantastic game library with slots from renowned developers. This makes checking the RTP much easier. Play high-scoring options like Lantern Luck (96.77% RTP) or The Dog House Megaways (96.55% RTP) for the best chances.
Grow Your Balance: It might be tempting to redeem your sweepstakes coins as soon as you hit 50, but in reality, letting your balance grow can be a better long-term strategy. This will allow you to place larger stakes, hopefully resulting in larger wins.
Use Other Promos: The Pulsz Casino daily login bonus isn't the only way to gather free sweepstakes coins. Check out the "Promotions" section for regular opportunities to grow your balance, such as mail bonuses and refer-a-friend offers. Additionally, keep an eye on the social media channels for more sweepstakes bonuses.
Join Daily Login Sweeps Tournaments: Pulsz runs daily sweeps tournaments and raffles, which are another fantastic way to build your redeemable cash prize bankroll. Join them where possible and cross your fingers for a win.
If you got a lot of time in your hands, you can also combine the Pulsz login bonus with the Funzpoints daily login offer, the Chumba Casino login bonus, the LuckyLand Slots login sweeps, etc., to gain more daily free coins without a deposit.
Summary
The Pulsz Casino daily login bonus is a great way to acquire free sweepstakes coins with minimal effort. You can receive 0.30 sweepstakes coins a day, rising to one sweepstakes coin daily after seven consecutive logins. While it isn't enough to generate large payouts, it can go a long way in helping you secure bigger wins while playing slots and other casino games.
Just remember, you must satisfy KYC checks and meet the legal requirements to be able to enjoy sweepstakes coins and redeem them for real money prizes. Hit our link to register for Pulsz and get started. You won't regret it!
FAQs
What do I win from logging in daily at Pulsz Casino?

You can win 0.30 – 1 sweepstakes coins for logging in daily at Pulsz Casino.

Does Pulsz really pay out?

Yes. Pulsz Casino is one of the top-rated sweepstakes casinos, proven to pay out real cash prizes to players across the US.

How do I cash out with Pulsz?

Complete the relevant KYC checks to verify your account and gather at least 50 sweepstakes coins to make a cash prize redemption. These are obtainable from the "Redemptions" section of your account.