Trailblazers Chumba are at it again. Chumba Bingo has arrived as part of an extension to their already popular Chumba Casino — allowing new and existing users alike to play free bingo for the chance to win real money. Being one of the most popular sweepstakes casinos in the US, whenever Chumba Casino launches a new feature, we make sure to check it out and see how it stacks up against the competition. For a quick summary of the pros & cons of Chumba Bingo, check out the below table.
Pros
Operated As Part Of Chumba Casino
New Users Get 2 Million Gold Coins + 2 Sweeps Coins For Free
Three Different Bingo Variants
Cons
No Bingo Specific Bonuses
No Progressive Jackpot Bingo Games
Mobile App Is Really Annoying
The original sweepstakes casino definitely deserves credit for pioneering a way to play real money casino style games across the US legally. However, when it comes to bingo, they're neither first nor the best. Instead, if you're after the best sweepstakes bingo experience, we recommend you check out one of the sites below.
Information About Chumba Bingo
Chumba Bingo is a relatively new addition to Chumba Casino. For a quick summary of everything you need to know about Chumba Casino's latest game type, check out the table below.
⭐Chumba Bingo Highlights
🌐Websites
www.chumbacasino.com
OR
www.chumbabingo.com
Service
Sweepstakes Casino Offering Bingo
🖥️Bingo Games
Three:
- 75-Ball Bingo
- 90-Ball Bingo
- Bingo Blast
🎁No Deposit Bonus
2,000,000 Gold Coins + 2 Sweeps Coins
🤑Promos
No Deposit Bonus
First Purchase Bonus
Daily Login Bonus
Mail-In Bonus
Facebook Contests
🟡Currencies
Gold Coins (Free Play)
Sweeps Coins (Promotional Play)
📱Mobile Access
Mobile Site + Mobile App (Android Only)
🤝Sister Sites
LuckyLand Slots, Global Poker
📜Meets Sweepstakes Legitimacy Criteria?
✅Yes
🇺🇸 Available In
All US States Excl. Washington & Idaho
18+
💳Payments
Credit/Debit Card
Skrill
Bank Transfer
How Chumba Bingo Works
Chumba Bingo is accessed through Chumba Casino.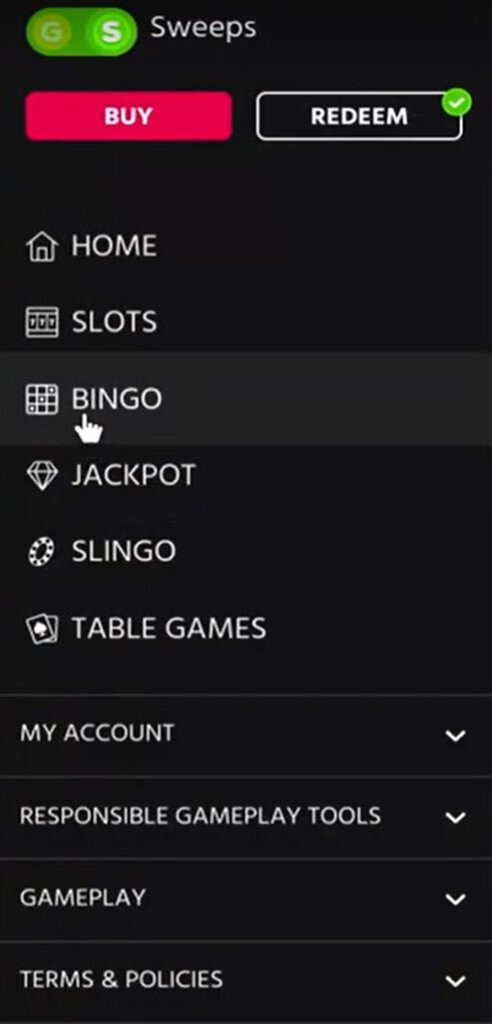 Just select it from the menu to be taken to the Chumba Bingo homepage, where you'll be able to choose between their 75-ball, 90-ball, and Bingo Blast variants. Games are available through both gold coins and sweeps coins. So even if you've never played bingo — don't sweat it, because after a few gold coin bingo games, you'll be up to speed.
Once you've selected which bingo game you want to play, just purchase however many tickets you want to play and wait for the countdown to reach zero and for the first number to be called. All numbers at Chumba Bingo are automatically daubed. This is especially helpful when you're playing multiple bingo cards as it means you don't need to daub each number manually — and it also means you don't need to stress about any numbers that you've possibly missed.
An added benefit of this is that games are quick. If you find that you've just missed out on entering a recent bingo game, don't fret. Bingo games regularly take less than a minute to complete, and new games start almost every minute.
How to Set Up a Chumba Bingo Account

Getting started with bingo at Chumba Casino is pretty straightforward. If you've already got a Chumba Casino account, you'll just need to log in and select "bingo" from the available casino games section. But even if you've never played at Chumba before, it's still a cakewalk to get started.
Navigate to the Chumba Casino homepage.
Scroll down the homepage until you reach the green section, and click the purple "Register Now" button.
From here, you'll need to fill in the registration form with some basic information, including your email, desired password, and full name. Once you've completed all that, a registration email will be sent to you. Click the link inside to confirm your registration.
Now just log into your Chumba Casino account to claim your free sweeps coins and free gold coins, and choose "Bingo" from the game library.
That's it. You're now ready to play bingo at Chumba Casino.
Is Chumba Bingo at Chumba Casino free?
At Chumba Casino, all of their casino games are available to be played for free, and this includes their Chumba Bingo. When you first sign up, you'll get a no-deposit bonus of 2,000,000 free gold coins + 2 free sweeps coins. These coins can be used to play bingo at Chumba without you needing to make a real money deposit first.
But these aren't the only bonuses. Existing users at Chumba can also look forward to a daily login bonus of 200,000 gold coins + 1 sweeps coins every day. This pretty much guarantees that there will always be a way for users to play Chumba Bingo for free.
Where You Can Play Chumba Bingo
As a sweepstakes casino, Chumba Casino is available to be played from almost every state across the US. In fact, the only US states that don't allow their residents to play at Chumba Casino are Washington and Idaho. If you live anywhere other than those two states though, you'll be able to play bingo at Chumba Casino so long as you are at least 18.
Unlike sweepstakes casinos like Pulsz and Pulsz Bingo, Chumba Bingo is not a separate site — and instead you play it from Chumba Casino much like you would any of their other casino games. Chumba Casino does have a separate Chumba Bingo homepage, but from what I could tell, it's pretty much identical to the normal Chumba Casino homepage except with a unique URL. Regardless of which site you play at, the casino you'll log into will also be the same.
Is Chumba Bingo Available on Mobile Devices?
Chumba Casino unusually has two types of apps. The first app, Chumba Lite, is available on all mobile devices, but does not have any option for real money play or bingo games. Their second app is a more traditional sweepstakes casino app simply called "Chumba Casino". This app is only available on Android devices, though existing users can use it to play real money bingo and other casino games.
Functionally, it's a decent app. But I'd be remiss if I didn't mention the near-constant spamming of ads that I had to endure, and while I understand that most free apps include ads — Chumba Casino really took it to the next level. It's a real shame. Besides that, the Chumba Casino app is one of the better sweepstakes casino apps, with minimal freezing and no bugs.
However, the ads ruin the app for me.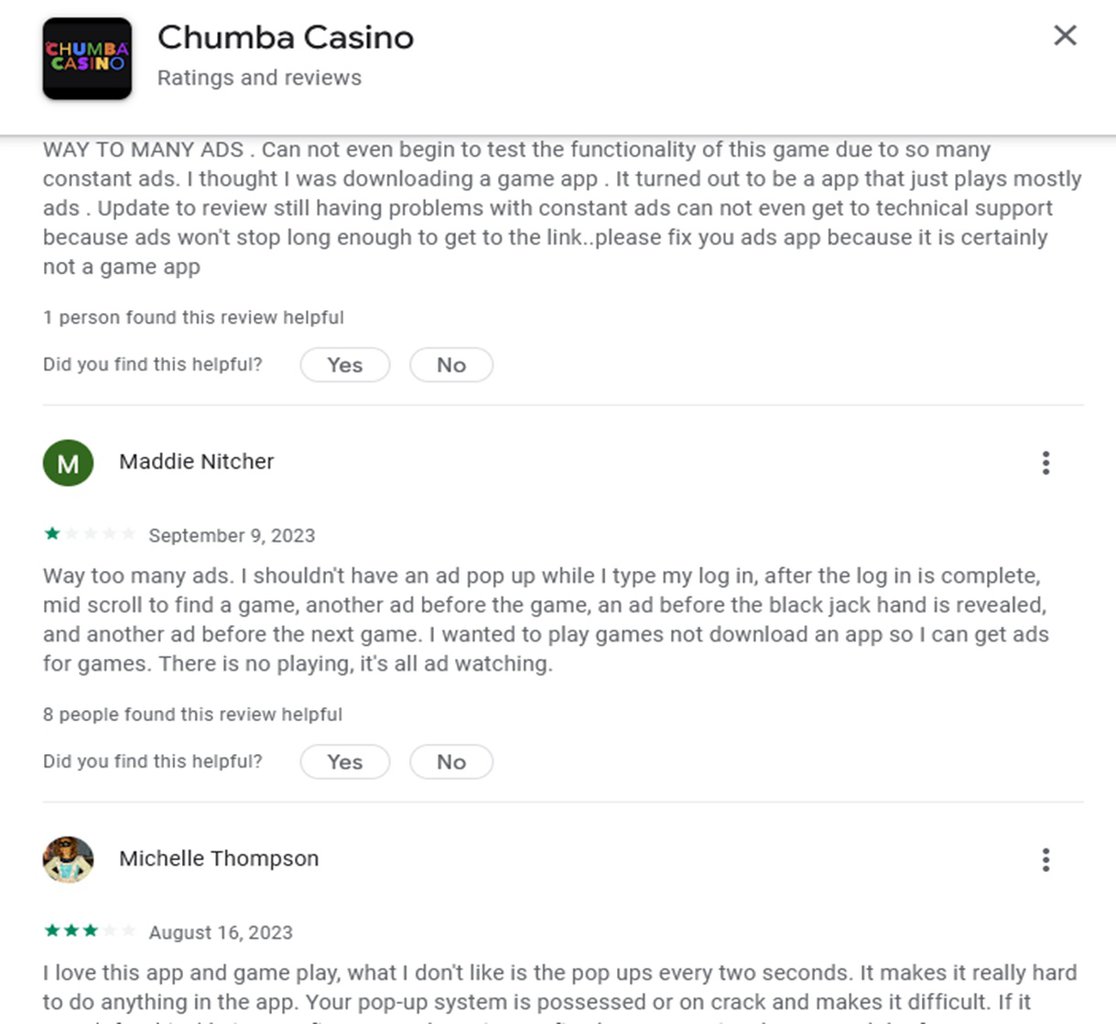 And if you look at the Chumba Casino review page on the Google Play Store, pretty much everyone has the same opinion.
For this reason, if you want to play Chumba Bingo from your mobile, I'd suggest just sticking with the dedicated mobile site.
Chumba Bingo No Deposit Bonus
At Chumba Casino, there are no dedicated bingo bonuses. However, the good news is that the normal Chumba Casino no-deposit bonus can be used on all bingo games.
This no-deposit welcome bonus is pretty good, sitting at 2,000,000 gold coins + 2 free sweeps coins. There's no Chumba Bingo promo code required, and instead to claim it, new users only need to sign up at Chumba Casino by using our links.
Chumba Bingo Promo Codes & Bonuses
While the no-deposit welcome bonus at Chumba Casino is undoubtedly their most popular bonus, it isn't the only one on offer. At Chumba Casino, the following bonuses are also available to be used on bingo.
Chumba Casino Login Bonus — The daily login bonus at Chumba Casino is one of their top bonuses, offering existing users 1 free sweeps coins + 200,000 free gold coins just for logging in.
Mail-In Bonus — The mail-in bonus gives users five free sweeps coins just for sending in a postcard to the Chumba headquarters. They're pretty strict about what you need to write on these postcards, so if this is a bonus you want to claim, make sure to check out the Chumba Casino sweeps rules page for more information.
Facebook Contests — As the biggest sweepstakes casino in the US, Chumba Casino regularly holds contests and giveaways on their Facebook page. Just follow them and answer their tournament questions to enter their giveaway.
First Purchase Bonus — The Chumba Casino first purchase bonus gives you more bang for your buck when you first purchase gold coins. With this bonus, you get 10,000,000 gold coins and 30 sweeps coins for just $10. That's a 200% bonus!
How to Play Chumba Bingo Games
At Chumba Casino, you'll mainly have three options for playing bingo.

While these games play pretty similarly, there are a couple of differences — so below, we'll give you a quick summary on the Chumba Bingo variations.
Chumba 75-Ball Bingo
The 75-ball variant of bingo is arguably the most popular form of bingo at Chumba Casino — running about every five minutes. 75-ball bingo is unique in that rather than just giving out a single prize per game for the first player to completely daub their bingo card, 75-ball also has secondary prizes for players who are able to daub a particular pattern in their card.
The required pattern will vary between games. Though it'll usually be something like filling in the corners or filling in a cross. 75-ball bingo is typically the most expensive to enter but also has the highest prizes.
Chumba 90-Ball Bingo
90-ball bingo is the most straightforward variant of bingo to get your head around. You don't need to fill out any pattern as it's a winner-takes-all scenario, where the first player to fill in their entire bingo card wins the whole prize. If you've never played bingo before, I recommend starting out with this format. 75-ball bingo runs about every five minutes and balances risk and rewards, offering both moderately priced tickets, and a pretty decent, though not massive prize pool.
Chumba Bingo Blast
Bingo Blast is an online exclusive — designed for players who want a quick-paced game. On the surface, it can look similar to 90-ball bingo as there are 90 numbers, and there's only one prize given out for daubing all numbers. However, rather than having numbers called out one at a time, Bingo Blast starts with an initial blast of 45 numbers. A second smaller blast usually follows, and if the prize still hasn't been won, numbers will begin to be called rapidly one at a time. Because of this, bingo blast games are usually four times quicker than a standard game.
Bingo Blast is typically the cheapest Chumba Bingo game to purchase a ticket in and also has the quickest turnaround time between games at around 90 seconds.
Chumba Bingo Purchases
If you're interested in supercharging your bingo experience by purchasing gold coins, you've got a lot of Banking options at Chumba to choose from. Purchases can start as low as $1 and can be made via the following payment methods:
Credit/Debit Card
Electronic Banking
Skrill
Just click the red "Buy" button in the top right corner of your screen to view available gold coin packages and make a purchase. Remember, if it's your first purchase, you'll also be eligible for the Chumba first purchase bonus.
Does Chumba Online Bingo Pay Real Money?
When playing Chumba Bingo with sweeps coins, you have the chance to win real cash prizes. To redeem cash prizes, just head to the redemption page and choose between either a virtual gift card or a cash prize that will be sent to your bank account. For gift cards, you'll need a minimum balance of 10 sweeps coins for redemption. Whereas for straight cash, the bar is set quite a bit higher at 100 sweeps coins.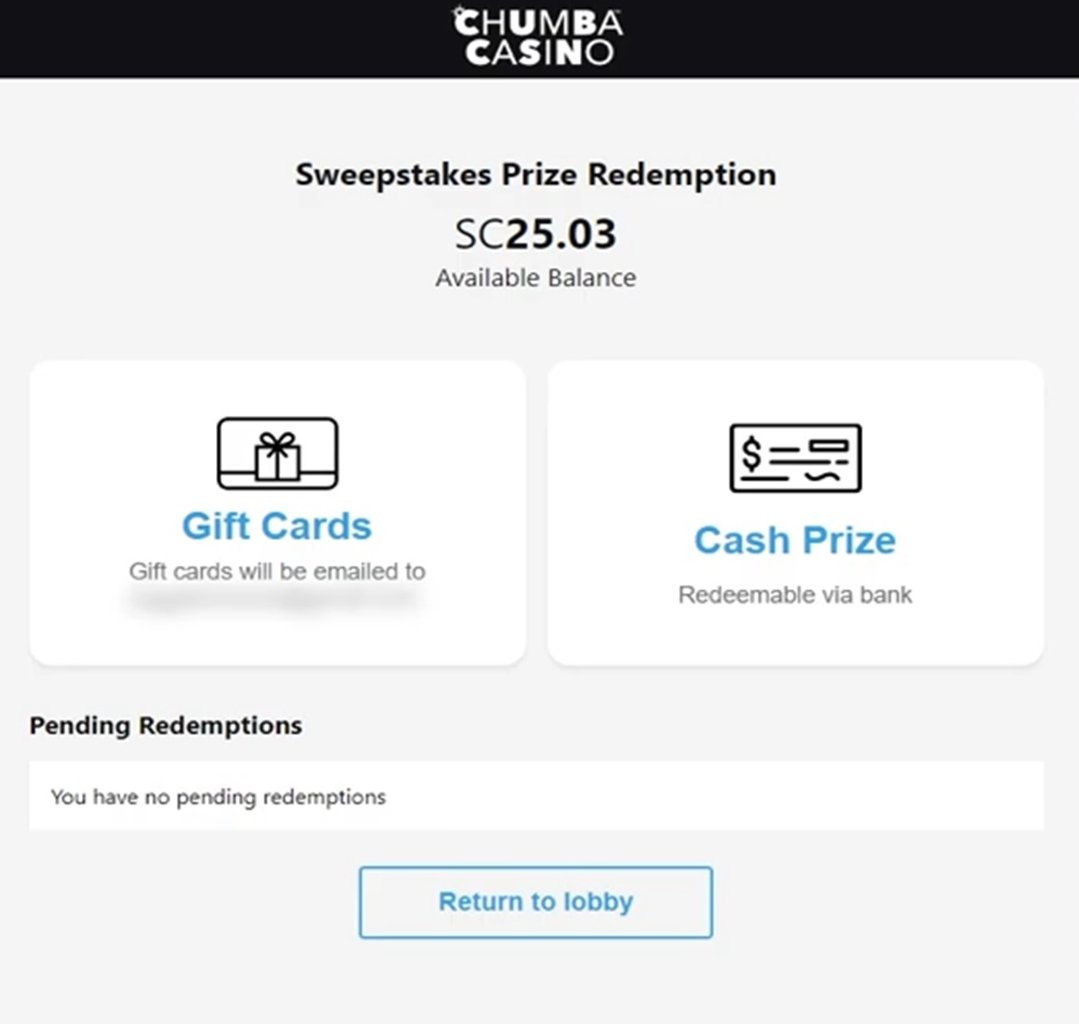 I've redeemed my sweeps coins via both of these methods before and can confirm that they're both 100% legit. Gift cards take about 48 hours to arrive, whereas for a cash redemption, you're looking at about 3-5 business days. With that being said, Chumba does state that it can take up to 10 business days.
Is Chumba Bingo Legit?
Being a part of the original US sweepstakes casino Chumba Casino, it almost goes without saying that Chumba Bingo is 100% legit. The bingo games are fair, and while I personally didn't have the best of luck with them, I know that other members of our team have been luckier.
Would We Play Bingo at ChumbaBingo.com?
Having been the first sweepstakes casino I played at, I'll always have a soft spot for Chumba Casino. But with that being said, it does feel at times that Chumba has been coasting along on their reputation — and while Chumba Bingo is a good addition, it isn't enough to take them back to the pinnacle of US sweepstakes casinos.
For that reason, while I'll always have my eye on Chumba to see what they're up to, they're not a casino that I play at. And I also believe there are far better alternative sites to play bingo on.
Chumba Bingo Alternatives
While Chumba Bingo is decent, they aren't the gold standard of real money online bingo in the US. There are no bingo-specific bonuses. Plus, from what I could tell, there were no progressive jackpots that produced the biggest winners at Chumba attached to any of their bingo games. For these reasons, I don't recommend playing Chumba Bingo.
Fortunately, there are plenty of sites that will give bingo enthusiasts the A1 treatment they deserve, and below, you'll be able to find our picks for the best real-money bingo sites in the US.
FAQs
What is the best Chumba Bingo game?

What the best Chumba Bingo is will depend on what you're after. If you're just starting off, we recommend 90-ball bingo. Though if you've played bingo before and just want to play a popular variant, try the 75-ball variant. And if you're after a fast-paced bingo experience, give Bingo Blast a shot.

Can I play Chumba Bingo on my mobile phone?

Chumba Bingo can be played on all mobile devices through the Chumba Casino mobile site. However, only Android users will be able to download the Chumba Casino mobile app.