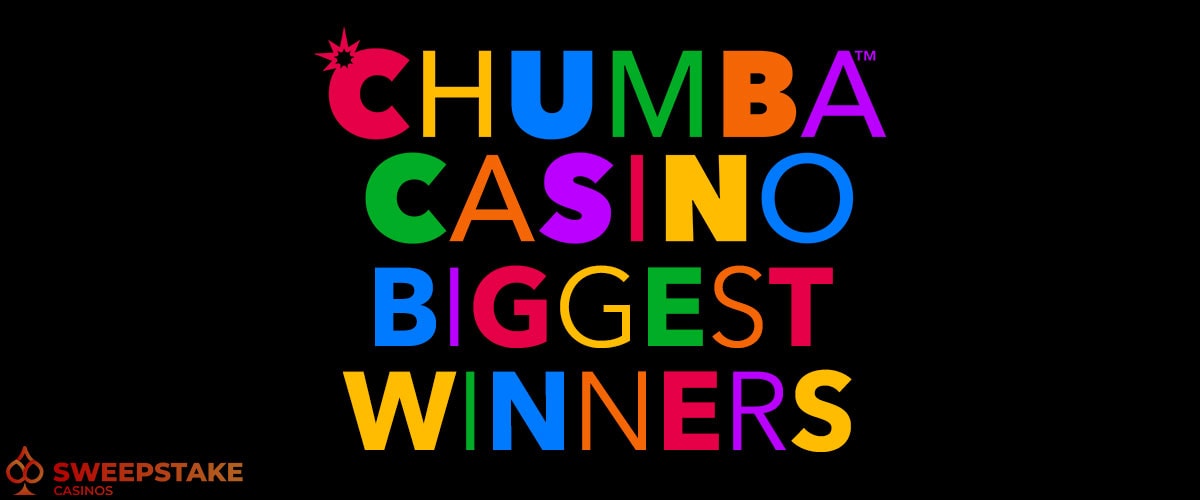 In 2019 a young mother had her life change in an instant. Donnalyn woke up that day like she usually did, unbeknownst to her that by the time the sun had set, she would become Chumba Casino's first millionaire.
It was a landmark achievement. Not just for Donnalyn herself, but for sweepstakes casino players across the nation, as it marked a coming of age, as sweepstakes online casinos confirmed their reputation as places where fortunes could be won with free casino games.
Today, there are 10+ online sweepstake casinos with progressive jackpot slots paying out prizes of 1M+ in SCs:
While the Hawaiian native may have been the first, she certainly wasn't that last, as following her success, Chumba Casino has crowned more than a dozen other millionaires, with hundreds more claiming at least $100,000. In fact, six-figure payouts at Chumba happen every other week.
In this guide, we'll be looking at some of the biggest and weirdest cases where everyday people have won real cash prizes in the millions.
🎰Chumba Casino Highlights
🏛️Operating Company
VGW
🎁Welcome Bonus
2,000,000 Gold Coins + 2 Sweeps Coins
💰Number of Chumba Millionaires Crowned
35
👨First Millionaire
Donnalyn K. ($1,880,000)
👩Latest Millionaire
Stephanie F. ($1,818,218)
🤑Biggest Payout
$2,450,148
Can You Win Money on Chumba Casino Games?
Chumba Casino was the very first sweepstakes casino in the US. And while there may have been a few raised eyebrows when they first launched back in 2012, time has shown that Chumba Casino (and sweepstakes casinos in general) are the real deal. While million-dollar wins may be pretty rare, people win real money at Chumba every day when they play games. I can even personally attest to that, having walked away with a $1,000+ payday from their Lightning Nudge Wilde slot. Not quite as much as others — but I'm not complaining.
The method to winning money at Chumba is simple. If you want to win often, play their most popular high RTP slots. And if you want to win big, play their progressive jackpot slots, which regularly have payouts resting in the seven-figure range. These jackpots are more likely to be triggered with larger-sized bets, but as we'll show below, millionaires can be made from spins that cost less than $1.
Biggest Chumba Casino Winners in 2023 (So Far)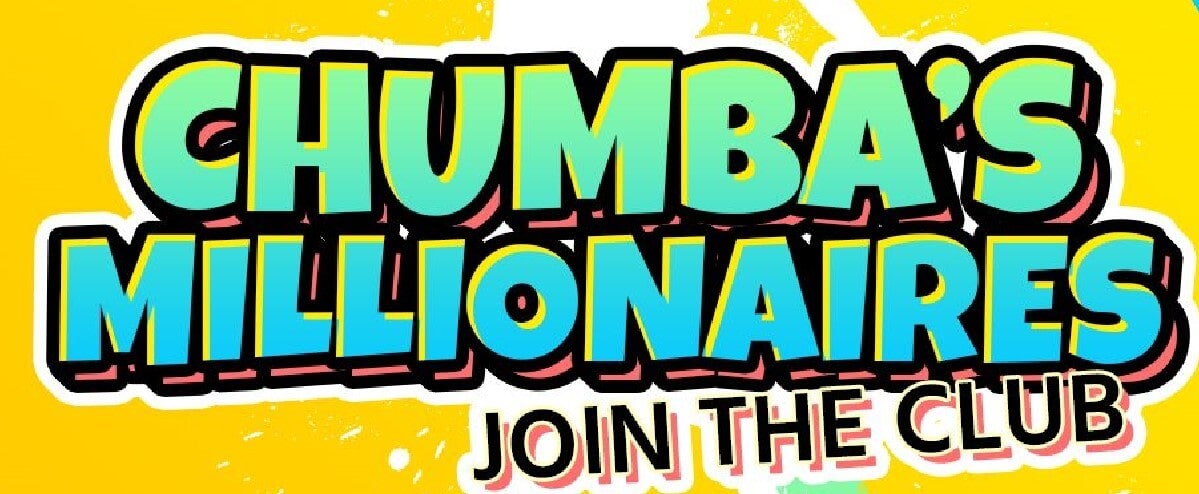 As of writing, 35 Chumba Casino millionaires have been crowned. Any one of these instances contains jaw-dropping stories of regular people having their lives changed in the blink of an eye. However, for brevity, we've decided to highlight three of the most notable examples.
🥇#1 Biggest Winner Kalie D. $2,450,148
The 27th Chumba Casino millionaire and the biggest winner was crowned earlier this year when Kalie D. claimed a $2,450,148 payout off an SC 10 bet while playing Aztec Quest.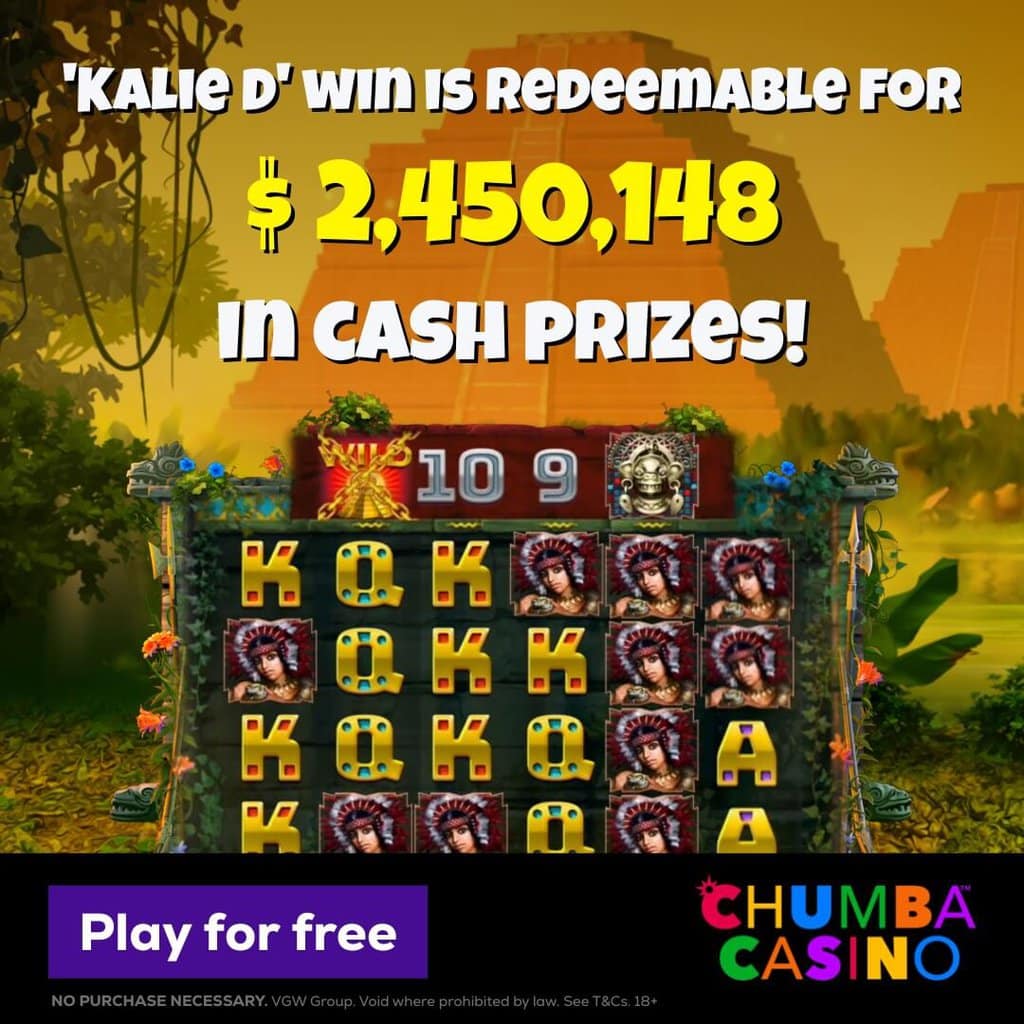 Aztec Quest is one of those games that regularly has its progressive grand jackpot sitting at over 1,000,000 SC. Though for it to reach over 2,000,000 SC is pretty rare. Of course, the second it does, consider that the alarm to swing your focus over to it to see if you can snag the big jackpot. It was an alarm call that Kalie D. answered. And after a couple of SC10 spins, she finally hit the big one with the 2,450,148 SC payout, which she promptly cashed out.
Kalie D. is an example of showing how increasing your bet size may also increase your chance of winning a grand jackpot. As while you can spin for as little as 0.20 SC, Kalie D. instead bet 10 SC, and she was rewarded. Not much is known about Kalie D., as she's opted to keep quiet. What we do know is that she's been playing at Chumba Casino for "a few years now" and is the proud recipient of Chumba Casino's biggest-ever payout.
🥈#2 Winner Rachel A.P. $2,410,059.94
Rachel A.P. was the 5th Chumba Casino millionaire, and up until Kalie's win this year, she had held the record for the biggest Chumba Casino win for almost three years.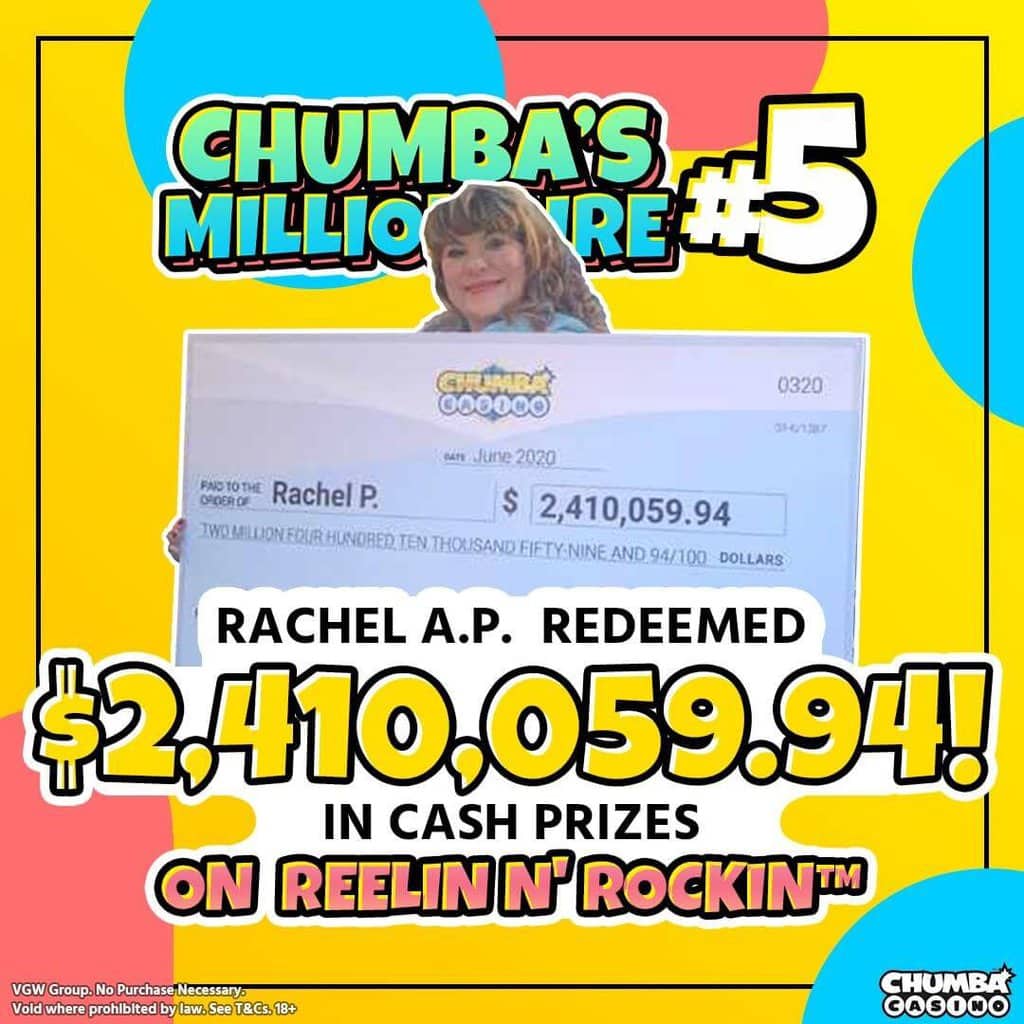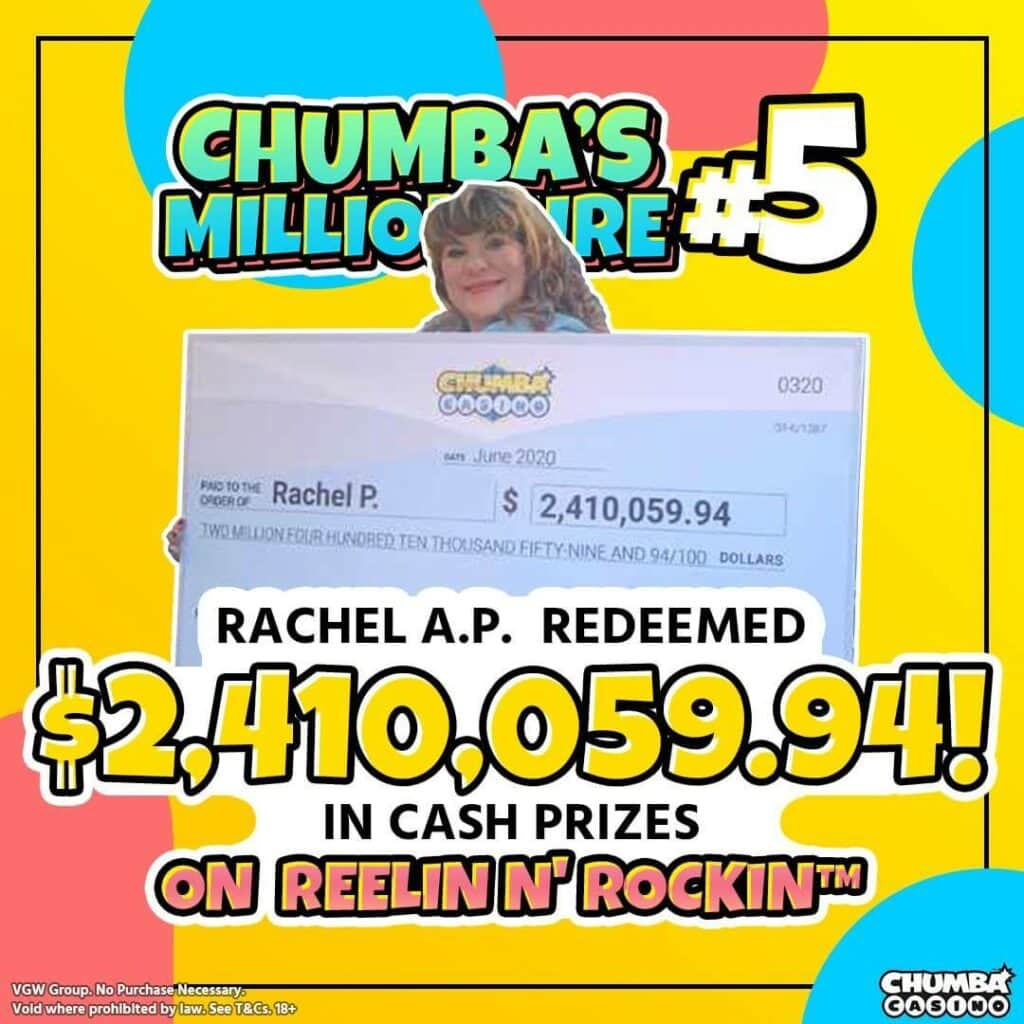 Reelin N' Rockin was her game of choice. This online slot game is one of the many Chumba Casinos slots that are tied to the progressive Fireshot Jackpot, which all share the same progressive jackpot grand prize pool.
Most of Chumba Casino's big winners have come from this series of games as it regularly fills up and just as regularly pays out. However, it had been a few months since its last payout when Rachel A.P. got the news that she was to be the recipient of a Chumba Casino cash prize of over two million dollars.
🥉#3 Weird One – Donnalyn K. $1,880,000
Donnaly K. was lucky #1. She was the first Chumba Casino millionaire, claiming a very respectable $1,880,000. Though what makes her story especially unique is the weird way in which she did it, as rather than making a large bet which is more likely to win the big prize, she made a small 0.5 SC bet. In USD, that's $0.50. And for that small cost, her reward was having her life and her children's life changed forever with a truly mind-boggling $1,880,000 payday.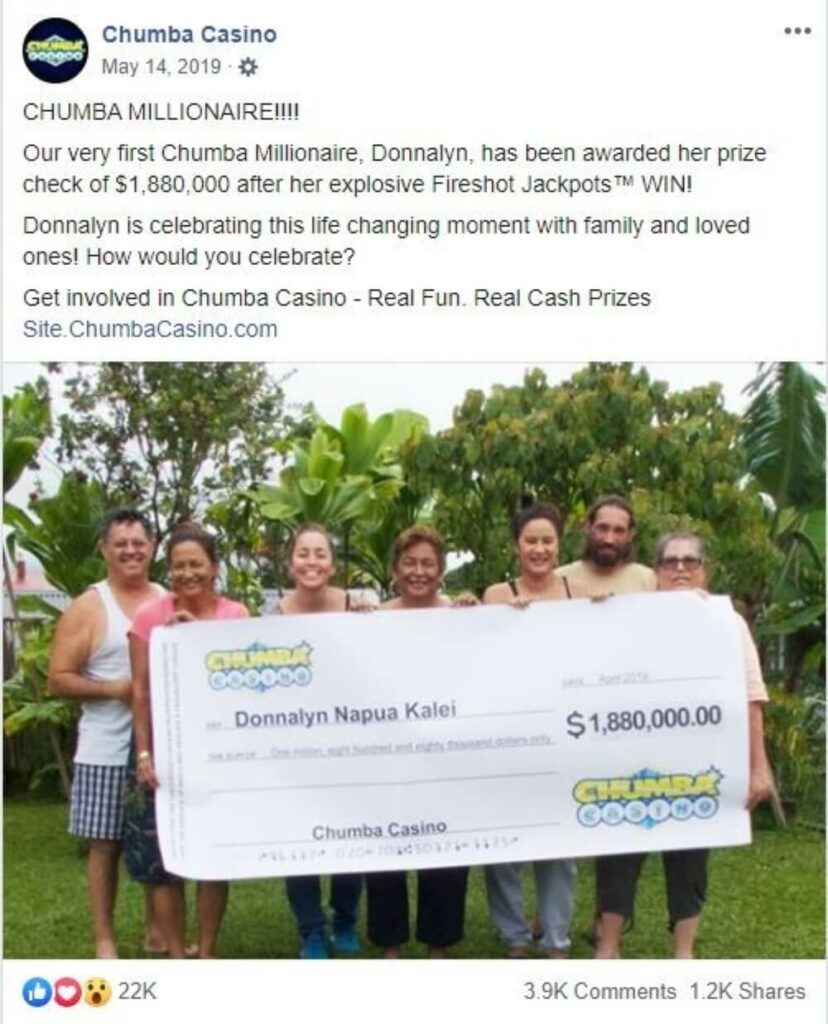 Like Rachel, Donnalyn had her win come from the explosive Fireshot Jackpot, which for the first time, had swelled to over 1,000,000 SC. Unlike Rachel though, Donnalyn's game of choice was Stampede Fury.
After winning, Donnalyn K. admitted that she usually doesn't pay too much attention to the big prize pools and usually just plays for fun at whatever game she feels like for the day. That's what makes Donnalyn's story so weird. Going against the popular strategy for winning big, she simply played a random game, bet a small amount, and came away as Chumba Casino's first-ever millionaire.
Best Chumba Online Casino Games to Win Big
Of course, while you can play random games like Donnalyn and still win big, there are certain games that are more likely to pay out the big bucks than others. In the table below, you'll find the five hottest games at Chumba Casino that are likely to pay out big, as well as some key information about those games.
| 🎰Slot Name | 🤑Biggest Win | 💵Smallest Bet Size | 💰Highest Bet Size |
| --- | --- | --- | --- |
| Aztec Quest | 2,450,148 SC | 0.20 SC | 500 SC |
| Reelin N' Rockin | 2,410,059.94 SC | 0.50 SC | 200 SC |
| Buffalo Blitz | 2,406,000 SC | 0.40 SC | 160 SC |
| Stampede Fury | 1,880,000 SC | 0.50 SC | 25 SC |
| Western Gold | 1,500,000 SC | 0.50 SC | 50 SC |
Chumba Casino Millionaire Winners Final Thoughts
Winners are crowned every day — not just at Chumba Casino, but at sweepstakes online casinos around the nation.
It can be pretty wild to think about. How you can get started at Chumba Casino for free, and by using our exclusive links, claim an initial no-deposit welcome bonus of 2,000,000 Gold Coins + 2 Sweeps Coins.
Then, with those very same free Sweeps Coins, you can take a stab at one of the many Chumba Casino online gambling games that offer a progressive jackpot. And if you're lucky, you can become the next Chumba Casino millionaire.
FAQs
Has anyone won at Chumba Casino?

Yes. People win real cash prizes playing at Chumba Casino every day. They've crowned 30+ millionaires and have awarded $100,000+ to hundreds. For more details on some of the most recent big wins at Chumba Casino, make sure to follow the Chumba Casino Facebook page.

Does Chumba give out real money?

Yes. As a sweepstakes casino Chumba Casino is obligated to follow the sweepstakes model of promotion. One of the key tenets of this model that separates sweepstakes casinos from more traditional online casinos is that they must abide by the "No Purchase Necessary" policy. What this means for players is that Chumba must provide a way for users to play their sweepstakes games for free. The easiest way to start is by signing up to Chumba Casino by using our links. Once you complete registration, Chumba Casino will give you a no deposit bonus of 2,000,000 Gold Coins + 2 Sweeps Coins.

What is the most someone has won at Chumba casino?

The most someone has won at Chumba Casino as of writing is Kalie D. On March 1st, 2023, she became Chumba Casino's 27th millionaire with a $2,450,148 payout following her 10 SC spin on Aztec Quest. Though with more millionaires being crowned every month, don't be surprised if someone breaks this record soon.

What is the most won game in Chumba Casino?

The slot game with the biggest payout is Aztec Quest. But with that being said, most of the Chumba millionaires have been crowned by playing a slot tied to the progressive Fireshot Jackpot. Games tied to this progressive jackpot are Stampede Fury, Reelin N' Rockin, Wild Roads, Triple Double Fever, Long Zhi Bao Zang, Vikings of the North, The Big GoREELa, and Duskmoon Faire Jackpot.