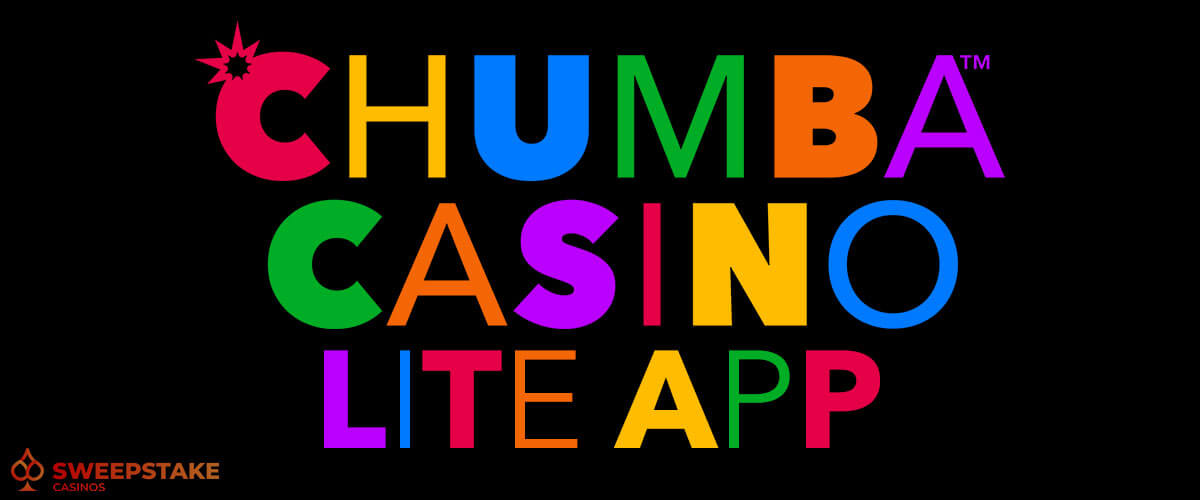 Chumba's reputation as the first sweepstakes casino is legendary. However, while their desktop experience has always been decent — the same cannot be said about their mobile app Chumba Lite. We review the Chumba Lite casino app to see if you should play on it. You will be surprised!
Produced by the sweepstakes company VGW (Virtual Gaming Worlds), as the name suggests, Chumba Lite is very much a lite version of Chumba Casino, available on both iOS and Android mobile devices as a downloadable app.
Though even as a lite app, it isn't great. A poultry selection of games as well as an inability to play with the premium sweeps coins currency, makes the Chumba Lite app a mediocre mobile port. For that reason, I can't recommend Chumba Lite. Instead, if you are looking for a sweepstakes casino with a great mobile app, I recommend you check out the Pulsz or Funrize apps.
For those who are still interested to download and install Chumba on their mobile devices, our guide outlines the installation steps, pros and cons, and features of the app.
Chumba Casino App Review
🎰Chumba Casino App
📱Chumba Android App
Google Play Store (Chumba Lite - Fun Casino Slots) 4.2/5
📱Chumba Apple App
App App Store (Chumba Lite – Casino games) 3.1/5
🧑‍💻Developer
Virtual Gaming Worlds
📅Last Update
Android: Nov 10, 2022
Apple: Jan 31, 2023
🌀Size
Android: 97 MB
Apple: 134.7 MB
⏱️Time To Install
A Few Seconds
✍️App Sign-Up Bonus
5,000,000 Gold Coins For Guests
50,000,000 For Linking Facebook, Google, or Apple Account
🎲Number of Games
3
✅Pros
100% Free To Play, Lots Of Bonuses
❌Cons
Small Gaming Library, No Real money Play
✅Pros of using the Chumba Casino App
Available on both Android & iOS devices
100% free to play
No registration is required
Heaps of gold coins bonuses
❌Cons of using the Chumba Casino App
Acts more like an advertisement for Chumba Casino than a stand-alone app
Only three slot games are available
No opportunity for real money play
Lots of ads
High max bets on slots are locked until you level up
Chumba Casino iPhone App Download
The Chumba Casino slots app can be downloaded through the Apple App Store by searching for "Chumba Lite – Casino games".

From there, you'll be able to hit the blue "Get" button, and your download will begin. The download isn't too big, and within a few moments, it should finish. From there, you'll find the Chumb Lite icon on your home screen.
The iPhone Chumba Casino Lite app does feature a significantly lower rating than its Android counterpart — but don't let that dissuade you, as from my experience, both social casino apps work fundamentally the same way.
Chumba Casino App Download Android
For Androids, you'll be able to download the Chumba Casino slots app by entering the Google Play Store and searching for "Chumba Lite – Fun Casino Slots".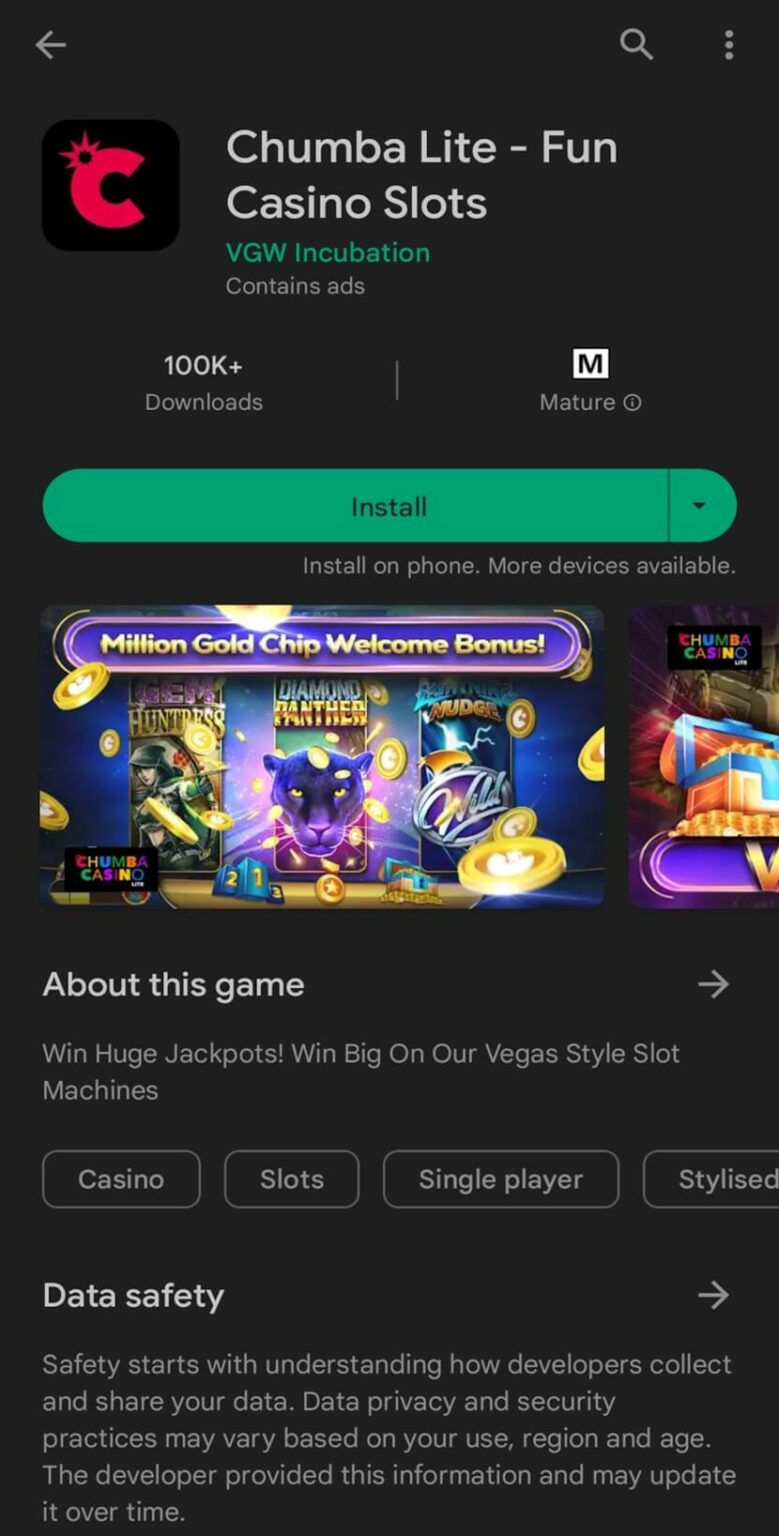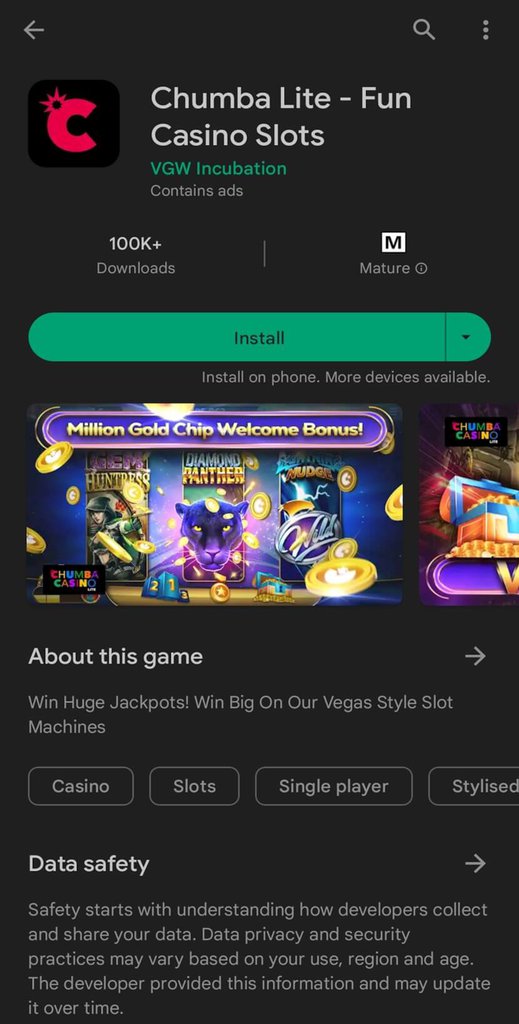 Then just tap the green "install" button, and the installation will begin. Again, the installation is lightning fast, and within seconds the Chumba Casino app will finish installing, and you'll be able to click the icon on your home screen to launch it.
How to Sign Up on the Chumba Casino App
Registering on the Chumba Casino app could not be simpler. Once you've finished installing the app, just tap the icon on your home screen to launch it. When it's launched for the first time, you'll be taken to a screen with three options. You can either continue as a guest — bypassing the registration process entirely, or you'll be able to sign up by linking your Facebook account.
Finally, you'll also be given a third option for signing up, depending on your device. If you're on an iPhone or any other iOS device, you'll be able to sign in with your Apple ID, whereas Chumba Casino app users using an Android will instead be able to sign up through Google.
Regardless of how you choose to register though, it's simple. On average, you can expect this process to take no more than 30 seconds.
App Interface and Usability
Unsurprisingly, Chumba Lite feels like a lite app. This isn't necessarily a bad thing though — registration is effortless, installation is quick, and you're able to jump immediately into the slot game of your choice.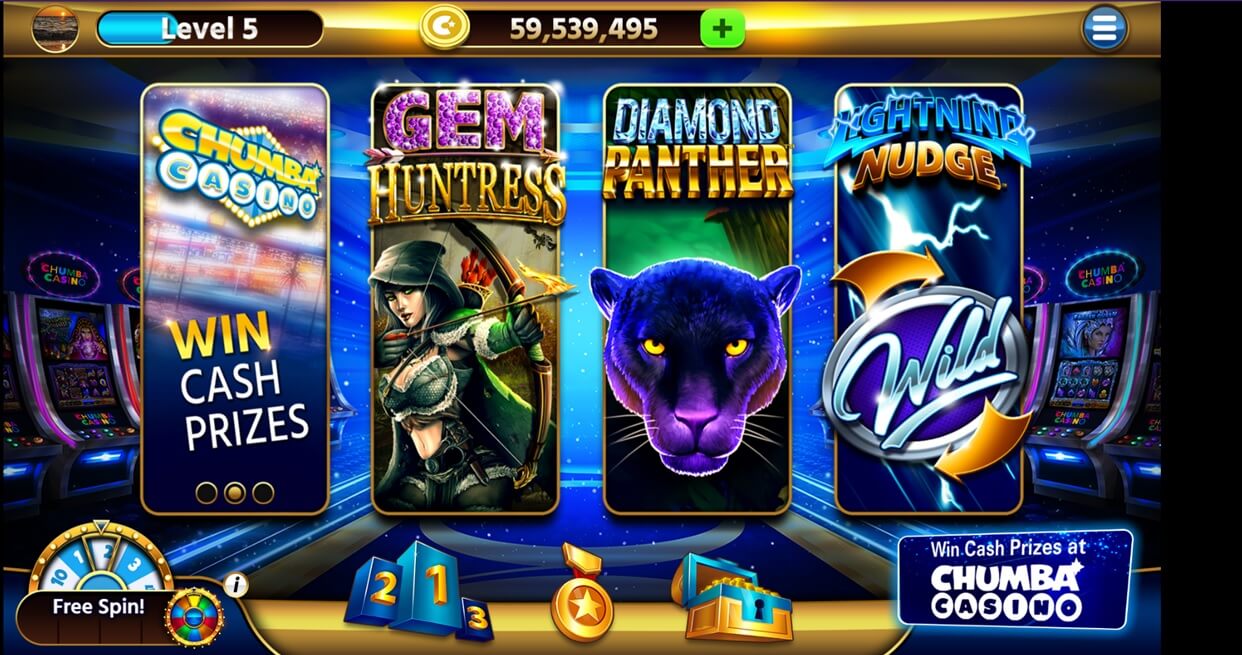 Whether you're playing on an iOS or Android device, the app will look and function similarly.
From the homepage, you can either play one of their games, navigate to the Chumba Casino website, take advantage of one of the gold coin bonuses, check out the leaderboard, or view the drop-down menu. And that's really all there is to it. A level-up system gives you something to work towards — as for each level, you'll not only get free gold coins but also your max bet on one of the slot titles will be increased.
While playing, I did encounter a few bugs which froze the app. However, these were easily overcome by exiting and closing the app before relaunching it. Further, despite it being a lite app, the developers are keeping the app updated with a new patch every four or five months.
While not spectacular, Chumba Lite is decent. A lack of variety may lead to some staleness, but its simplicity makes it a good app for playing social casino slots on the go.
Mobile Casino Games
A tiny gaming library is a real weakness of the Chumba Lite app. If you want to play games, you've only got three slot games to choose from. Below, we'll cover all the Chumba slots on offer.
Gem Huntress — Five reels, four rows, and 50 paylines make up the basics of the treasure themed Gem Huntress. The base game is good, but by collecting at least three of the gem scatter symbols, you can trigger the unique bonus feature which gives the player the opportunity to choose their own bonus. Either 25 free spins with the wild, ace, king, queen, jack, and ten symbols being stacked, 15 free spins with the wild and the 3rd-5th most valuable featured symbols stacked, or eight free spins with only the wild, panther, and gem huntress symbol being stacked. This feature allows you to choose your own volatility.
Diamond Panther — Diamond Panther has a similar layout to Gem Huntress with its 5 x 4 layout — though features 40 paylines. Diamond Panther does have a free spins feature which can be triggered by collecting three scatter symbols. But even the base game is profitable with the Shifting Vines feature.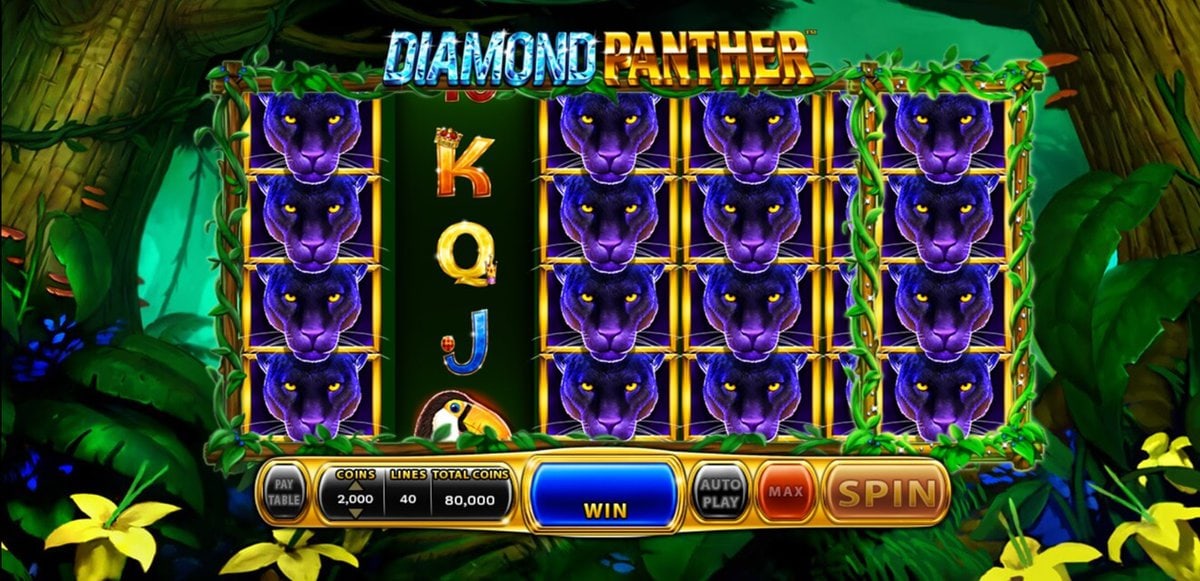 With this feature, when you fill the first reel with matching symbols, the shifting vines will replicate your full stack of symbols on other reels.
Lightning Nudge — A blast from the past, Lightning Nudge is your classic three-reel slot machine. Five paylines might seem lacking, but with only six symbols — wins come very often. Of course, the highlight of Lightning Nudge is its bonus feature which allows you to choose your own bonus when you collect three scatter symbols. Choose low volatility with 15 free spins with an x2 multiplier. Or, if you want that high volatility experience, you can grab an x5 multiplier for six spins. Of course, there's also the middle road offering ten free spins with an x3 multiplier.
The three slot games all play differently. However, it's undeniable that it does feel a little lacking, especially when you remember that Chumba Casino has well over 80 casino-style games at their web-based casino. So while it might be fun for an hour or two, Chumba Lite does get old pretty quickly.
Chumba Casino Slots App Cashier
Chumba Lite is a 100% free to play social casino. There are no sweeps coins, nor is there any way to purchase gold coins with Chumba Casino app users needing to either rely on watching ads or on one of the bonuses to get additional gold coins if they run out.
Chumba Lite doesn't try to hide this either. All throughout the site and whenever you level up, you'll see ads for Chumba Casino, where you can play real money games and buy GC by using trusted payment methods.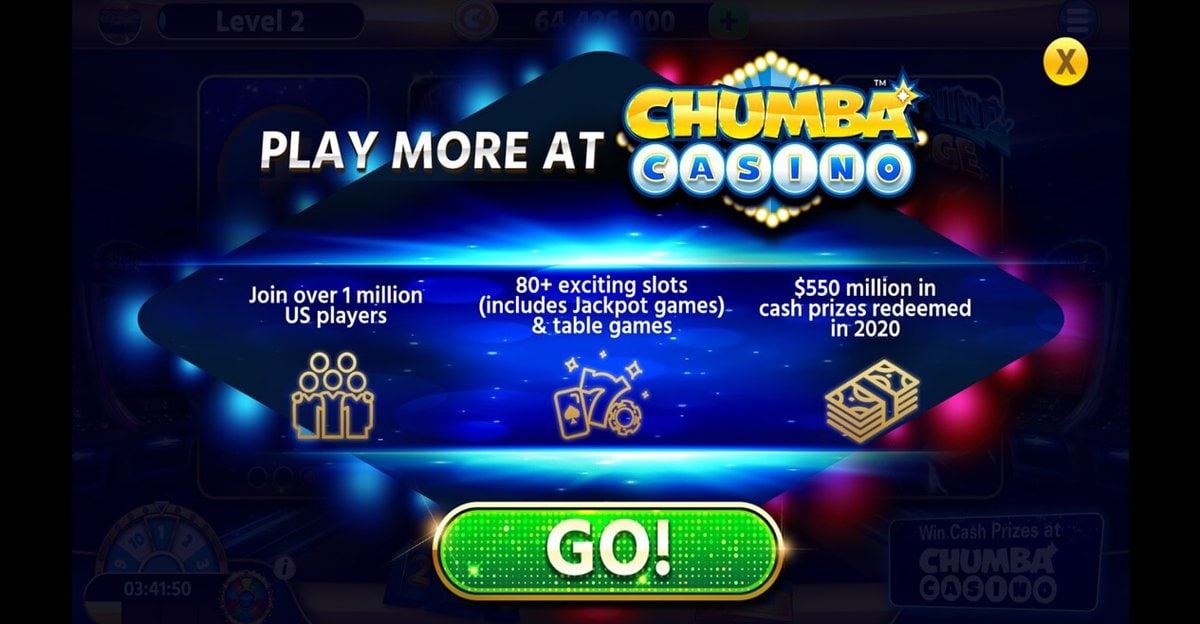 The constant ads can be a little annoying. And it's one of the reasons why I think the Chumba app can't hold a candle to the Pulsz sweepstakes casino app, which has a much more comprehensive selection of games, offers real money play, and doesn't feature constant ads.
Free Bonuses for Playing at Chumba Lite
With there being no opportunity to purchase additional gold coins, bonuses are the main way to top up on gold coins. The best of these is the Chumba Casino app no deposit welcome bonus.
No Chumba Casino bonus code is required for it, and despite its claims of being 1,000,000 gold coins — I found it's actually 5,000,000 gold coins if you sign up as a guest.
Alternatively, if you sign up through Facebook, Google, or Apple — you can look forward to a 50,000,000 gold coin no deposit welcome bonus.
But that's not the only bonus. Because existing players at Chumba Lite can also look forward to additional free rewards like daily gold coins bonuses and free gold coins when they complete achievements. Additionally, you can also spin the wheel every four hours for even more gold coins. Even better though, every four times you spin the wheel, you'll get to spin the special wheel for the chance to win even more gold coins.
Add all these bonuses together and you've got a pretty steady stream of gold coins. For Chumba sweeps bonus codes, you'll have to move your game online.
Chumba Lite Summary
Despite being produced by Virtual Gaming Worlds — Chumba Lite really falls short. Multiple bonuses and an easy sign-up process are great. However, a lack of real money options and a minuscule gaming library of only three slot games really drags Chumba Lite down.
The app very much feels like an advertisement for the Chumba Casino site. This wouldn't be the end of the world — but I don't even think the Chumba casino site is that good when you compare it to sweepstakes casino juggernauts like WOW Vegas, Stake.us, Fortune Coins, and High 5 Casino.
Overall, the Chumba casino app is lackluster. If you are looking for a sweepstakes casino app with a massive selection of online casino style games that offer you the chance to win cash prizes, then the Pulsz app is 100% for you.
FAQ's
Is the Chumba Casino app free?

Yes. The Chumba Casino app is 100% free to play, with there being no option for real money play.

Where can I find the Chumba Casino App?

The Chumba Casino app can be found in both the Apple App Store and the Google Play Store. For Apple, it's called "Chumba Lite – Casino games". And for Google, it's "Chumba Lite - Fun Casino Slots".

Where are my Chumba Casino sweeps coins?

The Chumba Casino app does not have sweeps coins and only offers gold coins. This is because Chumba Lite is a free to play app that does not offer real money play.

What mobile devices run Chumba Lite?

Chumba Casino can run on any modern iOS or Android mobile device. To find the full specs required, head to your relevant play store.

Can I transfer my Chumba Lite balance to Chumba sweepstakes casino?

No. Your Chumba Lite and Chumba Casino balances are 100% separate from one another. As such, there is no way to link your accounts or transfer funds between the two.

Are there any sweepstakes casino apps that offer real money play?

Yes. While most sweepstakes casinos do have fully functioning mobile sites that allow users to play casino style games for cash prizes on mobile devices; Pulsz goes a step beyond with the Pulsz app that allows users the chance to play real money casino games through their downloadable app.