Want to get 10,000 gold coins, and 1,000 sweeps coins to play casino games? Sweeps Slots is a sweepstakes site where players can play over a dozen slots and keno games for free.
Pros
1,000 free sweeps on sign up
100 daily login bonus
Fair and legit games from Casino Web Scripts Software
Accepts cryptocurrency
Cons
Lack of payments and company info
Small variety of slots and games
Relatively new sweeps casino
Operated by Regal Technologies, SweepSlots is one of the few sweeps casinos where players can play games for fun and still win cash prizes, all without necessarily making any purchase. Even though it's still new to the market, SweepSlots Casino is one of the few online casinos that is getting with time by allowing cryptocurrencies as one of its payment methods. Also, as a plus, the games available for instant play allow players to try out the games before signing up.
Lately, we have received a lot of complaints from players about SweepSlots not paying out winnings to players. We no longer recommend visitors to play at SweepSlots and now have marked them as rogue and untrusted. If you want a safe, trusted sweeps casino, then please check out any of these 5 operators below.
In this SweepSlots Casino review, we will share thorough details on SweepSlots and how you can win cash prizes by playing for free.
SweepSlots Casino Overview
SweepSlots is Regal Technologies' sweepstakes casino that follows the sweepstakes model. This online casino offers casino-like games like slots for free to players with the opportunity to win real money. Since SweepSlots is not a real casino, it is legal to play by residents of all US states except Washington D.C..
Furthermore, to spin on any game, gold coins and sweeps are given freely. But if you want to, you can purchase more gold coins. However, it isn't mandatory. Sweeps coins can't be bought but won via playing or bonuses, and they can be redeemed for cash prizes.
How to Play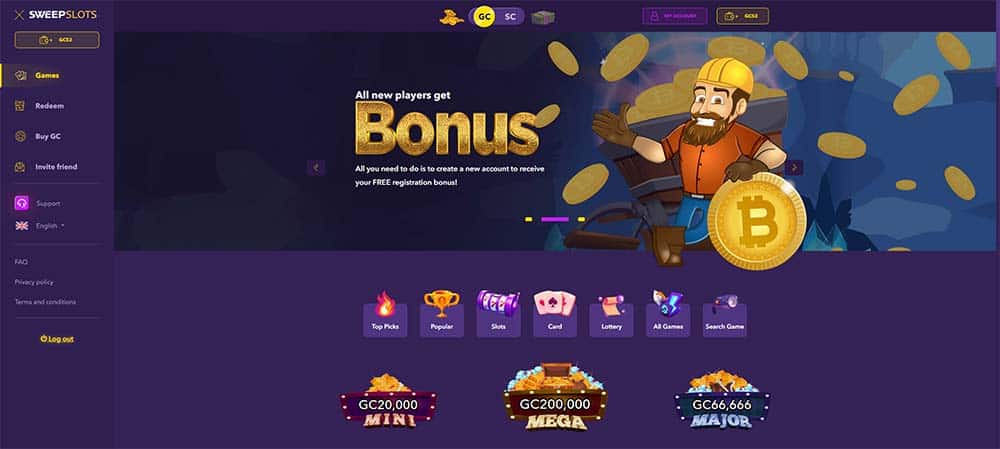 SweepSlots online games are played with two virtual currencies. These in-app currencies serve as money you can use to play any games you find in the casino lobby. Sweeps coins and gold coins are sometimes mistaken for one another, but in this section, we will be clearing this up.
Gold Coins: The gold coin is an unredeemable virtual currency that patrons can use to play SweepSlots games. Its function is similar to traditional online casinos' real money, except it doesn't have any value outside Sweep Slots Casino. Gold coin packages are available to purchase at this sweepstakes casino, although it's not mandatory given the series of bonuses available at SweepSlots.
Sweeps Coins: Sweeps coins are the more valuable counterpart to gold coins. This virtual currency can also be used in playing games at SweepSlots, but unlike gold coins, it's not easily given as gold coins. This is because you can redeem sweeps coins for cash prizes, which makes playing with it more rewarding. Unfortunately, you cannot purchase it if you need more sweeps coins. Instead, it is added as a bonus on your gold coin purchases, won when used to play games at Sweeps Slots, and also as a daily login bonus. The conversion rate of sweeps coins to cash prizes is 1 Sweeps Coins to $1, and you can redeem prizes to your bank account.
Who can Play
Sweepslots is available and legal to play in all US states except Washington to players of 18 and above.  Like all social casinos that use the sweepstakes model, SweepSlots offer casino games for free and abide by the US sweepstakes law instead of online gambling, which is still banned in many states. Aside from this, Sweeps Slots casino also spreads its base to US's sister country – Canada, except Quebec.
If this sweepstakes casino is legal where you are, you don't have to worry about anything else, as its website can be accessed using any smartphone. So far, there is a good internet connection; you wouldn't have to worry about accessing the site or your account. Likewise, the sweeps site is intuitive and would automatically resize itself to fit whichever screen size your phone has.
Is SweepSlots Casino Legit?
🎰SweepSlots Casino
🌐Website
https://sweepslots.com
📱Accessibility
Mobile and Instant Play
🏛️Operating Company
Regal Technologies
🧑‍💻Software
Casino Web Scripts
💳Purchase & Redemption Methods
Cryptocurrency & Skrill
Since online casinos using the sweepstakes model neither operate under the US gambling laws nor require a license from an iGaming authority, this question is worth asking if you don't want to fall for a scam or, worse, stolen identity. So, let's find the answer to this million-dollar question of whether SweepSlots Casino is legit, shall we?
SweepSlots is owned and operated by Regal Technologies, a name even though new to the online gaming world, has made a name for itself in the tech space. And as far as legitimacy goes, the company is a registered limited liability company in Delaware.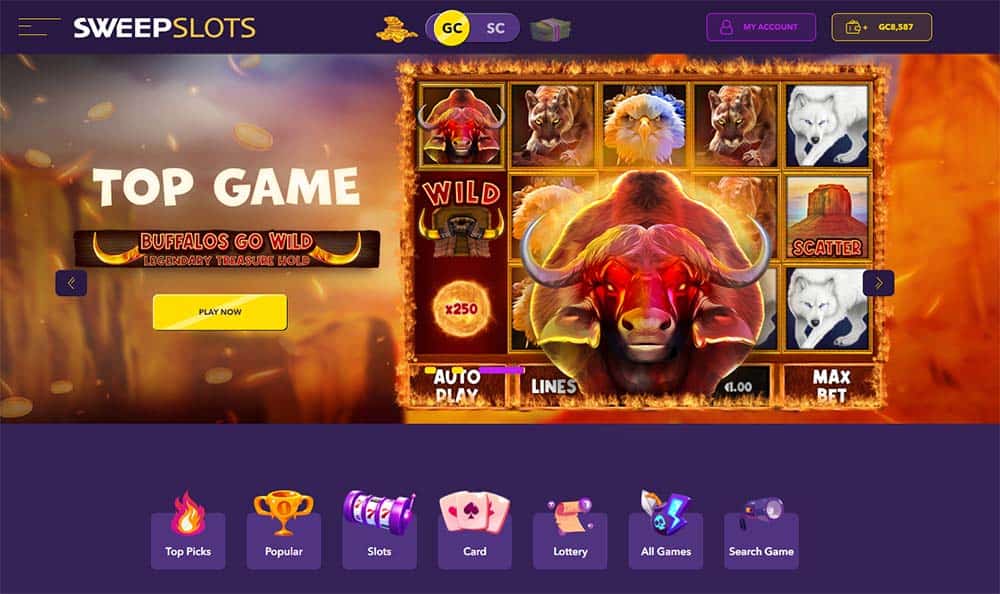 Now that we've established that the SweepSlots' parent company is legal, we continued our research to see how legit the casino is, and we were immediately swept off our feet. Casino Web Scripts entirely power SweepSlots casino online games, and if there are two things CWS is known for, they are fairness and transparency. All games by Casino Web Scripts have been certified by BMM TestLabs and iTech Labs. Also, you can view the results of their report from their website.
Although the casino is still in its infancy, the social casino has put a smile on users' faces with its free games and ability to win cash prizes. Being a sweepstake online casino, Sweeps Slots is available to players 18 and above that stay in the United States and Canada and are not residents of Washington and Quebec.
SweepSlots Casino No Deposit Bonus Codes
🎰SweepSlots Casino
📜Bonus Code
GUSA
🎁No Deposit Bonus
10,000 Gold Coins & 1,000 Sweeps Coins
💵First Purchase Bonus
25% deposit bonus
🇺🇸 Availability
All US states except Washington / must be 18+ and above
🤑Other Promotions
Daily login bonus, mail, purchase bonus
Signing up at SweepSlots Casino is seamless, and as a new player, you are entitled to a 2-in-1 welcome bonus.
No Deposit Bonus: New players who sign up with our special link are automatically awarded a welcome bonus of 10,000 gold coins and 1,000 free sweeps coins. You can use our link from this review to register and qualify. If you have a SweepSlots bonus code, you have to input this into the "Affiliate ID" field during registration. This bonus can be used as free spins on slot games which can be more rewarding than you think if you are lucky enough to hit one of the jackpot prizes.
First Deposit Bonus: Before we continue, we must emphasize that you do not have to purchase a gold coin package to fully access games at SweepSlots. However, when you do so for the first time, a deposit bonus of 25% will be added to your up to $10+ gold coin purchase. To enjoy this social casino bonus, you'd need to use the bonus code "GUSA" when buying the gold coins.
SweepSlots Casino Promotions & Bonuses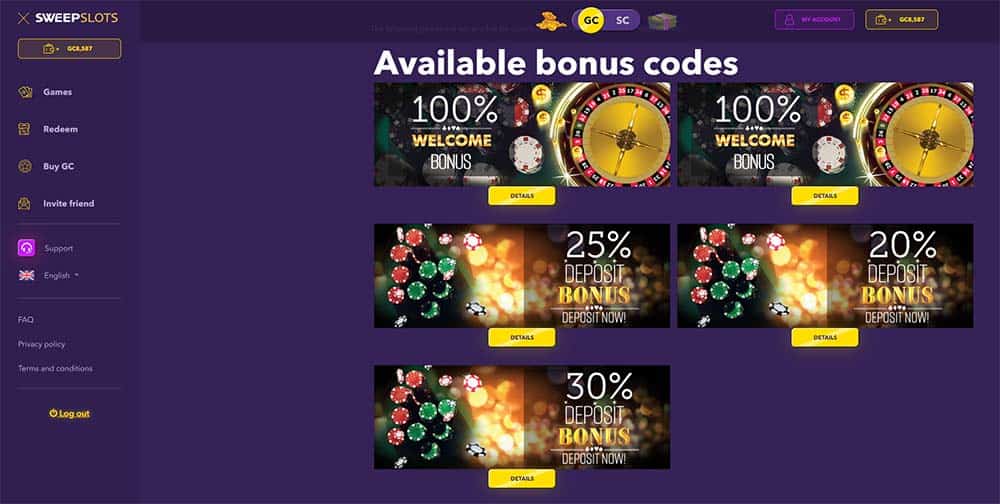 So, what next? We hear you ask. SweepSlots online isn't the type to neglect players once they signed up. Several bonuses are available at the online casino, where you can get gold coins and even receive free sweeps coins. The only downside to SweepSlots online bonuses is the 100x wagering requirement, which is relatively high since the highest in the industry is around 40x. Nevertheless, you have nothing to worry about since you have 60 days till your sweeps coins expire, which is more than enough time to make more. Here are some of the bonuses you enjoy at Sweeps Slots.
Daily Login Bonus: As the name alludes, this is the type of bonus players can claim every 24 hours for simply logging in. Every day you log in, you'd be prompted to claim 1,000 gold coins and 10 sweeps This SweepSlots bonus allows users to keep playing slots or other games without making a purchase. While you cannot redeem free sweeps coins even if you accumulate the minimum required for redemption, you can leverage them by playing sweeps coins games to win convertible coins.
Later Deposit Bonus: This is one of the most uncommon yet exciting bonus offers by any social casino. After using up your first deposit bonus, any time you purchase gold coins of $10 and above, you will receive 2.5% of your purchase. So, you are assured of getting more gold and sweeps coins from your original purchase.
Tournament: Tournaments are constantly run daily, holding massive wins for the players on the leadership board. How big are the wins? Over 500,000 in gold coins and 50,000 in sweeps coins. To partake in a tournament, you can head to the tournament page and click on the "buy ticket" to gain entry.
Mail: If you want to win 100 free sweeps coins, then this promotion is where you can get it easily. By sending a prepaid postage mail that includes your name, phone number, and email address to Regal Technologies office address at 16192 Coastal Hwy, Lews, DE 19958; get writing and 100 free sweeps coins will be credited to your account.
SweepSlots Casino Interface & Software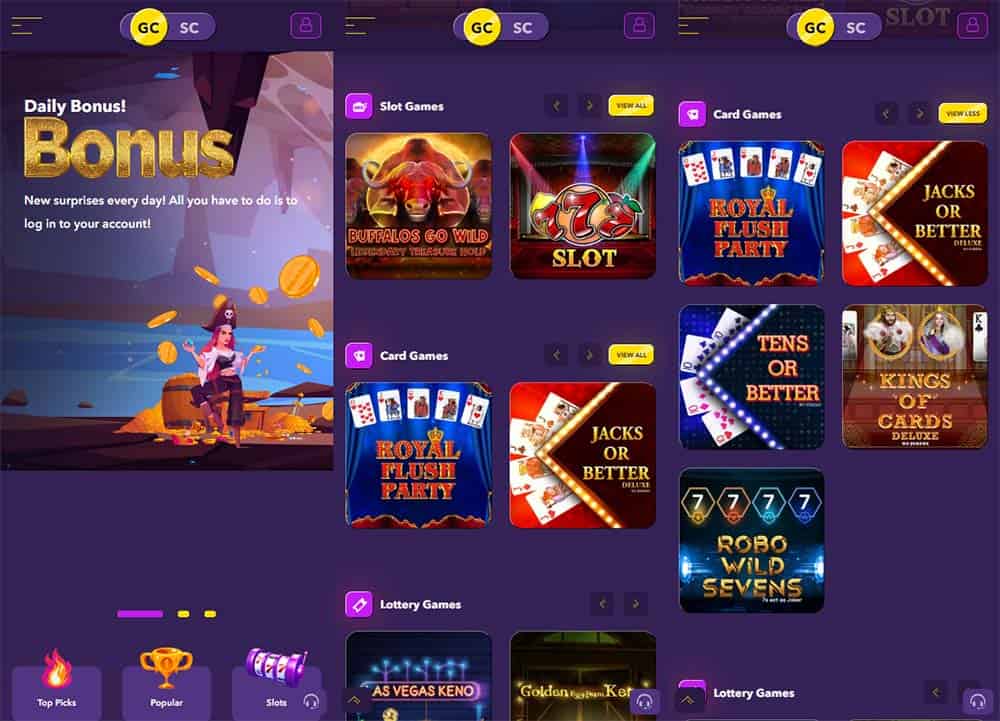 Sweep Slots Casino's site is impressive for various reasons. The interface is well-defined, with all buttons placed in accessible places. The site is also very intuitive, and you don't have to spend more than a couple of seconds there to know where all the essential features are located. The moment you get to the site, you will see the "Register" and "Log in" at the top left corner of the home page, along with an easily located slider to toggle between GC (Gold Coins) and SC (Sweeps Coins)modes.
Immediately below these are the navigation buttons comprising the home icon, Casino, tournament, help, and support buttons. Having these features at arm's reach makes it easy for players to get started on whatever thing they want without needing to keep scrolling. However, if you're going to explore the site, you'd find all the available games at SweepSlots Casino listed below. Not only this, you will find the current jackpot prizes, and being a progressive jackpot, you'd notice the amount is increasing every second they remain unclaimed.

Furthermore, you'd notice the "How to play" button lingering at the bottom right corner of the home page. This page contains instructions on how to get gold coins and also to play sweepstakes games at SweepSlots. If you mistakenly canceled the page, you can get this button back by reloading the home page.
If you'd like to learn more about SweepSlots, there are specialized pages for terms and conditions, privacy policy, support, frequently asked questions, sweeps rules, promotions, and responsible gaming.
One thing we didn't like about SweepSlots site is that players cannot search manually for games. While it doesn't seem like a big problem now since there are about 20+ games, it might become tiresome for players to keep scrolling through hundreds of games to find the one they are looking for. Also, as a last note, if you speak Spanish, you can switch the language from English to experience SweepSlots casino in another language.
If you are curious about what games are popular and also the ones that have been producing the biggest wins, then a handy section that lists current wins and biggest wins, including jackpots, reveals this helpful information.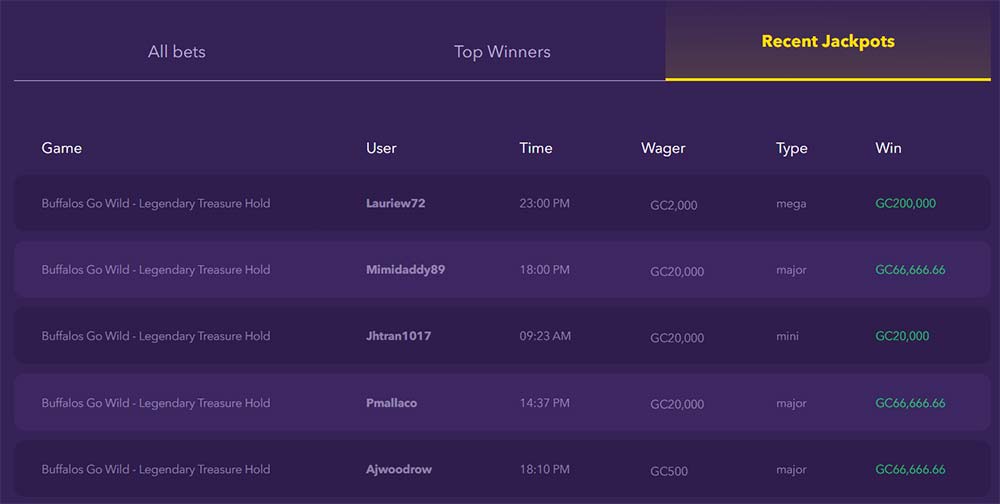 SweepSlots Casino Games Lobby
There are about 27 sweepstakes games available at SweepSlots Casino, which is far on the lower side compared to sites like BetRivers.net, with over 400 sweeps games. Also, there are only three categories of games at SweepSlots: Slot games, scratchies, and keno. As we've said before, the games are powered by Casino Web Scripts and are all mobile-accessible. We notice that even though their games are well organized, you wouldn't be able to search for specific games. One unique thing about the SweepSlots games is that they are all available on instant play, so you wouldn't need to sign up to try them out. Also, all games have been certified by independent auditing companies to be fair.
Slots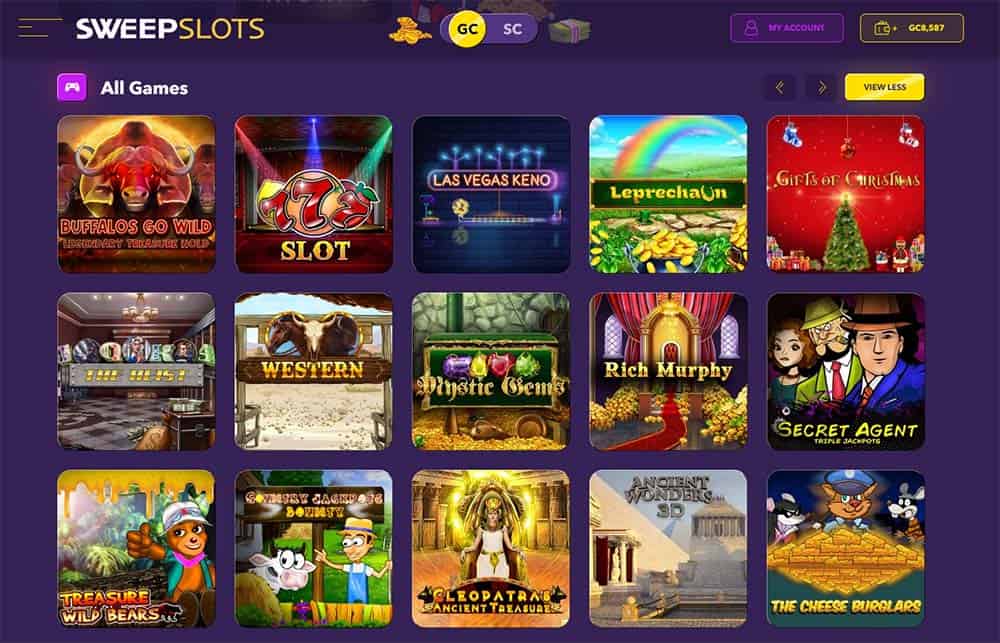 Of the 27 games at Sweep Slots, 24 are slot games, but not just any kind of slot, progressive jackpot slots, making it far more rewarding than regular slots. The slots at SweepSlots Casino have different themes, paylines, bonus rounds, and mechanisms that offer patrons unique gameplay. While the industry standard for slot games is 96%, you will find games with RTPs as high as 99%. This means for every 100 spins you make on a game, you can statistically get payouts on 99 spins.
Also, gold coins and sweeps coins can be used to spin the online slots, and depending on the game, you can be for as low as 20 sweeps coins or 200 gold coins, which is very lucrative given the jackpot mechanism in the slot games. Jackpot aside, these games also feature high-paying symbols and bonuses like multipliers and free spins. Even though there is a meager number of slot machines, more games are still being added. Some of the games worth trying out at SweepSlots Casino are:
Ancient Wonders 3D
Treasure Wild Bears
Cleopatra's Ancient Treasures
While you wouldn't find many details about SweepSlots online games on the website, you would discover how to play each game by pressing the "i" after loading each game. Additionally, you can check out Casino Web Scripts to learn more about the games of your choice.
Casino Games
Keno games are one of the most forgotten casino games categories, and it's exciting to see that Sweeps Slots has a couple of these available. The keno games at this online casino can be played with gold coins if you are playing for entertainment purposes only or sweeps coins if you want to win cash prizes.
Golden Egg Farm Keno
Las Vegas Keno
The last option is the Pirate's Treasure Hunt 2, the only scratch-off available at SweepSlots.
Are SweepSlots Online Games Fair?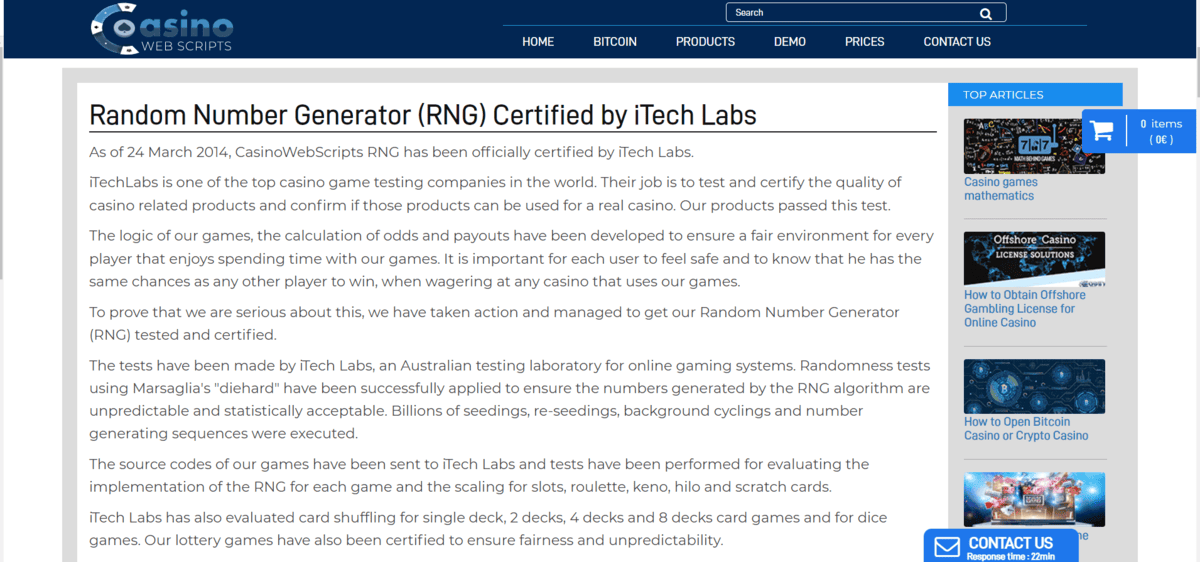 Providing fair games is crucial in an online casino, and SweepSlots Casino being a sweepstakes site, is not exempted from this yardstick. So, are SweepSlots casino games free and fair? While we've established that all the games are free to play, knowing if they are also biased towards the house takes more consideration. Why? Because aside from being a new sweeps cash casino, SweepSlot casino games are not provided by known and trusted game studios as you would find on sites like Chumba Casino and Funzpoints.
Although this is enough to bat an eye at first glance, you will find out in this SweepSlots Casino review section that there is nothing to worry about.
Casino Web Scripts power SweepSlots online casino games. While not as popular as other software providers like NetEnt, Pragmatic Play, and Microgaming, Casino Web Scripts has over a decade of outstanding track record of providing exceptional games to actual casinos. This iGaming supplier is renowned for using world-class payment methods like cryptocurrency, so you have them to thank for this option at SweepSlots.
All the games at SweepSlots use an actual Random Number Generator, which generates patternless results. However, don't take out words for it; a quick peep at Casino Web Scripts' official website proves that the Random Number Generator has been tested and certified by two of the most reputable auditing companies in the iGaming industry – iTech Labs and BMM TestLabs.
This means all games have been run millions of times to see if there is a pattern or possibility of being rigged, and they found nothing shady there. So, no matter how many times you take a spin on any slot game, you can be sure of having a roughly 50-50 chance of winning or losing. Likewise, SweepSlots is very transparent in its fairness, as you can read the report from these auditing companies from Casino Web Scripts.
Deposit Options

SweepSlots is ahead of its time regarding available in-app purchase methods. While you wouldn't find conventional methods like all credit/debit cards at Sweeps Slots Casino, it features two of the most versatile and private banking methods – Skrill and cryptocurrency.
If you are the type that wouldn't want your online gaming transactions to reflect in your bank statement, these two options will go a long way in preventing that. Also, knowing that these methods are not as standard as using credit/debit cards, SweepSlots has a video presentation that will take you through how to signup and start using Skrill in no time.
One not-so-good thing we notice about SweepSlots Casino in this aspect is their failure to let players know the prices of their gold coin packages. Nonetheless, the minimum gold coin purchase is set at $5.

Notice how we are only mentioning gold coin packages? That's because sweeps coins cannot be purchased; instead, free sweeps coins are awarded on every purchase. Players looking for a sweepstakes casino accepting crypto or eWallets should settle for SweepSlots, as there are not many other play4fun casinos that support these options.
SweepSlots Cash Prizes Redemptions
Even though players do not need to purchase gold coins to play games, they can still win real money by winning enough sweeps coins. To win sweeps coins, players would need to play with sweeps coin mode, and after making the minimum of $20 in sweeps coins, they can convert the sweeps coins to cash prizes that will be sent into your account.
After making enough, click on the "Redeem" option in your SweepSlots account and select your preferred banking option. While the fastest way to withdraw will be to use the same purchase method you used in purchasing gold coins, players who have not can opt-in for bank transfers.
To redeem sweeps coins for cash prizes for the first time, SweepSlots would require you to verify your identity by uploading an ID, utility bill, and bank statement, which will take 1-5 days to verify. Subsequent redemption below $2,000 will not require you to verify your account again, but anything more than this might warrant further verification to avoid fraudulent practices.
Furthermore, players cannot withdraw more than $10,000 at a time, and due to sweepstakes law in New York and Florida, their maximum win is capped at $5,000.
Help & Contacts
Sweep Slots Casino has one of the most detailed and, by far, most helpful support links of any social casino. The sweepstakes site goes above and beyond to ensure that players' queries are attended to promptly. The first set of help players would find at SweepSlots is the "How to Play" page. This page contains a video presentation on how you can get started at SweepSlots casino, from registration to playing online casino games. Likewise, since the purchase method at SweepSlots isn't very common, you will also find a detailed video guide on how to set up an account to purchase more gold coins if needed.
If your questions aren't sufficiently answered in the video, you can head to the Frequently Asked Questions section to see a compilation of answers to frequently asked questions. We will be the first to admit that this section might not do you much good if you are looking for something specific but don't fret; there is more.
Players can open a support ticket directly from the SweepSlots website by clicking on the "support" page. This support option is open round the clock, and you can get a response to your issue within 24 hours, depending on the level of priority of the message.
If you need hands-on support, you can try live phone support, which is also available 24/7. This is great since you are connected to an actual human from the support team instead of some automated voice.
While SweepSlots social media pages aren't primarily to attend to players' queries, we found out they are also a faster means of contacting SweepSlots Casino customer support. Also, you get to interact with like-minded people while staying updated with the sweeps cash casino's offer. So, you will find a great community of gamers like you and prompt solutions to your queries by following SweepsSlots on social media.
Phone: 1-800-416-6788
Facebook: https://www.facebook.com/Sweepslotscasino
Twitter: https://twitter.com/Sweepslots
Discord: https://discord.gg/jqPBV2Nj
Hits & Misses
| ✅Pros | ❌Cons |
| --- | --- |
| Mobile-friendly games | Does not support traditional purchase methods like credit/debit cards |
| Lucrative bonuses for new and existing players | Limited Games available |
| A sizable number of progressive jackpots | Only has two categories of games - slot and keno |
| All games are certified by iTech Labs and BMM TestLabs | No dedicated mobile app |
| Players can win cash prizes | |
| Free entry to tournaments | |
| Games can be played without signing up | |
While it's essential to point out the good, the bad, and the ugly part of playing at Sweep Slots casino, we are still very impressed at what players get to enjoy playing there. The social casino, even though it offers fewer games than you'd find in its counterpart, ensures that all the games are high paying. Likewise, we expect more games to be added to their catalog as the number they have barely scratched the surface of what is available through the Casino Web Scripts software.
Should You Play at SweepSlots Casino?
Even though SweepSlots does not have a mobile app or as many games as you would find in most social casinos, the sweeps cash casino comes out on top with its excellent collection of jackpot slots in bountiful bonuses. The site is also accessible, with a simple layout that makes for seamless gameplay. Although the SweepSlots loyalty program is still in its infancy, one can only assume the sky is the limit for this new US social casino. Signup using our SweepSlots bonus code for the $100 no deposit sweeps coins!
FAQ's
Can I win real money at SweepSlots Casino?

Yes, you can win real cash prizes playing at SweepSlots Casino. You must have at least $50 worth of sweeps coins from playing the games in order to redeem them as real money.

Is SweepSlots Casino a scam?

No, SweepSlots casino games are not rigged or a scam. In fact, two independent auditing companies have tested and certified all of the games available at SweepSlots.

What is the best SweepSlots Casino promo code?

At Sweepslots Casino use the bonus code GUSA, new players will get 10,000 Gold Coins, and 1,000 sweeps coins to start playing games at this sweepstakes site.

Is SweepSlots a free-to-play casino?

Yes, Sweep Slots' games are free to play. Also, you don't have to sign up to access any of the games. Although to enjoy the many bonuses, you'd be required to create an account.

Where in the USA is SweepSlots Casino legal?

Of course, SweepSlots casino is legal in 49 US states except for Washington. So far, if you are 18 years and above, you can register and play games at this sweepstakes casino.

What games can I play at SweepSlots?

Currently, SweepSlots casino has a diverse range of online slots, scratchies, and keno and table games.

How long do withdrawals take at SweepSlots Casino?

Redeeming cash prizes can take 1 to 10 business days if you've done the KYC verification. Additional verification might be required if your winnings are higher than $2,000.

Can I play at SweepSlots with my smartphone?

At SweepSlots Casino, you can access the site and games straight from your phone and a breowser. This casino currently doesn't have a dedicated app but the browser works perfectly on mobile.

Is SweepSlots Casino safe and secure?

SweepSlots is by far one of the safest sweeps online casinos available to US players. The site uses one of the most advanced cybersecurity systems to protect players' data. Also, thanks to the two purchase methods employed by the online casino, your privacy and anonymity are ensured.

Are there any SweepSlots sister casinos?