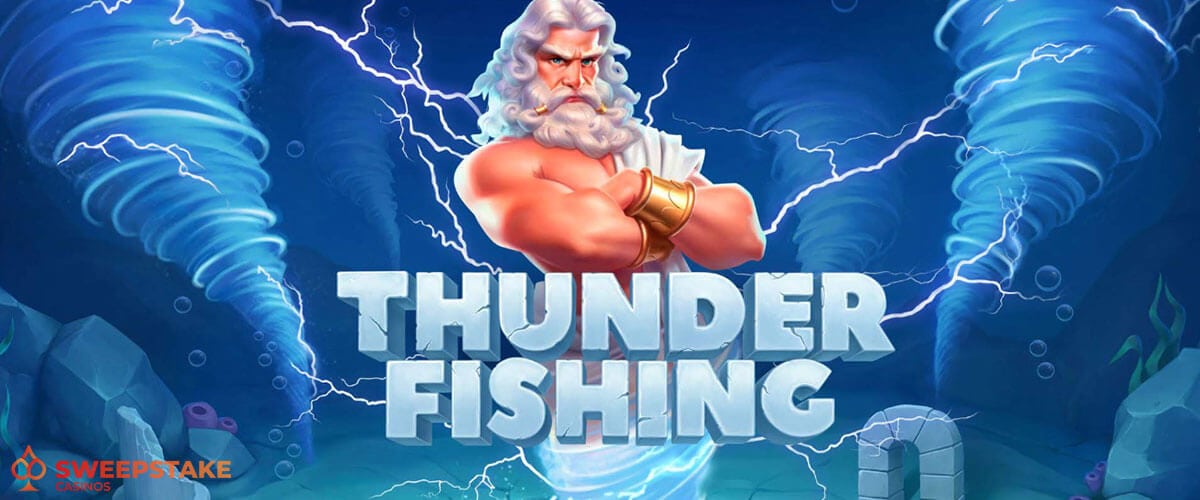 Have you ever wished to join in undersea exploration and hunt for yourself? If so, then NetGame's skill-based fish table game Thunder Fishing is the only one you should play. It will take you to a breathtaking underwater world to hunt for vibrant groups of various fish species, each offering a different prize.
Everyone who loves fish shooting games will recognize the setting, although there is a new twist. This online fish game also has a Thunder Gods aspect, which may result in big wins when they appear and display their strength. Along with trying to catch fish, you can also enjoy lucrative slot features like the Game Machine and Bonus Wheel, and many more based on the fishing theme.
We're sure you'll get hooked on this game when you play it on your mobile or PC to have the chance to win 2,500x. Keep reading our Thunder Fishing review as we go over how to get started, bonuses, and helpful winning tips to make it even simpler to catch the big prizes.
🎣Thunder Fishing Game
🧑‍💻Provider
NetGame
📈Volatility
Medium
🔢Number of Tables
12
👨Number of Players
4
⭐Bonus Features
Lava Strike, Guardian Fish, Game Machine, Bonus Wheel, Super Leaser, Monster Hunt, Bosses
💰Max win
2500x
🎰Available at
Funrize, No Limit Coins Casino, Tao Fortune Casino, Riversweeps
🎲Similar Games
Emily's Treasure, Thunder Dragon, Fishing Kingdom, Golden Dragon, Orion Stars, Fire Kirin
Casinos to play Thunder Fishing Game Free Online
Thunder Fishing is a real money skill game under the fish gambling category. It can be enjoyed at several PayPal fish casinos and Cash App Fish gaming apps. However, our team has handpicked the listed sweepstake casinos where you can play Thunder Fishing from 49 states, for free, and stand a chance to win real money. Here they are:
What is the Thunder Fishing Game?
Fish table games are a unique gambling game type that requires skill and have started a new craze in the gambling industry. So, if you enjoy playing skill-based casino games, your chances of winning more money increase significantly as you get better at these. To win prizes in fishing games, you must shoot a gun at the fish to catch it. It offers far more than simply spinning the slot reels blindly without using any expertise.
Thunder Fishing is an action-packed fish table game that promises to deliver a completely fresh experience of the traditional arcade game of fish catching. When you begin your hunt, you will have the chance to fully immerse yourself in the vibrant underwater environment with a range of lovely fish species, bringing enormous and alluring rewards for you. There are 12 fish species to seek for instant prizes and many more theme-related elements with added features.
This online game is a must-play for every fishing fan, thanks to its magnificent graphics of deep seas, exciting gameplay, and a wide variety of fish species to grab. Multiple players can participate simultaneously in this fish table game, so gather your friends and experience the deep-sea excitement of playing it together.
How to Play the Thunder Fishing Fish Game Online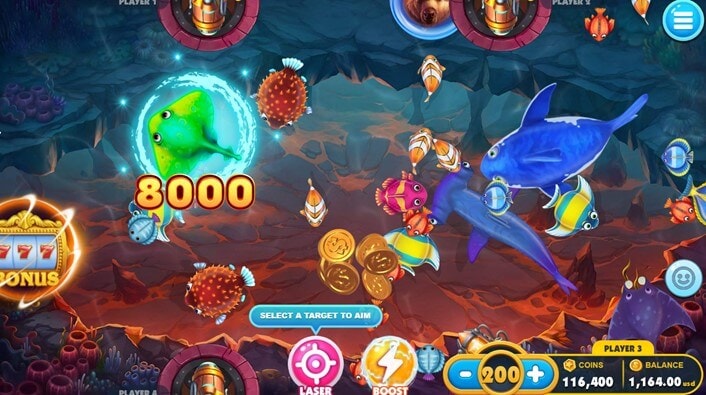 Getting started on the Thunder Fishing adventure is so simple that players can join it in a few minutes. Thunder Fishing is a shooting game available at a few US social casinos, so be sure to pick one with a solid reputation for offering top-notch products and betting options.
Pick your preferred option from our selection, such as Funrize, NoLimitCoins, or Tao Fortune Casino, and then follow these steps:
Go to the casino website and click the Sign-Up option in the upper right corner.
You must create an account by entering the necessary info, including your email address, username, and password.
You can also register with either Google or Facebook with just one touch.
Once you have checked the boxes accepting the terms, click the Join button to finish the registration process.
A social casino bonus of free and redeemable coins to begin playing for free will be given to you when your registration is complete. But there's more! If you want to win real money without spending a cent, verifying your account and receiving promotional credits are the only requirements. Simply said, you can choose between playing in the promotional mode to get money or shooting fish in the tournament mode for fun.
Thunder Fishing Gameplay
Have you never played a fish table game? No need to worry; Thunder Fishing's simple rules allow even a beginner to grab all required skills. Although these fishing games are distinct from most casino games, they are fun and include some betting, which may lead to big prizes.
When it comes to the Thunder Fishing gameplay, the game sends you into a deep sea with some thundering aspects for added excitement. The scene resembles some of the lost domains of the thunder gods Zeus and Thor and depicts many sites buried beneath deep oceans. The game supports up to 4 players, and each player's guns are placed in the corners of the screen, while different fish swim across it in all directions.
Shooting at the swimming fish on the screen with the gun will net you rewards. Every creature has its distinct benefits, and you can also unlock additional bonus features to boost your winnings. You must think carefully before firing any weapons because each bullet represents a bet. You can increase and decrease your bet level using the +/- icons on each side of the cannon.
In this game, there are two ways to catch fish: launch a cannon by pressing rapidly on the fish you wish to hunt or use the laser to automatically lock onto a target and keep firing until the fish gets captured or swims off the screen. Moreover, you can enable the Boost option. This feature costs 2x coins but changes your weapon and increases your chances of catching objects in bonus features.
That's all you need to play Thunder Fishing online, so you can now hunt big fish, little fish, or other icons based on your tastes.
Thunder Fishing Game Paytable

You'll encounter a wide range of moving symbols and swimming fish on the game's screen. Of course, catching fish is your main objective in this game, but you can aim for bosses and other themed icons to get even more rewards.
Each symbol or fish in the game has a distinct value and requires a certain number of hits to catch. Let's look at the table below to see how much each fish and other symbol pays:
🎣Thunder Fishing
Gold Fish
2x
Pinktail Triggerfish
3x
Blue Tang Fish
4x
Clown Fish
5x
Pink & Yellow Fish
6x
Sergeant Major Fish
8x
Blue & Orange Fish
10x
Red Puffer Fish
40x
Manta Ray Fish
50x
Hammerhead Shark
60x
Stingray Fish
80x
Blue Shark
120x
Helmet
10x – 50x
Eagle
20x – 100x
Bubbled Temple
50x – 150x
Bubbled Buffalo
100x – 200x
Thunder Fishing Game Bonus Features
The game should keep you entertained in every manner because of so many bonus games available other than just collecting lucrative fish species in the base game. These valuable bonuses might help you win big as all have valuable prizes.
In-Game Bonuses and Addons

If you manage to catch any of the icons that correspond to any of the nine features while playing the main game, you can take advantage of their features. These are:
Lava Strike: Almost any hit can trigger a lava strike, unleashing a wave of lava and dealing 300 to 500 hits.
Guardian Fish: The Guardian fish will randomly attack the items on the screen with 150 to 450 hits if you manage to kill it.
Deep-Sea Bomb: In the Deep-Sea Bomb Bonus Game, the explosion of the bomb deals 75 to 150 hits to all the objects in the death zone.
Game Machine: It's a classic slot machine, and if you hit the winning combination, the winnings range from 5 to 1500x your stake.
Bonus Wheel: You can spin the bonus wheel after catching the wheel, and its inner and outer areas each have a potential payout range of 50x to 2400x.
Piercing Drill: As the name implies, your weapon will transform into a piercing drill, enabling you to decide where to fire. After that, the drill deals 150–300 hits to each item in its path.
Super Laser: In this event, your weapon switches to a super laser, and you must pick the laser beam direction. It then strikes the target, inflicting 100–300 hits.
Monster Hunt: Every fish's size and prize get boosted in this bonus game.
Fishing Rush: All fish swim together on this rare occasion, which occurs randomly and makes it easy for you to hunt more fish.
Thunder Gods Features
You can hit and catch the bosses or gods alongside the advantages mentioned above, which increases your odds of winning significantly. These features make the fishing game much more engaging and enjoyable.
Zeus & Thor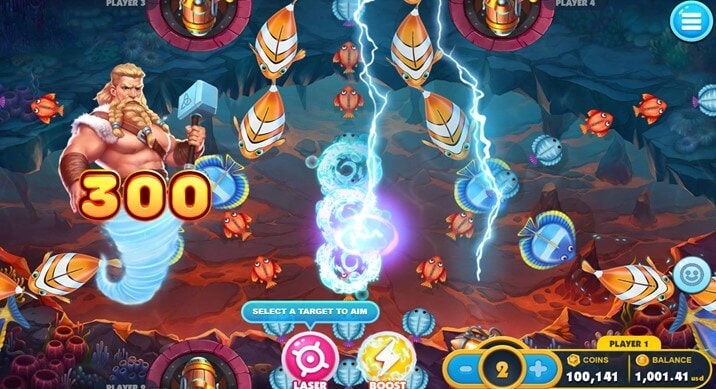 Any hit has the potential to take down a Zeus Boss, and if it does, you'll receive a 300x reward. Moreover, it will launch a lightning blast that deals 200 to 600 hits to every target in its route. Alternatively, you can take on the Thor Boss, who provides identical rewards to players but unleashes a lightning storm with a huge hammer rather than a lightning blast.
Buffalo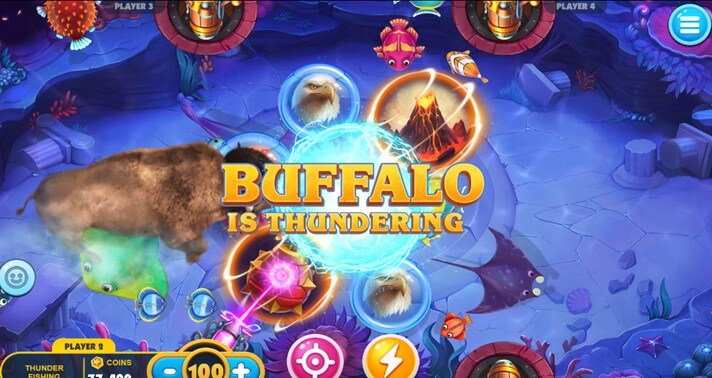 You will see a buffalo rushing across the screen at some times. If you are fortunate enough to capture it, you might win up to 2500x. Here, a random multiplier ranging from 2x to 25x will be applied to the initial award of 100x.
In addition, if you play with five or more coins, you might win the Red and Silver Jackpots. You can also try your luck for the Gold and Diamond Jackpots by playing with 20 or more coins.
Strategies & Tips to Play Thunder Fishing Game Online
Fish tables have always been a treat for us, and because of their unique gameplay, these games demand more skill than your typical casino game. We'll reveal some winning strategies for the Thunder Fishing table game and the best tips to help you win.
Although this is a skill game, the first tip is to aim wisely rather than shoot blindly at the fish. In general, it's preferable to concentrate on catching a specific fish instead of randomly shooting and getting no rewards.
The amount of shots needed to kill a fish isn't usually predetermined, but the reward is. The hits you need to receive a prize from fish are random. Each shot is a bet, so keep an eye on your bankroll. Setting up and sticking to a budget is essential to prevent overspending.
Although big fish offer great rewards, they also present a higher risk of loss, which results in wasted ammunition. If your budget allows, only target the bonus and high-paying fish. Your bullets may be more expensive, but there's a good possibility you can cash in on the big payouts. Additionally, focusing on smaller targets may result in a decent payout while keeping your bankroll intact.
Always strive to understand a fish's speed and movement because doing so will keep you from missing the target and losing bullets. Lastly, understanding the exact values of the fish icons on the screen and which fish will net you the most money is also beneficial.
Thunder Fishing Game Review Summary
Thunder Fishing is a fun and engaging game that lets players enjoy fast-action gameplay with top underwater graphics and animation. Different fish, bonus rounds, and powerful bosses like Zeus, Thor, and Buffalo are all included in the game, and they may all help you win great prizes. Look for Buffalo if you want to win huge while playing; it can provide you with payouts of up to 2500x.
This fishing game is the best you can get online if you're searching for something that mixes the pleasure of fishing with the thrill of arcade-style action. Overall, Thunder Fishing adds a fresh spin to classic fish-shooting titles. So grab your gun and be ready for an underwater shooting experience with many unique features and opportunities to win real money.
FAQs
Can I win real money at Thunder Fishing?

While playing at the sweepstakes casinos we recommend, such as Funrize and No Limit Coins, you can win real money. You can participate in this game using sweeps entries, which you can redeem for cash rewards.

Do I need to download the Thunder Fishing app to play?

You don't need to download the Thunder Fishing app to play it. Pick one of the casinos from our list to play fish table games right in the browser on your smartphone or tablet.

Is there a Thunder Fishing app?

There isn't a Thunder Fishing app available, so you can sign up and download the NoLimitCoins or Funrize casino apps on your mobile device instead. These sites are completely error-free when accessed on a mobile device.

How much can I win on Thunder Fishing online?

Winning in any fish game is easy as you strike and capture the fish to earn rewards. If you successfully catch the Buffalo in Thunder Fishing, you can win up to 2500x your bet.

Can I play the Thunder Fishing game for free online?

The Thunder Fishing is playable in demo mode at any time before playing for real money. Players can opt to play for free or with real money at the casinos we've recommended to participate in the fish game gaming.

Are there similar games to Thunder Fishing?

The Ocean King is a must-try if you enjoy fish shooting games. Mythical creatures like the dragon turtle, King Kong, mermaids, and many others will help you get big winnings here. Also, you can play the Buffalo Thunder and discover secret bonuses like Fire Storm, Golden Treasure, Crab Monsters, and Mystic Dragon Power. Crab King is also a good option, offering features like Bitgun Crab, Laser Crab, Golden Shark, and Lightning Jellyfish.

Who developed Thunder Fishing?

The game developer behind Thunder Fishing is NetGame Entertainment. After beginning in 2012 with land-based and retail gaming, the firm gathered knowledge and developed a highly-motivated staff to switch to online gaming and create a new brand.