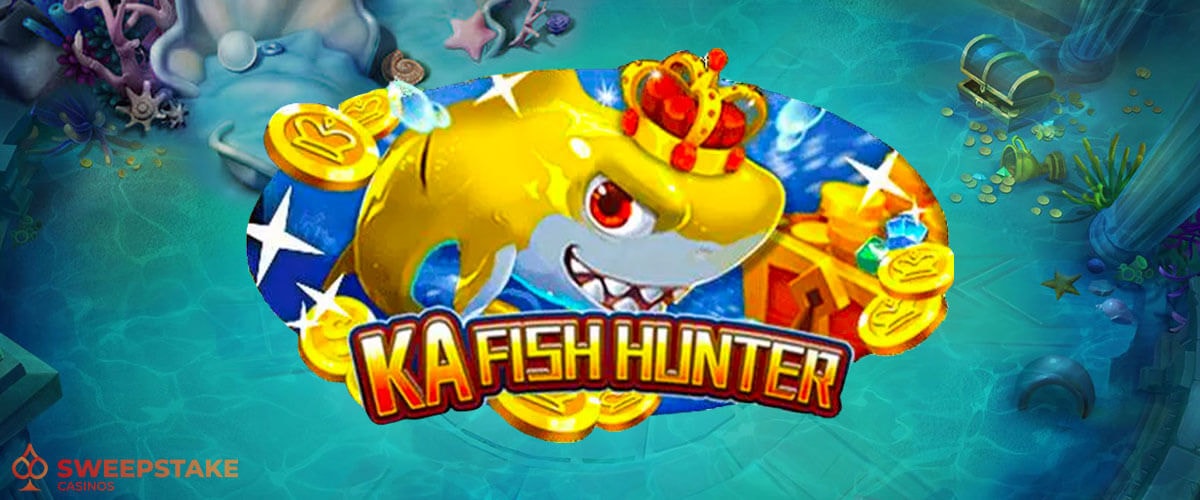 KA Fish Hunter is the most renowned fish shooting game created by KA Gaming. This fishing-themed game transports players to an exciting underwater world with an array of vibrant aquatic creatures. You'll come across different fish species in this setting, ranging from small fish to massive sharks and whales, all of which can be lucrative targets for skilled hunters.
You can target over 20 different varieties of marine life for enormous payouts and test your shooting skills in three rooms with varying bet levels. The game also has special features, like Chain Win, random multipliers of up to 7x, and even a Freeze Bomb to stop all fish on their trail. And the potential to get a max win of up to 200x adds an extra layer of thrill to the game.
With medium volatility and a 96% RTP, KA Fish Hunter packs an exciting experience you shouldn't miss out on. So, keep reading to learn about the riches hiding beneath the sea's surface and where you can start your journey.
KA Fish Hunter Statistics & Data
🎣KA Fish Hunter
🧑‍💻Game Provider
KA Gaming
💯RTP
96%
📈Volatility
Medium
👨Number of Players
4
👑Rooms
3 (Bronze, Silver, & Gold)
🎁Bonus Features
Chain Win, Freeze Bomb, Special Bonus
💰Max Win
200x
🎰Available to Play at
Fortune Coins, Funrize casino
🎲Similar Games
Fishing Kingdom, Ocean King, Emily's Treasure Fish Game
What is the KA Fish Hunter Game?
If you enjoy fishing but don't have the time or a boat, online fish games offer a handy way to experience its perks. You can enjoy the excitement of the catch while relaxing in your own home by playing these virtual fishing games. The experience of playing fish casino games is unique and differentiates them from other well-known games like slots, roulette, blackjack, or baccarat. The goal is simple yet exciting: trap as many swimming fish as possible and get valuable prizes.
The KA Fish Hunter game belongs to the fish shooter category, which has grown in popularity worldwide. The game has attractive visuals illustrating the depths of the sea, and every kind of fish you find offers a different reward value. But KA Fish Hunter doesn't stop there; it also has useful features like Target Locking and Automatic Shooting in the cannon direction of your choice. Moreover, players can pick from three unique rooms (each with a different bullet size or betting options) for a truly customized gaming experience.
You can play KA Fish Hunter on your laptop or mobile device with a maximum of four players simultaneously at any time. It's a skill-based game available to play for free with no deposit needed at online sweepstake casinos like Fortune Coins, Funrize, Tao Fortune, and NoLimitCoins. You'll get a no deposit bonus when using our links to play on any of the following:
Note: Sweepstakes casinos legally offer KA Fish Hunter in most states by offering a virtual currency gaming experience with prizes.
How to Play KA Fish Hunter Game Online
Whether you're a skilled fish game player or just starting, KA Fish Hunter is a game everyone can enjoy due to its simple and easy-to-learn gameplay. It begins with you in sea depth shooting down the colorful moving aquatic creatures that swim over the screen.
Before you throw a hook and begin fishing, you have to pick a reputable sweepstakes casino. Our top recommendation is Fortune Coins Casino, which offers KA Fish Hunter in both Standard and Premium modes to play for free or real money. It just takes a minute to fill out the sign-up form and create your account:
Click the Sign-Up button and enter your data into the registration screen.
Provide your name, e-mail address, and password, and then check the T&C boxes.
You can also register using your Facebook account for a faster and simpler sign-up process.
After creating an account, claim your no-deposit bonus fortune coins worth $10 and begin playing the KA Fish Hunter game using free Gold Coins or Fortune Coins that can be traded for real prizes.
If you run out of coins, you can easily buy more using one of the supported payment methods or wait for the daily login bonus.
KA Fish Hunter Game Interface & Gameplay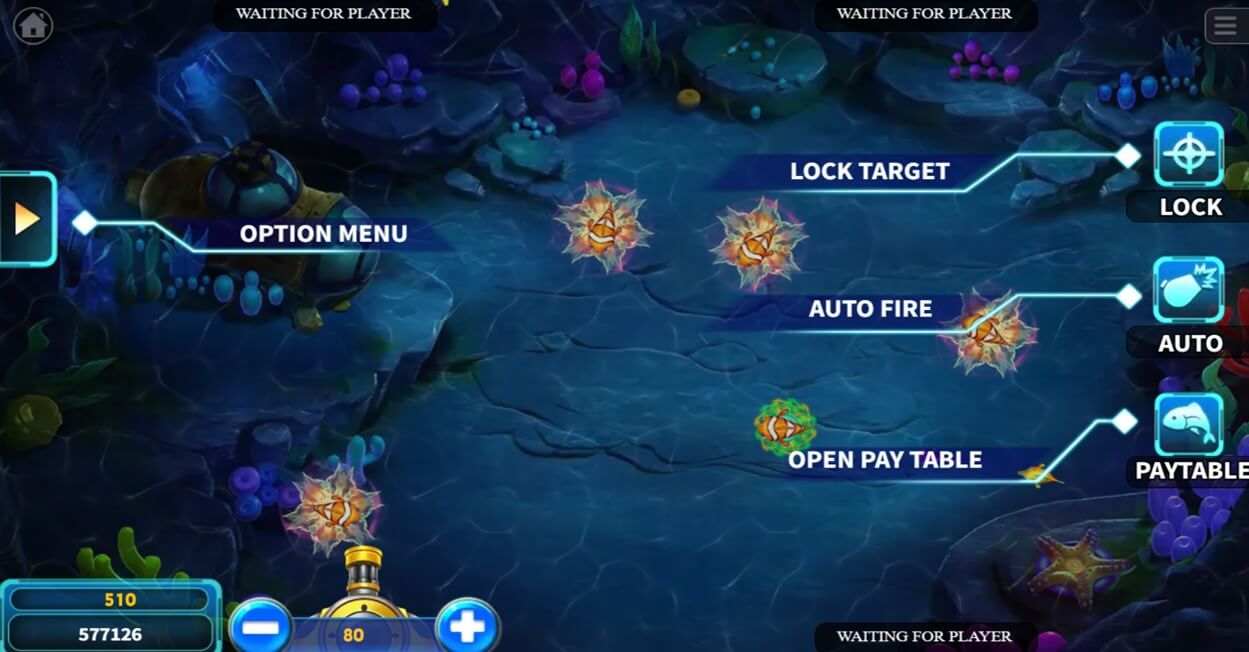 Although the KA Fish Hunter game is simple to understand, mastering it needs some skill. So, try it out in demo mode first to get a feel for the gameplay, targets, and additional features. The game provider has done an excellent job of sending players on a hunt in a living ocean with an appealing concept and arcade-style soundtrack. The game is boosted further by its detailed graphic design, which shows a deep underwater location without overloading the screen or making it difficult to locate targets.
When you start the KA Fish Hunter game, you can choose between three rooms that offer different bet levels to try your skills. It is best to choose a room that fits the number of bullets you want to use and then change your bet using the +/- keys. You can then manually select the fish you want to catch or use the Auto Fire mode to let the gun fire automatically. All you have to do with Auto Fire is adjust your aim and set the direction in which your barrel will fire.
This KA Gaming release also includes a Lock Attack option, which allows you to only target and shoot at a single fish species. This feature assures that your gun only fires at the targeted fish while leaving aside others. Moreover, you won't miss your shot because bullets that strike the gaming interface's edge continue to bounce until they strike a fish. Each fish you catch pays out, and there are bonus features available that might help you win big.
KA Fish Hunter Game Symbols & Payouts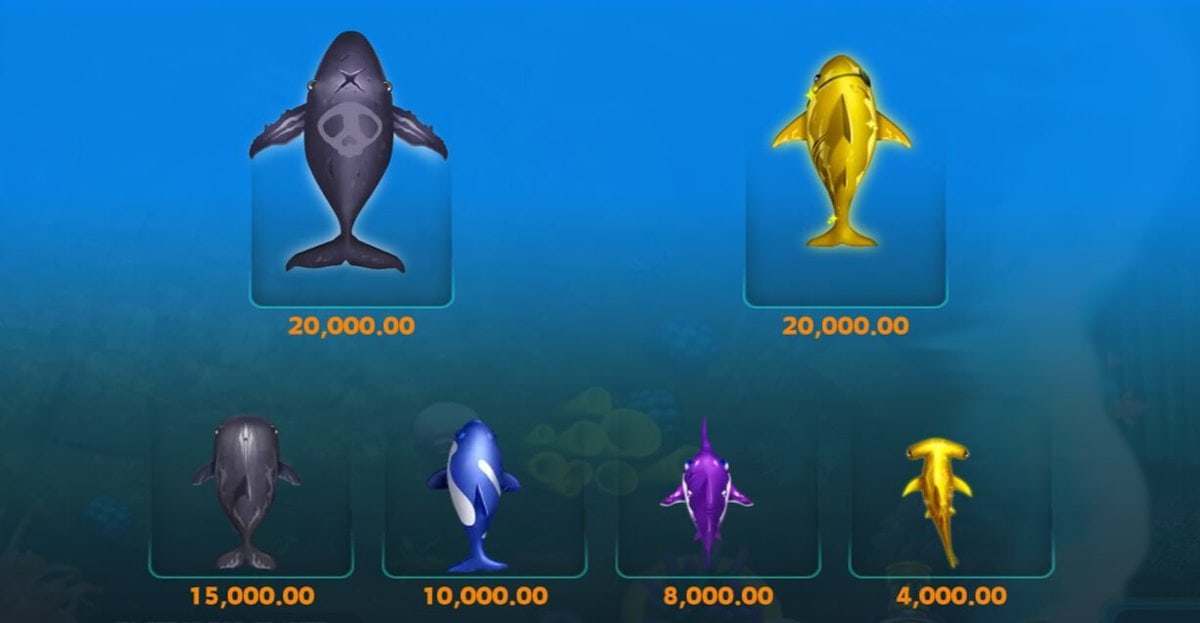 There are a total of 21 fish species that you will encounter while playing KA Fish Hunter. Each fish has a different prize depending on its size and how hard it is to catch. Bigger fish need more hits resulting in higher spending, but they deliver greater rewards. Let's explore specific values that each fish offers:
🤑KA Fish Hunter Paytable
Whale & Gold Shark
200x
Whale Shark
150x
Dolphin
100x
Marlin Fish
80x
Hammerhead Shark
40x
Manta Ray
30x
Blue Fish
25x
Angler Fish
20x
Pink & White Fish
18x
Puffer Fish
15x
Green Fish
12x
Turtle
10x
Flying Fish
9x
Purple Fish
8x
Lobster
7x
Small Blue Fish
6x
Nemo
5x
Pink Fish
4x
Small Purple Fish
3x
Yellow Fish
2x
KA Fish Hunter Bonus Features
Aside from the previously listed fish species, you can come across unique icons that deliver advantages like the Freeze Bomb, Chain Win, and Special Bonus. These bonus targets may not appear frequently, but successfully collecting them can result in big wins.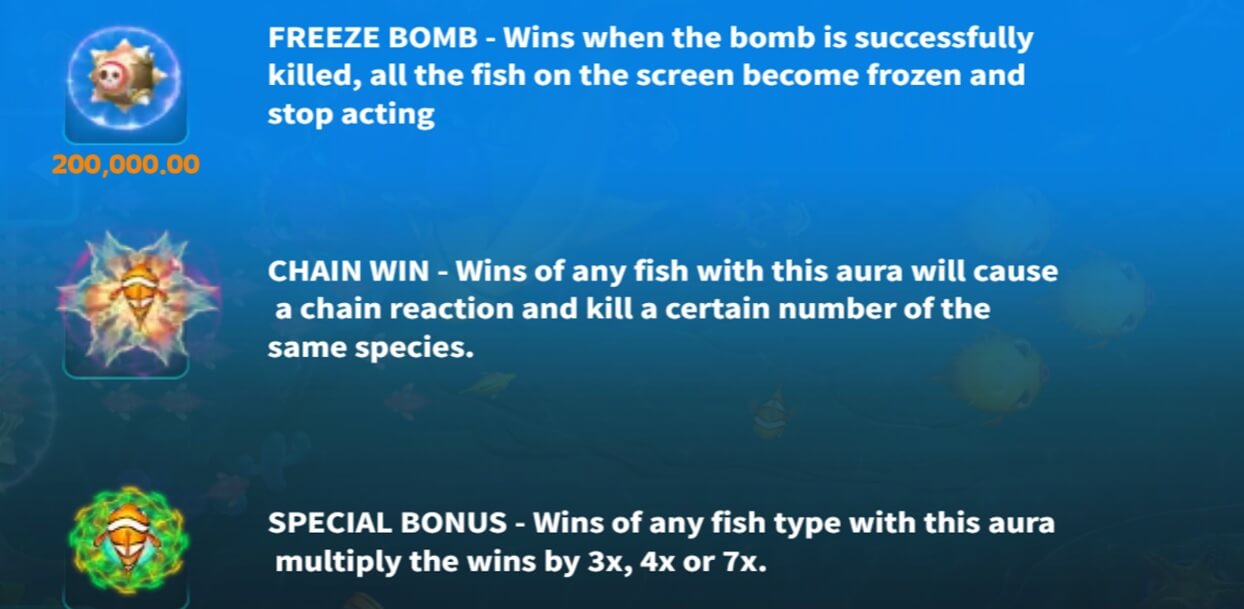 Freeze Bomb
The Freeze Bomb function activates when you capture a bomb encased in a bubble that appears on your screen. It causes all fish species swimming around to become frozen and gives you an ideal chance to grab your preferred fish without worrying about it swimming away. It's like having instant power over the entire aquatic environment.
Chain Win
A Chain Win will occur if you grab a fish with a sparkling orange glow. It will then set off a fascinating chain reaction that will eliminate multiple fish of the same species. So, look out for that orange glow surrounding fish and expect to reel in some decent prizes.
Multiplier Bonus
A special bonus in the KA Fish Hunter game triggers when you catch a fish with a green aura. But this time, it gets much more pleasant as wins accompanied by a fish encircled by a green aura will boost the rewards by 3x, 4x, or even 7x.
Strategies & Tips to Play KA Fish Hunter Game Online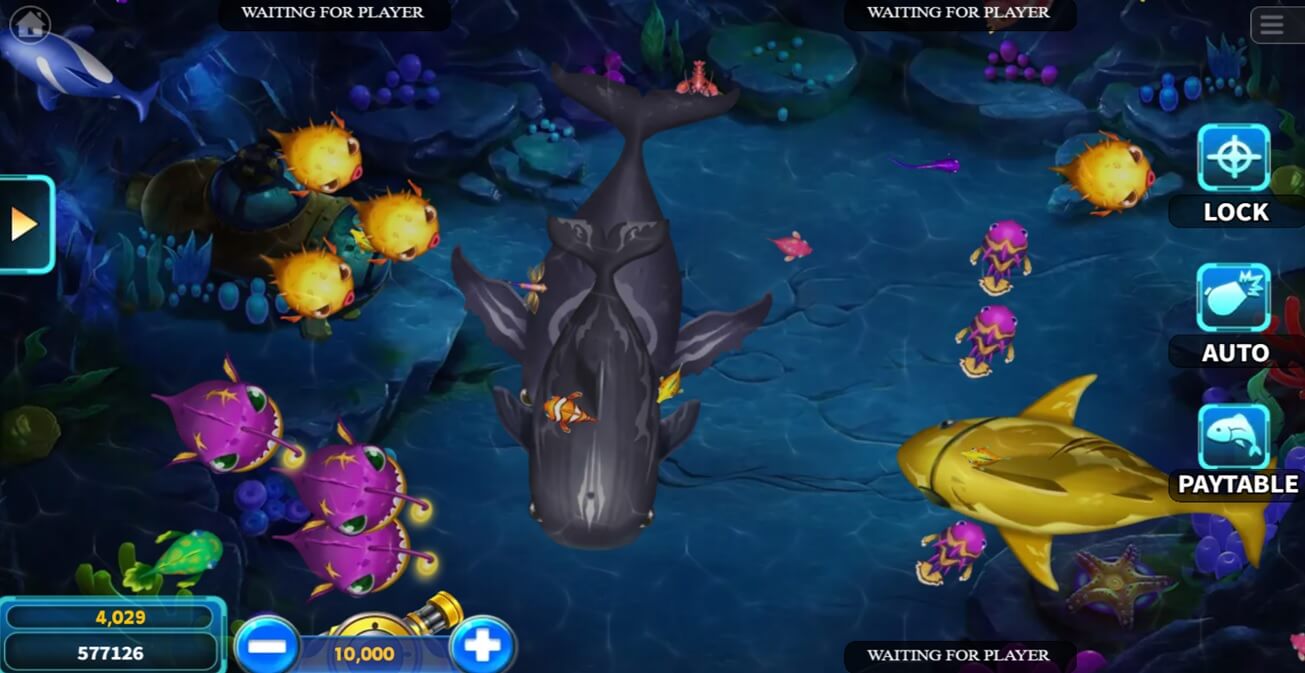 KA Fish Hunter is a skill-based casino game where you've to grab as many fish as possible. This game seems more like online poker than typical slots because you'll be battling against other players. But beware: many new players get swept away and quickly blow out their bankroll. That is why, before delving into the exciting world of fish table games, it's good to learn some helpful fish tips and strategies.
It's critical to set your strategy in KA Fish Hunter in line with the size of your bankroll if you want to improve your chances of winning. Setting your sights on larger fish that give more rewards is worthwhile if you have enough coins. However, if your budget is limited, it's wiser to concentrate on smaller targets that won't use up too much of your money. Don't forget that every fish moves at different speeds in the KA Fish Hunter game, with smaller fish going slower and fast-moving fish being tougher to catch.
The rewards for catching bigger fish are higher, but remember that each shot from your cannon comes at a price. So, be smart and don't waste your bullets. Before you begin fishing, check the paytable for the reward of each fish. It will improve your chances of reeling in some decent prizes and assist you in making informed decisions about which fish to target.
Another tip is to look for bonus icons if you want to win big. If you see one going towards the middle, focus your aim and fire. Bonus elements move slowly down a lengthy route, increasing the chances of locking them. So, don't pass up these excellent chances to capture big gains.
KA Fish Hunter Review Summary
KA Gaming has quickly gained popularity among players because of its incredibly immersive fish-shooting games. Their KA Fish Hunter game has rapidly become a favorite and lets players try out their skills in three separate areas, each with a different bullet cost. With its fun gameplay and exciting environment, it's no surprise that KA Fish Hunter has won the hearts of many gamers worldwide.
The attraction of KA Fish Hunter comes from its simple gameplay, sound effects, and appealing 3D visuals. It's an engaging fish game, with a plain and simple interface operating nicely on all devices. Furthermore, this game has unique bonuses that may help players collect extra coins and multipliers of up to 7x. So don't wait; get your hands on KA Fish Hunter today and unleash your inner hunter in this aquatic adventure!