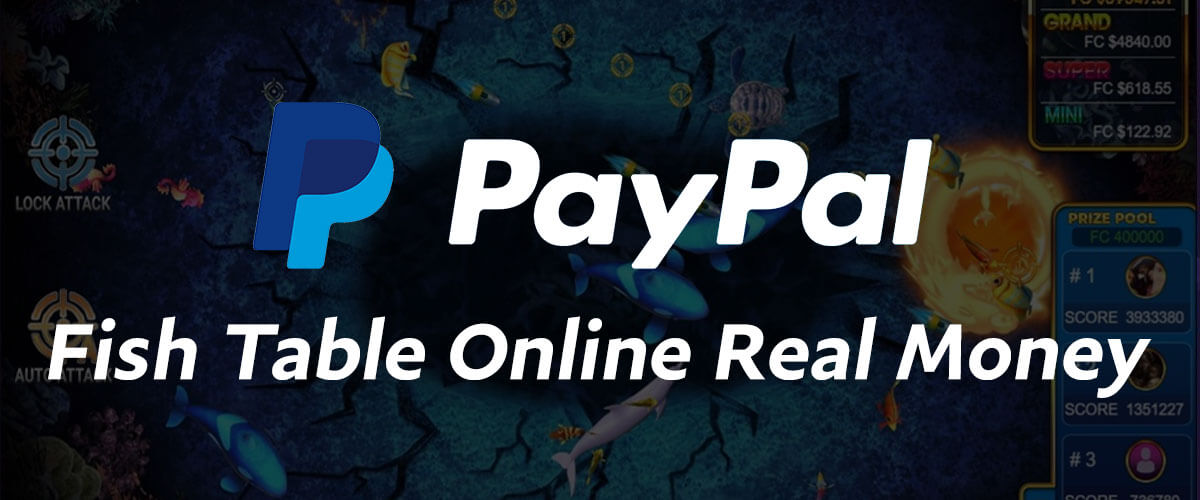 Having an accessible and fast banking method goes a long way in enhancing your gaming experience when playing online fish tables. With the advent of the internet and modern banking, players are offered many easy and seamless options, one being PayPal. PayPal is a payment method that allows players to transfer and receive money quickly and securely without involving their bank account.
PayPal fish table games online casinos are sweepstakes sites that allow players to purchase coins or redeem their winnings using PayPal. With PayPal serving as a middleman, users are offered 100% privacy with zero risk of their bank details getting into the wrong hands.
Although you wouldn't find a legit PayPal fish table online casino in the US, there are many sweeps cash sites that offer other banking methods that provide similar or even better perks than PayPal. In this article, we will be tackling the following:
How to play fish games for free.
How to signup and purchase coins with PayPal.
Best alternative banking methods to PayPal.
Sites that offer free fish slot games.
How to redeem real money after playing free fish gambling games.
Real Money Fish Game Apps That Accept PayPal
Although you'd have to sacrifice not having PayPal as a payment method, there are a few legit sweepstakes sites where you can play fish tables online casino games for free and even win money. So if that sounds like something you like, here are some fish tables sites you can signup at.
At Fortune Coins you can play Emily's Treasures, and at Funrize Fishing Kingdom. Both are played with virtual coins, but you can redeem them for cash via eWallets like PayPal.
Fortune Coins Fish Game App
Fortune Coins is a sweepstakes site by Social Gaming LLC where players can play amazing online fish shooting games for free and win cash prizes. While you wouldn't find PayPal as a payment method in this free online casino, players still have a number of accessible and straightforward banking methods like online banking, credit/debit cards, and Skrill.
The available banking methods make it easy for players of all levels to partake in skill fish games online without necessarily moving out of their comfort zone. Speaking of necessity, purchasing coins to play fish tables online at Fortune Coins is not mandatory. Instead, free gold and fortune coins are awarded frequently to keep shooting fish. In addition to fish table games, Fortune Coins also has several Social Gaming LLC proprietary online slot titles, many of which have 4-tiered jackpot jackpots that provide huge winnings.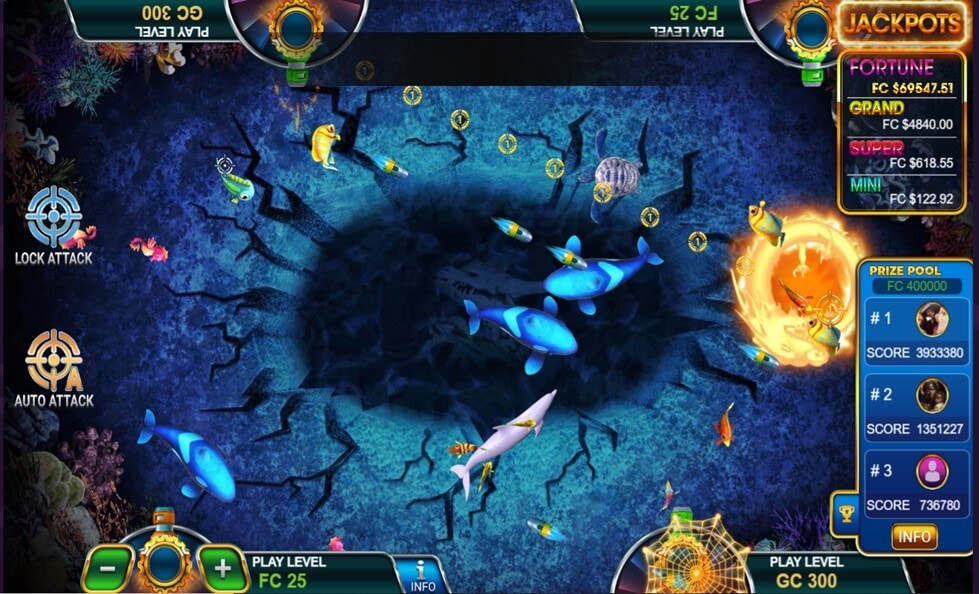 Funrize Fish Game App
Funrize might be a relatively new fish table site, but the social casino has one of the most impressive online fish table games. Players from all US states outside Washington, Idaho, and Wyoming can legally play for free. Although you don't have to purchase virtual currencies to keep playing, you can buy tournament coins and get free promotional entries.
Funrize isn't a PayPal online fish shooting game casino. Instead, players are still offered an extensive payment method list when buying tournament coins. Methods like MasterCard, Visa, Discover, and online banking are some of the available to players, and just like PayPal, they are super fast and easy to use.
What makes these options even better is that you could also use them to withdraw your winnings from the online casino. With this, players do not need to create an extra financial account to play their favorite fish shooting games.
Riversweeps Fish Games
Riversweeps is slightly different from all the free online casinos we've discussed. In addition to being a sweepstakes site, it doubles as a software provider which powers chance and skill games like slots and online fish tables in online casinos and internet cafes sweepstakes. Riversweeps is the brains behind some of the best skill fish games like Orion Stars, SkillMine, Rivermonster, Vegas7Games, Ocean King, Golden Dragon, Fire Kirin, and so much more.
Even though there isn't a PayPal option in this sweeps cash site, players are offered a more advanced and dynamic banking option. While we wouldn't recommend playing at Riversweeps due to lack of credibility and positive player review, it still deserves an honorable mention.
PayPal Fish Table Casinos Overview
PayPal fish table casinos are sweepstakes sites where players can use their PayPal account to purchase gold coins or redeem winnings. These online casinos are no different from the regular sweepstakes sites that offer free play.
The only difference is that if you want to shoot loner fish or get real money winnings, PayPal is an available banking option. Not to be confused with real money casinos, a purchase made through PayPal differs from a deposit. In PayPal fish table casinos, you are only buying a specific quantity of gold coins which sometimes comes with sweepstakes coins that you can trade for real USD.
As of today, there aren't any legal PayPal fish table games online casinos in the US. There are a plethora of sweepstakes sites with online fish tables that have alternative time-saving, low-effort banking options you can use. Solid real money sweepstakes like Fortune Coins are likely to introduce PayPal in their banking methods list in the future.
How PayPal Payments Work at Fish Tables Online
PayPal as a payment method is used similarly to most banking methods in an online fish table game casino with two significant perks – ease and privacy. PayPal allows players to purchase coins, often gold coins, with 100% anonymity. Instead of using your bank account or credit card to buy coins at online fish table casino sites, you will deposit money into your PayPal account before using the PayPal funds to purchase the coins.
With this, your bank statement would only have transactions made to PayPal instead of showing your online gaming activities. In other words, PayPal is a middleman in getting your money from your account to your online fish table game account. It is also one of the most reputable and safest eWallets in the financial industry.
How to use PayPal for Fish Gambling Purchases
While you do not need to purchase to play popular fish games from the sites we recommended, players willing to support the sweepstakes casino or play longer could buy coins. Although PayPal isn't an option you'd find on the sites we mentioned earlier, below are the steps to take to purchase gold coins with PayPal if the payment option is added.
Head to PayPal's official website.
Click on signup for a personal account.
Enter your phone number before clicking the "Next" button.
Input the 6-digit code sent to your number in the available field.
Fill in your email address, first name, last name, and password.
Click "Next" and fill in your country, street, address, and postal code.
Check the two boxes under this form before clicking "Agree and Create Account."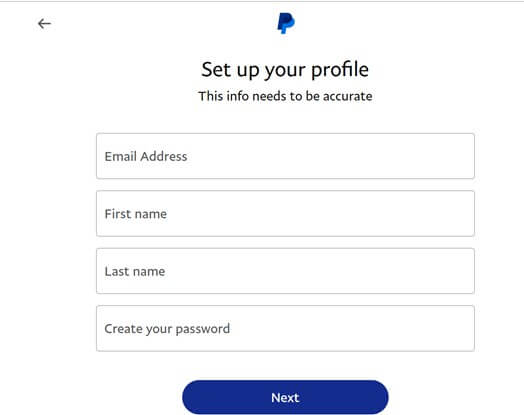 After doing all this, a verification mail will be sent to your email. Click the link before heading back to the PayPal website. To fund your account, click "Wallet" and select the option to link your card or bank account to your PayPal. After doing this, you can input the amount you want to load into your account and follow the process on the screen.
When you are done setting up and funding your PayPal account, head back to the fish table game website and click on the "Buy" or "Coin Package" option. Next, select your preferred coin package and press the PayPal logo. After doing this, you'd be led to another tab where you'd be prompted to log into your PayPal account. Approve the transaction and watch the virtual coins you bought added to your account.
PayPal Cash Redemption at Fish Gaming Apps
Playing fish table games at sweepstakes sites we've mentioned differs from playing in real money online casinos. Fish gambling games require that you deposit into your casino account, while sweepstakes casino games use virtual currencies. Due to this, redeeming actual money is also very different from withdrawing cash from a casino site.
Take Fortune Coins, for example. To get real cash, you'd first need to play fish table games with fortune coins. The fortune coins have an exchange rate of 100 coins for $1, meaning you can trade 1,000 fortune coins for $10. For Funrize, the only way to win cash prizes is to play with promotional entries. Players using this mode get 'winnings,' and you'd need at least 25 to redeem Amazon, Target, or DSW eGiftcard or 100 winnings to redeem to your bank account.
After making the required minimum, players can redeem real money by clicking the "Redeem" button. If it's your first time doing this, you'd be prompted to do a KYC verification. To do this, you'd be asked to submit the following:
Government-issued photo ID
Proof of Address
Bank Statement not older than 3 months.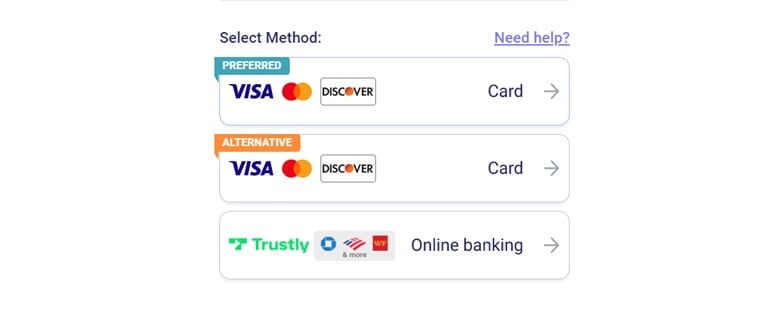 These documents are used to verify your identity, age, location and to confirm who you said you are. After the verification is approved, your redemption will be processed into your bank account. Subsequent redemptions are always faster as you do not have to verify your identity again. However, New York residents redeeming over $5,000 worth of fortune coins might be asked for additional verification due to the state's sweepstakes law.
Important – the inclusion of coins and redemptions at PayPal fish games is the only way such platforms are classed as sweepstakes casinos and remain legal in pretty much all US states.
Real Money Fish Table Game Bonuses for PayPal Deposits
Promotions are some of the legal fish game secrets of earning more free coins and even real money when playing fish games. Thankfully, in addition to the bonus rounds you'd get from playing fish games like Emily's Treasure in Fortune Coins, players also get to claim several bonuses at these online casinos. Below are some of the no deposit and deposit bonuses you'd find at the fish table game sites.
Claim 150,000 gold coins and 800 fortune coins to play Emily's Treasure
Want to start playing fish table games for free and winning real money you can redeem into your account? Fortune Coins offers new players 150,000 gold coins and 800 fortune coins upon signing up and verifying your details.
The gold coins can be used to play fish table games like Emily's Treasure, but if you'd like to win actual cash prizes, you'd need to start playing with the fortune coins. Know what this means? You can begin to shoot fish to win money from the moment you sign up for an account at Fortune Coins. Aside from the no deposit bonus, there are also promotions like the daily login bonus that gives gold and fortune coins every 24 hours. Players can also get fantastic purchase bonuses on coin purchases using any payment method. You can check the Fortune Coins bonus code page for more details.
Get a 100,000 No Deposit Bonus + 250% First Purchase Bonus to play Fishing Kingdom
New players at Funrize are awarded 100,000 tournament coins (TRN) for simply signing up. New customers can use this bonus to play games like Fishing Kingdom for free and for entertainment only.
If you'd like to earn real money prizes when you shoot fish, you can claim the 250% first purchase bonus that gives 700,000 TRN and 3,000 promotional entries for just $19.99. One benefit of this purchase bonus is that you do not need a Funrize promo code to claim. Also, regardless of your banking method, you'd still be awarded the bonus.
In addition to the first purchase bonus, the online casino has several promotions like the daily fortune wheel bonus and tournaments. If you have friends who also love to play fish arcade games, Funrize will award you 900,000 TRN and 2,500 free promotional entries for every invited friend.
Alternative Banking Options to PayPal Fish Table Games
With PayPal still not available at fish table platforms, you'll have to settle for the following payment methods.
Online Banking: Online banking is one of the most common alternative payment options you can use to purchase gold coins to play online fish table games. With the partnership with Trustly, sweepstakes sites allow players to buy coins from their online bank without necessarily using their cards. Using the online banking option to play fish table games has its perks, as you do not need to be tech-savvy to use it. Similarly, banks like Bank of America, Wells Fargo, Citigroup, and over 100 more US banks are accepted, making it an all-around method.
Cards: Most sweepstakes fish table games sites also have the credit/debit card option. Players with Visa, MasterCard, Discover, or AmEx cards can load their fish table game accounts using their credit card and security numbers (CVV) written on the back of the card. One downside of using the card method is that you need to have it with you during your first purchase. Thankfully, fish game casino sites like Fortune Coins allow players to store their card details for more convenient use.
Skrill: Skrill is the closest alternative you'd get to PayPal, as they are both e-wallets. Like PayPal, you can fund your skrill account with your bank or card details, after which you'd use the loaded fund to purchase coins to play fish table games. Skrill is the perfect alternative if you want to keep your extracurricular activity away from your actual bank account. Another advantage Skrill has over all the previous alternatives we've discussed is that it offers better protection from overspending. Since it'd take more time to fund your Skrill account, players would be more attentive to how they spend money.
Cash App: Want an added layer of privacy? Cash App is the payment method for you. Cash App is the only payment method that allows players to purchase coins using bitcoin, making it the safest way to playing fish skill games. Besides this, while most banking methods for sweepstakes casinos, like cards, online banking, and even PayPal, charge a fee of up to 5%, bitcoin transactions do not incur any significant fee for purchasing coins or redeeming real money.
Benefits & Drawbacks of PayPal Fish Table Games
| ✅Benefits | ❌Drawbacks |
| --- | --- |
| Fast transactions | Legit PayPal fish table sites are a rarity |
| Very accessible | Limits on daily, monthly, or annual transactions |
| Safe payment method | Transaction fees are sometimes high |
Summary
Seeing how most online casino games are based on chance, it's a breath of fresh air to see fish table games getting the attention they deserve.
With online sweepstakes casinos offering better payment methods in terms of speed and fees than PayPal, players are in for the fun of a lifetime playing at our listed sites.
FAQs
How to win real money at online fish tables?

To win real money at online fish tables, you must sign up at any legal sites that offer fish games. After doing this, claim the no deposit bonus and start playing. After making the minimum requirement, you can redeem it for real money. Take Fortune Coins, for example. You can use the 500FC no deposit bonus to start playing for real money. If you can win 500 fortune coins playing the available fish game, you can redeem $5 in real money.

How to start an online fish table game?

To kickstart playing for fun or to win cash prizes, you'd need to sign up at any of our suggested table fish games online casino sites, claim the no deposit bonus, and enter games with your coins.

Can I get free play for fish tables?

Sure! All our recommended online fish tables site use the sweepstakes model, which means all the games are free to play. In addition to being free, you can also win real money like you would in real money casinos.

What is the best online fish game?

While it's different for each player, we believe the two best fish table games online are Emily's Treasure from Fortune Coins and Funrize's  Fishing Kingdom. These two fish games offer players deep-sea level experience, with Emily's Treasure offering several high-paying creatures like the golden shark, golden crab treasure box, and fire dragon. There is also auto attack and lock for newbies or players looking for a hand-free gaming experience.

While Fishing Kingdom doesn't have an auto shoot, there are several in-game bonuses, with the best being the wheel bonus round, where you can get up to 200 free shots.

What casino has fish tables?

Most online casinos don't commonly offer online fish tables. However, to play fish table games, you can sign up at Fortune Coins or Funrize. These sweepstakes sites are legal in all US states, and purchase isn't necessary to play or win real money.