Fire Kirin app is a fish game and sweepstakes platform in its own right. Players may access the arcade-style title from sites such as Sweepstakes Mobi, Skill Gaming Solutions and firekirin.com.
Pros
Nice selection of fish games
Open to all US players
$5 no-deposit registration offer
Cons
Very limited background information
No contact details
Dodgy looking Facebook profile
Negative customer reviews
People across the US can legally enjoy the social casino game and site due to the free-to-play sweepstakes mechanic. Register with Skill Gaming Solutions for a $5 no deposit registration offer.
Fire Kirin casino is available on desktop, mobile devices, and at land-based sweepstakes cafes. It's primarily a fish game, but the app also hosts other popular sweepstakes games such as Buffalo 777, Fruit Party, and Happy Farm. You can choose from 46 options mainly revolving around slots and fish games. It also includes lottery games like keno.
Despite these selling points, our expert review team encountered several worrying aspects about Fire Kirin sweepstakes casino. After sustained research, we discovered XGaming was the company behind the app and fish game. However, information on the operator is limited to a dodgy-looking Facebook profile.
Additionally, the website has no terms and conditions, FAQs, or contact details (other than an out-of-use cell number). Sweepstakes Mobi has a couple of addresses for their land-based sweeps cafes in El Paso, but nothing more than this. We cannot recommend the Fire Kirin app for these reasons and more. If fish games are your preferred choice, check out the brilliant Fortune Coins Emily's Treasure game or Funrize Casino instead.
We'll explore the Fire Kirin app basics, key selling points, accessibility, welcome offers, and more throughout this review.
What is the Fire Kirin App?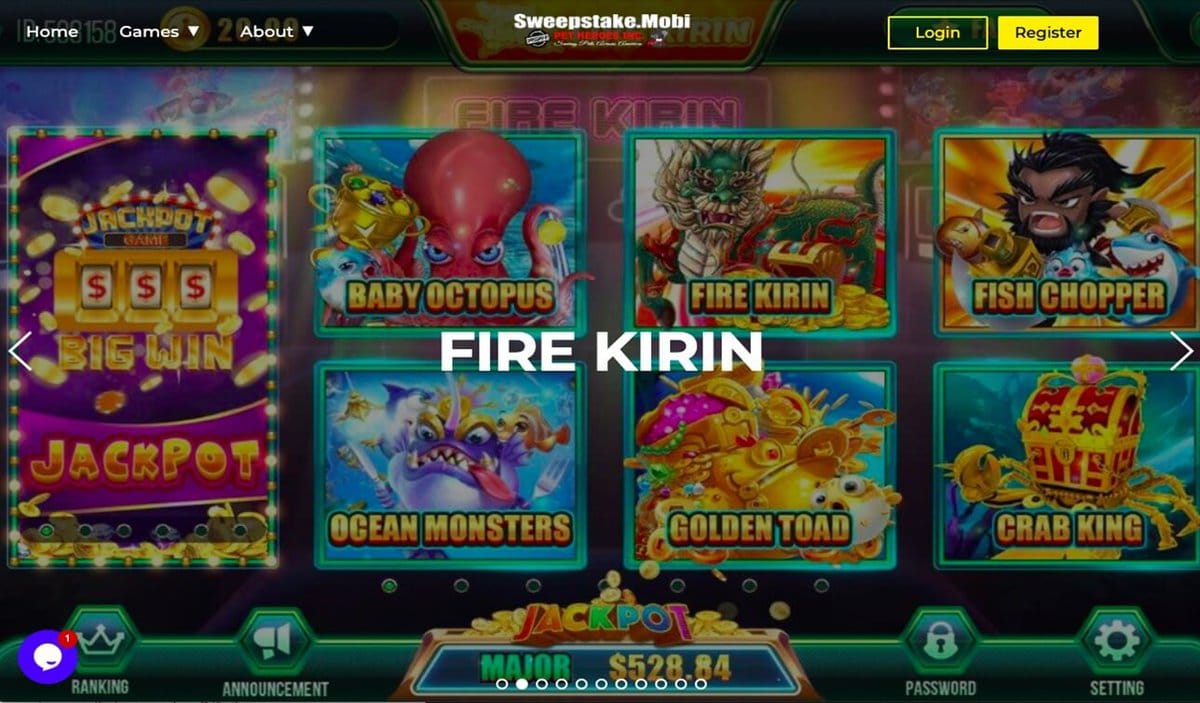 The Fire Kirin app is simultaneously a fish game and a dedicated sweepstakes platform featuring other free casino games. Legal online casinos in the US are still limited to a handful of states, whereas sites operating using the sweepstakes mechanic can typically serve players in all states other than Washington. Fire Kirin is one of the many shady venues advertised in the Lucky Sweeps Casino Facebook group.
Virtual currency is used to play Fire Kirin at sites such as Gold Fusion, Sweepstakes.Mobi and firekirin.com or via the mobile app. No real money is required to play, giving gamblers across the US easy access to fish arcade games and other casino entertainment.
Unlike other tried and tested sweepstakes platforms, Fire Kirin is hard to pin down. Primarily, it's a fish game app and an HTML5 game. Meanwhile, the brand is also a sweepstakes platform offering other games in its catalog. Check an overview of vital information below:
🎰Fire Kirin App
🌐Website
firekirin.com
sweepstakesmobi.com
skillgamingsolutions.com
🎁Fire Kirin App Welcome Promotion
N/A
🎲Social Casino Games
Keno, Fish, Slots
💵Minimum Deposit
$5
💰Fire Kirin Real Money Prizes & Minimum Withdrawal
Unlimited
💳Payment Methods
Cash App, Visa, Mastercard, Maestro, Apple Pay, American Express, Bitcoin
📱Availability
Browser, Android, iOS
Fire Kirin App Key Selling Points
Here are some Fire Kirin app features that explain why this fish game app is popular in the US:
Available to play on pretty much all devices
Fun, skill-based fish game
Varied payment methods including Bitcoin
Several types of online casino games
Regular opportunities to score free sweepstakes coins
How to Download Fire Kirin App
Players can access the Fire Kirin fish game in various ways. Registering with Sweepstakes Mobi, Firekirin.com, or Skill Gaming Solutions allows you to play on your desktop computer. Nowadays, many social casino fans prefer using mobile apps.
Fortunately, Fire Kirin is available as a standalone sweepstakes fish game app so you can play anywhere using your mobile phone. Unlike other official sweepstakes apps like Pulsz Casino (rated 4.4 out of 5 on the Google Play store), the Fire Kirin app isn't available on the Apple Store or Google Play store. FireKirin can be also accessed via third-party aggregators like BitPlay, but it's almost always preferable to play at the desired sweepstake site directly. There are a few extra steps to downloading the Fire Kirin app, but the process isn't particularly difficult. We'll explain below:
Fire Kirin App apk Download
The steps below will illuminate how to download the Android app. Please note, Google hasn't verified the Fire Kirin apk. Manually accepting permissions can pose a slight risk, so bear this in mind.
Go to firekirin.com and press "Download Firekirin App"
Select the Android app
Accept the download
Tick "Allow From This Source" and click install
Give the app time to install and look out for the Fire Kirin icon on your homescreen
Log in to the app and choose a game to start playing
Fire Kirin App iPhone App Download
The fact there is a Fire Kirin iOS app is impressive, but we weren't satisfied with the overall download or installation process. Manually accepting permissions is a considerable risk, as with the Android Fire Kirin apk. Nevertheless, you can find the steps to download and install it below:
Head to firekirin.com and go to the "Download Firekirin App" page
Scroll down and click on the iOS app link
Scan the QR code using your phone
Follow the instructions and accept all necessary permissions
Wait for the app to install to start playing Fire Kirin mobile
Disclaimer: Fire Kirin operations are sketchy and we cannot verify its legal status or owner. As a result, we do not recommend players getting this app on their smartphones or tablets. The following are much better sweepstake casino alternatives:
Fire Kirin Casino Bonus Code

We couldn't find any tangible Fire Kirin casino bonuses after lengthy research on Sweepstakes Mobi, Firekirin.com, Skill Gaming Solutions and the brand's social media profiles. A free welcome bonus is regularly mentioned, but there was no evidence of what it actually contained other than a $5 no deposit welcome offer when registering with Skill Gaming Solutions.
The platform also runs a referral scheme where you can earn free sweepstakes coins by inviting your friends. Occasional Fire Kirin promos also run on social media, so keep an eye on their social media pages.
Fire Kirin Free Credit Bonuses
Players using iOS devices or Android will struggle to find concrete welcome offers or first purchase bonuses using the Fire Kirin app. We struggled to find any information on this even after registering.
Signing up to play the fish game via Skill Gaming Solutions does unlock a small $5 no deposit welcome offer. Again, information is limited and the free sweeps coins are not automatically transferred to your account.
Ultimately, there are far better legal and legit US sweepstakes casinos to explore for generous welcome offers and ongoing promotions for existing customers. For example, Rush Games offers $500 worth of virtual credits after registration. We've extensively vetted and verified this bonus, so it's a far better alternative to Fire Kirin casino.
Fire Kirin App Referral Promo Codes
The Fire Kirin app, Sweepstakes Mobi, and Skill Gaming Solutions all vaguely mention a referral scheme, but it's difficult to find out exactly what this entails. Most sweepstakes sites offer more coins to players that invite their friends with a unique referral code. Things are different here, requiring players to get in contact with the support team to claim the referral.
You're better off looking elsewhere considering the difficulty of verifying and claiming this referral promotion. Sites like Gambino Slots have an integrated Facebook referral bonus awarding players 1,000 G-Coins for each friend who accepts your invitation. The site platform also allows you to create your own avatar. All in all, it's much better and safer social casino fun than Fire Kirin.
Fire Kirin App Overview & Information
Fire Kirin is a mobile fish game app and sweepstakes site in its own right. You must use sweepstakes coins to play, unlike conventional online casinos. The company behind the brand is XGaming, although you wouldn't know it without extensive research. Although it's an electrifyingly fun social casino game, numerous factors make us question its legitimacy.
For one, the website and app are extremely basic. They look very amateurish and contain numerous broken links. What's more, the FAQ and general information pages hold little valuable details.
Fire Kirin is similar to other fish platforms like Milky Way Casino due to its software outsourcing. You can enjoy the game at places such as Isabella Sweps Casino, Skill Gaming Solution, Sweepstakes Mobi, and other land-based sweepstake cafes. This is another worrying sign, as it makes third-party testing and game regulation much harder.
Our reviews of Golden Dragon Sweepstakes, Orion Stars, Riversweeps, SkillMine, and Rivermonster all share the same concerns. The above appear to be sister casinos to Fire Kirin, accessible via the same dodgy vendors.
Creating a Fire Kirin App Account and Logins
Creating a Fire Kirin sweeps account isn't particularly difficult. Players must provide limited personal information, mainly an email address and some basic personal details. Follow the steps below to get started:
Download the Fire Kirin app or head to a third-party host like Skill Gaming Solutions
Press "Signup"
Complete the registration page
Validate your email address
Open the app or play on your browser
How to Get Fire Kirin App Coins
Buying Fire Kirin sweepstakes coins is another reason why we are suspicious of the platform. You must purchase coins to play the array of fish, keno, and slot games. Nevertheless, it's difficult to see how.
Skill Gaming Solutions makes this slightly easier. If you opt to play through this platform, press "Account Deposit" to purchase a coin package. Typically, sweepstakes casinos do not require a purchase to play. That's a requirement for them to be legal, which Fire Kirin doesn't abide by.
Sweepstakes Casino Games at Fire Kirin App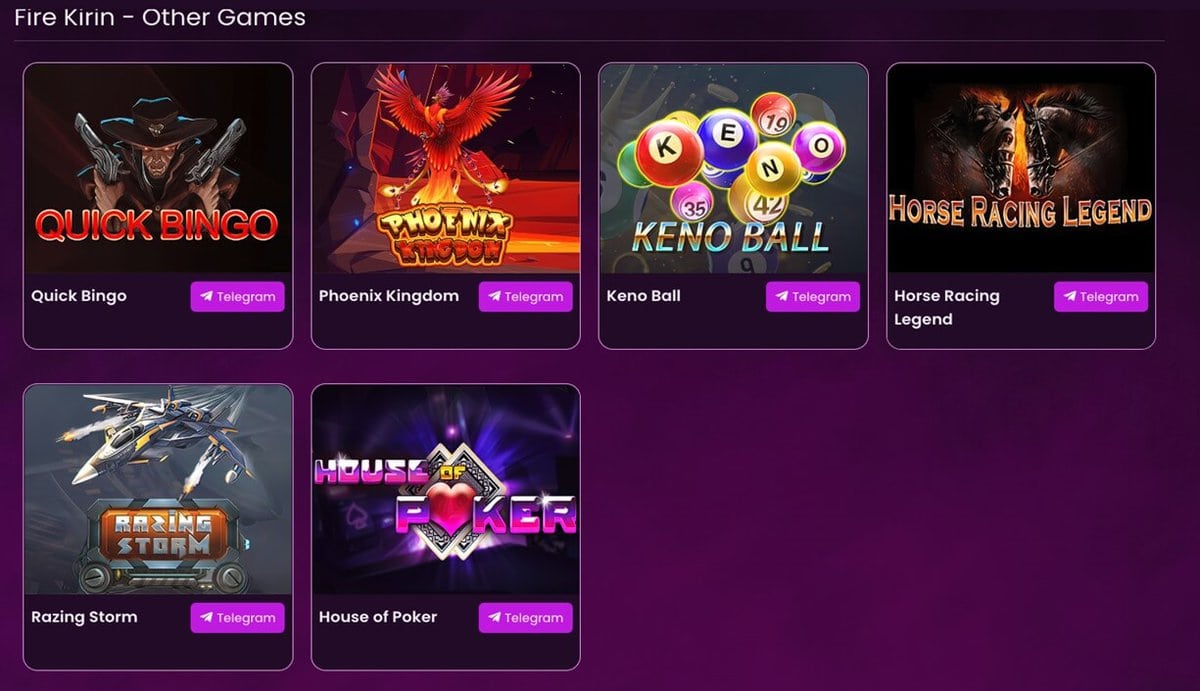 The Fire Kirin fish game is understandably the main highlight here, but it's not the only sweepstakes game available. Players can choose from over 40 titles, mainly focusing on slots, keno, and virtual fish tables.
Fire Kirin Fish Game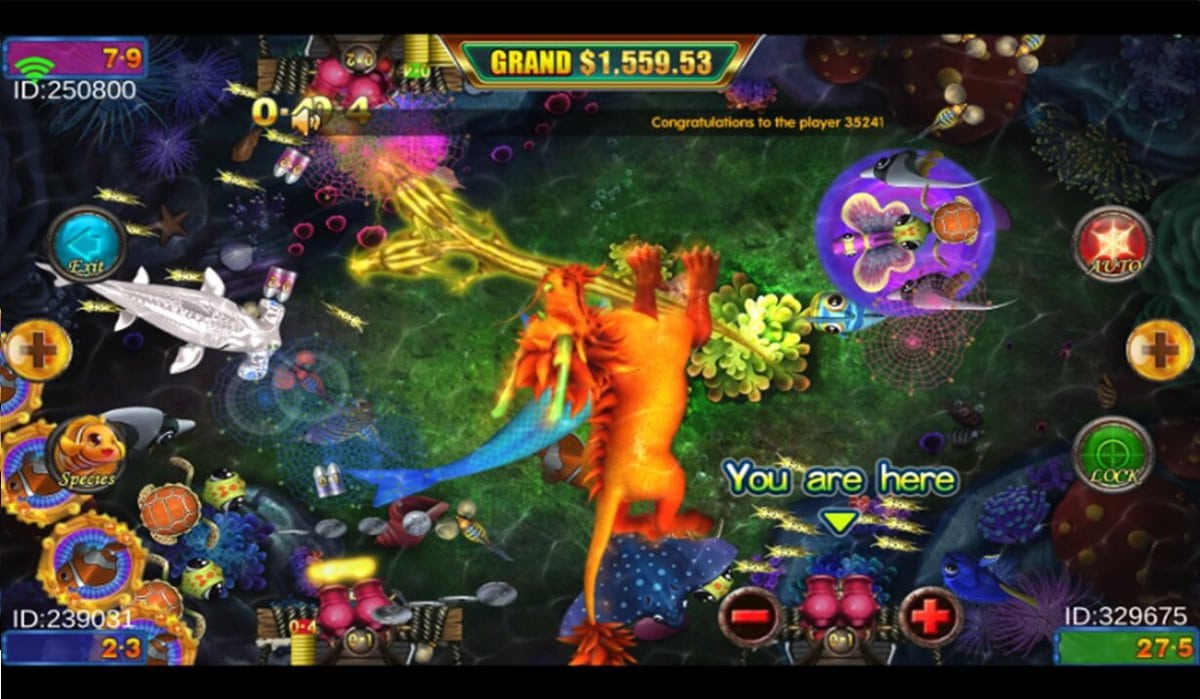 Inspired by the mythology of South Asian countries, Fire Kirin blends classic marine creatures with fearsome dragons. Players enjoy the user-friendly and high-octane gameplay, harpooning marine creatures to win virtual credits.
It has gained huge popularity in recent years due to its fast-paced nature and focus on skill-based gameplay. Players have several cannon choices and must think strategically when taking fish and other creatures down. Larger targets payout more, but also take more hits to kill.
The experience can be far more rewarding than simply spinning online slot reels, as you have an active say in how much you can win. There are several fish game strategies and legal cheats that can help you succeed.
Fire Kirin Slots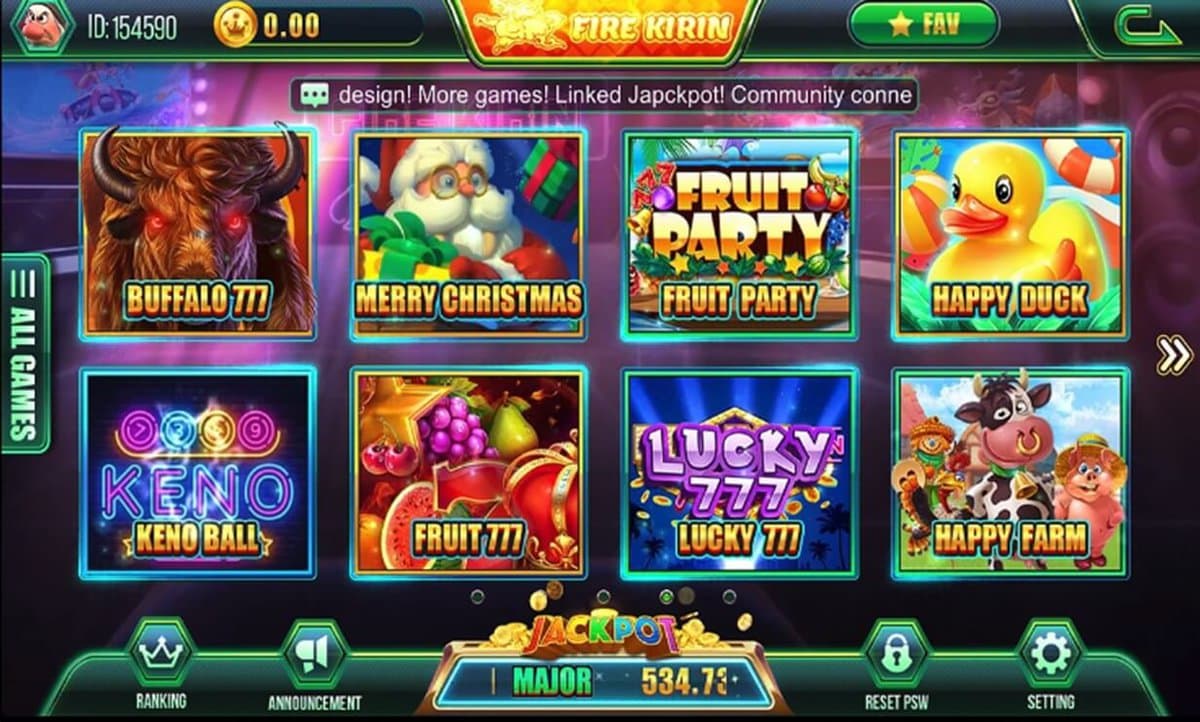 The Fire Kirin app also has a range of online slots available. Most of these are designed in-house, so we cannot be 100% sure of their legitimacy. Other examples like Happy Farm appear to be developed by Flipluck. However, on closer inspection, the version Fire Kirin hosts looks different to the official game. It's a worrying sign pointing to fake and potentially dangerous slot impersonations.
Here are a few more examples of the Fire Kirin slots on offer:
Buffalo 777
Fruit Party
Lucky 777
Other Mobile Games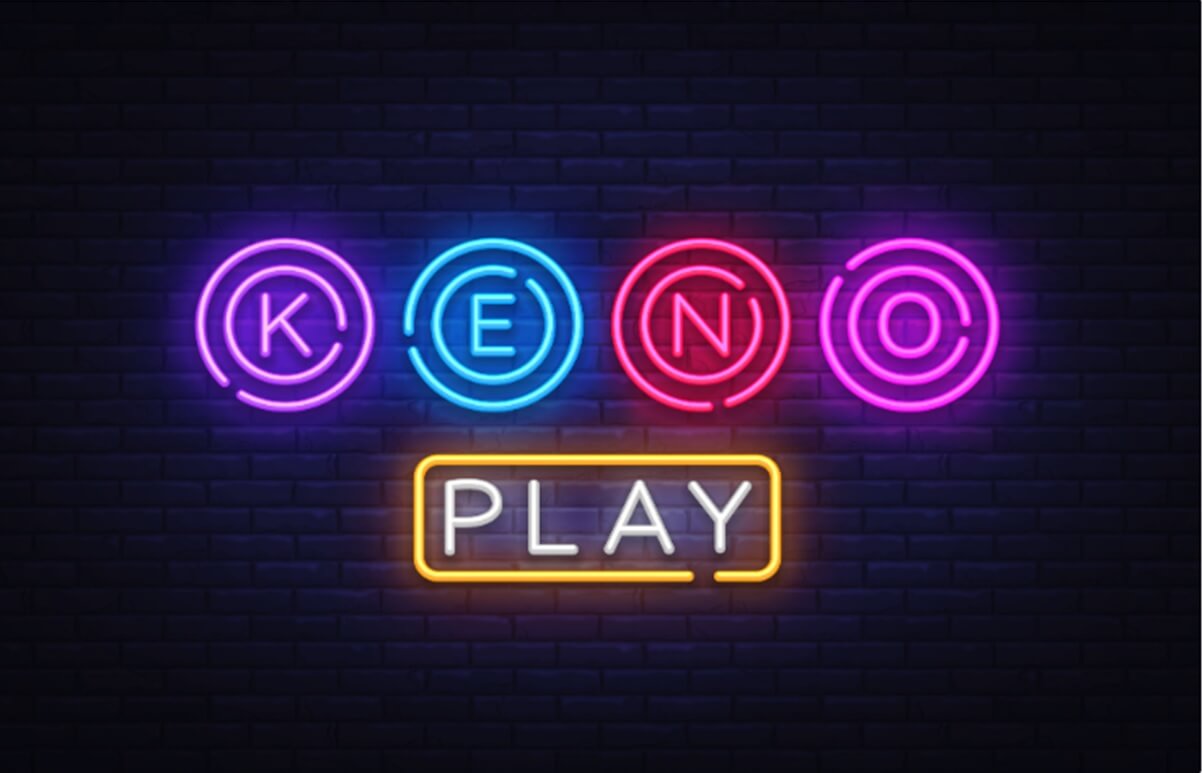 Fire Kirin also offers a few other games including keno. These are difficult to find elsewhere, so it's a definite positive for players who enjoy the famous Southeast Asian game. You can also find other interesting sweepstake games including:
Razing Storm
Keno Ball
Phoenix Kingdom
Quick Bingo
Horse Racing Legend
Banking
There is next to no information on banking options while using the Fire Kirin app or website. Skill Gaming Solutions does expand on the available methods, but any further information is limited. Here is what we found:
| 💳Payment Method | 💵Min/Max Deposit | 💵Min/Max Withdrawal | ⏱️Processing Time |
| --- | --- | --- | --- |
| VISA | N/A | N/A | Not Stated |
| Mastercard | N/A | N/A | Not Stated |
| Maestro | N/A | N/A | Not Stated |
| American Express | N/A | N/A | Not Stated |
| Bitcoin | N/A | N/A | Not Stated |
| Apple Pay | N/A | N/A | Not Stated |
Is Fire Kirin Legit?
Fire Kirin satisfies the bare minimum when it comes to site and app legitimacy. There is evidence of valid SSL encryption and we haven't heard of any major safety problems using the app. Nevertheless, we wouldn't fully recommend it and cannot 100% vouch for its legitimacy.
Safety & Regulation
As a sweepstakes game and platform, Fire Kirin doesn't need licensing from gambling authorities like the NJDGE or Malta Gaming Authority. As such, there is no overarching entity providing regulation or third-party testing. This doesn't mean it's automatically an unsafe or illegitimate site, but you should be careful if giving it a go.
Customer Service
Fire Kirin offers 24/7 live chat support via Skill Gaming Solutions. Elsewhere, the Fire Kirin and Sweepstakes Mobi websites have a customer enquiry form you can fill in. You can also try getting in contact via their social media channels.
Fire Kirin Social Media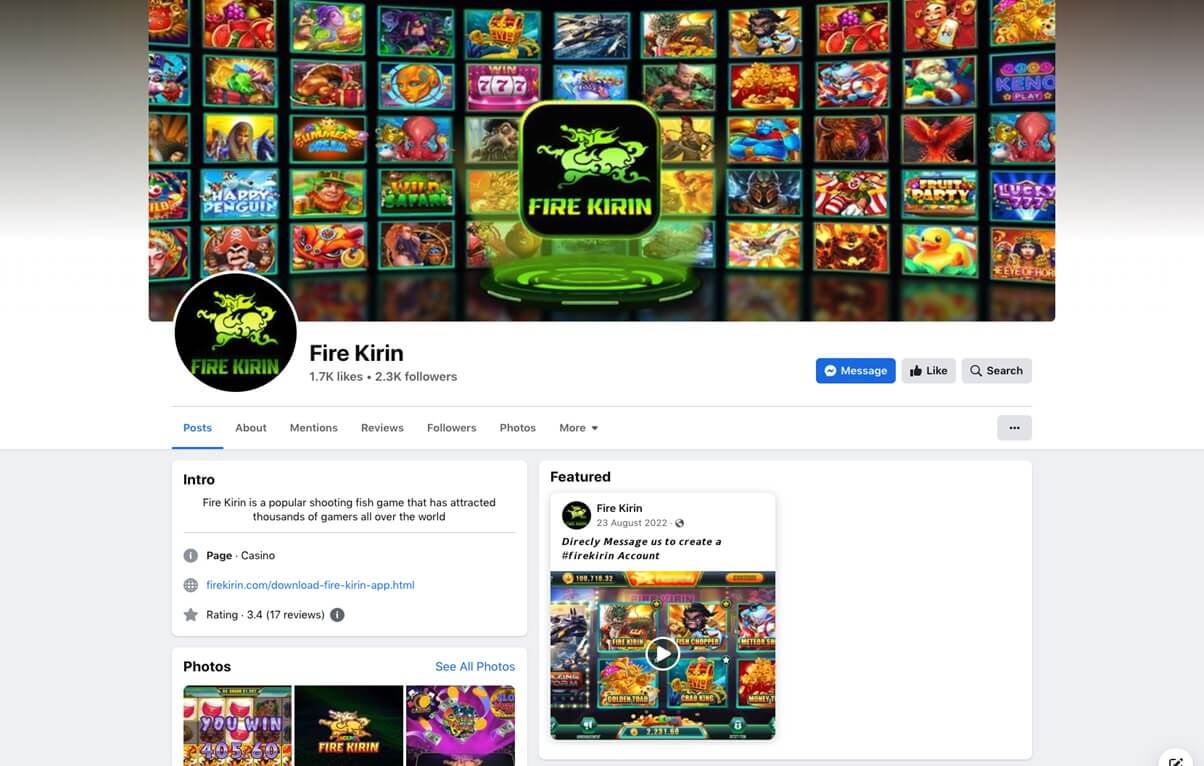 Follow the Fire Kirin Facebook page to be the first to know about any exclusive promotions or new games. It has 1.7k likes and 2.3k followers, proving its popularity among sweepstakes and fish gambling enthusiasts.
The page has a 3.4 out of 5 score after 17 reviews. Some customers are extremely supportive and satisfied, while others complain about lengthy payouts and inadequate customer support. There is a slight concern about some of its comments and followers being bots.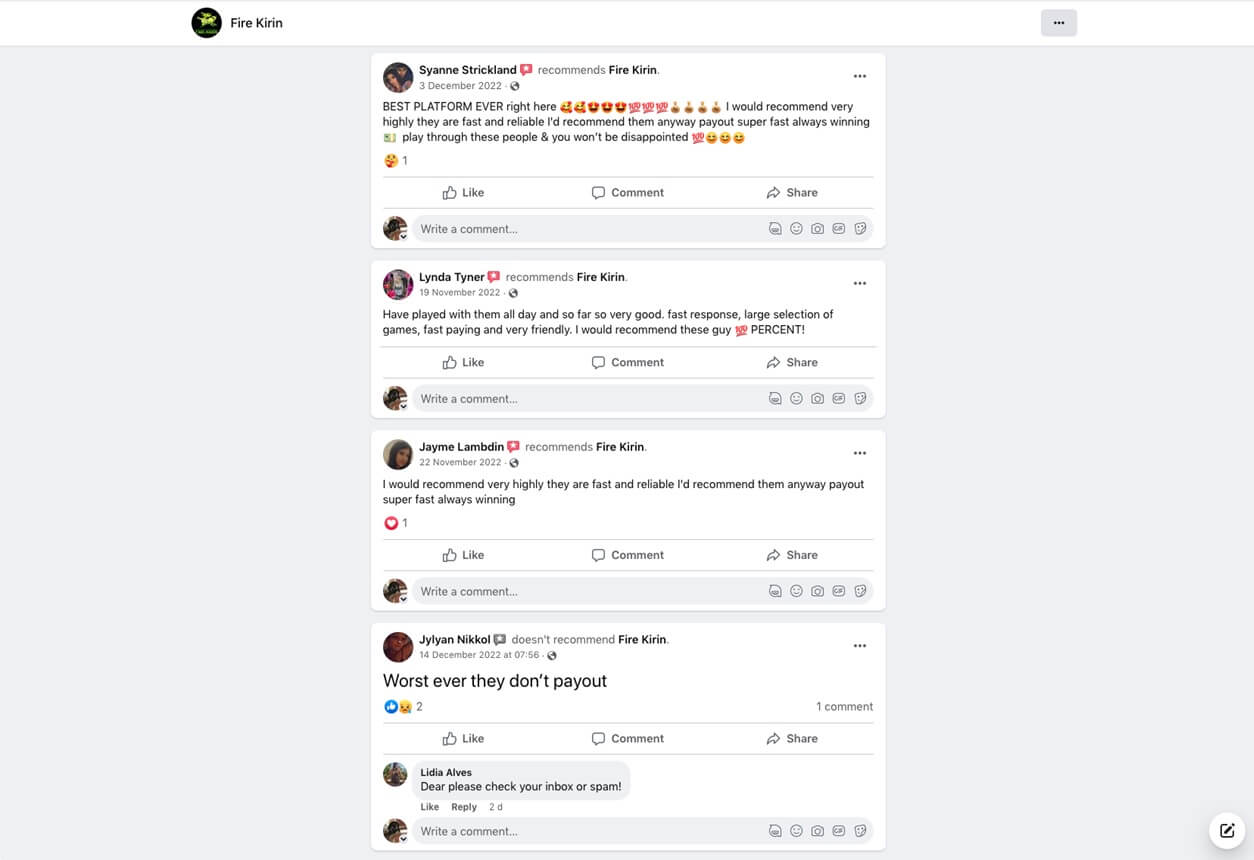 Should You Play the Fire Kirin Fish Game App?
The Fire Kirin fish game is an excellent example of modern casino technology. The colorful aesthetics and HD graphics complement the high-octane gameplay. Moreover, it's nice to play a sweepstakes game where tactics and strategy can genuinely increase your chances of winning. The platform also has a decent selection of slots and games like keno. All in all, it scores well on this front.
However, serious questions remain about its legitimacy. We simply cannot in good faith recommend a platform with such limited information on payments, company background, and basic operational aspects. Neither app is available on the official Apple Store or Google Play platforms, which is another red flag.
If you want to enjoy the sweepstakes mechanic we recommend these superior apps instead:
FAQs
What is the Fire Kirin app?

The Fire Kirin app is a fish game and sweepstakes app. You can play it via the native application or through sites such as Skill Gaming Solutions. Fire Kirin is also available at land-based sweepstakes cafes like Sweepstakes Mobi. 

How do I get free sweepstakes coins on the Fire Kirin app?

Skill Gaming Solutions offers $5 of free sweepstakes coins to use on Fire Kirin after registration. There are also ongoing promotions and a referral scheme, although information on these is limited. 

How do I download the Fire Kirin app?

Head to firekirin.com to download the iOS and Android apps. You'll need to install the respective apk files to play Fire Kirin on your mobile, since there aren't any official apps. 

We cannot say for certain that Fire Kirin is safe. There is limited information regarding its parent company, and neither app is available on the official Apple Store or Google Play platforms.