Skill Gaming Solutions is a sweepstakes casino and gaming platform. They have 200 + untested slots, table games, and fish games from well-known yet shady game providers like Fire Kirin, Vblink, and Orion Stars. Even though they claim to be legit, they are not following sweepstakes regulations and therefore are running an illegal online casino!
Pros
Real cash prizes
Fun fish games
Cons
Illegal
Untested and potentially rigged games
Unsecure payment methods like Cash App
Have to sign up via an unlicensed agent
Playing at an offshore online casino is risky enough, but signing up to an illegal sweepstakes site is next-level crazy. If you actually want to play legit casino games from top providers, legally win cash prizes, and access secure payment methods, then these sweepstakes casinos are for you:
Still curious how Skill Gaming Solutions operates? Then climb aboard and get comfortable as I spill the tea on everything you need to know about this site. I signed up and put my money on the line so you don't have to!
About Skill Gaming Solutions Sweepstakes Casino

Skill Gaming Solutions has partnered up with a number of sweepstakes software providers, including Milky Way,  Panda Master, Orion Stars, Fire Kirin, and Vblink, and gives you one central location to access all of their slots, table games, and fish games. You play using virtual credits, which can be redeemed for cash prizes.
They claim to accept Visa, Mastercard, and Apple Pay, but that is a lie. Skill Gaming Solution now only accepts Cash App, and previously, they also accepted PayPal before their account was shut down. Skill Gaming Solutions also has a wide range of promotions, including a $3 no deposit bonus, daily cashback, a deposit match, and a spin-the-wheel game.
🎰Skill Gaming Solutions
🌐Website
https://skillgamingsolutions.com
🖥️Service
Sweepstakes casino & sweepstakes software
🎲Games
200 + slots, keno, fish, and card games
🎁No Deposit Bonus
$3
🤑Promos
Cashback, spin the wheel, deposit match
💵Currencies
Virtual credits
📱Mobile Access?
✅Yes
🤝Sister Sites
Fire Kirin, Vblink, Milky Way, High Roller Sweeps, Orion Stars, Gameroom, and more
📜Meets Sweepstakes Legitimacy Criteria?
❌No
🇺🇸 Available in
All US States
💳Payments
Cash App
How Skill Gaming Solutions Sweepstakes Works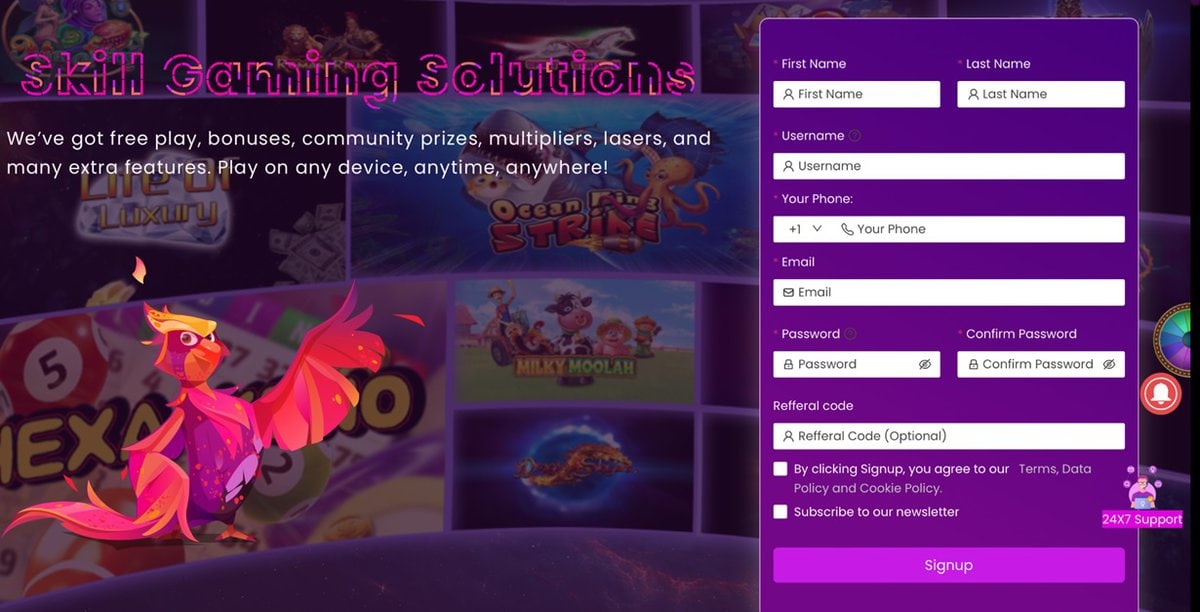 On their site, Skill Gaming Solutions says they are a sweepstakes casino and even has a registration form, but it does not work. Instead, you have to sign up via an agent, which you can find on Facebook. Skill Gaming licenses its gaming platform to 3rd party agents who are responsible for customer support, payments, and all promotions.
How Skill Gaming Solutions works is you sign up via a 3rd party agent who manually creates an account for you. To make a deposit, you send the agent money via Cash App, and then they add virtual credits to your account. You then log into your Skill Gaming account and can use your virtual credits to play 200 + slots, table games, keno, and fish games from different providers like Orion Stars and Fire Kirin.
Each virtual credit is worth $1. To cash out, you again contact your agent, and they will send your winnings via Cash App. You don't actually deal directly with Skill Gaming Solutions, all communication goes through the agent. Agents are also in charge of bonuses and will offer you no deposit deals, deposit match promos, and there is even a daily spin-the-wheel game with thousands of dollars up for grabs.
The gaming experience is similar to online casinos and sweepstakes casinos. The real problems are the untested casino games from unlicensed providers and the company misrepresenting itself as a legit sweepstakes site when, in fact, they are an illegal online casino.
How to Set Up Skill Gaming Solutions Account
Skill Gaming Solutions claims to be a sweepstakes casino, however, I ran into all kinds of problems when I tried to sign up on their official site. I entered 5 different email addresses and created some killer usernames, only to be told that these email addresses and usernames were already in use.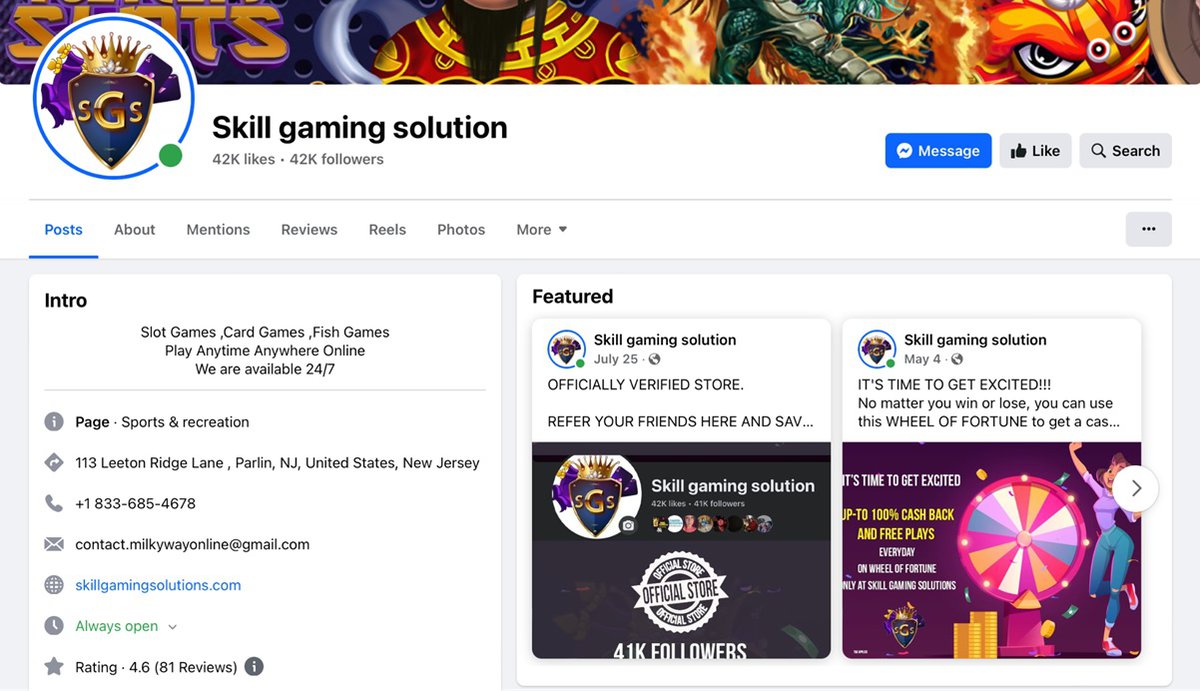 To access their games, you currently have to register via a 3rd party agent. These agents are unlicensed and anonymous and run their illegal operations through Facebook and Telegram. The current top Skill Gaming Solutions agent is https://www.facebook.com/SGsolutions. Message them on Facebook and tell them you want to register. You need to share with them your full name, email, address, and your ID. They will then manually set up your account and add some free play.
Skill Gaming Solutions App Download
I saw some rumblings on Facebook about an upcoming app, but currently, Skill Gaming Solutions does not have an Android or iOS mobile app. That is probably for the best because, based on other shady sweepstakes casino apps, I know it is going to be some dodgy APK file that contains malware and barely works.
Despite the lack of an app, you can still access Skill Gaming Solutions via your phone's browser. While I wouldn't say the games are mobile-optimized, they are playable, and navigating through the different menus is possible. Just don't expect a sleek online gaming experience, this is a low-budget sweepstakes casino, and the games are nothing special, but more on them later!
Skill Gaming Solutions No Deposit Bonus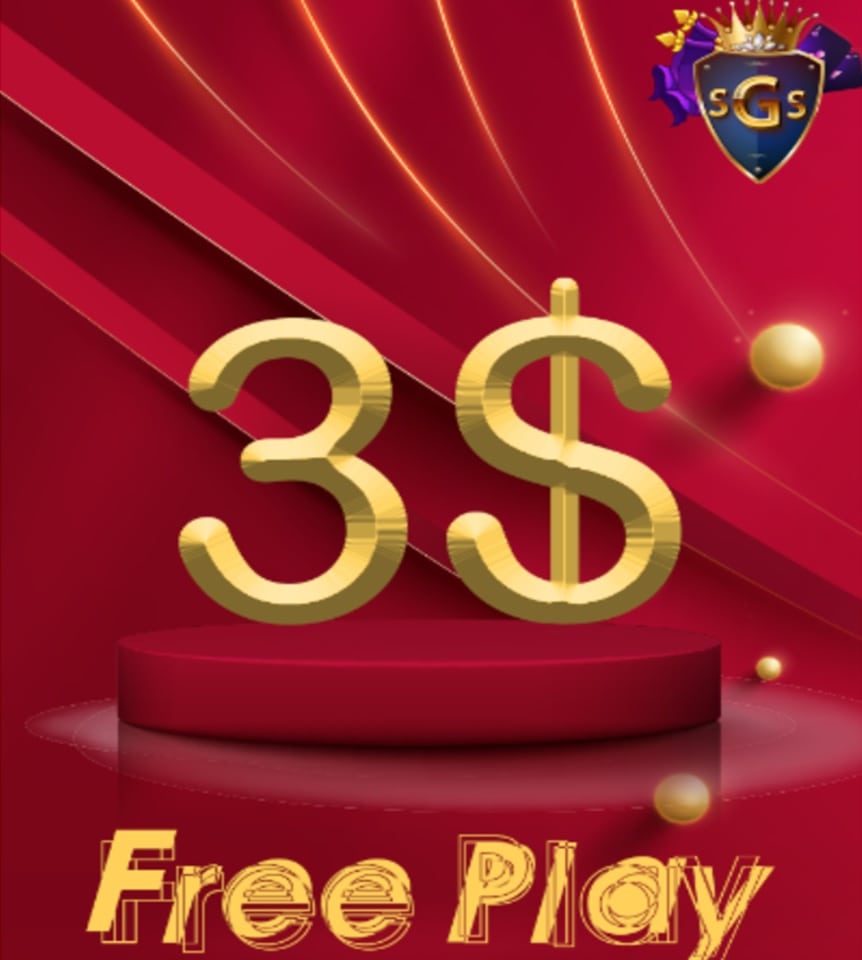 Skill Gaming Solutions has a $3 no deposit bonus for new players. When messaging the Skill Gaming Solutions agent on Facebook, just ask them to add the bonus to your account. You can even try to negotiate. They must have been in a good mood because I managed to squeeze a few extra dollars out of them and get a $6 no deposit bonus.
Skill Gaming Solutions also has a $5 no deposit bonus for existing players. If you have been a loyal player and deposited in the past, they will top up your account with free credits.
If you are located in the US and are at least 18 years old, you can claim the Skill Gaming Solutions no deposit bonus. There are no game restrictions, so you can use the free cash for all slots, table games, and fish games.
Skill Gaming Solutions Promo Codes & Bonuses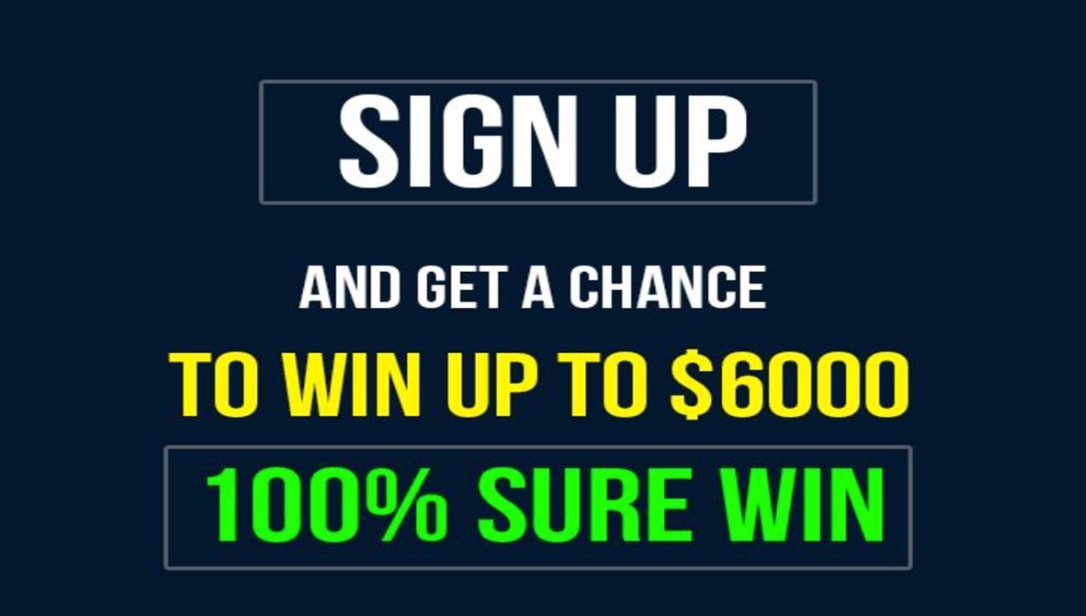 Skill Gaming Solutions does have a lot of bonuses. However, it remains to be seen if they are legit. A lot of them seem way too good to be true, so claim them at your own risk!
No Deposit – When you sign up at Skill Gaming Solutions, you will receive a $3 no deposit bonus which can be used on all games. Remember to ask the agent about this offer when you sign up. Certain existing players can also receive a $5 no deposit bonus.
Welcome Bonus – When you sign up and make your first deposit at Skill Gaming Solutions, they will give you a 130% match. So if you deposit $100, you will get $230.
Referral – When you sign someone up using your Skill Gaming Solutions referral code, you will receive $100.
Cashback – Skill Gaming Solutions has a special cashback wheel where you can get up to 100% of your losses refunded.
Spin The Wheel – Spin the wheel of fortune and win money, including a grand prize of $6,000. You can spin the wheel once a day.
Social Media Giveaways – Skill Gaming Solutions runs different contests via their Facebook page. Usually, you have to comment under their post an answer to a question. If your answer is correct and you get chosen, then bonus cash is added to your account. Giveaways range from $10 to $100.
Skill Gaming Solutions Sweepstakes Games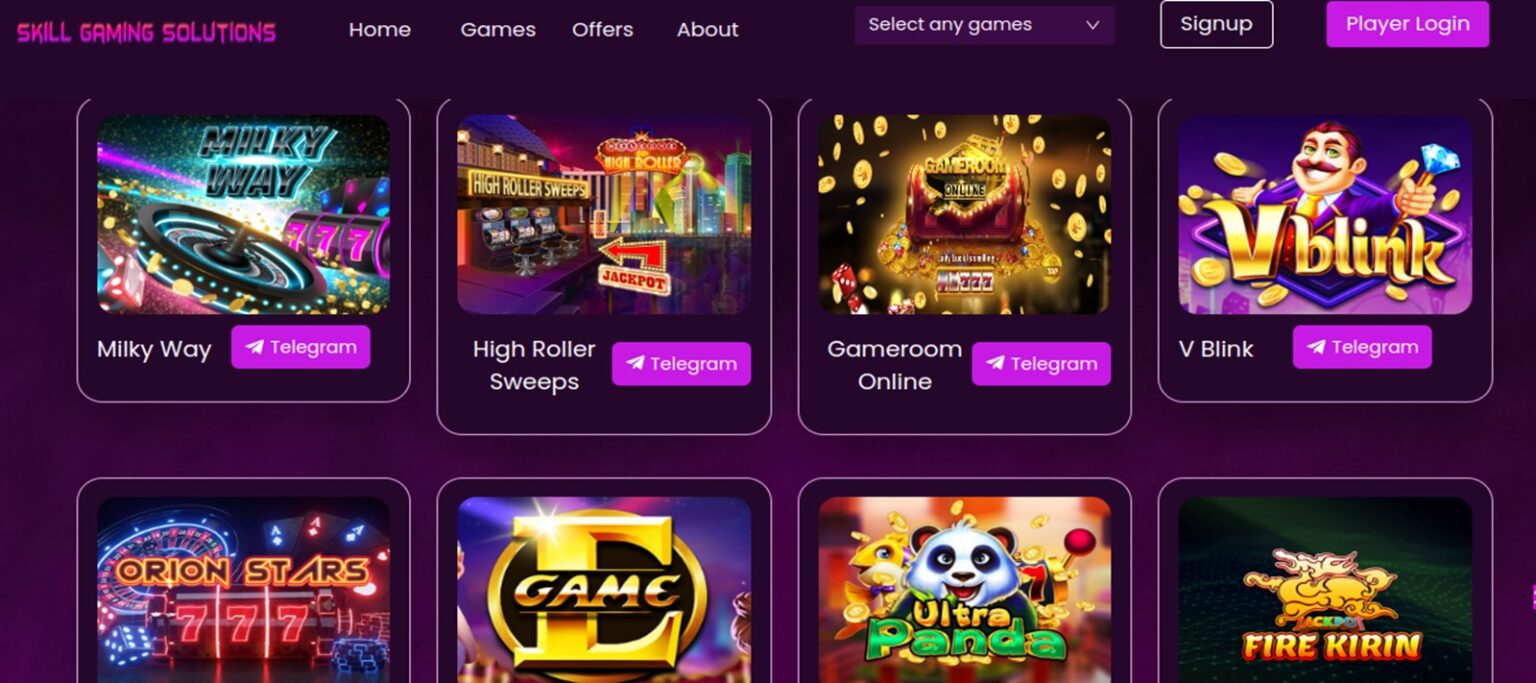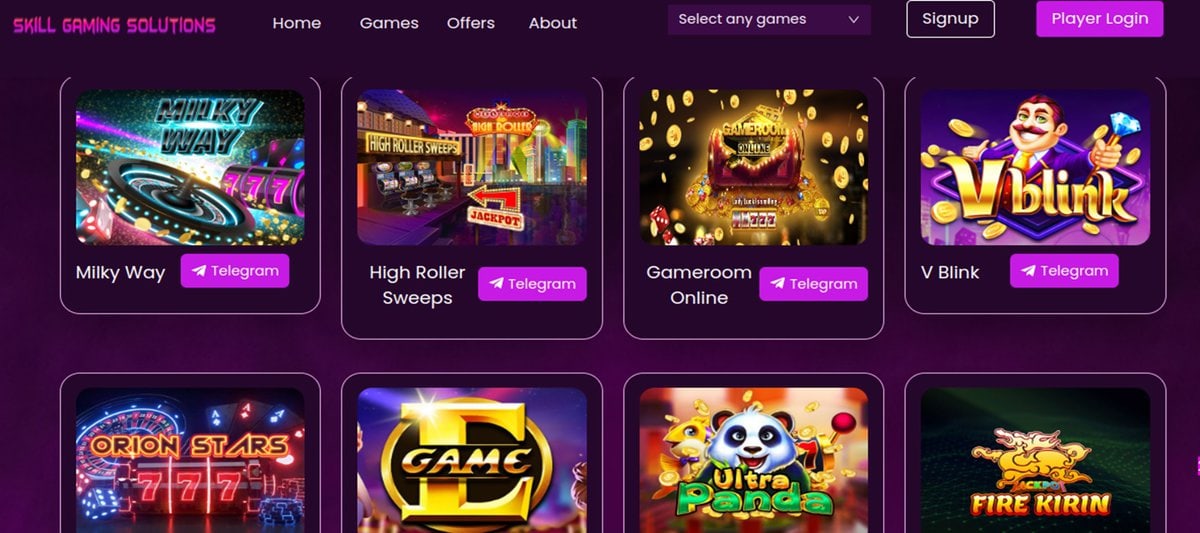 Skill Gaming Solutions has 200 + slots, keno, table games, and fish games from 9 different providers, including Ultra Panda, Orion Stars, Fire Kirin, and Vblink. If you have been around the sweepstakes scene, you would be aware of these providers and their not-so-good reputation.
All of these providers are unlicensed and do not get their games tested by gaming labs. This is a major red flag because they can set any RTP they like, lie about jackpots, max wins, and straight up rig the games if they want to. This is why I strongly recommend you only play casino games from licensed developers who have verified RTPs. The house already has an edge. Why would you increase it by playing dodgy games?
I took one for the team and decided to play a few different Skill Gaming Solutions. These are the titles I found and how they work:
Slots
All of the slots are uninspiring 5X3 games with a serious lack of features. You are lucky to get a free spins bonus game. If you are looking for clusters, re-triggering free spins, tumbling reels, and other fancy slot mechanics, then Skill Gaming is definitely not the sweepstakes casino for you. The slot games feel very low-budget and are essentially cheap copies of games from legit providers. Here are a few slots I played, but I definitely don't recommend them:
African Wildlife
Thai Paradise
Little RubberDucky
God Of Wealth
Sea World
Eyes Of Fortune
Roman Empire
President 45
Where's Santa
West Journey
Wild 777
Fish Games
Where Skill Gaming Solutions really excels is in its fish table game offerings. Fish games originated out of China and fused the world of arcade games and gambling. How they work is you control a cannon and use it to shoot sea creatures as they swim back and forth across the map. Every time you kill a sea creature, you earn credits, but you need to be economical because every bullet also costs credits. Winnings depend on the size of the sea creature, their difficulty to kill, and rarity. For example, golden whales and sharks can pay up to 500x! These are just a few of the fish games available at Skill Gaming Solutions:
Fire Kirin
Shooter Queen
Insect Paradise
Flying Squirrels
Crab King
Ocean Monster 3
Baby Octopus
Fire Kirin 2
Golden Dragon
Kirin Strike
Keno
Skill Gaming Solutions also has 5 + keno games. Keno is a type of lottery game where you select up to 20 numbers ranging from 1 to 80, then 20 numbers are randomly drawn, and you win based on the numbers you successfully matched. It is a game of pure chance, which offers fast-paced action and some massive 10,000x + prizes! Personally, I enjoyed the Fortune Keno game from Panda Master. It had a fun ancient Chinese theme, but I definitely would not risk real money playing this game.
Table Games
If you are a keen table game player, then Skill Gaming is not for you. The vast majority of the titles are either slots or fish games. Unsurprisingly, these unlicensed providers focus on games with low RTPs so they can get their hands on players' money ASAP! I did come across a poker game, a few roulette tables, and a blackjack from Vblink and Ultra Panda.
How to Add Money at Skill Gaming Solutions Casino

Adding money is a bit of an odd process and one of the biggest issues with Skill Gaming Solutions. You need to transfer money via Cash App to the agent, who will top up your account with virtual credits. Doesn't that sound shady?
So how it works is you message the agent saying, "Hello, I want to deposit $50 to Skill Gaming Solutions". The agent will then send you their $Cashapp, you open your Cash App and send the money. Then send the agent a screenshot of the transaction, your name, and player account details.
Skill Gaming Solutions' main agent previously accepted deposits via PayPal, but unsurprisingly their account got shut down. Cash App is the payment method of choice of shady sweepstakes casinos, they seem to tolerate their operations, and most importantly, the transactions are non-reversible!
I don't know about you, but I don't feel comfortable sending anonymous people on Cash App. Especially when they are running an illegal online casino!
Skill Gaming Solutions Payouts
Skill Gaming Solutions payouts are also conducted via Cash App. How it works is you message the agent and say, "Hey, I would like to cash out all of my massive winnings". The agent will then ask for your $Cashtag and may request additional documents to verify your identity. If you are lucky, the money will arrive in your Cash App account within 24 hours.
Again, you are relying on an anonymous person you found on Facebook who is running an illegal online casino to do the right thing and payout. It makes no sense to risk your money and personal information, especially when there are so many 100% legit sweepstakes casinos.
Is Skill Gaming Solutions Sweepstakes Casino Legit?

Legit and Skill Gaming Solutions don't belong in the same sentence. There are almost too many red flags to list! Let's start with their games, not a single one of Skill Gaming's titles has been independently tested. That means they could be rigged, and you have zero clue what the house edge is. Even if the games are "fair," you end up playing 75% RTP slots which will steal your money in no time. At least illegal offshore casinos have games from licensed providers!
Another big problem is Skill Gaming Solutions misrepresenting their business. They claim they are a sweepstakes casino but are just another illegal online casino. They are blatantly ignoring regulations like no purchase necessary, alternate method of entry, and are not geo-blocking players from restricted states like Washington and Idaho.
I am also not a fan of how they use 3rd party agents. They expect you to trust some random guy behind a Facebook account with your personal documents and cash. I am shocked that anyone would send money via Cash App to these sweepstakes agents, especially when so many have been involved in Ponzi scams. If you take one thing away from my review of Skill Gaming Solutions, it should be to stay away from this sweepstakes casino!
Skill Gaming Solutions Ratings & Alternatives

Skill Gaming Solutions is an illegal online casino masquerading as a legit sweepstakes casino. They only have untested games from notorious developers like Fire Kirin and Orion Stars, have insecure payment methods, and an unsafe agent business model.
Forget about Skill Gaming and instead stick to these legal sweepstakes casinos. I have verified their no deposit bonuses and successfully redeemed cash prizes, and all their games are from world-class providers like Pragmatic Play, NetEnt, and Betsoft with verified RTPs!