Slot Rush is a free-to-download mobile app available on Google Play. The app claims Android users can earn money just by spinning its reels. As a result, it has garnered over 5 million downloads. But the big question is, is Slot Rush a legitimate game? This in-depth Slot Rush app review will give you the low down of this app, including who owns the mobile game, how it works, and what users are saying about the slot.
Pros
Free gold coins after registration
The game is easy to play
Multiple payment methods
Loads of ways to collect coins
Cons
The app has been in early access since 2019
The developers make overhyped false claims
Lots of negative online reviews
No Slot Rush payment proof
When doing this Slot Rush app review, our team visited the Google Play Store and installed the application to give it a spin and determine whether it's fake or real. Unlike other legitimate game apps that allow you to earn money while you play, Slot Rush is only available for players from the UK, Canada, and the U.S.
The app claims you can earn $60 every hour playing the free slot game, which does not make sense. It also supposedly claims players can withdraw their winnings when they reach the 300-dollar minimum cash-out requirement, which is a red flag since it's way too high and difficult to meet. Even if you hit the minimum payout threshold, there is a high probability that you won't get paid.
If you are asking yourself: Is Slot Rush fake or real? Does Slot Rush ever pay out? You are in the right place. This review will help you determine if this slot game is worth investing your time in or if it's one of the many fake money games in the Google Play Store.
Before we delve further into this Slot Rush app review, we strongly recommend Americans who want to play online slots and other casino games sign up with any of the reputable and safe sweepstakes casinos we have listed below.
These social casinos are legal in all US states and allow you to play a range of thrilling slot titles for fun and even win real cash prizes.
What is Slot Rush?
🎰The Slot Rush App
🏛️Owner
Mersumtapo LTD
🌐Developer's Website
www.summerta.com
📅Date Launched
2019
📱Apps
Android
🇺🇸 Countries Available
UK, US, Canada
💳Mersumtapo Payout Threshold
Approximately $300
🖥️Digital Distribution Platform
Google Play (Early Access)
⭐Rating
1/5
In a nutshell, Slot Rush is a five-reel slot machine available for free in the Google Play Store. The app has gained popularity because it claims Android users can play the game using gold coins (in-game currency) and walk away with real cash rewards.
It also has a system that allows players to redeem gifts, such as MacBook Pro, Nintendo Switch, and Airpod Max, and the developer claims they will send them to your physical address. However, we have not yet seen any review left by someone saying they have received any of these exciting prizes Slot Rush claims to offer.
While the launch of this slot game was over four years ago, it is still marked as Early Access in Google Play, which is a big red flag. It looks like the developer of this app is not planning to remove it in the Early Access stage. The worst part is that we did not see a single review of the app under the product page to find out what users think about this slot game.
We also didn't find enough information about the app on Google Play's product page. So, the only way to know how the game works is to download and install it on your device.
How Does the Slot Rush App Work?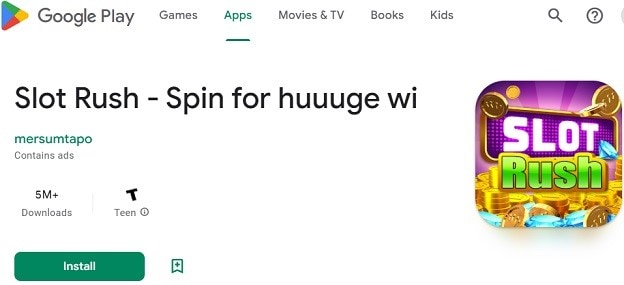 Slot Rush is only available for smartphones and tablets running on the Android Operating System. That means you will have to install the mobile app on your Android mobile device to play. To do this, follow these steps:
Go to your list of icons and open the

Google Play Store app

.

Enter

Slot Rush – Spin for huuuge win

 in the search box. 

Tap the green

Install

button. 

Tap the

Open

button when the download and installation process is complete.

The app will use

Betable

to create your

Slot Rush login.
While the app is available worldwide, you can only open a user account if you are 16 years old or older and reside in Canada, the United States, or the UK. If you are wondering: how does Slot Rush work? The game is designed to get players to watch videos that appear after every 15 seconds.
While doing this Slot Rush review, we asked ourselves: How can this developer make money without players purchasing gold coins or making any deposits when signing up? The strategy of this developer seems to be getting as many people as possible to watch these videos while thinking they are playing or free with a chance to win real cash prizes and exciting prizes. That's the reason people have been flocking to their Google Play product page and downloading the app.
This is false advertising since whenever you are watching sponsored videos that keep popping up while you are playing fake games, the owners of Slot Rush make money while you make nothing.
How to Play the Slot Rush Game
During our review, we played Slot Rush and discovered the game is not the same as the usual slots we are used to. When you start playing Slot Rush, you'll receive 38,000 free gold coins to use in the game.
Before you hit the Spin button to give this slot game a spin, you can select your bet, with the minimum bet per spin being 10,000 gold coins. But when you place the minimum bet, you can only access a portion of the game. Unlike other slot games in our recommended sweepstake casinos, the Slot Rush game is divided into three sections. Ramping up your bet to 45,000 gold coins will unlock all the sections, giving you a chance to get more rewards.
Slot Rush is also not based on landing matching combinations on your reels to make a win like regular online slots, which is strange and suspicious; instead, reward bubbles appear when you spin its reels and fall into the Lucky bags below the game. You have to fill five bags to get rewards.
Free Rewards and Bonuses on Slot Rush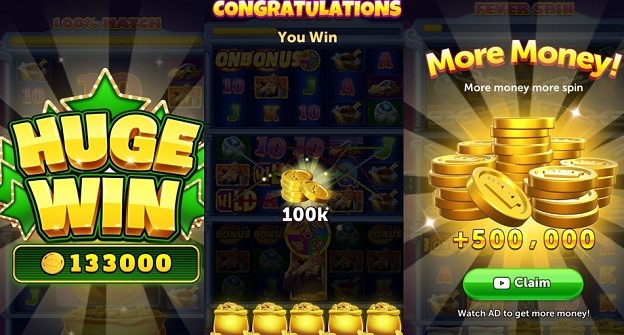 In addition to the free coins awarded after registration, our Slots Rush review found that players have other ways of getting free gold coins. Tapping on More Bubbles and watching sponsored videos allow you to collect more bubbles. It's good to note that all the ads we watched while playing this game were for fake games that promise to give players an excellent opportunity to win money that seem unrealistic.
You can win either Fever Spin progress points or gold coins when playing Slot Rush. Collecting bonus symbols will allow you to fill the meter and activate the Fever Spin mode, increasing your chances of winning tons of gold coins. 
Active players will receive a daily login bonus that gives them access to 10,000 gold coins after every 3 minutes. You will also get free gold coins if you refer your friends to this app.
While you can earn VIP access to the Slot Rush app, you can only join this program through invitation, which often occurs during special occasions like public holidays and birthdays. The More Bonus feature is designed to increase up to 100% match on the game while helping you earn more. 
As you can see, Slot Slash ensures you will never run out of coins to use in this slot game, which is enough to make you smell a rat. Their strategy is to get you to collect coins by watching sponsored videos.
How Does the Slot Rush Game Pay Players?
Our Slot Rush app review found that you must reach the payout threshold before submitting a withdrawal request. The minimum payout threshold is $300. These are the banking methods available at Slot Rush:
While Android users have downloaded this app 5 million times, we did not see any Slot Rush payment proof from someone saying they have earned anything from the app, which is a red flag.
Most of the reviews we saw on the internet showed that Slot Rush is not paying out. Many players complained that they cashed out their winnings, but the app has not yet paid them.
According to online reviews, this mobile game will never pay you, no matter how many coins you win. Waiting for Slots Slush to pay out is like trying to make an elephant pass through the eye of a needle: it is impossible. Software developers of fake money games like Slot Rush mass-produce such apps under different names to make money from unsuspecting players when they watch sponsored videos, which is false advertising. 
Slot Rush claims that players who want to withdraw their winnings after reaching the $300 minimum cash-out requirement can head to the Cash Out section and use any of the following payment methods:
SBER

Alipay

Line Pay

Nubank

Banco Inter

Coinbase

Tez

Paytm

Cash App

PayPal
Once you have made your withdrawal request, Slot Rush claims the funds will reach you between 2 and 15 business days. But as we have seen, this is false because there is no payment proof from users who have gotten paid. If you win cash prizes and want to make a withdrawal request, brace yourself for a tedious process that will leave you frustrated just like what you would expect from other fake money games on Google Play that promise big money when you play and watch videos.
In addition to claiming that players can collect cash, Slot Rush also supposedly states that when you collect puzzle pieces, you'll get gifts, such as PS5 and Nintendo. Collecting 1000 pieces allows you to redeem a 300-dollar Amazon gift card.
What Company Owns Slot Rush? Do They Pay Out?
Mersumtapo is the owner of the Slot Rush Game. The website of this mobile internet technology company is Summerta.com, which has an invalid SSL certificate. The site is also very young, and details about the owner are hidden, making it untrustworthy.
While Slot Rush claims it holds a license from the UK Gambling Commission, we could not verify this. The fact that we have not seen anyone who has reached the $300 Mersumtapo payout threshold and gotten paid makes us doubt this license and believe playing Slot Rush is a waste of time.
Slot Rush Player Reviews
Since the Slot Rush app is in the Early Access mode, users cannot leave reviews. So, our team combed the web for Slot Rush reviews to find out what people who have used this app have to say. 
A high percentage of the reviews we found on Support.google.com were negative, with users complaining that Slot Rush is a fake game with no intention of paying you if you win. One of the players stated they had reached the minimum payout threshold and withdrew the funds via Slot Rush PayPal. They received a notification saying they would receive the money in their PayPal account within six days. 
But three weeks down the line and they haven't seen a dime. They wanted to reach out to Slot Rush customer service, but there are no communication channels on the app.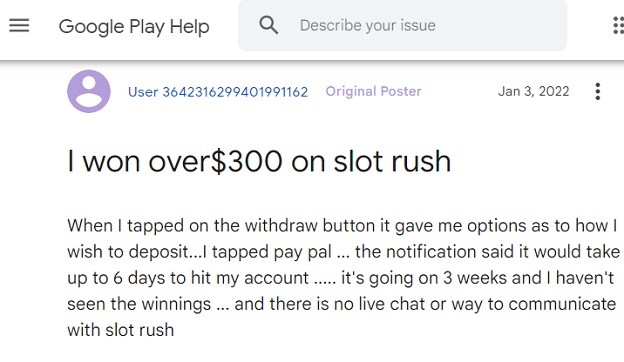 Another player stated they withdrew their winnings and have been put in queue for almost three months. They sent countless emails, and no one bothered to respond to their emails. Together with other players, they are planning to file a class action lawsuit, a legal course in which the complainant will bring forward a lawsuit on behalf of other users who have not gotten paid.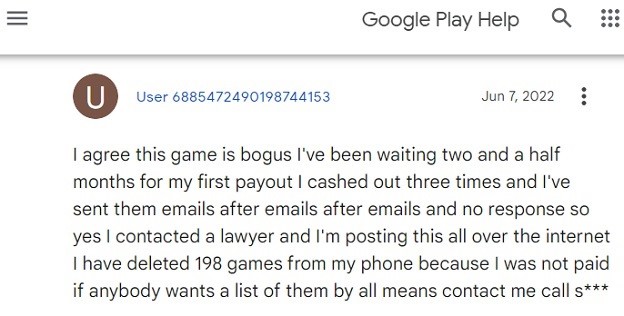 Here are more screenshots of player reviews: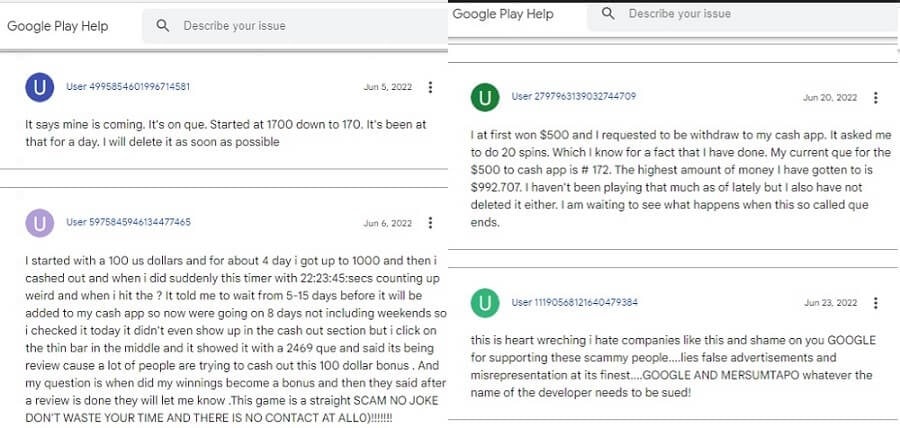 With all these negative reviews, this clearly shows that Slot Rush is not legit.
Is Slot Rush legit or a Scam?
We'll conclude this review by answering the big question, is Slot Rush App legit or just another scam? Our team advises Americans to avoid this game like the plague because it is not legit. Here are some reasons why we believe Slot Rush is a scam: 
The owner of this app has something to hide because it does not have reviews on Google Play Store, and it has been in Early Access mode since 2019.

They want players to watch numerous videos of other fake video games.

There is no Slot Rush payment proof on the internet.

The app will waste your time since you won't get paid.

The minimum payout is $300, which is exaggerated and unrealistic.

There are numerous negative reviews from people who have used the app.

Slot Rush is a weird game that does not work like other slot games.
We also cannot vouch for the legitimacy of Slot Rush because the owner has no background or authority and makes overhyped statements like other fake money games you will often find on Google Play. 
Legitimate Alternatives to the Slot Rush Game
We review slots and have never seen a game that allows you to redeem expensive rewards with no option for in-app purchases. Instead of wasting your time with fake games like Slot Rush, we recommend you find a reliable sweepstakes casino that allows you to play slots with thrilling themes with an option of redeeming your winnings via various sweepstake banking methods as real money prizes. 
Most sweepstakes casinos offer no deposit bonuses that come in the form of free gold coins and sweepstakes coins that you can use to play your favorite slot games for free. Some reliable social casinos have a VIP program that offers tailored sweepstake bonuses that you can use to spin the reels of various slots free of charge.
If you are ready to start playing slots and win cash prizes, check out some reliable sweepstakes casinos that you can join:
These sweepstakes casino, as well as their sister sites, allow you to play slots in almost all US states without breaking any law because they are legal under sweepstakes laws. The best part is you can withdraw sweepstakes coins when you reach the minimum threshold, and the money will be in your account within a short period, depending on the payment method used. There, you'll find numerous slots like Slot Rush that are legit and pay out!
FAQs
Is Slot Rush fake or real?

Our Slot Rush review found that this game is fake because they make unrealistic claims. We also did not find any Slot Rush payment proof from people claiming their winnings have hit their accounts.

Does Slot Rush ever pay out?

Slot Rush claims players who have reached the $300 minimum withdrawal threshold can make a withdrawal request, and the funds will be in their account within 2 to 15 days. But we checked player reviews on Support.google.com and found many people complaining that the app does not pay out.

Does the Slot Rush game pay real money?

While Slot Rush claims players who download the app and give the game spin will win real cash rewards, this is false advertising. They want you to watch sponsored videos of other fake games because this is how they earn money. According to online reviews left by users, the game has not paid anyone since its launch in 2019.

How can I contact Slot Rush?

Slot Rush does not have a contact method that players can use to reach out to their support team when they have an issue with the app, which is a red flag. However, we found the developer's contact on the Google Play Store. You can email them at mersumtapo@outlook.com or use the contact form on their site Summerta.com. But people who have tried to contact them using these methods say they don't respond. 

How to withdraw money from Slot Rush?

There are several payment methods that Slot Rush claims you can use to withdraw money, including PayPal, Alipay, and Cash App. But we did not find any review written by someone claiming they have successfully withdrawn their winnings using any of these methods.

Slot Rush is not paying out - what should I do?

Some players are planning to initiate a class action lawsuit against Slot Rush. But since Slot Rush does not hold a US license, players from the United States are not protected and cannot initiate a Slot Rush lawsuit. That's why we advise Americans to avoid downloading this app; instead, you can join the sweepstakes listed on this page and enjoy a fair gaming experience.