River Dragon is an online sweepstakes casino offering a variety of real money online slots and fun multiplayer fish games to users across the US. Information on River Dragon is scarce. However, with rumors of a $200 no deposit bonus on offer for new users, we decided to do a deep dive into River Dragon to see if they really do live up to what they promise. While we did find some pretty cool features about River Dragon, the negatives ultimately outweighed the positives — and in the table below, you'll be able to see exactly that.
Pros
Fish Games Are Fun
Potentially Huge Welcome Bonus
Compatible On All Devices
Cons
Shady Company
Distribution Model Allows Opportunity For Scams
Small Gaming Library
Difficult Registration Process
Questionable Legitimacy
Bonuses Are Poorly Advertised
In short, River Dragon is very dodgy. Though while River Dragon may fall quite a ways short of our standards, there are plenty of sweepstakes casinos that we've tested and found to be 100% legit. Check out the below list for a selection of safe sweepstakes casinos that allow users to get started for free with a no deposit bonus.
Information About River Dragon Sweepstakes Casino
🎰River Dragon Sweepstakes Casino
🌐Website
www.rdcashier.net (Unconfirmed)
🖥️Service
Licensable Gaming System
🎲Games
Slots 25+
Fish Games 3+
(Varies By Agent)
🎁No Deposit Bonus
$200 Free Play (Questionable Source)
🤑Promos
- No Deposit Bonus
- First Deposit Bonus
- Reload Bonus
(Varies By Agent)
💵Currencies
Coins (USD)
📱Mobile Access
✅Yes!
Android App + Mobile Site For iOS
🤝Sister Sites
Golden Dragon
Orion Stars
Riversweeps
Fire Kirin
Vegas Strip
📜Meets Sweepstakes Legitimacy Criteria?
❌No!
We Strongly Advise Against Playing At River Dragon
🇺🇸 Availability
Nationwide
💳Payments
Varies By Agent (Usually Cash App Only)
How River Dragon Sweepstakes Works
River Dragon works off the internet cafe distributor model. So rather than operating as a sweepstakes casino, River Dragon is a licensed gaming system that can be acquired by independent agents and businesses. In theory this is fine so long as the agents are properly vetted. However, the problem is that seemingly anyone can acquire these licenses, and once an agent has obtained the River Dragon license, they're free to operate in whatever way they want.
This means they can choose which games to offer and restrict certain game types depending on which agent you sign up with. Additionally, given the lack of transparency surrounding this model, it also means that agents can effectively scam their user base with little repercussions — offering great welcome deposit bonuses, but not honoring any withdrawal requests.
That's not to say all agents are scammers. It's just that it's impossible to tell when registering if you're signing up with a legit agent or a scammer who wants to take your money. Because of this, we recommend users play it safe and do not sign up to River Dragon or any other sweepstakes gambling site that follows this model.
How to Set Up a River Dragon Account
Setting up an account at River Dragon can be a little confusing. Don't sweat it though. Because in this section, we'll show you the exact steps required to sign up and register an account at River Dragon.
First up, you'll need to find the agent you want to sign up with and message them. If you don't know any, Facebook is a good starting place — though keep in mind that there are also a lot of scammers on Facebook, so make sure that you only sign up with an agent with a good reputation.
This step can get a little murky as it will vary based on who you sign up with. But with that being said, you'll need to supply your agent with whatever information they request, as well as a copy of your government-issued photo ID. Keep in mind that since registration and verification are done manually by each agent, this step may take up to 24 hours depending on who you sign up with.
Once all your information has been verified and your account has been created, your agent will message you with your account information.
When you log in for the first time you'll be prompted to change your password. Once you've done that your account is secure, and you're ready to claim your bonus and make your first deposit.
River Dragon App Download
River Dragon is available on both iOS and Android devices. However, while Apple users will only be able to play via a River Dragon mobile site, Android users can download the River Dragon app from the Google Play Store.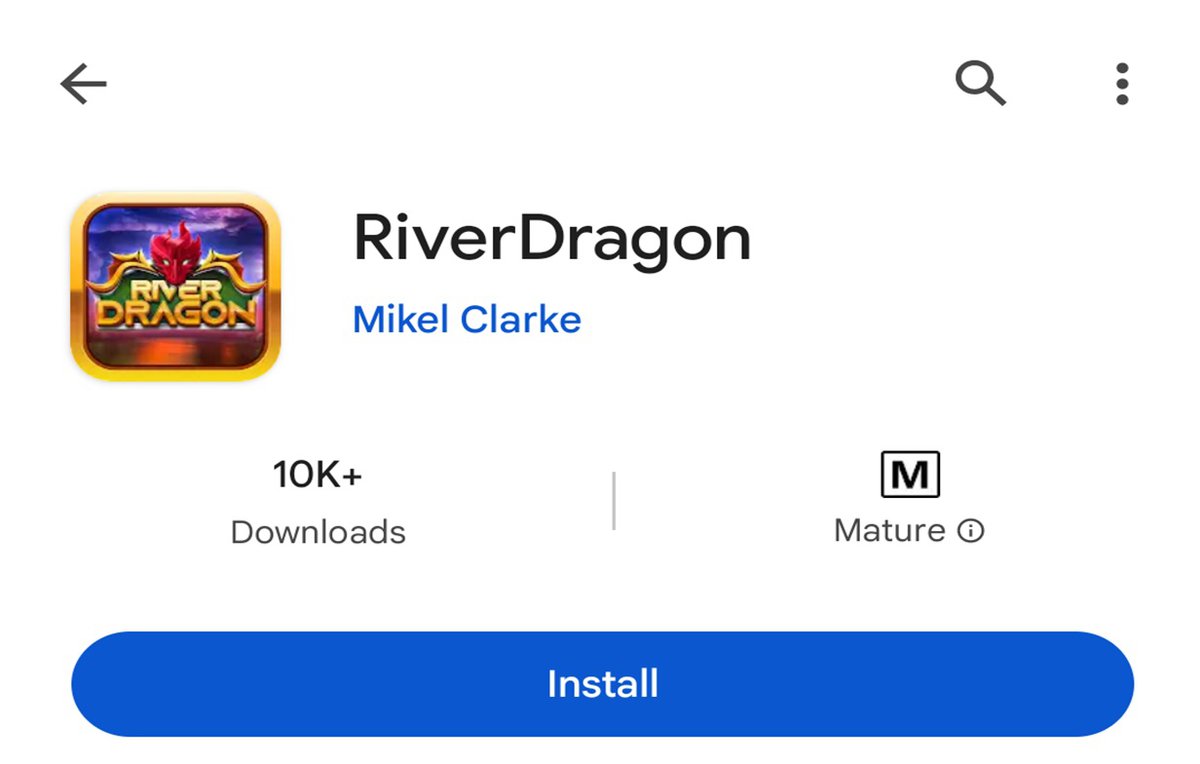 To find it, simply search for RiverDragon.
A rating of 3.7/5 is pretty good — though with that being said, in the last few months there have been a lot of one star reviews, with many users claiming that they've been scammed and misled by certain bonuses.
River Dragon Sweepstakes No Deposit Bonus
Since River Dragon casino is operated under the sweepstakes internet cafe model by a variety of different distributors and agents, the no deposit bonus you'll be able to claim will vary based on who you sign up with. The best we've heard of is a $200 free play. It's unclear which agents are offering this no deposit bonus. As such, you'll need to message your agent directly to find out what no deposit bonus they are currently offering.
One thing to keep in mind is that while no deposit bonuses are mandatory at legitimate sweepstakes casinos, the same cannot be said about casinos like River Dragon. As such, most River Dragon agents will not offer a no deposit bonus to new customers.
River Dragon Promo Codes & Bonuses
While all agents typically offer different bonuses, you'll see the same types pop up repeatedly.
No Deposit Bonus — As previously mentioned, no deposit bonuses are pretty rare at River Dragon, essentially giving new users free money just for signing up. The best no deposit bonus I found was the $200 free play bonus.
First Deposit Bonus — A first deposit bonus gives you extra money when you make your first deposit. These bonuses are pretty common and can sometimes be as high as a 100% first deposit match.
Reload Bonus — Reload bonuses are like first deposit bonuses, but instead of being exclusive to your first deposit, they're available for all deposits. These bonuses are usually smaller than the first deposit bonus — although they can still be pretty good, and 50% reload bonuses aren't uncommon.
River Dragon Sweepstakes Games
The gaming library at River Dragon is small.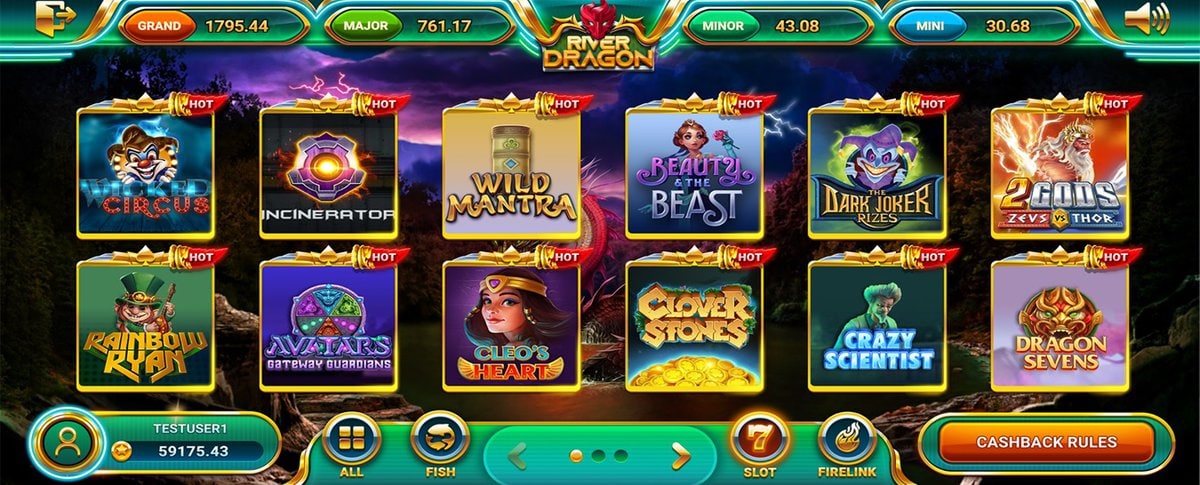 Of course, while this means variety is limited, the upside is that the site is pretty easy to navigate. There's no search bar — but you can categorize games into three subsections: slots, Fire Links, and multiplayer fish games. Below, we'll cover everything you need to know about these game types.
Online Slots
Online slots make up the majority of games at River Dragon. The slots at River Dragon aren't horrible — but their library is minuscule compared to other sweepstakes casinos. Further, since the slots at River Dragon are all made in-house, they have full control over the RTP, and it's not uncommon to find that the RTPs of their games regularly sit around ~75%. For comparison, most land-based casinos offer slots with ~90%, and slots at legit sweepstakes casinos can regularly surpass an RTP of 96.5%+.
Nevertheless, if you're okay with playing games with sub-optimal RTPs then you'll find that the games at River Dragon can be fun. Our favorites are:
Clover Stones
Wicked Circus
Wild Mantra
Crazy Scientist
2 Gods Zeus Vs Thor
You can also play their Fire Link games which have the chance to win one of the River Dragon progressive jackpots. However, in my experience, these games were complete duds, and while their RTP can't be found, I estimate them to be no higher than 65%.
River Dragon Fish Games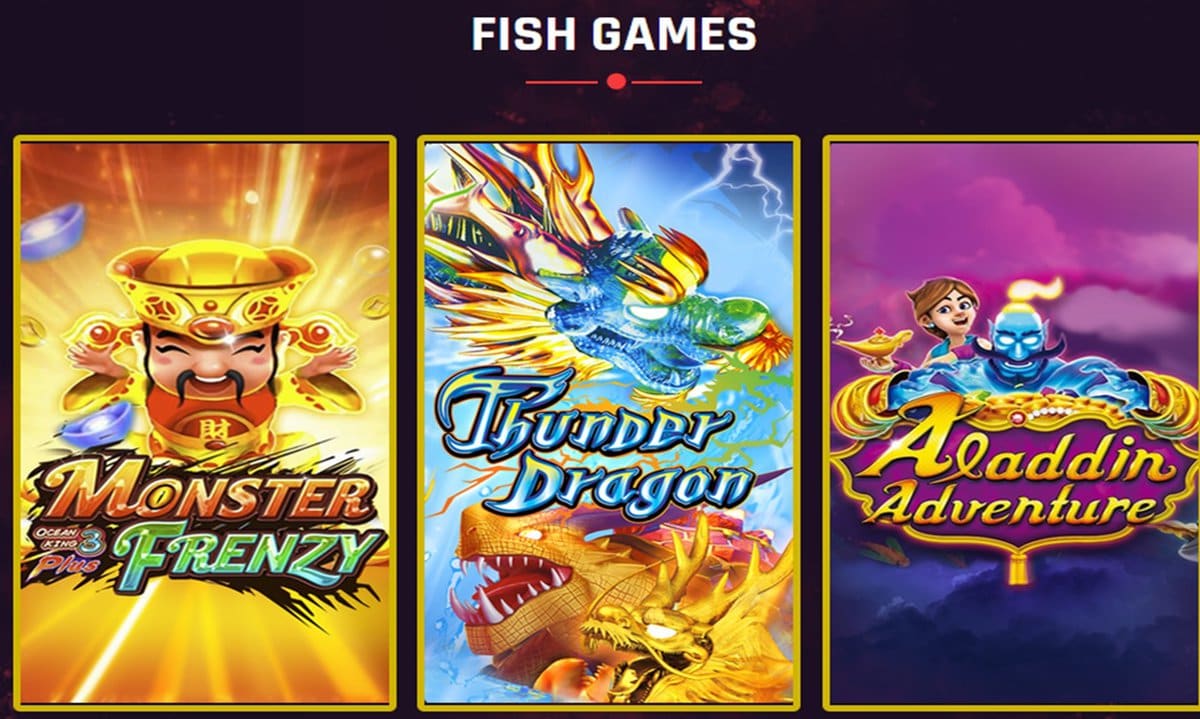 The multiplayer fish games at River Dragon are one of the few massive upsides of playing here. These games play like classic arcade-style shooters where you hunt deep sea creatures, buried treasure, and other mystical beings. When you successfully take one out, you'll be rewarded a cash bounty. At River Dragon, you'll typically get three fish games to choose from:
Monster Frenzy
Thunder Dragon
Aladdin Adventure
How to Add Money at River Dragon Sweepstakes Casino
The method of adding money to your River Dragon account will vary based on who you signed up through. However, there's usually a similar protocol you'll need to follow.
Message your agent with the details on how much you want to deposit.
Follow your agent's instructions on what banking method to use and where to send your money to.
Wait for your agent to confirm your deposit and manually top up your account.
Banking methods will vary based on what your agent is offering — although we've found that Cash App is the most commonly used deposit method.
River Dragon Sweepstakes Payouts
Similar to the above section, payouts are usually processed through Cash App. Just message your agent with your withdrawal request and $Cashtag, then wait for your agent to confirm and send your money.
River Dragon Sweepstakes Ratings & Alternatives
Coming up with a rating for River Dragon is difficult as there is potential for it to be a decent sweepstakes site with a selection of fun and unique games. However, River Dragon is marred by so many red flags and potential scams that it's impossible to give it a decent rating. As such, I score it a 2.0/5.
This obviously isn't very good, and we recommend you stay clear of River Dragon. Instead, if you are looking for a sweepstakes casino where you can play real money casino games, we recommend you check out our ratings at the top of the page for sweepstakes casinos that are 100% safe.