Chicago Sweeps is a well-structured, well-stocked social casino that looks like a legit venue for games of chance. Our experts found more than six hundred slots, casino games, bingo and one-off products, as well as bonuses and four site-wide jackpots.
Pros
100+ slots by Amatic, NetEnt, 3 Oak, Pragmatic Play, Aristocrat, etc.
100+ slots by InBet Games
Dozens of bingo and casino games
$25.00 Welcome Bonus
Guest bankroll for 5000 free fun coins
Well-structured user experience
Four site-wide jackpots
Cashback progression ladder
Play games like Buffalo Spirit for free
Cons
Game elements appear blurry, no sign of RTP%; potentially pirated content.
Subpar game experience on most InBet content
No live dealer games
Signup by phone only
Can't acquire more free coins
Company name and contact missing
No privacy policy
No contact details
No Twitter, Facebook or other social media sites
One of many replica sites (details below)
Everything that the website represents is convincing of a renowned sweepstakes casino, however, ChicagoSweeps doesn't tick any items on our safe operator checklist.
This casino brand offers slots from famous providers, like NetEnt and 3 Oak, but there are too many reasons to doubt their veracity. Simply put, ChicagoSweeps doesn't provide game RTPs, contact details, a FAQ page, company info or customer support.
The first recommendation for our trusted readers is to check out our summary table to get familiar with the details before deciding to visit the website and register an account. Below, you can learn more about ChicagoSweeps, but if you want the real deal choose one of these alternatives below:
What is Chicago Sweeps Casino?
This is one of the more unusual venues in the realm of US sweepstakes casinos. You wouldn't be able to get a sense of what is what from the get-go unless you have at least some experience as a casino player.
ChicagoSweeps relies on the sweepstakes model, which makes it a legal casino option for players in the US. On the other hand, the site doesn't provide information on which US states are excluded from participating in sweepstakes play.
On the other hand, players who want to start exploring the games can do that right away. ChicagoSweeps doesn't require creating an account, so choosing any of the available slots and casino games will launch the content in free mode.
ChicagoSweeps Overview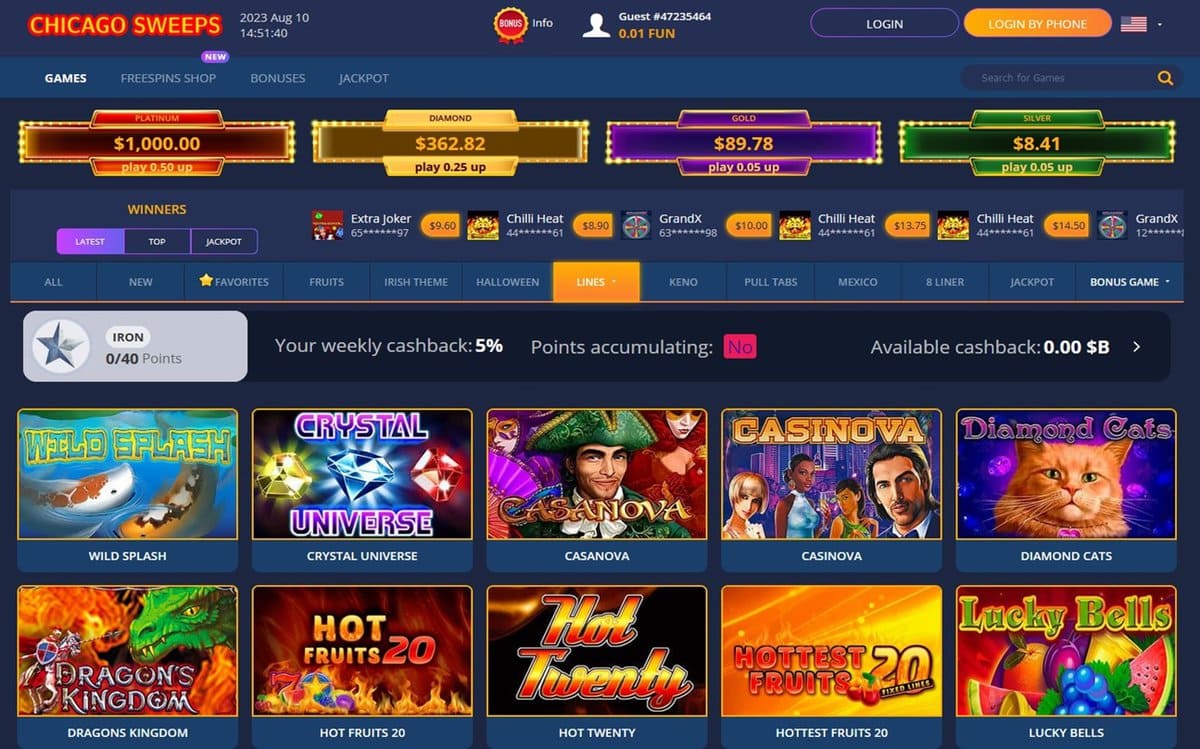 The burning question is, does ChicagoSweeps allow you to play for real money?
It appears that you can, but purchasing coin packages can not be done in a straightforward way. Perhaps not for the time being, and we'll share more info on that in the Purchases and Redemptions part below.
The fact that the website lacks elements like a company name, legal privacy policy, KYC verification, online coin purchases, legal US states, and more is indicative that ChicagoSweeps might be in trial mode or it is outright dodgy.
We'll be checking back with ChicagoSweeps again for sure to see whether the venue will evolve into a legit sweepstakes casino. In the meantime, it is safe to say that you are better off playing at sweepstakes casinos that we've rated as safe and legit.
ChicagoSweeps No Deposit Bonus
Visitors of ChicagoSweeps are allotted 5000 fun coins from the start without having to register an account. This amount in the free currency provides access to hundreds of different games but without the possibility of winning redeemable coins.
The initial guest bankroll gets updated automatically as the player wins or loses fun coins. Sadly, this puts yet another negative mark on ChicagoSweeps' tally: If the bankroll comes to zero, there is no way to replenish the free currency, except by purchasing coins or by claiming the welcome bonus.
ChicagoSweeps Free Play Offers & Promotions
Unless you have already created an account, reloading the website or selecting any game will open a prompt for the welcome bonus, which doesn't require a bonus code.
Players need to register with their phone number and enter the confirmation code in return for $25.00. Downloading the Android app puts an additional 100 free spins in the account.
This raises a quandary for iOS users, because the website doesn't have an app for iPhones or iPads. Nevertheless, you can play from your mobile web browser on any operating system all the same, as the website works seamlessly with all of its functionalities.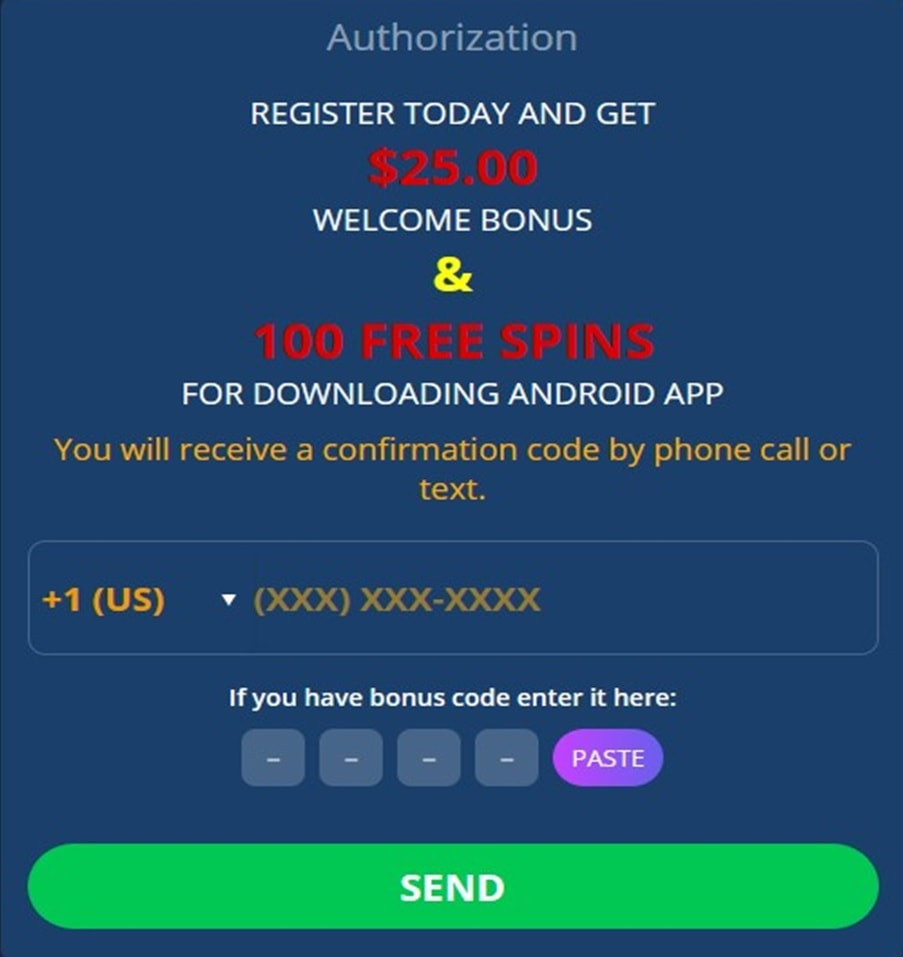 ChicagoSweeps doesn't offer any other promos for free play. The only remaining promotion is for Weekly Cashback which is related to the point-collection ladder. New players start at the Iron Star level with 5% cashback.
Subsequent levels of cashback (7%, 9%, 12%, etc. up to 30%) can be reached by playing slots and casino games, however, there is no information on the point accumulation ratio per each play.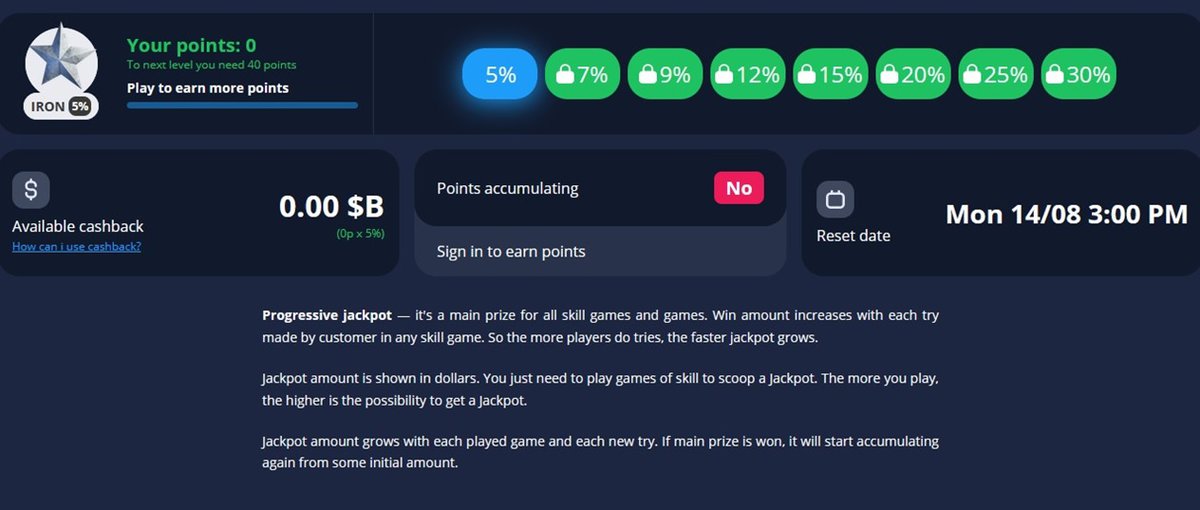 Checking out the Bonuses tab reveals that ChicagoSweeps offers a 50% Cashback Bonus on your coin purchase with Bitcoin.
Players need to be aware of the detail that states "first refill automatically." Does this mean that the cashback promo is tied to opting for automatic refills once your "balance is uber $1.00?" We can't if this is the case, as there are no T&Cs for this or any other promo.
ChicagoSweeps Registration & Login
Since a registration button is missing, the only option for players to "get in" ChicagoSweeps is by phone login. As we stated above, this requires submitting your phone number and receiving the Welcome Bonus along the way.
You might have guessed that not submitting a personal number is a no-brainer when it comes to sweepstakes casinos that provide zero information about the company, let alone its legal obligations and privacy policy.
This brings us to the point that registering with ChicagoSweeps is not something we can recommend unless all of the negatives are turned around and verified by our experts via subsequent due diligence.
Our Experience With ChicagoSweeps
Our sweepstakes casino experts of many years had question marks over their heads while trying to register on the website. The overwhelming majority of casinos in this category make registering straightforward, but not ChicagoSweeps.
What we didn't mention until now is that ChicagoSweeps looks identical to at least seven other websites, like SkillMachine, WebSweeps, Lonestar, SkillBoss, and so on. All of the red flags we've counted are evident in all of these "sister sites". One thing is different, though, and that is the amount of free coins. Guest players at ChicagoSweeps get 5000 coins, unlike some of the other sites which come with 100 and 50 fun points.
Of course, we tried dozens of slot games and yes, you can play completely for free but this doesn't negate the fact that many of the games appear sketchy. Purportedly original games under the Pragmatic Play or NetEnt label appear blurry and feel plain out of place.
Games Available at ChicagoSweeps Casino
Unassuming players will be drawn to this operator by the sheer number of games that are offered. There are rows upon rows of titles that will appear familiar. For example, ChicagoSweeps has NetEnt's Starburst, Pragmatic Play's Wolf Gold, 3 Oaks' Tiger Jungle Hold and Win, and so on.
The website has a commendable functionality that allows players to browse entire categories or to search for a specific title. You can even single out games by the number of paylines. This definitely makes discovering more than 600 games easy and we wish other sweepstakes casinos offered a similar browsing experience.
ChicagoSweeps Mobile Play
As an extension of the PC-based website, the ChicagoSweeps mobile site provides the same level of functionality and user experience. Even without downloading the mobile app (Android only) visitors can rely on their mobile browser to utilize the free fun coins on slots, casino games, bingo and other content.
To be able to do that, the user needs to be quick with the finger in order to x-out of the mobile signup overlay because the spacing makes that button devilishly hard to press. Overall, ChicagoSweeps has a decent mobile website that carries over the same quirks and dead-ends that are to be found on the PC website.
ChicagoSweeps Purchases & Redemptions
The website offers the option to purchase redeemable coins, which is common for all sweepstakes casinos, however, you can't find any details on the payment methods.
The detail that is new to us is that you can top up your Sweepstakes Coins at local retailers. These locations are mapped on your phone if you update your geolocation permissions on the mobile web app. This is another setback as most casino players prefer making coin purchases online.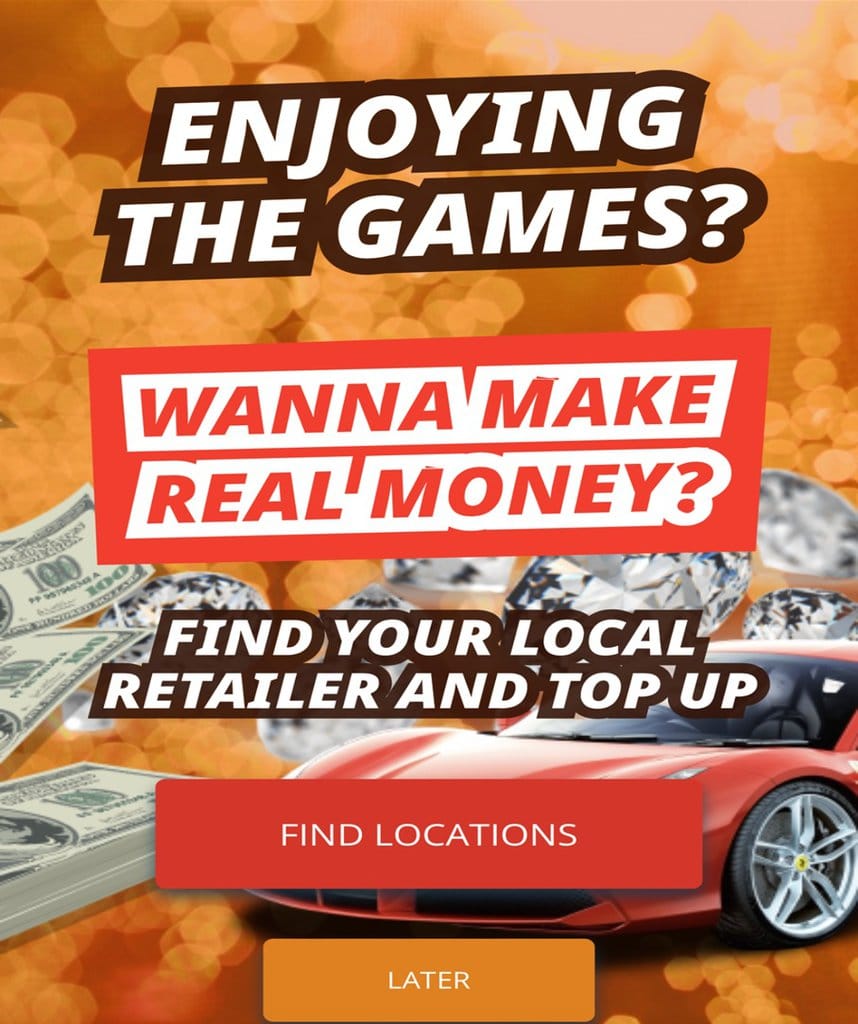 The other setback is that ChicagoSweeps has a rather high threshold for redeeming your winnings. If it ever comes to that with this operator, you'll need to have $300 or more in your balance to request a withdrawal.
Customer Support
Customer support is another corner in the twilight zone that is ChicagoSweeps. Players need not bother looking for the customer support page because there isn't one. Even if you want to sign up and purchase a coin package, you won't be able to find out how long it will take to redeem your potential prizes. This leaves too many questions unanswered.
Is ChicagoSweeps Legit?
And now, the big revelation: ChicagoSweeps is definitely not legit. On the contrary. Despite offering some really good online slots, this operator couldn't get any dodgier.
For starters, the website withholds information that legit sweepstakes casinos readily provide. Even if the said brand is in some kind of a trial period, what about its "sister sites"? These are exact replicas, save for a few minor details.
Sites Like ChicagoSweeps
To make sure that you don't end up on one of the replica sites related to the infamous ChicagoSweeps, we compiled a list of the websites so that you can have a clear idea of the names to avoid. Several common patterns prevail across all:
Same web design for PC and mobile for every replica brand;
Four site-wide jackpots that shouldn't be valid for games like Wolf Gold;
Slots from established providers beside a hoard of inBet slots;
Lack of original branding and accompanying creatives;
Lack of registration button;
Lack of privacy policy;
Lack of FAQ page;
Lack of contact details.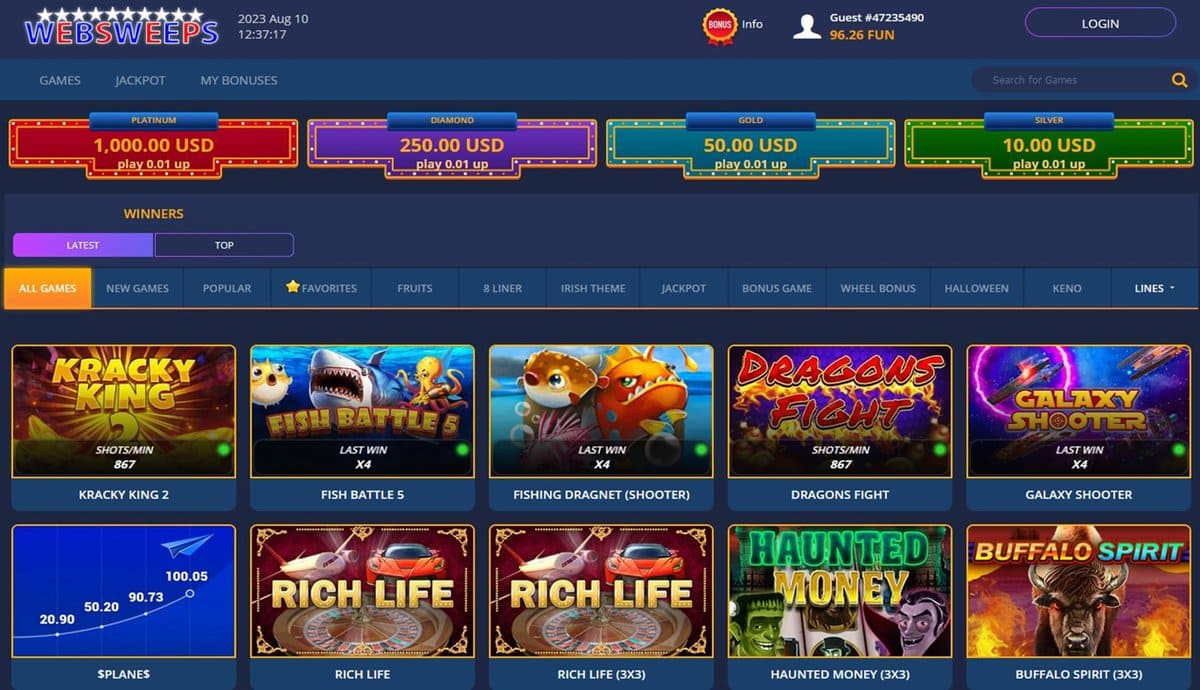 WebSweeps
The chief difference between WebSweeps and ChicagoSweeps is in the former's abundant offering of bonuses. Navigating to the corresponding tab reveals offers that resonate well with our experts, especially the 50% cashback bonus if you were to make plays between 6 and 9 PM – which time zone though? – it beats us to know.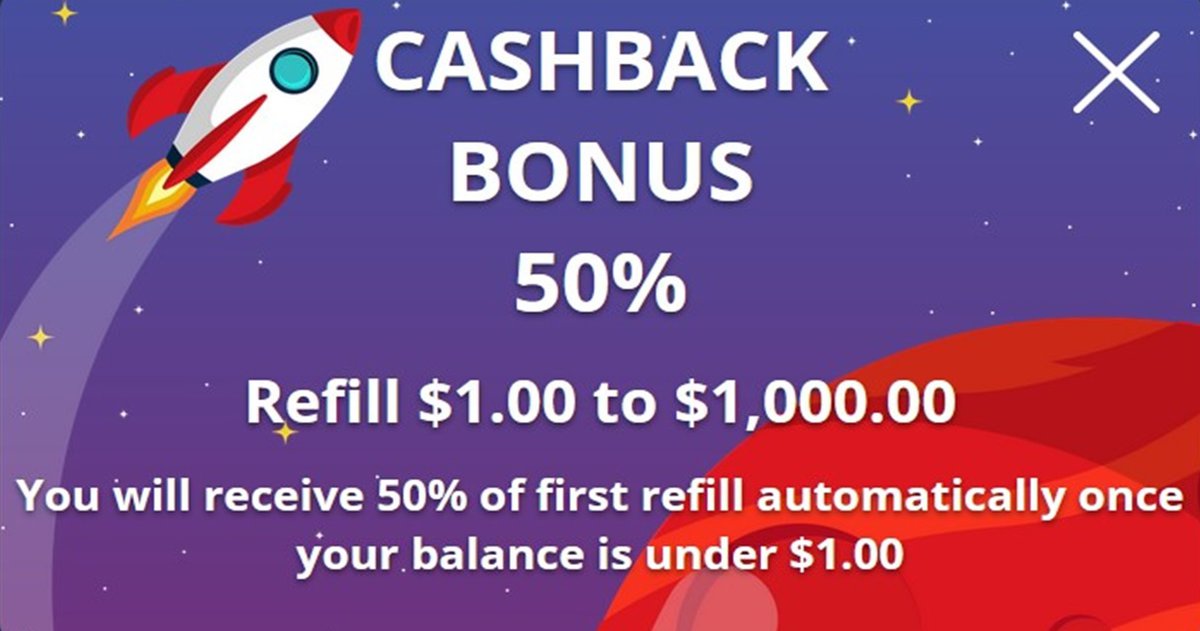 SkillMachine
The name seems appropriate for a casino that provides games of skill, not games of chance, but we'll let this discrepancy slip. SkillMachine has several fishing games based on shooting at prey, but these are a drop in the sea of RNG slots. Nevertheless, the venue at hand offers 5000 fun coins for players who just want to discover new slots for free.
SkillBoss
Yet another ChicagoSweeps clone with four jackpots that offer identical prizes as the other site. One "major" difference regarding SkillBoss is that players have the option to deposit funds via something called Cash App, which is itself a legit processor of mobile payments. Otherwise, SkillBoss offers the identical bonuses as ChicagoSweeps and has the peculiar free spins shop for registered players.
LoneStar
One would expect a Wild West theme for the LoneStar brand, but no. This is another clone venue with a 50 fun coin bankroll for guests and a lack of registration page. Not much to see here except the fact you can play more than 500 games for free.
GoldenGame
GoldenGame.club achieves another feat of dodginess by offering a deposit button that doesn't specify what company processes the transaction. Unlike some of the other clones, this venue has a Login By Phone button that lets you claim a $50.00 welcome bonus and 100 spins if you verify your phone number.
Better Alternatives to ChicagoSweeps
Although it is difficult to beat the dodginess of ChicagoSweeps and its sister sites, there are other sweepstakes casinos out there that don't get our pass.
Thankfully our community of reviewers and casino enthusiasts in the US have recommendations that players can rely on.
Sites like WOW Vegas, McLuck Casino, Pulsz, Fortune Coins, Stake.us and others fulfill all of the requirements for a legit sweepstakes casino.
The table below is for the best sweepstakes casinos and the best signup bonuses that you can find online.
ChicagoSweeps Review Verdict
For our concluding words we'll double down on the fact that there will always be sketchy operators trying to get the better of unsuspecting players. With the sweepstakes casinos on our website we know that by law, the player always stands a chance of winning prizes that are redeemable for money.
With that in mind, our recommendation is to avoid sites you aren't familiar with and to always get your information from us.