The US sweepstakes industry is booming due to the limited availability of real money online casinos. This means new companies, platforms, and apps are constantly popping up – some of which are dodgy and have shady legitimacy issues. One such culprit I am reviewing today is Magic City Sweepstakes. Here is a quick overview of my findings:
Pros
A fun selection of fish games and skill games
Widely available to US players except in Washington, Idaho, and Nevada
Jackpot games are available
Cons
Incredibly limited licensing and background information is available
A lack of feedback and customer reviews to verify legitimacy
Contradictory information on the product owner/provider
A limited amount of games compared to legitimate sweepstakes platforms
Untested games
Magic City 777 Sweepstakes is a multi-game software system provided by Red Luck Rewards that offers a range of sweepstakes fishing games, skill games, and slot games. There is a chance to win big prizes. Still, the legitimacy and quality of the platforms from Red Luck Rewards is questionable due to its business practices and lack of transparency and I recommend only using legitimate sweepstakes alternatives like Pulsz and WOW Vegas.
Information About Magic City Sweepstakes
🎰Magic City Sweepstakes Casino
🌐Website
www.redluckrewards.com/product-page/magic-city
🖥️Service
Sweepstakes Gaming Platform
🎲Games
Fish Games & Slots – 20+
🎁No Deposit Bonus
Depends on aggregator
🤑Promos
Depends on aggregator
💵Currencies
USD
📱Mobile Access
✅Yes
🤝Sister Sites
Fish Glory, High Stake, Smash, Fire Phoenix, Fire Kirin, 100 Plus
📜Meets Sweepstakes Legitimacy Criteria?
❌No
🇺🇸 Available In
Depends on aggregator
💳Payments
Depends on aggregator
How Magic City Sweepstakes Works
Usually, sweepstakes platforms like High 5 Casino and WOW Vegas are straightforward. You open the website or app, register an account, get your welcome bonus, and use the free-play currency (usually called gold coins) to play their casino-style games.
A premium currency is also usually available (often called sweeps coins), that you can sometimes play premium games with, but always redeem for cash prizes at a predetermined rate. This is the standard sweepstakes casino model and how legitimate sweeps platforms operate.
Magic City 777 is different. This is actually a sweepstakes gaming system provided by Red Luck Rewards. Third-party companies known as aggregators lease Magic City 777 from Red Luck Rewards for a set weekly fee. Red Luck Rewards does all the hosting and back-end stuff, while the aggregator provides the front-end accessibility.
This results in a huge lack of transparency and unknowns with Magic City and sister gaming systems like 100 Plus and Fire Kirin and is one of the main reasons why we do not recommend it.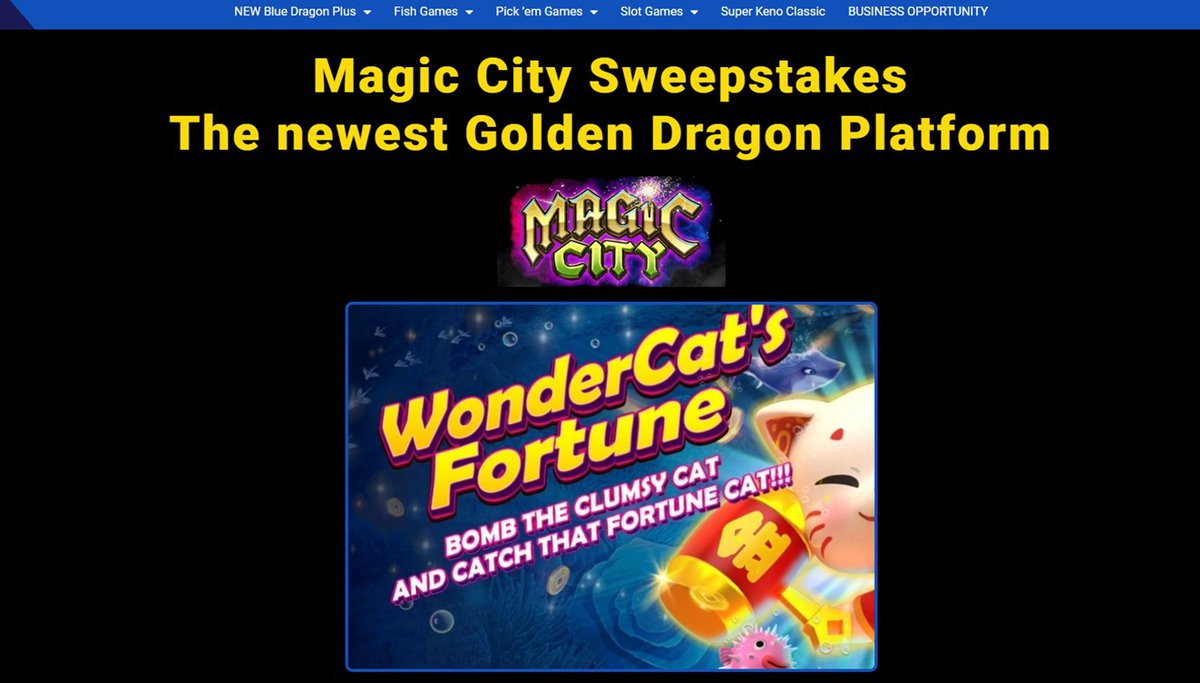 How to Set Up a Magic City Sweepstakes Account
Creating a Magic City 777 Sweepstakes account varies depending on the third-party hosting site who are leasing the system. You essentially have to register an account with one of the third-party lessors like Sweepstake Mobi or Golden Dragons first to gain access to the sweepstakes system itself.
This typically includes providing limited personal info like your name, username, email, and contact number and agreeing to their terms and conditions.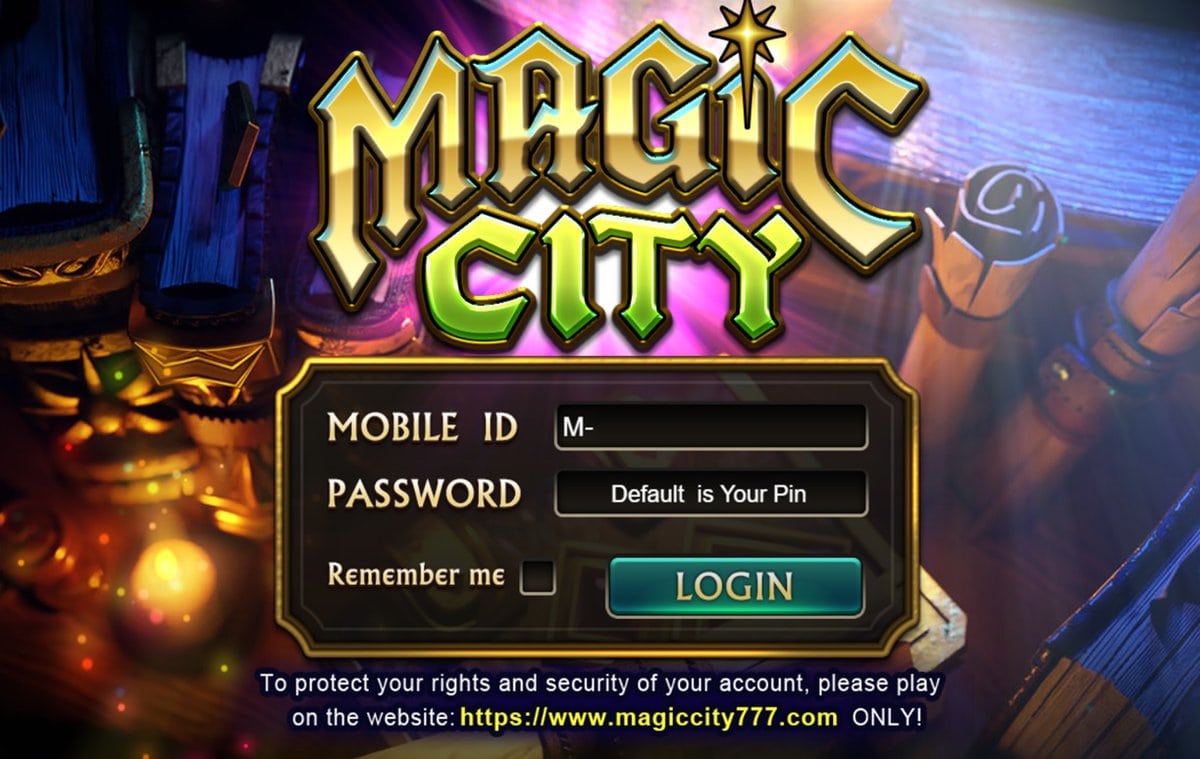 Magic City Sweepstakes App Download
In terms of accessibility, Magic City 777 appears to be a web-browser-only sweepstakes platform as most of the aggregators that lease the system state that no download is required. I assume that you can play the games on smartphones and tablets via a mobile web browser like Google Chrome, but info on this isn't available.
There does seem to be plenty of APK downloads for Magic City 777 but this only serves to reinforce the fact that the platform isn't legitimate as it would be readily available on the Google Play Store and App Store otherwise.
Magic City 777 Sweepstakes No Deposit Bonus
Legitimate sites like McLuck Casino and WOW Vegas all offer a no deposit bonus on sign-up that includes free-play gold coins and premium sweeps coins. Magic City 777 offers nothing like this as far as I can see. There are potential no-deposit bonuses via aggregator sites that lease the platform, but these aren't directly linked to the game itself.
Promo Codes & Bonuses
As Magic City 777 Sweepstakes is merely a gaming platform, there are no promotions and bonus codes directly associated with it. The promotions available are entirely dependent on the third-party aggregator and how they decide to market the platform.
For example, the sweepstakes.mobi website that hosts a version of Magic City 777 Sweepstakes offers a $50 deposit match bonus on account registration but this isn't directly tied to Magic City but instead, a blanket promo that can apply to any of the other hosted games from Red Luck Rewards such as Fire Kirin, Golden Dragon, and River Sweeps.
This differs from conventional and legitimate sweepstakes platforms like McLuck Casino, Stake.us, and Fortune Coins all of which offer some type of sign-up bonus that gives you free and premium currency. Stake.US, for example, gives 10,000 GC and 1 sweeps coin on sign-up.
Magic City Sweepstakes Games
Magic City 777 is a multi-gaming platform that includes around 20+ different titles split between two categories – slot games and fish games. There are no table games and no live dealer games.
Slot Games
If you enjoy slots then this is one small glimmer of hope that Magic City 777 provides as it has a decent selection of slots. The themes are varied and you can find typical slot themes like mythology, wild animals, oriental, and fruit machines. The downside is that there is no RNG information relating to the games and it's incredibly difficult to find any RTP info so we don't really know if the games are fair. Popular games at Magic City 777 include:
Fortune Gods
Tai Chi Dragon
Ghost Goblins
Classic 777
Wild Jokers
Easter Bunny
Fruit Frenzy
Fish Games
Fish table games are incredibly popular on sweepstakes platforms as many of them have an element of skill as opposed to pure luck. Magic City has a small choice of fish games including Dragon Treasure which appears to be the most popular. In these games, you can test your shooting skills to try and grab more fish, which in turn, can increase your prizes.
How to Add Money at Magic City Sweepstakes
If you were expecting me to provide an extensive section about Magic City payments then you will be disappointed. The trend of offering little to no information continues here and there is virtually no banking information available about this Red Luck Rewards gaming system.
Sister gaming systems like 100 Plus use strange banking methods where you have to contact an agent to deposit money. This is incredibly dodgy and we can assume Magic City 777 uses a similar approach together with potential payment methods like mail cashier check, Bill Pay, Plastiq, and Wire Transfer.
Magic City Casino Payouts
Part of the sweepstakes draw is the chance to win big prizes and redeem premium sweeps coins for real money. After extensive research, I couldn't find any payout information or redemption info relating to Magic City Sweepstakes. This is just another red flag and shows the huge lack of transparency relating to Red Luck Rewards and its gaming systems.
Is Magic City Sweepstakes Casino Legit?
So, the big question is, is Magic City 777 Sweepstakes legit? In short, no. There is just too much lack of transparency, shady practices, and unknowns to qualify this online sweepstakes platform as legitimate. The main issues include:
Poor quality of the supplier website and the Magic City 777 website.
The games within the sweepstakes software are untested.
Lack of responsibility from the supplier.
Lack of detailed information available relating to the platform and how it works.
Red Luck Rewards who are responsible for leasing Magic City 777 Sweepstakes provide little to no information about the gaming systems they develop which is always a red flag. Speaking from experience too, I think their websites and the products just look scammy too – nothing about the company, or the platforms give me any confidence or assurance that they are legitimate.
The fact that everything is done via third-party platforms like Sweepstake Mobi and Golden Dragons doesn't help either as it absolves Red Luck Rewards of any responsibility and legal backlash. At least with legitimate sweepstakes casinos like Pulsz, you know they work with reputable software developers and are legal under US sweepstakes laws.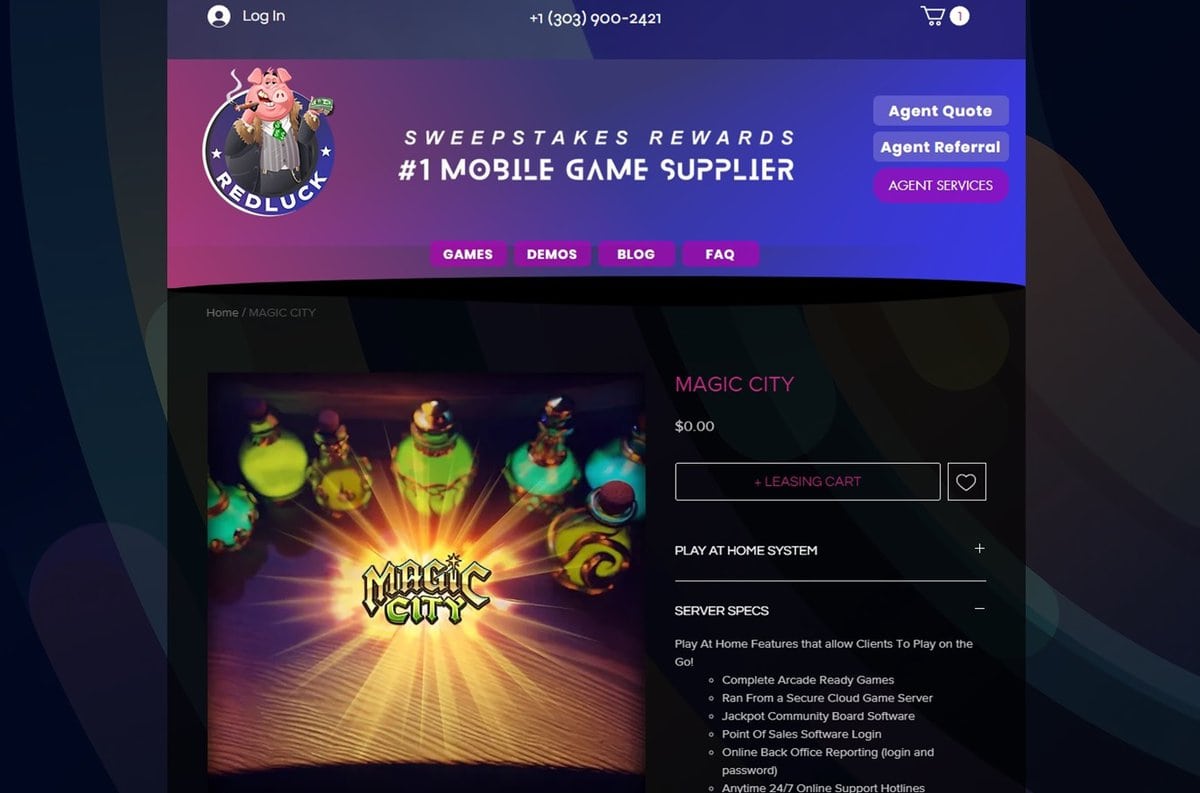 Magic City Ratings and Alternatives
Legitimacy and safe online gambling are core values we promote and because of this, Magic City Sweepstakes scores a 1-star rating. There are too many red flags and the sheer lack of transparency and accessible information about this platform makes it unreliable.
Not only that, but as the platform is leased to third-party vendors, there is no guarantee of your safety and there is a potential for scams. You then have the fact that Red Luck Rewards itself doesn't appear to be legitimate, and its other platforms like Fire Kirin, 100 Plus, and Mega Win all share similar traits with some being even worse than Magic City Sweepstakes.
So, adding those factors together paints a clear picture of this shady sweepstakes system and we advise steering clear of it. Don't worry though, we haven't left you with no gaming alternatives and there are some amazing legitimate sweepstakes platforms legal under US sweepstakes laws that we can recommend that have brilliant game variety, sign-up promotions, and hassle-free sweepstakes fun.