Gold Star is a mobile sweepstakes platform that offers 44 social casino games. Its game collection comprises slot machines as well as fish and table games. You can access Gold Star Sweepstakes games on its web app, site, or at internet sweepstakes cafes.
Pros
Has a downloadable app compatible with mobile devices and Windows PCs
Gives players access to a decent range of fish games and slots
Players have a shot at winning jackpots
Cons
No place to register on its site
Available at unregulated internet cafe sweepstakes
Details about the owner and its licensing do not exist
Does not offer free play opportunities like legit sweepstakes
Although Golden Star Sweepstakes offers US players access to a diverse array of slots and fish redemption games, combing the web for its information was a gut-wrenching experience since I didn't find anything after doing thorough research. Its website GoldStar.Games only gives players a login option, as I didn't see a registration page or form.
For these reasons, I don't recommend Americans to play here. Instead, they can find legit sweepstakes that are always open and above board with players. The sweeps casinos listed below have a solid reputation for being clean as a hound's tooth, going strictly by the book, and providing a safe gaming experience.
Information About Gold Star Sweepstakes Casino
🎰Gold Star Sweepstakes Casino
🌐Website
https://goldstar.games
🖥️Service
Sweepstakes Casino, Gaming System
🎲Games
44+ casino games: fish, slots, and arcade
🎁No Deposit Bonus
Can range between $5 to $10 if you register with a third-party platform
🤑Promos
30% 1st time deposit bonus, $2 free play bonus on Facebook, Holiday Promos
💵Currencies
Virtual Credits
📱Mobile Access?
You can add the site to your iOS and Android home screen
🤝Sister Sites
Ignite, Phoenix Fire, VBlink, Riversweeps, and more
📜Meets Sweepstakes Legitimacy Criteria?
❌Not at all - you have to purchase virtual credits to play casino games
🇺🇸 Available in
Across the US, excluding WA
💳Payments
Venmo, Cash App, Chime, and Bitcoin Wallet
How Gold Star Gaming Works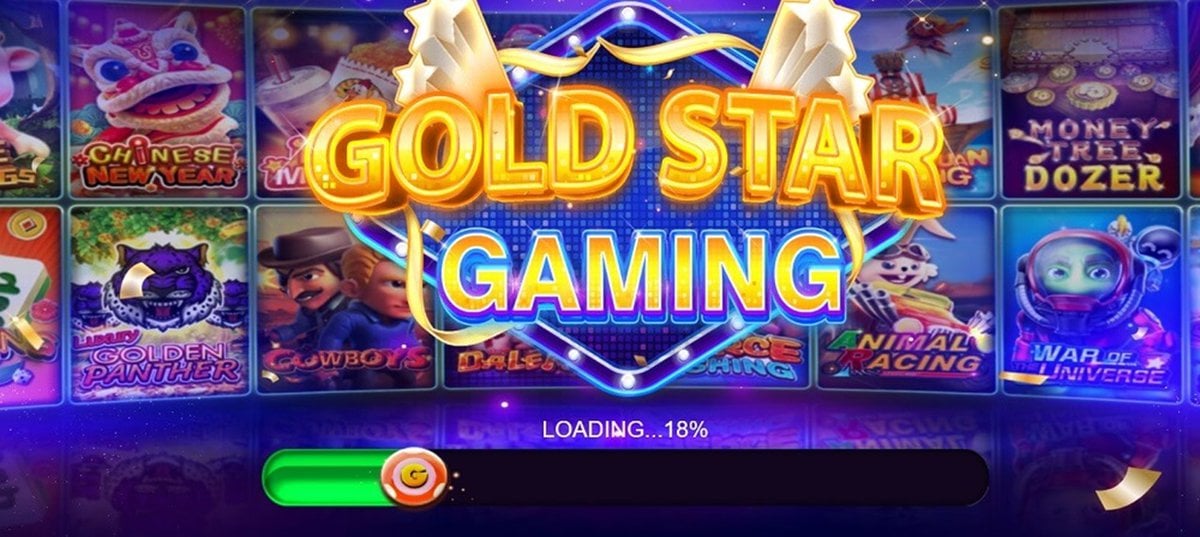 Gold Star is a sweepstakes platform that offers fish, arcade-style titles, and slots. Instead of real money, virtual currency is used when playing Gold Star games. You can make a deposit and get credits that you can use to play casino games; however, this is not mandatory since Gold Star occasionally offers free play bonuses on its Facebook page.
But here is the kicker: Gold Star offers hardly any free play opportunities unlike Fortune Coins or other legit sweepstakes sites. Since the free play bonuses on Facebook are hard to come by, you'll be forced to purchase credits most of the time if you want to play on the platform. That means it has failed to meet the operational requirements that allow sweepstake casinos to remain legal in the United States.
In addition to being a mobile sweepstakes platform, Gold Star is a gaming system provider that uses different distribution companies to supply and install its software in physical stores across the US.
Since anyone who owns a local shop can install Gold Star software, you might find its games on unregulated and shady land-based internet sweepstake cafes. Playing at these venues is like placing yourself in a dicey situation, as the games could be rigged and unfair.
Because Gold Star is a gaming system, you might also find its games on third-party platforms, with the most popular ones being BitBetWin, Sweepstake.Mobi, and BitPlay. That means its services can differ depending on where you play Gold Star games.
How to Set Up a Gold Star Casino Account

I found the entire process for setting up a Gold Star sweepstakes account perplexing since there is no registration page on their site GoldStar.games. I did some more digging and discovered that you need to send a direct message to the Gold Star team on their Facebook page and request an account.
Alternatively, you can request a Gold Star Sweepstakes account by texting them at +1 (737) 400-9682 or visiting https://realmoneyonlineslot.com/ and then filling out the online contact form under the Contact Us page. You'll then have to wait for the Gold Star Gaming team to send you the login credentials that you can use to access your newly created account.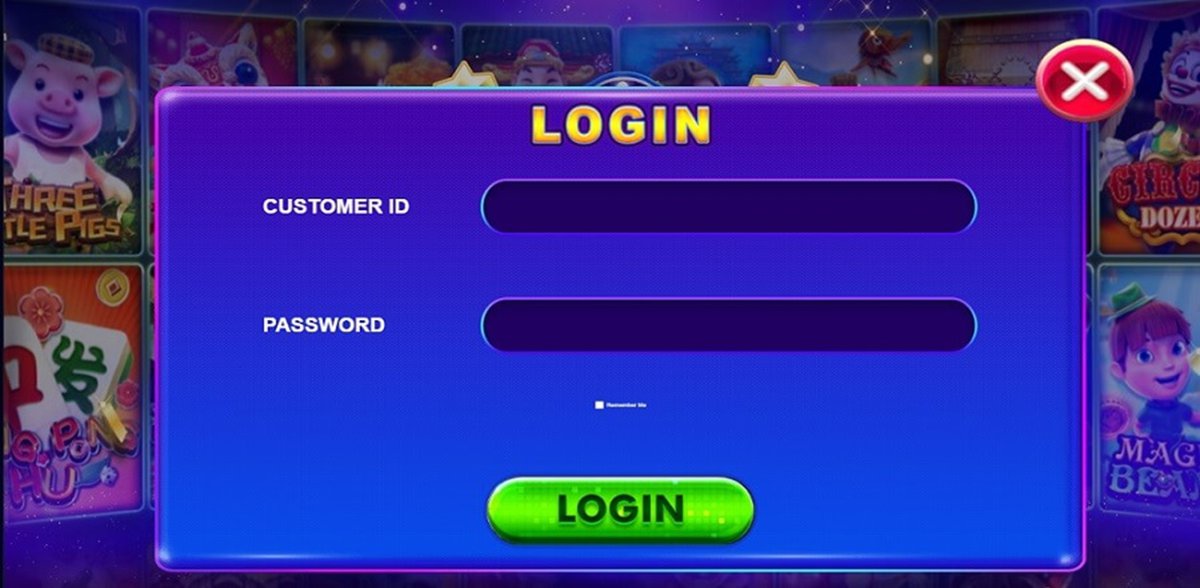 If you don't like this frustrating registration process, why not sign up with our recommended sites like TaoFortune and WOW Vegas? These sweepstakes platforms have a straightforward sign-up process that you can complete in a flash of light.
If you want to play Gold Star Sweepstakes games on land-based sweepstakes, you'll have to go to a nearby physical location that has leased its gaming system and create an account; this is a highly inconvenient and time-consuming process.
Another option is to register a Gold Star Sweepstakes Casino account through third-party platforms hosting its games. If you take this route, the sign-up process will vary based on the site you decide to join. But most third-party websites will ask you to provide your email address, legal name, date of birth, and phone number.
Gold Star Sweepstakes App Download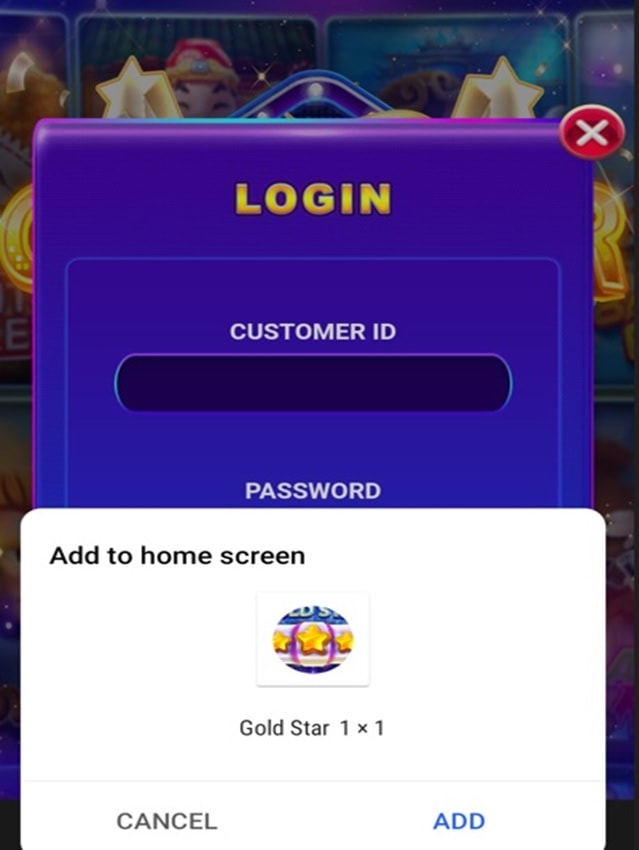 We didn't find Gold Star Sweepstakes on any official app store, including Amazon Appstore, Samsung Galaxy Store, Google Play Store, and the App Store. But it has a web app that users can install on their Windows desktop. You can also add the website to your smartphone's home screen when you visit it via a mobile web browser; this creates an app-like experience since you don't have to open a web browser to access Gold Star sweepstakes casino.
However, we advise readers against adding Gold Star Sweepstakes to their devices since the website has more holes than Swiss cheese. For example, I did not see any pages that inform players about their rules, promotions, and what to expect when they come on board. The uncertainty and unpredictable environment is a testament to the unsafe and unfair gaming experience you may have on this platform.
Gold Star Gaming No Deposit Bonus
Legit sweepstakes casinos like High 5 Casino and Funrize offer a no deposit bonus to players who sign up with them to conform to the no-purchase necessary rules and maintain their legal status in most US states. I checked its website but was utterly bewildered since Gold Star Sweepstakes Casino has not displayed any no deposit bonuses for new customers who sign up on their platform.
I visited the Gold Star Gaming Facebook page and saw mentions of a $2 free bonus. But since this was from a June 14 post and only Ohio players could claim it, I cannot confirm if it's available.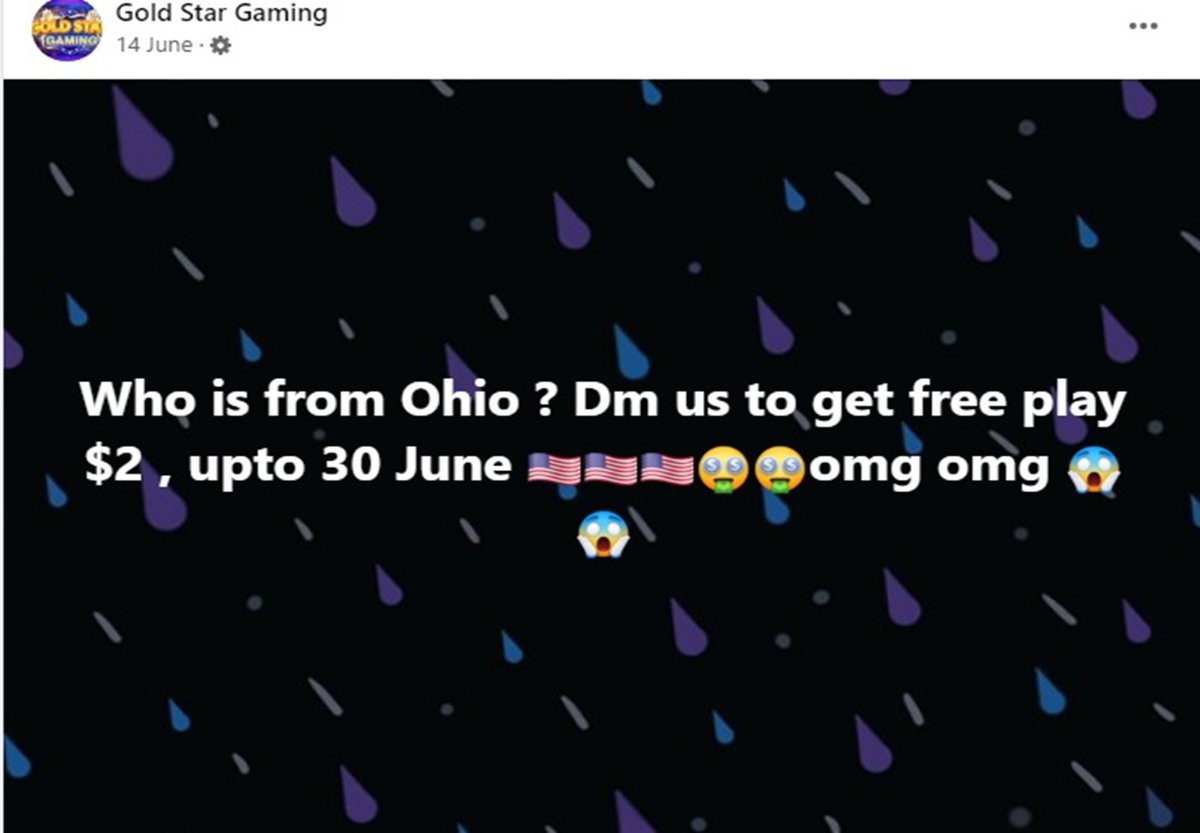 If you register with an aggregator that supports this gaming system, you might get a no deposit offer. The bonus will vary depending on each platform but can range from $5 to $10. How it works is you register and select Gold Star as your preferred platform. When your account is set up, you'll have a free SC bonus to use on the Gold Star slots and games.
Promo Codes & Bonuses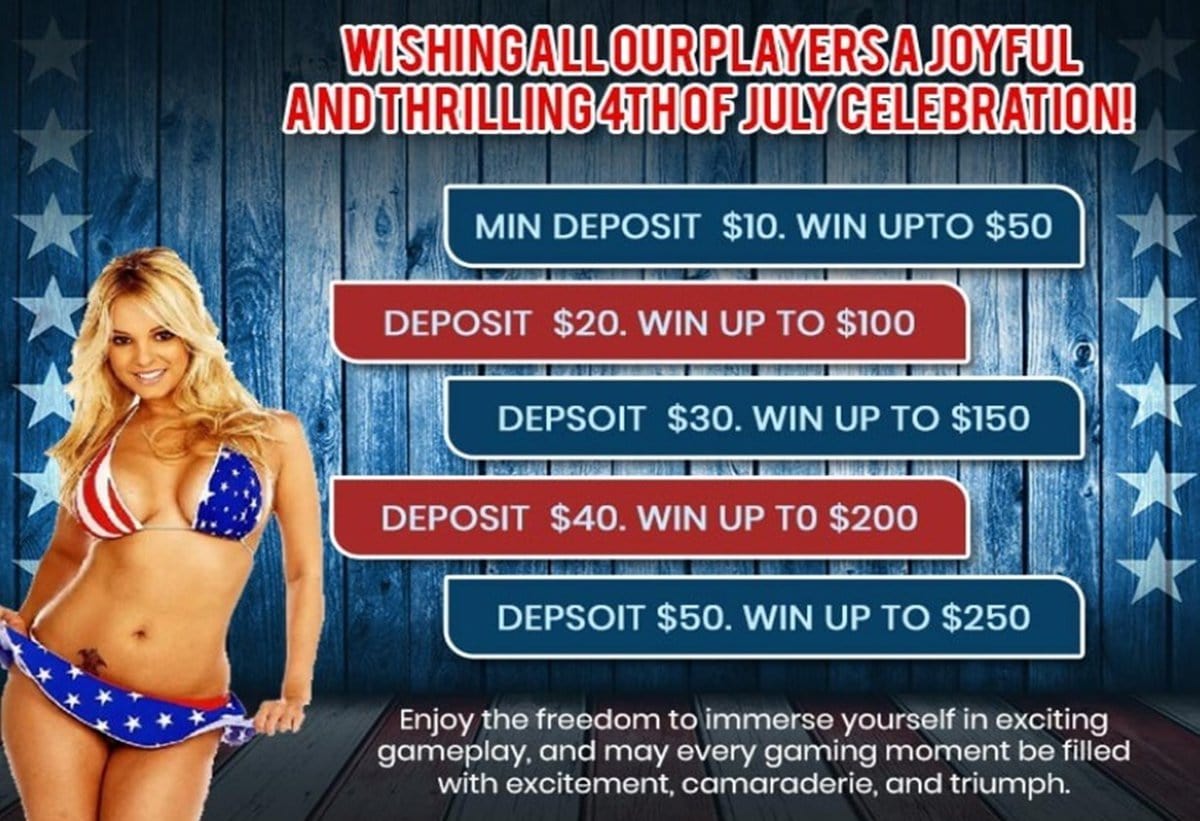 I didn't see any ads for bonuses geared towards existing or new players on its site, but I spotted a few offers on the Gold Star Gaming Facebook page. You won't need Gold Star Sweepstakes promo codes to claim these bonuses. They include:
Free play bonus: Keep checking Gold Star's Facebook page for free play offers, as they occasionally give them out.
First deposit bonus: You'll get a 30% bonus the first time you deposit funds into your Gold Star Sweepstakes account.
Holiday promos: Players might enjoy deposit bonus offers during holidays like the Fourth of July.
While Gold Star posted these offers on its Facebook page, we cannot give them our thumbs up since there is little information about them. The worst part is that Gold Star Sweepstakes Casino hasn't displayed these bonuses on its official website, which raises tons of questions.
Gold Star Casino Sweepstakes Games
Gold Star has a user-friendly sweepstakes platform that's sleek with an intuitive design. Its casino lobby is divided into various sections, allowing you to navigate between different game categories seamlessly. Players have 44+ game options to choose from on this site.
Gold Star Sweepstakes Casino offers both in-house developed games and titles supplied by other software providers, such as Fa Chai Gaming. That said, let's look at the different game categories you can find in its lobby:
Slots

Slot enthusiasts can spin the reels of 35 different titles. These games come with a range of features, including a Buy-A-Free Game, Reel Respins, and multipliers. The games come with a different number of paylines. Some games have 50 paylines, while others give players up to 12500 ways to connect the symbols on the reels.
Examples of online slots on Gold Star Sweepstakes Casino are:
Zeus
Golden Genie
Crazy Buffalo
Merge Magic
Grand Blue
When playing Gold Star slots, you can randomly hit one of the four jackpots: Grand, Major, Minor, or Mini. Most games allow you to bet between 20 and 500 credits per spin.
Gold Star Fish Games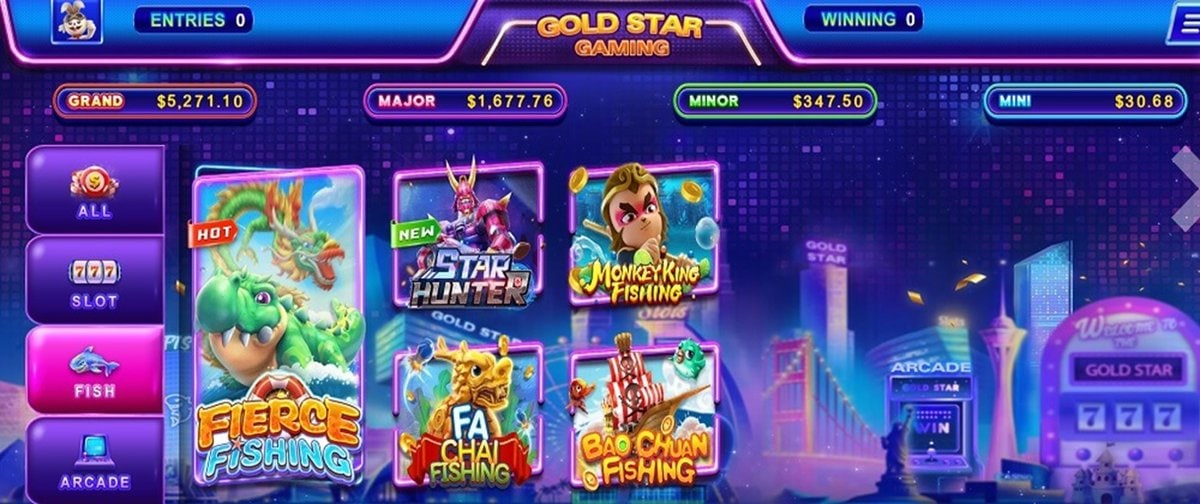 You can shoot aquatic creatures in five different multiplayer fish games. These are:
Fierce Fishing
Star Hunter
Monkey Fishing
Fa Chai Fishing
Bao Chuan Fishing
Players have to take control of a harpoon, gun, or any other projectile to hunt different types and sizes of fish when playing these games.
Arcade-Style Games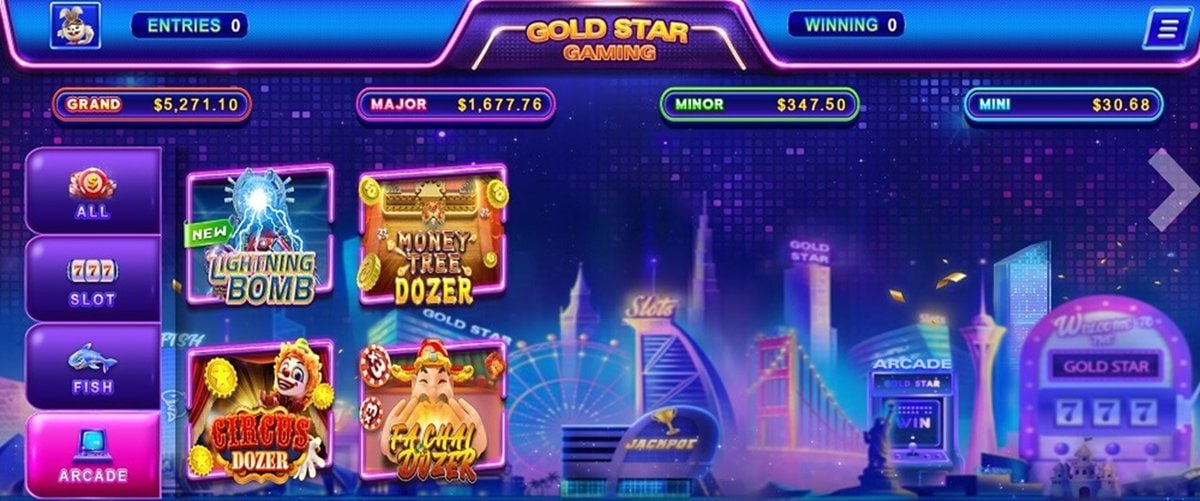 The Arcade section has four games from Fa Chai Gaming. Here are the available options:
Lighting Bomb
Money Tree Dozer
Fa Chai Dozer
Circus Dozer
How to Add Money at Gold Star
There is no option to add money to the Gold Star Sweepstakes account. You have to DM the Gold Star team through their Facebook page and tell them you want to make a deposit. They will then give you the details on the accepted deposit methods, which can include Cash App, Venmo, Bitcoin wallet, and Chime. Your account will be loaded with virtual credits right after Gold Star has confirmed your deposit.
But, since Gold Star hasn't provided any information regarding its deposit methods on its site, you should avoid this sweepstakes platform by all means.
You can also add money to your Gold Star Sweepstakes Casino account by heading to a nearby physical store that has installed its software. Another option is to find an aggregator that supports its gaming system and then use it to load your Gold Star account.
Gold Star Casino Payouts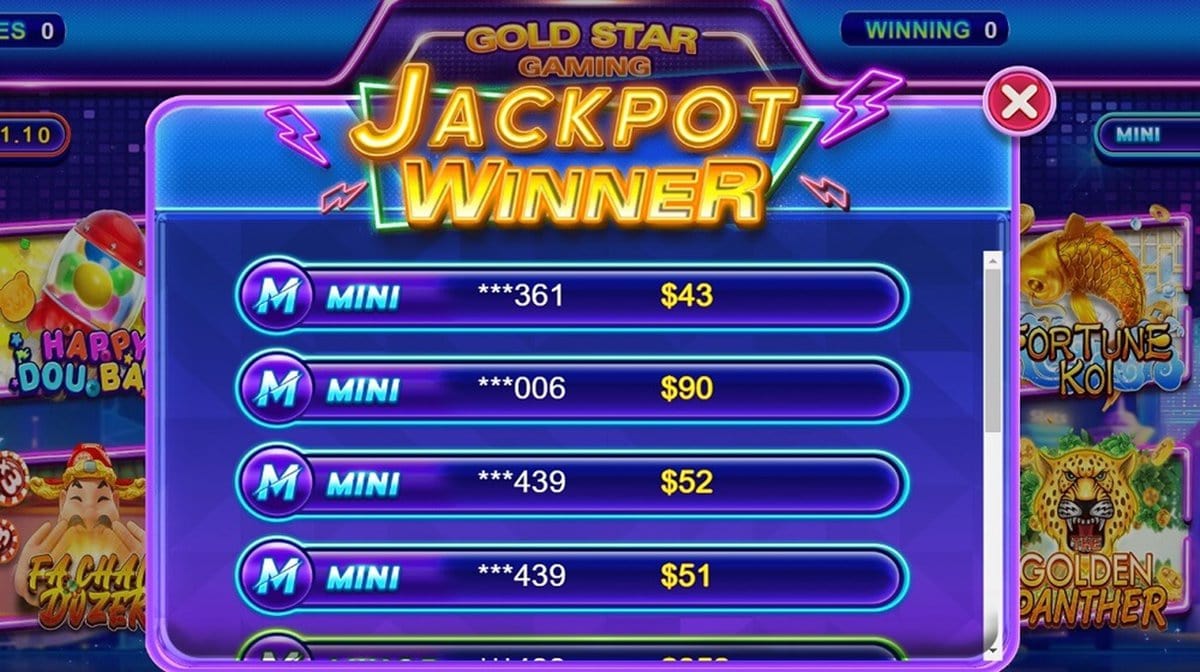 Gold Star Sweepstakes Casino hasn't provided any information explaining how players can cash out their winnings; this is a clear indication that you may experience withdrawal issues when you play here and win. In comparison, all our recommended sweepstakes sites have a section where you can go and redeem your winnings whenever you have met the minimum redeemable threshold for cash prizes.
Is Gold Star Gaming Legit?
While Gold Star Sweepstakes positions itself as a legal sweeps casino, quite the opposite is true. It does not provide free play opportunities through promotions like login deals, mail-ins, and referral bonuses.
Legit sweepstakes platforms have an array of ongoing free coin promotions that make purchasing coin packages optional. The platform also has a strange way of operating that clearly falls outside sweepstakes laws and regulations. As such, we find its legitimacy questionable.
Gold Star Gaming Ratings & Alternatives
Gold Star offers a decent range of slot machines, fish games, and a few arcade-style titles. However, I found a parade of red flags that made my blood run cold. For instance, there is no proper way to sign up, and the site hasn't provided info that explains how to add funds to your account or withdraw your winnings.
The worst part is that it doesn't follow the no purchase necessary rules since you have to deposit money to get virtual credits. Check out our rating for Gold Star Sweepstakes Casino and better sites that do everything by the book to ensure you enjoy a safer experience.