Mr All In One casino is a sweepstakes provider whose operations are enabled by distributors who host its casino software. As a sweepstakes operator, the casino doesn't require a license to operate, and its services are accessible from any location in the US.
Pros
Zero notable features - stay away
Cons
Registration/bonuses vary based on distributor
Gaming system featured on anyone willing to host its games
Payment methods that don't allow for chargebacks or tracing
Games are replicas of legit providers
Little-to-no reputation, with mainly negative reviews
The casino has 72 games, including 52 slot games, 12 fish table games, Keno, firelinks, and more titles that you can play through its website, iOS app, or Android apk. However, setting up an account requires the services of a distributor that acts as a middleman between players and Mr All In One.
In this review, we provide a detailed look at how to get an account on the casino, bonus offers, payments, customer support, game selection, and our verdict on its operations. But as you can see from our highlights above, Mr All In One 777 is not a sweeps casino you can trust. The following are way better alternatives:
What is Mr All In One Casino?
Mr All In One is a sweepstakes casino, but its operations are far from what you would expect.
In reality, Mr All In One provides sweepstakes casino software to various distributors who interact with individual casino visitors. Using this approach, the operator can avoid the costs of running a full casino while cleverly abdicating its responsibility of providing a safe and trustworthy gaming service.
Its method of licensing its software to third-party operators makes Mr All In One similar to Milky Way, Orion Stars, VBlink, Ultra Panda, Riversweeps, and more.
Despite players gaining access through distributors, you still have the option to play with virtual currencies and redeem real cash prizes from your winnings.
Mr All In One Overview
🎰Mr All In One Casino
🌐Casino Lobby Website
www.mrallinone777.com
ℹ Casino Information Website
https://mrallinone.info
🎁No-deposit Bonus
$3 free play
🤑Other bonuses
Referral bonus, deposit match bonuses, reload bonuses, daily bonuses, cashback bonuses
📱Accessibility
Website, iOS app, Android app
🎲Games
Slots, Keno, Fish games, Poker, Wheel of Fortune
💵Minimum Deposit
$10
💰Min/Max Withdrawal
$40/$2,000
💳Payment Options
Cash App, Zelle
☎️Customer Support
Facebook Messenger
Mr All In One No Deposit Bonus
A $3 free play bonus is available as a no-deposit bonus for Mr All In One, but this depends on the distributor you sign up with.
Unfortunately, finding a distributor that offers the right no-deposit bonus is up to you since there is no standard bonus offer from the operator. The only way to do this is to go through each Mr All In One Facebook community, which is an annoying task to complete.
Mr All In One Free Play Offers & Promotions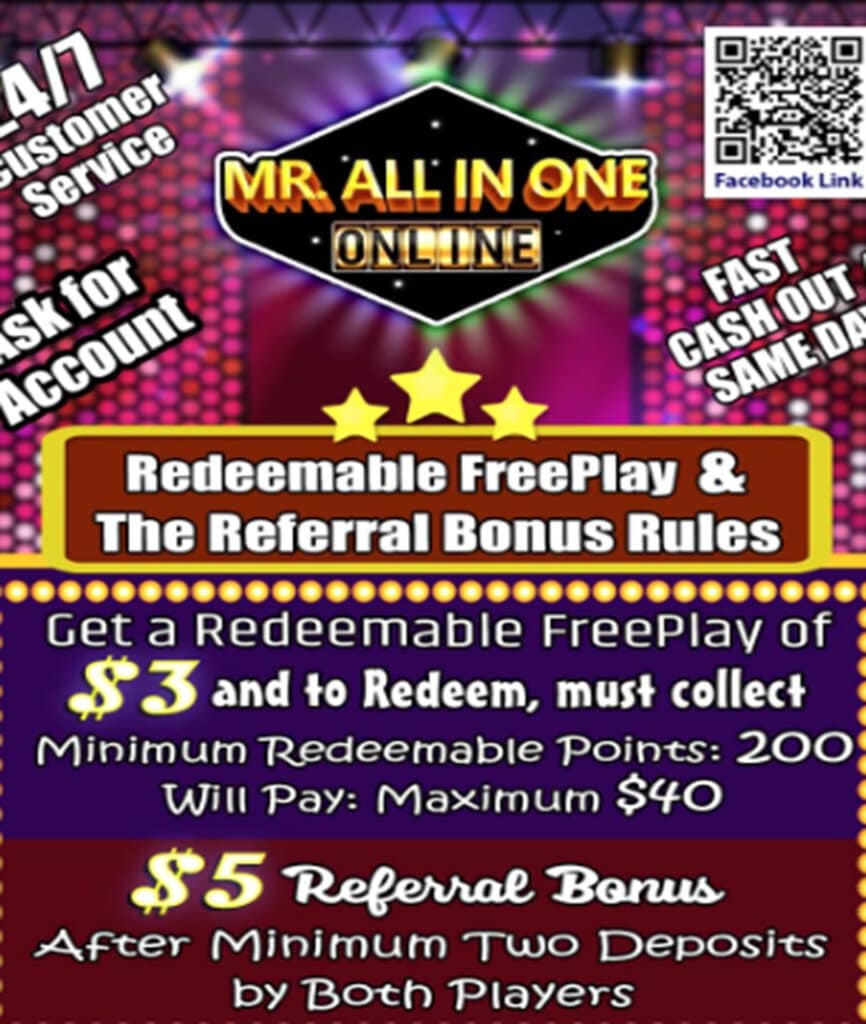 There are many other Mr All In One promotions, and free play offers to claim as an existing player, including referral bonuses, deposit bonuses, and more.
You can start by claiming the referral bonus, which rewards you for inviting a friend. Some distributors offer a $5 referral bonus, while others give you $10 free credits for each referral. However, both players must make two deposits each to unlock the offer.
You can also find deposit bonuses on Mr All In One, including a 50% sign-up bonus, a 10% reload bonus, cashback bonuses, daily bonuses, weekly offers, and more.
The bonuses you can find change frequently, so don't be surprised if you find a distributor offering much better bonuses than those listed here.
Mr All In One 777 Registration & Login

The Mr All In One website doesn't allow players to register, and third-party aggregator sites like BitPlay or BitOfGold don't have this gaming platform yet.
So, your only option to get access is to search for a distributor that can create an account by following these steps:
Find a distributor on Facebook by typing "Mr All In One" in the search bar.
A list of all the distributors on Facebook will appear, and you can pick any of these.
We recommend you go through the offers, reviews, and comments from other players to identify a responsive and trustworthy distributor.
Send a DM through Facebook Messenger.
Provide details like your name, phone number, DOB, etc.
Wait to receive your account details.
With your account registration sorted, you can now get into the Mr All In One lobby by following these steps:
Visit www.mrallinone777.com (on desktop) and click the 'website' option.
For mobile players, launch the iOS or Android app on your device.
Enter your account ID and password.
Our Experience With Mr All In One

Playing on Mr All In One casino opened our eyes to a new casino gaming experience – one that we wouldn't want to have in the future mainly due to its registration process. However, once we had our account ID and password, the casino became like any other.
With the option to play on the website or mobile apps, there is an option for everyone. Nonetheless, mobile apps being unavailable on the App Store or Google Play Store was a cause for concern.
The lobby design is a bit similar to the Riversweeps or Fire Kirin casino, which gives you access to a list of all games but no option to search for a specific title. On a positive note, you do have the option to choose different tabs such as the All, Fish Games, Reels, or Other game categories.
An unfamiliar experience in this casino is the use of only one virtual currency, making it similar to social casinos. Although this doesn't stop you from cashing out when you hit the minimum withdrawal limit, adding this to the lack of information on wagering requirements and bonus rules, it becomes very difficult for players to determine when they're eligible for payouts.
Games Available at Mr All In One Casino
The casino has 72 online casino games, including slots, fish table games, and Keno, with titles from popular developers like Pragmatic Play, IGT, Playtech, etc. However, we're not convinced that the operator has partnerships with these developers, and with a lack of information to prove, you're likely playing replicas of the original titles.
Slots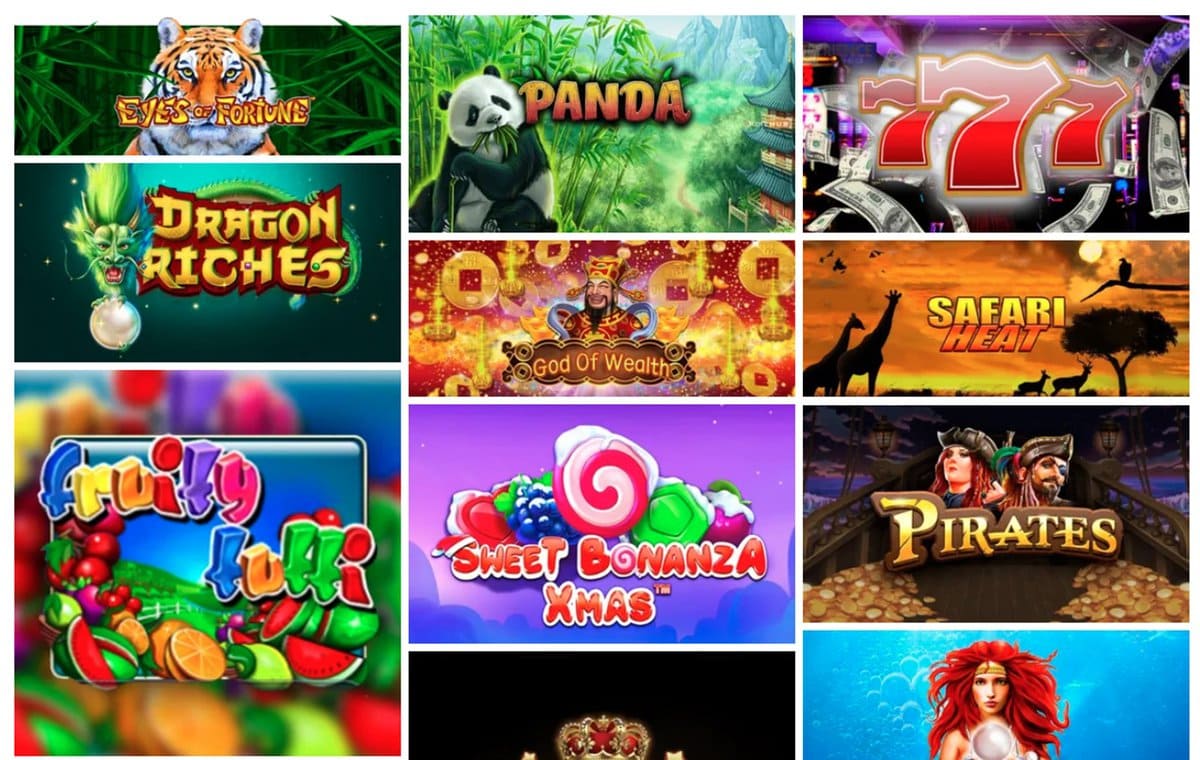 There are over 50 slot games on Mr All In One, which is excellent news for every casino lover. Some of the titles on the casino include Invaders from Planet Moolah by WMS, Safari Heat from Playtech, and Sweet Bonanza Xmas from Pragmatic Play.
Fish Table Games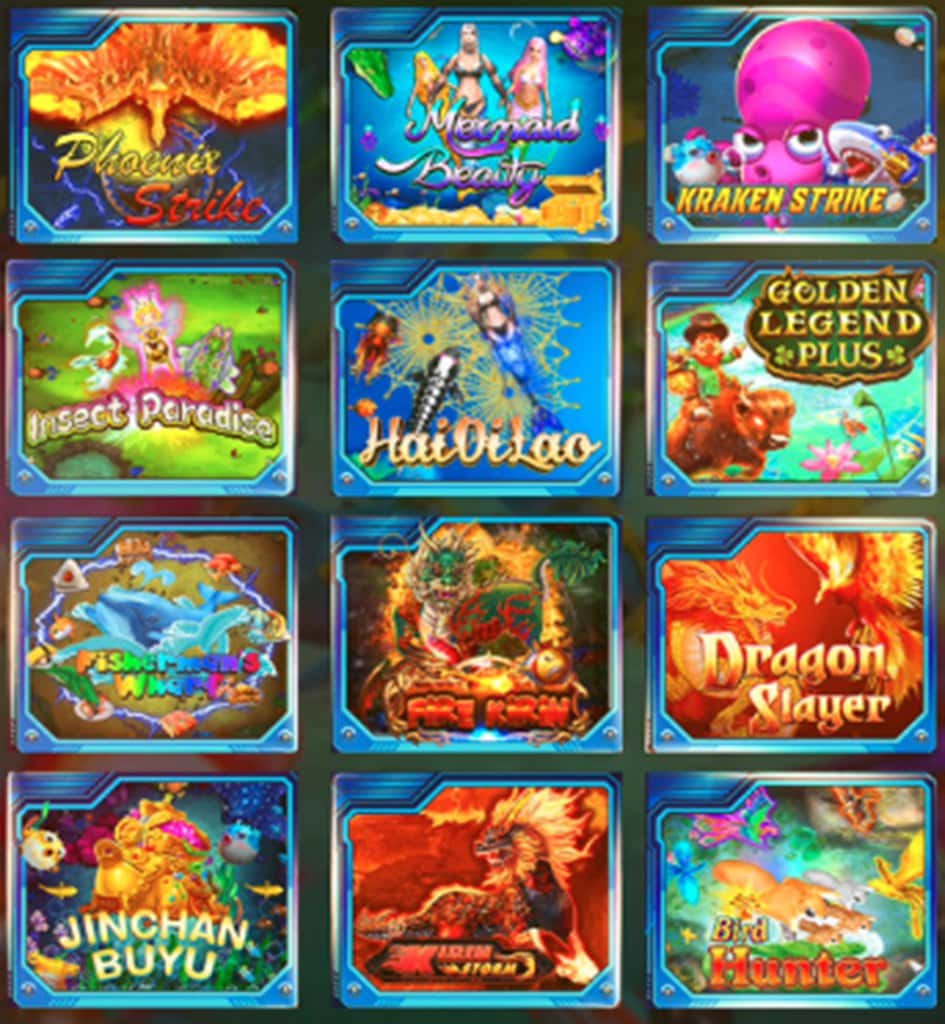 Including fish table games is one of the few positive aspects of Mr All In One. There are 10+ titles in this category, with games such as Phoenix Strike, Kraken Strike, Bird Hunter, and more.
Fish games are fun skill-based games anyone can play, and they offer a decent chance at huge payouts if you know what you're doing. To get better and understand these games, you should practice with free play and read our guide to fish table games for tips and tricks.
Specialty Games
The games in the Specialty section of Mr All In One include titles like Keno and Wheel of Fortune. You can find Hexa Keno, Superball Keno, Wheel of Fortune, Royal Poker, and other random titles.
Mr All In One Mobile Play
Mr All In One supports mobile play via a mobile-optimized website and downloadable casino apps for iOS and Android devices.
Although mobile apps may be helpful to many players, we're not fully on board with this option since they aren't available in their respective official stores. With only direct downloads from the website, you may expose your device to malware or hackers.
APK Download
To complete the Mr All In One apk download for Android, follow these steps:
Go to www.mrallinone777.com on your mobile browser.
Click on the 'Android' option to immediately start the download.
Install the apk file (you may need to allow installation from third-party sources).
Launch the casino app.
iOS App Download
For Apple users, here are the steps to download the Mr All In One iOS app:
Visit www.mrallinone777.com on your Safari or Google Chrome browser.
Click the 'iOS' option, which redirects to a new page.
Scan the QR code on the screen, install the app, and launch.
Mr All In One Purchases & Redemptions
Purchases and redemptions of play credits are mainly through P2P payment apps like Cash App and Zelle.
For purchases on Mr All In One, you have to go through a roundabout method that involves making a $10 minimum deposit to a Cash App account and then notifying the support team so your Mr All In One account can be credited. The process is annoying and risky since the support team sometimes takes a long time to respond, making you send DMs repeatedly on Facebook Messenger.
However, if you can successfully navigate the deposit process and get enough winnings, you can process a redemption at the casino. There is a $40 minimum withdrawal and up to $2,000 max withdrawal, so keep this in mind before making a deposit.
Customer Support
Support on Mr All In One isn't available directly on the casino website or mobile app, so you must contact your distributor using Facebook Messenger.
Additionally, some distributors provide a mobile number to call or text if you have issues. However, features such as an FAQ section or live chat aren't available as support options.
Is Mr All In One Legit?
From our review of Mr All In One, we don't consider it to be a legit sweepstakes casino to visit.
One reason for this conclusion is that Mr All In One licenses its software to random distributors, leading to discrepancies in bonuses, payment methods, and support services. Add this to the fact that there is no contact information for Mr All In One; creating an account with any distributor means you accept all risks and issues that may arise, including but not limited to loss of deposits and winnings.
Additionally, there is no mention of Mr All In One on Trustpilot or Reddit – two sites that offer the best customer reviews and word-of-mouth recommendations. Its absence on these sites implies that its operations aren't recognized among top sweepstakes casino players in the US.
Furthermore, we're uncomfortable with many of the games on Mr All In One casino, some of which are clones of original titles (already a huge red flag), and others are from unknown sources, making it challenging to find concrete details on RTPs, bets, or max payouts.
Sites Like Mr All In One
Mr All In One and other similar sites are known to adopt a dodgy operational model that involves hiding their company details and selling software licenses to several distributors. An issue we have with this model is that it supports the operations of deceitful distributors that quickly accept deposits but have issues paying out winnings.
Some sites that fit the bill like Mr All In One and also make it onto our blacklist of bad casinos include:
Riversweeps
Riversweeps is quite popular thanks to its appearance on several internet cafes, but this doesn't make it a safe or recommended option. It hosts many in-house casino games, making it difficult for players to find game details online. The operator supports payments using cryptocurrencies, and it is available on sites like BitPlay and BitBetWin.
Milky Way
With generous welcome bonuses, excellent payment options, and a diverse selection of games, Milky Way is another site like Mr All In One to put on your radar.
You can get an account on the platform through BitOfGold or BitPlay, and then sign in on the Milky website or mobile app, where you can find slots (a few clones of original games), fish table games, Bingo, Keno, and more.
Fire Kirin
Fire Kirin is another popular site like Mr All In One, where casino lovers can find over 40 games, including slots, fish games, Keno, Bingo, Poker, and more. The casino is accessible via its official website, and players can also download its iOS or Android mobile apps for convenience.
A Fire Kirin Facebook page is open to anyone that wants to join its community of over 2,000 followers, get support, or register.
Juwa
For another option with no company information and a roundabout registration process, you can hop on the Juwa 777 website.
This operator is home to over 30 casino-style games including slots, fish table games, and Keno titles, but it's plagued by issues with payouts and other complaints from players.
Game Vault
Although it's pretty similar to Mr All In One, a saving grace for Game Vault is its presence on aggregator sites like Sweepstake.Mobi and BitOfGold, which makes it easier to get an account. However, its other features aren't too impressive.
It doesn't offer enticing promotional offers and with a little over 36 games to choose from, it doesn't do well as an alternative to Mr All in One.
Better Alternatives to Mr All In One
If you aren't content with the services of Mr All In One and want something better, then you can opt for alternative sweepstakes casinos we recommend. These are trustworthy casinos that offer several chances to claim free virtual currencies with no purchase necessary and have a decent selection of high-quality casino games, such as:
Mr All In One Review Verdict
Beyond its selection of fish table games, we don't have many good things to say about Mr All In One Casino, and all our efforts to find details on its owners led back to a generic website (https://mrallinone.info/) – which we aren't sure is its official page.
To complicate matters further, the distributors that currently host its software aren't doing too well to enhance its image. We've found a few comments and reviews on Facebook where players complain about distributors ignoring withdrawal requests, and this should be a significant reason to avoid the site.
If you must visit a sweepstakes casino, then you can have a more productive session playing on Fortune Coins, Stake.us, or WOW Vegas.