PlayNet Fun casino is a bit of a mystery, isn't it? How exactly are you meant to sign up, and do they really offer cash prizes? I was scratching my head when I first started researching this casino but stick around as we solve this mystery together!
Cons
Need to sign up through different casinos
Missing operator info
PlayNet Fun is a sweepstakes gaming platform with 350 + titles, including slots, fish games, blackjack, keno, roulette, and poker. Unlike most sweepstakes gaming platforms, they actually have games from licensed providers like Novomatic, Wazdan, and Aristocrat.
PlayNet.Fun platform offers real cash prizes in 46 US states, but to access the platform, you have to sign up via a shady sweepstakes platform Enchanted Casino. Enchanted Casino has a poorly designed website, virtually non-existent customer support, and all bonuses come with a super high wagering requirement (25x vs standard 1x). That is why I recommend signing up to these legit sweepstakes casinos with better bonuses instead:
Do you want to learn more about PlayNet Fun? I did an in-depth analysis of this sweepstakes software and am ready to share everything about it, including the sign-up process, game library, bonuses, as well as hacks and tips to win more cash!
What Is PlayNet Fun?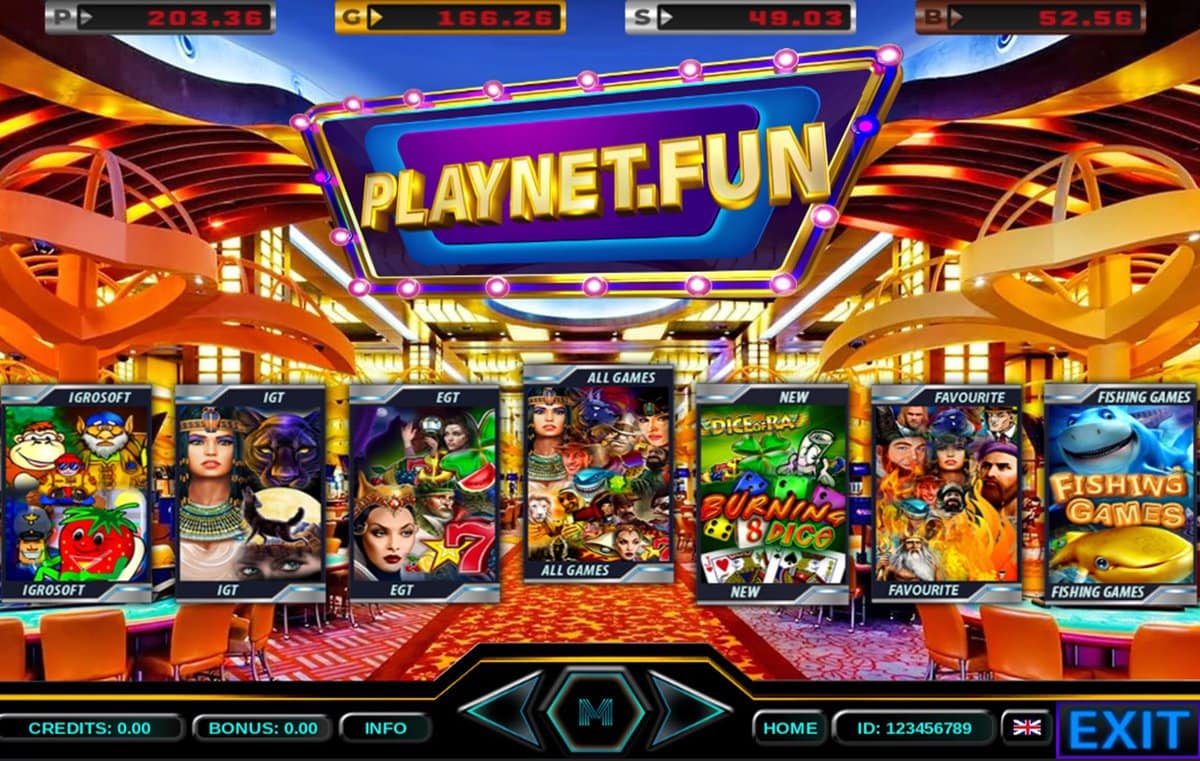 PlayNet Fun is not a sweepstakes casino in the traditional sense. Instead, they have created a gaming platform where you can access slots, video poker, classic table games, fish games, and keno from well-known developers like Microgaming and Novomatic. You play games using virtual credits, which can then be redeemed for cash prizes via Skrill.
The key thing to note about PlayNet.Fun is that you can't sign up directly, you have to go through a 3rd party agent. The 3rd party agent is in charge of creating your profile and managing deposits, withdrawals, bonuses, and customer support. I came across two agents for PlayNetFun, Enchanted Casino and Inferno. Unfortunately, both of these sweepstakes casinos are unlicensed and do not offer a safe gaming experience.
I think it's way too risky to sign up at these sweepstakes casinos. I wouldn't trust them with my personal information, let alone my hard-earned cash!
PlayNet Fun Official Login Process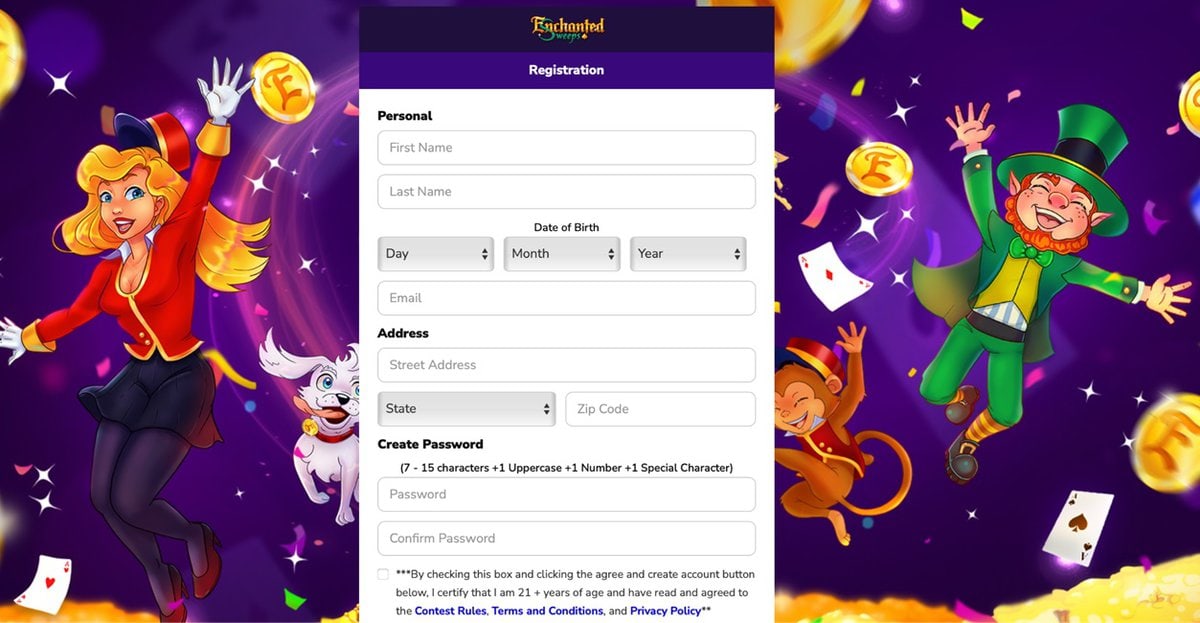 As I mentioned previously, you can't just go to PlayNet Fun's website, hit the sign-up button, and create an account. According to PlayNet Fun login requirements, you have to go through a 3rd party agent. If you go to PlayNet.fun (valid website link), you will be greeted with a login page. You can get a taste of the platform by entering 123456789 as the PlayNet login details.
But I was pretty disappointed, they didn't even give me any free credits. So all I could do was browse through the games. I tried to take a few spins on Immortal Romance but was informed I had an insufficient balance!
Now if you want to move past the point of just looking at PlayNet Fun's game library and actually win cash prizes, then pop over to Enchanted Casino and hit the register button, which is conveniently located in the top right-hand corner. Then tap away and enter your full name, date of birth, email, and address, and create a password.
Now you need to open your email, find the verification code, and enter it into the Enchanted Casino registration form. Finally, upload your ID and an official document showing proof of address.
Once your account is verified, you will receive a $1 no-deposit bonus, not bad! To access PlayNet Fun, log in to your Enchanted Casino account, click on games, and then click on PlayNet Fun. You will finally have access to PlayNet Fun's game library.
It is such a convoluted process. Why can't you just sign up directly with PlayNet Fun? I don't know why they have decided to go down the sweepstakes gaming platform instead of just opening up a sweepstakes casino, probably because it is cheaper to run a platform and turn a profit licensing it to aggregators.
Is There a Registration Page for PlayNet Fun?
PlayNet Fun does have a registration page if you go to Enchanted Casino. However, if you go directly to PlayNet.fun, there is no registration page. This is because PlayNet Fun is a sweepstakes gaming platform and does not deal directly with players. To register at PlayNet Fun, you have to go through a sweepstakes aggregator like Enchanted Casino, which will create an account for you.
Enchanted Casino has a standard registration page. Where you enter your name, email, and other basic personal information. You can sign up in just a couple of minutes but keep in mind they do conduct KYC. You will have to upload a picture of your ID.
PlayNet Fun Casino No Deposit Bonus

PlayNet Fun themselves do not offer any bonuses. However, you can claim a no-deposit bonus via Enchanted Casino. When you sign up at Enchanted Casino and verify your account, you will receive $1. You can use it to play any of PlayNet Fun's 350 + games, but it does come with a 25x wagering requirement, which is crazy! The standard wagering requirement at legit sweepstakes casinos is just 1x.
PlayNet Fun App Download
If you have an iPhone, you are out of luck because PlayNet Fun does not have an iOS app. However, I did pull up PlayNet Fun's site on an iPhone 8 and a 12 Pro Max, and all of the games were available. The site is very basic, so even my grandmother could navigate it.
If you have an Android device, then today is your lucky day because PlayNet Fun does have an app. You have to log into your PlayNet Fun account, tap on the M sign at the bottom of the screen, and scan the barcode, which will download an APK file. Their gaming app is nothing special, it doesn't offer any additional features, and you are better off just playing in your browser.
PlayNet Fun Slots & Casino Games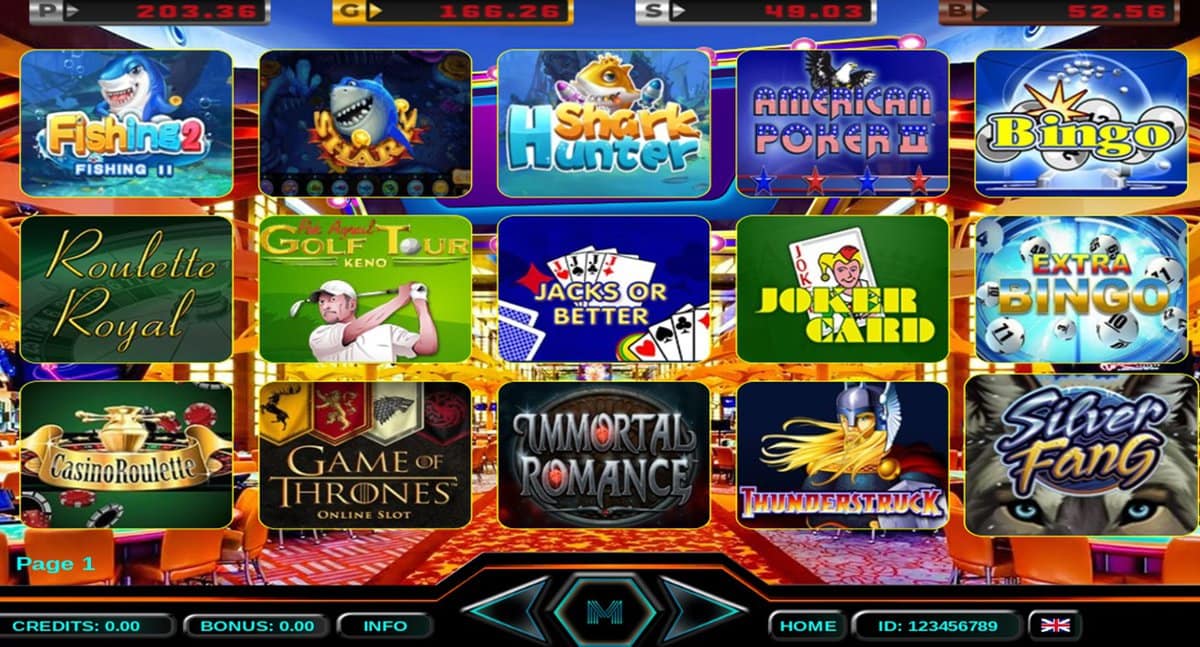 Even though I have been trashing PlayNet Fun, I do have to give them props when it comes to games. They have 350 + titles from big-time providers like Microgaming, Wazdan, Novomatic, Egrosoft and Aristocrat. Other similar sweepstakes gaming platforms like Orion Stars and Juwa do not have tested and verified games, so it's good to see PlayNet Fun actually make an effort to provide fair games.
This sweepstakes gaming platform doesn't just have a wide selection of slots, they also have everything from video poker to blackjack to 3 fish games, including Shark Hunter and Fishing 2. PlayNet Fun even has four different progressive jackpots, which swell every time a player spins a slot.
All of the games are neatly organized into different categories, including slots, games from particular providers, fish games, and table games. The only thing lacking at PlayNet Fun is live dealer games. As a live blackjack aficionado, this left a slightly sour taste in my mouth!
5 Best PlayNet Fun Slots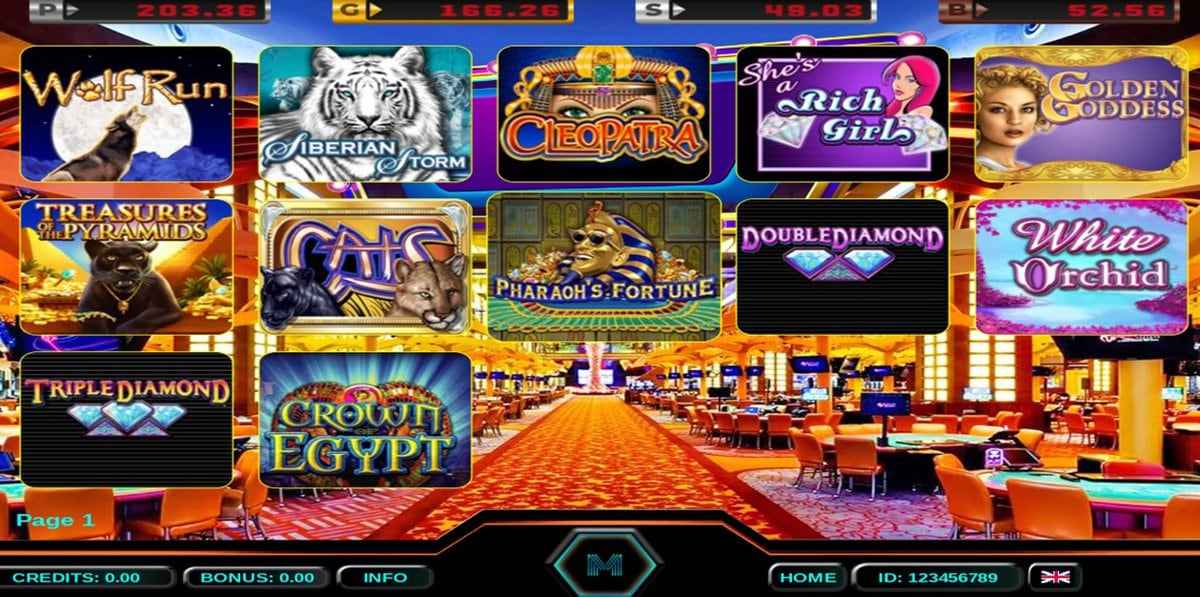 PlayNet Fun has 200 + slots to choose from, so even if you are picky, odds are there are some titles that will catch your eye. I tried 20ish slots, including a few of my favorites and a couple of new games that I enjoyed, here are my top picks:
Immortal Romance – If you have a soft spot for Twilight, then this vampire-themed slot from Microgaming is right up your alley! Immortal Romance has a 96.83% RTP, 5 reels, and 243 paylines. Even better, it has a 31% hit frequency and a high 12,000x max win. Keep an eye out for the scatter symbol because it triggers free spins with multipliers up to 5x!
Queen Of The Nile – Travel back in time to ancient Egypt and experience the magnificence of the Nile in this Aristocrat slot. Queen Of The Nile has a 94.88% RTP, 5 reels and 20 paylines. This is one of my go-to slots. I always seem to get lucky when playing Aristocrat games, and I can't say no to the 15 free spins, which come with a 3x multiplier!
Big Red – Have you ever dreamed of visiting Australia? Then fire up this Aristocrat slot and go on an Aussie outback adventure and chase the 1,250x max win! Big Red doesn't have many features, but it has great graphics, a 97.04% RTP, and all of your favorite Australian animals, including kangaroos and dingoes.
Book Of Ra – This is another fun ancient Egyptian-themed slot, but this time from Novomatic. I can't get enough of ancient Egyptian mythology, architecture, and mummies, so whenever I see an ancient Egyptian-themed slot, I have to spin it! This game has a 95.5% RTP and a life-changing 50,000x jackpot!
Siberian Storm – Tigers are my favorite animal, so of course, I had to try this tiger-themed slot from IGT. Siberian Storm has an epic 720 paylines, 5 reels, a juicy jackpot, and a 96% RTP. The graphics are fantastic, but you better bring your jacket because I felt cold just looking at the icy background!
How to Deposit and Withdraw at PlayNet Fun
To deposit and withdraw at PlayNet Fun, you have to go through Enchanted Casino. While Enchanted does give you some free play, it is not enough to win big cash prizes, so you likely will have to make a deposit. To deposit at Enchanted Casino, just follow these steps:
Sign into your account
Click the menu icon at the top of your screen
Tap Buy More which is located next to your sweeps coins balance
Then select your desired package (packages range from $5 to $100)
 Type in your credit or debit card details
After successfully depositing and hopefully winning some sweeps coins, it is time to redeem them for cash prizes. All you need to do is:
Log back into your Enchanted Casino account and tap the menu icon
Hit the redeem button
Enter the amount of sweeps coins you want to convert to cash
Select your payment method (eCheck or Skrill)
Enter your payment details and confirm the transaction
However, watch out because the minimum you can cash out is $125. Also, Enchanted Casino has a very low max redemption of just $500.
PlayNet Fun Promos & Bonus Offers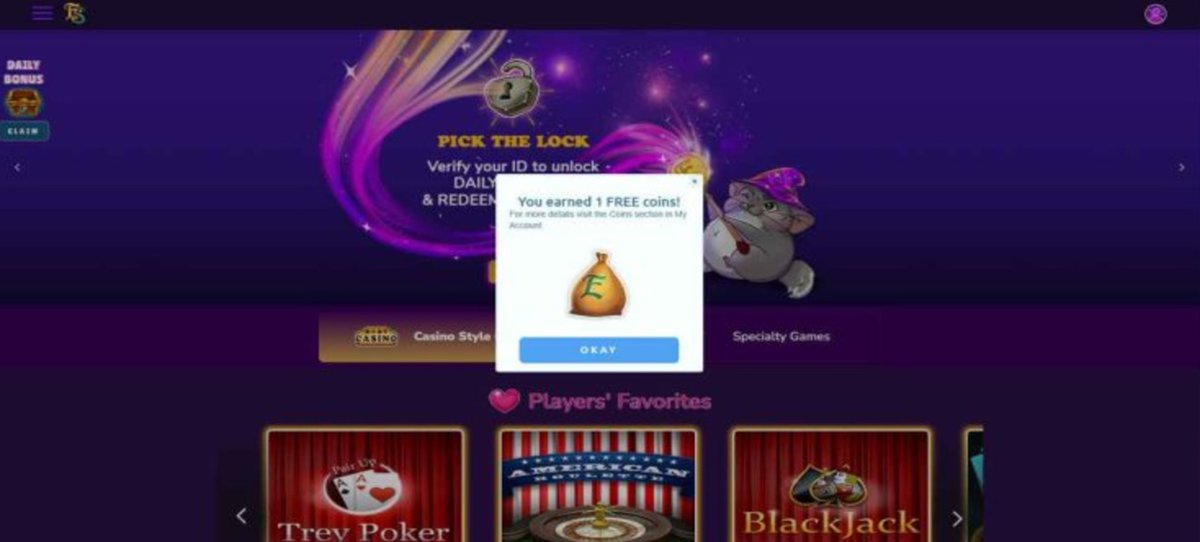 PlayNet Fun does not have bonuses. However, you can get bonuses from Enchanted Casino and use them to play PlayNet Fun games. Here are some of the promos you can claim now:
No Deposit Bonus – When you sign up to Enchanted Casino, you will get $1 added to your account. To get the free cash, you need to verify your account and upload your ID.
Daily Login Bonus – Every 24 hours, Enchanted Casino gives you $1. All you have to do is sign into your account and tap the claim button. This is an ongoing bonus, and while it might seem small, it really adds up if you claim it over the whole year.
AMOE Bonus – Enchanted Casino will give you an unspecified amount of cash when you email customerservice@enchanted and request free sweeps coins.
PlayNet Fun Hacks and Tips
The best tip I can give you is to save your money and stay away from PlayNet Fun. However, if you absolutely must try out this sweepstakes software, try out these hacks:
Sign in to your Enchanted Casino account daily – If you can spare just a few seconds a day, then you will scoop up $1 daily from Enchanted Casino. You can use the free cash to play all PlayNet Fun games, including jackpot slots, video poker, and blackjack. However, the daily login bonus does come with a 25x wagering requirement.
Play Fish Hunter II and use the mustache-shooting technique – That is not a spelling mistake! The mustache shooting technique involves slowly and methodically moving your canon back and forth across the map and, at the same time, consistently firing bullets. The goal is to fill the map with bullets so the fish have nowhere to escape.
Blackjack is your friend – There is a reason why high rollers love blackjack – it has the lowest house edge of any casino game. To reduce the house edge as low as possible, play using a free calculator, which will instantly tell you the optimal move in any scenario.
Know when to quit – Before you start your session, come up with a max loss and max win figure. Once you hit either of these numbers, it is time to log out! The last thing you want to do is have a big win only to keep playing and give it all back to the sweepstakes casino.
Which Sweepstakes Casinos Have PlayNet Fun?

I came across two sweepstakes casinos which have PlayNet Fun, Enchanted Casino, and Inferno. I wouldn't even briefly consider depositing at either of these sites. They are both masquerading as sweepstakes casinos, but there are some serious concerns over their legality and security. For example, go to Enchanted Casino and tell me their terms and conditions look professional.
Also, I had serious issues with their site. I would click on a game, and it simply wouldn't load and don't get me started on the max redemption of just $500. Does that sound like a safe sweepstakes casino that is going to look after your money?
Is PlayNet Fun Legit?
The PlayNet Fun software is legit. It is easy to use, and they have tested games from some big-name developers like Aristocrat, Novomatic, Microgaming, Wazdan, and EGT. These providers are licensed under top gaming authorities like MGA and UKGC. All of the games on PlayNet Fun have verified RTPs and have been inspected by independent testing labs.
Unfortunately PlayNet Fun is not a standalone sweepstakes casino. Instead, they license their platform to shady sweepstakes casinos like Enchanted Sweps. These shady sweepstakes sites have websites that barely function, crazy low max redemption of $500, don't have a professional customer support team, and are not following sweepstakes regulations which, last time I checked, makes them illegal!
I couldn't find a single legit sweepstakes site that hosts PlayNet Fun software. Why would you risk your money trying to play at PlayNet Fun when their platform is nothing special and you can find virtually all of their games at other legit sweepstakes casinos?
Better Free-To-Play Casino Alternatives
Look, PlayNet Fun has some serious potential thanks to its easy-to-use platform and solid selection of 350 + slots, fish games, and table games. However, I wouldn't touch them because the only way to access their games and win cash prizes is to sign up via shady sweepstakes sites like Enchanted Casino.
So forget about PlayNet Fun and sign up to these sweepstakes casinos instead. I have personally checked their promos, investigated the people running the show, and redeemed sweeps coins for cash prizes!