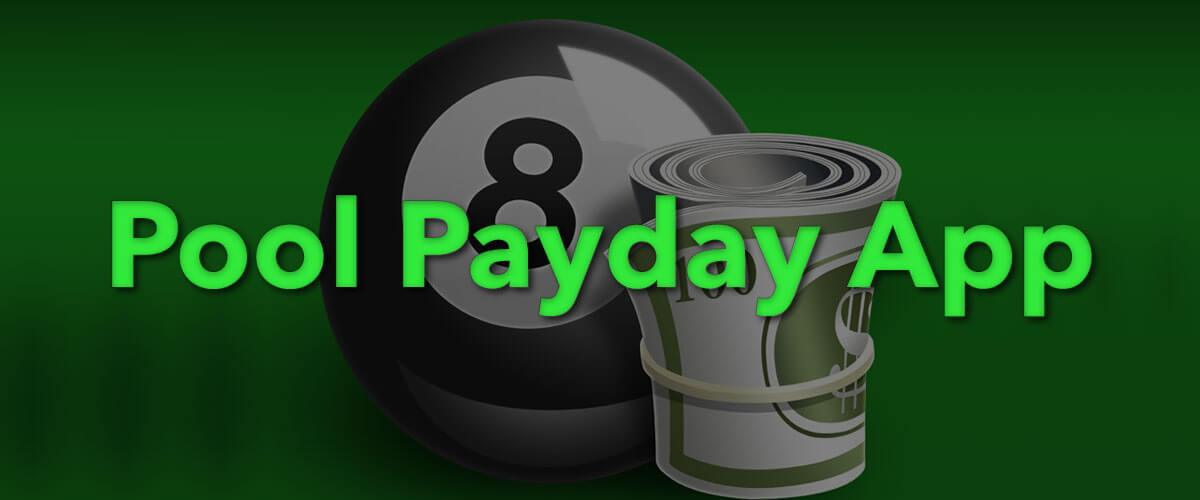 With the popularity of mobile games, many of our favorite games are getting a mobile online version, and the latest in this category is a pool game. Pool Payday is a multiplayer online game with an app for iOS and Android users where players can compete for free or with real money to win actual money and gifts like gadgets, vehicles, and so much more.
Pool Payday: 8 Ball runs on the Skillz Games platform and is available in all US states, including Virginia and Pennsylvania where skill games are in great demand. While users can play for free, competing for real money is also an option if you want to earn real money. This Pool Payday review will show you how to download Pool Payday, play pool games and earn free money using our exclusive promo codes.
If you cannot be bothered with downloading apps and prefer playing Pool or skill games online, check out the following social and sweepstakes platforms with 100+ games each available to try for free:
Pool Payday Game Overview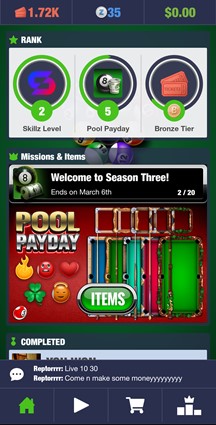 Pool Payday: 8 Ball is a free-play online pool game app by Hidden Pixel Games in which players can compete with one another to win cold cash money prizes, products, and more in-game currency to keep playing.
The game is powered by Skillz games, a social gaming platform with hundreds of mobile games where players from around the world compete for free and in cash tournaments. Pool Payday was released in January 2019 and has over 80,000 ratings across iPhone and Android users, with an outstanding rating of 4.6 stars.
Although you can play for free, you can also enter pool games with real cash if you want to win money faster. Similar to other mobile games like Blackout Bingo, Bingo Cash, and Solitaire Cube running on the Skillz platform, Pool Payday: 8 Ball allows players to enter pool games for free using the in-app currency, Z-coins. On the other hand, if you are interested in cash games, you can deposit into your account or earn bonus cash or free money through promotions.
In addition to allowing players to earn money, players also earn ticketz from playing. After gathering enough ticketz, users can trade them for cool prizes like gift cards, trips, fashion accessories, gadgets, etc.
How to Start Playing Pool Payday
Pool Payday is a game by Hidden Pixel Games, LLC, powered by the Skillz games platform. So, if you already have a Skillz account, you only need to download the Pool Payday app and sign in using your Skillz username/email and password. If you are new to games powered by Skillz, you can take the following steps to start playing Pool Payday.
Head to Skillz Games
Search for Pool Payday
Click the "Get" button to start downloading on your device.
Install the downloaded file and open it.
When you open the Pool Payday gaming app for the first time, the system will assign a random username to you. You can change that by clicking the right corner of your screen where the name is written and changing it to a preferred one. While you can start playing right away, you need to connect your account to an email to save your progress, wins, or make a cash deposit. To do this, click on the menu and select "Account" before heading to the "Personal Info" section. Fill in all appropriate sections before clicking the update button.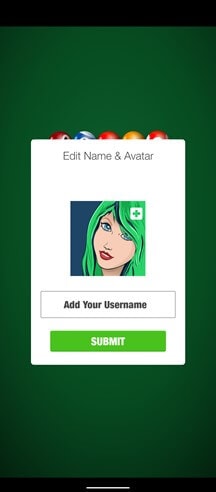 Pool Payday Promo Code
If you'd like to play Pool Payday games for free, here are some promotions you can claim to earn free bonus cash and Z-coins.
Sign-Up Bonus: players who deposit a minimum of $7 into their account within 24 hours of creating one will be awarded an additional $4 bonus cash to play any pool court or rookie game.
Daily Login Bonus: every 24 hours you log into your account, you'd be awarded over 400 ticketz. To claim this, head to the store and click on the login bonus button to claim.
Bi-Hourly Bonus: login every 2 hours to claim 5 Z-coins. The coins are great for budding players as they can use them to enter any of the five practice modes in Pool Payday.
Referral Bonus: want to earn more bonus cash? The referral bonus will award you and your invited friends a $1 bonus cash when they make any deposit into their account. Your username serves as the Pool Payday promo code your friend will add when making their first deposit.
Leagues: Leagues are similar to tournaments hosted by sweepstakes sites like Fortune Coins. The league is open for a few days, during which players accumulate medals to be among the few top players. There are two types of leagues in Pool Payday – practice league and Pro league. The practice league awards Z-coins to players with the highest number of silver medals, while the pro league is like cash tournaments as it awards real cash to players with the highest number of gold medals. A league can go on for a couple of days with the chances of winning up to 55,000 Z-coins and $3,319 actual money.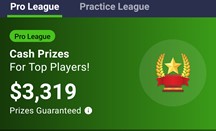 Pool Payday Gameplay
Pool Payday is a straightforward game. The game is played on a rectangular table that resembles the normal pool table and shares similar rules with it. But before we explain how to play Pool Payday games, let's talk about the elements you'd find in the game.
There are 8 numbered balls (2,3,4,6,8,9,10,12) placed together on the table at the start of the game, a white cue ball, 6 pocket multipliers of 1x, 2x, 4x, 6x, 8x, and 10x, and 3 cue balls that serve as a lifeline for you.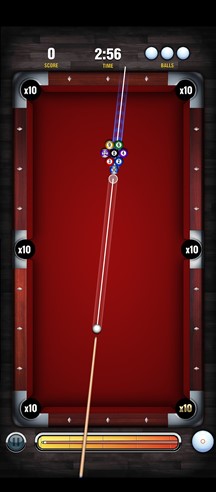 Each game takes 3 minutes, with points calculated by multiplying the ball's number with the pocket multiplier you shot it into. When the game begins, all pockets have a 10x multiplier to get you going. After taking the first shot, the multipliers would change to their original values and would only change places if you shoot the 8-ball into a pocket.
The game ends when you run out of time, use up all three extra cue balls, or have pocketed all the numbered balls. The player with the high score wins. Aside from shooting balls into the pockets, players get an extra 75 points for trick shots. Trick shots are simply shots used to shoot (or pocket) one or more balls that differ from the one the cue ball hit.
Let's say you pocket 4-ball into a 10x multiplier in a trick shot; your total point will be as follows.
Ball Number X Pocket multiplier = Shot Sunk Points
4 x 10 = 40 Points
Total Points = Shot Sunk Points + Number of Tricks Shot x 75
40 + 1 X 75 = 115
So, your total point will be 115
Pool Payday Categories
Now that you know how to play and calculate your points, below are the pool game categories you can play at Pool Payday.
Practice: Games under practice are entered through Z-coins only. The 5 different game levels under mode are perfect for beginners as you have a one-on-one match with an opponent of the same skill. The cost of entry ranges from 1 Z-coin to 300, and the prizes for each level are Z-coins, ticketz, and practice league medals.
Head to Head: Head to Head Pool Payday games are similar to Practice games as you only get to play with one opponent per game. The only distinction between the two is that you need cash entry to play Head-to-Head games. Depending on the game type and entry cost, you can win up to $100 from a game in this category. Other prizes you can win from Head-to-Head games are ticketz and pro league medals.
Brackets: Brackets are multiplayer games played against up to 32 players and can go as long as 24 hours. Brackets game plays out like an actual tournament where you move closer to the prize the more you win. Brackets Pool Payday games are for more experienced players, and you can enter with real money and Z-coins.
Events: This is very similar to brackets as it accepts many players. However, unlike brackets, an event pool game accepts only cash entries and allows an infinite number of players. Also, the pool prize and ticketz are shared among the few top players.
Real-Time Matches: Real-time matches allow players to compete in a live turn-based match as you would in an actual real-life pool game. This category of Pool Payday game allows more flexibility as you can choose your stake.
Pool Payday Real Money Payouts
There are three major ways to win cash prizes you can withdraw at Pool Payday. Like other Skillz-powered game apps, players earn prizes for winning matches and topping the league leadership board. However, the amount you earn depends entirely on your gameplay.
Players who do not want to play with real money can use Z-coins to enter Practice games for free. However, in exchange for it being free, it will take longer and much more effort to win real money. A typical Practice game gives a flat prize of 1 ticketz, and ticketz can be redeemed for gift cards and bonus cash. But to get $1 bonus cash, players need 20,000 ticketz, meaning you need to win at least 20,000 practice games which will take at least 400 hours to achieve.
Seeing how near-impossible it is to earn a real money payout from the free play, you can opt-in to play cash games. A standard cash game at Pool Payday has an entry fee of at least $0.60 (60 cents) with $1 cash prizes and 50 ticketz. You could start with this before walking your way up to expensive Head-to-Head games of up to a $60 entry fee and $100 cash prize.
Alternatively, you can opt-in for the Brackets game, as it offers a better cash prize per entry. A standard Brackets game costs $3 and has an $8 cash prize, whereas you win $5 for the same entry fee if you play in the Head-to-Head game. For players who are very confident in their skills, the event game might be the best way to get a massive payout. A standard event costs $1 to enter, and with unlimited players joining, the pool prize could go as high as $800. Unlike other game categories, the pool prize is shared among the top players with the highest score.
Pool Payday Cash Out
Players can withdraw their winnings by clicking the "Withdraw" button in the main menu. If you withdraw the same amount you deposited, the fund will be sent to the same payment method you used as a refund. However, for withdrawing more than you deposited, the precise amount you loaded into your account will be refunded to the payment method you used, while you will be sent the rest through a paper check or PayPal.
For example, you deposited $10 using a credit card and want to withdraw $20. $10 will be sent to your credit card, and the remaining $10 will be sent to your PayPal or as a check to your mail.
Although Pool Payday is legit and accessible in all US and Canadian states, you need to be in a prize-enabled region to play with real cash, partake in cash tournaments or win money. Currently, if you live in AR, CT, DE, LA, and SD, you'd only be eligible to play games for free using Z-coins and redeeming ticketz for real-life prizes.
Game Apps Like Pool Payday
Not a fan of online pool games, or do you live within states where you can't play for real money? How about you try out similar game apps where you can play for free and still earn real money:
Stake.us:
Stake.us is one of the best US sweepstakes casinos where you can play free casino-style games and win real money. While you'd find over 300 online slots in Stake.us, its selling point is its diverse collection of live dealer games.
Like in Pool Payday, players compete with real-life players in card and table games like roulette, baccarat, blackjack, and video poker. Games at this sweepstakes site are of the same standard as those in real money casinos, as reputable software providers like Pragmatic Play and Stakes Original power them.
To play the hundreds of games at Stake.us, players are offered free gold coins and stake cash. The stake cash can also be redeemed for real money when you've made enough. Why not claim the 10,000 gold coins and 1 free stake cash no-deposit bonus to start competing and winning cash prizes today?
Bingoport:
If you prefer skill-based games, but the live casino games offered by Stake.us don't appeal to you, how about you try online bingo cards?
Bingoport is a free US bingo site where you'd find a plethora of bingo rooms to play at any time of the day. The site is 100% free, and players can win up to $100 in a single game.
Not sure how to play bingo games? Bingoport has a plethora of rooms with auto-daub, which means all you have to do is sit back and watch the called numbers get daubed automatically. If this seems more like your style, you get started with 1,000 Port Points on us.
WOW Vegas:
Slot machines are known to be very interesting, rewarding, and immersive, which is why they are the most popular casino games in the world.
Gain access to over 300 free slot titles from reputable game studios in WOW Vegas. The social casino has one of the most diverse slot titles, which includes jackpot slots, megaways, cluster pays, and so much more. In addition to free games, players can also win real money by trading sweepstakes coins.
WOW Vegas is also home to several promotions like the daily login bonus, social media offers, and so much more. New players looking to start playing for free with the 5,000 WOW Coins and 1 sweepstakes coin no deposit bonus. Even though a purchase isn't necessary, a whopping 300% is added to your first purchase when you buy a $9.99 gold coin package.
Summary
Pool PayDay is an amazing mobile game and a great app for players looking to have fun or win real cash. The fact that it's available to all mobile apps and has straightforward gameplay makes it one of the most accessible games for all levels of players.
Speaking of levels, the fact that you are only paired with players with similar experiences allows players to enjoy the game at a comfortable pace.
FAQ's
Yes, Pool Payday is a social game legal in all US and Canadian states. Players can play for free using Z-coins or deposit money to play and win cash prizes.

How much does playing Pool Payday cost?

Playing pool games at Pool Payday is completely free. However, players who want to win actual money can deposit to compete in cash games. You can play Pool games for as low as 60 cents on this mobile app.

Can I win real cash playing at Pool Payday?

Yes, you can win actual money by competing with other players in cash games or exchanging your ticketz for gift cards. ticketz can also be redeemed for vacation trips, jewelry, sports equipment, and so much more.

What is the Pool Payday promo code?

While players do not need promo codes to claim most of the bonuses at Pool Payday, you can use your username to invite friends and earn $1 bonus cash when they make their first deposit.