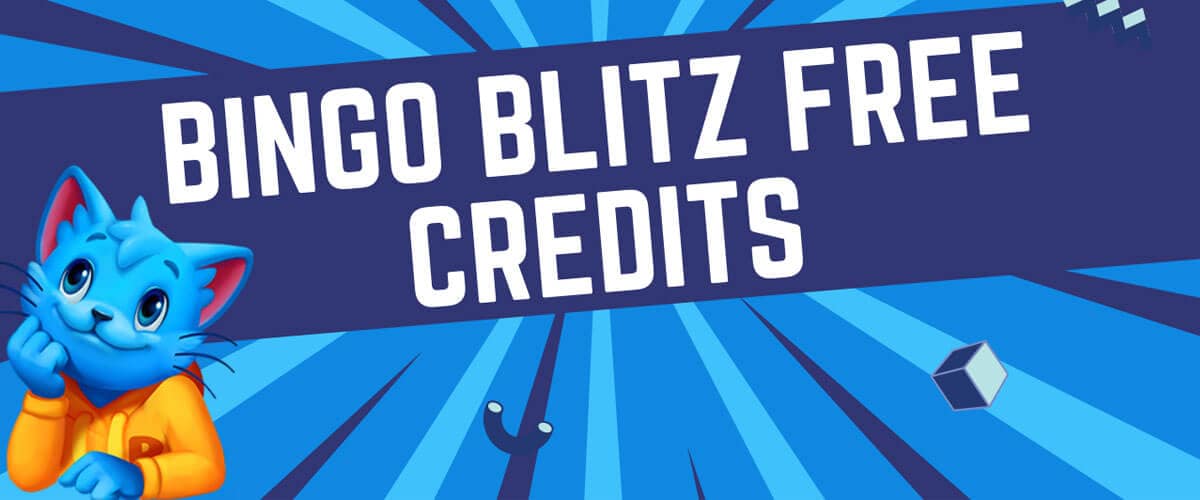 Bingo Blitz is the world leading online social bingo site. So much so that Drew Barrymore is the new face of the product, and once you complete your registration, you will be enjoying her company quite often. Get started on your journey with these Bingo Blitz free credits and claim a no deposit bonus offer with the promo code!
What makes Bingo Blitz so special is the fact that you can enjoy free online bingo with players from across the world. It is highly sociable and with over 50 million downloads on Google Play, you will never run out of people to meet and compete against. It works the same as a social casino, where "credits" are the currencies used to play bingo rounds and tournaments.
There are many ways to gain free credits, allowing customers to play completely free. After your registration is completed, you will immediately get opportunities to gain free credits from daily bonuses, free spins, and completing bingo games.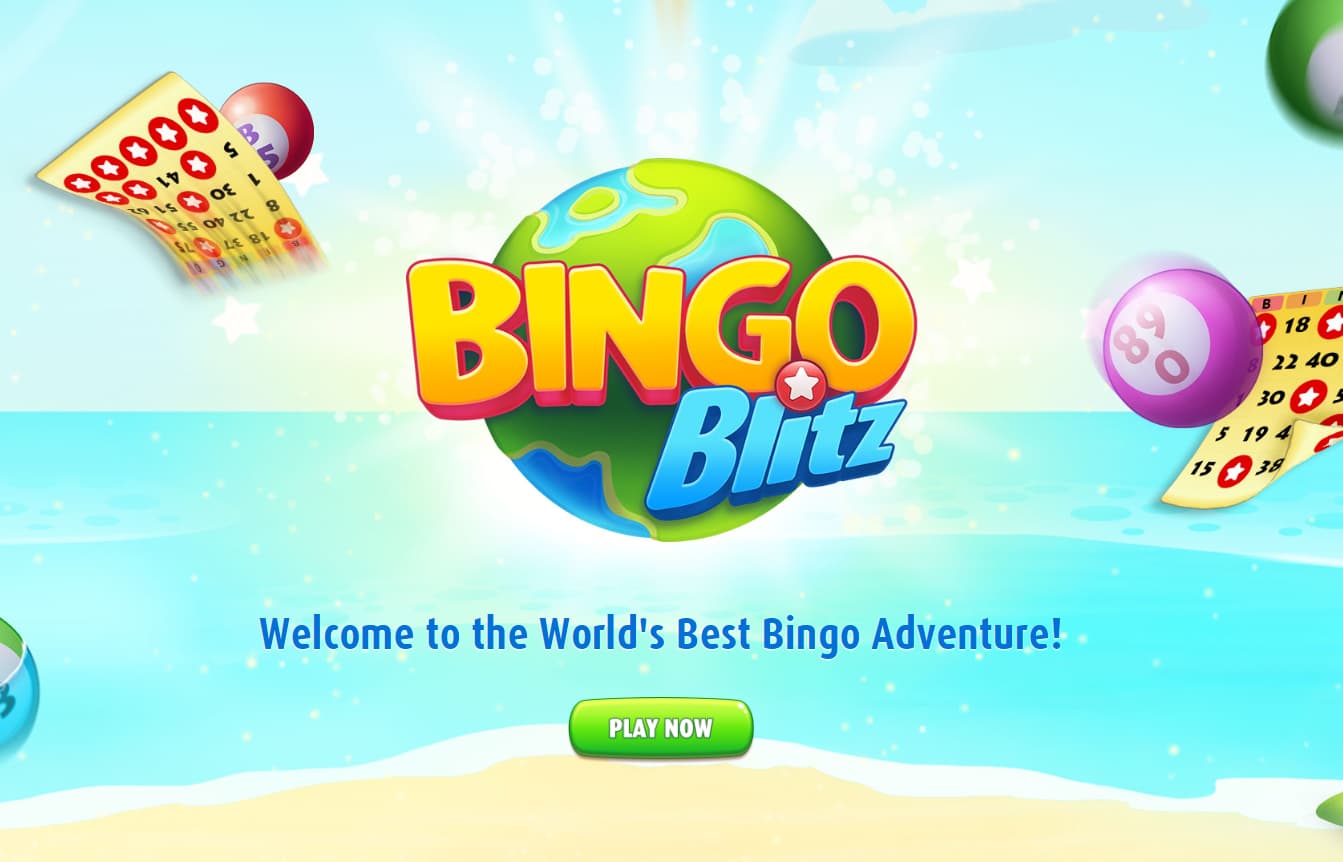 Continue reading to find out all the different ways to gain Bingo Blitz free credits and gifts. However, if you are looking for a bingo app or casino with real money prizes across all states, you should check out the following:
Bingo Blitz Free Credits No Deposit Bonus Code
Online sweepstakes and social casinos offer amazing sign up bonuses for new customers. Sites like WOW Vegas Casino, Pulsz Casino, High5 Casino, and BetRivers.net offer no deposit bonuses allowing customers free coins to enjoy casino gambling without having to spend any money.

However, Bingo Blitz free credits do not come in the form of a no deposit bonus as they do with other Playtika promotions like the Caesars Slots no deposit bonus. Rather, customers can expect multiple daily bonuses offering a constant stream of free Bingo Blitz credits. These Bingo Blitz freebies can be obtained after customers finish their registration process. These daily bonuses come in the following forms:
Daily bonuses
Daily Spins
Complete rooms and bingo rounds
Gift store freebies
Completing mini-games, maps, and quests
One daily spin on the wheel of luck 
None of the Bingo Blitz bonuses need any promo codes for players to qualify. All you need to do is keep playing to ensure you get as many daily freebies as possible.
Usually, a no deposit also has wagering requirements and other terms attached. But because these are daily credits, there are no such conditions and players can use the free Bingo Blitz goodies whenever and however they like.
What is the Bingo Blitz Welcome Bonus?
While Bingo Blitz does offer plenty of Blitz free credits, you can also make credit purchases. Most sweepstakes welcome bonuses come in the form of first purchase bonuses. It usually offers discounts on a customer's first coin purchase. First purchase bonuses are exactly what Bingo Blitz offers.
Head over to their shop on the Bingo Blitz app or website and enjoy discounts or extra free credits on your first purchases. Again, no promo codes are needed to collect these Bingo Blitz bonuses.
There are more Bingo Blitz free credit opportunities on their Facebook page.
How to use Free Credits on Bingo Blitz 
If you are eager to join the social online bingo community, the sign up process is super easy. Hit one of our links in the article which will take you to the Bingo Blitz website. Here, you can download the app from four different platforms for both mobile devices and desktops:
Google Play Store
App Store
Windows/Microsoft
Amazon


The sign up process runs through your Facebook account or email address and all Bingo Blitz purchases are made in-app or via Facebook. As a result, the security and payment processes are not done by Bingo Blitz, which is why they do not need as much personal information as other sweepstakes casinos.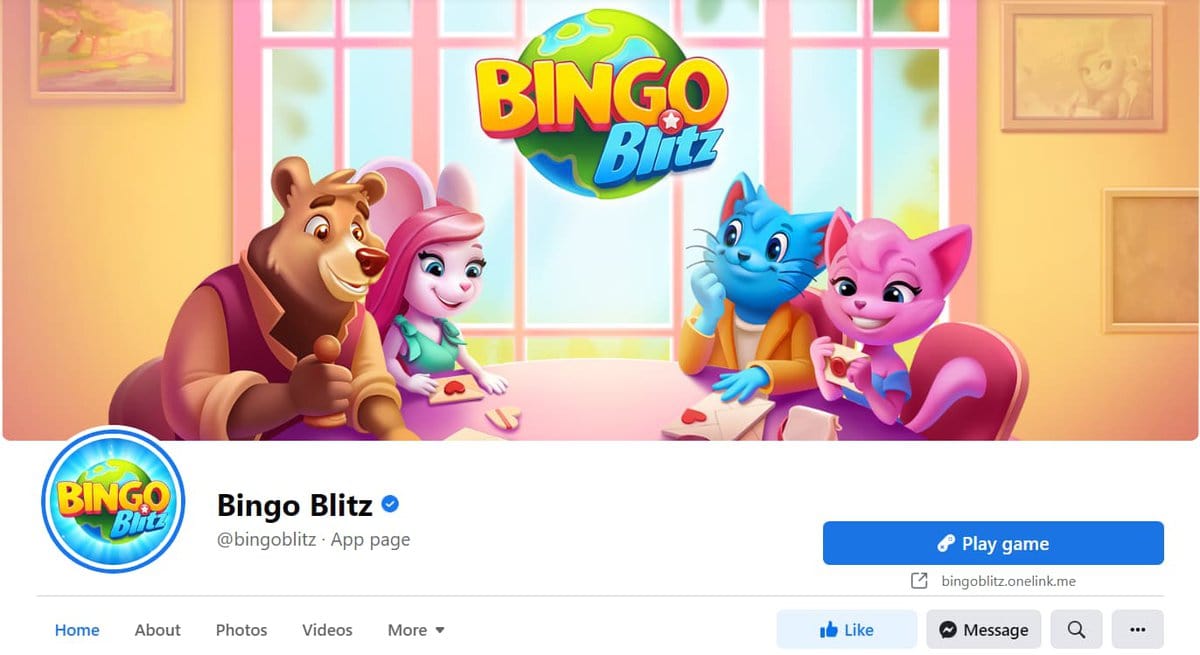 After you have completed your registration, you can start earning Bingo Blitz freebies credits. All Bingo Blitz games and competitions require credits to play. Enjoy playing against people from around the world as you compete to win Bingo points to unlock special features, daily gifts, and progress in the game.
Note: Players need to be 21+ of age to join.
Besides winning bingo games, Bingo Blitz credits can be earned in many other ways. It includes daily bonuses, completing tasks and quests, playing bingo rounds, and competing in leagues and competitions.
If all your bonus credit opportunities run out, customers will have the option of buying more Bingo Blitz credits at the shop. Making your first purchase also qualifies you for purchase bonuses, allowing premium discounts or extra free credits.
Bingo Blitz is one of the world's most popular online social bingo sites. Sign up today and enjoy a freemium account and follow Blitz the Cat on his journey across the world, competing and meeting new friends. No cash prizes can be redeemed with the Bingo Blitz credits. If you prefer to play free bingo with the opportunity of winning real money, you can sign up for Pulsz Bingo.
Players can also try and get Bingo Blitz free credits links to receive more freebies. It is not promoted by Bingo Blitz itself, but there are a couple of links available on the internet which work. More will be discussed later.
States where Bingo Blitz Coupon Codes can be redeemed
Online social casinos do not work the same as real money casinos. This is because you do not gamble with real money. Instead, players gamble with virtual currencies. In Bingo Blitz's case, it is called credits. These credits allow customers to play online bingo games without having to spend real money, and in turn, fall under a different law than real money casinos.
Owned by Playtika, Bingo Blitz is available to play in all 50 US states. In fact, Bingo Blitz is worldwide, which means you can play and socialize with players across the globe. Same applies to sites like Slotomania, Huuuge Casino, and Caesars Slots; all owned by the same company as Bingo Blitz.
Bingo Blitz Free Credits & Promo Coins for Existing Players
Bingo Blitz is king when it comes to in-play promotions, free gifts, and free credit bonuses. We have already discussed the daily bonuses which can be obtained in many ways such as Spinning the wheel of luck, enjoying daily freebies in the gift shop, and more. Here are some of the best ways to gain Bingo Blitz free credits for existing players:
Completing bingo rounds, mini-games, and quests:
Compete against friends and foes while you complete tasks, and quests on your journey across the globe. Players will receive freebies credits for completing bingo rounds, mini-games, tasks, and quests as they progress in the game. What makes Bingo Blitz great is that players are rewarded for simply playing. The more you play, the more freebies and credits you can receive.
Friends bonuses:
Bingo Blitz is the world's most sociable online bingo game and is the perfect place to make new friends. Players can send free Bingo Blitz credits or gifts and receive the same in return. By sending in-game gifts, players can gain Bingo Blitz free credits. Sign up today and start making friends to share gifts and epic memories.
Social media contests and promotions: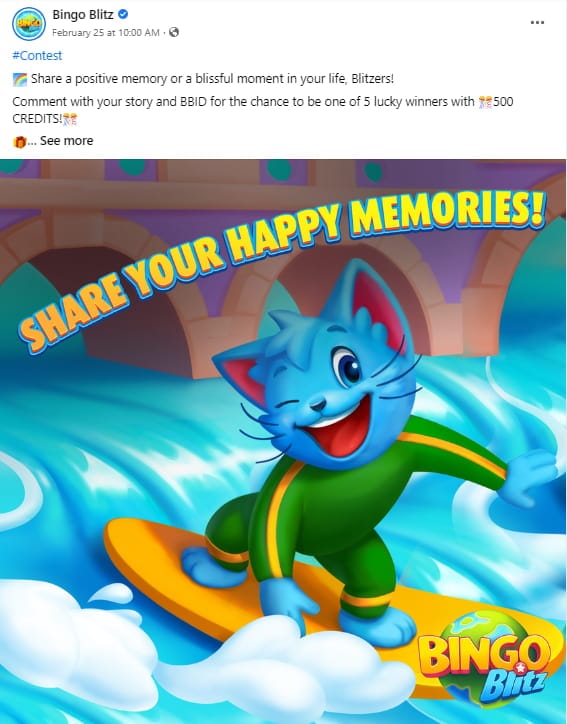 Like many social casino apps, Bingo Blitz has a huge presence on social media. You can find Bingo Blitz on Facebook, Instagram, YouTube, and Twitter. However, Facebook seems to be their biggest platform. Here, you will find awesome promotions, giveaways, and contests on a regular basis. We recommend you go to the Facebook page daily, to ensure you do not miss out on the opportunity to gain extra free credits.
Bingo Blitz credits links:
Bingo Blitz is quite explicit in the fact that there are no other ways of earning free credits than through its app or Facebook. However, the internet is filled with Bingo Blitz credit links, offering free credits through 3rd party sites. Be cautious before hitting the links to the Bingo Blitz website; we recommend registering and downloading the mobile app directly via the official page.
Bingo Blitz Standout Features
🎰Bingo Blitz Features
📅Launch Date
2011
🏛️Parent Company
Buffalo Studios
🧑‍💻Software provider
Playtika
🎲Games
Bingo games, slot games
🇺🇸Available States
All US States
🔞Legal age
21+
📱Mobile Apps
Yes - Android, iOS, Windows
Free Bingo and Casino Games
Bingo Blitz is the world's leading social online bingo site. It offers amazing bingo games filled with color and rounded with clean graphics. Players can enjoy plenty of bingo rooms set in different countries seasoned with their own cultures and unique themes.
Most of the bingo games come in the classic 75 ball bingo. However, there are plenty of variations available and unlockable as you progress on your bingo adventure. Players can enjoy plenty of mini-games like slot games to keep them entertained while they wait for the next bingo round or game to load. Their slot selection is limited but does come as a nice alternative when players are tired of playing bingo games
Bingo Blitz does not offer casino games like many other sweepstakes sites. If you want to play free slot games or table games, sites like Pulsz Casino, WOW Vegas Casino, and Stake.us offer a diverse range of free casino games for customers to enjoy.
Accessibility & Software
Bingo Blitz is playable via your desktop, mobile devices, tablets, or even kindles. Head to the Bingo Blitz website to find the links for the app downloads for Android, iOS, and Windows.
Once the app is downloaded, you can sign in via your Facebook account or email, and purchase any credits or gifts with in-app purchases. This allows Bingo Blitz to require minimum info as they do not carry any of the security encryptions.
Customers can also play via Facebook. Whichever way you choose to play, Bingo Blitz is known to have incredibly smooth gameplay and easy navigation.
And thanks to its partnership with the software providers, Playtika, its games are of great quality too. It mainly consists of bingo games filled with amazing colors, unique skins, and themes offering customers new experiences every time they open the Bingo Blitz app.
Bingo Blitz is hugely popular with over 50 million downloads on Google Play and 5 million likes on their Facebook page. Download the app that is compatible with your device and enjoy the best social bingo games the internet has to offer.
Banking Options
As we said earlier, the Bingo Blitz game runs through mobile apps and Facebook. This means depending on where you downloaded the app, Google Play, the App Store, Amazon, Facebook or Microsoft is in charge of any payment methods. These payment options are usually debit and credit cards, Google & Apple Pay, PayPal, or Via Facebook Pay.
Payments are instant and once a credit package is bought, it is instantly transferred to your account. The minimum payment is unknown, but you can expect it to be anywhere from $5 to $20.
Note: Remember that Bingo Blitz does not offer redeemable cash prizes. This means any credits bought or won have no real money value. It can only be used to play free bingo games on the site, which is in high demand from players around the world.
Tips to Win Free Credits and Coins on Bingo Blitz
There are many ways to gain Bingo Blitz free gifts and credits. Our team has set up the best ways to gain these free credits without spending any real money: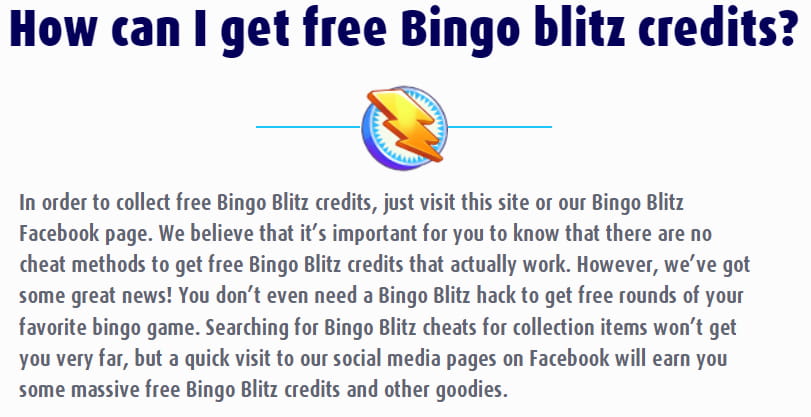 Social media contests and giveaways
Bingo Blitz is very active on social media. Meaning, they offer exclusive promotions that you will not find on their website or app. Make bookmarks for their Facebook, Instagram, Twitter, and YouTube channels to ensure you do not miss out on any potential prizes.
Promotions such as story sharing offer players the chance to win free credits as a "thank you' for telling tales about your playing experience on their site. Other rewards include gifts sent to a few lucky players from certain areas. All you need to do to opt in is leave a comment with your details if you reside within the area. There are many such random rewards available for the ones actively looking. Head over to their channels today and start scavenging.
Join tournaments and contests
Bingo Blitz is a competitive world, which is why they promote tournaments and contests with amazing gifts and free credits. Join in on the fun and you might walk away with big prizes. Again, check the social media pages to be up to date with such contests and tournaments.
The more you play the more you gain
It is clear from the dynamic of the Bingo Blitz that they offer more bonuses and rewards the more you play. By simply signing in every day, players are rewarded with lucrative daily bonuses and one spin on the wheel of luck to win freebies and other goodies.
Use more than one bingo app
Using alternative bingo apps can also be a smart strategy, so that you can time multiple daily login bonuses at once. Blackout Bingo promo codes, Bingo Cash bonuses, and the Pulsz promo codes for bingo work similarly. Golden Hearts Bingo, Bingoport, and SweepSlots Bingo are also worth checking. Don't miss out.
Bingo Blitz Bonus Codes Summary
We hope this article gave you the necessary push to download and play this amazing online bingo game. It is available to download and play from any US state, so head over to our links in this article to sign up today.
Once you have completed your registration you will have access to some amazing daily bonuses and promotions that offer freebies credits and amazing gifts totally free of charge.
FAQ's
How long do free coins take to arrive on Bingo Blitz?

Once you qualify for free credits, they will immediately be transferred to your account. The same goes for credit purchases. Once the payment is processed, it will instantly appear in your balance.

How to redeem the Bingo Blitz promo code?

Luckily, for Bingo Blitz users, there are no promo codes needed to obtain any bonus or reward. Simple, play, and enjoy the many promotional opportunities Bingo Blitz has on offer. Enjoy daily bonuses and Facebook promotions and contests to gain many free credits and freebies. 

How to win free spins on Bingo Blitz Casino?

Once a day, players will have one free spin on the wheel of luck. We advise you to try and sign in every day to take advantage of this opportunity. 

Is there a way to get free credits on Bingo Blitz?

Yes. There are many ways to get free Bingo Blitz credits. Head over to their site where you will find a detailed explanation of how it works. Players can gain free credits through daily bonuses, social media promotions, giveaways, tournaments, and more.

My Bingo Blitz promo code didn't work. What should I do?

If you have a Bingo Blitz promo code that is not working, you might want to visit their site. Here, they will explain every way players can gain free Bingo Blitz credits. If the free credits are from daily links from 3rd parties, Bingo Blitz will not help you, as they have no ties with them. They actually state on their site that they should not be used, nor trusted. 

How often does Bingo Blitz offer coupon codes?

Most of Bingo Blitz's promotions and bonuses do not require any bonus codes. However, there might be instances where they do ask for one. The best place to check for these coupon codes, head over to their social media channels on Facebook, Instagram, Twitter, and YouTube.