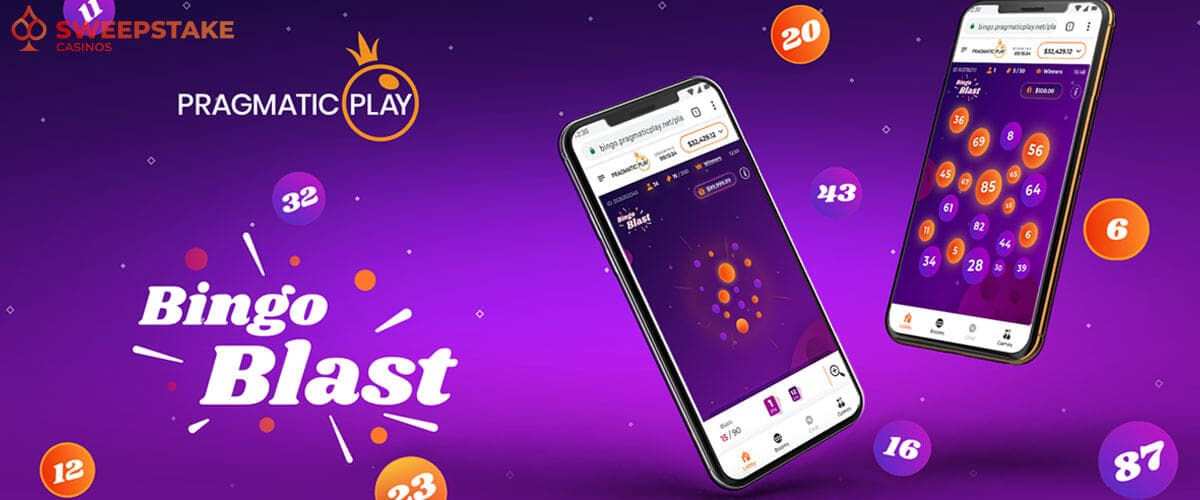 The Bingo Blast game is the latest bingo variant from Pragmatic Play. While it still has the classic and old-fashioned touch of the 90-ball bingo game, the provider adds more exciting features and elements designed in-house to bring a redesigned bingo experience. Pragmatic Play defines the game in five main aspects:
Fast-paced: The game is 3-4 times faster than the classic 90-ball bingo.
Mobile-first: Designed with a mobile approach, allowing you to play online and on the go.
Simple: Perfect game for every player, including beginners, thanks to the straightforward user journey.
Exciting: The entertaining part of the game comes much quicker, making the game thrilling.
Exclusive: Bingo Blast is exclusive to Pragmatic Play bingo sites.
With innovation at the heart of Bingo Blast, you can also expect high-quality and immersive visuals with lush purple and orange colors dominating. As stated, the game also has a simple interface making the game exciting and smooth to play.
Our guide looks into the game by providing all the basics, including how to play Bingo Blast, features, and Bingo Blast strategies to use while playing.
What is Bingo Blast?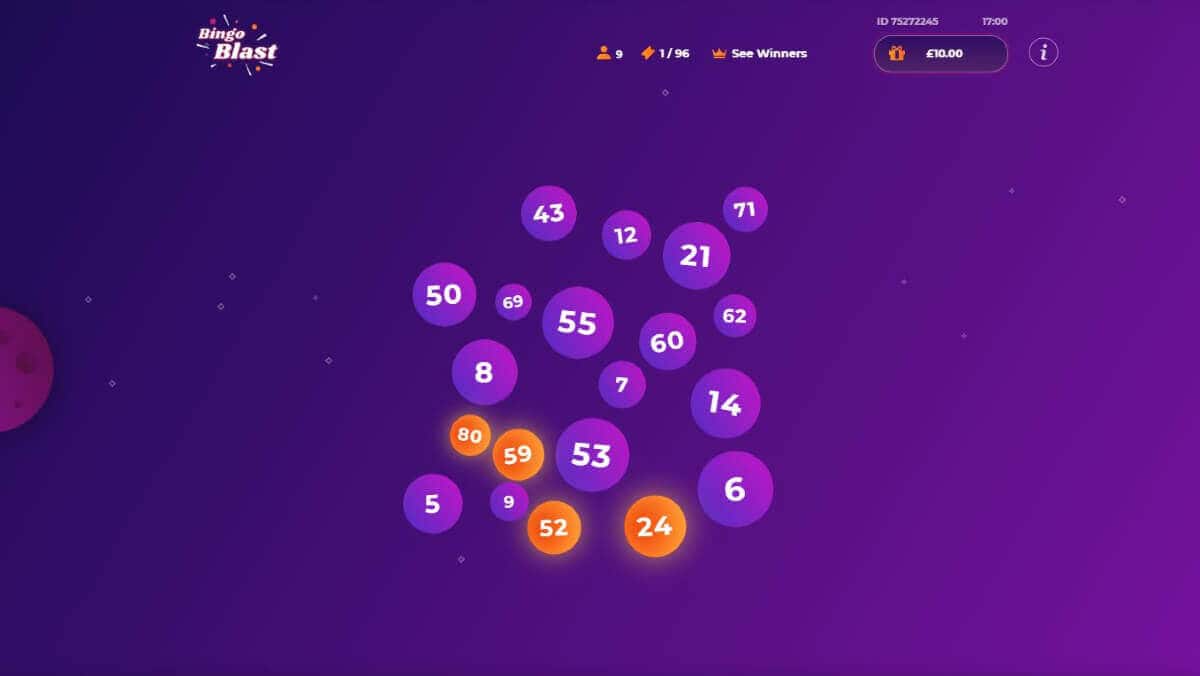 The Bingo Blast casino game is almost identical to the classic 90-ball bingo. As you play the game, you will notice the familiar basic gameplay and the one-line, two-line, and full-house prizes. But the difference comes in the special features added to the Bingo Blast game, including the game speed.
Another twist that makes Bingo Blast unique is that more than half the balls are called in two quick blasts at the start of the game. After the two blasts, the standard game resumes with speedy calls until one wins a full house.
How to Play Bingo Blast
It is easy to get started on the Bingo Blast game thanks to its simple interface and gameplay, which are suitable for beginners and experienced bingo players. So, how do you play Bingo Blast? As stated, the gameplay is almost similar to the normal 90-ball bingo, with a few differences. So let's get a bit technical.
You will start by buying tickets, with the price determined by the room you pick. At Pulsz Bingo, the minimum ticket price is 1 GC. Like other bingo games, you can buy six (6) tickets. Each ticket will have 27 squares arranged in three (3) rows and nine (9) columns. The first column will have the numbers 1-9, the second 10-19, and the third 20-29, all the way to 90.
So, to the elephant in the room: How to win Bingo Blast. It is simple. The game draws numbers 01 to 90, with your task being to daub the corresponding ones on your tickets. In one round, there may be up to three winners, with the variations as follows:
One-line bingo: Cover all numbers in one row.
Two-line bingo: Cover all numbers in two rows.
Full house: Cover all numbers in all rows.
But remember that Bingo Blast is speedy. Bingo Blast opens with about 34 balls blasted, with those matching your tickets highlighted in orange and floating for a while. The numbers are checked off on your tickets, and a second blast follows where you can also check your tickets. The game will then resume normally, showing one ball going across the screen from left to right, each at a time. Each time there is a matching number, your tickets will pop up. The balls will go on blasting faster and faster until one wins a full house.
Bingo Blast Paytable and Bingo Game Payouts
Determining payouts on a bingo game is not straightforward as it would be on slots, poker, blackjack, or live table games. This is because it depends on several factors. They include the following:
Room rules
Price of each ticket
Tickets bought by each player
The number of players participating
Availability of a jackpot
As is standard, the more tickets and players participating, the bigger the prize pool. However, your chances of winning will decrease in such a room. But even while it is difficult to put numbers on payouts, what is standard is that the Bingo Blast casino game has three prizes: One-line bingo, two-line bingo, and a full house, which is the grand prize. Unfortunately, the Bingo Blast game has no progressive jackpot.
Bingo Blast Special Features
As mentioned, the Bingo Blast game takes an exciting approach from the usual 90-ball bingo game, with Pragmatic Play redesigning the experience through several features. The most popular feature is the speed aspect added to the game, making it 3-4 times faster than regular bingo games.
Auto-daub is the other feature that comes in handy for players who struggle to keep up with speed. The feature will see your ticket numbers automatically checked off once called.
Bingo Blast House Edge & RTP
The return to player (RTP) percentage shows the average returns you can make from a game over many sessions. The Bingo Blast RTP is 70%, meaning a $100 bet returns $70. Through the RTP, we can calculate the house edge, which is the advantage the casino/house has over you in the game. In our case, the Bingo Blast house edge is 30%.
While it may not be the best RTP you would expect in a game, it is a synonymous RTP and house edge across all bingo variants. The average RTP across variants like 30-ball, 50-ball, 75-ball, 80-ball, and 90-ball bingo is between 70% and 85%.
Bingo Blast Strategy & Tips to Play
As you play Bingo Blast, you will notice that winnings depend on luck. Therefore, no Bingo Blast strategy will guarantee you a win. However, we provide a few strategies and tips that you can employ while playing to avoid common mistakes and improve your chances of winning at online bingo. They are:
Understand the rules: Like every other casino game, understanding the Bingo Blast rules is essential. This way, you will avoid costly mistakes that would make you lose money.
Avoid peak hours: As stated, the more players participate, the lesser your chances of winning. You will have better odds of winning the Bingo Blast game during off-peak hours, whether you are playing live or online.
Purchase multiple tickets: Playing a round with multiple cards improves your odds of winning compared to playing with a single card. But again, purchasing multiple tickets may eat into your budget and calls for responsible gambling.
Check for special promotions: Some online sites may offer special promos where you can get bonuses. For example, one platform may provide an additional ticket after you purchase two.
Socialize: Get social on the chat rooms where you can get more insights and game reviews and sometimes get a chance to win random prizes.
Gransville's strategy: The strategy calls for a split in the distribution of numbers on an ideal card. This means there should be a split in the even and odd numbers, low and high numbers, and the card should have as many numbers with a different last digit. In this case, a card with 23, 75, 84, and 46 is much better than one with 21, 41, 54, and 61.
Is Bingo Blast Rigged?
One of the most asked questions is whether online bingo games are rigged. Bingo Blast does not escape this scrutiny either. The straightforward answer is that the game is not rigged. Like most online bingo games, the Bingo Blast game uses a random number generator (RNG) to randomly determine the balls being called in. Thus, it is impossible to hack, or 100% predict the outcome of each round.
Games get tested for fairness by independent test bodies like eCOGRA, iTech Labs, and GLI. Pragmatic Play is a reputable software provider with certifications from those bodies, signifying that the Bingo Blast game checks the fairness box.
And as we always insist, playing at a licensed online gambling site ensures you do not access rigged games. This is not guaranteed at offshore sites. Firstly, they operate on shady licenses, with some lacking licensing information. They also partner with little-known and sometimes questionable providers with no game fairness certifications. We call for you to avoid such platforms and opt for legal sites like Pulsz Bingo.
Best US Bingo Sites & Apps to Play Bingo Blast


If you want to try the fast-paced bingo variant, you can try it at Bingo Blast casinos like Pulsz Bingo. One highlight about Pulsz Bingo is that it is a social casino using a sweepstakes model, making it legal all over the US except for WA, NV, and ID states.
Besides its accessibility, the sweepstakes bingo site has two welcome bonuses you can claim without exclusive Pulsz promo codes. The first is a Pulsz Bingo no deposit bonus of 5,000 Gold Coins + 2 Sweepstakes Cash after signing up. You will also have a first purchase bonus of 33%, where you can get 30 Sweepstakes Cash for $19.99.
Our recommended sweepstakes casinos to play Bingo Blast include:
Wondering how we select the best sites to play Bingo Blast, among other games? Below are the parameters we use:
Licensing: While sweepstakes casinos do not have state-by-state licensing, we ensure the ones we recommend comply with the US sweepstakes gambling laws.
Mobile casino: We ensure that the sites have optimized websites that allow you to play Bingo Blast and other titles on a mobile device and that gameplay is smooth. A mobile app is a plus.
Bonuses and promotions: Our recommended platforms offer generous bonus packages for new and existing users, such as no deposit bonuses, daily login promotions, and referral offers, with friendly terms and conditions.
Game selection: While our focus is the Bingo Blast casino game, we ensure that the online sites we recommend feature a decent and quality selection to provide different gaming options.
Safety and security: Bingo Blast is a variant from Pragmatic Play, a reputable brand with certifications from independent test bodies. It means that the Bingo Blast game is safe to play. In addition, the sites we recommend guarantee security through the latest security measures like SSL encryption
Banking options: The best online gambling sites will provide reputable banking options. For example, Pulsz Bingo allows purchases and redemptions via Visa/MasterCard, American Express, Discover, Skrill, and Trustly.
Play Bingo Blast Online Today!
Bingo Blast cuts as a modern version of the old-school 90-ball bingo games. It is a trailblazer of what the future may hold regarding online bingo. The game gets our thumbs up for its exceptional design, engaging visuals, simplicity, mobile-first approach, and fast pace. But while this may be entertaining to a crop of players, it may not sit well with some players who prefer bingo in its regular, less-speedy operation.
However, there are many reasons to play Bingo Blast, and by using our exclusive promo codes above, you can sign up at either of our listed skill game apps and play the game in the free and fun mode or for real money today!
FAQs
Can I play Bingo Blast on a mobile app?

Bingo Blast is designed by Pragmatic Play with a mobile approach, allowing you to play on mobile devices. This also makes it possible to play on a mobile app. However, this depends on whether the online casino you are playing at has a dedicated mobile app. For example, you will not find any mobile app at Pulsz Bingo.

Is Bingo Blast available at any licensed US online casino?

Yes. You can play Bingo Blast at Pulsz Bingo, a licensed online social casino in the US. Every player over 18+ can create an account, claim a 5,000 GC and 2 SC bonus with no promo code required, and play the game anywhere in the US except WA, NV, and ID. The game isn't available anywhere else in the US at the time of writing.

Can I play Bingo Blast for free?

Yes. You will have a Bingo Blast free play mode where you can play for free. The option allows you to gain better insights into the game, including game rules and how to play the game. At Pulsz Bingo, you will use gold coins to access the game in the free or fun mode.

What is the Bingo Blast house edge?

Bingo Blast house edge stands at 30%, the average house edge for most online bingo games. It also means that Bingo Blast RTP is 70%, which would signify a $70 profit from a $100 bet on the game.

How to win at Bingo Blast?

After purchasing your bingo cards, the game will draw the numbers from 01 to 90, with your task being to daub off the corresponding ones on your tickets. If you cover all the numbers in one row of a ticket, you will be a one-line winner. Covering two rows makes you a two-line winner, while covering all the rows makes you a full-house winner.

Who is the developer of Bingo Blast?

Bingo Blast is a product of Pragmatic Play, a reputable software provider established in 2015 and licensed by top regulators like the Malta Gaming Authority and the United Kingdom Gambling Commission. The award-winning provider is popular for its casino-style games, including slots, instant wins, virtuals, live casino games, and bingo games.