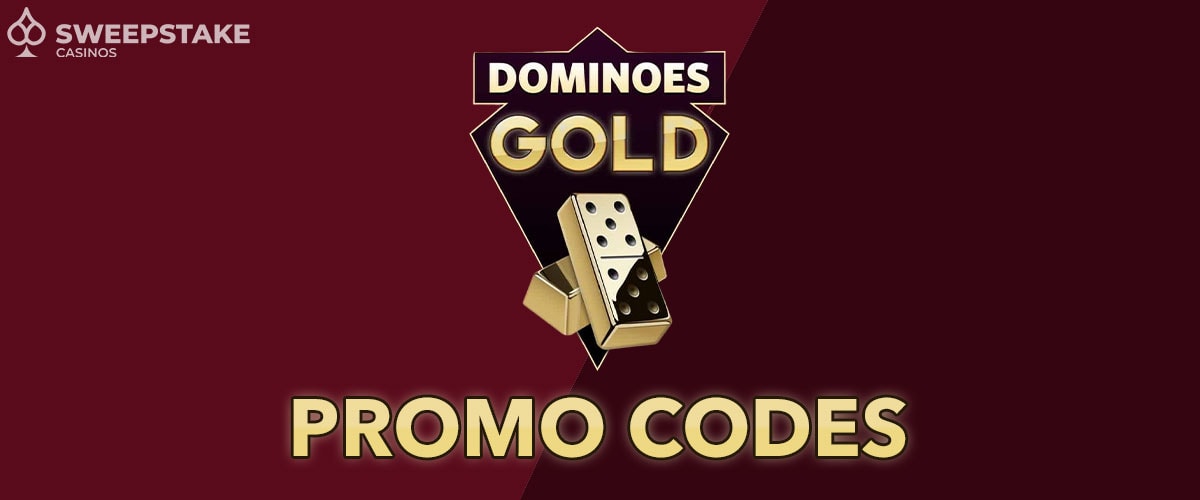 Looking for a Dominoes Gold promo code? Look no further, as in this article discusses all the bonus cash promotions and free money promo codes for this game. Spoiler: there are not so many bonus codes but you can grab a variety of bonuses through other means.
Dominoes Gold was developed by Grey Square Games and released all the way back in 2018. What started as a simple game you could enjoy with your friends quickly turned into a competitive gambling activity after the developers partnered up with Skillz.
As of today, Dominoes Gold operates with the sweepstakes model and offers players two currencies they can choose from. You can either use Z Coins to play for fun or switch to dollars in order to win cash prizes.
The bonus program of Dominoes Gold is rather lacking, so we would like to suggest some alternatives before we even get into details about it. Here are some examples of sign-up bonuses at some similar sweepstakes casinos:
Keep them in mind and compare them with Dominoes Gold promo code offers when you finish reading.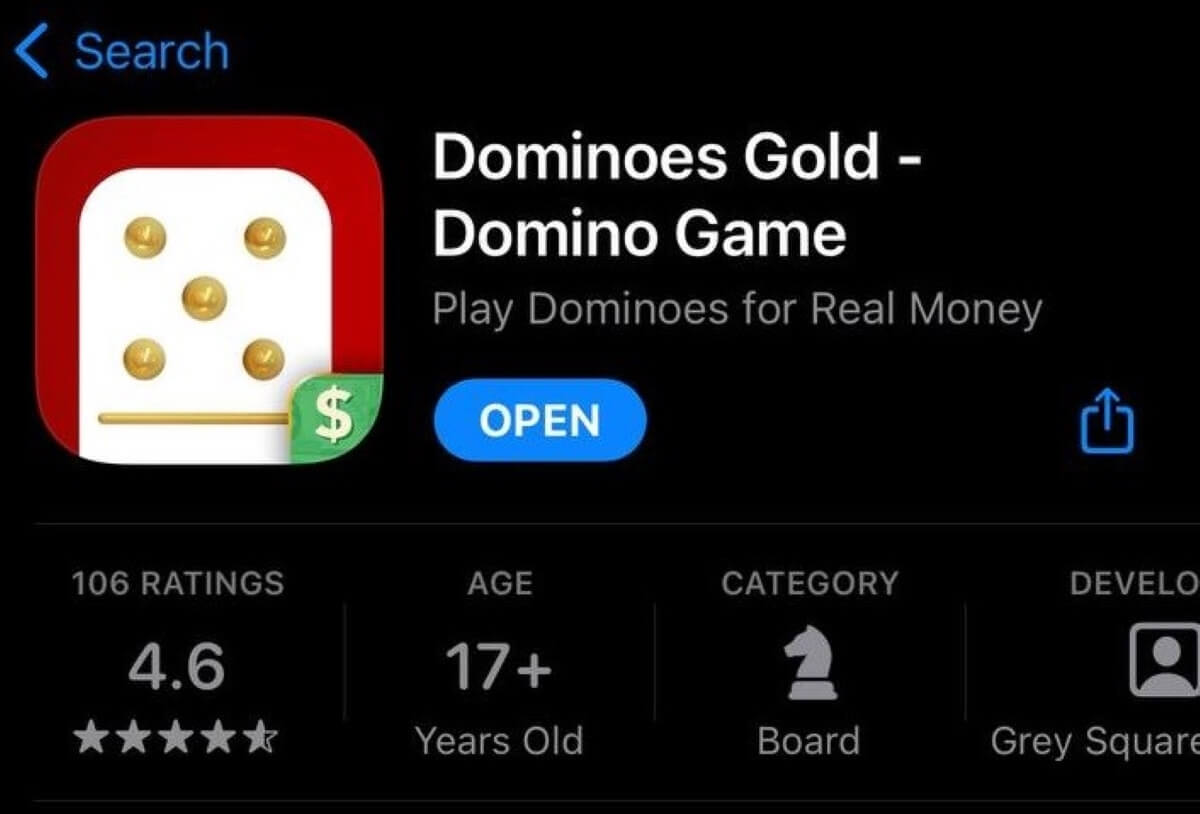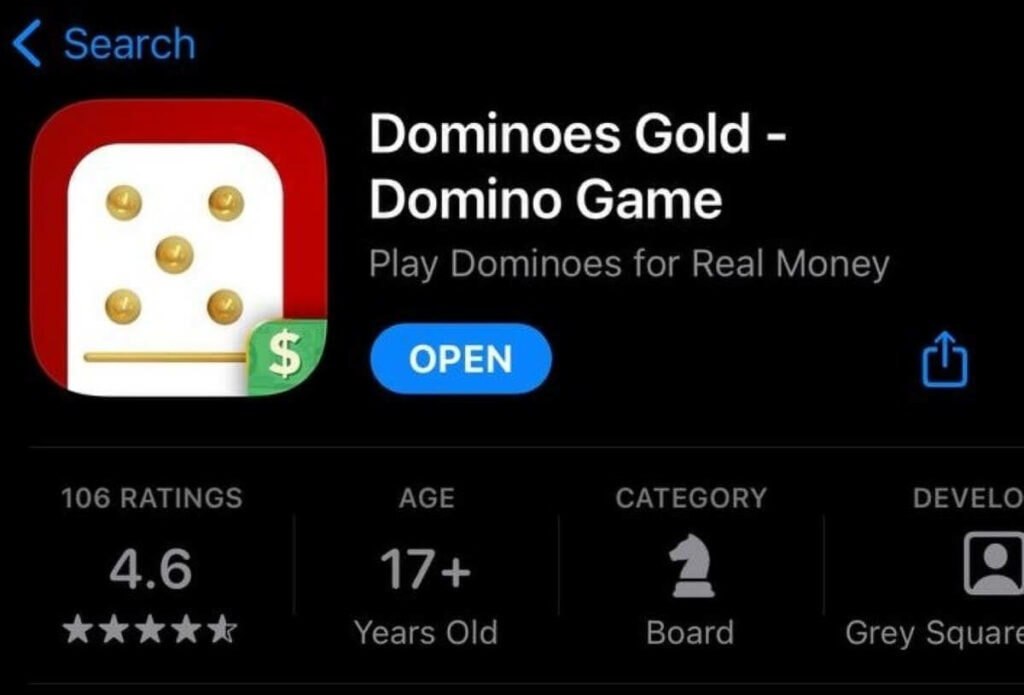 Dominoes Gold Free Bonus Cash Promo Codes
The Dominoes Gold promo code system is mostly used for its referral program. When one of the Skillz players invites a friend to play Dominoes Gold, they can share their unique promo code. In this case, both players will receive some bonus cash, but don't get too excited: it's only one dollar and only after making a deposit.
You will easily find dozens of Dominoes Gold promo codes online, and the vast majority of them will be someone's code for the referral program. This bonus cash can only be claimed once per account, so there is no point in listing all codes of this kind. You can use the 18WKT Dominoes Gold Promo code and forget about this system entirely.
Most other promotions are done through the built-in features of the app, so you won't need any promo codes to benefit from them. Tapping the Activate button in the Promotions section will be enough.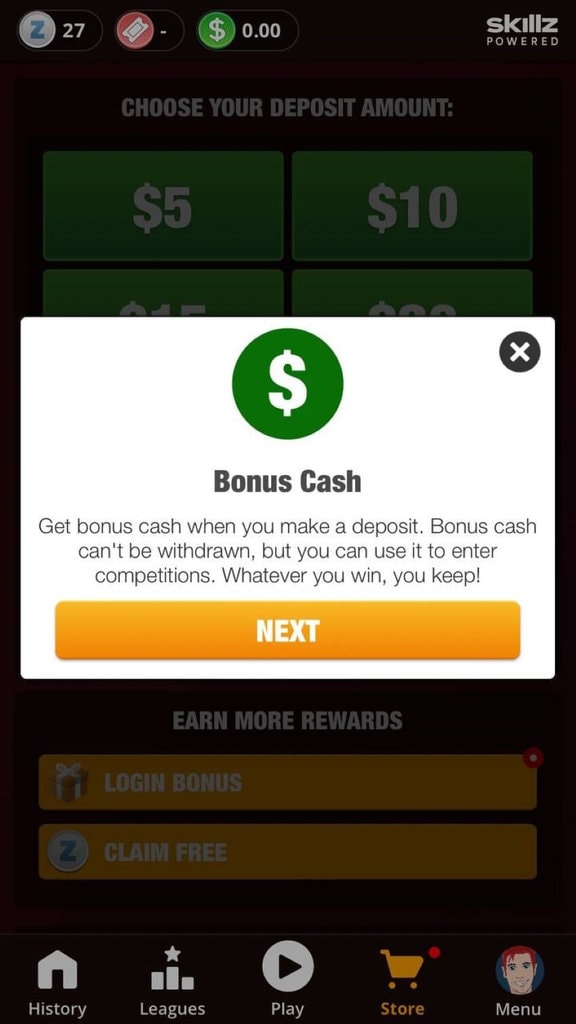 About Dominoes Gold App & Skillz
🎰Dominoes Gold Features
📱Mobile App
Android and iOS
🧑‍💻Developer
Grey Square Games
📅Release Year
2018
🎁Welcome Bonus
Deposit $10 and get $10 worth of bonus cash
🇺🇸 Availability in the US
All states except for AZ, IA, IN, LA, ME, SC, NJ and MT
💳Payment Methods
Visa, Mastercard, Paypal
💵Supported Currencies
Z Coins, Ticketz, USD
Your experience with Dominoes Gold starts with downloading its app. You can find it on the App Store or in the Google Play Market, but if you don't see it, use the Skillz app to direct you.
After downloading and launching the app, you will see a series of tips regarding the gameplay process and play a practice match against the computer before you can begin exploring Dominoes Gold on your own.
The Main Gameplay
In this app, you essentially play dominoes against a real person, although the game has some twists to it. The winner is determined by the final score, and you can earn points by clearing your hand: you will get 10 points for each domino in your opponent's hand.
An alternative option is to place your domino in a specific way. If the sum of the last dominoes on all sides is a multiple of five after making a move, you will receive points equal to this sum.
Every match has an entry fee, and the winner gets the stake of their opponent. There are two currencies you can use for playing: Z Coins and USD. Z Coins are given out for free and are used for practicing and playing for fun, while dollars are used for winning cash prizes.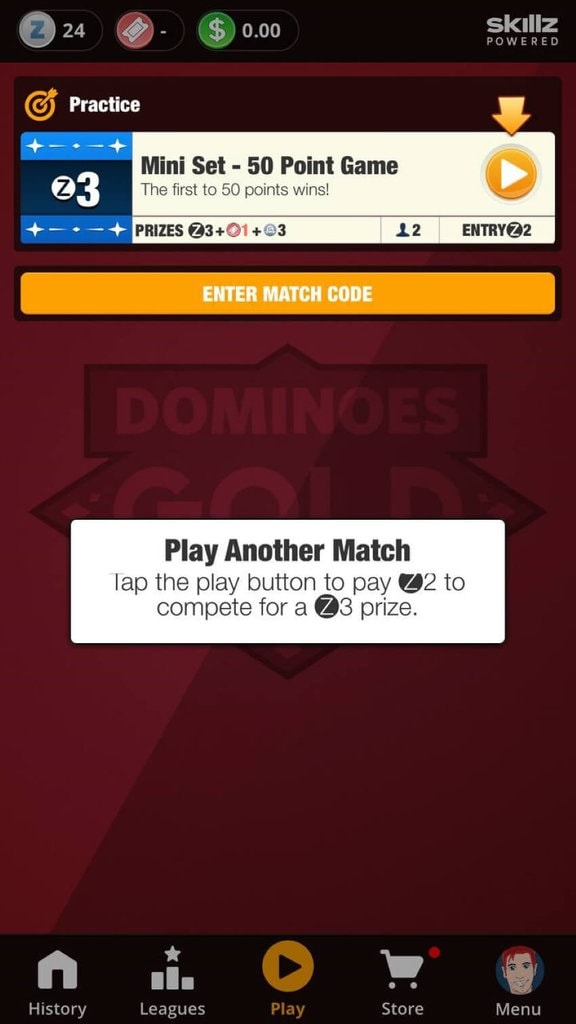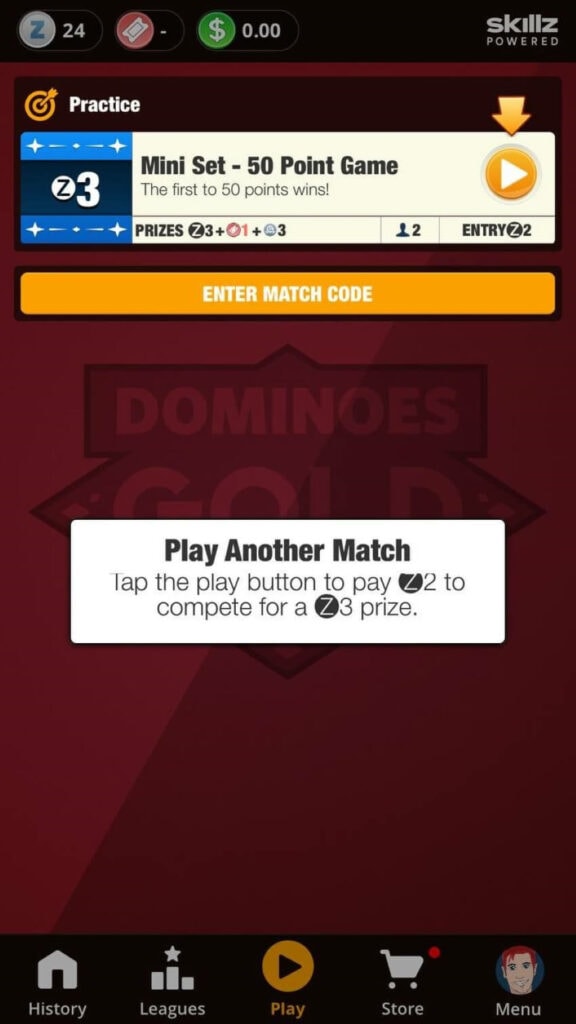 Is There a Promo Code for Skillz Dominoes Gold?
All Dominoes Gold bonuses are unlocked through gameplay and prompts, except for the referral bonus. Read below on steps to unlock bonus matches and promo money on Dominoes Gold.
Dominoes Gold No Deposit Free Money Bonus
The good news here is that Dominoes Gold has a no-deposit bonus that you'll get for registering in the app and completing the tutorial. The bad news is that the bonus only grants 24 Z Coins, and as you remember, it is the currency that cannot be exchanged for cash.
All the Dominoes Gold promo code deals require you to make a deposit, so you won't be able to get bonus cash for free in the app.
What makes the situation even worse is that the bonus cash you acquire through all promotions is not exactly the same as real funds on your balance. Free money is essentially used as a discount to enter a paid match, which is counter-intuitive and not very beneficial.
If that does not sound too good to you, you're not the only person thinking this way. Compared to free sign-up offers of WOW Vegas, High 5 Casino, and Stake.us, this deal looks very unfavorable. Established sweepstakes casinos even give out free Sweeps Coins, whereas Dominoes Gold promo code system is only designed for free play.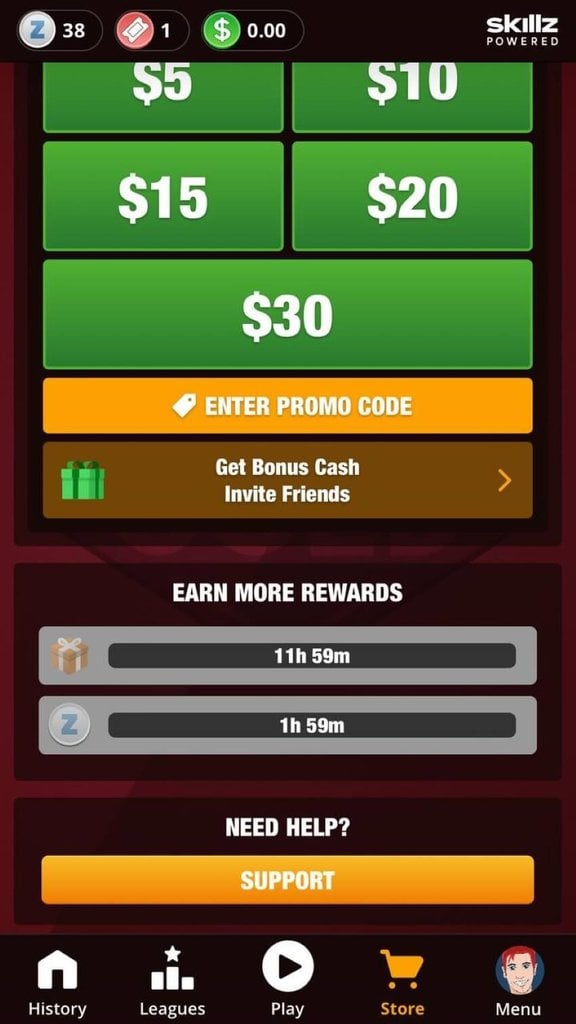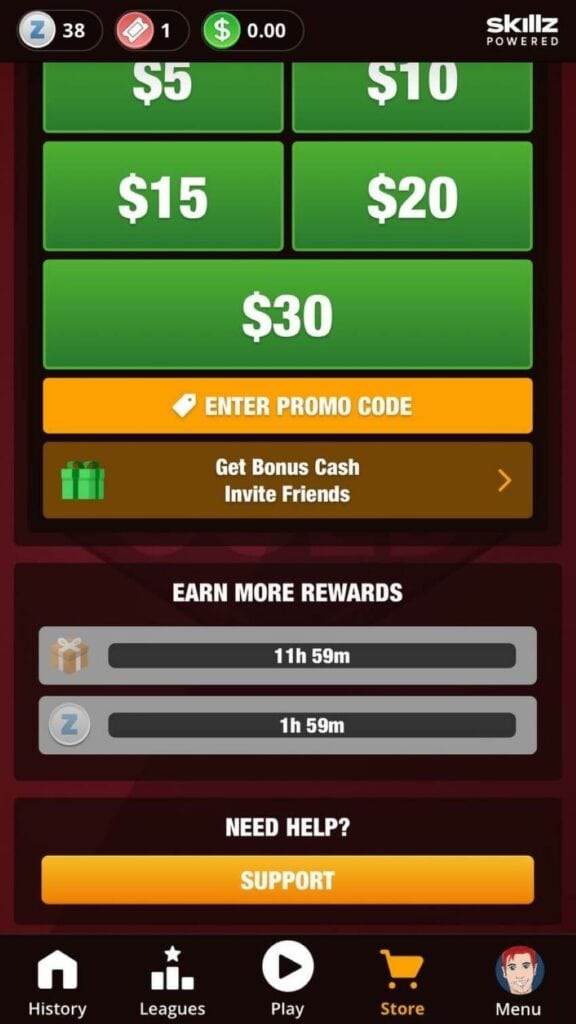 How to Redeem the Offer
In case you still wish to follow through, here's a quick step-by-step guide on how to start:
Open the App Store on iOS or the Google Play Market on Android.
Search for "Skillz Dominoes Gold" and download the app by Grey Square Games.
Open the app, read the tutorial, and play the training match.
Follow the instructions to set up a profile and play the first match against a real person.
The app gives you an option to play as a guest, but we recommend creating an account. It will allow you to use a Dominoes Gold promo code, track the history of matches, and use some other features that are not available to guests.
Once you have performed the four steps above, the app will set you free and let you move to the cashier. Tap on the corresponding button at the bottom, tap the "Enter Promo Code" button, and use your Dominoes Gold referral code.
After applying the promo code, the button will be replaced with a caption that says "$1 bonus applied". At this stage, you only need to make a deposit of at least $5 to get your free money.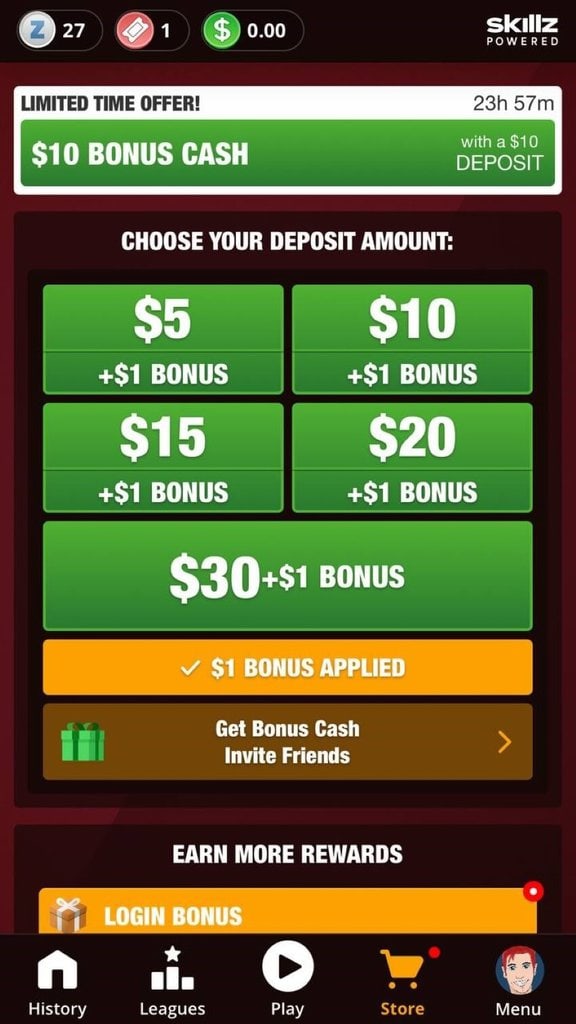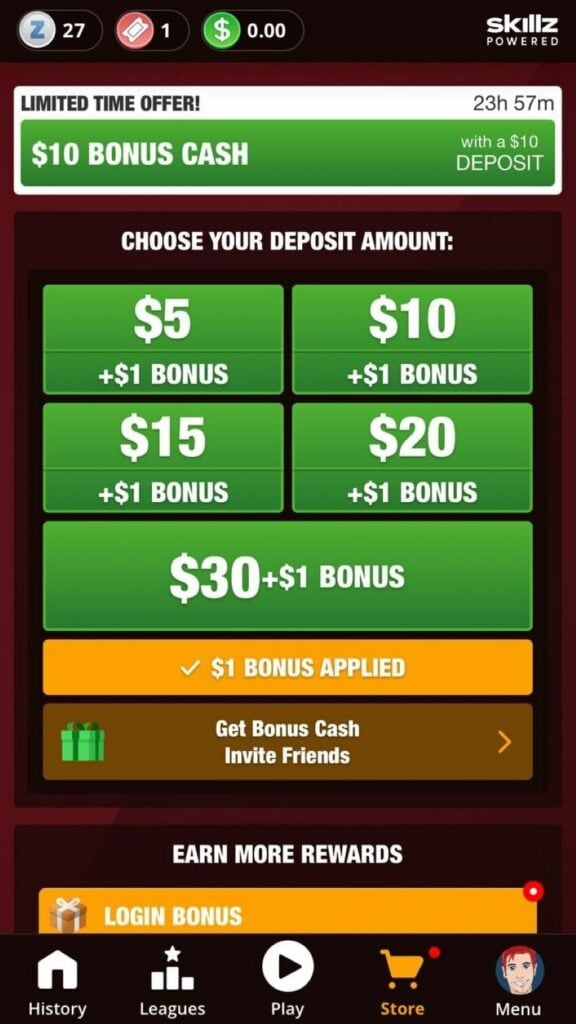 Other Promo Codes and Bonuses at Dominoes Gold
The app has some other promotions aside from the referral Dominoes Gold promo code system. At the time of writing, there are only three deals you can benefit from-  Welcome Bonus, Daily Login Rewards, and a VIP program. It is yet another reason we are suggesting sweepstakes casinos as alternatives today, as these sites usually offer at least five different options to get free coins.
Welcome Bonus
The welcome bonus of Dominoes Gold is a paid promotion that grants you $10 worth of bonus cash for making a deposit of at least $10. We would like to once again emphasize that bonus cash is not the same as the funds on your balance and is only used as a discount to enter matches for real money.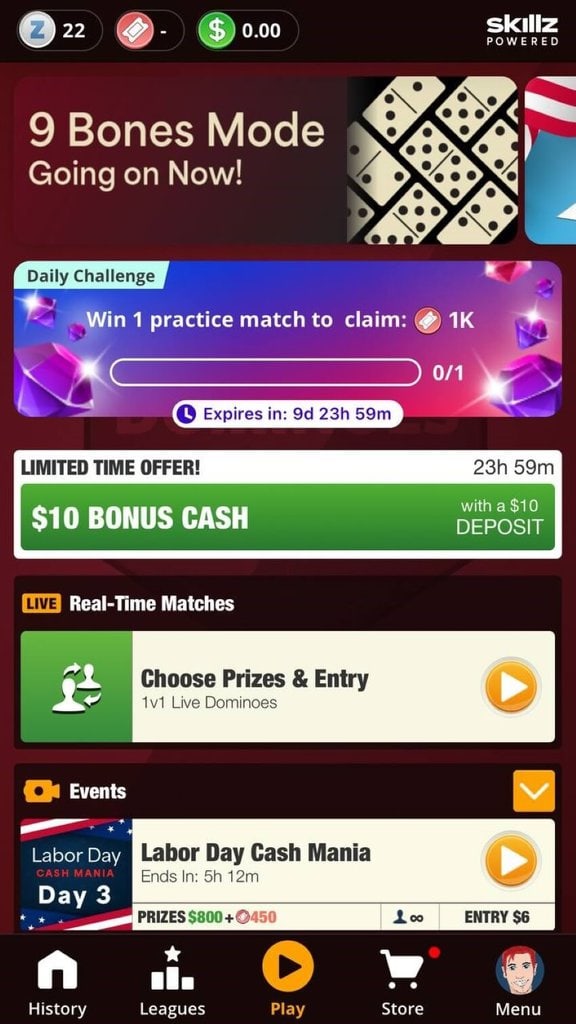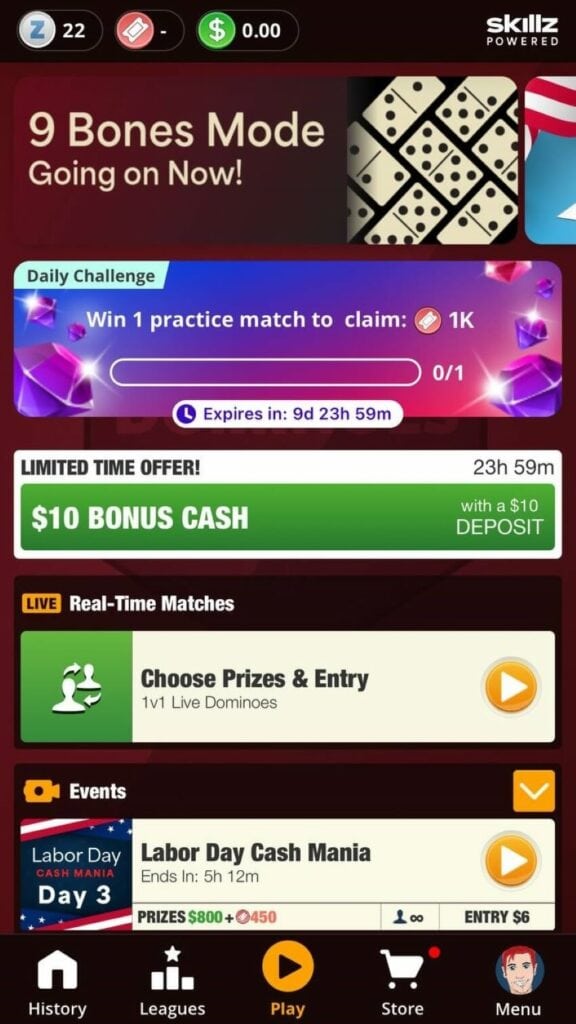 Login Rewards and Daily Challenges
You can also get some rewards for revisiting Dominoes Gold regularly. There are two types of login rewards: a mystery box available once every 12 hours and a Z Coins box available every 2 hours. The first box may contain Z Coins, Ticketz for the VIP program, or bonus cash, while the second box only rewards you with a random number of Z Coins.
Another regular activity is called Daily Challenges. You receive simple missions that usually involve winning a game in practice mode, and get Ticketz or bonus funds for completing these challenges on consecutive days.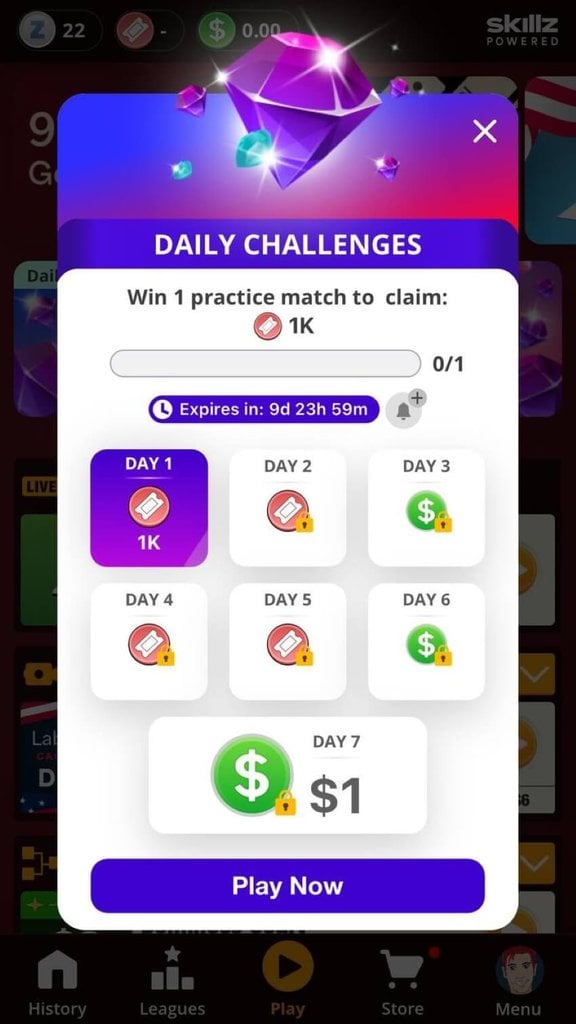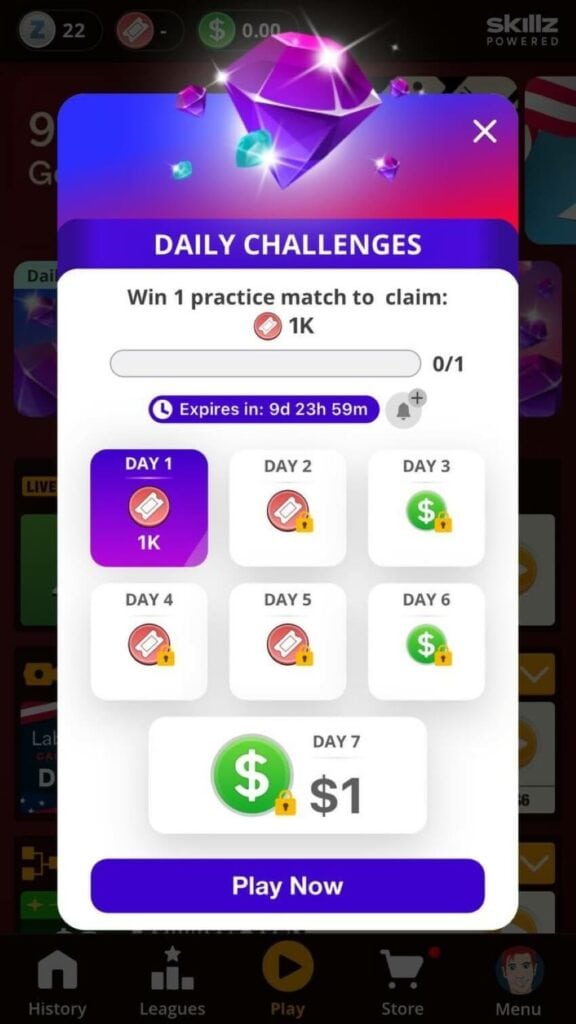 VIP Program and Ticketz
The VIP program is a bit more complicated than the previous Dominoes Gold promo offers as it involves the third currency called Ticketz. You can earn them by playing matches against real users or by completing various achievements in the app. The rate of earning Ticketz increases as you progress through the competitive leagues of Dominoes Gold.
You can exchange these Ticketz for various real life prizes in the corresponding section of the app. The prices are high there, so you won't be able to get something worthy right away.
The secret to the VIP program is in its tiers. The system is layered, and each tier grants you a higher rate of earning Ticketz. The bad news is that you will need to earn Ticketz to reach the next tier, meaning it is still necessary to spend an unreasonable amount of time to get something valuable.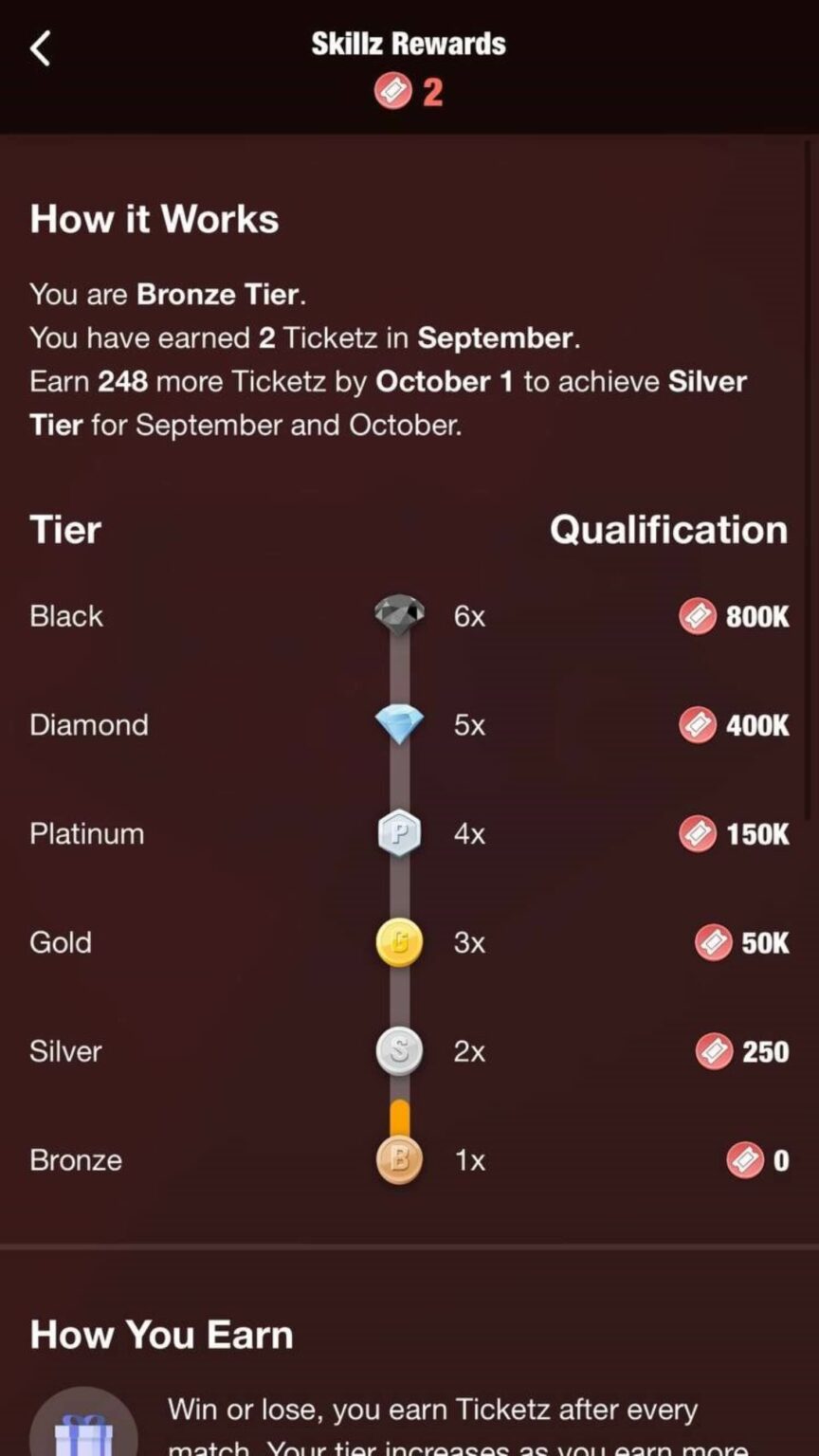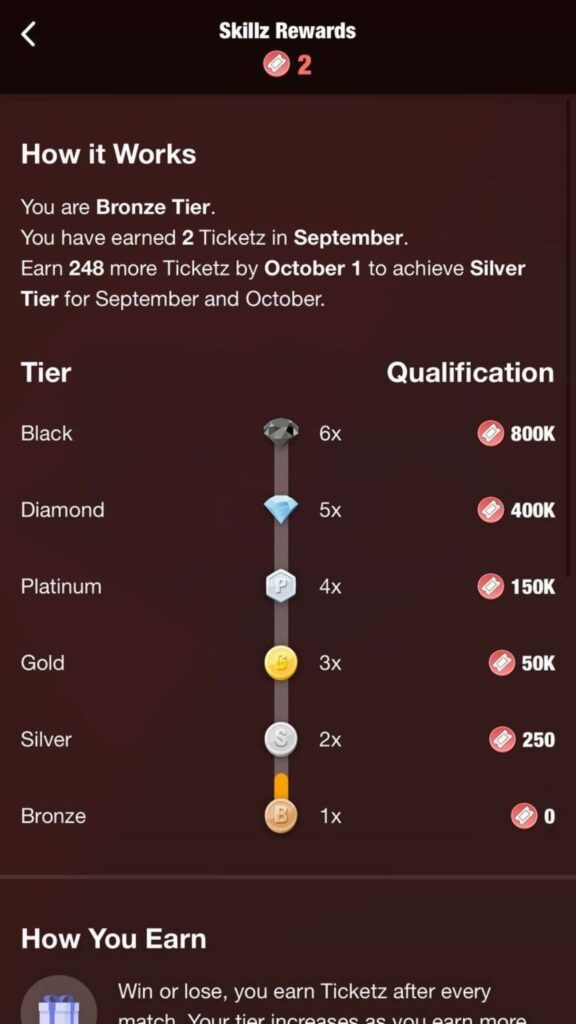 Dominoes Gold Bonus Rules & Restrictions
The Dominoes Gold promo code system and its set of promotions are rather intuitive, but the rules associated with these bonuses are not. To claim an offer that grants bonus money, you need to be eligible for playing with USD. This implies that you should be at least 21 years old and not be a resident of the following states:
Arizona
Iowa
Indiana
Louisiana
Maine
South Carolina
New Jersey
Montana
There are no wagering requirements associated with a Dominoes Gold promo code, but don't get excited yet. The bonus funds you get through these promo codes and other paid promotions in the app can only be used to reduce the entry fee of matches. It will allow you to save money, but you won't be able to redeem the bonus funds, but only the tournament winnings.
Tips & Cheats for Dominoes Gold
There are not so many gameplay-related tips that can be shared for Dominoes Gold. The gameplay process is rather straightforward, so your main strategy is to clear the hand as fast as possible while earning points with good moves along the way.
In terms of bonuses, the situation is slightly different. Dominoes Gold has active communities on Reddit and Facebook, where the players discuss the most recent promotions. Most bonuses are added directly to the app, but if you don't wish to miss out on a secret promotion, make sure to revisit these socials every once in a while.
The same Reddit and Facebook pages can be used for asking questions regarding other aspects of the game. The members of the community are usually willing to help other players, and you will typically get a response faster than from the official Dominoes Gold support team.
Other Skillz Gaming Promo Codes
The Skillz network has some other games you could try, and most of them have promotions like the Dominoes Gold promo code system.
| 🎰Skillz Game | 📜Promo Code | 🎁Bonus | 💵Deposit requirement |
| --- | --- | --- | --- |
| Pool PayDay Promo | APGET5 | $10 | $2 |
| Block Blitz | 18WKT | $10 | $10 |
| Bingo Blitz | LW3HE | $1 | $5 |
| Bingo Cash | BINGO50 | A 50% match bonus | $10 |
| Solitaire Cube | LukkyTee | $20 | $2 |
Is It Possible to Win Real Money at Dominoes Gold With No Deposit?
Although playing with Z coins cannot lead to real money prizes, you could eventually acquire enough ticketz to enter real cash tournaments by exchanging them for bonus money. This would require thousands of hours and it is therefore unrealistic.
The best way to win real money is to use the referral code on sign-up, complete missions to acquire extras, and make a deposit to take advantage of the $10 deposit bonus.
This would give you an edge, but Dominoes Gold matchmaking system and fees make it extremely hard to end up on the green. For this reason, we believe it's unrealistic to make money playing Dominoes Gold even if you are a Domino guru.
Summary
Now that you know all the details about the Dominoes Gold promo code system and its promotions, we hope you will agree there are sweeter deals available. Sweepstakes sites like WOW Vegas, Stake.us, NoLimitCoins, and High 5 Casino offer larger bonuses and have more promotions.
We can understand that you might be looking for a competitive experience with real human opponents, but Dominoes Gold is by far not the most beneficial game to choose even within the Skillz network. Other titles like Block Blitz, Bingo Cash, and Solitaire Cube have more generous promotions and introduce new offers more frequently.