Board games, dominoes, arcade, bingo games, and many more are what players can enjoy at Skillz, and guess what? You don't have to pay a dime to play any of the over 500 Skillz games available through the app.
Pros
All games are skill-based
Over 500 skill games
Frequent promotions and tournaments
App for each game can be downloaded to your smartphone
Cons
No online slots
Each game has its own dedicated mobile app
Winning real prizes isn't easy
Skillz is one of the best sweep coins casinos in the USA that allows players from across the states to play online skill-based games for real money and even compete against each other. Unlike real money casinos where you'd need to deposit into your account, Andrew Paradise's creation allows you to play and have fun to the fullest without having to deposit anything.
What's more? If you earn enough Ticketz while playing, you can use them to redeem various prizes on the app. Even though you can download the app of any game and play for free, players can still buy virtual coins to stand a chance at winning real cash prizes. And if perhaps you decide to deposit $10 within 24 hours of signing up, you will be given a $10 deposit bonus to boost your bankroll. Players can only access Skillz games via their smartphones, so you can have fun wherever you go.
In this Skillz Games review, you will learn how to download and play the over 500 games available at Skillz for free, compete with others for numerous prizes, and if Skillz is considered the best sweepstake casino for players in all states.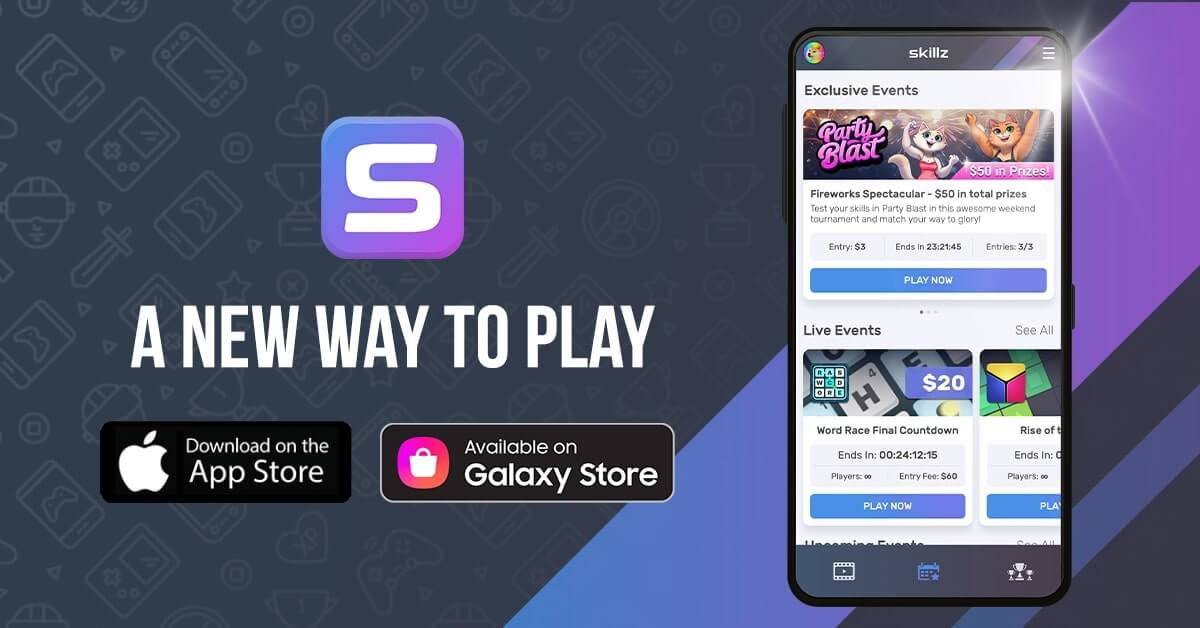 Types of Skillz Games
There are over five hundred games at Skillz, with new titles being added frequently from various developers. These games are divided into 20 genres based on their gameplay and the ability each will test for easy access. Here are some genres you will find at this sweepstake casino and the number of games under each. This table is constantly updated as new games and titles are added to the site.
| #️⃣ | 🤠Genre | 🎲Number of Game |
| --- | --- | --- |
| 1. | Action | 43 |
| 2. | Arcade | 15 |
| 3. | Bingo | 8 |
| 4. | Board | 27 |
| 5. | Bubble | 8 |
| 6. | Card | 52 |
| 7. | Chess | 4 |
| 8. | Dominoes | 4 |
| 9. | Mahjong | 7 |
| 10. | Physics | 14 |
| 11. | Pool | 6 |
| 12. | Puzzle | 118 |
| 13. | Solitaire | 40 |
| 14. | Spades | 2 |
| 15. | Sports | 54 |
| 16. | Strategy | 8 |
| 17. | Sudoku | 5 |
| 18. | Tetris | 5 |
| 19. | Trivia | 1 |
| 20. | Word | 20 |
How Skillz Games Platform Works
Social casinos like the Skillz platform operate differently from real casinos. The games here test players' skills, and the cash system is also different. Hence, the reason to discuss what to expect from the Skillz Games apps.
Z Coins: This refers to the currency you can use in playing against other users. While Z coins can get you into free tournaments, you cannot use them for anything substantial in the future. You earn more Z on the platform if you watch ads, claim trophies, or win free games.
Ticketz: This is similar to Z coins but can only be won during games – free or real money or paid tournaments. One of the perks of Ticketz is that you can redeem bonus cash or gifts with them.
Virtual Money: This reflects the currency you buy with your deposit. While other sweeps cash casinos use terms like gold or coin, your deposit only gets converted into virtual money. You can use this in gambling with other players, paid competitions, or tournaments to win more real cash prizes.
Free Games Play Mode
Skillz is one of the best sweepstakes casinos with skill-based games that pay real money. If you are only interested in the fun part, you can play for free using the "Z" virtual fun cash. Players can use the currency to play all the games available, even the popular Skillz games. Likewise, you can climb the leadership board and even enter free tournaments using "Z." To play games on the Skillz platform for free, follow these steps:
Click on "GET" to download your preferred game on your device.
Install and open the game.
Compete with others to earn more "Z" by clicking the practice option.
It is worthy of note that the Z virtual currency won here cannot be redeemed for cash prizes.
Real Money Games Mode
Playing Skillz games with real cash requires that players make a deposit first. you can follow this process:
After you download the game of your choice.
Click on the "Store" icon.
Select any of the specified deposit amounts on the screen.
Fill in additional details like location and date of birth.
Select the payment method you'd prefer to deposit (or use the Skillz promo code to get additional funds to play specific games).
Use the funds in your account to play and win real cash or join tournaments.
How to Create a New Skillz Games Account
Whether you want to play Skillz games for money or fun, it is essential that you first create an account. You can get an early start on this process by clicking the "Join Now" on this page or taking the following steps:
Go to games.skillz.com.
Click on the sign-up option at the top far right corner.
Fill in your full name and email address.
Open the link sent to your mail to change the password to your account.
That's it! You are all set to start playing any game of your choice.
While all players that are 18 and above are allowed to open an account to play Skillz games, like on all Sweeps coins casinos in the USA, players must adhere strictly to the gaming laws of their states. Hence, players from AR, AZ, MT, SC, SD, CT, DE, and LA cannot participate in cash tournaments.
Real Money Games for iOS and Android
Like many legitimate sweepstakes casinos, patrons can mainly play Skillz games on their smartphones. While you can visit the site on your PC, the games only have mobile versions. So, how do you download it to your device?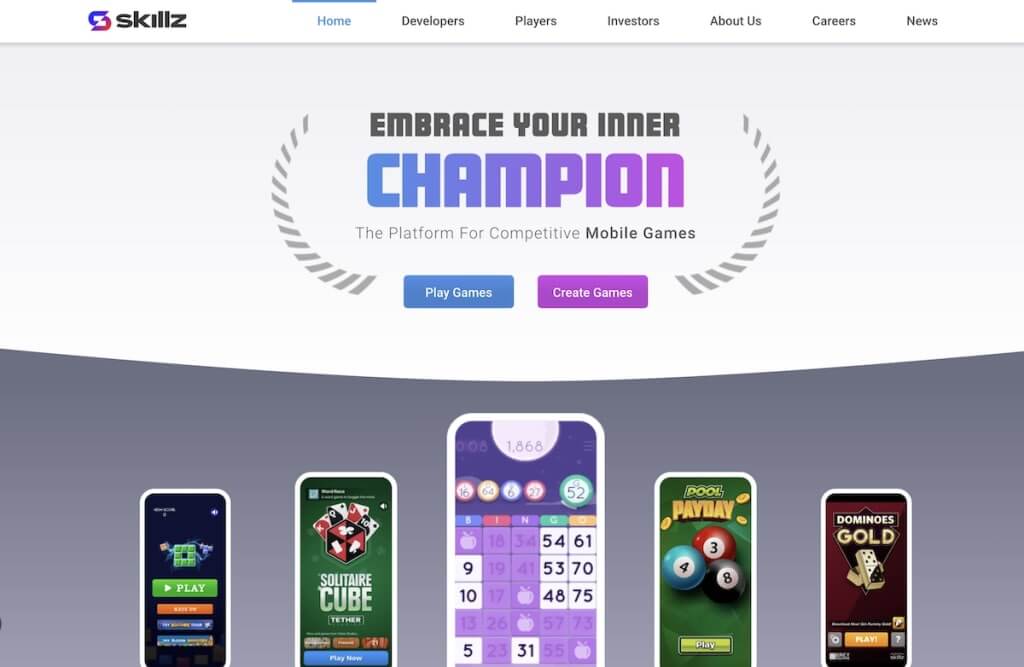 Real Money Skillz Games for iOS
Whether you are using an iPhone or iPad, you can get Skillz games for iOS by following these steps:
Click on the "Play Now" button on this page or visit Game.Skillz.com on your browser.
Look through the games to find the one that piques your interests, e.g., pool.
Click the "Get" button beside the game's name you are interested in.
Once installed, open the game and deposit (more on this in the subsequent section).
Real Money Skillz Games for Android
Android users looking to play any game, for example, Dominoes Gold, would do the following. Visit the site via the "Play Now" button on the page or visit Skillz's official site – games.skillz.com.
Search for the game of your choice.
Click "Get" to download the game's file.
If a security tab pops up, don't fret, all you have to do is allow apps to download from unknown sources.
Install the downloaded game after this.
Log in and customize a username once you open the game.
Make a deposit (check out the Skillz Coins Purchase Methods for more information on this).
Enter tournaments or compete with friends to win real cash.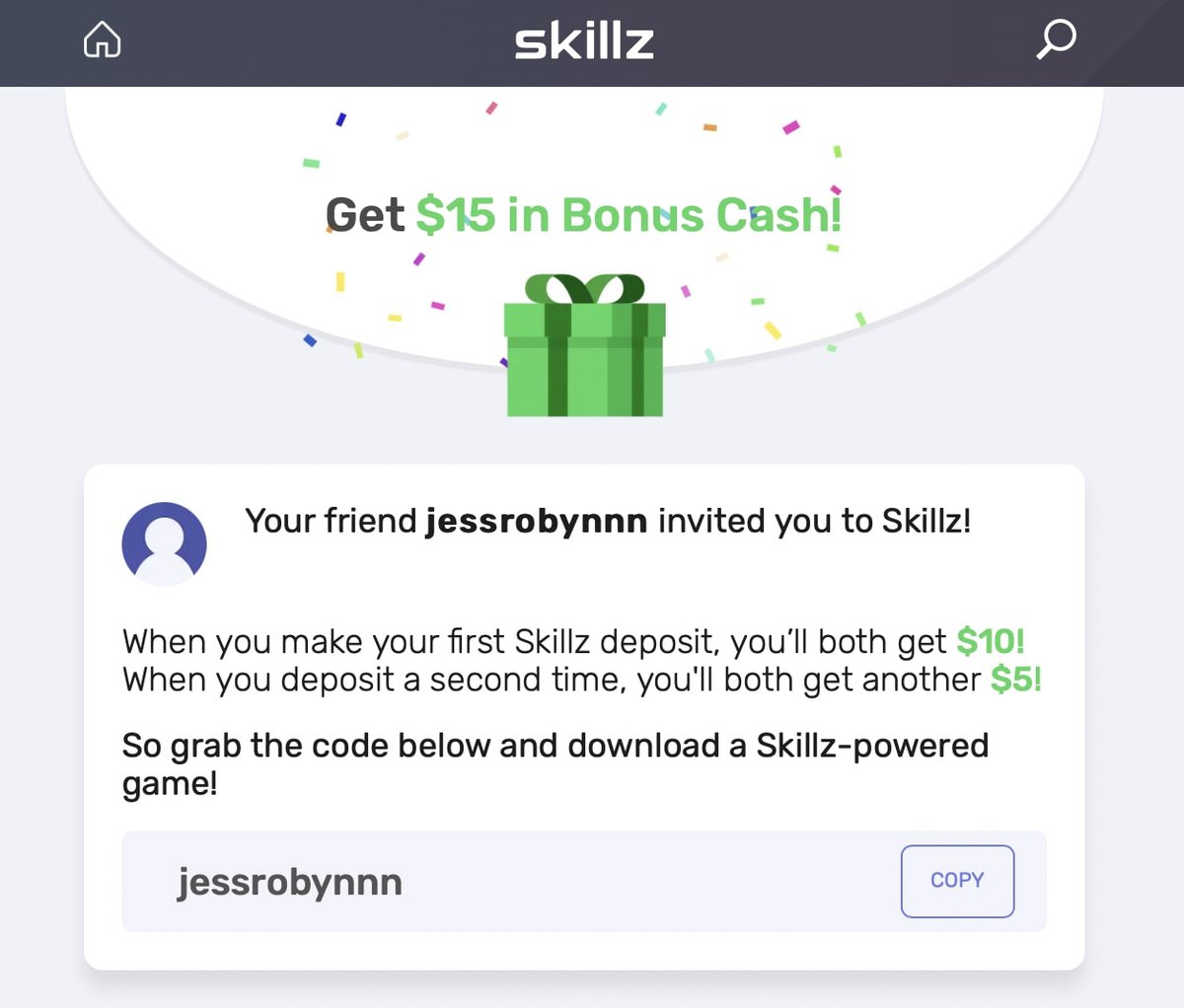 Skillz Promo Code for New Players
Although it is not compulsory to make deposits to play to partake in any game, Skillz stands as one of the social casinos that pay real money to players who make a deposit. Players who deposit $10 in their first 24 hours get an additional $10 bonus cash.
To make things easy, you do not need to use any Skillz promo code to be entitled to this.
🎰Skillz.com
🎁Welcome Bonus
$10 Bonus Cash
⏱️Validity
24 hours to signing up
🎲Eligible Games
All games and paid tournaments
📜Skillz Promo Code
No Code Needed
Skillz Games Promotions for Current Players
Aside from the new players' offer, existing players can also partake in numerous bonuses. While redeeming rewards with your Ticketz is one way to get freebies, you can also enjoy other promotions. Things are kept bubbly with the ever-changing bonuses Skillz contestants can enjoy. Below are the current promotions available to existing players.
| 🎁Promotion | 📜Skillz Promo Code | ✅Eligibility | 🤑Offer |
| --- | --- | --- | --- |
| Refer-a-Friend | Your Username | Be a verified user | Referrer and referral get $20 bonus fund on the first deposit. On the second deposit, the referrer receives $10 |
| VIP Program | - | Earn 6x multiplier for Ticketz won per match, ranked as a Black Tier | Exclusive offers, gifts, bonus cash, and Ticketz |
Best Games to Play at Skillz
There are thousands of games at Skillz, with new titles being added from time to time. If this endless pool of options seems overwhelming to you, below are the five most popular Skillz games you should definitely try out from various reputable game developers.
| 🎲Game | 🤠Genre | 🧑‍💻Developer |
| --- | --- | --- |
| Black Bingo | Bingo | Big Run Studios |
| Bubble Shooter Arena | Puzzle | Free Addicting Games |
| Dominoes Gold | Dominoes | Grey Square Games |
| Pool PayDay | Pool | Hidden Pixel Games |
| Big Buck Hunter: Marksman | Sports | Mechanix |
| Solitaire Cash | Cards | Papaya Gaming |
| Bubble Cash | Skill | Papaya Gaming |
| Block Blitz | Skill | Free Addicting Games |
1. Blackout Bingo
This Bingo-like game, which follows up on the hugely successful Bingo Cash by Skillz, allows players to compete with others for free or virtual currency to earn real cash. Blackout Bingo features some random numbers on a bingo card, and it allows you to mark off numbers as they are called. Three consecutive mark-offs give you a daub bonus that will enable you to mark off a number from the card quickly.
This Big Run Studios Inc. invention is one of the best from the game developer, featuring a stunning graphic and upbeat soundtrack. You can play the practice mode on Blackout Bingo to boost your skill or compete with others for free using the app. There is also a Blackout Bingo no deposit promo code you can use to play and cash out prizes!

2. Bubble Shooter Arena
If you find popping bubble wrap or bubbles satisfying, then Bubble Shooter Arena just might be the game for you. Here, you shoot specific bubble colors at other clusters above to earn points for 3 minutes. While you can play for free using your "Z," players can also win cash prizes. Thanks to the game developer, the Bubble Shooter Area is a Skillz game for Android and iOS users.
One distinctive feature of this mobile game is that as you climb the leadership ladder, you'll be able to compete in the Bubble Shooter Arena League with other bubble shooters.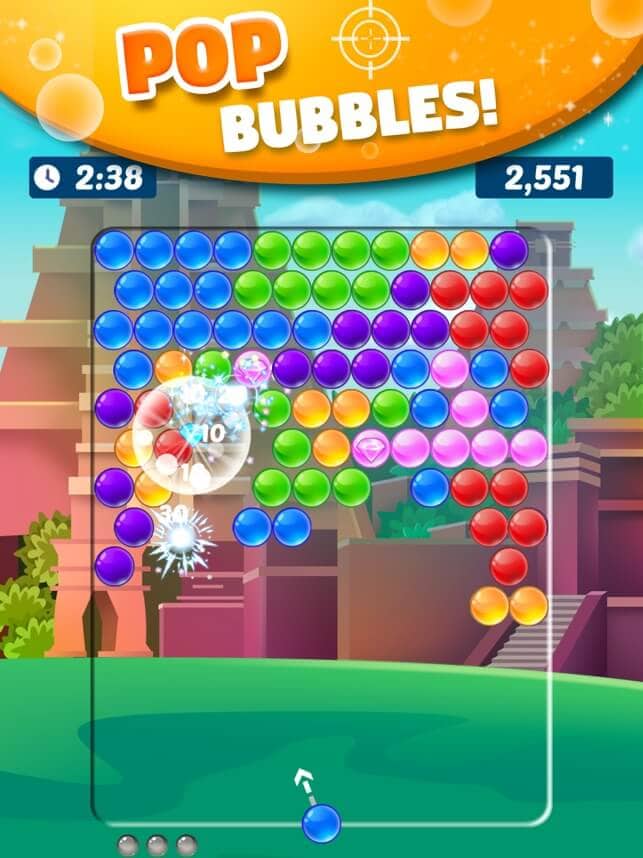 3. Dominoes Gold
This is a game made specifically for Dominoes lovers. Patrons can play Dominoes Gold for fun to win more Z and Ticketz to redeem bonus funds or other prizes. In addition, you can play Dominoes Gold to win real money on your Android or iOS Devices.
Regardless of your reason, this mobile game would undoubtedly give you befitting fun and rewards for your gameplay.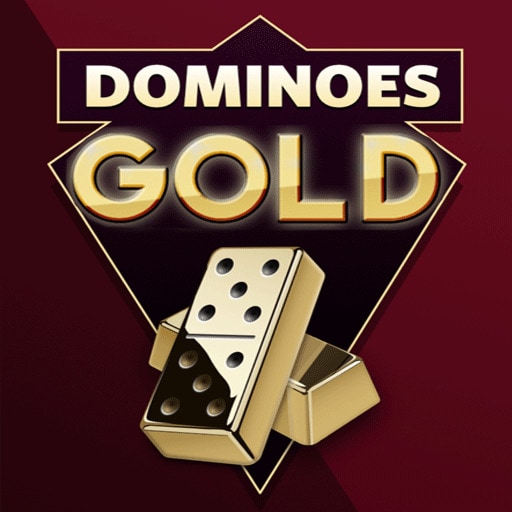 4. Pool PayDay
Hidden Pixel Games is one of the best game developers out there, and Pool PayDay is a relatively new game and a testament to that fact. Players will be presented with a rectangular pool table and will have to drag their fingers to move the cue. Although you won't break as much sweat playing this Pool game as you do in real life, you can have a lot of fun competing with others to win cash prizes, Ticketz, or Z.
5. Big Buck Hunter: Marksman
This fast-paced retro game by Play Mechanix is one of the most popular games in the sports genre. The Skillz game takes you back to the arcade by allowing you to hunt deer with your rifle. The game awards you points for every deer you kill, depending on which part the bullet struck. There is also a scope that you can use to adjust your aim.
However, don't get carried away in the wilderness, as you can lose points by killing a doe. You can earn Ticketz and Z by playing for fun with other patrons in Big Buck Hunter. But if you want to win real cash, you can compete with other players or join any of the tournaments to increase your winnings.
Are Skillz Powered Games Rigged?
Skillz games are not rigged. All Skillz-powered games have undergone strict testing to prove they are fair and skill-based. As it is a public company, they have had to demonstrate to regulators that their games are legit, clearly games of skill, and that the tournaments hosted on the app are fair and being played by actual players and not bots.
Skillz Coins Purchase Methods
If you are like many players who want to win more than free sweeps coins from Skillz, you'd need to first deposit into your account. This sweepstake casino only allows you to choose one of the following five options: $2, $5, $10, $15, and $30.
| 💳Method | ⏱️Transaction processing time for Deposit | ⏱️Processing Time for Withdrawal |
| --- | --- | --- |
| Credit Card/Debit Card (MasterCard, Visa and, AmEx) | Instant | Instant |
| Apple Pay | Instant | Instant |
| PayPal | Instant | Instant |
| Check | - | 4-6 weeks |
One significant difference between Skillz and real casinos is that US players can only withdraw the precise amount they deposit back into their accounts. All winnings get sent by check to users' mail. Any withdrawal below $10 attracts a fee of $1.50, while any amount above is free. Your deposit and withdrawal details will also be stored for future reference.
Redeeming Skillz Real Money
If you only plan to play for fun, you wouldn't need to verify more than your mail address by clicking the link sent to it. However, if you are playing Skillz games for money, you'd need to verify your account the following way.
Click on the "Store" icon on the game.
Select the amount you'd like to deposit.
Fill the window that will pop up with all the necessary details.
Fund your account and withdraw at will.
Thankfully, you only need to do this once, after which you do not need to do it again. Punters' accounts get verified, and if you are in a state where cash gaming is accepted, you will be allowed to fund and withdraw from your account.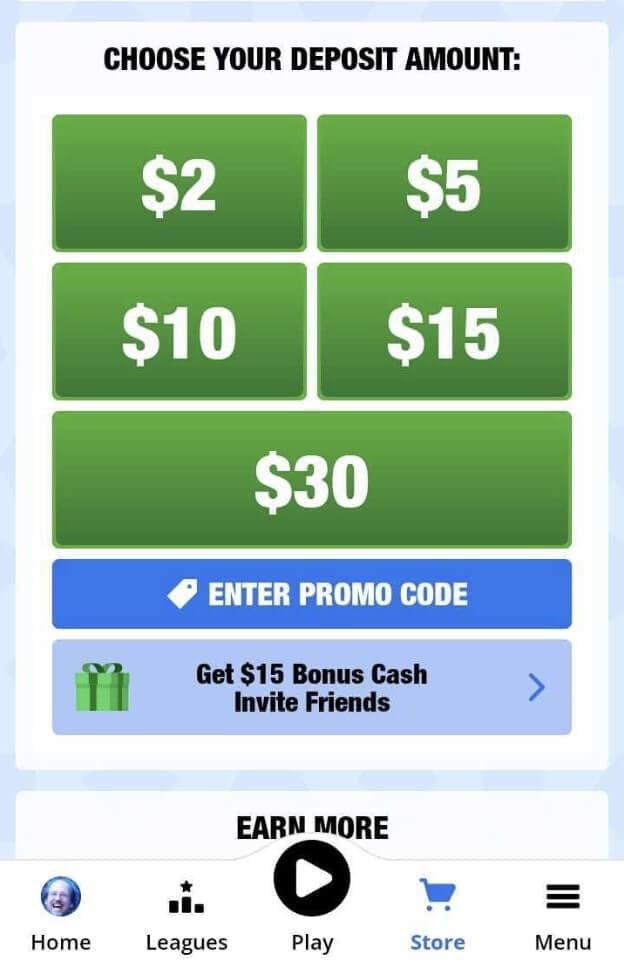 Support Channels for Skillz Players
Being one of the best sweep coins casinos USA, the company prioritizes players' convenience over everything, hence the series of support channels available. Aside from the live chat and email support that are available 24/7, users can also go to their several social media platforms to enquire.
Another advantage of staying updated on Skillz's social media pages is that several time-constraint promotions or rewards are frequently posted. Also, there, you can discuss with the hundreds of thousands of other players like you.
Do you want to connect with any of this company's support channels? Below are the specifics:
Is Skillz Online Gaming Platform Legit? Reddit & Public User Reports
Many Skillz players have complained about the app's unfair matchmaking algorithm, which they claim prevents you from racking up easy wins. Essentially the algorithm is constantly monitoring your game performance and pairing you with players who are of similar skill. The result is it becomes incredibly hard to win more than 60% of matches, which is required if you want to profit.

Some people claim this is done intentionally so players can continue playing and not go broke too quickly, as Skillz makes its money from fees, unlike a casino that gets to keep all of a player's losses. For example, if a new player signs up and plays 10 X $120 games, loses them all, becomes frustrated, and deletes the app, Skillz has only made $200 from this player (10 X $20).
However, if this same player plays 50 X $120 games and wins 24, they have lost the same amount of money ($1200), but Skillz has earned $1,000 (50 X $20). It is in Skillz's best interest to keep players as close to a 50/50 win percentage as possible.
One disturbing Reddit thread I came across was a post from a player who claimed to have lost $10,000. They appeared in despair as they tried over and over again to win back their lost money but ended up in a massive hole. They came to the conclusion that the games are unfair and had been suckered into playing by the whole Skillz is not gambling and is an easy way to win extra money.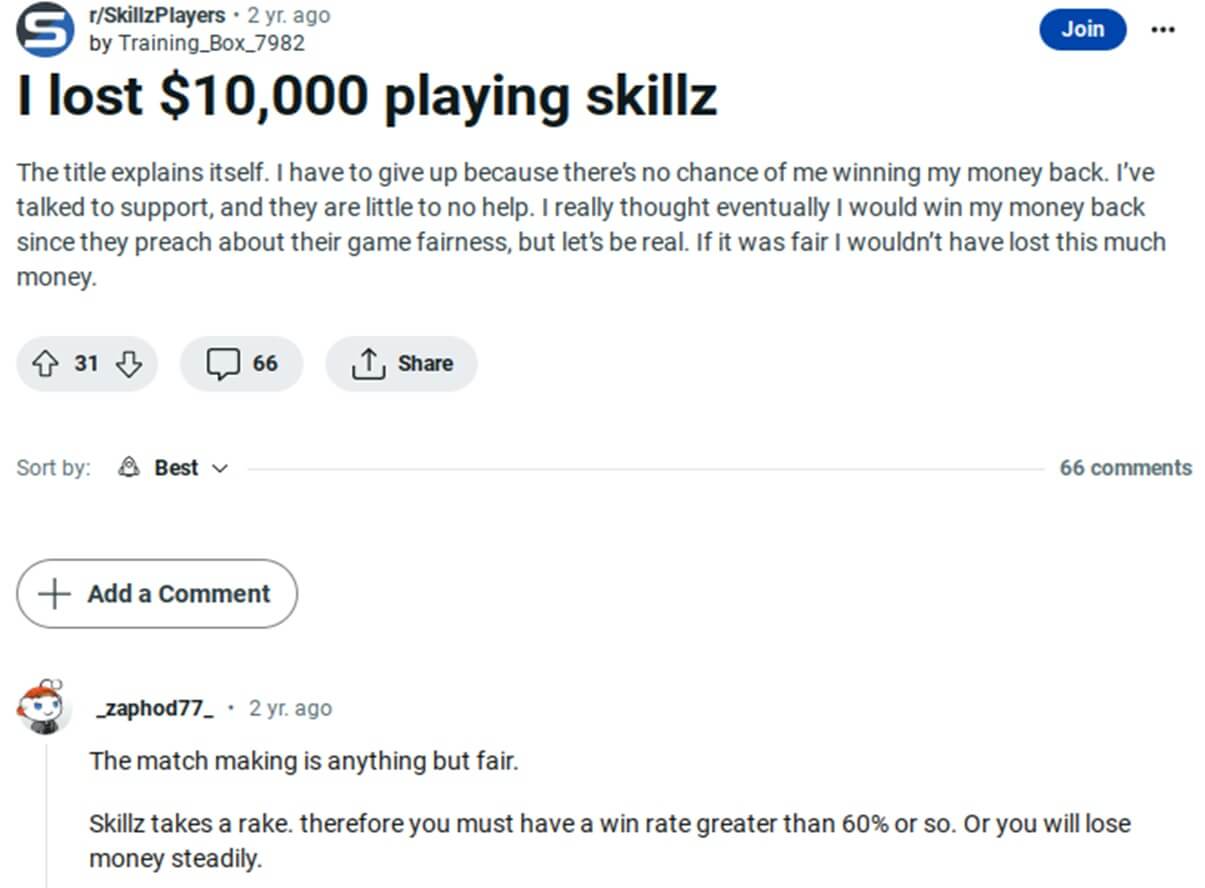 Another common issue players have is getting their accounts banned without any warning. Players claimed they would go on nice winning streaks only to have Skillz shut down their accounts and offer no explanation.
Also, players are not happy about having to wait 6 weeks to receive their winnings via check in the mail. It looks like Skillz is pretending to create a platform where players can easily win real money prizes and cash out, but in reality, they are trying to restrict winning players.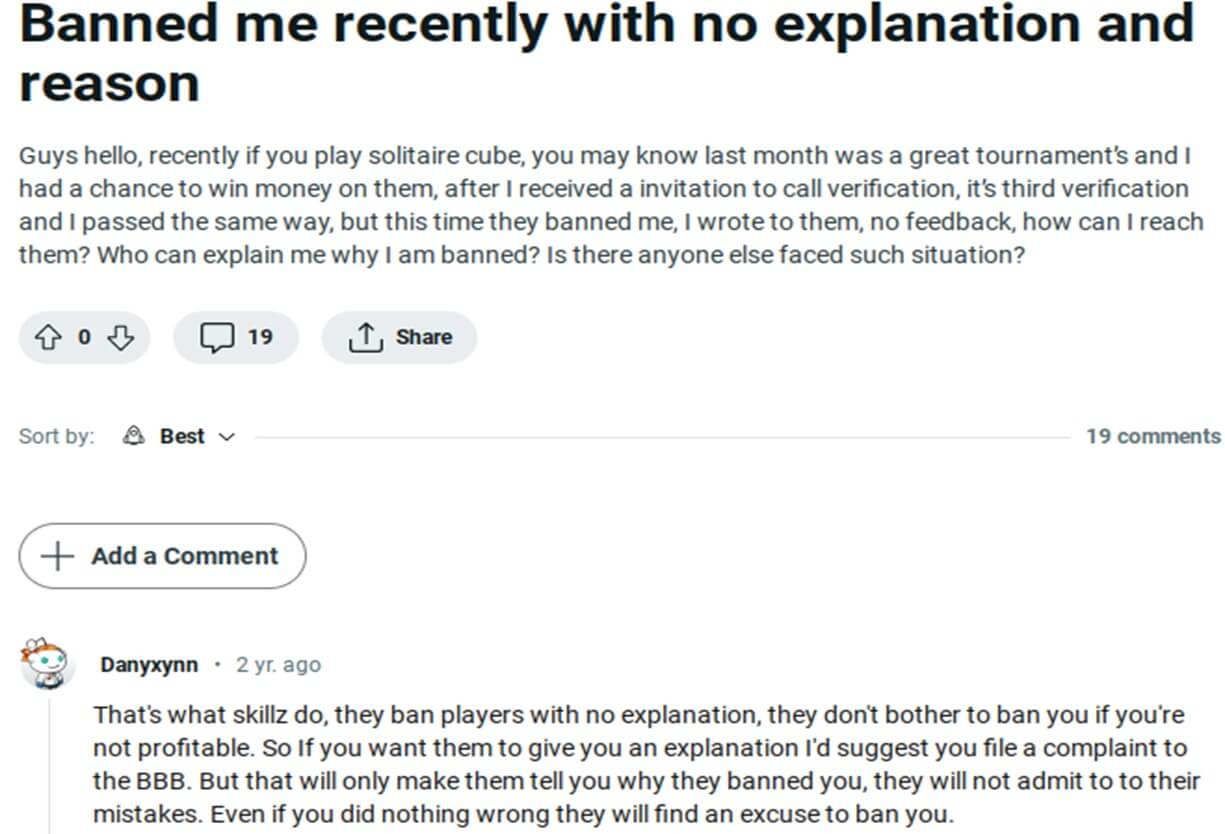 Is Skillz a Scam?
There are a lot of angry former players who have lost money and are convinced that Skillz is a scam. However, they can't come up with any proof and just come across as sore losers and conspiracy theorists.
Even though Skillz is not a scam, the company has definitely employed some shoddy marketing. Their whole schtick was that you could play fun games on your mobile and win easy money. Unfortunately, the reality is that the vast majority of Skillz players will not only fail to earn money but they will end up with a hole in their pocket.
Skillz Lawsuit
Skillz is not a squeaky-clean company. As their share price exploded and then quickly collapsed back in 2021, a group of investors sued Skillz complaining that the company didn't reveal that they were losing users and were overemphasizing user engagement. The lawsuit was eventually tossed by the judge, who said there was a lack of evidence, but based on some of the shady Skillz ads I have come across, this company definitely does not mind exaggerating.
In another lawsuit, a former player sued Skillz and alleged that their games constitute gambling games in violation of California and federal law. This case is ongoing, and recently a judge ruled that it can not be settled by arbitration and that Skillz's terms and conditions contained substantively unconscionable provisions.
I think Skillz has some serious skeletons in its closet and expect more lawsuits in the future especially related to the platform offering gambling rather than skill-based games.
Is Skillz Legit? Our Take
Skillz is a legitimate esports gaming platform where you can compete against other players in skill-based games like Blackout Bingo, Solitaire Cube, and Bubble Shooter and win real cash prizes. However, despite what Skillz's ads might make you believe, winning money is actually incredibly difficult.
This is because Skillz charges a massive rake, taking 20% of the prize pool, and they have a matchmaking algorithm that constantly pairs you with players around your skill level. How are you meant to win 60% + of your games if you are always matched up with players with similar experience?
Another big problem with Skillz is the only real way to win cash is by risking your own money. At a sweepstakes casino like Fortune Coins, you can get free money just for creating an account and then use it to win even more cash + claim daily bonuses.
Unfortunately, at Skillz, there is a serious lack of bonuses, and you really need to deposit large sums to win money. And don't get us started on the withdrawals, which take up to 6 weeks, and the only method is a check by mail.
Skillz Games Alternatives
If you are looking to play games similar to those found on Skillz but with better security, I can recommend the casinos below instead.
FAQ's
Skillz is a social casino that allows players to play various skill-based games for free. In addition to this, Skillz provides sweepstakes games online for money for those who would love a real cash competition or want to partake in the paid tournament.

Is Skillz legal in the US?

Yes. US players can legally play Skillz, although not all states can play with real money.

Can I win real money if I win at Skillz Games?

Of course! If you do not belong to any of the following states, AR, AZ, MT, SC, SD, CT, DE, and LA, you can play and win real cash at Skillz Games.

What games are there at Skillz?

There are about 24 categories of games at Skillz. These categories include arcade, strategy, card, board, word-based, pool, and solitaire games from a company like Tether Studios among other reputable iGaming developers.

Are there any Skillz promo codes?

The only Skills promo code available is for refer-a-friend promotion. Here, your username serves as the code your friend needs to input at the "Match Code" field to claim the bonus.

Are there alternatives to Skillz Games?

Is Skillz website safe and secure?

Definitely! GeoTrust and the 128-bit digital encryptions protect the site and players' data from third-party access.