Scratch Carnival is a mobile sweepstake casino app from Virtual Gaming Worlds company that brought you market-leading online social games such as Chumba Casino, Global Poker, and LuckyLand Slots. Scratch Carnival offers new players the chance to win real prizes, through free-to-play games in every US state except Washington. They also provide free daily sweepstake tickets and regular new scratch-offs.
Pros
Over 680 games
Regular giveaways +bonuses
Free-to-play mode comes with many games
Free coins on signup
Cons
Only mobile app available
The goal is to create your very own Scratch Carnival Casino and play fun scratch-offs to win great prizes. You can customize your Carnival to make it unique, filled with exciting rides and multicolored tents and buildings.
Choose from any of the fun free-to-play games, play ticket scratch-offs to win free gold coins, earn carnival coins, cute collectibles, and much more. Or, use your cash for free bonus tickets to enter sweepstakes slots and scratch-offs for the chance to win real prizes!
New players can receive a sweepstakes casino no deposit bonus! On average, you can score over 25,000 free gold coins when you sign up for a Scratch Carnival account. You will also receive free sweeps coins when you sign in to your account for the first time.

If you are looking for a better range of games and offers, we would recommend the 5 sweepstake casinos below instead of playing on the Scratch Carnival app.
Download the App to Register
Creating an account is easy. Scratch Carnival is an entirely mobile casino, so you must download the Scratch Carnival mobile app.
The app is not available on desktop devices, so access the Scratch Carnival website through your mobile device to find links to download the mobile app.
Android users can find the Scratch Carnival app on the Google Play Store and Apple users on the App Store.
Download and install the app
Tap 'Register,' and you will have to enter a few basic details.
Similar to other VGW's ventures, Scratch Carnival Casino is a social app. It is a good idea to sign up through your Facebook or Apple account. If you are a winner in any sweepstakes, like the Draw Raffles, customer service will contact you quickly through your social media accounts.
Users have even discovered offers of an additional 1000 gold coins added to your balance if you link your social media accounts to the Scratch Carnival mobile app!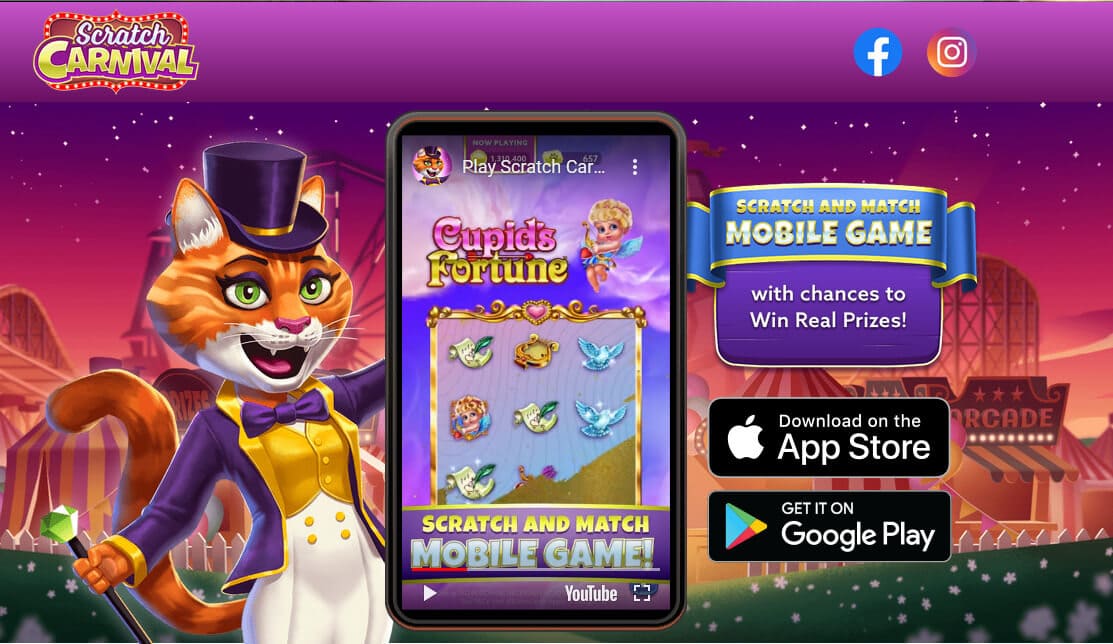 How the Scratch Carnival App Looks
The team behind Scratch Carnival Casino has many years of experience developing easy-to-use, well-animated games and visually exciting apps, and Scratch Carnival is no exception.
Once you have logged into your new Scratch Carnival account, all of your details appear below the hamburger icon in the top right corner of the banner. Your Gold Coin and Sweeps Ticket balances will appear in the center.
The icons for the various games, the store, prize draws, and links to social media are all displayed at the bottom of the screen. The logo of each game shows the number of Gold Coins and Sweeps Tickets required to play. Clicking the "I" will display the size of the potential prizes available for each game.
You can check your active sweeps entries by tapping on the "draw" icon.
The games icon brings up all of the scratch-off games available free-to-play, either just for fun for Gold Coins or with Sweeps Tickets for the chance to win real prizes.
The social tab allows you to connect with your friends and share your winnings and achievements.
Scratch Carnival Sweeps Coins System
As well as offering the usual in-game prizes, the Scratch Carnival Casino app allows you to take part in regular Sweeps draws. Sweepstakes are regular raffles in which one contestant, selected at random, will win the grand prize.
Two other titles from the developer of Scratch Carnival Casino – LuckyLand Slots and Chumba Casino have already made multiple millionaires!
Scratch Carnival regularly gives away weekly raffle gift cards and free Sweeps Tickets, which can be used to play Scratch Carnival's games or enter into draws for the chance to win real prizes.
Remember, the games are free-to-play; you don't have to spend anything to enter! So, enter the Scratch Carnival Sweepstake Draws for the chance to win more real prizes!
The outcomes of the Scratch Carnival sweepstakes games are decided by a random number generator. This makes sure that all players have an equal chance of winning.
An outside agency tests and certifies the RNG to ensure fairness.
You can also buy additional Gold Coins as Gold Coin Packs. And to promote this, Scratch Carnival gives away free Sweepstakes Tickets with all Gold Coin purchases.
Ways to Win more Gold Coins
Scratch Carnival gives away free Gold Coins every day; all you have to do is log in to your account!
When you log in, you will see the bonus scratch-off game on the home screen.
Tap the game
Match the symbols
Collect your free gold coins!
You can also earn more free Gold Coins if you invite your friends to Scratch Carnival on social media:
Tap the social tab at the bottom of the home screen.
Send invites to Twitter/Facebook etc…
Receive your free gold coins!
If you run out, you can always purchase more gold coin packs, and the more coins you buy, the cheaper they are!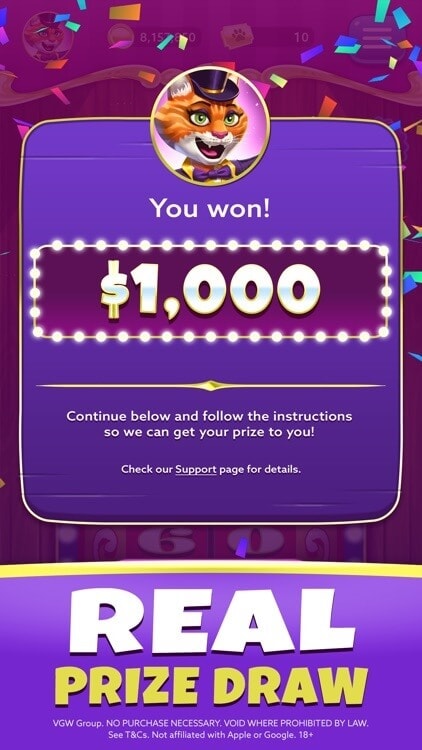 Scratch Carnival Prizes that You Can Win
You will receive prizes as gift cards when you win prizes by playing scratch-off games and sweepstakes scratch-offs. Prizes can vary in value from $5 to $50! Scratch Carnival has links to popular retailers, stores, and restaurants, such as Uber, Home Depot, Starbucks, Applebee's, Outback Steakhouse, Burger King, and Best Buy.
Twice a week, players can enter the sweeps cash casino and take part in jackpot games for larger prizes. You enter these jackpots with your sweeps tickets, and you could win:
Prizes range from $500 to $20,000 in value!
Larger jackpots are split between multiple winners
Players receive Jackpot prizes in gift cards, just like normal gameplay.
Gift cards are sent to the email which you used to sign up for your Scratch Carnival account. Make sure to keep this information up to date, and you don't miss out on any prizes!
Scratch Games to Play at Scratch Carnival Casino
In Scratch Carnival, you can create endless combinations of rides, food stalls, and decorations inside your very own Carnival. Then take your Carnival to the next level by finding puzzle pieces inside fun scratch-off games.
The graphics are great, and new games are released all the time.
Choose from over 680 games, like Kitty Uproar, where you search for the scratch-off matches hidden among the cat's toys, avoiding the ever-vigilant felines!
If you're looking for more of a challenge, you can attempt puzzle scratch-off games like Bubble Bounty, which tasks you with solving a word puzzle to free the trapped balloons and claim your prize.
Other popular scratch-off games include Doctor Voltage and Granny's Cookies!
Scratch Carnival even releases fun holiday-themed games for a short time, which keeps everything fresh.
Remember all the games at Scratch Carnival are free-to-play, and on signup, you will receive enough Gold Coins to get started.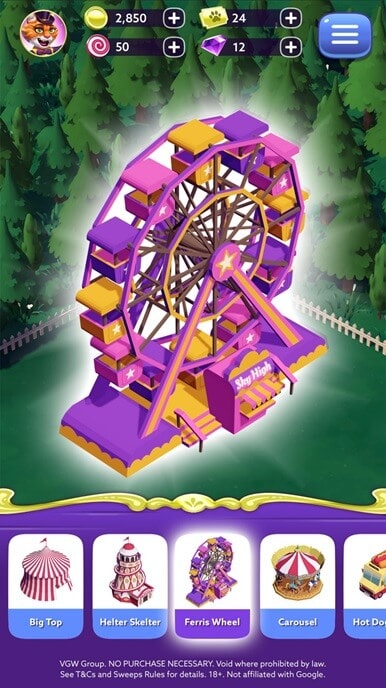 Scratch Carnival Purchase Methods
Purchasing coins on Scratch Carnival is very simple. There is a decent range of payment options, so you shouldn't run into any issues. Scratch Carnival accepts all major debit/credit cards and bank transfers, Google Pay and Apple Pay.
You may be asked for additional proof of ID at this point. This will consist of sending a screenshot of your documents to your Scratch Carnival account. A government-issued ID and a proof of address such as a utility bill.
Deposits – Visa, MasterCard, Credit / Debit Cards, Bank Transfer, Apple Pay, Google Pay, AmazonPay, N26, Revolut, American Express
Withdrawals – Visa, MasterCard, Credit / Debit Cards, Bank Transfer, Apple Pay, Google Pay, AmazonPay, N26, Revolut, American Express
Minimum Deposit – $5.00
Minimum Withdrawal – No Limit
Maximum Withdrawal – No Limit
Support Channels for Scratch Carnival Players
If you need assistance with the app, a few support options are available. You can either search for the answer yourself in the FAQ section, email the team directly, or open up a help ticket.
You can contact the team through the contact form on the app or send an email directly to: support@scratchcarnival.com.
The customer support runs on Zendesk, and you can raise a ticket with your inquiry, tap the 'Help' button and follow the app's on-screen prompts.
Support is also available through social media channels, but the response time will likely be slower.
Other Casino Sites like Scratch Carnival
Other social casinos that pay real money, like Chumba Casino, Global Poker, and LuckyLand Slots are decent alternatives to Scratch Carnival.
All the sites offer the chance to win real prizes!
While these sites do not provide the fun scratch-offs and regular free sweepstakes of Scratch carnival, one benefit they may have for some players is that they are not solely mobile apps.
All three of these other titles are accessible through a web browser or mobile browser, which may be more useful to some.
FAQs
Is Scratch Carnival legal in the US?

Scratch Carnival is legal in every state in the US except for Washington.

Can I win real money if I win at Scratch Carnival?

Yes! Scratch Carnival is a social casino that pays real money!

Prizes are paid out in gift cards redeemable at major retailers and restaurants all over the US. Gift cards are emailed to the email you used to sign up for your Scratch Carnival account and can be used directly from your phone or printed out.

Always keep this information up to date to ensure you don't miss out!

What games are there at Scratch Carnival?

There are over 680 fun titles on the Scratch Carnival mobile app.

You can earn real money playing the free-to-play scratch and match games and enter sweepstakes for bigger prizes.

New scratch-offs and word games are regularly added, so keep checking the app for holiday-themed games and other updates.

Are there any Scratch Carnival bonus codes?

While there are no bonus codes, Scratch Carnival offers gamers multiple means to receive free bonuses. New players will generally receive a sweepstakes casino no deposit bonus of around 25,000 free Gold Coins at signup.

You will also be able to get more free sweepstakes tickets when you sign in to the app for the first time, and linking your social media accounts and sharing Scratch Carnival with your friends will also yield additional bonuses.

You will continue to earn sweeps coins, gold coins, and sweeps tickets as you play games, and even just for logging into the app daily!

Is Scratch Carnival safe and secure?

Scratch Carnival's social casino games and free sweepstakes are fun to play, and deposits and withdrawals from your account are one hundred percent safe and secure.

The app's developer, VGW, has been a market leader in the iGaming space for many years and holds all of the necessary legal licensing to operate its services throughout the USA and Canada. The app is highly rated on both Google Play and the App Store, with millions of satisfied players.

Your sensitive material is held in accordance with all relevant data protection laws, and your payments are guaranteed safe with secure mobile purchase technology.