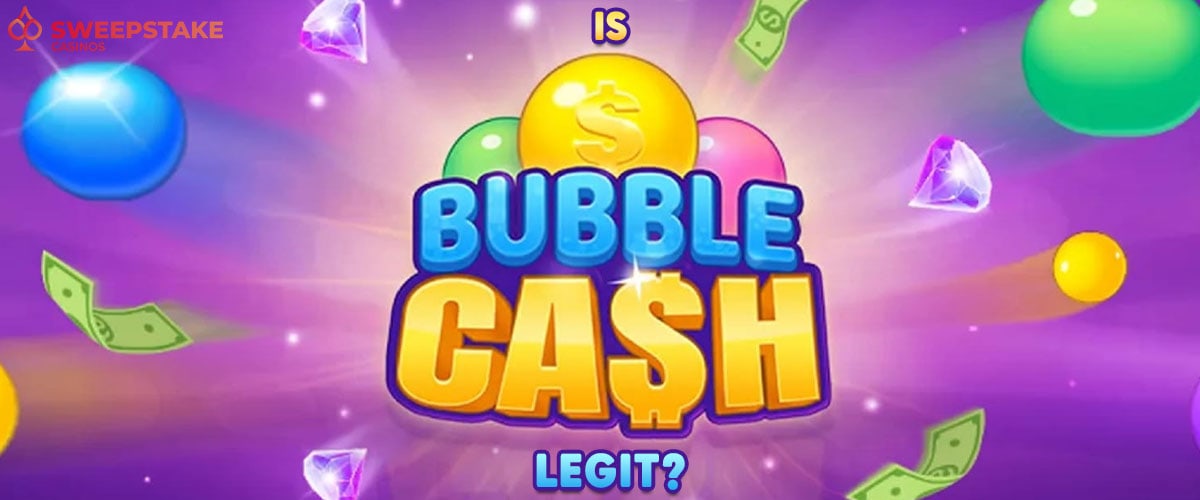 Bubble Cash is the most popular bubble shooter app, with a 4.6 App Store rating based on 90,000 + reviews. With this iOS app, you can compete against fellow Americans and win cash prizes in 44 US states. 
Despite the thrilling gameplay and the legal real money tournaments, Bubble Cash has a few glaring weaknesses. The app is only available on iOS, and the most you can win from a single tournament is only $55. If you want to win actual money at Bubble Cash, you have to risk your own money. Also, Bubble Cash charges some outrageous tournament fees, taking up to 33% of the prize pool.
In this review, we expose the inner workings of Bubble Cash. We will break down their business model, whether or not they are legal, how their payouts work, and provide you with some legit alternatives.
If you are already sick of Bubble Cash and want to play hundreds of exciting casino style games and win real cash prizes in 48 US states without risking your own cash, then try out these awesome legit sweepstakes casinos:
How We Verify Bubble Cash Legitimacy
When reviewing all skill games, we always download the app and test out every feature. When it came to Bubble Cash, we played more tournaments than we care to admit, and it turns out our bubble shooting skills need some work!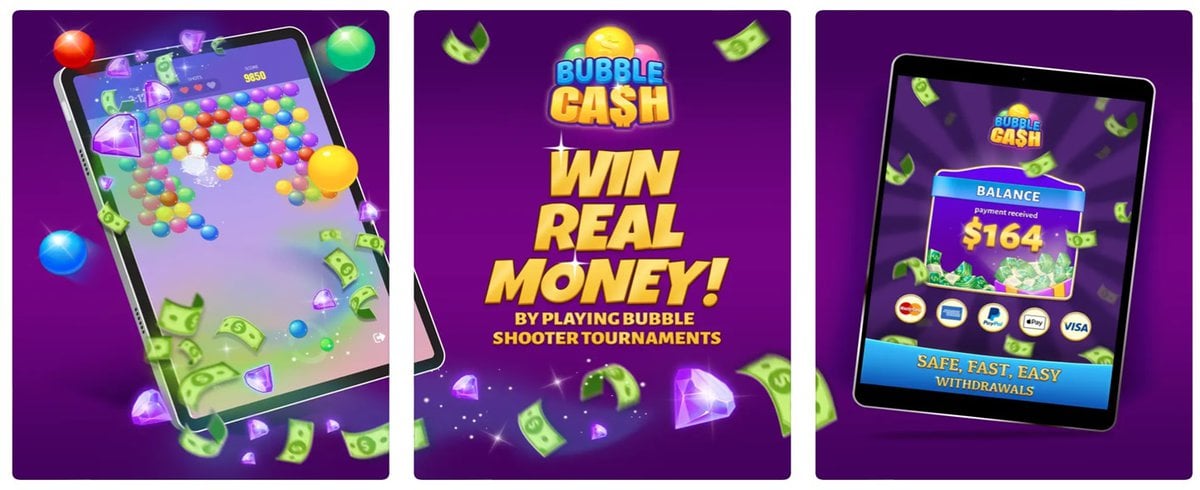 Apart from playing tournaments, we also tested out the different payment methods available, tried our luck at earning gems, and even reached out to customer support. We also conducted research on the company behind Bubble Cash, performed a deep dive into real player reviews, and compared Bubble Cash to other similar apps.
All You Need to Know About Bubble Cash
Bubble Cash is a skill game app that features a bubble shooter game. The Bubble Cash app is available exclusively on iOS from the App Store and has a 4.6 rating based on 90,000 + reviews. Bubble Cash was released in 2019 by Papaya Gaming which is an Israeli company that also runs Solitaire Cash and Bingo Cash.
Bubble Cash hosts bubble shooter cash tournaments between American players across 44 US states who must be 18 +. Bubble Cash is 100% legal because it is considered a skill game app and therefore does not have to follow online gambling regulations, which games of chance are subject to.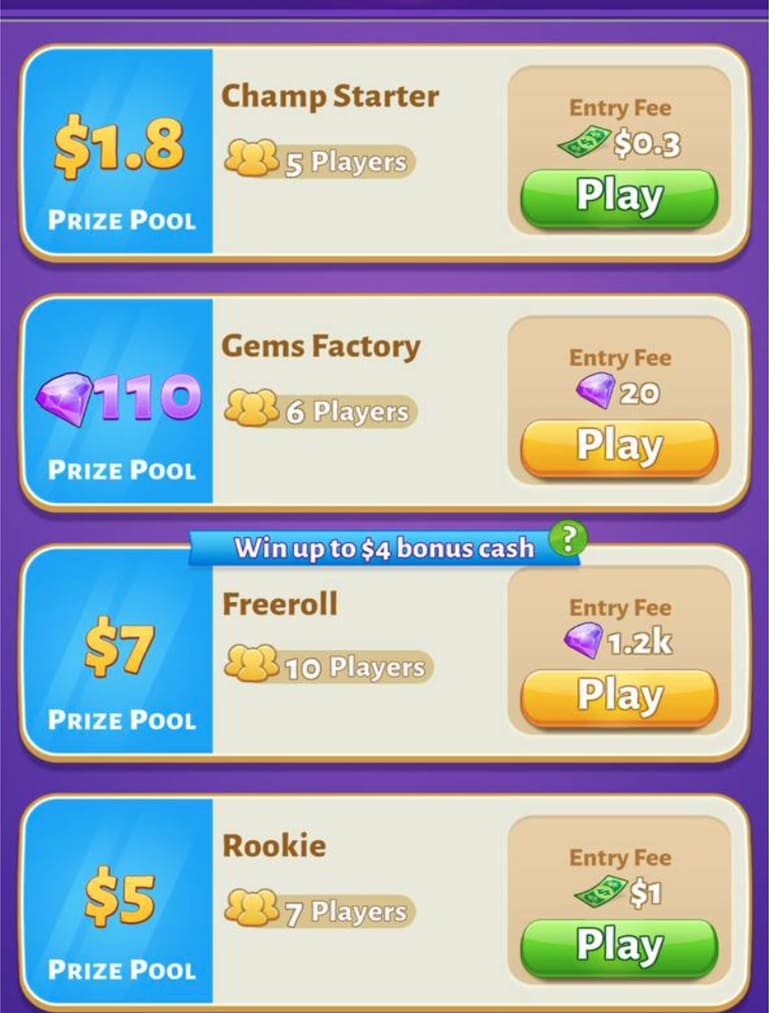 Bubble Cash has cash tournaments ranging from $1 to $15, and the most you can win is $55 from a single tournament. They also have gem tournaments which are just for fun, and freeroll tournaments, which have a gem entry fee and a small $4 first-place prize. You can deposit money via credit/debit card, Apple Pay, and PayPal and withdraw via your PayPal account.
🤹Bubble Cash
🏛️Owner
Papaya Gaming
📅Founded
2019
🎲Games
Bubble shooter
📱App
iOS
💵Real Money
✅Yes
💳Payment Methods
Visa, Mastercard, American Express, Apple Pay PayPal
⏱️Payment Processing
3 to 15 days
🔞Age Restriction
18 +
🇺🇸 Availability
All US states except Arizona, Iowa, Louisiana, Maine, South Carolina, and Washington
How Does Bubble Cash Work?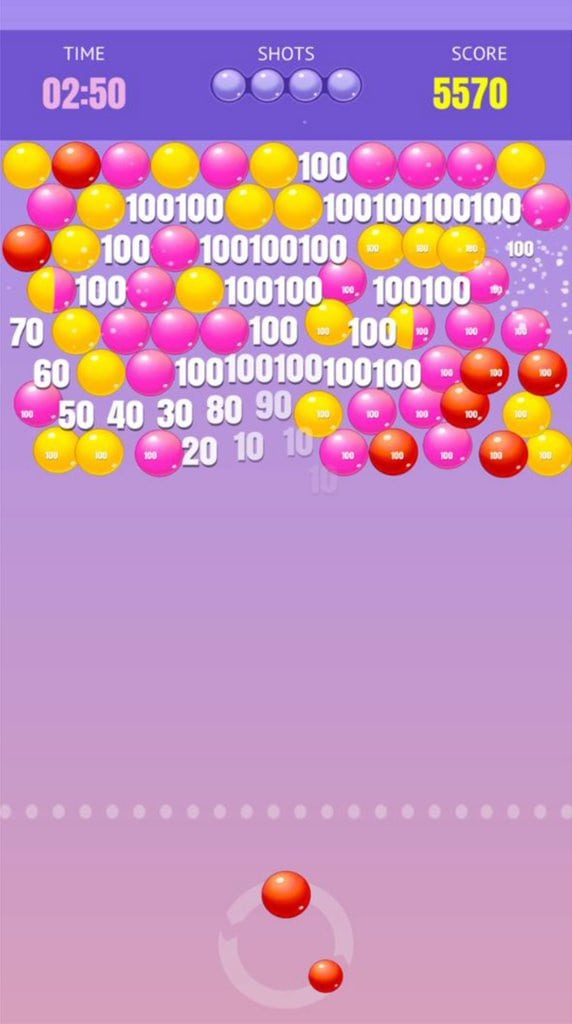 How Bubble Cash works is you compete against other players in bubble shooter cash tournaments. In the game, you shoot different colored bubbles on a board filled with bubbles. Your goal is to get three more of the same colored bubble to touch each other. When this happens, they burst and disappear from the board. The concept of the game is to pop as many bubbles as possible before time expires.
You can only shoot one bubble at a time, and the game randomly chooses the color, so you need to quickly strategize the best place to fire it. You can even bounce bubbles off the wall to reach hard to get bubbles. Your score is based on how many bubbles you clear and how quickly you clear the board.
You also need to look out for your health which is displayed as hearts. You get three hearts, and if you fail to clear bubbles three times, a new row of bubbles is added to the board, and your hearts reset.
Bubble Cash offers three types of game modes: gem games, freerolls, and cash tournaments. In gem games, you compete for gems that are in-game virtual currency and have no monetary value. Freerolls have 1,200 gem entry fees and offer small cash prizes, first prize pays out $4. Cash tournaments have entry fees ranging from $1 to $15, and you can win $50 + from a single tournament.
✅Bubble Cash Pros
Well-designed and fun bubble shooter game
Can win legal cash prizes in 44 US states
Exciting tournaments
❌Bubble Cash Cons
High fees (up to 33% of the prize pool)
Unfair matchmaking algorithm
Only one bubble shooter game
Only available on iOS
Need to pay to win cash prizes
Is Bubble Cash Rigged?
If you read reviews online, there are a lot of disgruntled players who are convinced that Bubble Cash has rigged the games and is conspiring against them. The fact is Bubble Cash doesn't need to rig the games to earn money when they charge such high fees.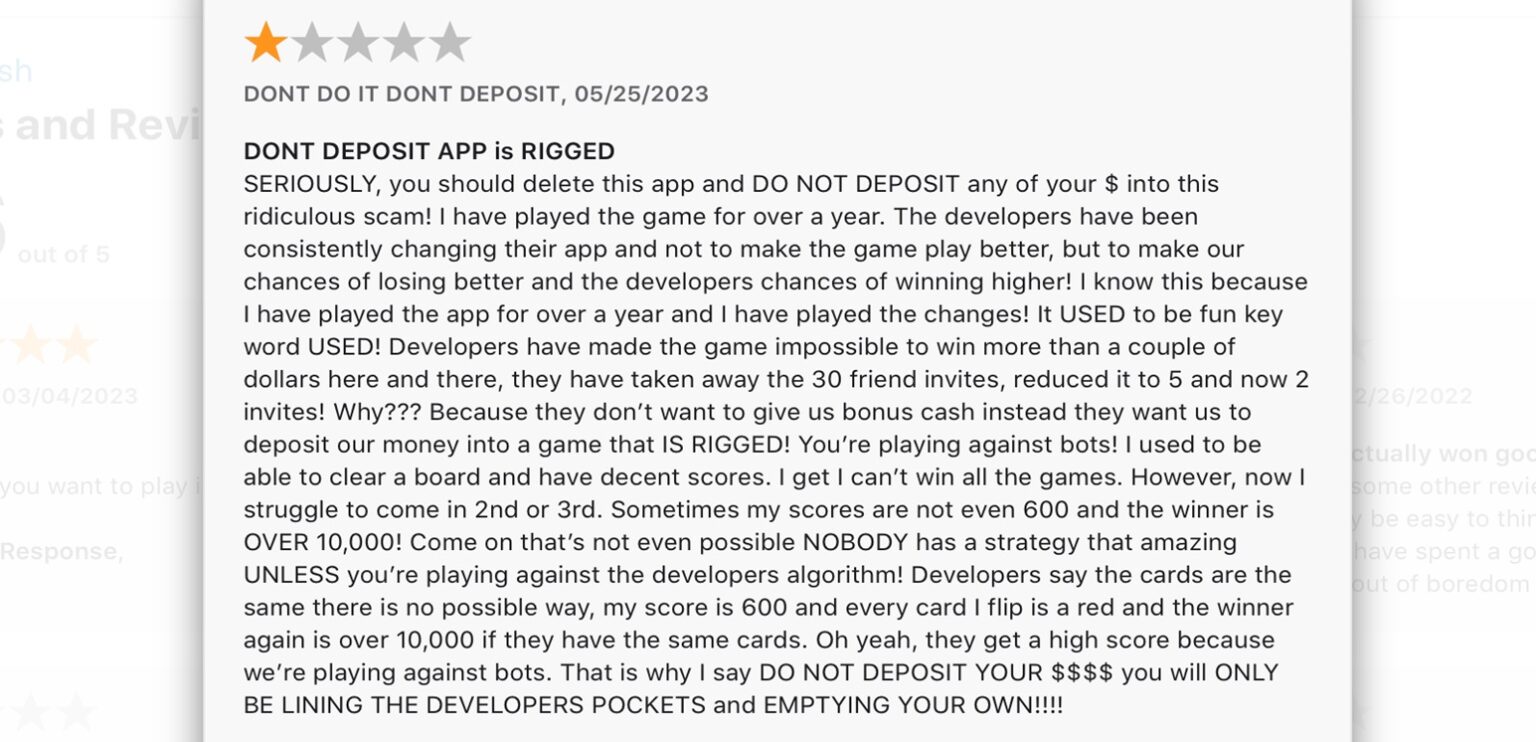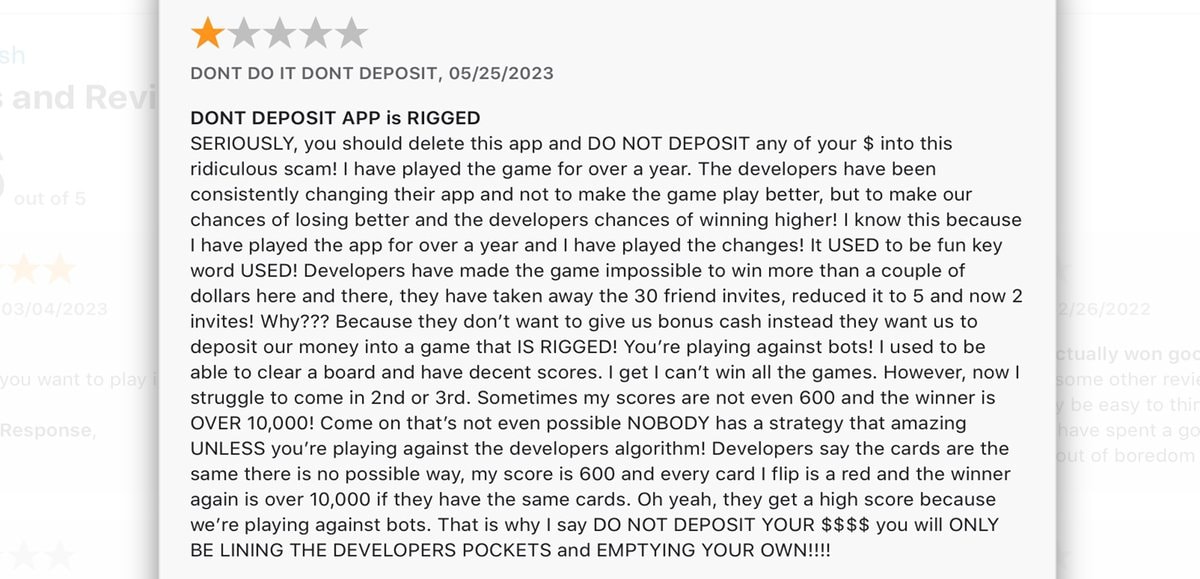 Bubble Cash isn't hiding the fact that it charges super high fees. All you need to do is pull up a Bubble Cash tournament, multiply the number of players by the entry fee, and then minus the payouts.
For example, a $3 tournament with 6 players should have a prize pool of $18, but Bubble Cash takes a massive $6 out of the prize pool. Just for hosting the tournament, they are taking 33% of your cash. To end up a small winner, you need to win 5 of 10 matches which is very hard.
It isn't just the fees you are battling against at Bubble Cash, you also have to contend with the app's matchmaking algorithm. Based on your tournament performance, Bubble Cash will give you a rating and pair you with similarly skilled players. While this may seem fair, the problem is how are you supposed to consistently beat players who the app has deemed are just as good as you. And if you do manage to string some wins together, the app will quickly pair you with more and more difficult players.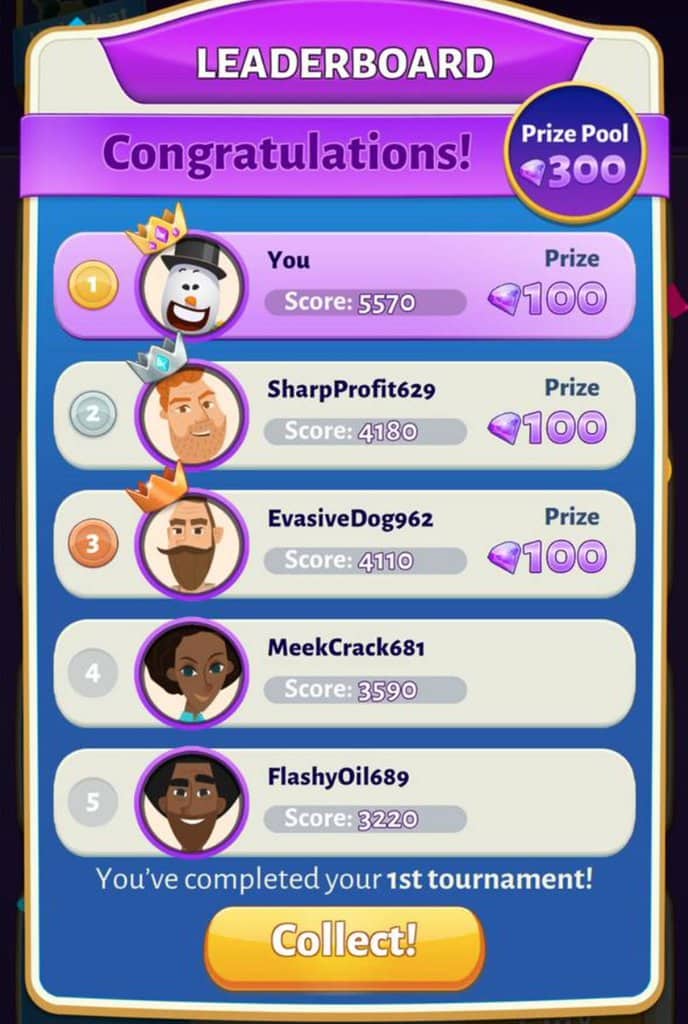 So while Bubble Cash is not rigged, they have created game conditions that make it extremely difficult to win over the long term. So unless you game the matchmaking algorithm and have some serious bubble shooting skills, you can forget about winning serious money online at Bubble Cash.
Is Bubble Cash Legal in the US?
Bubble Cash offers legal cash prizes in 44 US. The only states where Bubble Cash doesn't run real money tournaments are Arizona, Iowa, Louisiana, Maine, South Carolina, and Washington.
Bubble Cash is able to provide legal cash prizes because its bubble shooter game is considered a skill game. Skill games are not considered gambling, and therefore Bubble Cash is not classified as an online casino. Bubble Cash is able to operate without a license and can run tournaments in numerous US states where online casinos are currently prohibited.
Bubble Cash Payment Methods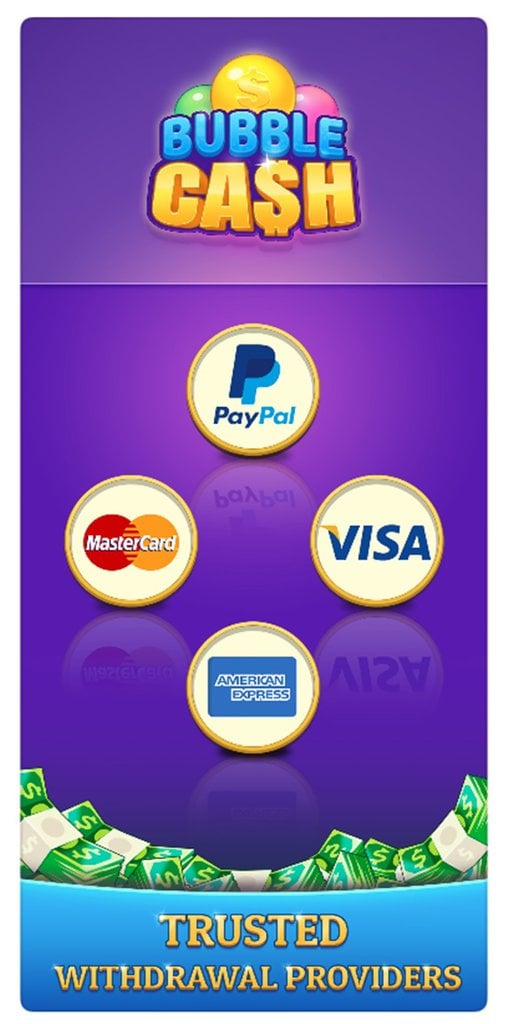 At Bubble Cash, you can deposit via several payment methods including PayPal, Apple Pay, and major credit and debit cards, including Mastercard, American Express, and Visa. Deposits are free and credited instantly to your account.
You can withdraw your winnings via PayPal. There is no minimum redemption, but all withdrawals have a $1 fee. Processing can be a little slow, and some players have waited up to 14 days to receive their winnings. However, in most cases, withdrawals are processed within 5 days.
Does Bubble Cash Payout Real Money?
Bubble Cash does payout real money in 44 US states which allow cash prizes for skill games. How it works is you have to pay an entry fee, and you can compete against other players. The top 3 players then receive a cash prize. The entry fees range from $1 to $15, and you can win anywhere from $0.80 to $55 from a single tournament.
Unfortunately, to win real money at Bubble Cash, you need to risk your own money. Bubble Cash does offer some freeroll tournaments where you use gems to enter, but the prizes are tiny. First place will only get $4, and it takes a long time to accumulate the 1,200 gem entry fee.
Is Bubble Cash Legit?
Bubble Cash is legit in the fact that it is legal and they do pay out real money. However, the fact that Papaya Gaming likes to market its skill apps as easy side hustles where you can win money is a bit shady.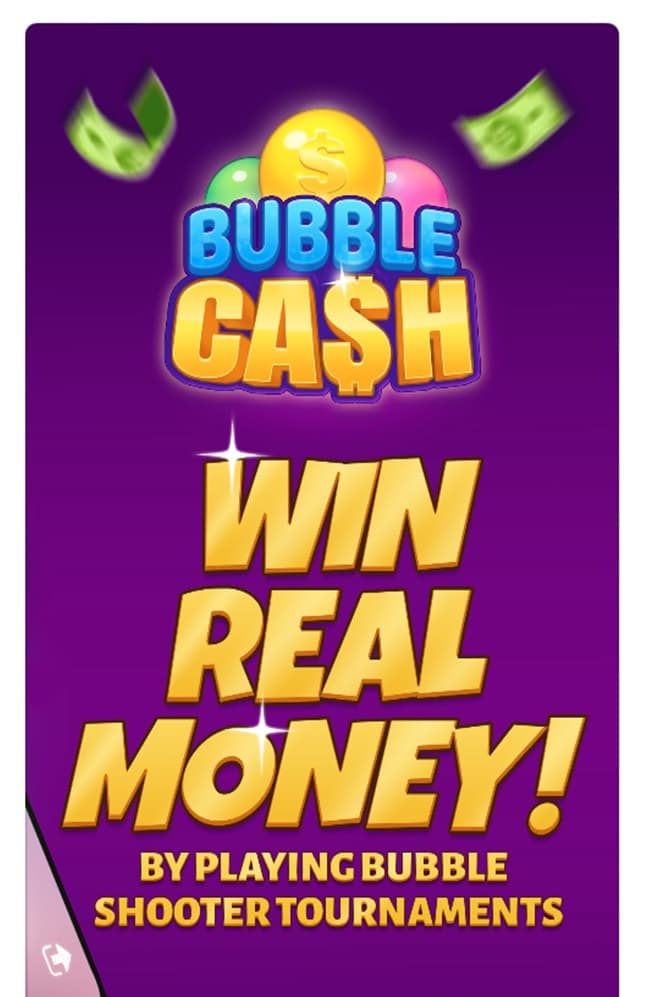 You won't get scammed playing Bubble Cash, and the bubble shooter is well-designed, and we had a great time playing it, but you can forget about getting rich playing Bubble Cash. The chances of even just breaking even are very low. As discussed above, the fees are just too high, and the matchmaking algorithm ensures you never get easy tournaments.
Should You Download the Bubble Cash App?
If you are looking for a fun bubble shooter game on iPhone and the chance to experience the thrill of real money tournaments, then give Bubble Cash a go. However, if you have ideas of turning this into a side hustle or, god forbid, quitting your day job, then you are going to be disappointed. While it may be marketed as a skill game app, even if you are a solid bubble shooter player, it is very difficult to consistently earn money.
Also, you need to be careful with real money tournaments. It is easy to lose track of your spending and end up down some serious cash. While Bubble Cash is not legally considered gambling from a financial standpoint, you should treat it as such and have a strict budget on how much you are willing to lose per day, week, or month. The last thing you want is for a fun hobby to cause financial stress.
Bubble Cash Alternatives
If you want to win more than $55 from a single tournament and chase 6 figure jackpots, try out these incredible sweepstakes sites. All of these sweeps online casinos are giving away tons of free sweeps coins which you can redeem for cash prizes right now!
Fortune Coins – If you enjoy skill games, then you need to try out the 10 + fish games on offer at Fortune Coins and our personal favorite, Emily's Treasure. They also have 100 + slots and some sky-high RTP video poker titles. Fortune Coins' games are from licensed providers like Relax Gaming, Mascot Gaming, and Pragmatic Play. Sign up via this link and get a $12 no deposit and $40 for free when you spend just $10!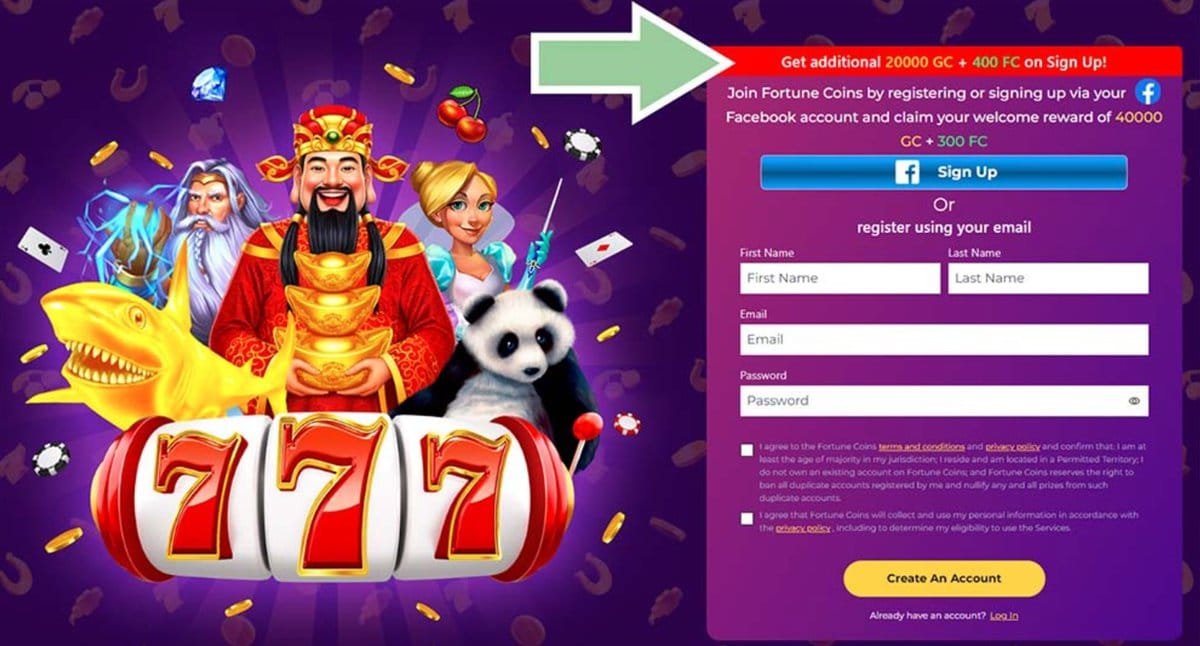 WOW Vegas – WOW Vegas has a lightning-quick mobile-optimized website that works on all devices and offers 400 + slots, poker, roulette, and blackjack. All of their games have been independently tested, feature published RTPs, and are powered by heavy hitters like Habanero, Betsoft, and Pragmatic Play. Register here to get a $4.5 no deposit bonus and a 200% first purchase promo!
Stake.us – Stake.us is one of the only crypto-friendly sweepstakes casinos and is run by the biggest crypto casino on the planet, Stake.com. Stake.us has an incredible 400 + games, including slots, crash games, blackjack, roulette, and live dealer games from Pragmatic Play and Hacksaw Gaming. Use this link to get $1 for free every day and enjoy 5% rakeback on all games!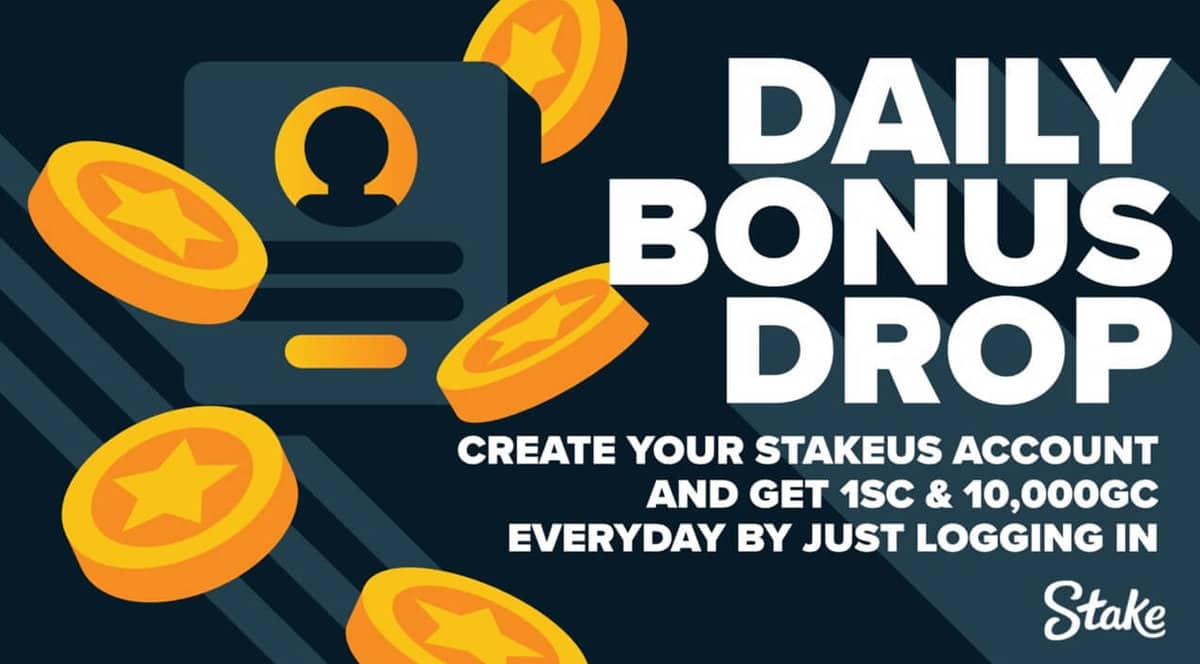 McLuck – If you have a soft spot for slots, then McLuck is your new home away from home! They have 460 + slot machines to choose from, including epic titles like Sweet Bonanza and Starburst. McLuck has tons of providers, including BGaming, NetEnt, Pragmatic Play, and Playson. Join now and get a $2.5 no deposit bonus and a 150% first purchase offer when you spend only $9.99!
Pulsz – Pulsz is one of the top sweepstakes casinos, and with 350 + slots and table games from Habanero, BGaming, EvoPlay, and NetEnt, it is easy to see why. Pulsz offers real cash prizes in 47 US states and has a custom-built Android and iOS app. Create an account today to score a $2.3 no deposit bonus and a 200% first purchase deal when you spend $9.99!
Final Verdict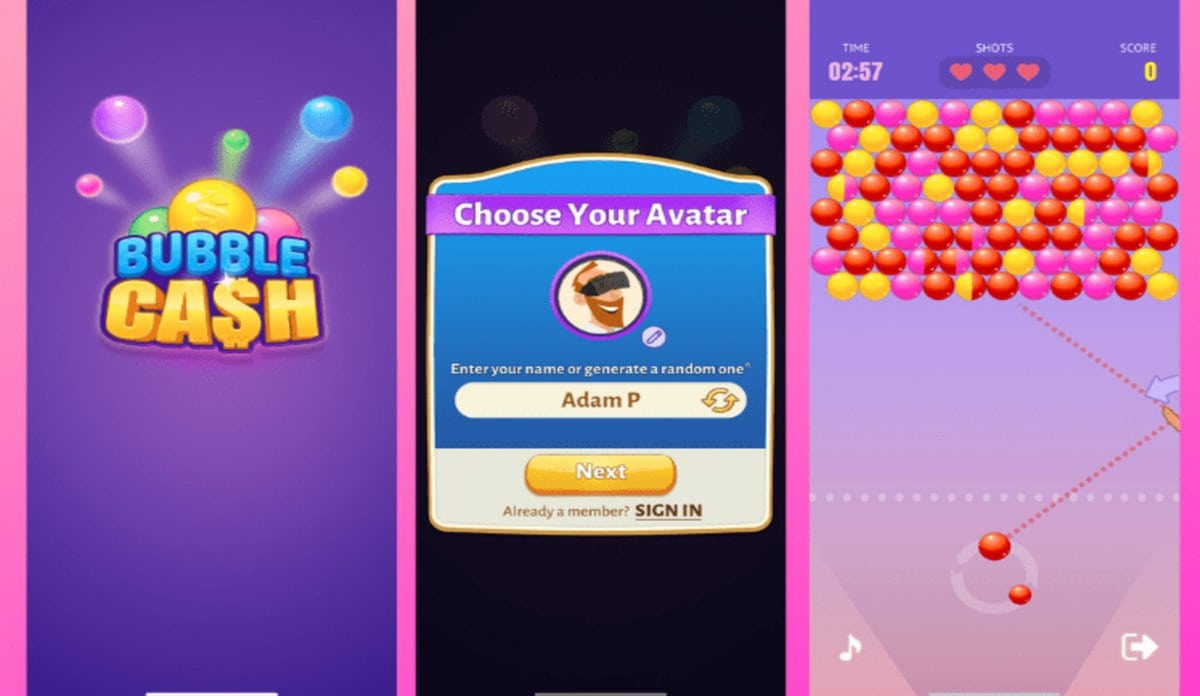 Bubble Cash is a top-rated bubble shooter game for a reason. 24/7, you can play thrilling real-money tournaments and win $50 + from a single event. Their bubble shooter game is super simple to play, but that doesn't stop it from being a whole lot of fun. Also, cashing out your winnings from Bubble Cash via PayPal is a breeze.
Now while that all sounds amazing, there are some serious road bumps we uncovered. To win cash prizes, you have to spend your own money and pay tournament fees. And if that wasn't bad enough, Bubble Cash has set the fees so high that winning over the long term is incredibly difficult.
That is why we recommend ditching the Bubble Cash game and trying a sweepstakes casino. At sweeps online casinos, you receive a no deposit bonus, a first purchase offer, a daily login promo, and tons of other free deals. You can then play casino-style games like slots, fish games, and blackjack for free and win real money cash prizes!
Two incredible sweepstakes casinos are Fortune Coins and McLuck. Tap this link to get a massive $12 no deposit bonus + $40 for free when you spend only $10 at Fortune Coins and use the free cash to play 170 + games, including thrilling fish games. And don't forget about McLuck! Click here and get a $2.5 no deposit bonus + a 150% first purchase offer and play 460 + slots from Pragmatic Play and NetEnt!
FAQs
Bubble Cash is not particularly safe, and we strongly advise you against keeping large sums of money on the app. It is owned by a large company, Papaya Gaming which also owns successful skill game apps like Solitaire Cash and Bingo Cash. However, there is regulatory uncertainty, and we don't know the financial stability of the company.

Do you have to pay to play Bubble Cash?

To win decent cash prizes at Bubble Cash, you need to pay tournament fees which range from $1 to $15. Bubble Cash does have some freeroll tournaments, but the 1st place prize is just $4, and it takes a long time to earn the 1,200 gems you need to enter.

How does Bubble Cash make money?

Bubble Cash makes money by taking a percentage of the tournament fee. For example, in a $3 tournament featuring 6 players, the prize pool should be $18, but Bubble Cash pockets $6 for itself and only pays out $12.

Can you lose money playing Bubble Cash?

There is no limit to the amount of money you can lose playing Bubble Cash. The app has tournaments ranging from $1 to $15, and if you keep finishing in 4th place or worse, you will lose your entire entry fee.

Bubble Cash is not rigged, but it is incredibly difficult to become a long-term winner due to the high fees that Bubble Cash charges and the tournament matching algorithm, which pairs you with players of a similar skill level.

Bubble Cash is not considered gambling because the bubble shooter game featured on the app is classified as a skill game. In the US, gambling only relates to games of chance like roulette or slots, skill games like classic bubble shooter and other arcade-style games have separate regulations.