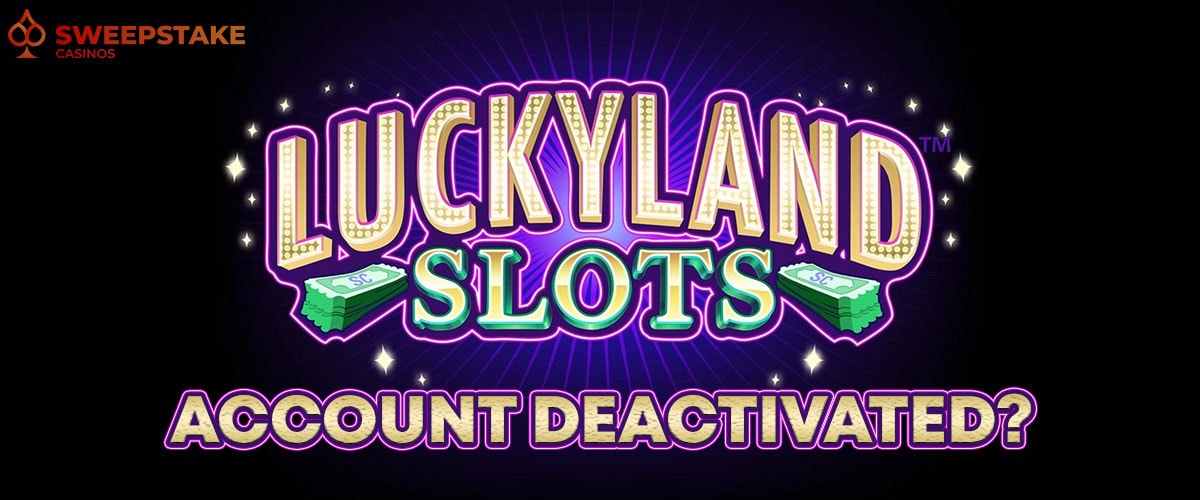 A LuckyLand Slots account deactivation is annoying since it occurs without warning, locking you out of any deposit or winnings you have pending. The issue is even worse when the support team ignores your complaint, which is common on LuckyLand Slots.
As a way to make the most of your time waiting for a response, your first step is to find out why your account was deactivated by answering a few questions:
What rule did you break? Was it stated in the terms and conditions? Are you permanently locked out of your account?
Answering these questions can help you build a solid defense before getting a response from the support team, but it's easy to miss some details when going through the Ts and Cs.
To ensure you have all the information you need, we've compiled all the common reasons why you may have received a notification stating that your LuckyLand Slots account has been deactivated.
Unfortunately, LuckyLand Slots isn't known to reactivate as many accounts as it deactivates, so we recommend avoiding this problem by joining any of these sweeps casinos:
Why Your LuckyLand Slots Account Might Be Deactivated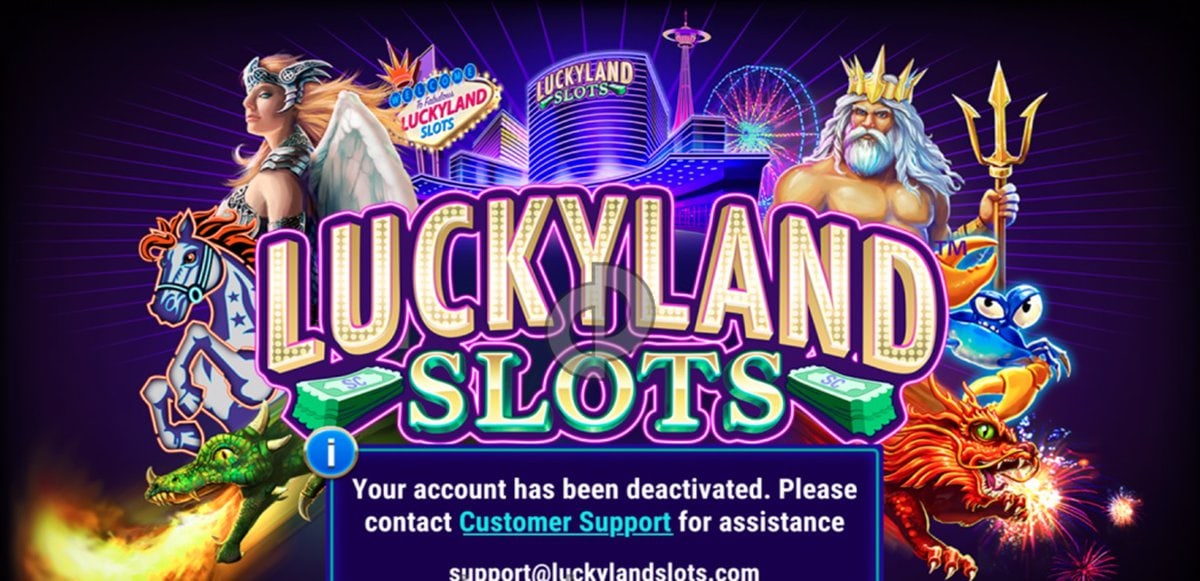 Are you still figuring out why LuckyLand Slots deactivated your account? Then why not go through our list of common reasons why this happens to see if any of them rings a bell:
Issues with account verification
Use of wrong login credentials
Inactive account
Processing a refund request
Geolocation issue
Using a VPN
Winning Too much
Opening more than one account
Self-exclusion and account limits
Payment details don't match LuckyLand account details
Abusing the mail-in bonus
LuckyLand Slots Account Verification Issues

Completing a verification process is necessary to access certain services on LuckyLand Slots. You can complete the process during your registration or before you process your first redemption, and your inability to complete the verification can create a Luckyland Slots account problem.
You'll need to provide an ID to verify your age and you'll also be asked to verify your phone number for geolocation purposes.
Since the LuckyLand Slots verification is a KYC process, your only option is to provide the necessary documents to the support team.
Wrong Login Details/Forgot Username or Password
Since a sweepstakes online casino offers real money payouts, it's common for hackers to target player accounts to gain access to their virtual funds.
LuckyLand Slots will deactivate your account if the wrong login credentials are input too many times (usually five times) as a form of protection. Setting a limit to the number of wrong login attempts also comes in handy in the more likely event that you forget your username or password after being away for a while.
Thankfully, using the wrong login details usually triggers a temporary account deactivation, so you can process a reactivation and update your login credentials with the help of the support team.
Having Multiple Accounts
A standard rule on online gambling platforms is to accept only one account per individual to promote responsible gaming, prevent fraud, and eliminate bonus abuse.
Although flouting the one-account rule will deactivate your account, it's usually a temporary restriction which is to make room for reactivation if the LuckyLand Slots systems flag your account for having a matching IP with another belonging to a friend or spouse living under the same roof.
If this happens, both account holders must provide an ID to clarify misunderstandings and reactivate the accounts.
Prolonged Inactivity
According to section 5.12 of its Terms of Service, LuckyLand Slots reserves the right to deactivate an account if it's inactive.
Your account becomes inactive if you fail to log in for over 12 consecutive months without prior notification.
Despite LuckyLand Slots deactivating an account for inactivity, it doesn't mean you can open a new account, as this will be against the "one account per person" rule. Instead, you can solve this problem by contacting the support team.
Triggering a Luckyland Slots Refund Request
Requesting a refund one or two times isn't a big deal, but doing so frequently is a surefire way to get hammered with a ban on LuckyLand Slots.
The reasoning is simple – LuckyLand Slots will assume you're engaging in chargeback fraud or money laundering.
There is no easy way to resolve this issue, and you'll need to provide valid reasons why you keep processing refunds.
Geolocation Issue
LuckyLand Slots is only available in the United States (except in Washington), and there is a notification pop-up whenever you try to log in from excluded locations.
Suppose you reside in a restricted location and have had your LuckyLand Slots account deactivated. In that case, the operator isn't going to reactivate the account for any reason, so you should consider other legal US sweepstakes casinos that operate in your location.
Using a VPN
While trying to circumvent the geolocation issue, using a VPN, especially a cheap or free version, is another reason you may have a LuckyLand Slots account problem.
Many individuals assume they cannot be tracked when using a VPN, but routine checks by an online operator can expose you. These checks may involve cross-referencing your IP address against those of known proxy servers or checking the port number of your connection.
If LuckyLand Slots runs this check and your account is flagged, you can expect to be deactivated with no option to reactivate the account.
Suspicious Patterns Leading to Massive Wins
Compared to other reasons on this list, this one is quite controversial since no casino will come out to say they're banning you for winning too much. However, since many top sweepstakes casinos run various algorithms to detect specific patterns or behaviors, you may be hit with a LuckyLand Slots account ban if you fit the specifics.
Unfortunately, information on patterns that could get your LuckyLand Slots account deactivated isn't available, and the operator usually won't give a reason for the ban, making this issue difficult to avoid or resolve.
Using the Account Limits Feature
The LuckyLand Slots self-exclusion feature helps with responsible gaming, and this will automatically deactivate your account once in place.
After the self-exclusion period expires, you can reactivate your account, but the support team will encourage you to set an account limit (usually a limit on monthly losses).
If you follow these steps, you'll frequently have your account deactivated whenever you hit your maximum monthly losses.
Payment Details Don't Match LuckyLand Slots Details
LuckyLand Slot is particular about where deposits come from to ensure its platform isn't used for money laundering or fraud. As a result, the operator can deactivate your account if you deposit using someone else's account.
The rule also applies to withdrawals, but it's easily avoidable if you only use financial accounts and payment methods matching the details you provide on LuckyLand Slots.
Abusing the Mail-In Bonus System
So, a LuckyLand Slots mail-in bonus is available, but there is no limit to how many request cards you can send daily. As a result, many players send hundreds of mail envelopes daily to enjoy the free sweeps coins.
However, there have been lots of posts by reddit users stating that their accounts got banned, and the only thing they have in common is the fact that they send a massive number of mail-in requests.
If you want to avoid getting into trouble for mail-in requests, ensure you're sending a moderate number of requests while maintaining consistency in your handwriting.
How to Reactivate Your LuckyLand Slots Account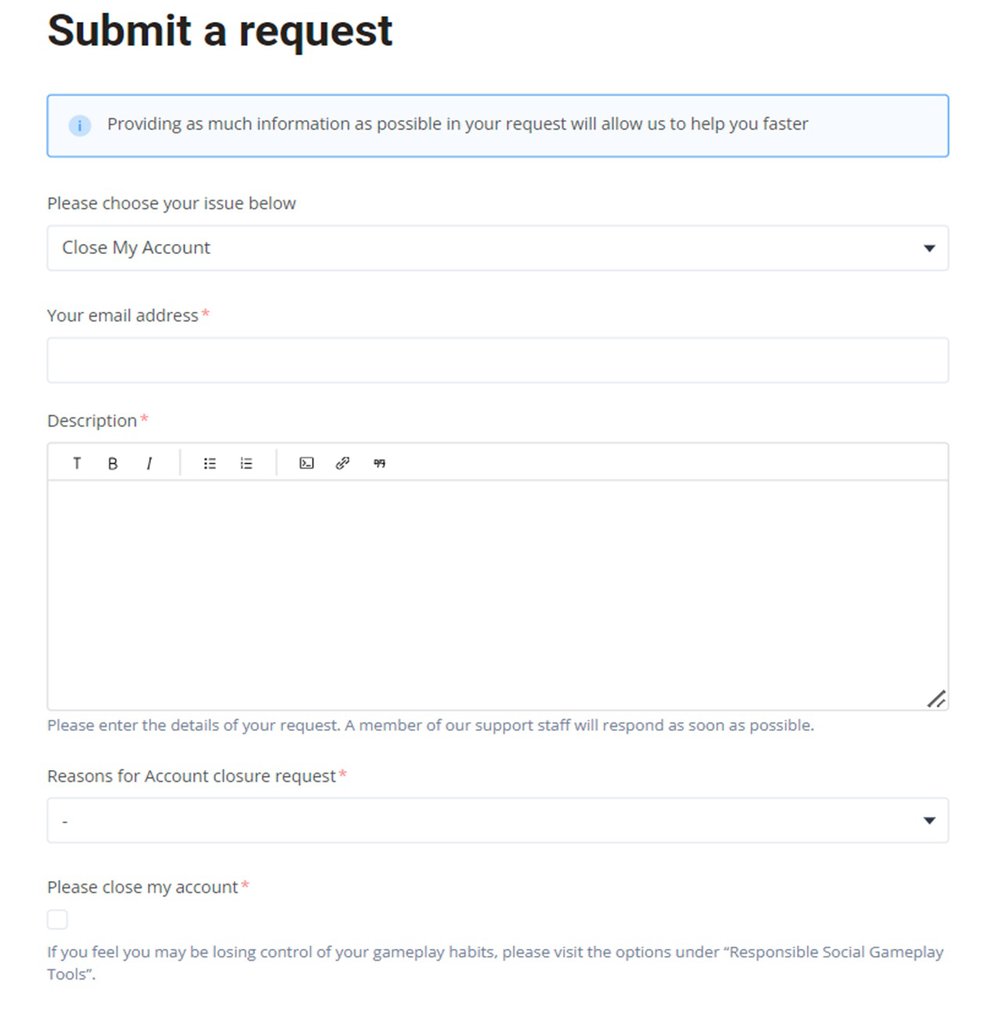 Each LuckyLand Slots account problem is unique, and so is the solution to the problem. However, one common thing is that you must reach out to the LuckyLand Slots support team to get proper guidance.
You can contact the support team by emailing support@luckylandslots.com or using the contact form on the LuckyLand Slots website.
Once you contact the support team, they can explain why your account was deactivated and let you know the next step. Also, here are some things to note for specific issues:
For verification-related issues, you must provide documents such as a government-issued ID, bank statement, a picture of yourself, and a US phone number to reactivate your account.
An account deactivated via Self-Exclusion (indefinite option) can only be reactivated after six months, with an additional 7-day cooling period.
You must wait for the selected period to expire if you use the Taking a Break feature.
How to Delete Your LuckyLand Slots Account
If you want to take a break from LuckyLand Slots or you're tired of dealing with your account getting deactivated for no reason, there are three options available:
Taking a break
Self-exclusion
Close My Account
The Taking a Break option is a responsible gaming tool that restricts access to your LuckyLand Slots account for a short period, usually 1, 3, 7, 14, or 30 days.
To restrict your account for longer periods, you'll need to use the Self-Exclusion option, which restricts access for six months, one year, three years, five years, or indefinitely.
Both tools are temporary actions that will let you get into your account later, but if you want to delete your account entirely, you'll need to complete the LuckyLand Slots Close My Account process.
The process involves filling out a Close My Account contact form (link on the LuckyLand Slots FAQ page) and submitting your written request to the support team.
Can I Make a New LuckyLand Slots Account?
Are you wondering if LuckyLand Slots will let you create a new account after deleting your old one? The operator doesn't let you open a new account, but you can reactivate your previous account.
Although this may be frustrating for many players, there are two reasons why LuckyLand Slots will only allow you to reactivate your old account:
To prevent players from abusing their bonuses.
To prevent multi-account fraud by maintaining KYC procedures and following AML rules.
LuckyLand Slots Alternatives
Getting the LuckyLand Slots support team to reactivate your account usually takes longer than you expect, and most times, they never get to unblock the account.
To help you forget about LuckyLand Slots, we've compiled a list of trustworthy US sweepstakes casinos offering transparent terms and conditions, reliable services, and fast redemptions.
Pulsz Bingo
Pulsz Bingo allows you to enjoy all the slots and scratchcard games you find at the original Pulsz Casino but differentiates itself through its exciting bingo rooms.
Up to six bingo rooms are available where you can enjoy fast-paced bingo games and interact with other players from the Pulsz community.
Pulsz Bingo features games from NetEnt, Relax Gaming, Pragmatic Play, and more developers, with a chance to claim massive bonuses through its mail-in offer, daily prize drop, referral bonus, and a sweet 5,000 GC and 2 SC sign-up offer.
Stake.us
With a constantly active chat room available to players, Stake.us has brought the social aspect of sweepstakes gaming to your fingertips.
Stake.us is home to games from Pragmatic Play, Hacksaw Gaming, BGaming, OneTouch, and Stake Originals, all trustworthy names. However, Stake.us goes an extra step to earn your trust through its provably fair gaming system that lets you check the fairness of every gaming session.
Fortune Coins
Fortune Coins has quickly become one of the major players in the sweepstakes scene with its selection of high-quality fish table games and slots catalog featuring titles from Pragmatic Play, Relax Gaming, and more.
You can taste everything Fortune Coins offers by claiming an exclusive sign-up bonus, a welcome offer, daily free sweeps, a mail-in bonus, a refer-a-friend bonus, and other fantastic offers. This LuckyLand slots alternative hands out $12 no deposit when you register through our links.
Other Common LuckyLand Slots Problems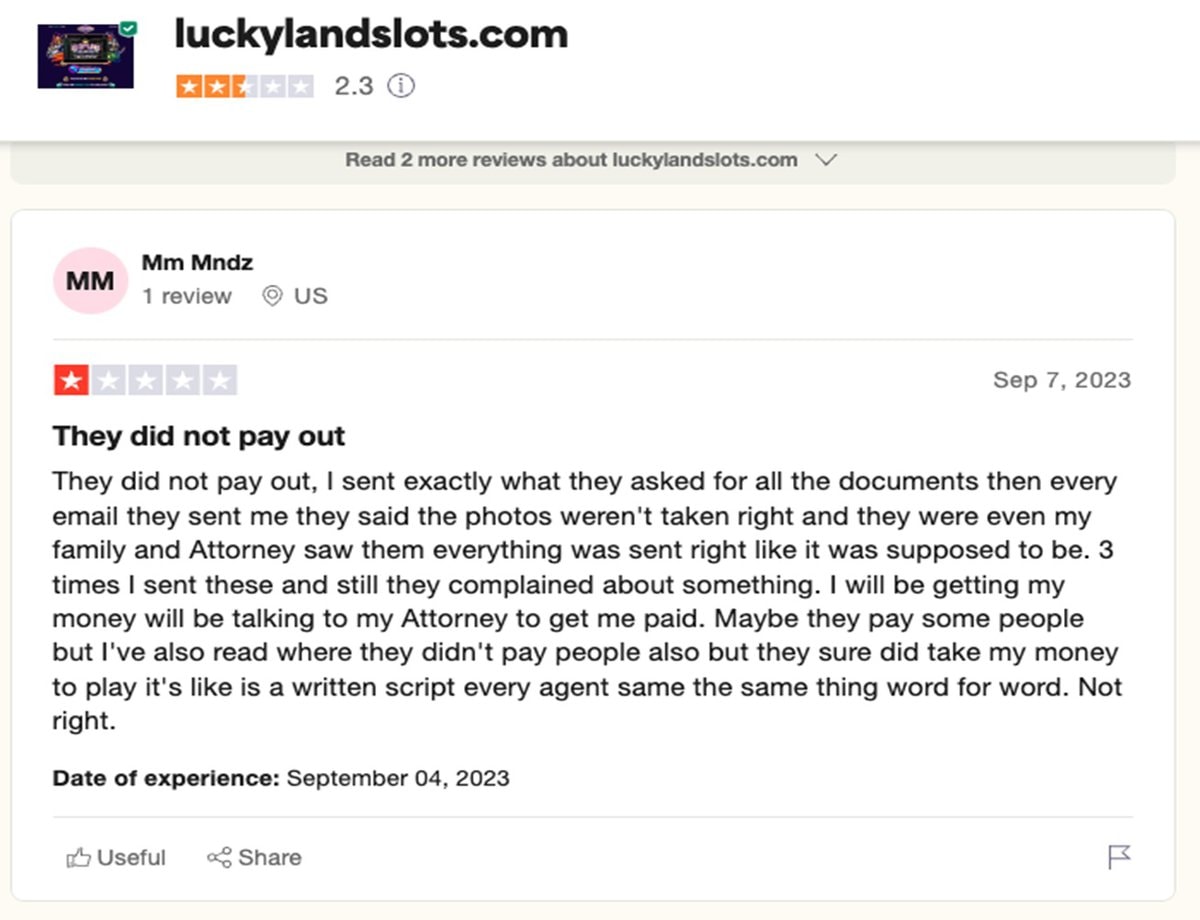 If you think a deactivated account is all you must contend with on LuckyLand Slots, you're in for a surprise.
From our research on the topic and careful assessment of player complaints, there are many other problems you'll come across when playing on LuckyLand Slots:
Games not loading when launched or freezing during play
Issues getting the LuckyLand Android app to work on certain occasions
Denied winnings/redemptions with accounts being closed afterward
Players having their information changed without their approval
Complaints of unauthorized bank charges
Poor customer support service
Problem processing coin purchases
Many other problems may arise while playing on LuckyLand Slots, and while the operator tries to provide a quick fix, having to deal with these issues regularly takes the fun out of your casino gaming experience.
Summary
LuckyLand Slots is a sweepstakes casino from the operator behind Chumba Casino, so it's no surprise it's popular among US players. However, being popular doesn't make it a great free slots site to visit.
With frequent issues with deactivated accounts, poor bonus offers (daily bonus of less than 1 SC), and a selection of only in-house games, it isn't as exciting as many of the top US sweepstakes casinos currently available.
Due to issues with its operations and lack of transparency, LuckyLand Slots hasn't been able to appeal to the online gambling community, earning a measly 2.3 stars on TrustPilot with many player complaints.