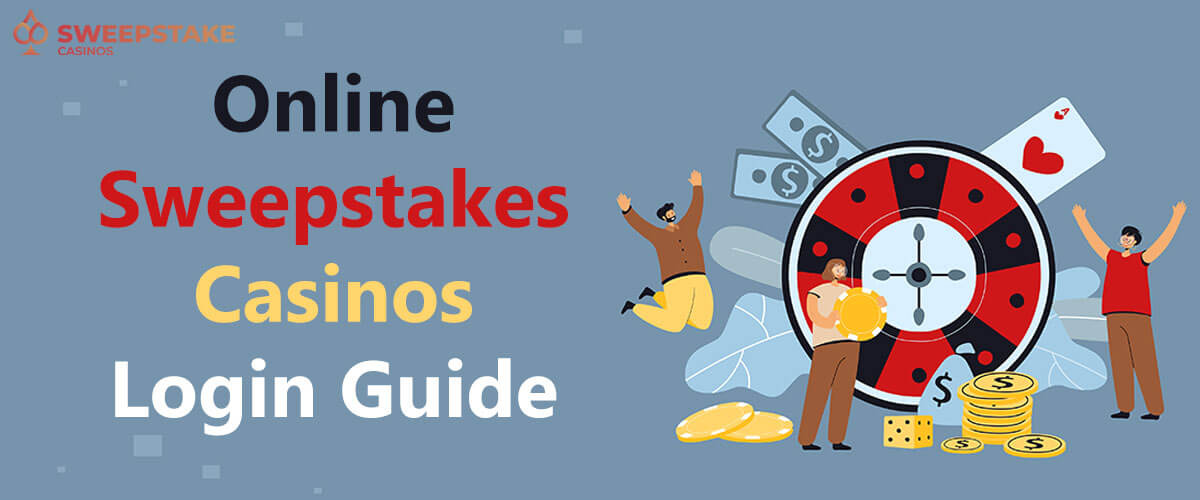 Sweepstakes online casinos are enjoying considerable popularity across the US. These platforms typically offer legal casino gaming to players in all states other than Washington. The sweepstakes mechanic uses virtual currency to dodge strict federal gambling laws, allowing highly-regarded sites, including Fortune Coins and Pulsz Casino to operate across the country.
Real money online casinos are still illegal in most US states, so many gambling enthusiasts play sweepstakes games to get their fix. You must purchase gold coins to play slots, table games, and other exciting iGaming options. While these hold no real-life value, you can redeem sweeps coins to win cash prizes at most platforms.
Nevertheless, learning the ins and outs of online sweepstakes casino logins is fundamental before you can enjoy games and hopefully win redeemable cash prizes. Our comprehensive guide will explore the registration process, how to complete account verification, using social media logins, and taking advantage of login bonuses.
We'll also explore situations where a lengthy or strange login process indicates a dodgy sweepstakes operator as is the case with venues like SkillBoss.pro. Unfortunately, there are several dangerous platforms on the social casino market that should be avoided at all costs. Playing at these sweepstakes casino sites can put your personal data at risk and often results in unfair games or unpaid bonuses.
But don't worry. We'll give you the tools you need to understand what makes a trustworthy social casino from the login process. Unlike real money online casinos, sweepstakes sites regularly offer their customers daily login bonuses where you can score free sweeps coins and other incentives. Learning how to take advantage is a no-brainer. Let us tell you how!
Best Sweepstakes Casinos with Login Bonuses
Requirements to Login to any Sweepstake Casino
Although sweepstakes casinos don't have as many user requirements as traditional online casinos, you must still satisfy a few basic conditions.
Logging in will only take a few seconds in most cases. Afterward, you'll be free to play casino-style games. And the best bit? Due to the regular login bonuses, many players rarely need to purchase more gold coins to bet with. For example, WOW Vegas offers its customers one daily free sweepstakes coin in exchange for logging in.
First, you'll need to ensure you meet the necessary requirements. Check below for the fundamental conditions you must satisfy to login to any sweepstakes casino:
Sign-Up: Sweepstakes casinos don't allow players to enjoy their games without creating an account. You must follow the sign-up process to obtain login credentials. Afterward, you can login to your profile and start playing.
Over 18: Players must be over 21 to sign up at a real money casino. Fortunately, sweepstakes casinos only require their users to be over 18. There are also less stringent checks on ID documents. Typically, you'll just need to supply your date of birth.
US Resident: Online sweepstakes casino sites are only currently available in the US. You must be a resident in any state other than Washington to login. Some sites are also blocked for Idaho and Nevada residents, so bear this in mind.
Valid Email or Social Media: As with traditional casinos, you must have a valid email or social media profile to login to a sweepstakes site. You won't be able to create an account without one, leaving you unable to play games and take advantage of bonuses.
Strong Password: Using a strong password is an essential login requirement. Most legit operators require their customers to use a strong password with various different characters.
How to Register on a Sweepstakes Casino (Step-by-Step)
Completing the sweepstakes casino registration process is a fundamental step after choosing a platform that suits your preferences. Fortunately, this doesn't take as long as at traditional online casinos. Sweepstakes operators don't need as much personal information and player verification is generally much faster.
Here is a generic step-by-step guide showing you how to register on a sweepstakes casino:
Head to the sweepstakes website or download the app if available
Press "Register" or "Sign Up". This button is typically located in the top right-hand corner
Enter your email address or register using social media if possible
Confirm you're over 18 and live in a legal US state
Disclose some more personal information, such as your full name and date of birth
Verify your email address and take advantage of the online sweepstakes offer to get started
While each social casino has a slightly different registration process, the steps above cover all legit sites. Players should beware sweepstakes platforms that ask for private contact via WhatsApp or something similar to register. We've seen a few of these dodgy sites, so you must stay vigilant.
Note: To access sweeps coins you might be asked to verify your submitted details through the KYC process. Gold coins play is instantly available after registration. For verification, you will be asked to upload an ID or Passport photo, a recent utility bill, and proof that you are the owner of the payment method used.
Alternative Route: Social Media and Email Registration
Some platforms offer new players an alternative registration route using social media or integrated email services such as Gmail. This can be a much faster substitute for the conventional account creation process. However, it also requires you to give access to your social media or email account. As such, you should only use this route when you have full trust in the operator.
For example, Pulsz Casino offers players two registration methods. You can sign up with an email address and follow the steps we outlined in the previous section. Alternatively, you can sign up with Google. All this requires is your Gmail login details. Afterward, your account will be linked, and you can use the same credentials to login to Pulsz Casino.
Similarly, Fortune Coins offers new customers fast-tracked registration via Facebook. Click this option and enter your Facebook login details to link your account to Fortune Coins. The sweepstakes site will take all the information it needs from your social media profile, cutting out the registration process.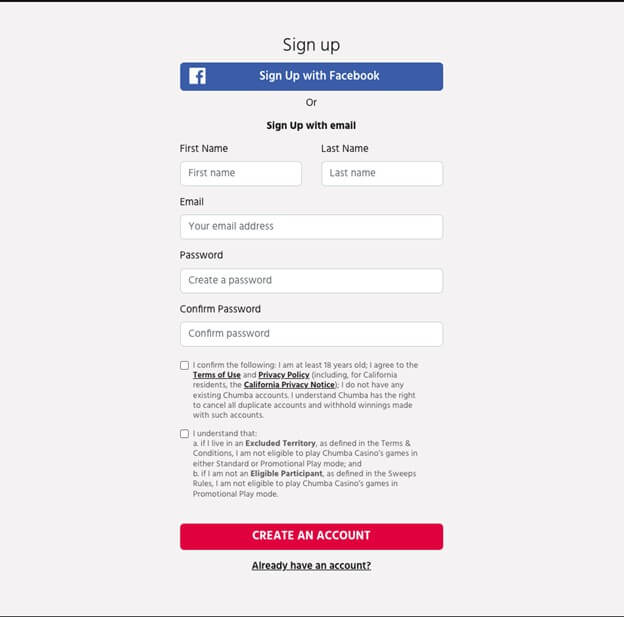 Sweepstakes Casino Login
Once you've created an account, there are several factors to keep on top of regarding your sweepstakes casino login. You'll be in a position to play popular casino games, win prizes, and hopefully take advantage of the chance to win cash. But don't get ahead of yourself. Before playing sweepstake games, make sure you satisfy some of the key factors below:
Save Username & Password: You don't want to be in a position where you forget your sweepstakes casino login. Write down your username and password in a safe location to avoid this happening.
Keep Credentials Secure: It goes without saying, but you must never disclose your login credentials to anybody else. Moreover, ensure nobody else can see where you've written down your details. We also recommend using a unique password, so you don't compromise any other accounts by mistake.
Don't Create More Than One Account: Social casinos don't look kindly on players who create multiple accounts. Ensure you only have one sweepstakes login. Otherwise, you may be blacklisted from the platform in particular.
Sweepstakes Casino Apps Login

All leading sweepstakes casinos have mobile-optimized websites, but some operators take things one step further with dedicated iOS and Android apps. Pulsz Casino is one of the highest-rated, with a 4.5 out of 5 rating on the Google Play store after over 9000 reviews. This enables players to enjoy sweepstakes casino gaming while on the move. There's no wonder it's so popular.
Using your sweepstakes casino app login isn't much different to logging in via a website browser. You may find the process is slightly more tailored to mobile devices, but other than this, there won't be much difference. Some operators also offer mobile-specific login bonuses. Even if not, taking advantage of daily login bonuses via your smartphone is often more convenient than logging in on your desktop computer.
Login Problems Troubleshooting
The best sweepstakes casinos have smooth and hassle-free login processes, but even the top sites can have problems. Don't worry if you're having trouble logging in to your chosen social casino site, as there are various troubleshooting measures that could help. Check below for some of the main things to consider:
Reset Password: It's always worth resetting your password if you're having trouble logging into your account. This usually requires pressing a link from your linked email.
Check Linked Social Media: If you registered using your Facebook or other social media account, check whether anything is going wrong with this. For example, if you recently changed your Facebook password, you'll have to use the updated one to complete your sweepstakes casino login.
Check FAQs: Leading sweepstakes casino platforms have in-depth FAQ sections. Consult this to check whether it can help with your login issues.
Contact Customer Support: Lastly, contacting customer support can quickly get to the bottom of your sweepstakes casino login problems. Stake.us is one of the best platforms for this, with a 24/7 live chat available for any concerns.
Login Examples & Bonus at Popular Sweepstakes Casinos
We've compiled a few examples from the best platforms to give you some practical context on logging into sweepstakes and social casinos. Keep reading for an overview of what to do on three of our favorite sites: Chumba Casino, Pulsz Casino, and Fortune Coins.
Chumba Casino Login
Chumba Casino is one of the social casino heavyweights and is widely regarded as the first operator to offer online casino games using the sweepstakes mechanic. Creating an account is made exceptionally easy with a streamlined sign-up process. Check the steps below to get started:
Go to www.chumbacasino.com
Press "Login" in the right-hard corner and then "Create an Account"
Supply your full name, email, password, and tick the t&cs boxes
Press "Create Account"
Watch out for a verification email and click the link to activate your profile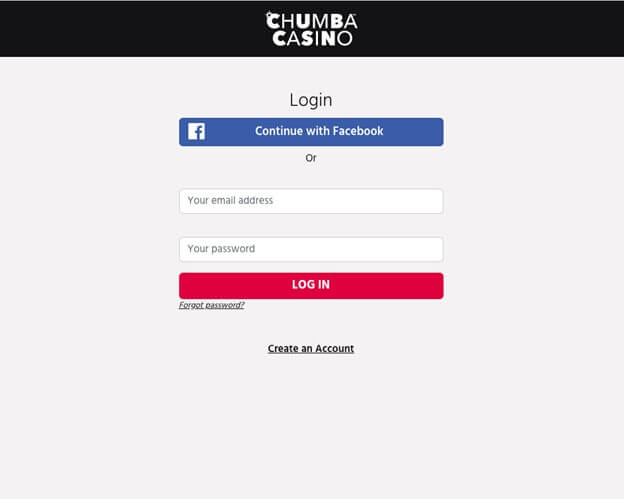 Customers can also complete the Chumba Casino login process with their Facebook profile. If you would prefer this route, click the "Continue with Facebook" button on the login page. You must be over 18 and from the US or Canada to be eligible. Bear in mind Washington, Idaho, and Quebec players are excluded. The operator offers a generous 2,000,000 gold coins and 2 sweeps coins welcome offer for new customers, so it's well worth signing up.
The Chumba Casino daily login bonus is a straightforward way to boost your virtual currency bankroll. The operator offers 1 free sweeps coin every day for users logging into their accounts. Click "Claim" on the daily bonus pop up to take advantage.

Pulsz Casino Login
Pulsz Casino is another leading sweepstakes casino known for its brilliant selection of iGaming titles from big-name developers, including Pragmatic Play. The operator also has one of the best sweepstakes apps out there. Registering with Pulsz is straightforward. Follow the steps below to get started:
Head to www.pulsz.com
Click "Register" in the top right-hand corner
Choose whether to sign up using Google or your email address
If you chose email address, fill in the next form with your full name, email, and password
Tick the box confirming you're over 18 and not a resident in Washington, Nevada, or Idaho
Press "Join Now & Win A Jackpot"
Verify your email to activate your account
All new Pulsz Casino players receive 5,000 free gold coins + 2.3 SC after completing the registration process. Logging in after this is simple. Just press the "Login" button and use your email and password to enter your account. Alternatively, you can login with Facebook, Google, or Apple. The operator can take the personal information it needs to verify your account from these platforms, so it cuts out the registration process.
Pulsz Casino also rewards its customers with daily login bonuses, with between 1-3 sweepstakes coins available depending on how often you login. You must login for three consecutive days to start claiming this offer.
Fortune Coins Casino Login
Fortune Coins is one of the newest sweepstakes operators, quickly gaining a stellar reputation within the social casino community. Signing up with the platform is straightforward and delivers one of the industry's most generous welcome offers. Complete the registration process using the steps below to get 140,000 gold coins and 800 fortune coins:
Visit www.fortunecoins.com
Press "Sign Up"
Either use the fast-track Facebook service for a 140,000 gold coin and 300 fortune coin reward or register using your email for 100,000 gold coins and 200 fortune coins
Supply your email and create a password. Tick the terms and conditions box and click "Create An Account"
Click the verification link sent to your email to complete the registration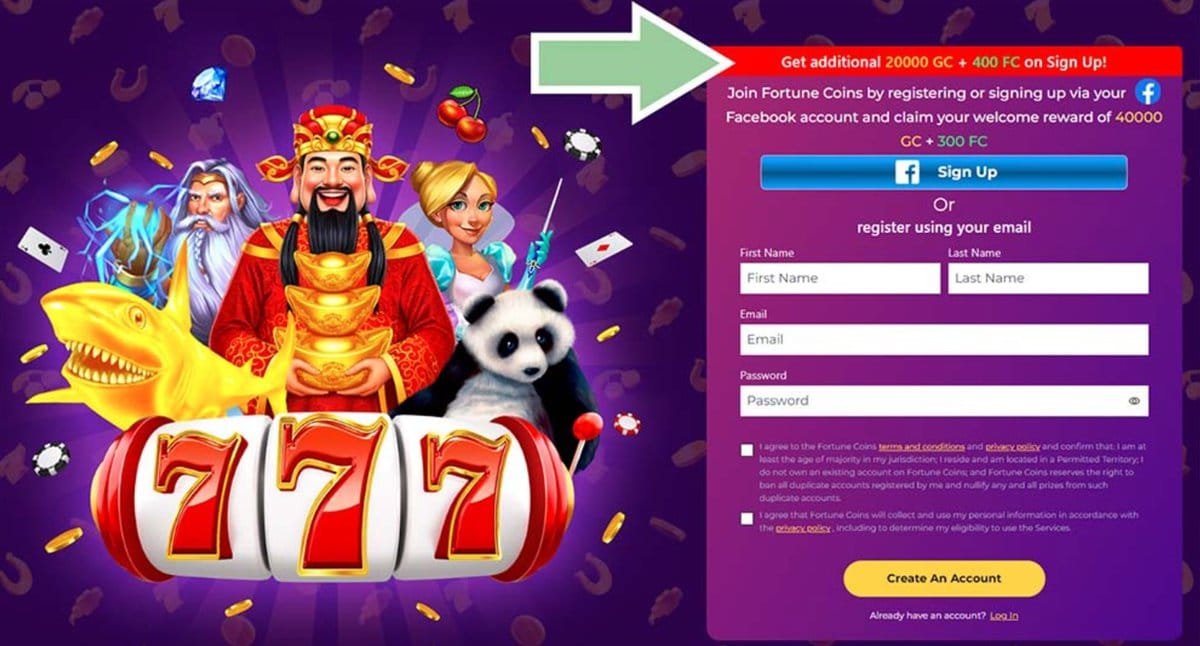 As with most sweepstakes casinos, Fortune Coins requires all players to be over 18 and live in any US state other than Washington and Idaho. Logging in is straightforward once you have created an account. Press "Login" and use your credentials to login to your account.
The operator also offers its customers a daily login bonus. You can receive an impressive 50,000 gold coins and 100 fortune coins every day. This is one of the most generous on the market, so make sure you take advantage.
Sweepstakes Casinos Where Login is Impossible
As mentioned in our introduction, there are a few rogue actors on the sweepstakes scene. Identifying these is crucial, as they can be extremely dangerous. Fortunately, a lengthy or weird login process is one of the most common red flags.
For example, you might be asked to contact the operator directly to receive a pin code. Alternatively, you may be redirected to another third-party site like BitBetWin or BitPlay to play on a specific platform. Here are a few examples:
How to login on Riversweeps
Riversweeps is a sweepstakes platform and software provider. It offers slots, fish games, keno, and other titles using virtual currency. Unfortunately, information regarding its parent company or game statistics is impossible to verify. Our review team has deemed this platform as a dangerous site, so we recommend staying away.
Nevertheless, curious players can sign up for Riversweeps via the BitBetWin sweepstakes aggregator. This comes alongside a 50% first deposit bonus and $10 free in Riversweeps bonus cash. Login on the website and choose Riversweeps from the list of software systems to start playing. Alternative platforms, including River Monster, also offer Riversweeps games. Signing up for these is extremely difficult, with players required to message a private number to gain a pin code. Adding money to Riversweeps is also complicated, requiring you to go through third-party platforms. Stay away!
How to login on Vegas-X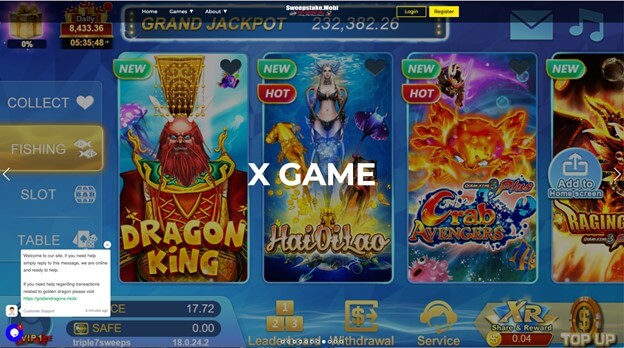 Vegas-X is another sweepstakes gaming system provider and platform in its own right. It has gained popularity predominantly at land-based sweepstakes cafes due to its collection of fish games, arcade-style titles, and online slots.
The operator's official website doesn't offer any registration option, only a login. It's strange, as how can it expect players to have login credentials without any registration possibilities? As it turns out, you must visit www.vegas-x.net first and complete the sign-up form. Even then, there is no indication of when you'll receive your login pin. Ultimately, the best way to register to play Vegas-X games is via BitBetWin. Press "Register" in the top right-hand corner and fill in the required details to get started. As with Riversweeps, we strongly recommend avoiding this operator. There are multiple factors making us question its legitimacy, including problems adding money on your Vegas-X account.
How to login on Golden Dragon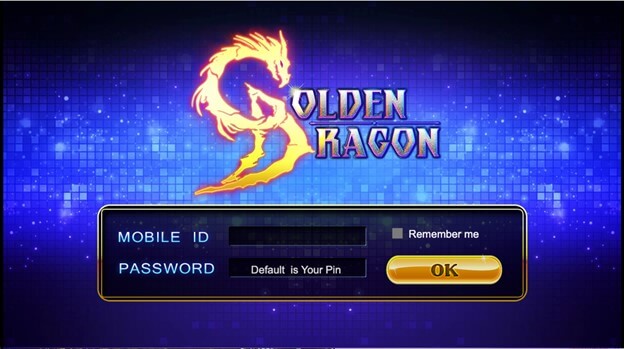 Golden Dragon is a fish sweepstakes game and platform. It has garnered a great reputation due to its impressive graphics and varied bonus features. Nevertheless, most platforms offering Golden Dragon are questionable at best. As for the official site, this is another place where players aren't really offered a registration option.
The easiest way we found to complete the Golden Dragon login was through Sweepstakes Mobi. This platform is similar to BitBetWin and also has land-based locations throughout Texas. There is limited information regarding a welcome bonus and background information in general. As a result, we cannot recommend playing here.
Summary
That's all you need to know about sweepstakes casino logins out of the way. There is no reason why this process should put you off playing sweepstakes casino games, as it's exceptionally easy in the vast majority of cases. Moreover, many operators offer incredibly generous welcome bonuses for first-time players. Unlike normal real money casinos, all you have to do is complete your registration to take advantage.
Afterward, you can earn even more free gold coins and sweeps coins via daily login bonuses. These promotions are some of the best things about playing at social casinos, offering countless opportunities to boost your virtual currency bankroll.
So what are you waiting for? Sign up to platforms like WOW Vegas, Pulsz Casino, Fortune Coins, or one of the other leading social casinos to see what all the fuss is about!