Seminole Social Casino was launched in 2017 by the Seminole Tribe of Florida. This social casino offers over 230 exciting slot games from big-league software providers like Greentube, Everi, Novomatic, and Ainsworth, although only half a dozen of games are available for new players.
Pros
Dozens of popular progressive slots
Daily bonuses award heaps of free coins
No deposit is required to play slots at Seminole Social Casino
Great deals on in-game currencies (Hearts, Diamonds, and Gold Coins)
Cons
Only a handful of slots are available from the start
Its free premium slot games offer hours of fun, and you don't need to make any deposits to grab your sign-up bonus. Even though Seminole does not offer real cash prizes, it offers a progressive, highly addictive playing experience and several in-game currencies besides free coins.
All American players aged 18 and above can play free slot games at Seminole after creating an account or linking their Facebook profile. Moreover, you can even play as a guest, which is an excellent way to play demos of some of the latest casino slot games at this social casino.
But users looking for free casino games with cash prizes should join the following operators instead:
Seminole Social Casino Review
🎰Seminole Social Casino
🏛️Owner
Seminole Tribe of Florida
🖥️Platforms
Desktop, Android, iOS
🎲Games
132 slots, 15 table games
🧑‍💻Software Providers
Leander Games, Greentube, Konami, Novomatic, Everi, Spin Games, Net Entertainment
🎁Bonuses
Sign-up Bonus, Hourly Bonus, Watch & Earn, Level Up Bonus
🤝Sister Casinos
Seminole Hard Rock Hotel & Casino Hollywood, Seminole Hard Rock Hotel & Casino Tampa
Seminole Casino Free Coins: Ways to Get Them For Free!
As soon as you enter the lobby at Seminole social casino, you'll be greeted by a sign-up offer. To claim your free 200,000 GCs, all you need to do is log in and tap that number on the screen. You can make a new account or link your existing Facebook account to grab this offer, with no strings attached.
In addition to the new player bonus, Seminole offers several other no deposit bonuses. These free gold coins have no rollover requirements, but you can only use them in the four slot games that are available to new players until you've leveled up your account:
Hourly Bonus
Watch & Earn Bonus
Level Up Bonus
Spin the Wheel
Hard Rock Unity Card Link Bonus
Hourly Bonus
The second no deposit bonus that you can claim more than once each day is the hourly bonus. It would be more accurate to call it a 4-hour bonus since that's how much time it takes to refill.
Watch & Earn Bonus

The "Watch & Earn" section offers a simple way to top up your gold coins balance. By simply tapping the reel icon from the bottom bar, an ad from one of Seminole's partners will pop up on your screen. They rarely last longer than 30-40 seconds and watching one will give you a nice bonus of 5,000 free gold coins.
Level Up Bonus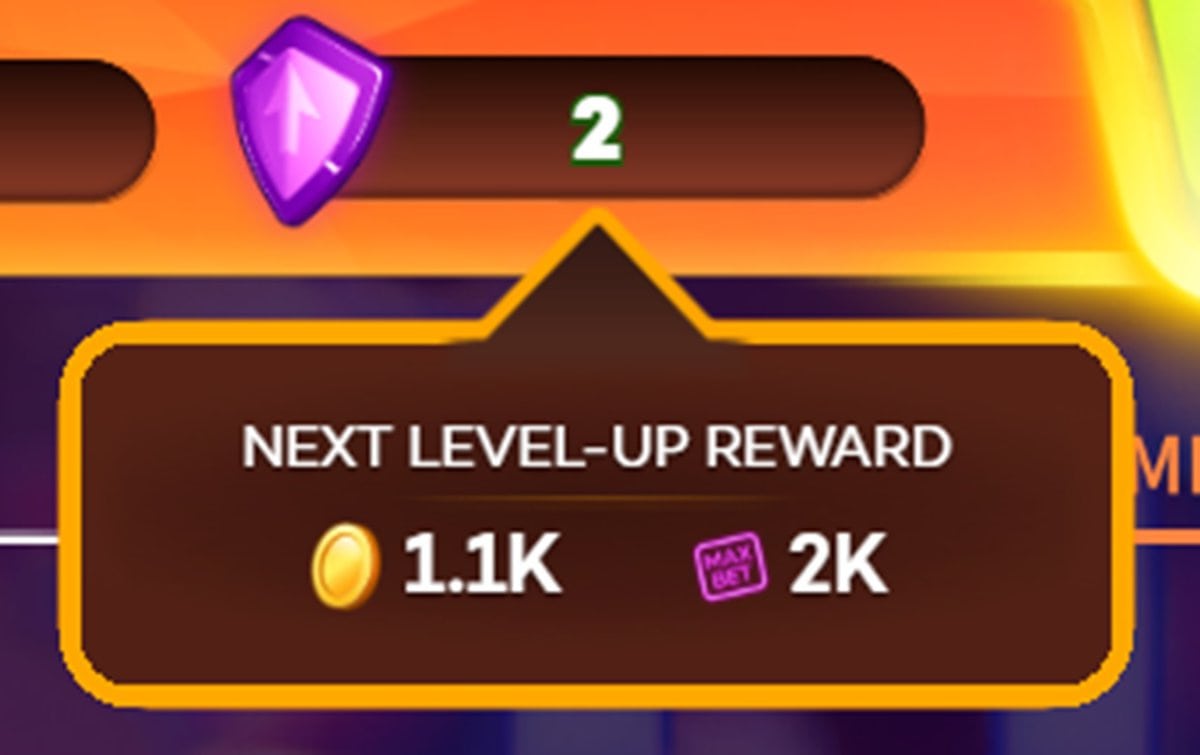 Many social casinos reward their players if they play long enough. Whether your wagers win or lose, you'll earn variable amounts of "experience" based on the bet amount. The number next to the purple shield indicates your current level; hovering above this number will reveal your next level-up reward.
One of the best things about this bonus is that you can be flexible about reaching the required number of experience points.
For example, we started with Apollo: God of the Sun by Leander Games since it features 100 paylines and medium volatility. After grabbing the first 1,000 bonus GC, we switched over to Almighty Jackpots: Realm of Poseidon by Novomatic; this slot features "only" 25 paylines but its max win gives 1,000x the bet amount.
Unfortunately, we weren't lucky enough to hit the jackpot, but it would've given us enough points for at least a dozen levels (and the corresponding level-up bonuses).
Spin the Wheel Bonus
Upon making a new account at Seminole social casino, we were looking but couldn't find the Spin the Wheel bonus. It appeared on the screen after we remained logged on for approximately 12 hours and gave us a nice bonus of 3,000 GC.
Again, no strings attached; this social casino bonus doesn't have any betting or rollover requirements, so you're free to grab these free coins as soon as this bonus becomes available.
Daily Bonus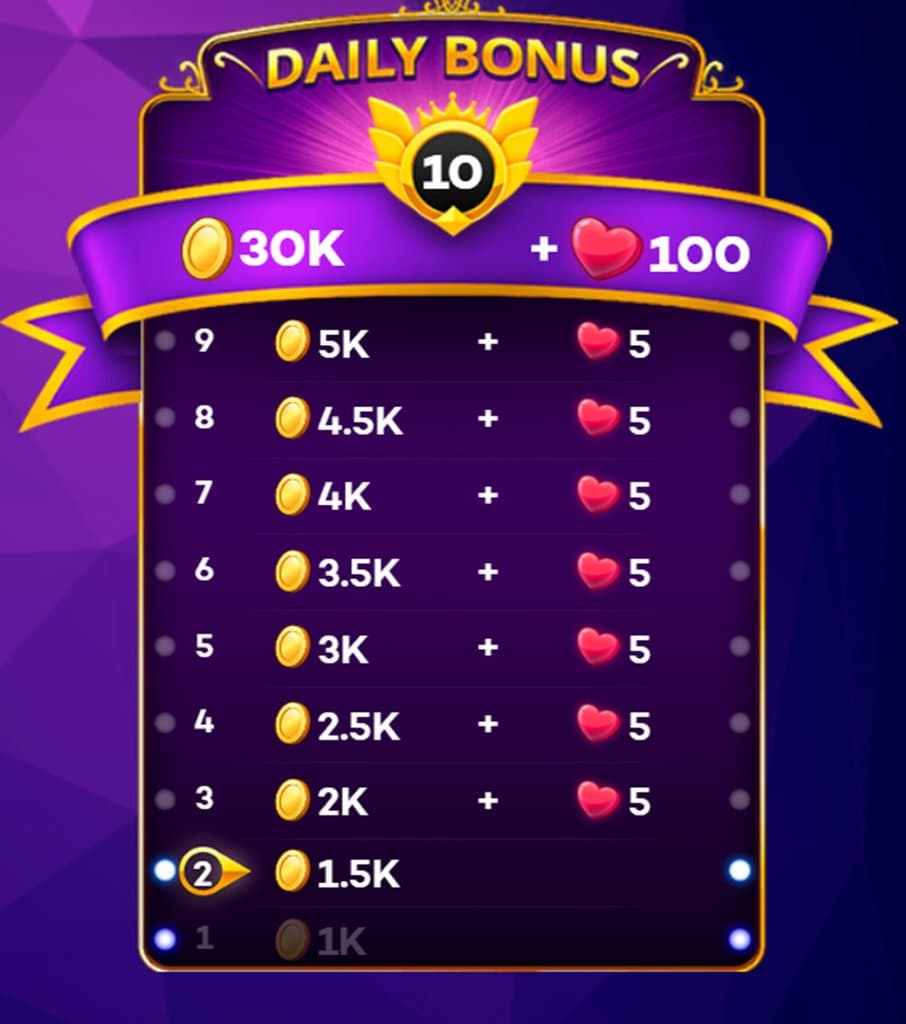 Seminole daily bonus rewards the player each day with a set amount of free gold coins. The amount of awarded coins increases if you keep claiming this bonus every day, not to mention that you'll also start earning free Hearts from day 3 onward.
If you manage to claim 10 daily bonuses (10 days in a row), the prize skyrockets and you'll receive 30,000 free GC and 100 Hearts. Daily Bonus rewards are credited alongside the Spin the Wheel reward.
Hard Rock Unity Card Link Bonus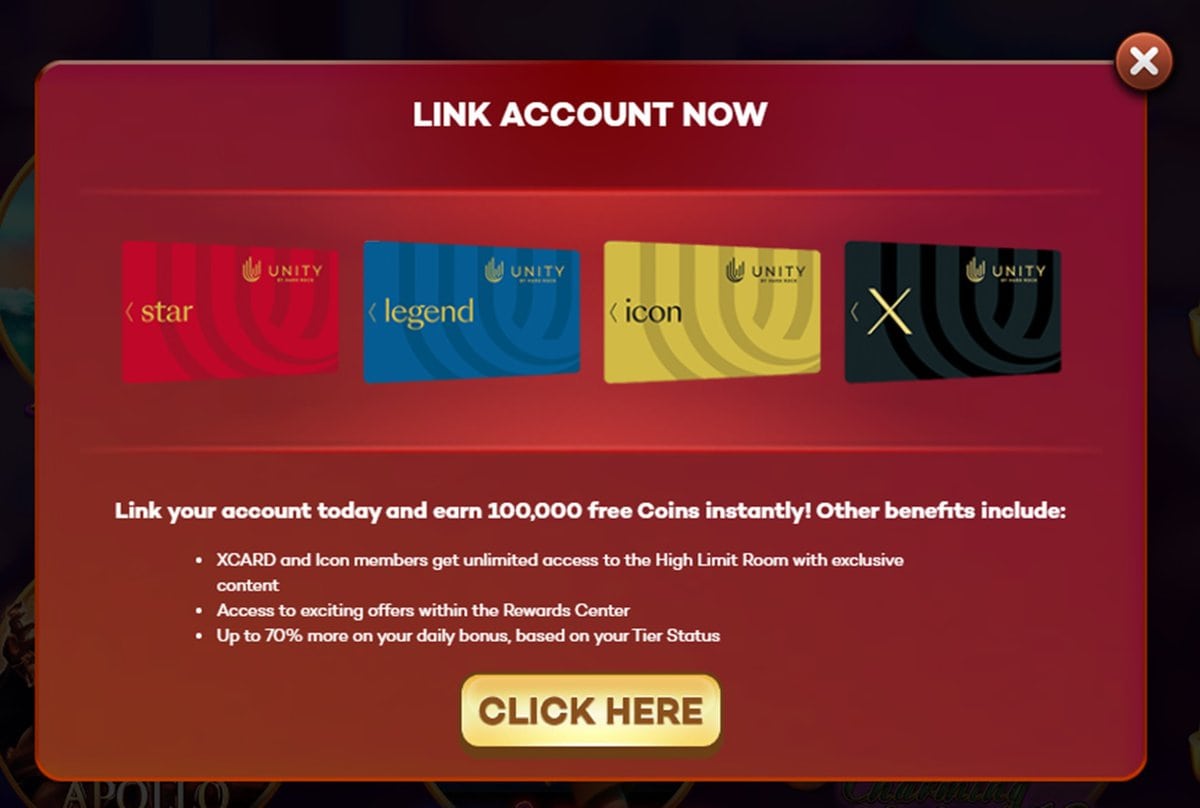 Besides owning Seminole Social Casino, the Seminole Tribe of Florida also owns multiple Hard Rock Casinos across the U.S. If you're already a member of their Hard Rock Unity club, you can link your Unity card with your Seminole social casino profile for a hefty bonus of 100,000 free gold coins
Depending on your Unity membership type, you can benefit from additional perks, including:
Up to 70% boosts on the Daily Bonus
Exclusive deals in the Rewards Center
Unlimited access to High Limit Rooms
All you have to do to activate this bonus is tap the card icon from the top-right corner of the screen and tap the "Click Here" box. You'll be asked to provide your Hard Rock Unity Card number and date of birth. By tapping "Link", you'll immediately receive your bonus coins.
First Purchase Bonus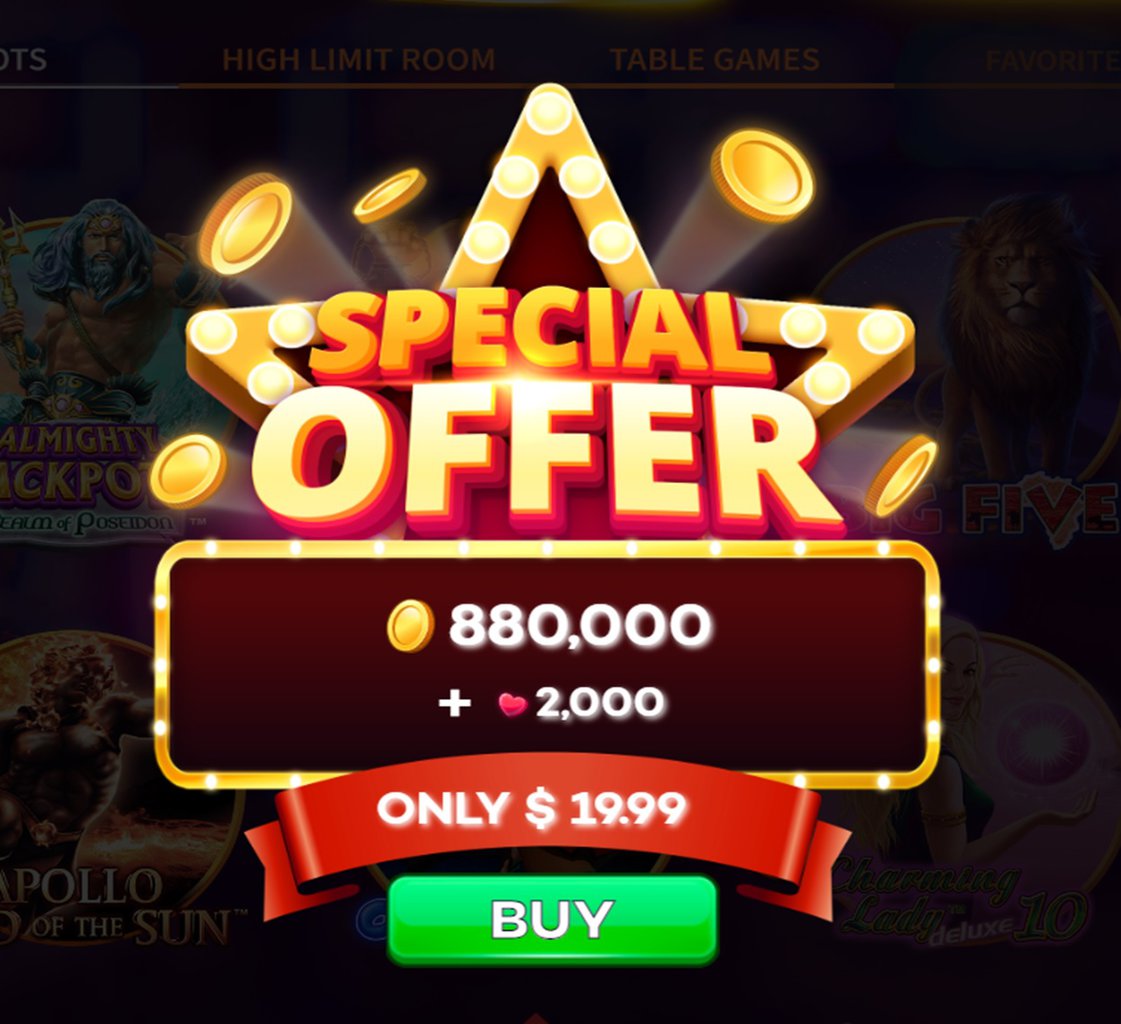 Seminole Social Casino's first-purchase bonus is an exclusive deal that the casino offers to each player
When we made an account at Seminole, the casino offered us 880,000 GC and 2,000 Hearts for merely $19.99. Without this bonus, we'd only get 550,000 GC (and the same amount of hearts) for the price.
It's important to note that all deals Seminole offers expire after roughly 15-30 minutes. Don't worry if you missed your opportunity to grab the first-purchase bonus; as soon as the Lucky Sale event becomes active again, you'll be able to reap a 50% bonus on all GC purchases.
Free Coins Promo Codes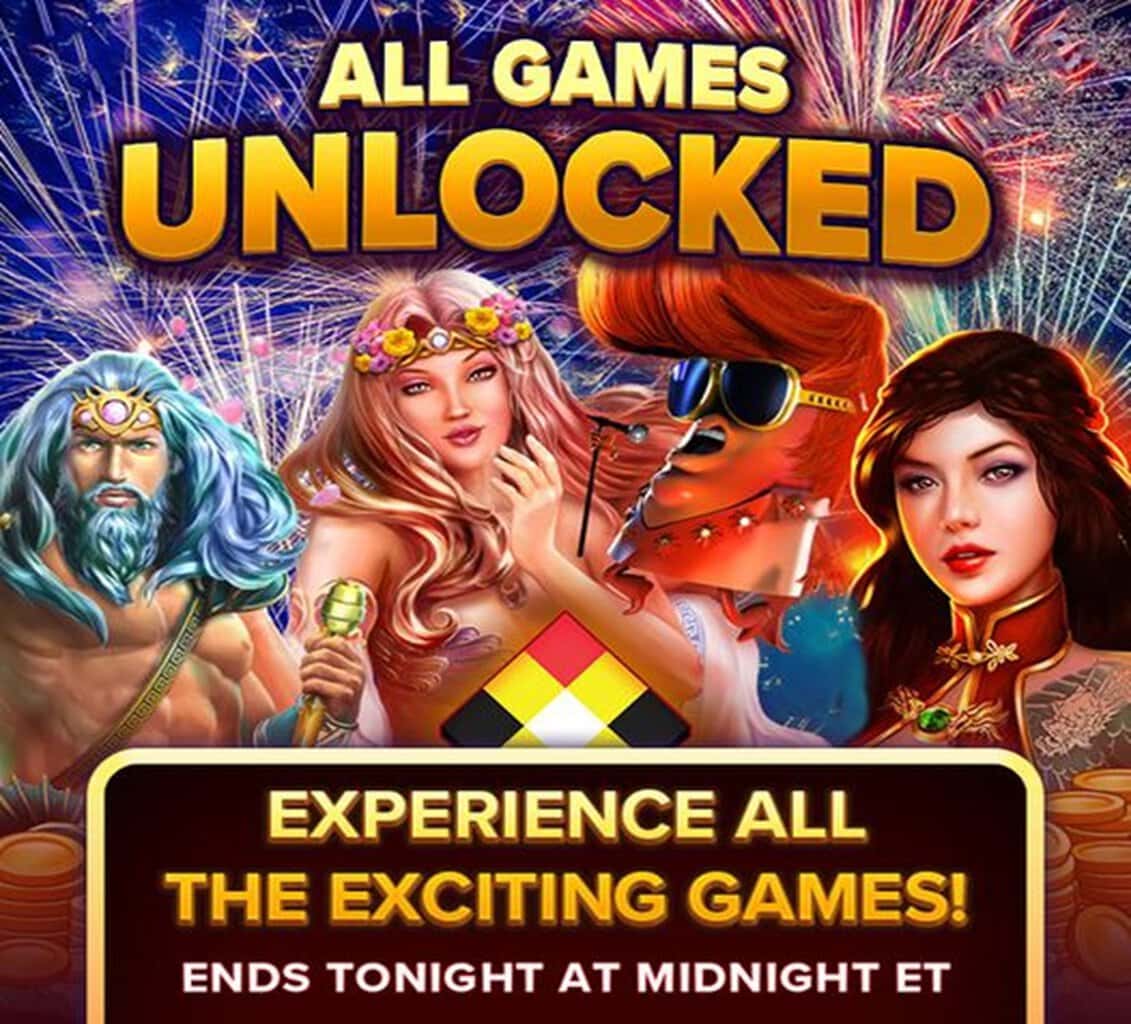 You don't need promo codes to grab Seminole Social Casino's bonuses and rewards. However, you can link up your Facebook profile with your Seminole account if you wish to benefit from exclusive perks, such as temporarily unlocking new or even all slot games.
Syncing your Seminole and Facebook accounts is also a good way to keep tabs on the latest time-limited offers. This social casino frequently hosts events that may double your GC earnings, get you exclusive discounts on GC chests, or surprise you in other ways (mystery prizes, small packs of free gold coins, etc.).
Free Coins Links
No links are needed to grab your free coins at Seminole social casino. We'll break down everything this casino has to offer in simple steps, so all you have to do is follow them to get the most out of your gaming experience.
How to Play at Seminole Social Casino
Firstly, only U.S. citizens aged 18 and above can play at Seminole. You can enjoy your social casino gaming experience from Seminole's website, from its official Facebook page, or from a mobile device. Regarding the latter, Seminole offers different apps for iOS and Android users.
Desktop (Website) Sign-Up Process
Go to Seminole social casino's website
Tap "Create a new account"
Provide the required information (email, date of birth, etc.)
Alternatively, tap "Connect with Facebook" to link your existing Facebook account with Seminole Social Casino
Log in and claim your sign-up bonus
Seminole App Download Process
Go to Google Play Store (Android) or Apple App Store (iOS)
Enter "Seminole Social Casino" in the search bar
Tap "Download"
The app should automatically start once the download is complete; if not, tap the Seminole Social Casino app from your phone
Create a new account or link your existing Facebook account to sign up
Claim your sign-up bonus
Seminole Social Casino Currencies
Seminole casino uses two types of in-game currency – Gold Coins and Hearts. Seminole Social Casino is not a real money gambling website and gold coins can't be redeemed for cash.
However, Hearts can be redeemed for real casino rewards, used to access the High Limit Room or to get discounts at land-based Seminole hotels.
How do Hearts Work at Seminole Social Casino?
Hearts and Loyalty Points are terms that Seminole uses interchangeably. Only a handful of bonuses at Seminole give free hearts (e.g. Daily Bonus from Day 3 and onward) while the simplest way to obtain more is to purchase a pack of Gold Coins.
You can use Seminole Hearts to buy extra coins, gain limited access to the High Limit Room, book a stay at Seminole Tribe's Immokalee Casino Hotel, or redeem them for Unity Points.
Converting Hearts to GC
500 Hearts give 15,000 GC
12,500 Hearts give 50,000 GC
20,000 Hearts give 100,000 GC
200,000 Hearts give 1 million GC
Using Hearts to Access the High Limit Room
10,000 Hearts unlock HLR for 24 hours
25,000 Hearts unlock HLR for 7 days
40,000 Hearts unlock HLR for 30 days
Converting Hearts to Unity Points
10,000 Hearts convert to 250 Unity Points
20,000 Hearts convert to 500 Unity Points
40,000 Hearts convert to 1,000 Unity Points
80,000 Hearts convert to 2,000 Unity Points
160,000 Hearts convert to 4,000 Unity Points
400,000 Hearts convert to 10,000 Unity Points
800,000 Hearts convert to 20,000 Unity Points
2 million Hearts convert to 50,000 Unity Points
Booking a Stay at Seminole Tribe's Casino Hotel with Hearts
150,000 Hearts can be redeemed for a night at Seminole's Hotel & Casino in Immokalee, FL
Casino Experience
Newcomers to Seminole Social Casino may be overwhelmed by the sheer number of features it has to offer. However, on-site navigation is streamlined and highly intuitive.
In fact, new players can go through the "tutorial" by following on-screen instructions, which will take you through your first game, your first level-up reward, and some of the hottest Seminole's official casino games.
This option can be skipped if you wish to explore Seminole Social Casino at your leisure by tapping "Skip" in the top-left corner of the screen.
Regarding Seminole's theme, the lobby looks a bit cartoonish, especially since all the icons are bobbing whenever a notification is available. Aesthetically, Seminole may not look as polished as Stake.us's website, but it offers a smooth performance and easy navigation.
Seminole Casino Slots & Games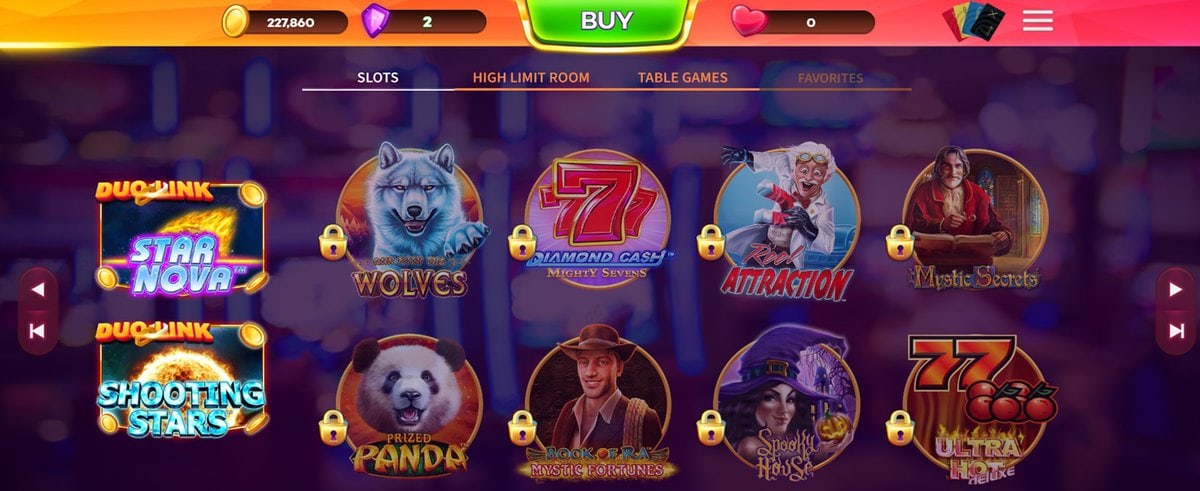 Seminole Social Casino offers 132 slot games and 15 popular casino table games. From jackpot slots and Megaways to the classics like Charming Lady and Book of Ra, there's plenty of fun to be had with Seminole slot games.
Even though its selection of table games currently comprises a handful of baccarat, keno, poker, blackjack, and roulette titles, they're just as entertaining to play as Seminole slots.
This social casino sources its games from a variety of popular slot game providers like Leander Games, Greentube, Konami, Novomatic, Everi, Spin Games, and Net Entertainment.
Does Seminole Payout Real Money?
No, Seminole does not offer real money gambling opportunities. Its Hearts in-game currency can be redeemed for Unity Points or a night at one of Seminole Tribe's casino resorts, though.
Is Seminole Legit?
Even though social casinos aren't necessarily required to go through the rigorous licensing process as their land-based counterparts, the Seminole Tribe of Florida ensured its social casino is as legitimate as can be. Its games are fair, its bonuses are beyond generous, and you can even grab a few real-world prizes if you accumulate enough Hearts.
Other Features
Players aren't required to make any deposit to play and enjoy the Seminole Social Casino experience. Should you run out of GC, you can always buy more and receive free Hearts for your purchase. This social casino accepts Visa, Mastercard, Apple Pay, and Google Pay banking options.
In terms of customer support, Seminole Social Casino doesn't have a live chat feature. Customers can reach help by submitting a ticket via Seminole Social Casino Help Desk.
Would We Play at Seminole?
Absolutely. We already made an account and are still wagering the free gold coins we obtained from Seminole's no-deposit bonuses. There are no downsides to playing at this social casino, so we warmly encourage you to give it a try.
Elsewhere, users can check out Pulsz, Fortune Coins, WOW Vegas, or other sweepstakes casinos if they want real money rewards in a social casino setting.