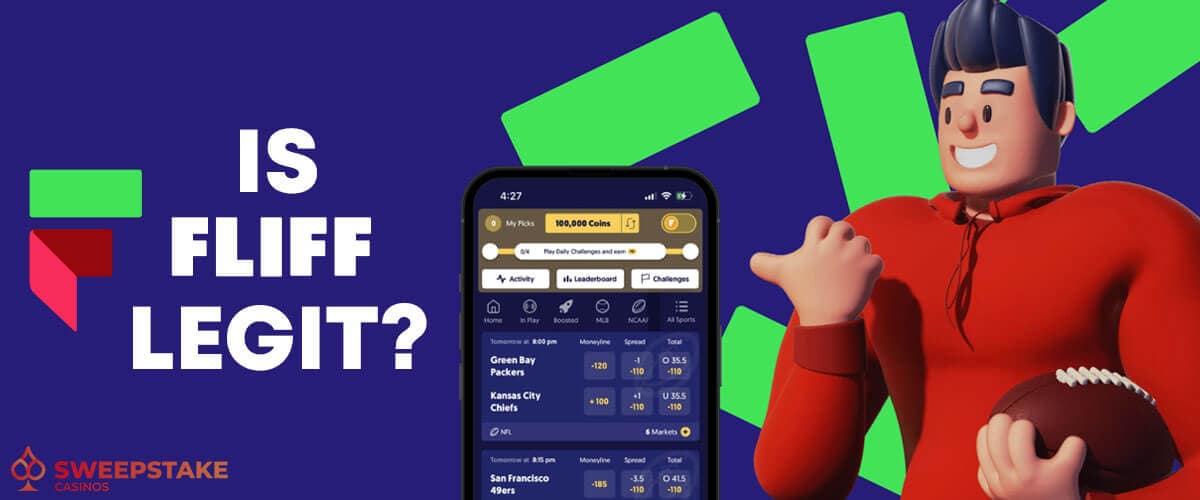 If you've come across the new social sportsbook, you might be wondering if the hype is legit. The Fliff sportsbook app claims to be the next big thing in terms of online sports betting and it's available throughout most of the US.
Our team has been put on the task of taking a closer look at the social betting platform to see if there is any value for customers. We will be discussing all the pros and cons, the bonuses, banking options, and the overall experience of the app.
Any information about the company will also be discussed to figure out if the offer is legit. Some reports claim Fliff is a scam, making this page a must-read before betting!
🏈Fliff Sportsbook
🏛️Operating Company
Fliff Inc.
📜License
None required
⭐Apps Ratings
4.7 - Google Play
4.8 - Apple
👨Accepts players from the USA?
✅Yes
🇺🇸 Is it legal in the USA?
✅Yes
💳Banking Options
Debit and credit cards
🎁Welcome Bonus
Matched deposit of Fliff Cash up to a value of $100
💵Betting Options
Moneylines, spreads, totals, parlays, props, in play
Summary of Fliff Review
Fliff social sportsbook is an innovative approach to an otherwise boring industry. Sweepstakes platforms usually have low-quality gaming options and mediocre mobile apps. Our team found that this was definitely not the case with Fliff. The app is remarkably well-designed, the real money opportunities are real and the bonus is quite impressive.
While there are many positives behind their betting platform, we do still have concerns about the licensing and safety of using the Fliff app. There is no state gambling commission regulating their operations but only time can tell if this will become an issue; sweepstakes and social gaming sites like Fliff don't really require iGaming licenses.
If you're just looking to place some fun sports betting with the occasional opportunity of winning some money, you've come to the right place!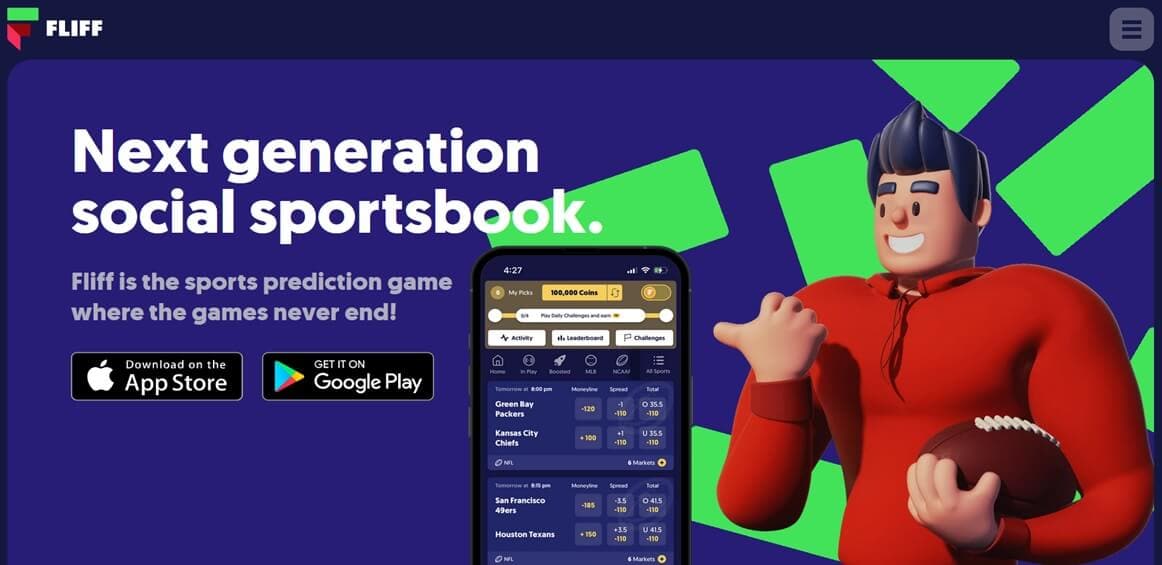 ✅Fliff Pros
Earn XP to trade for real cash tokens
No deposit required to use the social betting apps
Decent sporting markets and betting options
App is very well designed and easy to use
❌Fliff Cons
Will require quite a lot of time to build up XP
Minimal regulations apply to the service
Fliff Bonuses and Promotions
Even though you won't have to deposit funds to use the sweepstakes betting app, there are still bonuses and promotions that you can use when you purchase coins.
The Fliff promo code SWEEPCASH will double the value of your first purchase up to $100. This is done by buying the 1.3 million Fliff Coins which includes 100 Fliff Cash. On top of the standard purchase, the customer will receive an additional 100 Fliff Cash which has a value of $100.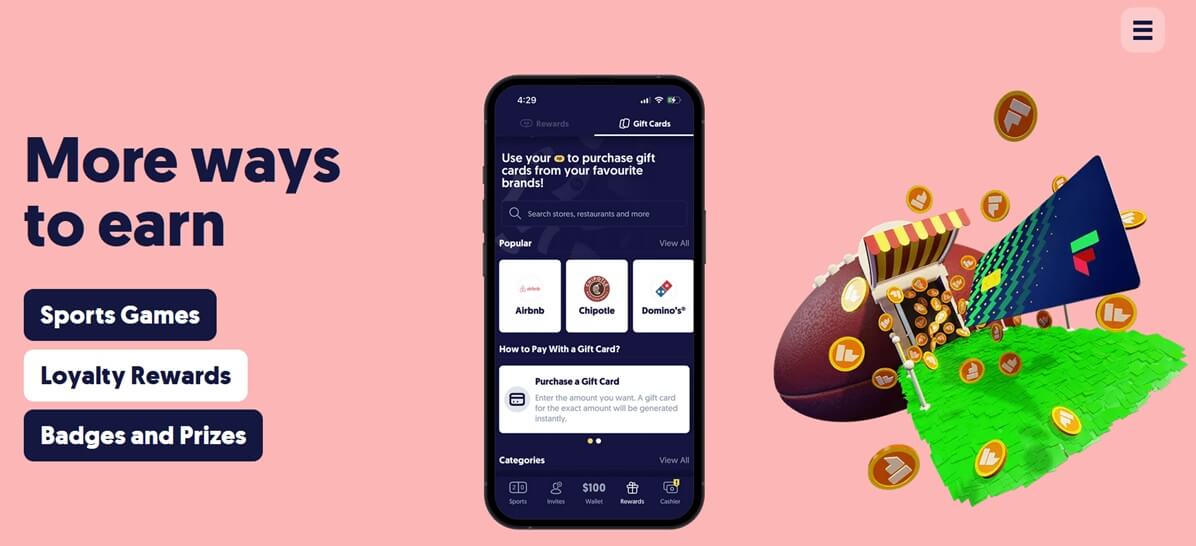 On top of the welcome bonus, customers can also opt-in for plenty of Fliff Coins offers. The store constantly had discounts available on certain packages and we could also claim 5,000 coins every couple of hours. The incentives for playing with Fliff Coins are high! By finishing at the top of league leaderboards, customers can earn prizes that are worth real money.
Besides that, the loyalty rewards available are of a much higher standard when compared to the rest of the sweepstakes industry. Customers could trade in their app currently for real-life rewards from reputable food and accommodation companies.
As such, we can say that Fliff doesn't only pay out, but it pays out in different ways; vouchers, real money, and more!
Bonus Terms and Conditions
There are a couple of terms and conditions that you will need to meet to claim the bonus. The Fliff cash bonus can only be used for your very first purchase on the platform. It's similar to a traditional sportsbook matched deposit bonus. Depending on the amount you have purchased, your account will be credited with the same value in Fliff Cash as what you have spent.
Besides that, the Fliff Cash will need to be wagered on the platform before the funds are withdrawable. This bonus is quite generous when compared with other sweepstakes online sportsbooks.
Without the licensing, we had to note some terms and conditions that could be a worry. If customers have racked up more than $599 worth of Fliff Cash, they would need to verify their account by sharing identification documents that match their credit card details and they would have to share the last four digits of their Social Security Number. These might seem like a bit much, but they are standard KYC policy for all legit operators.
Fliff Banking Options
At the time of writing, Fliff only supported all major debit and credit cards as banking methods to make in-app purchases. You must use your own credit card as any potential prize winnings at a later stage may need to be validated with your credit card account details. We recommend first claiming the free Fliff coins when you've opened your account to check if the platform meets your expectations.
It's also important to remember that there is no minimum deposit while you are using this betting platform. It is a sweepstakes sportsbook and the money that is transferred to the company is not actually stored for your account. You are purchasing a certain amount of Fliff Coins which may eventually earn some real money value.
Purchasing Fliff Coins is the optimal way to make the most of the sweepstakes platform. It's also the only way to claim the Fliff promo code SWEEPSCASH. Once you've bet your Fliff Cash and made some winnings, you can then withdraw the Cash at dollar value to your bank account. It may take between 1 and 5 business days. If you've been waiting longer than that, you can always reach out to customer service which is available every day and responds very quickly.
You can also withdraw your Fliff Cash by using the Skrill payment method. This is usually processed faster than conventional bank transfers and no fee will be charged.
All details check out in favor of Fliff in this department as well.
Fliff Betting Experience
Our team was blown away by the betting experience available with Fliff. They've designed the app to have the exact same layout as a standard sportsbook.
After downloading the app from either the Google Play Store or the App Store, you'll be able to open an account within a matter of minutes. You will only have to share the last four digits of your SSN and verify your ID if you plan on withdrawing more than $599. A screenshot of the app is shown below the betslip at the bottom.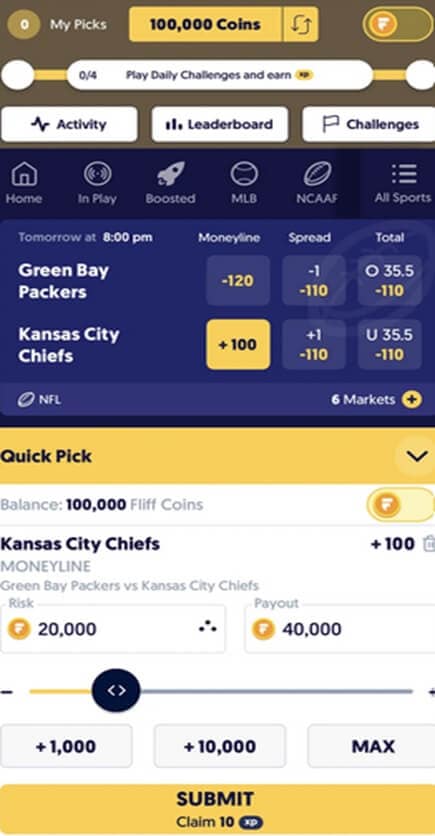 Being a sweepstakes sportsbook, there is also a leaderboard and challenge section which will only be based on bets made with Fliff Coins. Beyond that, the experience would be well received even if it was developed by a real money sportsbook. Navigating through all of the betting options is a breeze and there's also 'In Play' bet support.
The toggle feature that allows customers to switch between real money and app currency was also surprisingly entertaining. The combination of the two allowed us to easily redeem cash prizes with the likes of Airbnb, Domino's, Chipotle, and many more. The option to win real money is also available by wagering your Fliff Cash and withdrawing the winnings from the bet.
It's also important to keep in mind that if your account has been inactive for 30 days, your Fliff Cash will be set to 0. It's quite a strict term of service but it is specifically mentioned on their website. You'll also only be able to withdraw a maximum of $1,000 per week while you are using the betting platform. This will only apply to high rollers out there but another factor to keep in mind if you're thinking of betting big.
Is Fliff Social Sportsbook Legal In the USA?
It's important to note the difference between Fliff Coins and Fliff Cash. Coins are used for social bets, you'll receive a bunch of them every couple of hours if you open the app and any amount can be bet on sports markets. You'll sometimes receive some Fliff Cash as a bonus, when you win, or buy some Fliff Coins.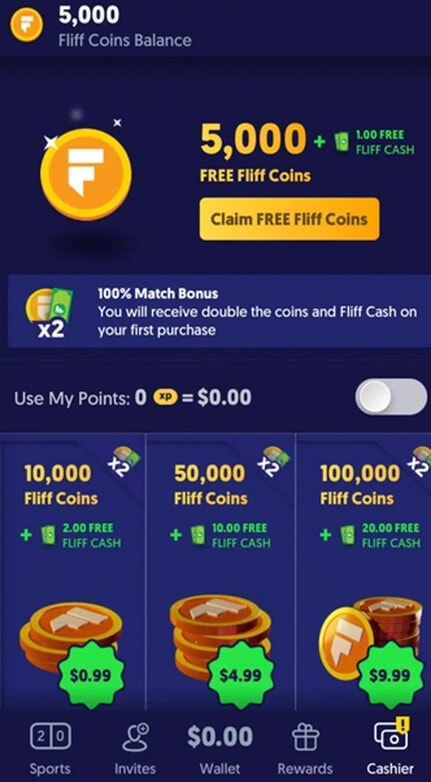 Fliff Cash can be seen as real money on the platform. On the top right of your screen, you'll be able to toggle between placing coin bets or cash bets.
The Fliff sweepstakes credits are the secret behind the platform being available in states where online gambling is not available. The phrasing of the Fliff rewards specifically says that you are receiving a promotion when you purchase Fliff coins. That's not a deposit and also no longer your money that is used to bet on the matches. It's a loophole that makes Fliff legal in almost every state in the US under sweepstakes laws.
That being said, there are many states where Fliff Cash is banned. Only allowing customers the option to place friendly bets using the coins. The list includes AL, GA, ID, MN, MS, NV, SC, and WA. Washington has banned the platform completely, as all other sweepstake casinos.
Is Fliff Safe?
We can't confidently answer this one! Fliff is registered under the operating company Fliff Inc. You can find out all you need to know about the company by using this tool. It was founded by Matt Ricci, an actuary, and Mario Dodev, who has experience with Paysafe Group, IG Soft, and Olympic Sports Data Services. The company opened its doors in May of 2019 and has shown notable growth over the years.
Since no licensing is required for a sweepstakes service, it's no surprise that the app has no licenses from any state gambling commissions. While it has been around for 4 years, we recommend using small amounts of money if you are planning on claiming some Fliff Cash.
The company has been through two funding rounds and received $1.5 million. A couple of big names decided to invest and their branding is shown below.

In terms of online safety, we couldn't fault the Fliff service. There has been one negative post about an account that has been hacked but it is not certain that this was a platform fault. The payment portal and the website itself both use TLS encryption. We recommend only using the app while you are on your mobile network or a private WiFi connection. To avoid any mishaps, we also recommend only using the download links that are available through this webpage or their website itself.
Experts out there will also know that Fliff is most-likely foolproof because their apps are listed on the official Android and iPhone virtual stores. Both companies take measures to ensure they only source players with legit apps.
As mentioned when signing up, you will need to add your SSN. Is Fliff safe for adding your SSN? Yes, it is. Fliff is a safe, secure, and legit platform and you can feel confident when adding your details.
Does Fliff Really Payout?
The question on all bettors' minds! Well, you'll be glad to hear that yes, they do really payout if you have met the terms and conditions. After opening your account, you'll receive 5,000 free Fliff Coins and 5,000 more every two hours. Try to claim as many of these Fliff Coins as you can, all of them will go towards building up profile XP and sometimes be rewarded with Fliff Cash.
You can also get $5 worth of Fliff Cash by simply posting the company a stamped letter. Their headquarters are at the following address:
FLIFF INC
FLIFF SWEEPSTAKES DEPARTMENT
P.O BOX 2728
AUSTIN, TX 78768
Once you've built up enough Fliff Cash, you can switch over to the real money section of the sweepstakes app.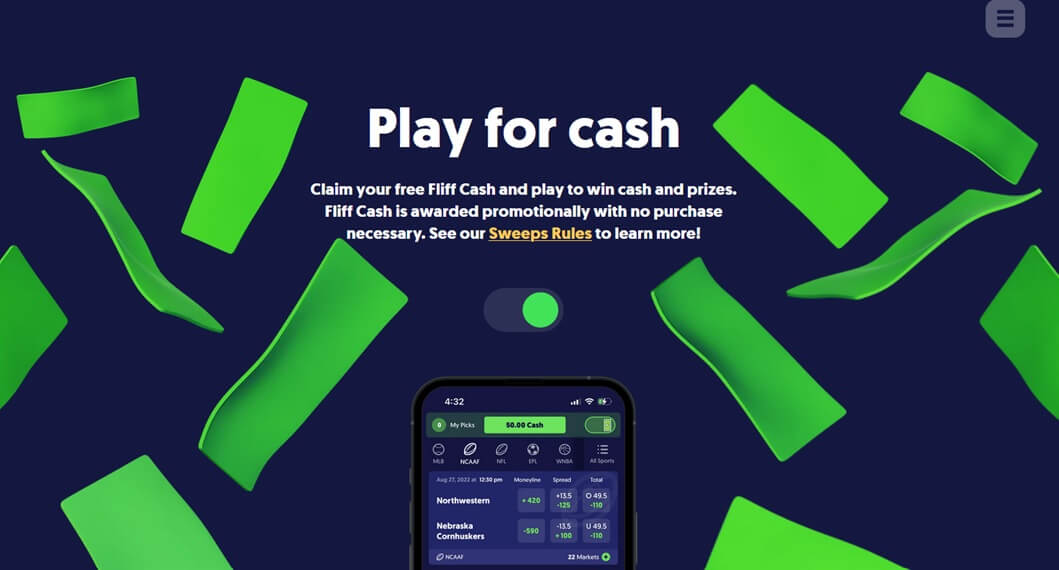 This is where the platform transitions to a traditional sportsbook. You can bet on football, basketball, baseball, ice hockey, and many more by using the app. The league coverage was also quite impressive for a sweepstakes sportsbook. Find a match that you're interested in and bet some of the credits that you've been awarded. Once the bet has settled, you can click on the 'Wallet' button at the bottom and request a withdrawal.
After 1-5 business days, the funds should be available in your account. You can then begin the process again by toggling over to their social betting markets. Build up some Fliff Coins and maybe try and climb the leaderboards while you're at it. The social betting section is also identical to a standard sportsbook and can be seen below.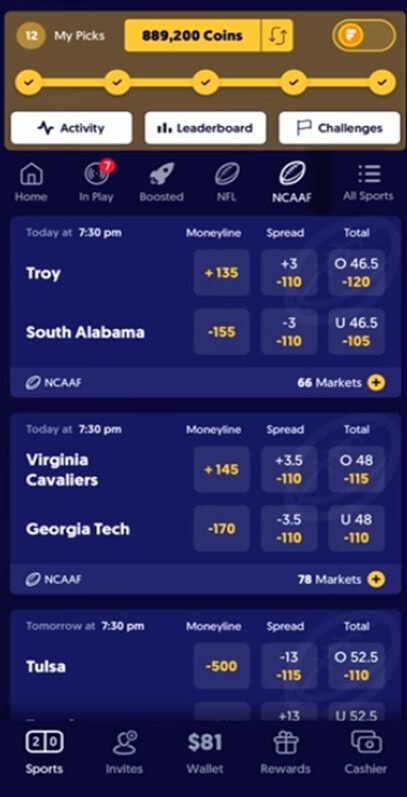 Repeat this process and you could be winning some funds without depositing. It does take a lot of time but still provides customers with the thrill of placing sports bets. If you want to speed up the process, claim the Fliff cash bonus by making your first purchase. All Fliff Cash need to be wagered once before they are eligible for withdrawal.
Is Fliff Sports Betting Legit? Reddit Reports
Our researchers jumped right into the Reddit threads to see if any users had some issues with the Fliff website or mobile application. We were surprised to find that it was quite the opposite, many users posted screenshots of their bets being placed with Fliff Cash and sometimes with remarkable winnings.
The official Fliff thread is shown below with close to 4,000 members.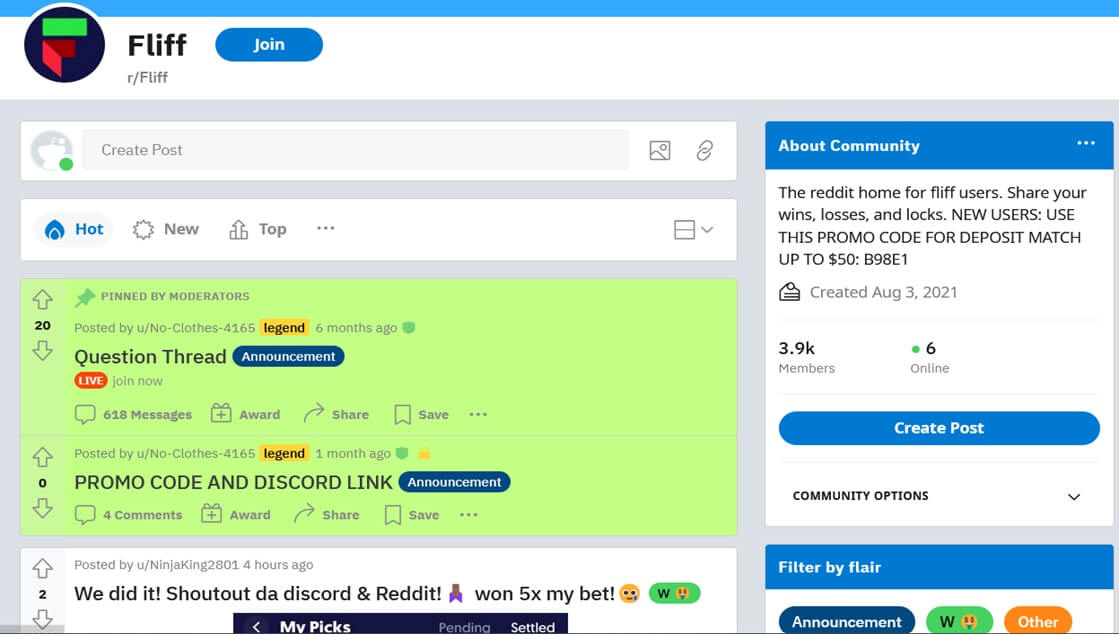 There are some threads of users who have been struggling to withdraw their money. After following these for some time, we realized that it's mostly human error when trying to go through the withdrawal process. It's important to remember that Fliff Cash must be wagered and won before it can be withdrawn.
If you're still doubtful, you can follow the Discord link that is posted on their Reddit page to gain access to the Fliff Flop group. There are over 1,500 members with active discussions on all the sporting events that are coming up. We highly recommend using this group if you plan on using a social sportsbook platform.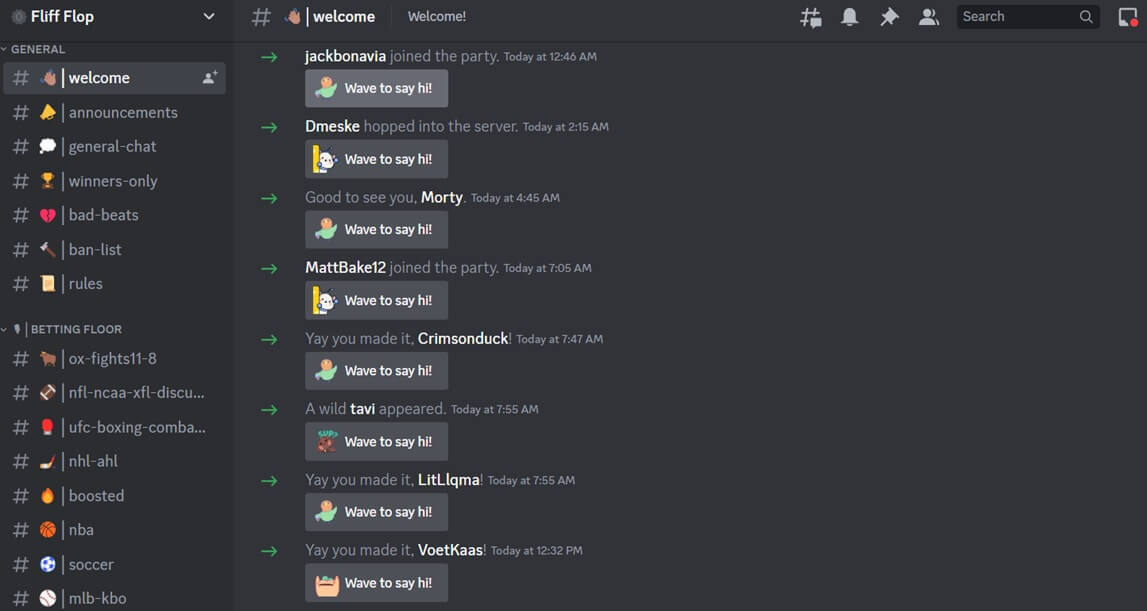 Should You Download the Fliff App?
This question really depends on what you're after from the sports betting industry. If you'd like to place some friendly bets on games with your pals without the risk of losing real money, then the app provides the perfect platform. After some time, you might even rack up enough XP to earn some Fliff Cash.
The app also provides a great opportunity for sports bettors who are in states where online gambling is illegal or very strictly regulated. Being a form of sweepstakes gaming, most of the laws and regulations set on the gambling industry won't apply to the app. That being said, the regulations also protect customers, so you will have to consider the risk.

If you're an active sports bettor with real money experience, then you may not want to go through the hoops of earning XP to trade for cash. Overall, we rate the platform quite highly but the cash prizes take some time.