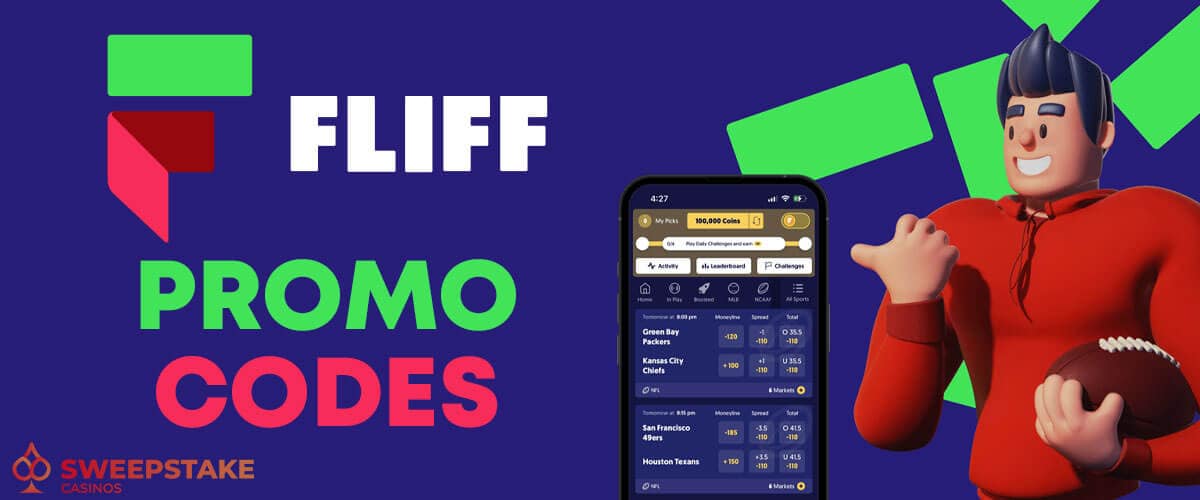 Fliff is a unique social sportsbook that offers new players an attractive no-deposit bonus worth 5,000 Fliff Coins and 1.00 Fliff Cash. You can claim this lucrative offer by registering on the sportsbook using our links and entering the promo code SWEEPSCASH. No purchase necessary!
Established by Fliff Inc. in 2019, Fliff stands out among other traditional sportsbook sites by operating under the sweepstakes model. It provides authentic sports betting experiences for free while allowing players to redeem Fliff Cash for real money prizes.
Besides the welcome bonus, a sea of other delightful promotions awaits you on the Fliff app. You just have to be ready to take the plunge.
Join me as we discuss these offers in detail, share active Fliff promo codes, and uncover the secrets to winning free cash on the platform.
Filff Promo Code Bonus
Fliff sweepstakes sportsbook understands how much bonuses elevate a player's betting experience and perpetually indulges its users with numerous thrilling promotions. The table below summarizes its offerings.
| # | 🎁No Deposit Bonus | 💵First Purchase Bonus | 🤑Promos for Existing Fliff Players |
| --- | --- | --- | --- |
| 📜Fliff Promo Code | SWEEPSCASH | N/A | N/A |
| ℹ Bonus Details | 5,000 Fliff Coins and 1.00 Fliff Cash | 100% more Fliff coins and Cash. Up to 600,000 Fliff Coins + $100 Fliff Cash for $49.99 | Login bonus, Loyalty rewards, Purchase bonuses, Referral bonus, Social media contests |
No Deposit Bonus
The Fliff betting app welcomes new players with a no-deposit bonus worth 5,000 Fliff Coins and 1.00 Fliff Cash to kickstart their betting adventure on a high note. Enter the sportsbook promo code SWEEPSCASH when creating your Fliff account to unlock this fantastic offer.
True to its name, you do not have to make a deposit to claim this bonus. Visit the Fliff website using our links, download the mobile app from the Google Play Store or Apple App Store, and select "Sign Up." Enter the promo code in the appropriate box, and you're good to go!

First Purchase Bonus
The no-deposit bonus is not all the Fliff sportsbook app has in store for new players. As a newbie on the Fliff app, you also qualify for an initial purchase bonus when you purchase Fliff Coins for the first time.
The bonus gives you 100% more Fliff Coins and Cash on your chosen package without changing the price. For example, instead of receiving 300,000 Fliff Coins and 50 Fliff Cash for $49.99, you'll get a whopping 600,000 Fliff Coins + 100 Fliff Cash for the same price!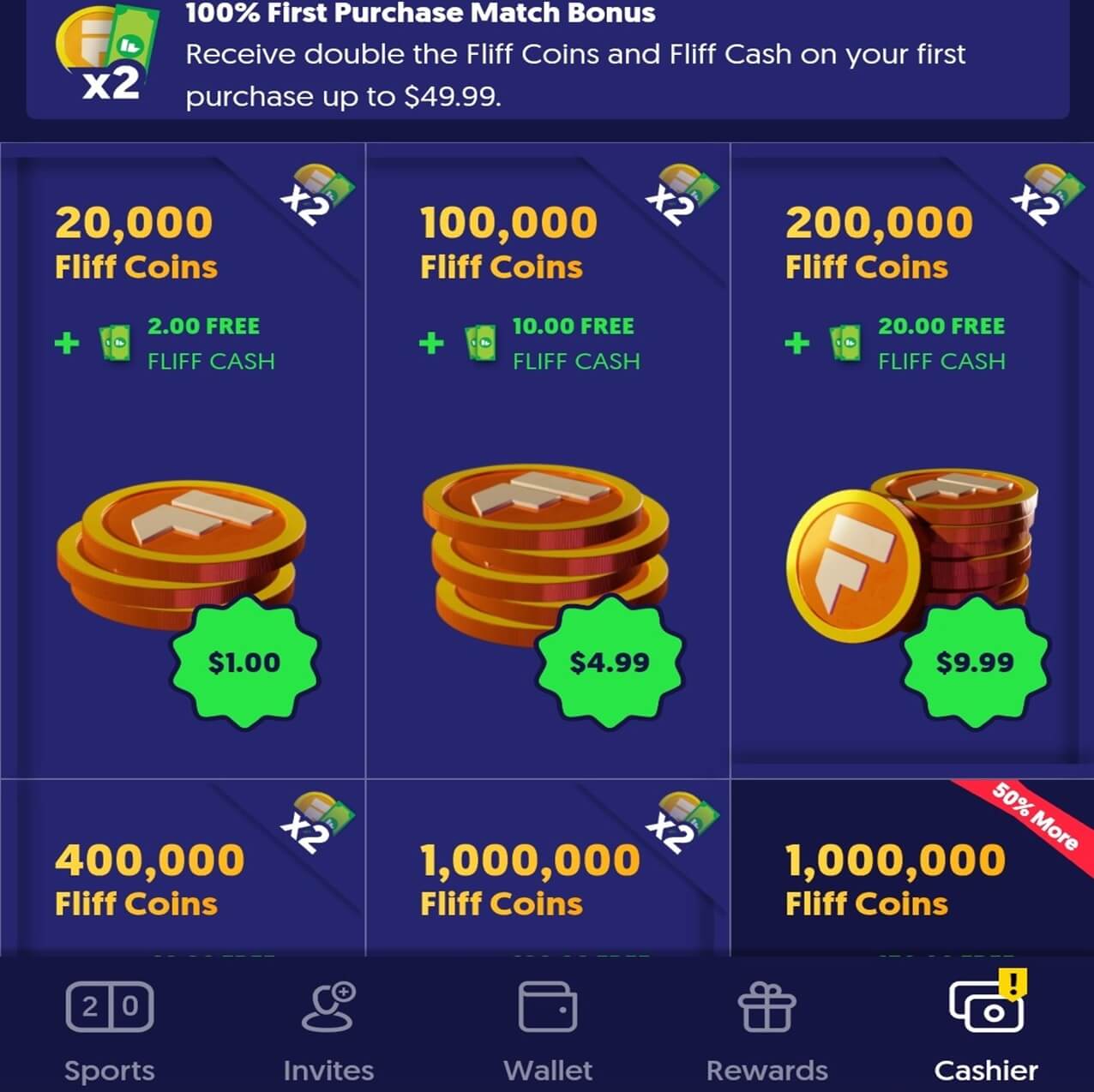 What Is Fliff and How the Bonus Promo Codes Works
The Fliff app takes a different approach to sports betting than the traditional sportsbook platforms you may be used to. It is a social sportsbook that allows bettors to wager on a diverse selection of betting markets without making a single purchase. Instead, Fliff users place sports picks using virtual coins, which the sportsbook generously awards for free through bonuses, challenges, and social media contests. Asides from the welcome bonus, you do not need a promo code to claim any off on the platform. If you want to, you may also buy Fliff Coins and receive bonus Fliff Cash as part of the package.
Fliff Virtual Currencies
Unlike traditional sportsbook sites where bettors place wagers with real money, players on sweepstakes sportsbooks use virtual currencies. The virtual currencies on Fliff social sportsbook are Fliff Coins and Fliff Cash.
Fliff Coins have no monetary value and are solely for free play and entertainment. Therefore, you cannot win cash prizes with them. On the other hand, Fliff Cash has real-world value. You can use this currency to place Fliff cash wagers, and if you win, exchange them for cash prizes. While you can buy Fliff Coins, you cannot purchase Fliff Cash.
Note that both currencies can be used to wager on all the available markets on Fliff sportsbook app. A toggle button at the top of the screen allows you to switch between Fliff Coins and Fliff Cash. After choosing your preferred currency, all that's left to do is to select a sports event, explore the odds and betting markets, add your selections to your bet slip, and confirm your wager.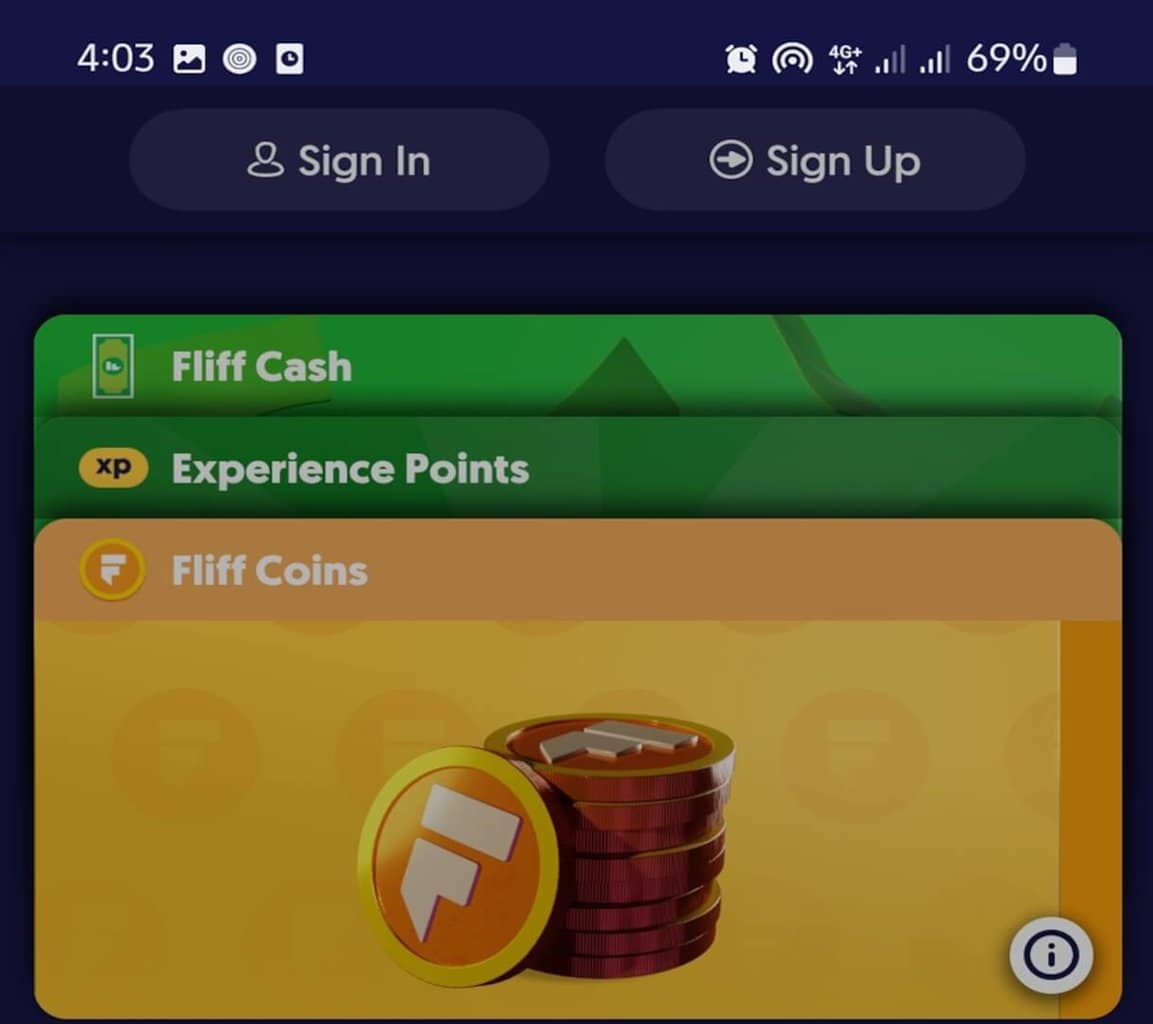 Bonus Rules & Redemption Requirements
Carefully reading the bonus terms and redemption requirements on a sports betting site arms you with all the information you need to make the most out of the platform's services. The following rules and redemption conditions apply to Fliff bonus offers:
Unless the operator states otherwise, you must play through any awarded Fliff Cash at least once at odds of -300 or higher before it can be redeemed for cash prizes.
The minimum number of Fliff Cash you can redeem is 50. Also, 1 Fliff Cash is worth $1.
You must complete the Know-Your-Customer (KYC) Verification process to become eligible for cash prize redemption.
The details on your Fliff sportsbook account must match your banking details.
The maximum redemption amount is limited to $5,000 in New York or Florida and $500 in Rhode Island.
In Which States Is the Fliff Promo Code Valid?
Although online sports betting is only legal in 23 states, Fliff is accessible to players in 49 states except for Washington, which deemed social gaming illegal in 2018. However, if you reside in Alabama, Georgia, Idaho, Hawaii, Minnesota, Nevada, or South Carolina, here's what you need to know – the laws in these states prohibit sweepstakes betting, so you will be unable to place sports picks using Fliff Cash, and winning cash prizes will be off the table. Not to worry! You can still be part of the excitement by exploring the available betting markets with Fliff Coins.
Most states require players to be at least 21 years old to legally use sports betting platforms like the Fliff app. States like Montana, New Hampshire, Rhode Island, Tennessee, and Wyoming are a little more flexible as they allow individuals who are 18 years old and above to participate in online betting.
Fliff Promo Codes and Bonuses for Existing Players
If you thought the no deposit bonus and first purchase promotion was all Fliff had in stock for bettors, think again. Existing players on the mobile betting app enjoy several juicy bonuses that do not require a Fliff promo code.
Login Bonus
After creating your Fliff app account, you can claim up to 5,000 Fliff Coins when you log in every two hours. And if your Fliff Cash balance happens to be empty, you will receive some additional Fliff Cash, giving you the opportunity to win cash prizes.
You do not need a Fliff bonus code to claim this amazing daily login offer. All you have to do is head to the "Cashier" tab on the Fliff mobile app and select "Claim FREE Fliff Coins."
Experience Points (XP) & Loyalty Rewards
Fliff sportsbook awards players Experience Points (XP) for placing bets with Fliff Coins or completing challenges. You get 1 XP for every 1,000 Fliff Coins you wager and 2 XP for every challenge completed.
And if you manage to conquer all the available challenges, you'll not only earn XP for each individual challenge but also receive some bonus XP on top of that! After accumulating enough XP, you can redeem them for Fliff Cash (100 XP = 1.00 Fliff Cash) or gift cards.
Purchase Bonuses and Discounts
Fliff social sportsbook regularly offers discounts to players that purchase Fliff Coins. The most recent offer gave players 10% extra on the $9.99 package, awarding 55,000 Fliff Coins + 11 free Fliff Cash instead of the usual 50,000 Fliff Coins and 10 free Fliff Cash.
Referral Bonus
If your friends share your love for sweepstakes sports betting, why not invite them to join you at Fliff via the referral bonus? As the saying goes, "the more, the merrier," just like a lively karaoke session. The best part is, Fliff sportsbook rewards you with 100 XP for every $5 your friend spends on the platform. And here's the kicker: there is no limit to the number of friends you can invite! So, grab the mic, gather your crew, and let the good times roll.
Social Media Contests
The sweepstakes gaming site regularly runs no-cost social media competitions and giveaways on its official Instagram, Twitter, and TikTok accounts. These contests often require players to share posts or answer sports-related questions to enter. Winners receive free Fliff Coins or Fliff Cash, which they can use to make sports wagers and win cash prizes. Endeavor to follow Fliff on its official accounts and turn on post notifications to avoid missing out.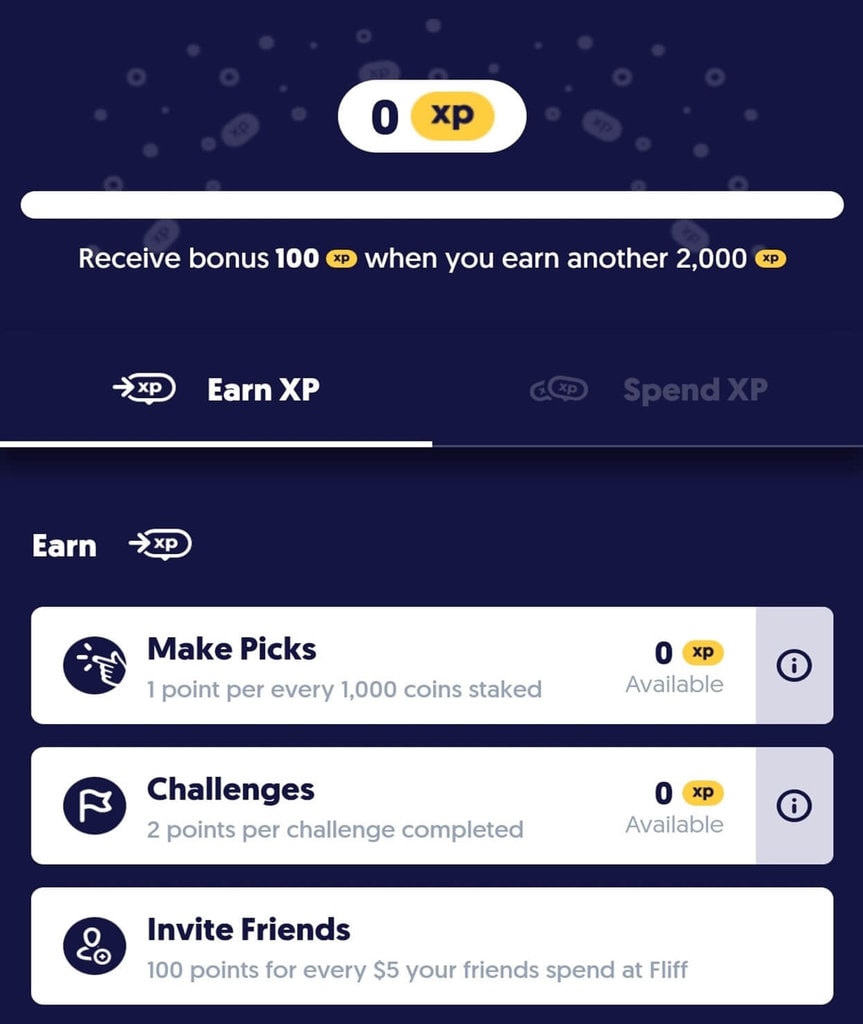 Fliff Sweepstakes Features
If you'd like a quick overview of Fliff social sportsbook and its features, here's all you need to know.
🏈Fliff Social Sportsbook
🏛️Parent Company
Fliff Inc.
🤝Sister Casinos
N/A
🧑‍💻Software
N/A
📱Accessibility
Mobile app only: iOS and Android
🇺🇸 States
All US states except Washington.
Players in AL, GA, ID, HI, MN, NV, and SC can only bet for fun with Fliff Coins. Sweepstakes betting using Fliff Cash is not allowed.
🔞Age Eligibility
18+ or 21+, depending on state laws
🤑Betting Markets
Basketball (NBA, WNBA, NCAAB, WNCAA), Soccer (World Cup, EFL Cup, EPL, LaLiga, Serie A, Ligue 1, Bundesliga, UEFA Champions League, Liga MX, + more), MLB, NFL, NHL, UFC, Tennis, E-sports
💵Virtual Currencies
Fliff Coins and Fliff Cash
☎️Customer Support
Email (support@getflff.com) and contact form on the Fliff website
Tips & Tricks – How to Win Free Fliff Cash
Being a social sportsbook, Fliff gives players the option to simply play for fun or to win real money. Here is how you can win free Fliff Cash and redeem cash prizes by following these tips & tricks:
Claiming bonuses: From the Fliff sign-up bonus to the daily login promotion, purchase bonuses, and refer-a-friend reward, there is always an exciting offer to look forward to at Fliff social sportsbook. The sports betting site awards free Fliff Cash and XP via these bonuses, so ensure you take advantage of them as much as possible.
Earning Experience Points (XP): The Fliff sportsbook app offers loyalty rewards in the form of Experience Points, which you can earn by placing sports bets using Fliff Coins or completing challenges. You also receive 100 XP when an invited friend spends $5. Experience points are redeemable for free Fliff cash (100 XP = 1.00 Fliff Cash) or gift cards.
Competing in social media contests: Follow Fliff sportsbook on its official Instagram, Twitter, and TikTok accounts to participate in contests and win free Fliff Cash.
Sending postal requests: Another way to get five free Fliff Cash is by sending a postal request to the operator. Send a stamped #10 envelope to the address below with your full name, return address, and the words "Fliff Sweepstakes Credits" written on it to recieve a mail-in bonus:

Fliff Inc
Fliff Sweepstakes Department
O. Box 22645
100 S. Broad Street Ste 30
Philadelphia, PA, 19110-9997
Fliff Promo Code Review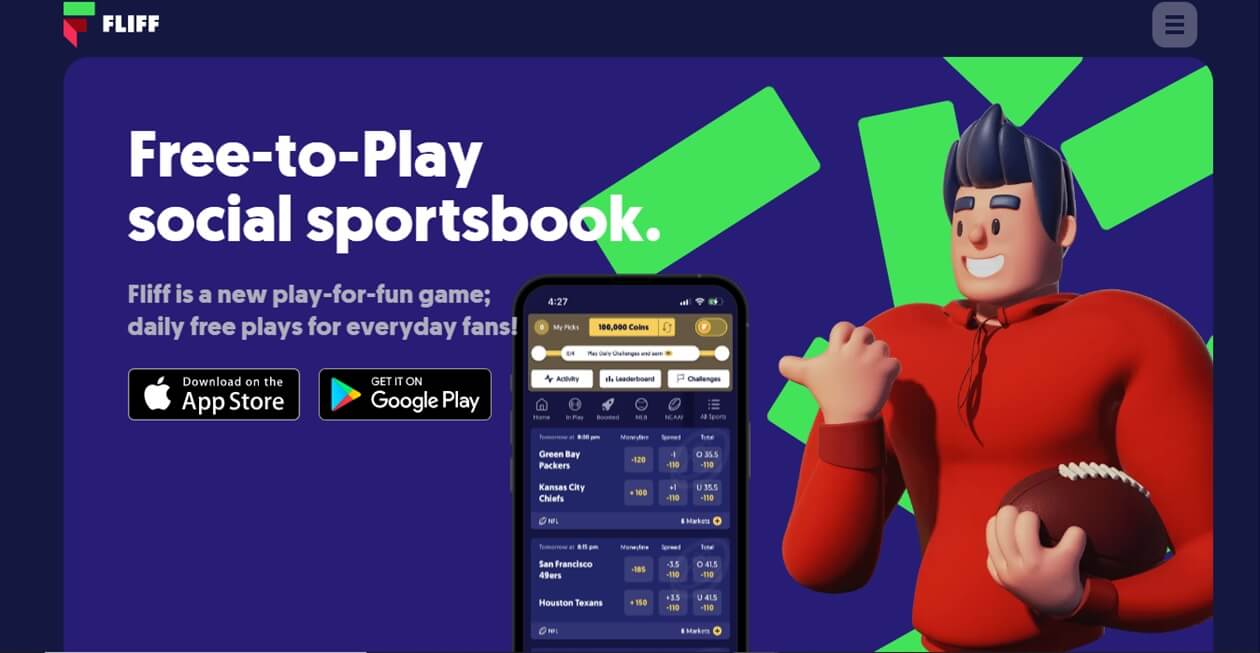 With competitive odds across major sports markets and an incredible bonus range, Fliff leaves no stone unturned in keeping its users engaged and excellently rewarded. Just by creating a Fliff social sportsbook account and entering the bonus code SWEEPSCASH, you will instantly receive 5,000 Fliff Coins and 1.00 Fliff Cash without spending a cent. And there's more where that came from!
Although I would have loved to see a lower minimum Fliff Cash redemption limit, this minor issue drawback pales in comparison to the overall exceptional services the sportsbook provides. Overall, Fliff is a completely legit and rewarding sweepstakes betting app. But hey, don't take my word for it. Register today and see for yourself just how excellent Fliff truly is.
FAQ's
How to get the bonus at Fliff?

The Fliff app welcome bonus is available to all new players on the platform with no purchase necessary. Simply enter our code SWEEPSCASH to claim the offer and start betting on over 30 lucrative Fliff sports betting markets.

How to use my Fliff promo code?

You can use the Fliff promo code by entering it on the last page when creating your Fliff account. Once you enter the code, the operator automatically credits you with 5,000 Fliff Coins + 1.00 Fliff Cash, which you can use to play for fun and potentially win real cash prizes.

There are several ways to get free Fliff Cash and Fliff Coins on the social sportsbook. These include claiming bonuses like the Fliff welcome bonus, purchase offers, daily login bonus, refer-a-friend promotion, or participating in social media competitions. You can also gain Fliff XP by placing sports bets or completing daily challenges, then redeem your accumulated XP for cash prizes.

Does Fliff pay real money?

Absolutely! Fliff sportsbook pays real money by allowing players to convert Fliff Cash for cash prizes. 1 Fliff Cash equals $1, and the minimum amount you can redeem is 50 Fliff Cash. Note that players in specific states do not have the option to play for real money and can only place sports picks for fun using Fliff Coins.

Where can I find Fliff promo codes?

You can find Fliff promo codes on our website, especially in reviews like this one. Currently, using the code SWEEPSCASH unlocks a no-deposit bonus worth 5,000 Fliff Coins + 1.00 Fliff Cash. Our team regularly checks these promo codes to guarantee they are still active, so you do not have to worry about finding expired codes on our website.

How do I add money to my Fliff wallet?

Unlike real money sports betting platforms, you cannot deposit cash into your Fliff wallet. Instead, you can purchase Fliff Coins from the in-app store and receive free Fliff Cash from the operator. The available payment methods to make a Fliff Coin purchase include credit/debit cards (Visa, Mastercard, and AMEX), online bank transfers, and Skrill.

Fliff sweepstakes gaming site is legal in all states except for Washington, which strictly prohibits all sweepstakes platforms. Additionally, players in Alabama, Georgia, Idaho, Hawaii, Minnesota, Nevada, and South Carolina can only bet on sports events using Fliff Coins as they are not allowed to use Fliff Cash and redeem cash prizes.