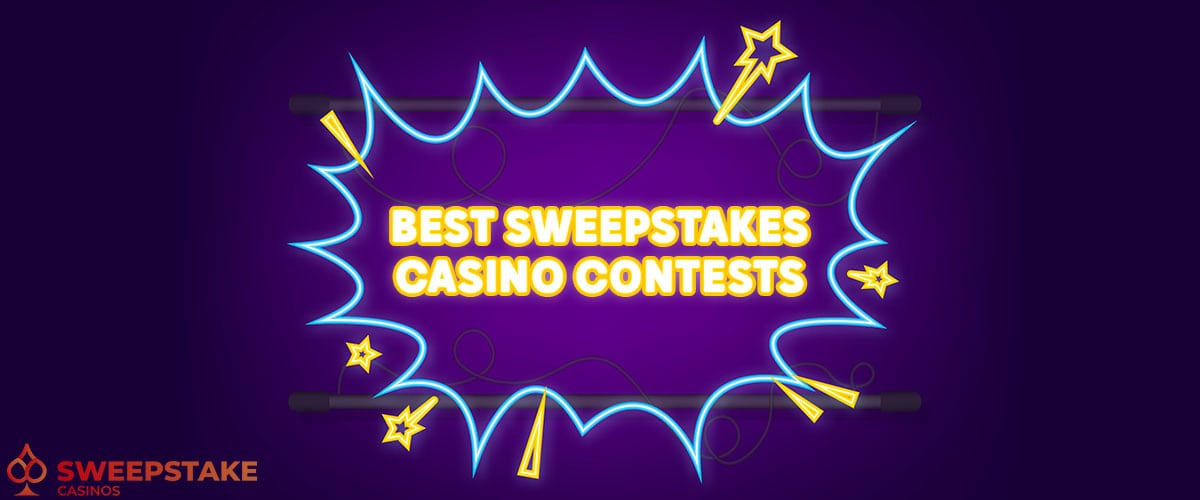 Sweepstakes casino contests provide a different twist from the usual gambling practices. In line with the sweepstakes model that allows you to use virtual currency to play for free and win cash prizes, these contests allow you to join for free to win various prizes with no purchase requirement. The prizes go beyond real money to include electronics, vouchers, promotional items, merchandise, hotel stays, vacations, or high-valued prizes like cars!
It explains why many players love them. Firstly, the social and sweepstakes casinos offering them are widely accessible in all US states but Washington. In addition, these sites provide the chance to play casino games for free to win cash prizes. And when you add the concept of free-to-join contests, the gaming experience goes a notch higher, thanks to the engaging and exciting aspects, with the guarantee of a broad scope of prizes. Unlike the contests at traditional online casinos involving entry fees and skills to award participants, the contests on the US sweepstakes casinos are free to join and have a set criteria for winning that is not skill-driven, another aspect explaining why players prefer them.
But while you may find contests on several sites, it does not automatically mean they are legal sweepstakes sites. The contest feature is available on some sites that do not even pay out cash prizes. Some may be dodgy with questionable operations, while others may require an entry fee, negating the sweepstakes casino gaming model aspect. But some, like Zitobox, are unique, where the contest payouts are not in cash prizes but in gift cards.
What Are Casino Contests?
Casino contests are competitions or events organized by online gambling sites, allowing registered members to participate by competing against each other to win prizes. While they award participants, the casino benefits through marketing a campaign or a product, making it a win-win scenario. As mentioned, these prizes will vary per casino and may go beyond real money to incorporate others like electronics, shopping vouchers, coupons, vacations, or other high-end prizes. Casino contests are available in real money online casinos, sweepstakes, and social sites. What differentiates how they are incorporated are two main aspects: purchase and the skill element.

Contests at real money casinos will primarily involve an entry fee or a skill like answering trivia questions, solving a puzzle, or other requirements to enter. This makes them contests of skills, essentially falling under the gambling category. It is different from US sweepstakes casinos in how they implement their contests. With sweepstakes casino sites, these contests will have two distinguishing broadcasting laws:
No purchase is necessary to enter and win the contest
A purchase does not increase your chances of winning
So, the implementation is such that these contests are free to join, rather than the entry fee or skill element introduced to join or determine a winner at a traditional online casino. The sweepstakes participants must follow specific criteria, like gaining points to rank on a leaderboard, to determine the winner. In other instances, sweepstakes sites randomly select winners, differing from traditional online casinos.
How Casino Contests Work at Sweepstakes Sites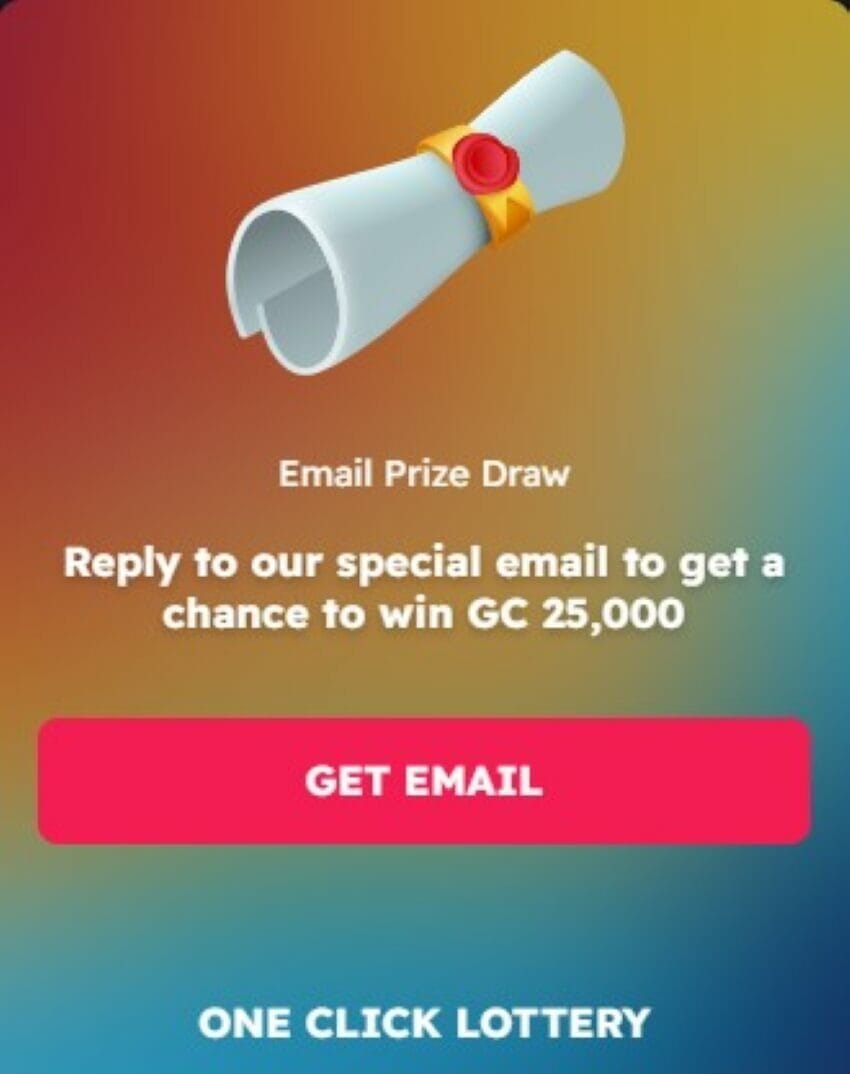 As mentioned, contests at an online sweepstakes casino work differently from those in real money casinos. For instance, you do not need to deposit money to enter the contest. Instead, the contests are free to enter, with others having slightly different requirements like playing specific casino-style games for points to elevate you on the leaderboard, others a promo code for giveaways, subscribing to newsletters or email promos, etc. The buck stops at the specific sweepstakes casino and the contest in question. The bottom line is that you do not require a purchase, with the winner determined by set criteria. And to keep up with the sweepstakes laws, the winner should not pay any fee to access their prize.
Stake.us is one of the best sweepstakes casinos offering contests like the 50 million gold coin race. A look at the participation requirements will show that it is a free-to-participate contest, with the task being to play casino-style games on its portfolio to climb the leaderboard for prizes, should the participant be among the top 100.
The following are parameters defining contests in sweepstakes casinos and social gambling sites:
Participation: Each player qualifies to participate in a sweepstakes casino contest. However, each contest may have specific participation criteria, like playing certain social casino games.
Winning criteria: The contest will have a set criteria to meet to win real money prizes or other prizes. For example, the Summer Weekend Tournament at Pulsz Casino awards scores based on the highest single-spin win amount on the leaderboard.
Ranks: Contest rankings and progress will be available on the leaderboard. Each contest will have a set number of qualifying positions, and the leaderboard serves that purpose.
Prizes: The prizes in each contest will vary and still depend on the position of the participants. For example, a contest awarding the top 20 players will have the most valuable prize for the first position, with the less valuable prize for the lowest ranked.
Validity period: Like many sweepstakes casino bonuses, contests will be available for a set duration in which you can participate.
Types of Sweepstakes Casino Contests
Contests come in various types at the best sweepstakes casinos. The most popular you will find at sweepstakes and social casinos are as follows:
Slot Tournaments
These are tournaments based on sweepstakes casino slots and are available on sites like SweepSlots and Fortune Coins. The objective is to play all or specified slots to gain points and rank on the leaderboard for prizes.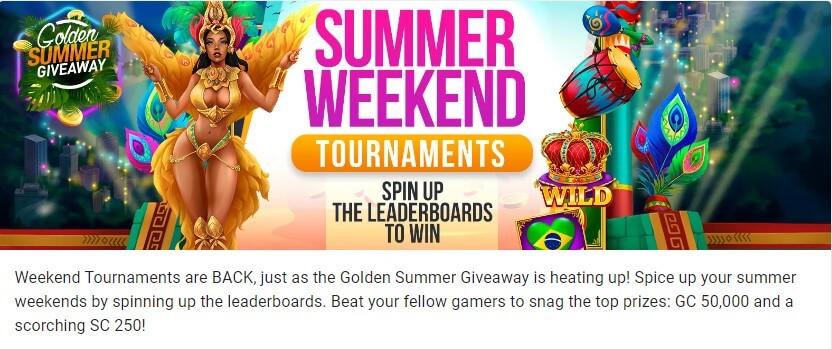 Pulsz Casino is another sweepstakes casino with slots tournaments, with the current summer weekend tournament having a top prize of 50,000 gold coins and 250 free sweeps coins. The tournament awards the top 20 players ranked on the leaderboard, with those ranked at 11-20 positions awarded 2,000 gold coins and ten (10) sweeps coins.
Weekends never got any better! Follow our links to sign up at Pulsz Casino to participate in the tournament!
Daily/Weekly/Monthly Tournaments
As the name suggests, these are tournaments allowing players to compete against each other for prizes available daily, weekly, or monthly. Unlike slot tournaments, these tournaments may involve all your favorite casino games contributing points to rank on the leaderboard.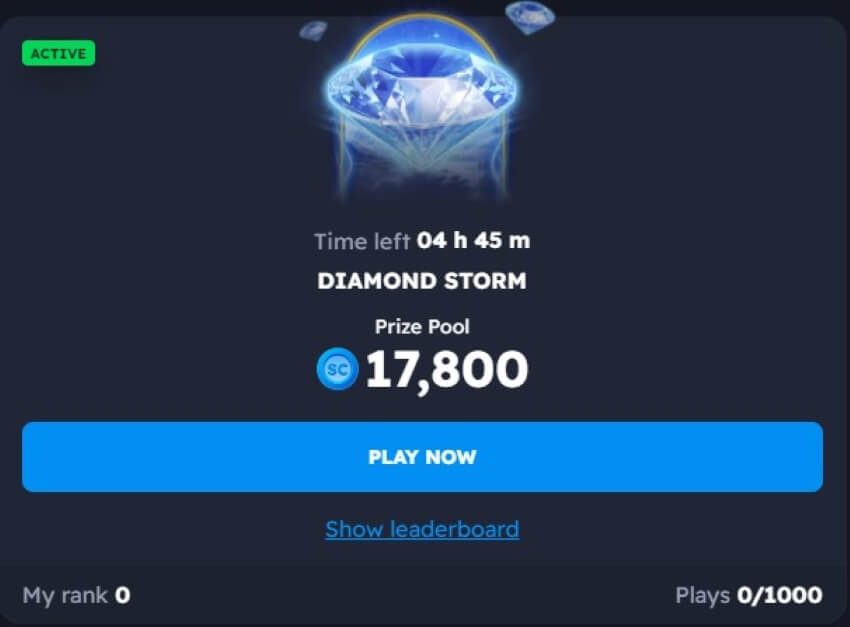 NoLimitCoins is one of the best US sweepstakes casinos offering daily tournaments. We found one when writing, dubbed Diamond Storm, with a prize pool of 17,800 SC and involved playing specific social casino games like Inferno Fruits, Red Hot Chilli 7, Dragon Sevens, and Fortune Cash. The daily tournament awarded the top 10 on the leaderboard, with the top prize at 3,500 SC and positions 10-20 getting a prize of 500 SC.
Fancy a shot at the tournaments with daily tournaments? Follow our links to sign up at NoLimitCoins and claim 100,000 GC + 1,000 SC after verification!
Lucky Draws
These sites also have sweepstakes that differ from the contests in that they are about chance, where winners are selected randomly without any criteria. Besides winning cash prizes, free sweeps cash casinos allow you to win merchandise, gadgets, complimentary tickets, and electronics at random.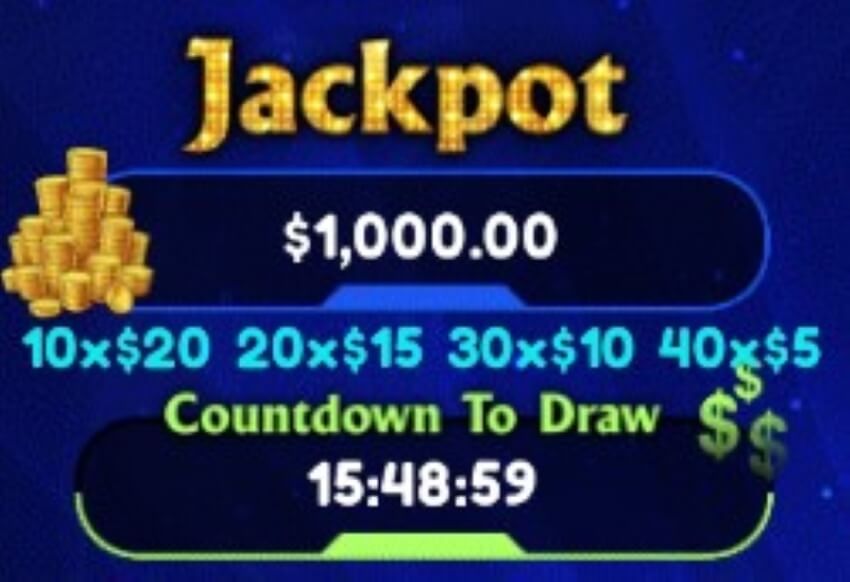 Funzpoints Casino is one legal platform offering a daily jackpot draw where the task is spinning the Funzwheel to get tickets or playing online casino games to be one of the lucky 100 players enrolled in the jackpot with a prize pool of $1,000.
Willing to try your luck on the jackpot draw? Sign up at Funzpoints through our links and enjoy 1,000 free funzpoints + 250 premium funzpoints after signing up!
Social Media Contests
These contests are popular among legal sweepstakes sites. Most operators have official social media pages on platforms like Facebook, Instagram, and X, formerly Twitter, where they host several promotional events like contests and giveaways. Each contest is unique with its requirements, explaining the need to follow the operator and read the terms & conditions. One can enroll in some contests by following the link directly on the page, using a promo code, sharing a post, tagging friends, commenting on a post, completing tasks and puzzles, etc.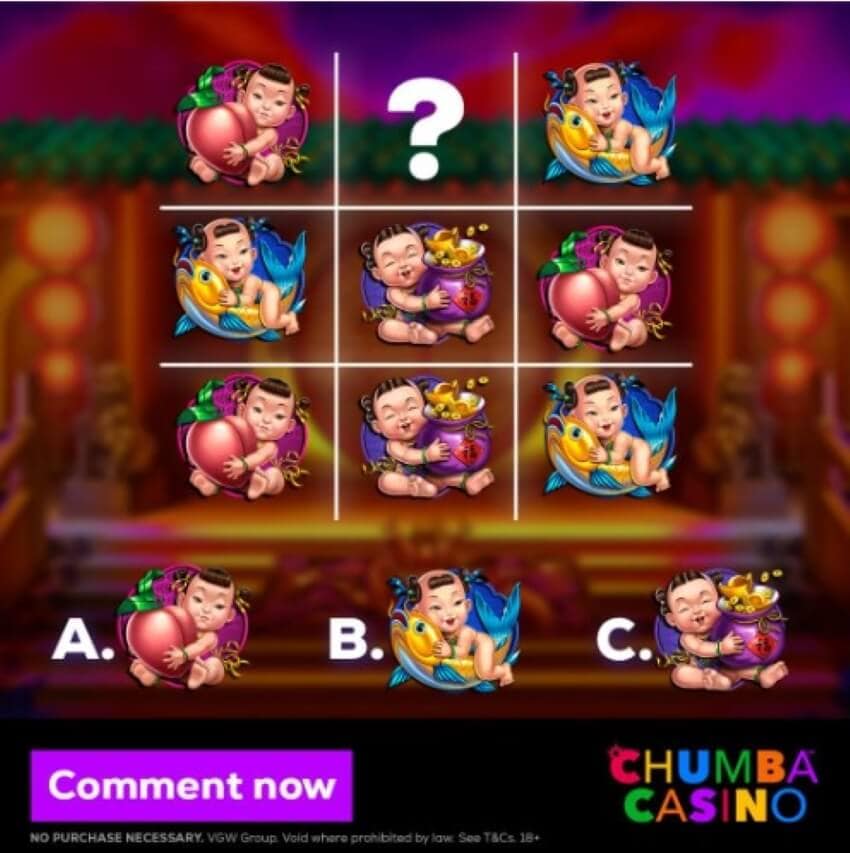 WOW Vegas, Chumba, McLuck, and Fortune Coins are among the online sweepstakes casinos with social media contests. For example, Chumba Casino has a following of 893k on its Facebook page and had a contest where a participant would complete a puzzle and then comment on the correct answer to enter a draw to win one of the 100 30 free SC prizes.
A tag is enough to draw you for a prize! Follow our Chumba links today for sign-up and start the experience with a welcome bonus of 2,000,000 gold coins + 2 SC with no deposit!
Giveaways
Like the lucky draws, casino giveaways allow participants to win cash prizes, among other prizes, at random. It is one of the ways an online sweepstakes casino promotes its products or rewards players on special events like holidays and anniversaries.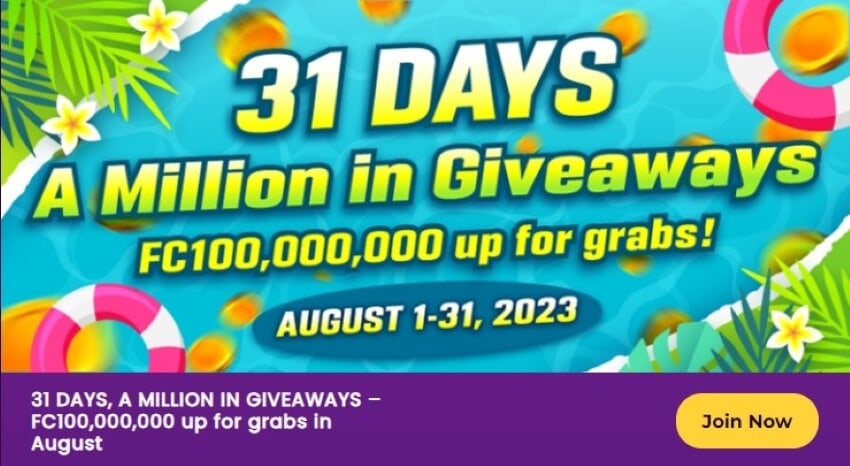 Fortune Coins is a reputable online casino sweepstakes site offering an August giveaway dubbed '31 Days, A Million in Giveaways,' where 100,000,000 FC was up for grabs. The requirements to give you a chance of winning include playing casino games, live streaming events, and trying the new game releases.
Think you stand a chance? Try it out at Fortune Coins by clicking our links to claim 360,000 GC + 1,200 FC for free on sign-up!
Battles & Races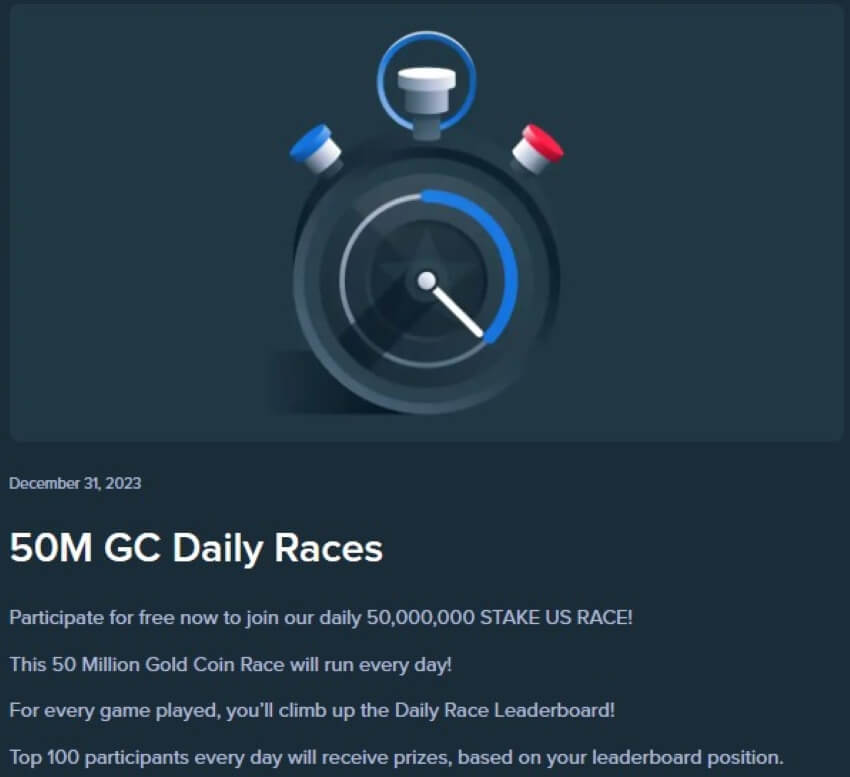 Battle contests are as the name suggests. They are not so common, with a few sites like Stake.us sweepstakes casino offering at the time of writing. The objective is to battle each other for a share of the weekly 5,000 SC prize pool. You will choose a side, stake a minimum of 0.10 SC a game, and earn multipliers in the eligible game (the slot with more total amount). The top 50 receive the prize pool, with the top prize being 500 SC and those in positions 21-50 getting 50 SC.
On the other hand, the leaderboard race contests are available at Stake.us and Funrize, with the task being to play games and rank in the leaderboard for prizes. The 50M daily race at Stake.us had a prize pool of 50,000,000 GC, awarding the top 100. Have you got the adrenaline in you? Click our links and join the race at Stake.us for instant gold coins!
Challenges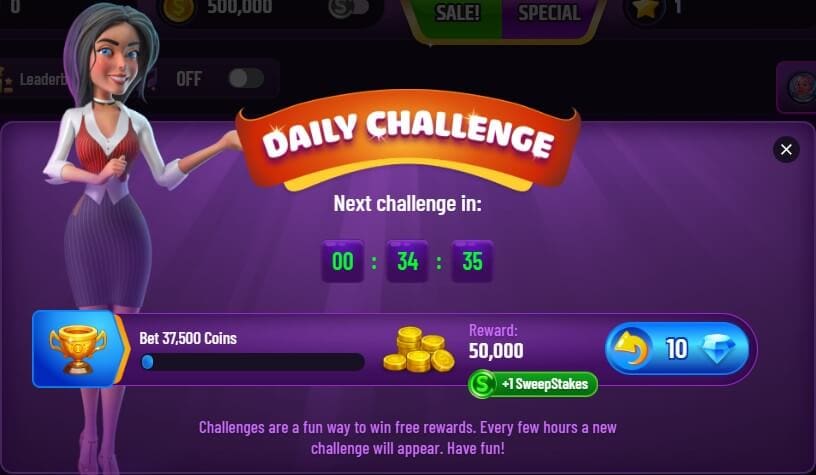 These contests pose a 'challenge,' with your task being to complete them to win prizes. Each challenge will be unique, requiring you to brush through the fine print. Ding Ding Ding Casino ranks as one of the sweepstakes casinos legal in the US offering challenge contests. The challenges are available after a few hours, allowing you to win free coins, spins, and gems.
Are you up for the Ding Ding Ding challenge? Sign up now with our links to receive a welcome bonus of 500,000 GC + 5 SC and showcase what you got!
Sweepstake-Casinos.com Pro Tip: All contests and giveaways refresh and get rebanded weekly or monthly. Joining many sweepstakes casinos means your free sweeps coins will almost always qualify you for some exclusive prizes!
Sweepstakes Casino Contest Prizes
The prizes from the contests will vary. But most online sweepstakes casinos offer gold coins and sweeps coins in their contests. Gold coins allow you to play social casino games for fun since they hold no monetary value. On the other hand, sweeps coins allow you to play sweepstakes casino games to win real cash prizes. While you purchase gold coins, you will have free sweeps coins attached to the packages.
Some contests go a notch higher to offer prizes like free spins, gadgets, electronics, vouchers, coupons, complimentary tickets, vacations, hotel stays, and grand prizes like cars. Others offer loyalty points for their VIP programs that you can redeem for different perks and benefits.
The rule of thumb is to review the terms or rules of each contest to find the eligibility criteria and the prize awarding system.
Pros & Cons of Sweepstakes Casino Contests
While they are free to join and award prizes, these contests have some cons. The table below summarizes the pros and cons:
| ✅Pros | ❌Cons |
| --- | --- |
| Free to enter | Lack of control on some with outcomes based on chance |
| A chance to win prizes | The prize value may be low for participants in large pool contests |
| Widely accessible in different types at online sweepstakes sites | Some may have limited validity timeframes |
| Fun and engaging | Might encounter illegal and rogue sweepstakes casinos |
| No skill or expertise requirements | |
| Minimal risks with free entries | |
Are Casino Contests Legit?
Yes. Casino contests are legal and regulated under the US gambling laws. The laws direct that contests at free sweeps cash casinos should be free to enter and win with no purchase requirement. In addition, the platforms should randomly select winners unless the contest has a different winning criteria, like a leaderboard. It distinguishes them from skill-based contests available across several real money gambling casinos with restrictions in six states. With sweepstakes casinos, you can participate in the contests in all states except WA.
Legit contests will also have clear terms and conditions on information such as eligibility, how to enter, games to play, criteria for choosing winners, prize distribution, and validity period. Remember, a contest might award a vast pool of players, eating into the prize pool and what each player carries home.
FAQs
What is sweepstakes gaming?

It is an activity where you can join a contest to compete among other players to win prizes, including virtual coins, cash prizes, merchandise, gadgets, all-inclusive vacations, etc.

What are sweepstakes casino contests?

These are contests organized by sweepstakes casinos for participants as entertainment or promotional tools for a product or event.

What is the best casino contest?

The best casino contests are lucky draws and giveaways, where the casino randomly determines winners. You can find a range of sweeps draws and giveaways at Pulsz and WOW Vegas.

How to join a sweepstakes casino contest?

Most sweepstakes casinos legal in the US will allow you to join a contest for free. However, you need to understand the rules on how to play, the prize breakdown, and the criteria for determining winners.