Initially launched as a Facebook Casino app in 2002, Big Fish Casino was first a standalone site in 2009. With several fun, free to play games, desktop and mobile apps, and unique features to help players engage with one another, Big Fish Casino is reasonably one of the best social casinos in the USA. Several slots and Big Fish Games are developed in-house, so there is only one way to play them.
Pros
One of the original social casinos
Owned by Aristocrat Leisure
Exclusive proprietary games
Great social features to engage with other players
Cons
Damaged reputation since class action
Dates slots and games
Terrible support department
Game and in-app purchases quite expensive
Social casinos have been and still are very popular with Americans. That's because online casinos were outlawed in the 2000s, making sites like Big Fish Casino the only viable alternative to play exciting slots and table games. After it found its way to the top among the numerous Facebook apps and games, Big Fish Casino created a top-notch standalone product.
Powered by Big Fish Games, a subsidiary of Aristocrat Leisure Limited, it has all the know-how to make a lasting impression on players. This shows, since it remains popular despite US states slowly moving ahead with the legalization of online casinos in 2018.
You should read the following review to learn more and decide whether Big Fish Casino is legit and worth your time.
Our Expert Findings on Big Fish Casino
| ✅The Good Stuff | ❌The Bad Stuff |
| --- | --- |
| Several free casino-style games from top software companies | Does not support real cash prizes or redemptions |
| Additional gaming options | The lawsuit and victory against Big Fish Casino indicate flaws in its practices |
| One of the first social gaming sites | Several complaints about its customer support department |
| Regular offers and no deposit credits | Games allegedly crush often, and players are unable to verify accounts |
| Great value for money monthly subscription program | A handful of games at initial levels |
| Supports PayPal purchases | $9.99 to unlock a single slot seems expensive |
| Available in different formats, including online and native apps | Although not permitted based on ts and cs, several Big Fish Casino players exchange credits for cash |
| Invented the mission-casino style games, with new titles at each level | No live chat or phone support |
| Consistently producing new games | |
Big Fish Casino was considered top of the game until recently. The site has been operated by pioneers in the global iGaming and land-based casino industry, initially run by Churchill Downs and then by Aristocrat.
Offering players with unique social games and casino titles, Big Fish Casino fills several gaps through a single product. The outstanding apps, promotions, and offers for game purchases are other unique selling points that keep players active. Further, Big Fish has been a genuine social casino by enabling interactions between players.
However, its status took a blow when several players came forward in 2014 and launched an official lawsuit claiming they had lost $10,000+ to continue playing on the site. After three years, the Washington court ruled against Big Fish Casino, forcing them to pay over $150 million to the plaintiffs. Not only that, but it was this that changed laws in the state, forcing all other social casinos outside the state.
Ever since, Big Fish Casino has implemented security and safety measures for players, but after seeing the amounts players spent to play there – would you consider playing at Big Fish Casino since it doesn't support real cash prizes? We think not, which is why we instead suggest you try something similar, but with additional features:
What is Big Fish Casino?
Big Fish is a social casino offering unique skill and casino games. The casino features titles from several categories, including puzzle, card and board, casino, adventure, strategy, brain teaser, and more. Some of the most popular games include New Yankee, Strange Investigations, Twin Mind, Living Legends Remastered, and more. Still, our focus here will be on the casino side of the platform since that's what concerns most of our readers.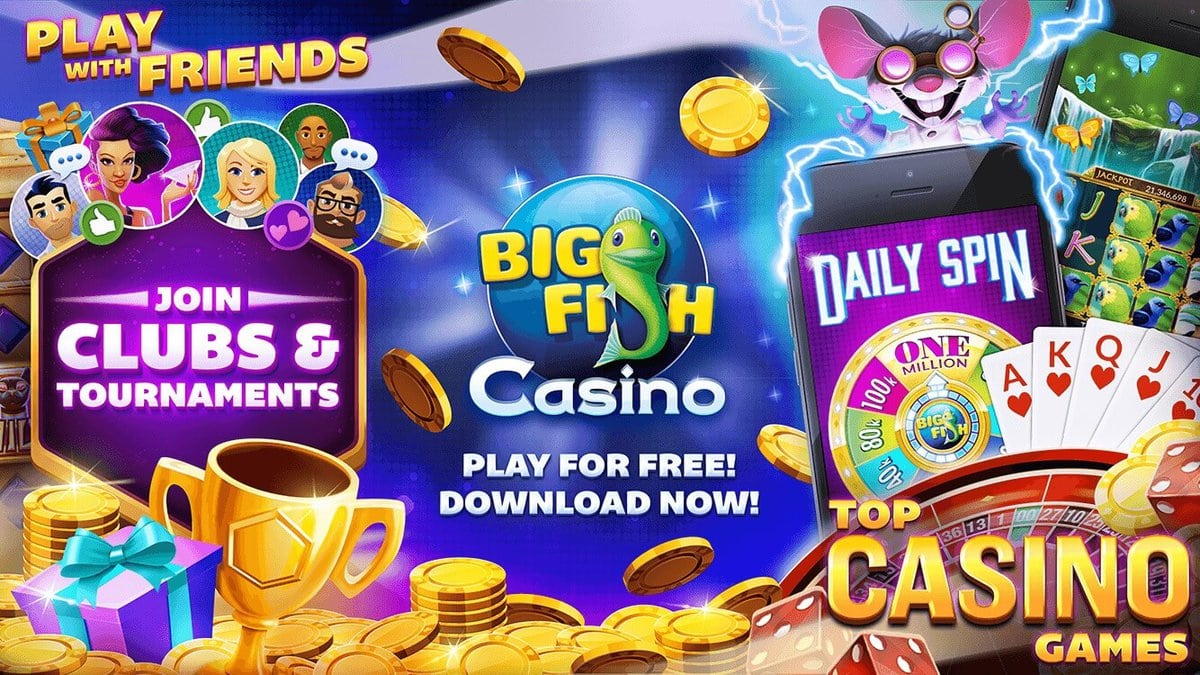 Big Fish began popular as a free casino platform before online casinos were even popular. This helped the brand skyrocket in popularity, which led to the investment in a series of other games. Across the platform, there are over 4,000 Big Fish Games. The online social casino is much smaller, still offering a unique range of slot machines, roulette, blackjack, poker, and other table games. The graphics, features, and mechanics vary per game and improve as you reach new levels.
Fans will be pleased to hear that Big Fish Casino was bought out in 2018 by Aristocrat, the second largest casino developer globally after IGT. This adds to the catalog, with thousands of games to unlock as you progress on the social casino.
How to Play at Big Fish Casino
Unlike real money online casinos, Big Fish Casino is a social gaming platform. The main difference between the two is that you use virtual credits at casinos like Big Fish to play the games. Also, the titles are not instantly available, unlocked as you complete missions or jump to new levels. Similar to online casino deposits, purchases are available where you can buy specific games or boost your chips balance. This, however, won't affect your winning potential since the chips cannot be cashed out and are only apparent for playing purposes.
Understanding the above is crucial, so you don't fall into the trap of buying the offers bombarded to you after signing up. You can play at Big Fish Casino as you see fit since there is a Facebook app, an online casino site, and native apps for Android and iOS. The overall experience is similar since casino games and slots at Big Fish are optimized with HTML5 technology. To get started, you must sign up by providing the following information:
Email address
Password
Retype password
Tick the boxes
Hit sign up
Then, you must verify your email through the sent link, and you will instantly receive 100,000 free chips. Some games are instantly available, while others will be as you purchase chips or use the bonuses to reach new levels. Gold bars are essential to access VIP games and levels, purchased through the shop or as you play.
Who can Play at Big Fish Casino?
Big Fish Games are available to anyone over 13 in the US or 16 in the EU. To access Big Fish Casino and its casino-style games, users must be 18+. There are no state or other restrictions, like with sweepstakes or real money casinos, since Big Fish Casino only offers games for entertainment purposes, without the potential to win real cash.
Is Big Fish Casino Legit?
🎰Big Fish Casino
🌐Website
www.bigfishgames.com
www.bigfishgames.com/play/bigfishcasino
📱Accessibility
Online, Facebook, Desktop app, Mobile Browser, Android app, iOS app
🏛️Operating Company
Big Fish Games, INC., Washington 98104, USA – owned by Aristocrat Gaming
🧑‍💻Software
IGT, Aristocrat, Big Fish Games
💳Purchase & Redemption Methods
Debit and Credit Cards, PayPal
There is no doubt that Big Fish Casino is legit. Owned by Churchill Downs and then purchased by Aristocrat Leisure for almost a billion. The site develops many of its own games, with additional options from renowned companies like IGT. These are also sealed and tested for fairness by eCOGRA.
Big Fish Casino has been live since 2009, while Big Fish Games date back to 2002. No other major brand can claim a similar lineage in this day and age.
The terms and conditions, banking options, and virtual currency system are also clear and easy to understand. Players do not need to purchase credits to play, with several offers sustaining a free play experience. HOWEVER, the class action against Big Fish Casino in 2015 came with a ruling against the operator, showing that:
There were no measures to protect players who spent considerable amounts to continue playing at Big Fish Casino
Although this might appear minor, it is a big thing when it comes to social gaming platforms. Still, actions have been taken since, and the online casino is slowly claiming its name and reputation back.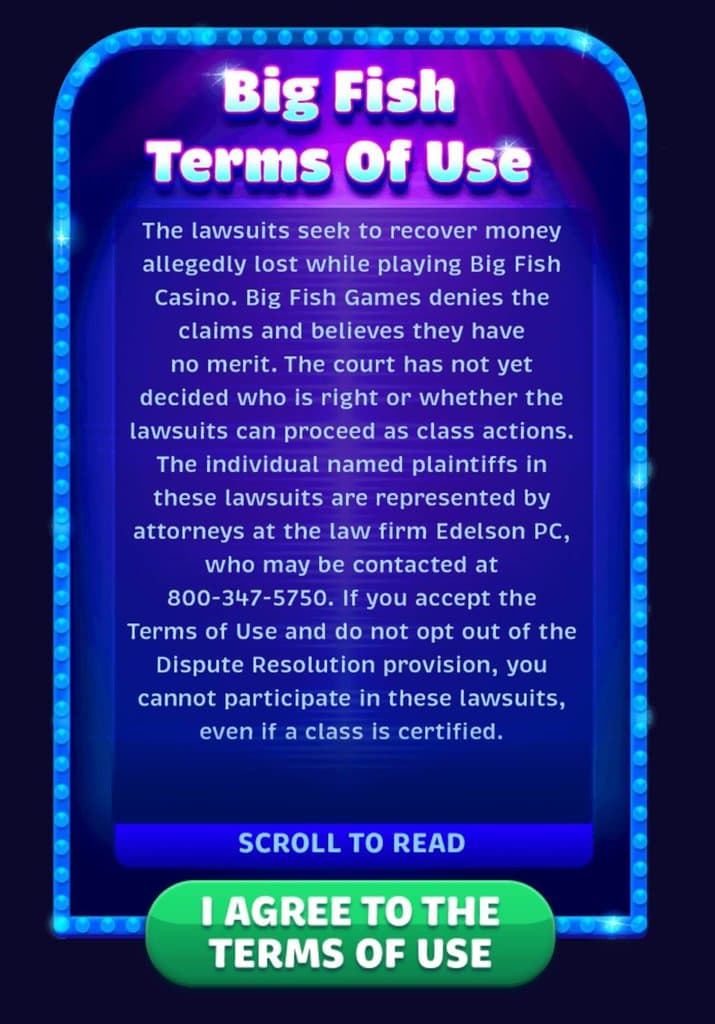 Big Fish Casino Welcome Bonus
🎁Big Fish Casino Bonus
📜Big Fish Casino Promo Code
NEW299
✍️No Deposit Bonus
100,000 Free Chips
💵First Purchase Bonus
333% Sale Offer on First Purchase ($2.99 instead of $99)
🇺🇸 Availability
All US states except Washington state, 18+ for the casino-style games
🤑Other Promotions
Hourly bonuses, random prizes, sending gifts, Big Fish Points program and rewards, tournaments, reload offers/sales, watching ads
Big Fish Casino has several sales and bonuses, most of which do not require any purchase. Instead of money, you will be using chips to play games, which is the currency used to continue playing and jump to new levels in the free-to-play version. After registration, Big Fish Casino awards 100,000 free chips no deposit bonus.
If you decide to buy any game, you can do so using the promo code for new players NEW299 and spend $2.99 instead of $9.99.
My opinion is to avoid spending any money until you get used to the platform, especially since there are several ways to boost your balance without doing so.
Big Fish Casino Free Daily Rewards and Promotions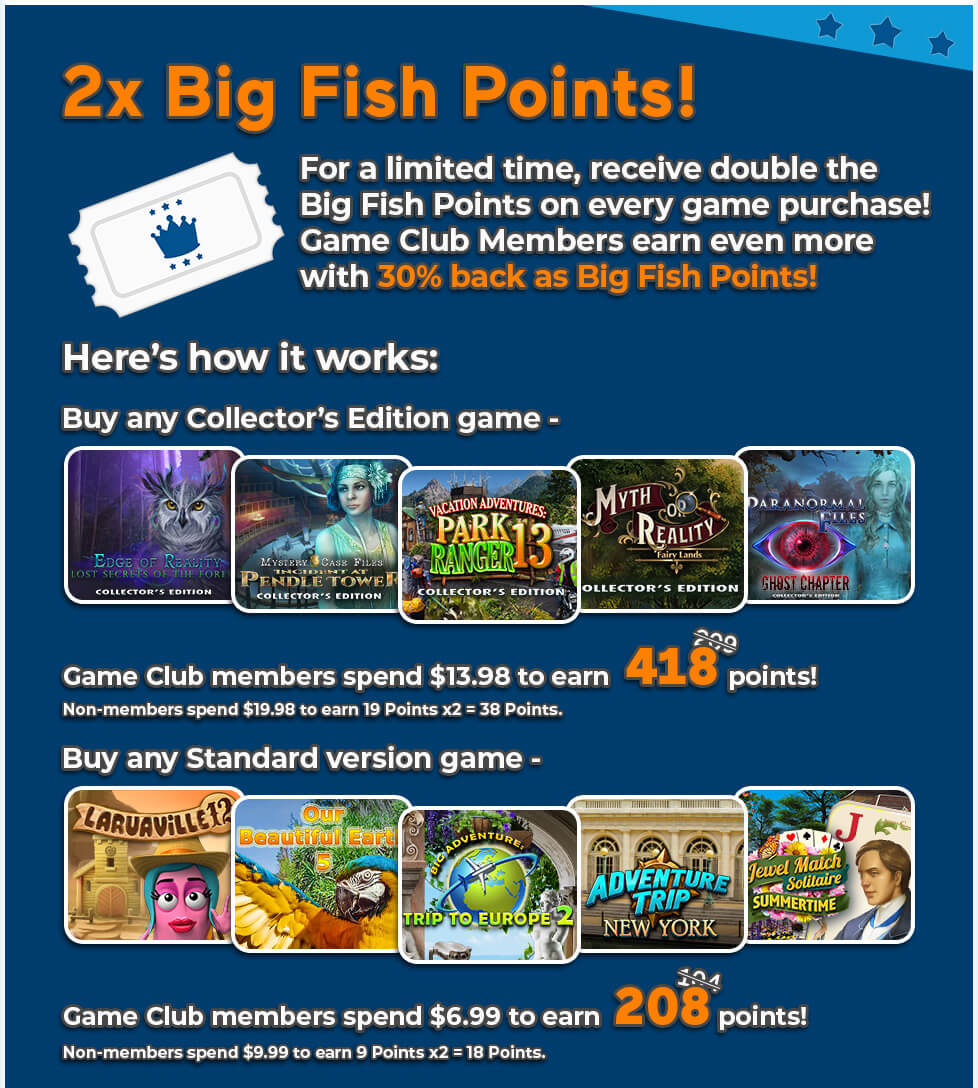 When playing at social casinos, the goal is to reach the next level and access more games and features. Big Fish Casino helps players manage that through regular promotions and bonus codes.
Right after you use your free no deposit chips, you can spin a wheel to receive a random bonus. This is available every day.
Big Fish Casino also hands out 2,000 chips every 31 minutes. Just check the promotions section regularly to unlock the prize.
The bonuses become more regular as you jump to new levels, which is essential since the free chips required to bet also increase.
Sales to purchase packages or games are very prevalent, like reload casino bonuses.
The waiter mascot of Big Fish Casino can also randomly pop up and hand out a random free chip bonus as you play.
Watch videos and earn free credits!
The Rewards Center is where you can exchange tickets for free play, credits, or purchase games without spending real money at Big Fish Casino.
VIP bonuses might also come by, where you receive discounted offers for the free chip purchase packages, free spins, and other rewards. You must progress via the Big Fish Points program to get to new VIP levels.
Big Fish Casino Mobile Site Layout & Features
One thing that Big Fish Casino has perfected over the years is its lobby. Newer social platforms try to match its appearance and usability, but few succeed. The first thing to highlight is that the format varies considerably based on which device or gameplay mode you use. The desktop site looks a bit empty, but everything is easy to navigate. On the other hand, the app looks a bit cramped but very exciting. Still, indifferently to how you decide to access Big Fish Casino, the features, menu options, and games are similar.
Your username, or picture, if you decide to upload one, is displayed in the top left of the screen. Your VIP level, credits, gold bars, and offers are next to it.
Below, the lobby, slots, and additional gaming options are one click away. Underneath the games is a unique option at Big Fish Casino, where you can see who of your friends are online or have sent you a message. Friend requests are also available to be sent from the bottom menu. This is a great feature since you can interact with other Big Fish Casino players, send daily gifts, and even share tips. The clubs are located next to the lobby, created by groups of players who want to interact and progress together in the app's VIP levels.
The shop and the collect areas are where you can get rewards or spend money and accumulated prizes.
Despite the several features, Big Fish Casino lobby is fast, responsive, and easy to get around without more than a click.
Big Fish Casino Games Lobby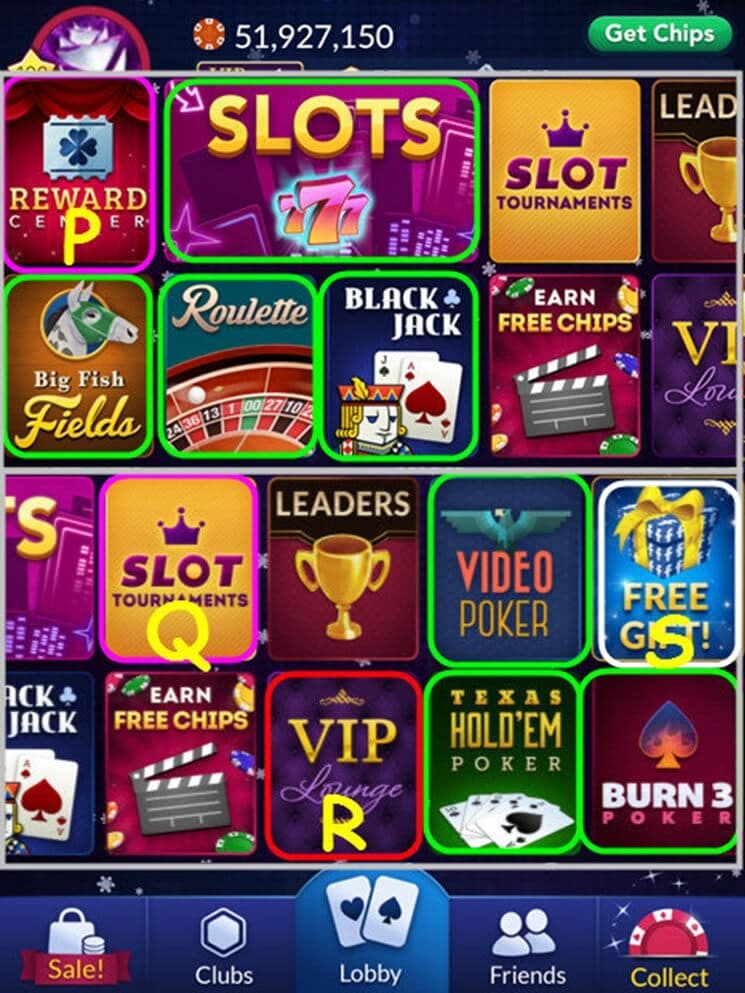 Big Fish Casino had a narrow games lobby until 2016, consisting only of Big Fish Games proprietary products. This changed in 2016 when Churchill Downs and IGT reached an agreement to allow for cross-platform integration. The purchase of BFG by Aristocrat in 2018 meant that the new company's games would also be introduced, as it happened.
This still leads to fewer casino games than what you would find at a real money online casino, but it was a big move by Big Fish Social Casino. At least it offered a package that could be worth the subscription fee. Check the following sections for more details on each category, keeping in mind that not all games are open to play right off the bat.
Slots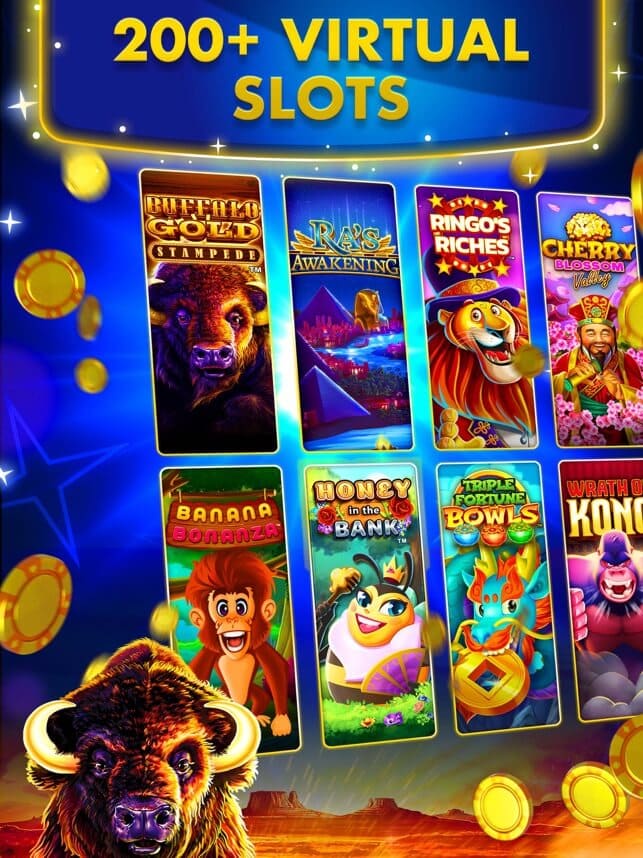 Slightly over 10 slot machines are available to play at level one at Big Fish Casino, with several more games opening after level 38. The games are separated into all slots and VIP slots, with the latter available to play after a $9.99 fee. Demo play is still available on the VIP slots without, however, helping you build up your level, etc. Still, this doesn't affect potential winnings since the free credits carry zero value anyway.
Big Fish Games are relatively standard, with fixed paylines ranging from 9 to 100, with a progressive jackpot connecting different titles and boosting their payout potential. There is also a tournament slots lobby, available 24/7. This is great since you can compete with your friends at Big Fish Casino for better rewards. Below is a table with some of the games from both categories of Big Fish Casino.
🎰Big Fish Casino Slot Games
Alice & the Mad Scatter
Sweet Stacks
Sugar Dash
Riches of the Deep
Baywatch
Jackpot City
Road to Oz
Money Rain Deluxe
Panda Tea Party
Burning Love
Wicked Wins
Sherlock Manor
Ghost Mansion
Treasure Trove Grove
One Armed Bandito
Penny's Patisserie
Mystic Treasures
Treat Outdoors
Myths of Persia
The Secret Grove
Espionage Express
Aztec Gold Expedition
Stars 'N Sevens
Crazy Money Deluxe
As you can see, there are several themes across the titles, and as with real money slots, there are free spins, wilds, scatters, jackpots, etc. A downside here is you can view the RTP or volatility, with the only information being the paylines, bets size, and maximum win. Based on this, you could still make an educated guess.
Table Games
The casino games lobby works slightly differently at Big Fish. All games are open to play from level one, and there is a decent range of variants across each niche, but the stakes can differ by a longshot. Some tables start at 100 free chips, while others at 1 million. As such, playing table games is more about accessibility based on purchases and balance rather than on how much you have progressed in the app.
A nice touch here is that some public table games of blackjack and poker play with more than a single player, adding to the social element. That's not the case with all titles, and there isn't a vast pool of options.
🃏Big Fish Casino Blackjack Games
Atlantic City Blackjack
Monaco Mansion Blackjack
Las Vegas Strip
Dubai High Rise
Jacks or Better
Deuces Wild
Jokers Wild
Burn 3 Poker
Paris Lights
Caribbean Cruise
Texas Hold'em Poker
Classic Roulette
Classic Blackjack
Big Fish Fields
Video Poker
Compared to massive online casinos, Big Fish Casino does not impress. But as a standalone platform available for free everywhere, there is entertainment potential here; especially for those who cannot access the real thing.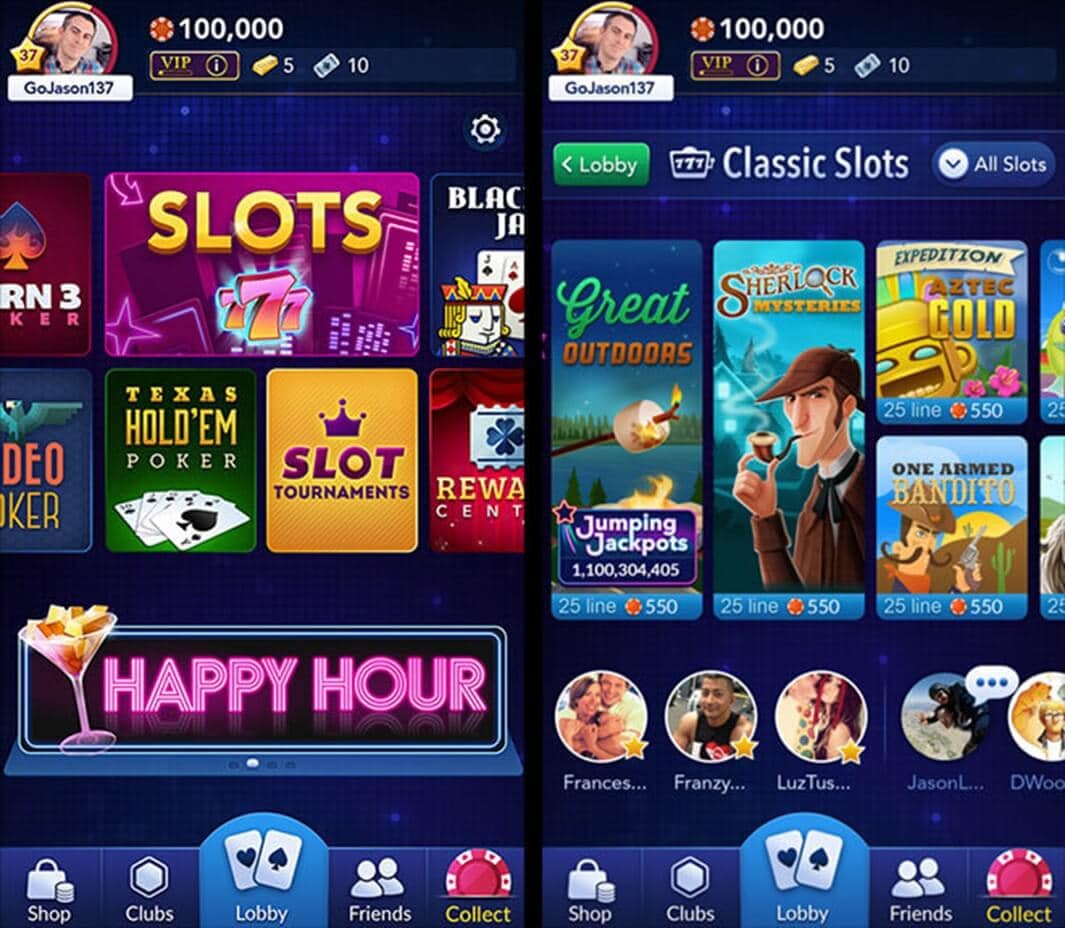 Are Big Fish Casino Games Fair?
Big Fish Casino games are among the best to play across any online casino. The companies behind the app, Big Fish Games and Aristocrat, are pioneers in the gambling industry. Day in and day out, they produce new titles, implementing unique features to entertain players.
As with any gambling game, Big Fish Casino slots always favor the house. However, they operate with a set and calculated RTP based on a random number generator. These features that make Big Fish Casino games legit and bulletproof are tested by eCOGRA at random times, ensuring players' chips are in safe hands. This means that you shouldn't worry about purchasing credits to throw away in a game set against you.
In-App Purchase Methods
The Shop is where players can buy free chips and gold bar packages for money, with the latter being required for certain VIP features. This is not essential, with Big Fish Casino being a social platform, but it kind of is if you cannot wait to progress to new levels and unlock the games naturally.
The purchase process varies according to how you play at Big Fish Casino. Facebook credits can be used on that platform, or you can charge your iTunes or Google Play account when playing on the app. Alternatively, users can link Visa, American Express, or MasterCard credit and debit cards, gift and prepaid cards, or PayPal for non-trial members.
Players can purchase chips, gold bars, or games using any of the above. Most games cost $9.99 each, while the following packages are also available at Big Fish Casino:
135,00 Chips – $4.99
371,500 Chips – $9.99
810,000 Chips – $19.99
16,875,000 Chips – $199.99
Users can also purchase a monthly subscription and enter the Big Fish Game Club, where they are monthly points to purchase standard game versions, collector's editions, or buy any game with a 30% discount.
Redemptions at Big Fish Casino
As we covered above, Big Fish Casino has no withdrawals or redemptions. Players can spend money to play more games and for longer, but there is no chance of winning prizes or rewards. Users looking for social casinos with prizes or sweepstakes casinos with real money redemptions can check our complete list here.
*Only players in the UK can play at Big Fish Casino using real money bets and therefore winning real cash, only since 2021. That came into effect after the platform landed a deal with Betable.
Customer Support & Contacts
There are several features at Big Fish Casino, many unique to the platform. Especially users looking to engage with others or make the most of the available promotions and bonuses might run into problems. Help and support are available through several gateways.
Firstly, users can submit a request which will be reviewed by Zendesk, who manages this department of Big Fish Casino. These are usually addressed within three days, with a minimum of 24 hours waiting time.
A better option is using the FAQ section, which is available through the contact customer support. Several topics are placed in categories, which users can tap to find additional inquiries with prepared answers.
Big Fish Casino supported live chat and phone support in the past, but there is only an email option as a last alternative to resolve issues with Big Fish Casino at support@bigfishgames.zendesk.com.
Areas for Improvement for Big Fish Casino
So far in our Big Fish Casino review, we have mentioned several positive areas but quite a few concerns.
The company has already addressed some points, like the claims that its games lead players to excessive spending habits. Measures have been put in place to avoid similar claims and concerns in the future.
However, looking at independent review sites that accept verified customer reviews, we spotted a variety of other weak spots for Big Fish Casino.
30+ customer reviews mentioned that games were crashing or did not download
80+ users suggested that the whole support department needs a revamp, offering little to no help
A few players highlighted that the latest Big Fish Casino games are neither fun nor rewarding
Worst even, there are reports of lost credits from players' accounts
Personally, it took three days for my email verification to go through with Big Fish Casino, and I couldn't do anything till then. Had to use the email link over 50 times to complete a simple registration step. Also, a few areas that I feel Big Fish Casino has neglected are:
The customer service department has become poorer instead of better over time
Games by Aristocrat are way dated at this time, with newer companies like Relax Gaming and Pragmatic Play giving them a run for their money
Banking options are fewer today than 7 years ago, with other operators providing eWallets, prepaid cards, and other banking methods on top of the typical debit and credit cards
$9.99 for a single game sounds ridiculous when sweepstakes casinos like Pulsz provide access to 300+ top-rated slots after a $0.99 purchase – while supporting real cash prizes
Verdict From Our Big Fish Casino Review
Big Fish Casino deserves a lot of praise for what it has done for the social casino gaming industry as a whole. More credit to its current parent company, Aristocrat, for bringing unique gameplay and bonus features to life!
Big Fish Casino is a multi-faceted platform where users can play on the go or from a desktop, online or via apps, as they see fit. The range of games, currency system, bonuses, and mission-style features are impressive and still used as the blueprint for newer social gaming companies. The options that enable user interaction are unique here, without any other social casino managing something similar.
This doesn't mean that you should play there. During our review of Big Fish Casino, we noticed several areas that must be addressed until we change our view. Firstly, the site has a terrible support and banking department. When considering how much it costs to buy a game or free – non-redeemable – credits, we can't recommend Big Fish Casino. The platform is also quite dated, especially regarding its slots library. And the above is without discussing how many people's lives it appears to have destroyed due to its gameplay system, as confirmed by the Washington judge in 2018.
If you are outside the legal gambling states, there is simply no reason to join a social casino like Big Fish Games. Instead, you can play for free at Pulsz or SweepSlots, and enjoy a better variety of games with real money prizes on the line.
FAQ's
Can I win real cash prizes for playing at Big Fish Casino?

No, players cannot win real money at Big Fish Casino. The site has been a social platform since its inception, allowing in-app purchases to play more or buy new games, but it doesn't support real money withdrawals or credit redemptions. However, Big Fish Casino UK partnered with Betable, an online gambling software company, to offer a real money version of the platform as well. This should give hope to Americans who are fond of Big Fish Casino since it can implement similar practices here in the future.

Are Big Fish Casino games rigged?

There have been several complaints about Big Fish Casino and even litigation against it, but none of these are linked to its games. Big Fish Games power the platform, IGT, and Aristocrat, all licensed and reputable developing companies. The eCOGRA software testing company has also sealed the platform for the past 10 years after running thorough checks on the Big Fish Casino games RTP and RNG performance.

What is the current Big Fish Casino promo code?

New players who sign up at Big Fish Casino instantly receive 100,000 free credits to get started. Promo codes are released for the first game purchases, with the current one being NEW299. Every time you sign in, it is very likely that additional codes will come your way through pop-ups and banners. Still, freebies are also handed out every few hours, daily, and at random times, so there isn't a need to use a purchase promo code to play games here.

Is Big Fish Casino free play?

Yes, Big Fish Casino is, for the most part, free play. Several skill and fun games are available online, on mobile, or Facebook for users over 13. Some require a purchase, while others are offered for free. Anyone who is over 18 can play about 20 slot machines, and casino-style games after setting up a new Big Fish Casino account, with additional titles available for money or as new VIP levels are unlocked.

Where is Big Fish Casino legal?

Big Fish Casino is legal everywhere in the world unless a country explicitly states in its laws that social gaming is prohibited and considered real gambling. Washington is the only state that has ruled against social casinos in the US, with a law passed in 2018 specifically for Big Fish Casino. Since then, users from all US states can play social casino games, except those in Washington.

What casino games can I play at Big Fish Casino?

Big Fish Casino has a wide range of games, including blackjack, slots, poker, roulette, and more. Most titles are products of IGT, meaning the graphics, animations, interface, and sound effects are top-notch. Aristocrat and Big Fish-powered casino-style games are also offered but require a certain level or purchase to access in most cases.

How long do redemptions take at Big Fish Casino?

Big Fish Casino doesn't support real money wins or cash withdrawals in any form in the United States. If it did, it would take up to 5 days with options like bank cards and PayPal in its payments processors list.

Can I play Big Fish Casino games with my phone?

The Big Fish Casino slots and games are mobile optimized for browsers. That's in contrast to the other types of games here, where only 10% of the titles are mobile-friendly. Still, there are also two apps, an Android and an iPhone, where users can access all casino-style games directly from their home screen.

Experts consider Big Fish Casino safe, but the same doesn't ring true for many players and third parties. For one, the site is SSL-secured, and the games are audited monthly by independent companies for fairness. Likewise, the owner of Big Fish Casino is Aristocrat Gaming, one of the most reputable iGaming providers in the world. However, several lawsuits have been initiated against Big Fish Casino, starting in 2015, where claims suggested that the site did not provide help and support for gambling addicts. Courts have ruled against Big Fish Casino, banning it from WAS and requesting it to pay back about 10% of all money spent by each party.

In my view, Big Fish Casino is a great social casino, and while it could provide links for gambling problem support, it doesn't force players to pay to play. Today, it has added further safeguards for its users and for itself to avoid future legal issues.

Are there better free casino apps than Big Fish Casino?

Big Fish Casino is an excellent platform in many regards. However, it only features a small range of slots and table games for non-paying customers. On top of that, there isn't an opportunity to cash out real money.

Social casinos like Rush Games, BetRivers.net, and Gambino Slots are better than Big Fish Casino without deviating from the social casino model. Alternatively, sites like Chumba Casino and Fortune Coins are free platforms like Big Fish Casino, accessible from the same states. Still, introducing two virtual currencies allowed them to provide real cash withdrawals to the winners.

What happened with the Big Fish Casino lawsuit?

Two major lawsuits were set against Big Fish Casino in 2015, and after three years in court – players received some of their lost money back. The ruling took place in Washington and since enforced ban of social casinos in the state. The legal battle concerning the two owners of Big Fish Casino, Churchill Downs (previous) and Aristocrat Leisure (current), ended in a $155 settlement. The amount saw high spending players of Big Fish Casino receiving about 20% of what they had claimed they lost.