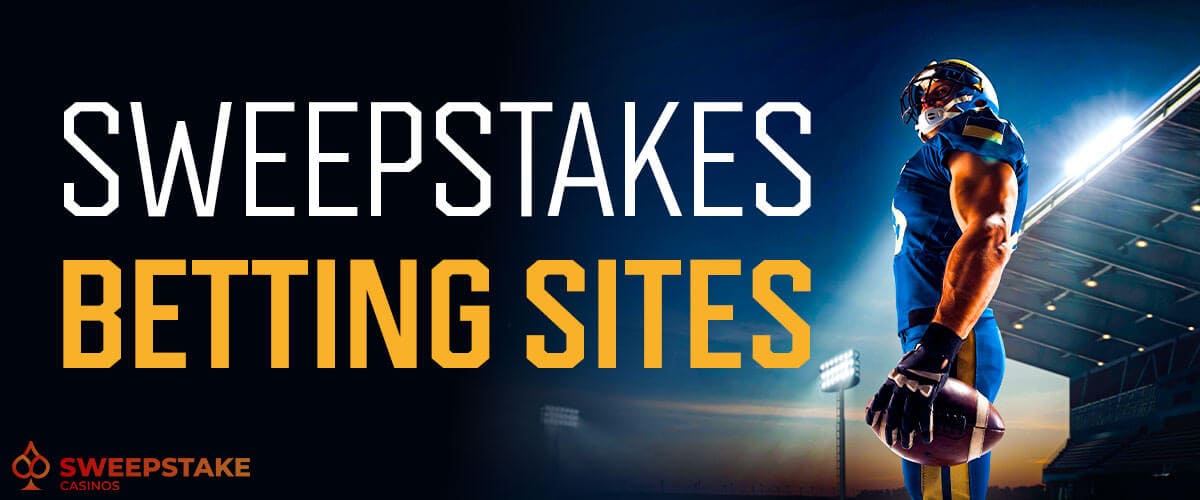 Keen on placing a bet but don't have any sportsbooks available to do so? Sweepstakes betting sites are available throughout most of the US and offer opportunities to win some real money. The platforms mimic the design of real sports betting sites with the most popular markets.
Since there is no direct exchange of money for your bets, you can use sweepstakes betting sites throughout most of the US. This is ideal for sports bettors who travel a lot and still want to put some money down on the week's matches.
We'll run through all the details you need to know when choosing a service, so let's get to the action!
Top 3 Free Sweepstakes Betting Sites USA
There'll always be competition between online betting platforms. Whether it's a social sportsbook or a sweepstakes casino, some operators simply have a better platform and experience than the rest. Our top three are detailed below. Newer additions such as Sportzino will be introduced to the list as we test & review them.
#1 Fliff Social Sportsbook
The Fliff sweepstakes sportsbook has put a spin on the industry and redefined how these platforms should operate. You won't have to waste your time with the usual, boring games that sweepstakes platforms have, instead, you'll be able to use the platform as you would a normal sportsbook.
There are dual betting options, meaning that you can just play for fun to climb the leaderboards or you can trade in some Fliff Coins for some Fliff Cash and get to the real money betting.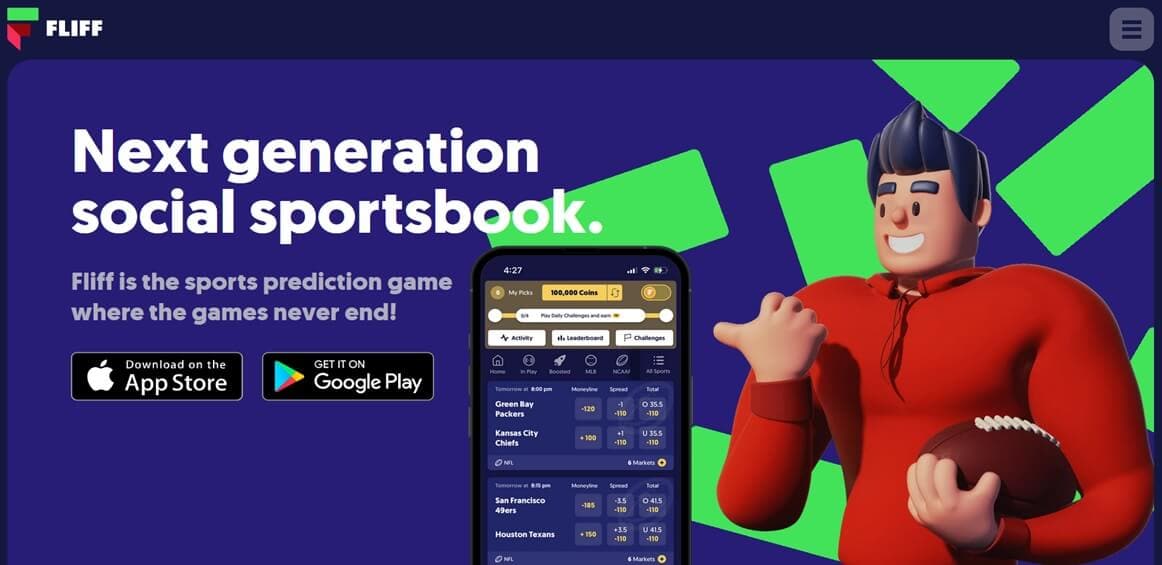 As you can see from their mobile platform, the design is very similar to an online sportsbook app. You can also claim a 'welcome offer' if you're looking to bet with real money, no Fliff promo code is needed. They do this by letting customers buy their sweepstake coins, as a bonus, you'll receive Fliff Cash (the real money equivalent) up to a matched value of $100.
The sports markets available run deep! You'll find decent league coverage for football, basketball, baseball, hockey, boxing, esports, MMA, and tennis. All of these sports markets also have decent odds and betting options available, you could compare the scheduled matches to a real sportsbook platform and they'd be very close, if not the same.
Finally, you'll also be able to fund your Fliff account using credit and debit cards or a standard bank transfer. The platform is still quite new so alternative payment methods, such as e-wallets, might become available soon. While the rules are a little more relaxed for social sportsbooks, the state of Washington does not allow access to Fliff at all. Customers from Alabama, Georgia, Hawaii, Idaho, Minnesota, Mississippi, Nevada, and South Carolina won't be able to claim the promotion that's available.
Use the Fliff apps to play on the move or sign-up online and start betting for free today with our exclusive Fliff promo code. You can rest assured that your data and your coins will be safe with Fliff as our tests have shown that the Fliff platform is fully legit.
#2 BetRivers.net/Rush Games
Arguably the biggest name on the sweepstakes betting scene would have to be Betrivers.net. They're a subsidiary of the BetRivers company which offers a real money sportsbook and online casino. Rush Games is also part of the company and also offers a real-money sportsbook in the US. Together they have put together the sports betting platform you can see below.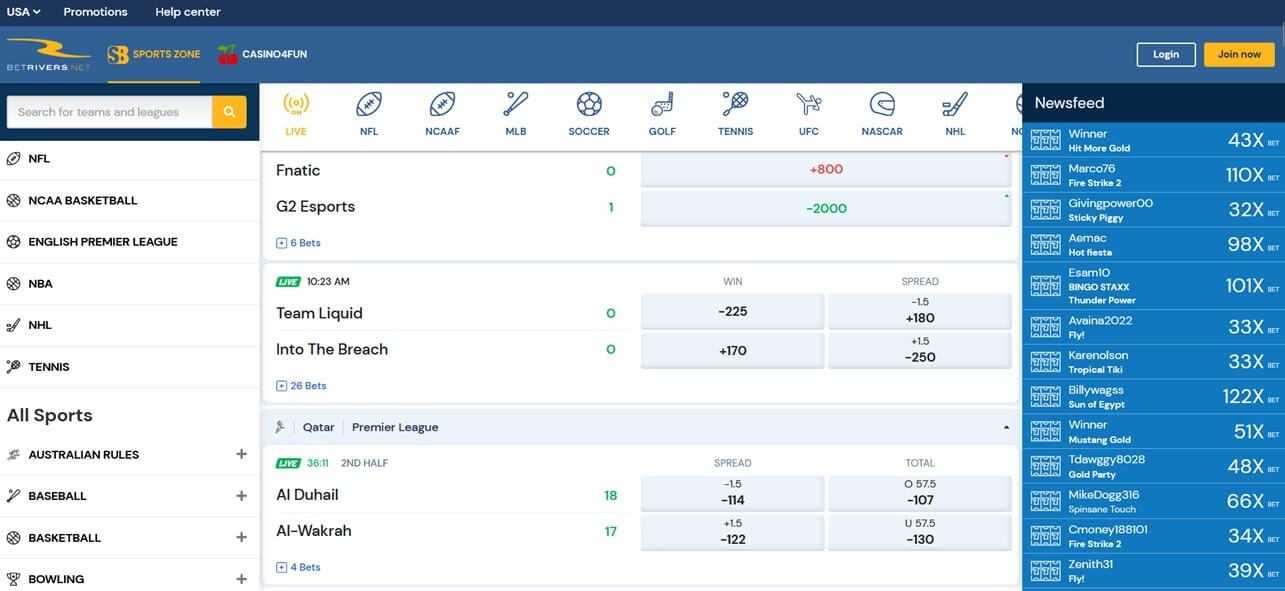 It's remarkably similar to the real money Betrivers sportsbook and offers customers an incredible sweepstakes betting opportunity. Unfortunately, you won't be able to win any real money prizes while using the Betrivers.net platform. This decision was made by the company to abide by the strict regulations that are imposed on the industry and to offer a true gambling experience separate from any financial risk.
Bettors can still look forward to a classic sports betting experience. The platform is very easy to navigate and you'll receive 250 Virtual Credits (VC) when you open your account. The credits work in the same ways as a standard dollar bet, you'll see the VC$ whenever you're looking at your betslip. While it operates like a dollar, it doesn't have any value outside of the platform. You'll be able to claim more VC$ by spinning the daily bonus wheel and if you somehow finish what you've received, you'll also have the option of buying some more.
The greatest part of these social sportsbooks would have to be the extensive coverage of sporting markets. We explored through detailed coverage of football, baseball, basketball, soccer, golf, tennis, MMA, NASCAR, hockey, rugby league & union, Aussie Rules, bowling, boxing, chess, cricket, cycling, data, esports, Formula 1, handball, lacrosse, netball, rowing, snooker, surfing, table tennis, trotting, and volleyball. We couldn't even think of a sport that was left out.
On top of that, there are also betting options for social events and TV series. No matter what you're into, these social sportsbooks have got you covered, including live betting markets and standard bets like moneylines, parlays, and props.
We recommend getting an account with both Rush Games 4Fun and BetRivers.net, for double the amount of free virtual credits to bet on sports from all states. Keep in mind that you must be 21+ to bet on sports here.
#3 FendOff Sports
We had to give a quick mention to FendOff Sports. They operated from 2018 until 2020 and provided many customers with a quality experience. Their platform was slow to get started but the engagement with their bettors was one of the best on the scene and something we believe our top 3 manages to achieve as well.
Operated by VGW, FendOff is a sister site to Chumba, LuckyLand Slots, and Global Poker. Yet, its free sports betting component wasn't picked up by players. It could be because real money betting sites are already available across half of the country. But Fliff does seem to take inspiration from them, making this social betting app a great alternative to FendOff.
Note: Although sweepstakes casinos run wild, sweepstakes betting sites are not as widely available. From the lot, we can only recommend Fliff, Rush Games4Fun, and BetRivers.net. Fliff is the only social sportsbook where you can win cash prizes!
How Sweepstake Sportsbooks Work
Sweepstakes sportsbooks work on the principle of two currencies like online sweepstakes casinos do.
The standard currencies you will encounter are gold coins and sweeps coins. Gold coins hold no monetary value, and you can use them to bet for fun. Gold coin packages are provided for purchase through real money.
Sweeps coins can also be used to place wagers, and are provided as a free bonus for signing up, logging in, and through other means. An easy way to get them is by purchasing gold coins – the sportsbook will add the equivalent amount in free SCs.
Of course, each operator can use different names for their currencies; see Fliff Cash and Fliff Coins.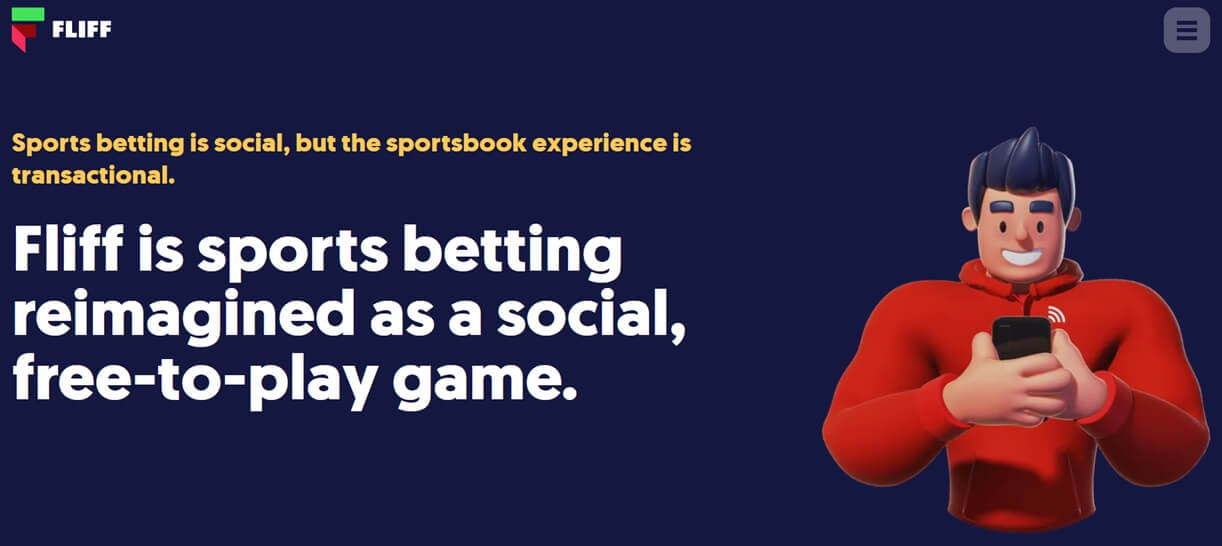 The concept has become available to offer customers from most states in the US the opportunity to place bets on matches for free while standing a chance to win real money.
Unlike real money betting sites offering their services in states where it is permitted and holds a license, sweepstakes betting sites are legal in almost all states; usually excluding WA and ID.
The same principles do not apply to social sportsbooks like BetRivers.net and Rush Games4Fun. These are for fun only platforms, with a single virtual currency only.
Who can bet at Social Sportsbooks?
With no money being directly exchanged between customer and operator, these platforms are not considered true online gambling sites. This means that they don't have to abide by the regulations that are set on the standard online betting industry.
That being said, Idaho has banned any redemption of cash prizes from all platforms, New York and Florida limit these prizes to a value of $5,000 per session, and Washington has banned all forms of online social gambling.
Besides the state limitations, sweepstakes sites will also have the choice of what age customers they allow to sign up to their platform. It's usually 18 or 21 but you'll always have a reminder on the sign up page.

Like real money betting sites, all sweepstakes sportsbooks will ask you to verify your account with your ID before making a withdrawal or playing in the real money mode. For this reason, we recommend only using operators you can legally access.
Can I win Real Money at Sweepstakes Betting Sites?
It's a tricky topic, you're not really winning money, more like exchanging your effort for cash prizes. Sweeps coins typically carry a SC1 to $1 rate.
You will open an account and bet with the virtual coins as you would with a standard sportsbook but those coins have no value until you've traded them for a real money equivalent, or a cash prize like gift cards.
These prizes can then be withdrawn in exactly the same way that you would at a standard online sportsbook, with each platform supporting its own selection of payment methods.
The opportunity is available with some platforms but not all of them include the feature. Many social betting sites simply offer the online gambling experience without any financial risk.
This feature differentiates sweepstakes betting sites from social sportsbooks.
Betting Markets & Sports Coverage
With the best sweepstakes betting sites, you'll have access to numerous markets all over the world. Pretty much all of them allowed us access to football, basketball, baseball, and hockey. Beyond that, it's up to the site.
No matter the sport, we found that just about every league was available in the US. From college football to the NFL, every scheduled match was on offer and had decent odds. These odds will eventually stack up in your favor, so be sure to shop through each of the platforms and figure out who's got the best deal. Check out the current selection of Betrivers.net's NFL fixtures as an example.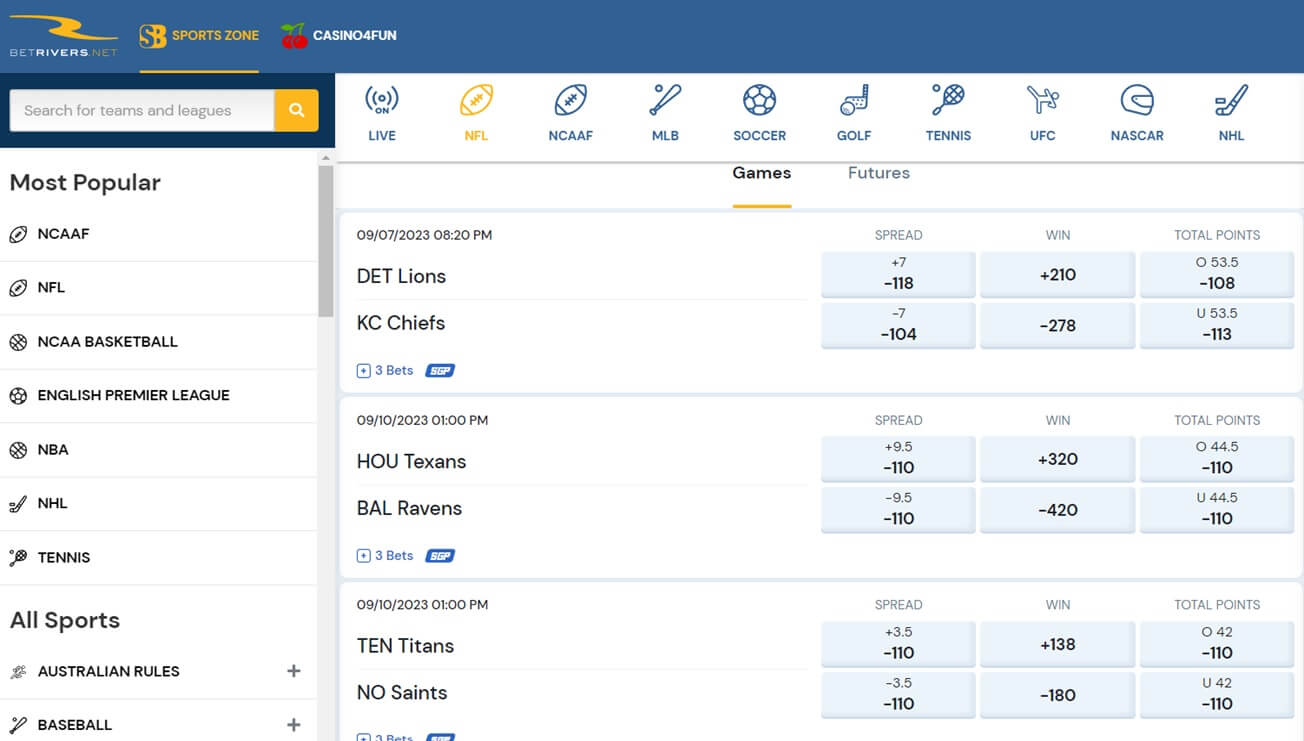 No matter the sport, you will be able to bet in your preferred way. Moneylines, spreads, parlays, same game parlays, totals, futures – anything goes – like with real money betting sites. Keep in mind that some markets vary per sport, especially with prop bets.
Real Money Sportsbooks vs Sweepstakes Betting Sites
It's becoming a convincing topic for most sports fanatics as sweepstakes betting sites are really catching up with real money services.
Up until now, most of the platforms had no profitable way to win money and very limited betting markets/options. Their platform design was way below par as the companies never really received any serious funding but this is no longer the case.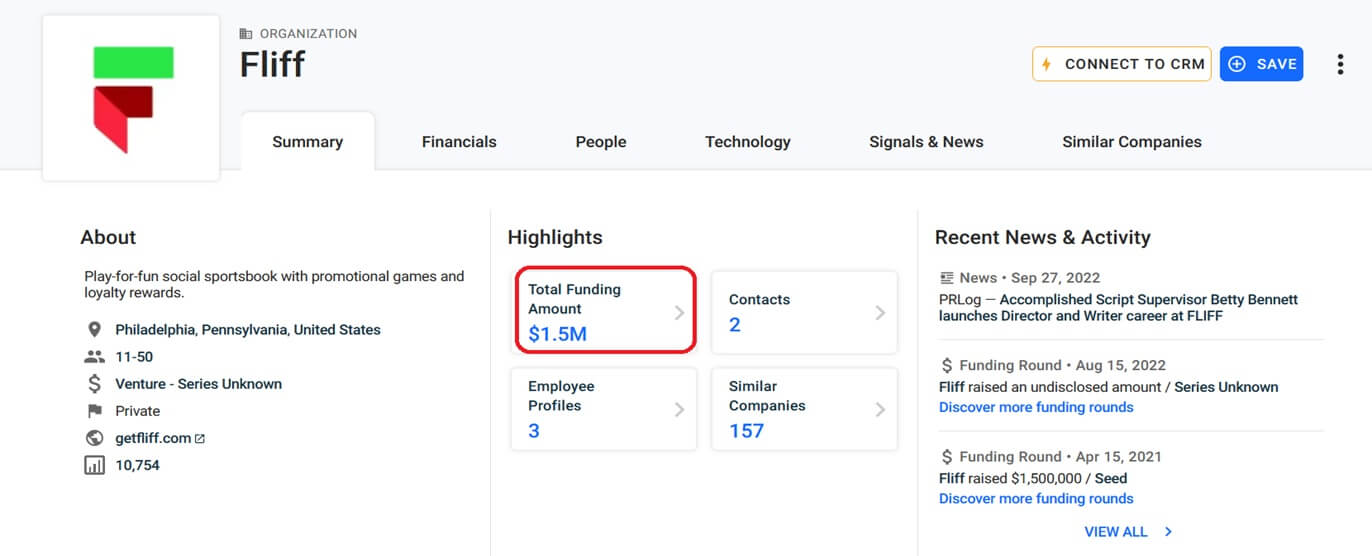 With regulations still up for debate in some states and investors seeing the potential of the sports betting industry, many are now considering social sweepstakes betting sites as a legitimate betting opportunity. Now fans can bet from 41 states in the US and if they're running low on cash, they won't have to give up the thrill.
In terms of time spent, sweepstakes betting sites do require more customer input but in a way, you're being rewarded for your time as the coins can eventually be traded for real money. Real money sportsbooks will always offer the convenience of simply placing your bet and waiting for the big day to see if you're walking away with some winnings.
No matter your choice, it's great to see that sports betting is becoming available to more people, and new features, such as social leaderboards, are making the scene more exciting. We can't wait to see what these innovative platforms come up with next.
Here is a comparison of the two types of sportsbooks:
| 🎰Sweepstakes sportsbooks | 🏈Real money betting sites |
| --- | --- |
| Betting with virtual currencies | Betting in USD |
| Must redeem coins to win real money | Instantly withdraw winnings |
| Available in 45+ states | Available in about 20 states |
| Can support betting on exotic markets on top of standard bets | Offerings vary per sportsbook, with 20 sports usually covered |
| Daily bonuses and no deposit bets | Insurance bets mostly, requiring an initial investment |
| Available online in most cases | Always provide dedicated apps |
Summary
That brings us to the end of our guide to the best sweepstakes betting sites. The concept is still quite new when compared to traditional sportsbooks but it does offer a legal opportunity to bet and withdraw some real money. These platforms are available in most states unless you're in Washington or Idaho.
Sweepstakes betting sites compete with the likes of established sportsbooks as they offer competitive odds in a variety of sporting markets. You won't be short of any betting opportunities by using these sites but you might have to go through an additional step to actually withdraw the money.
We think sweepstakes betting sites set up a great practice environment for players in states where real money sportsbooks aren't yet legal, or those who are short on cash. Sign-up on any of the listed operators and you will instantly receive a no deposit bonus to place your first bet!
FAQs
Can you play sweepstakes online for real money?

Yes, you can! Some sweepstakes platforms have the option of exchanging the play money for a real money equivalent. This is usually done by purchasing prizes but some social sportsbooks, like Fliff, now offer a virtual currency that is equivalent to a dollar.

What gambling sites pay real money?

There are plenty of legal gambling sites that pay out real money but, unfortunately, this is not available in every state. If you're in one of the states where it's banned, you could be using a social sportsbook that rewards customers in different ways than a conventional payout.

What betting sites use sweeps coins?

The majority of sweepstakes sites use coins as their virtual currency. Some of the platforms only offer the option of betting and winning these coins but others do provide the opportunity to exchange sweeps coins for cash prizes. When it comes to social sportsbooks, you'll be able to do this with Fliff.